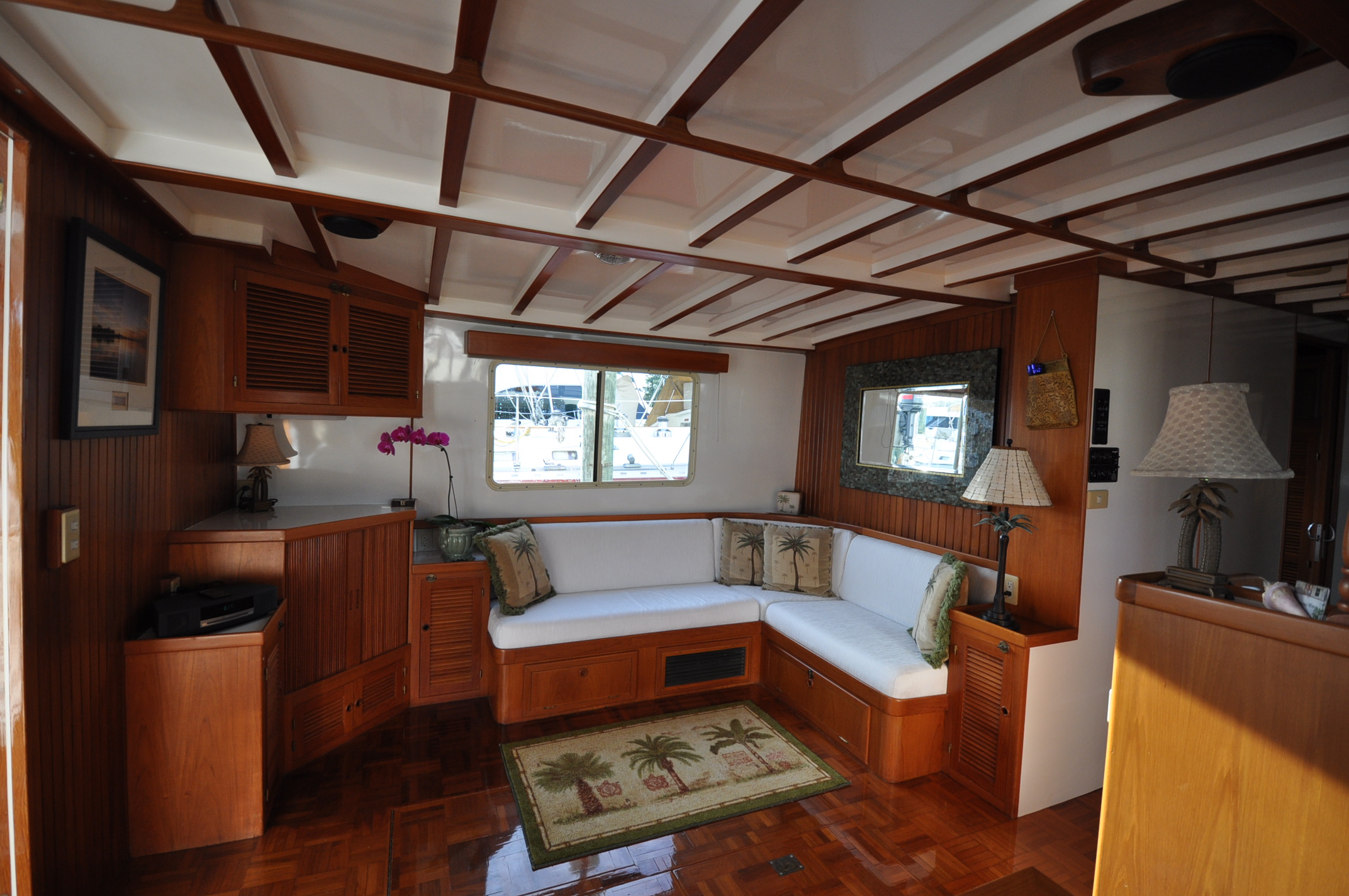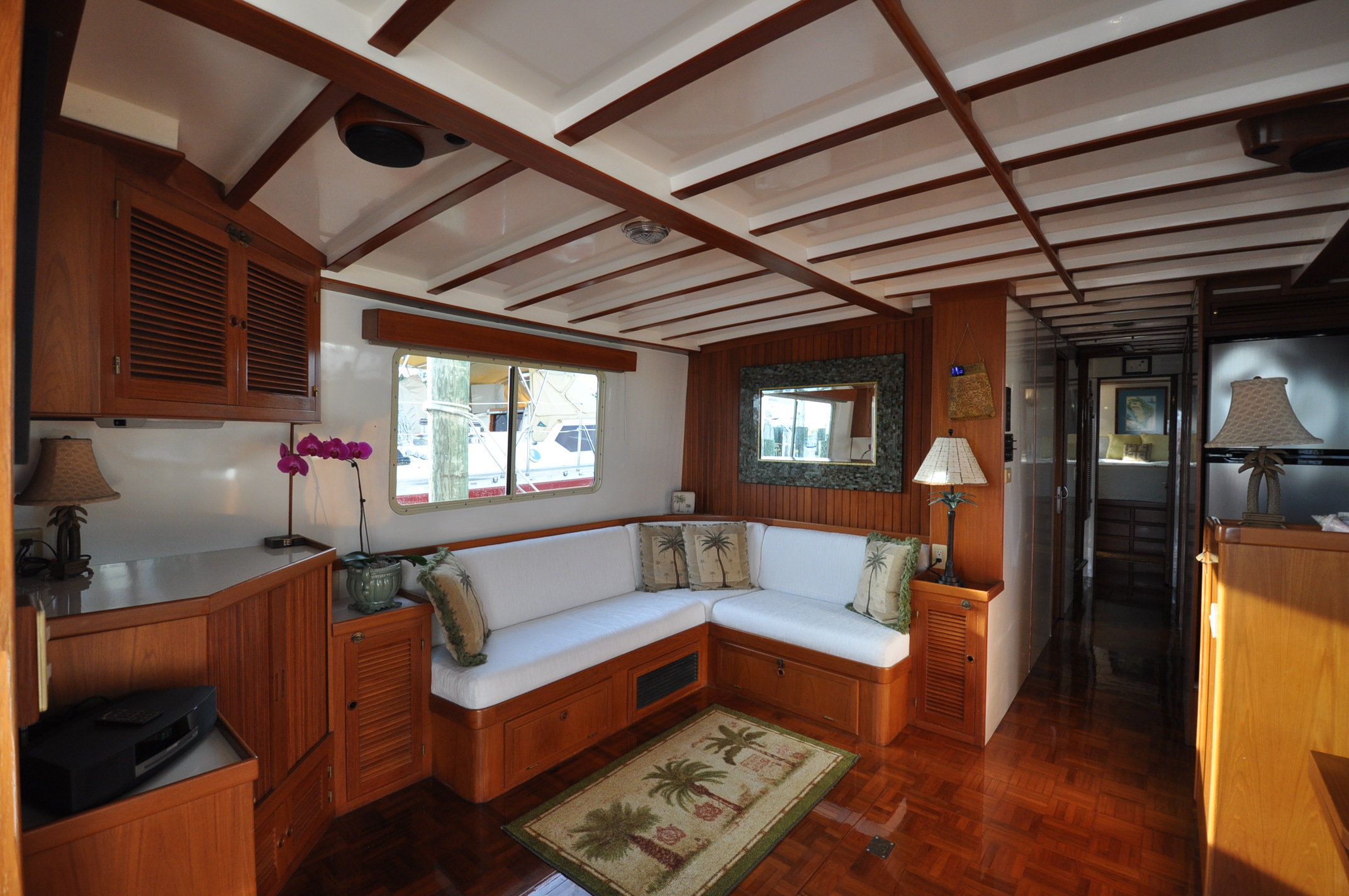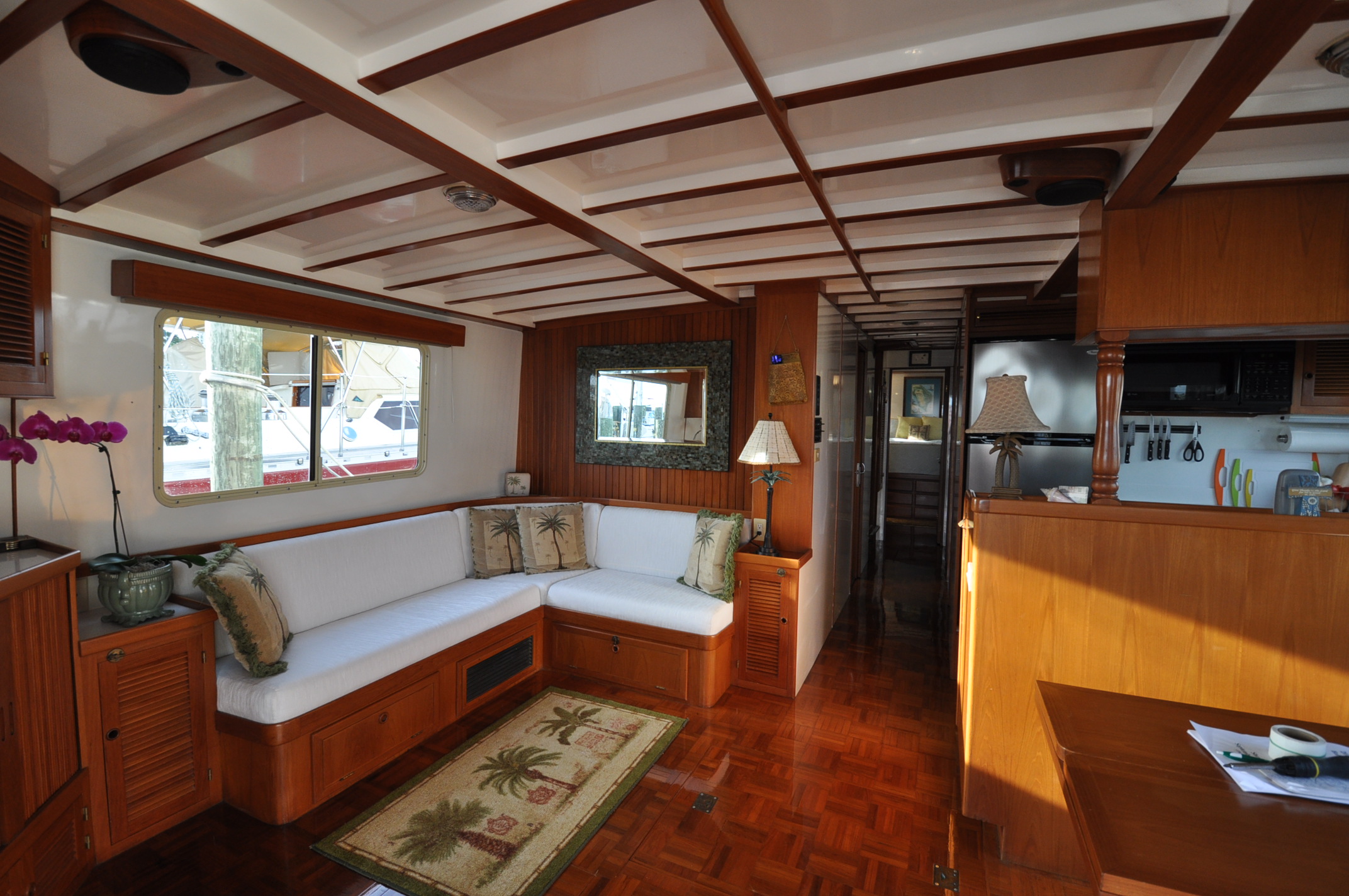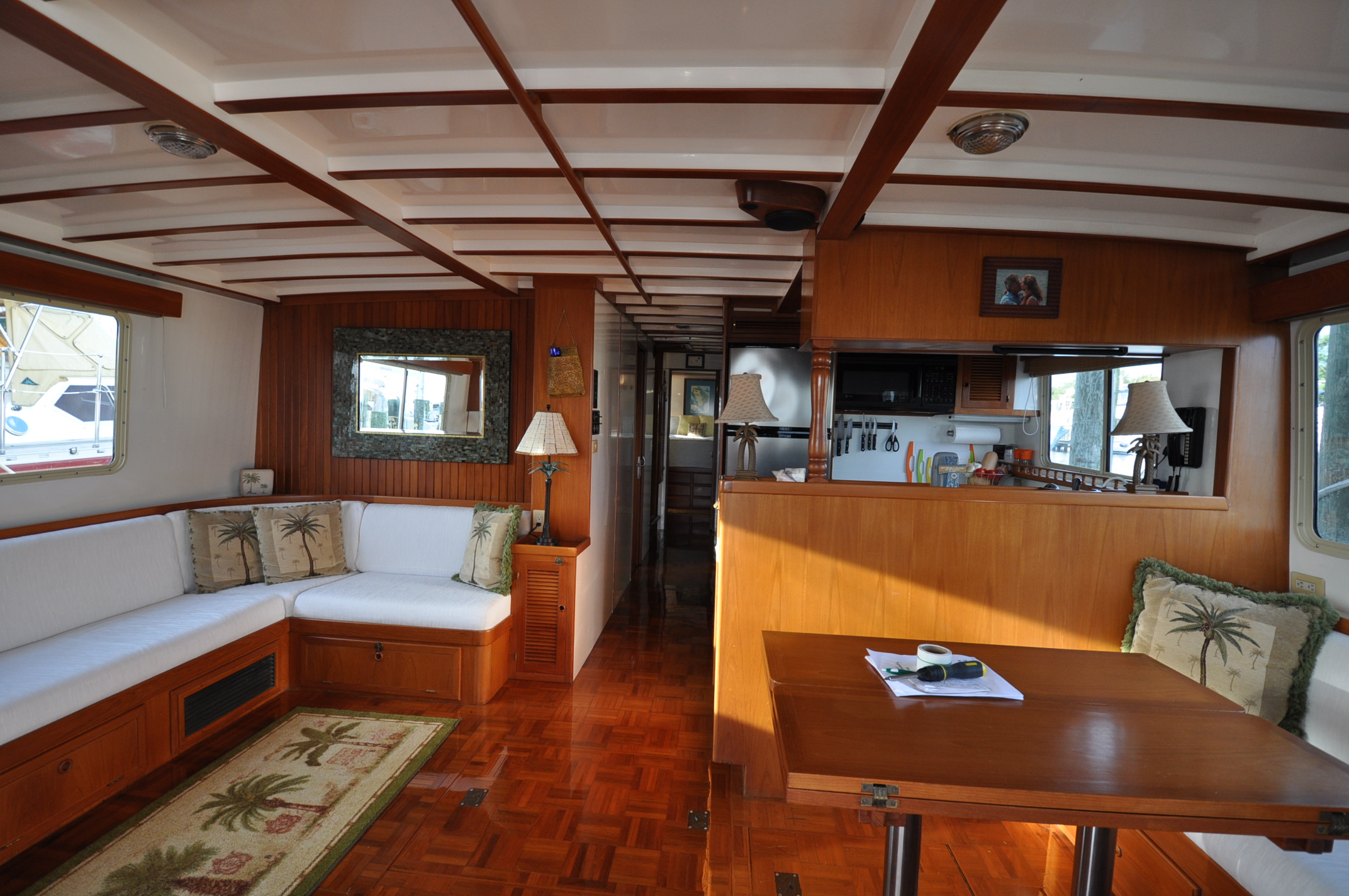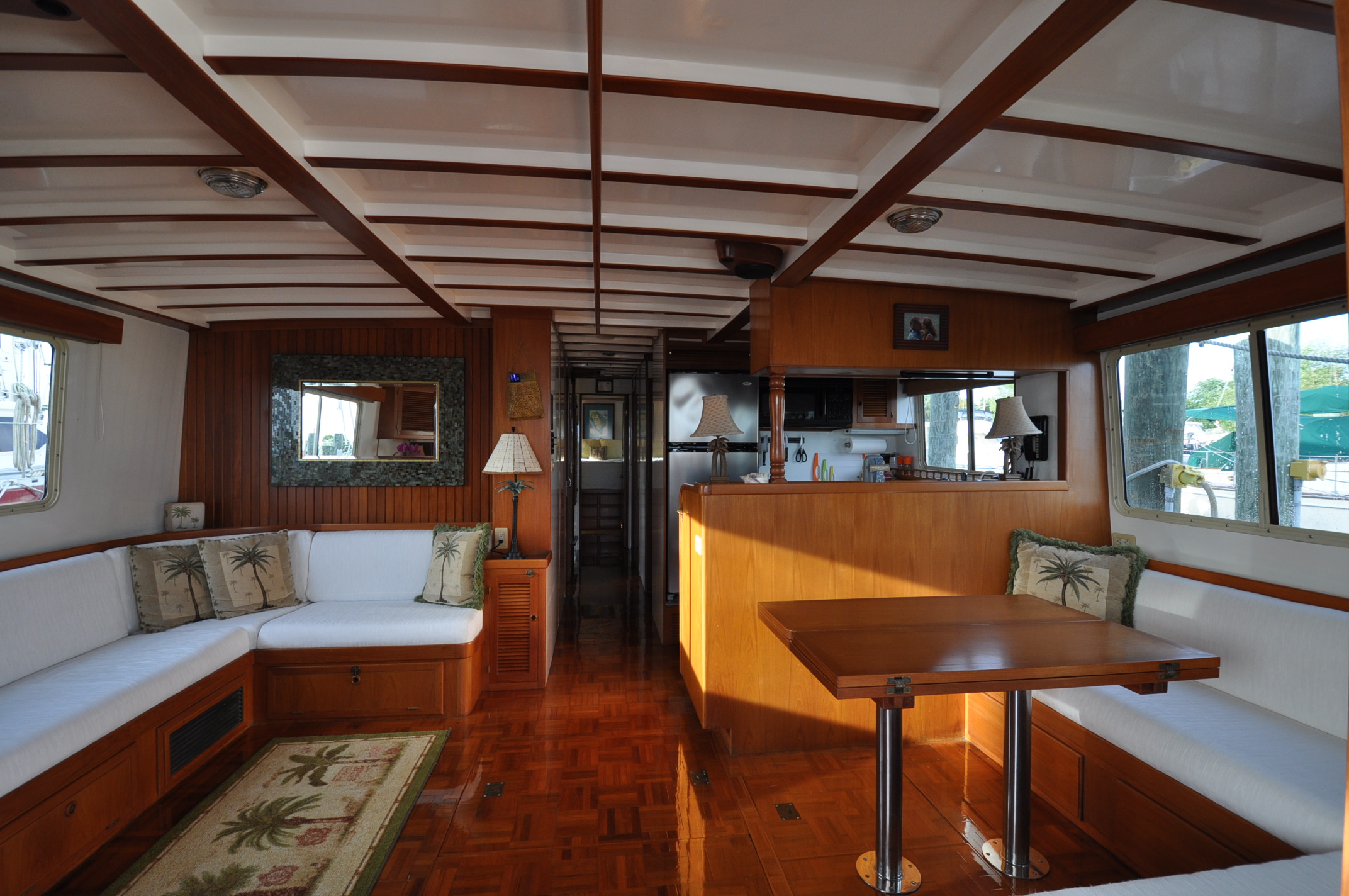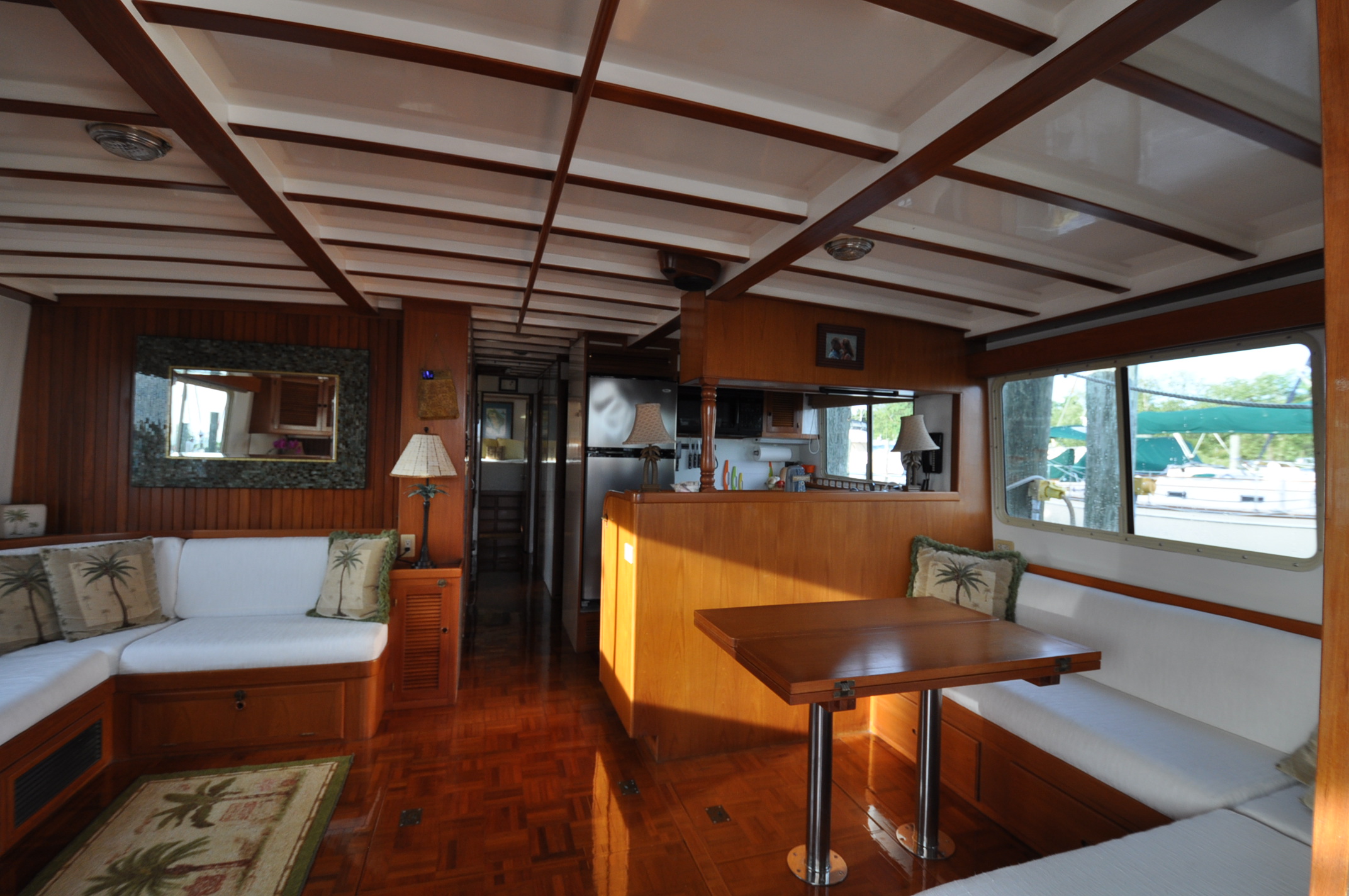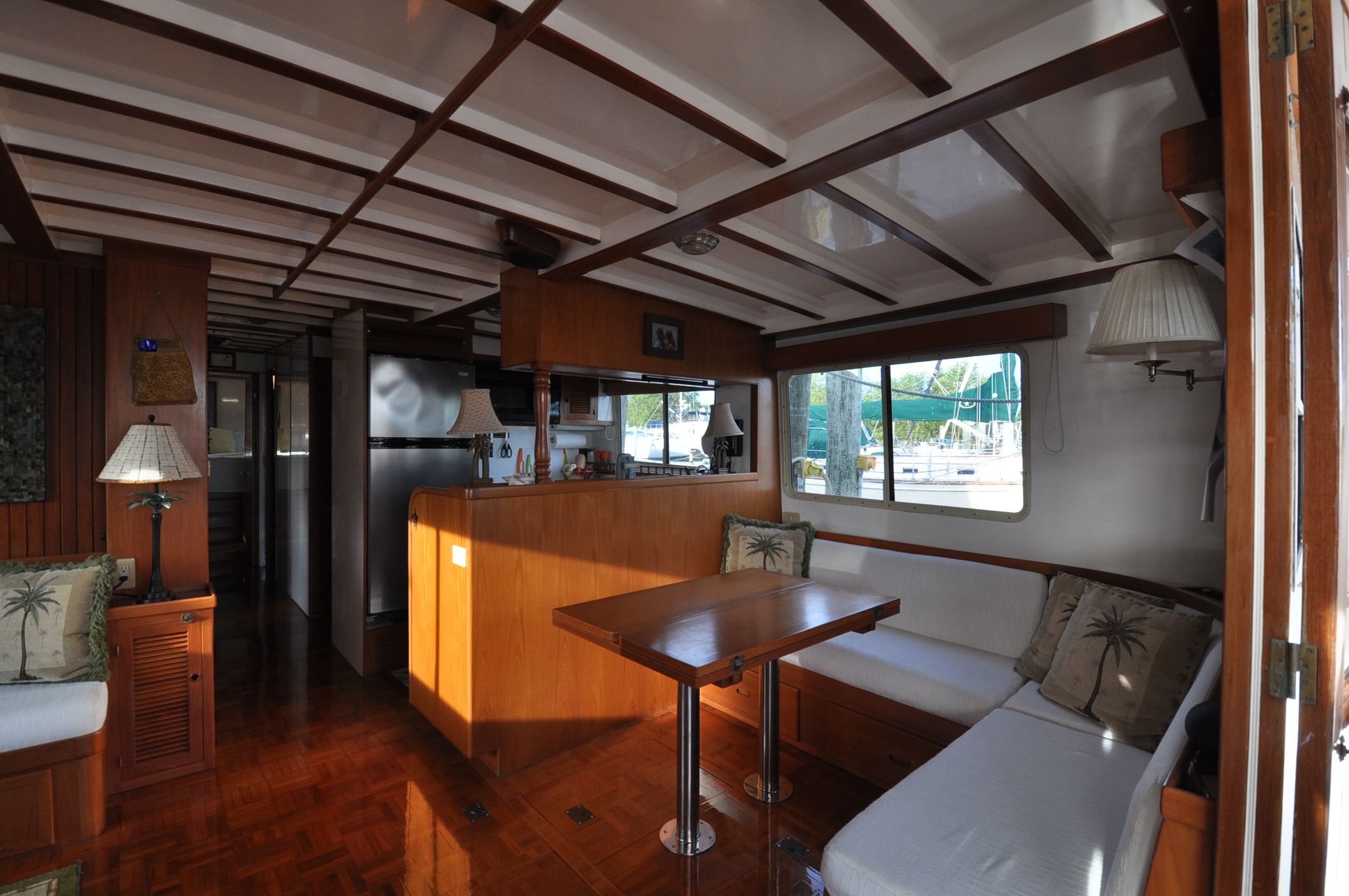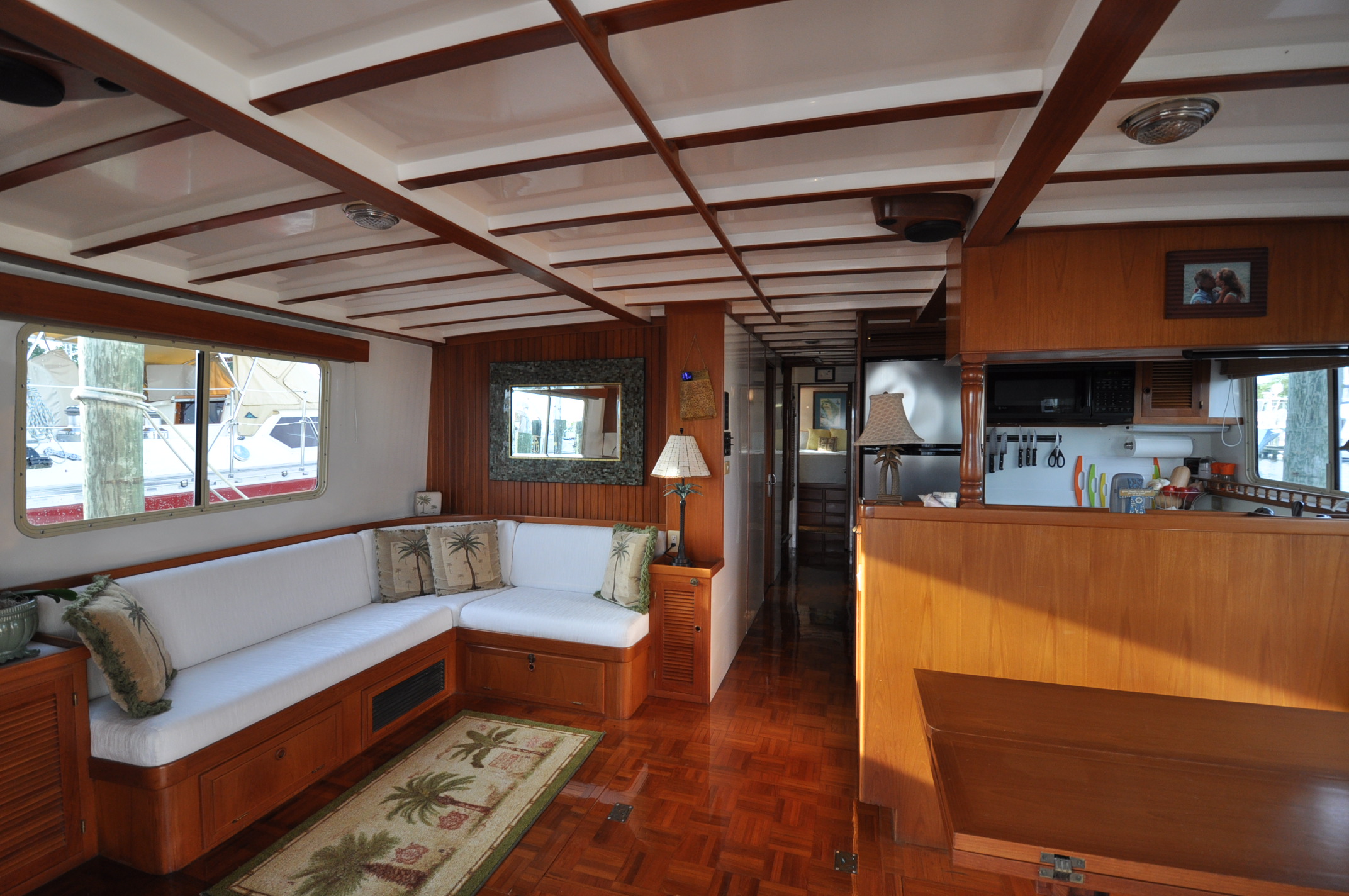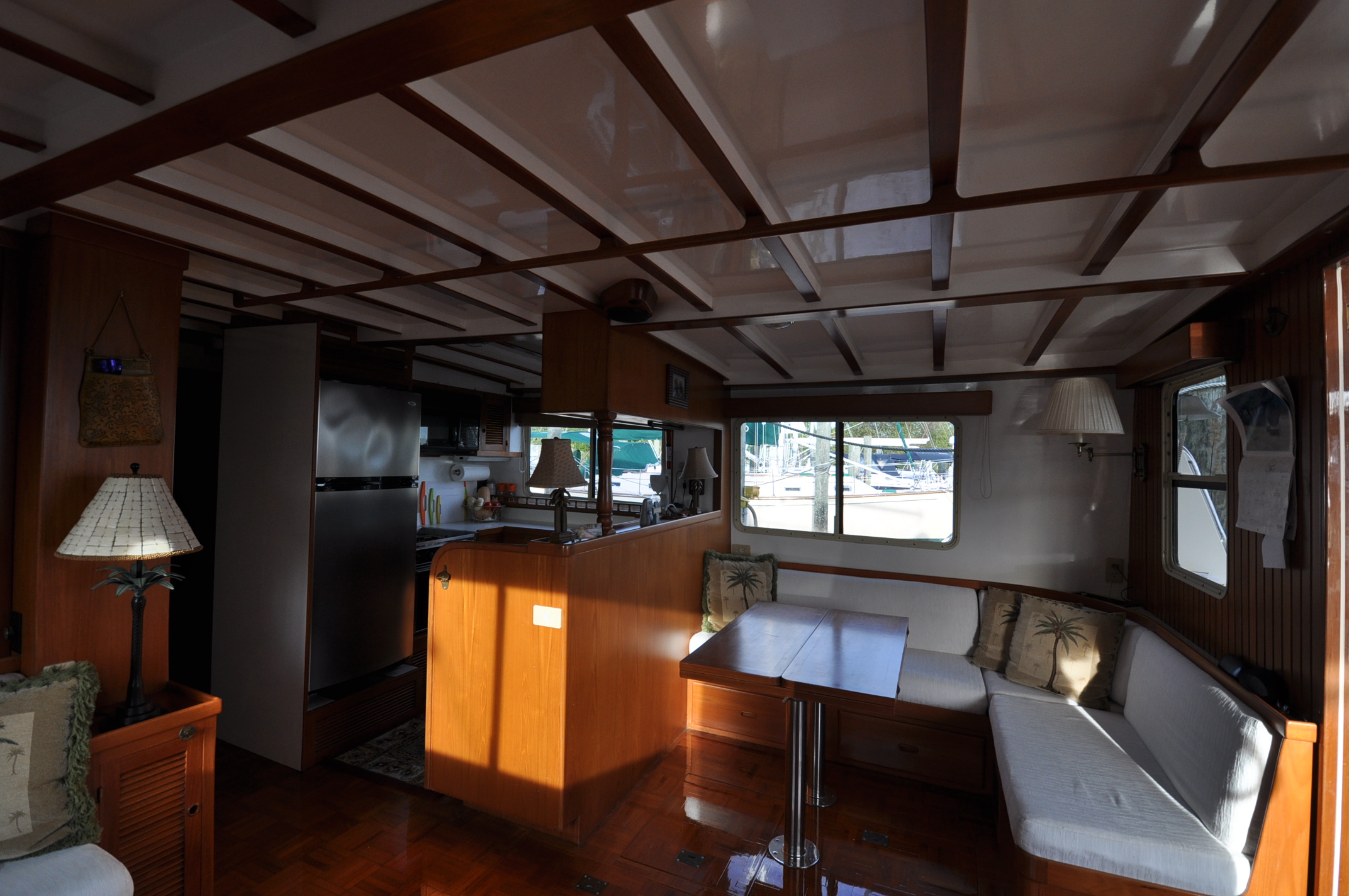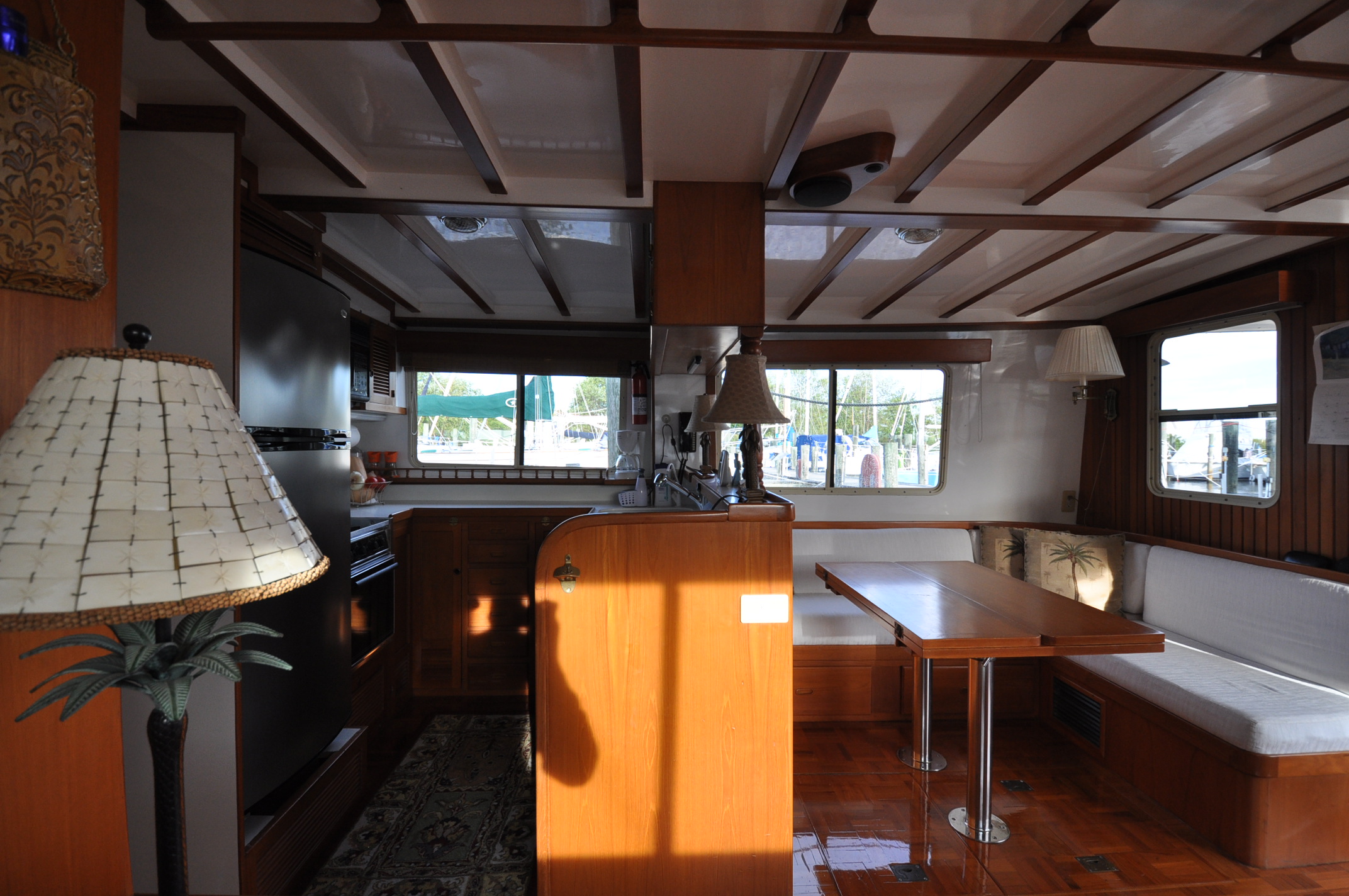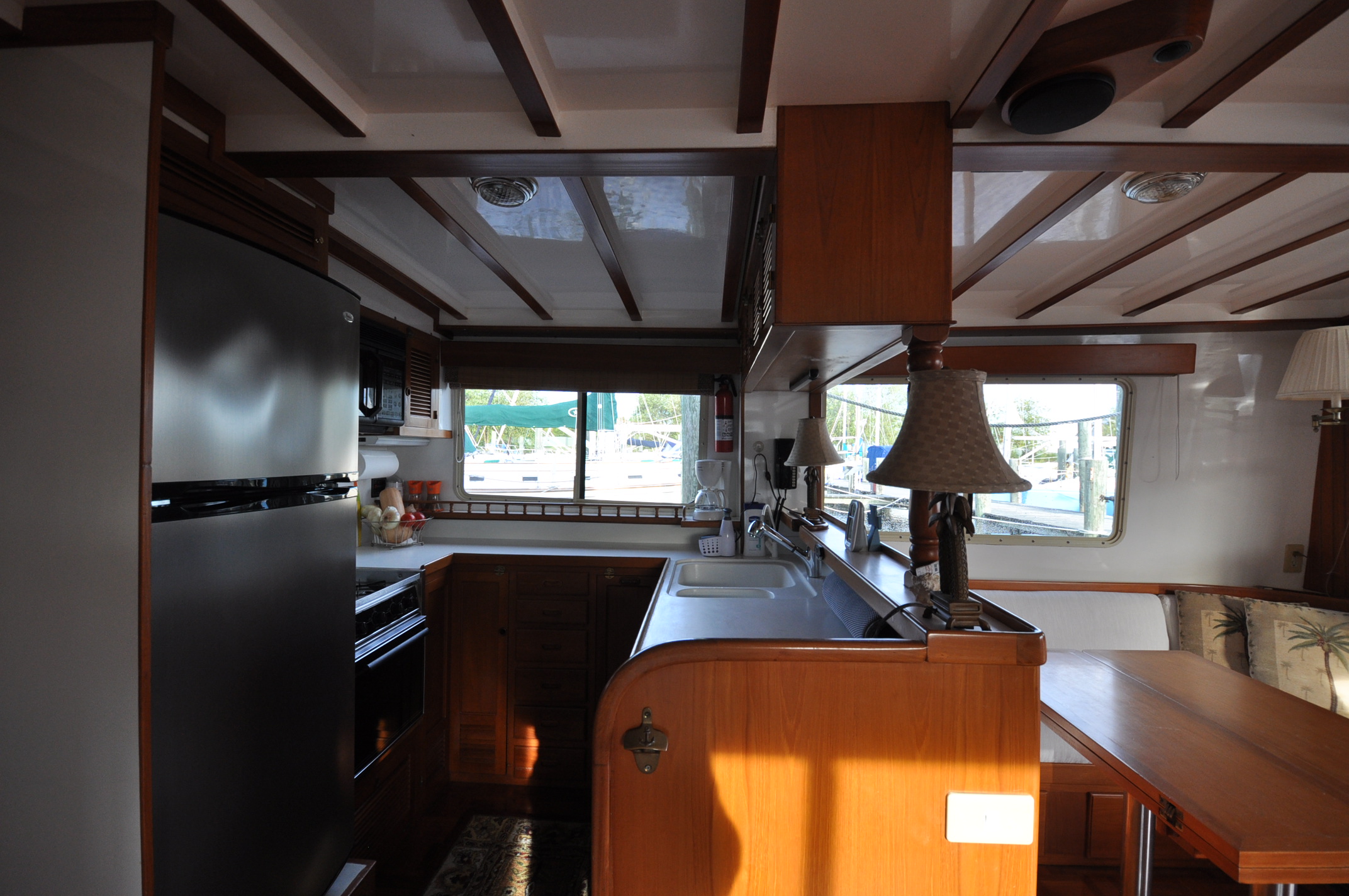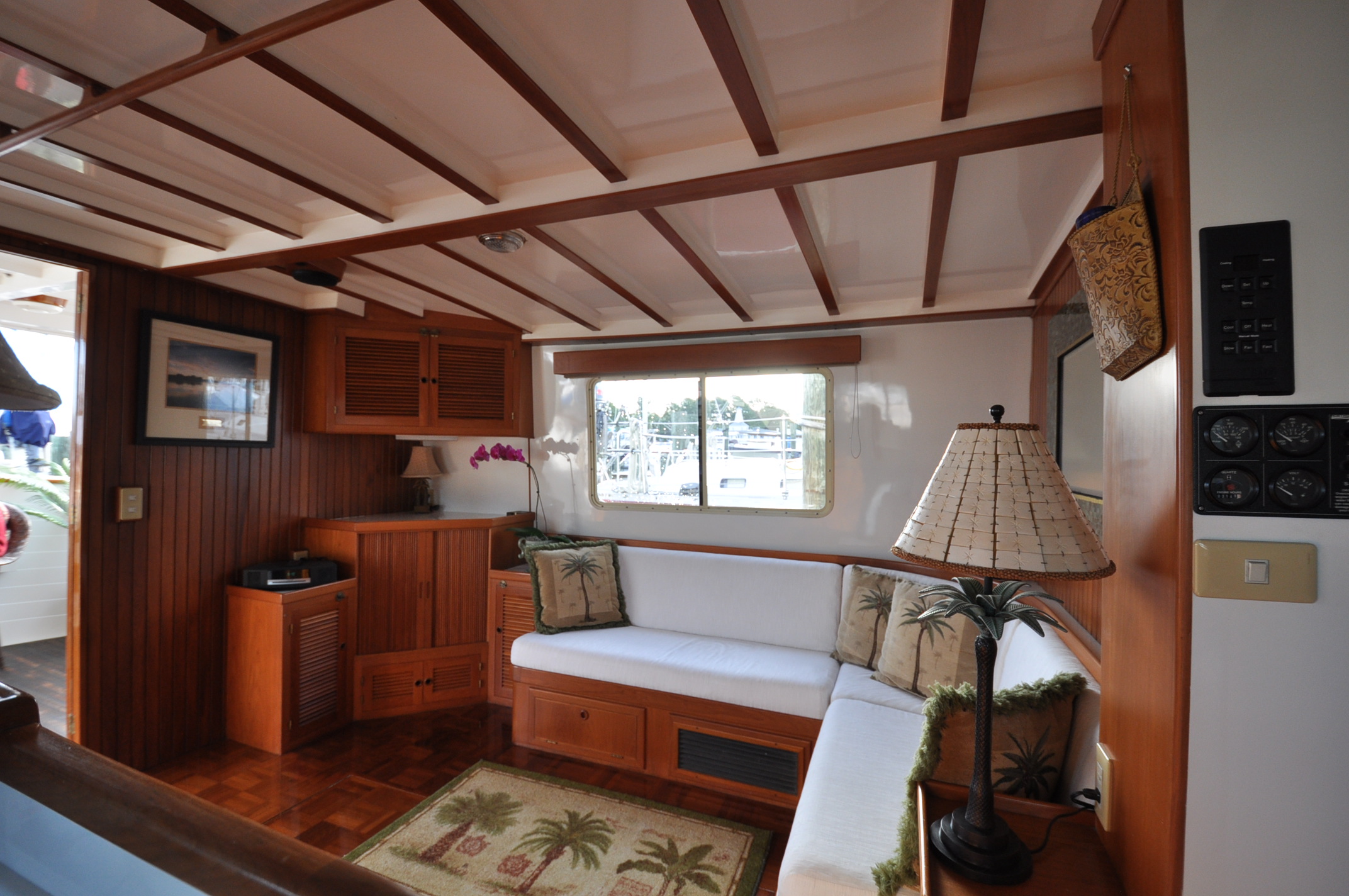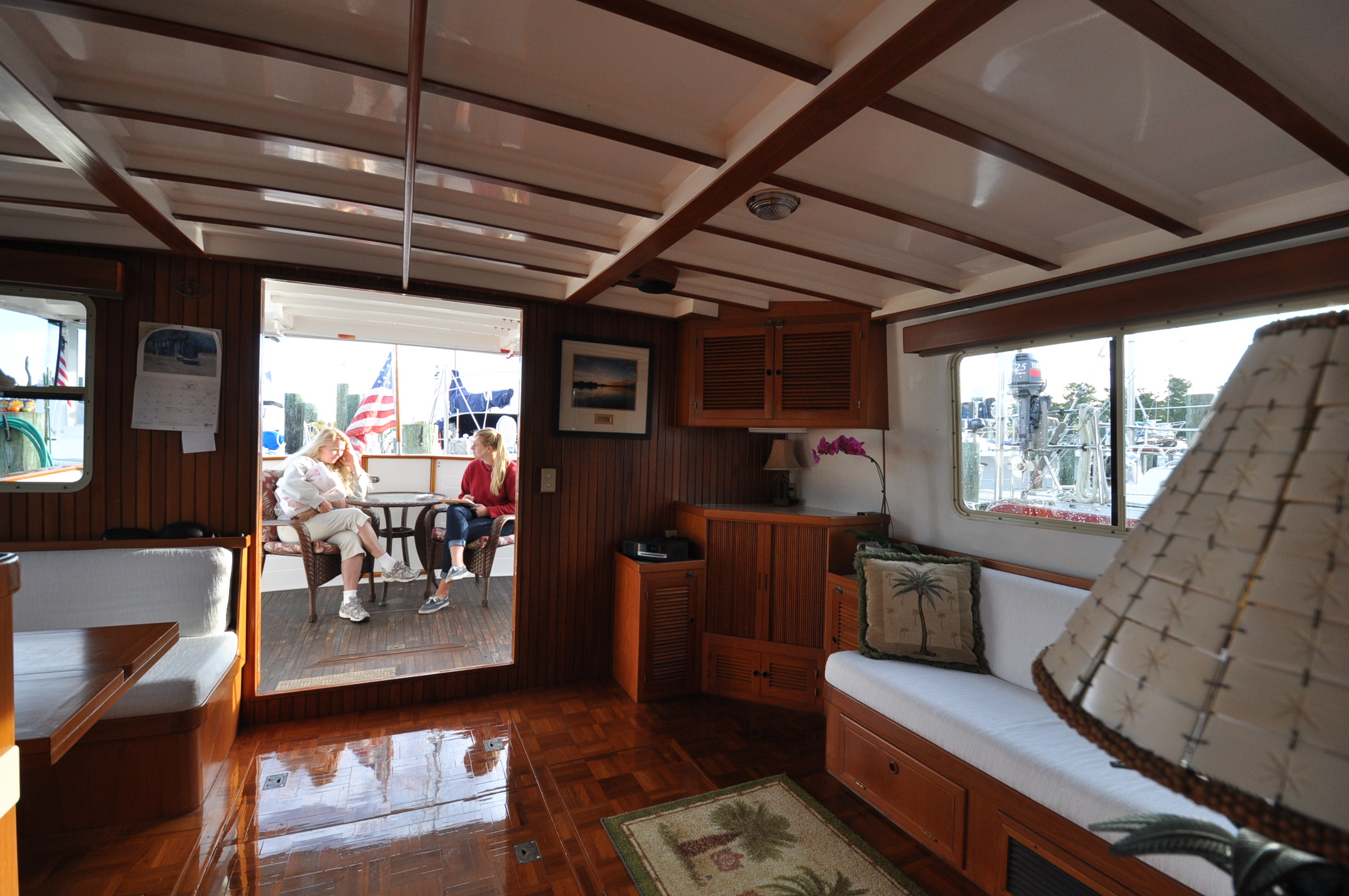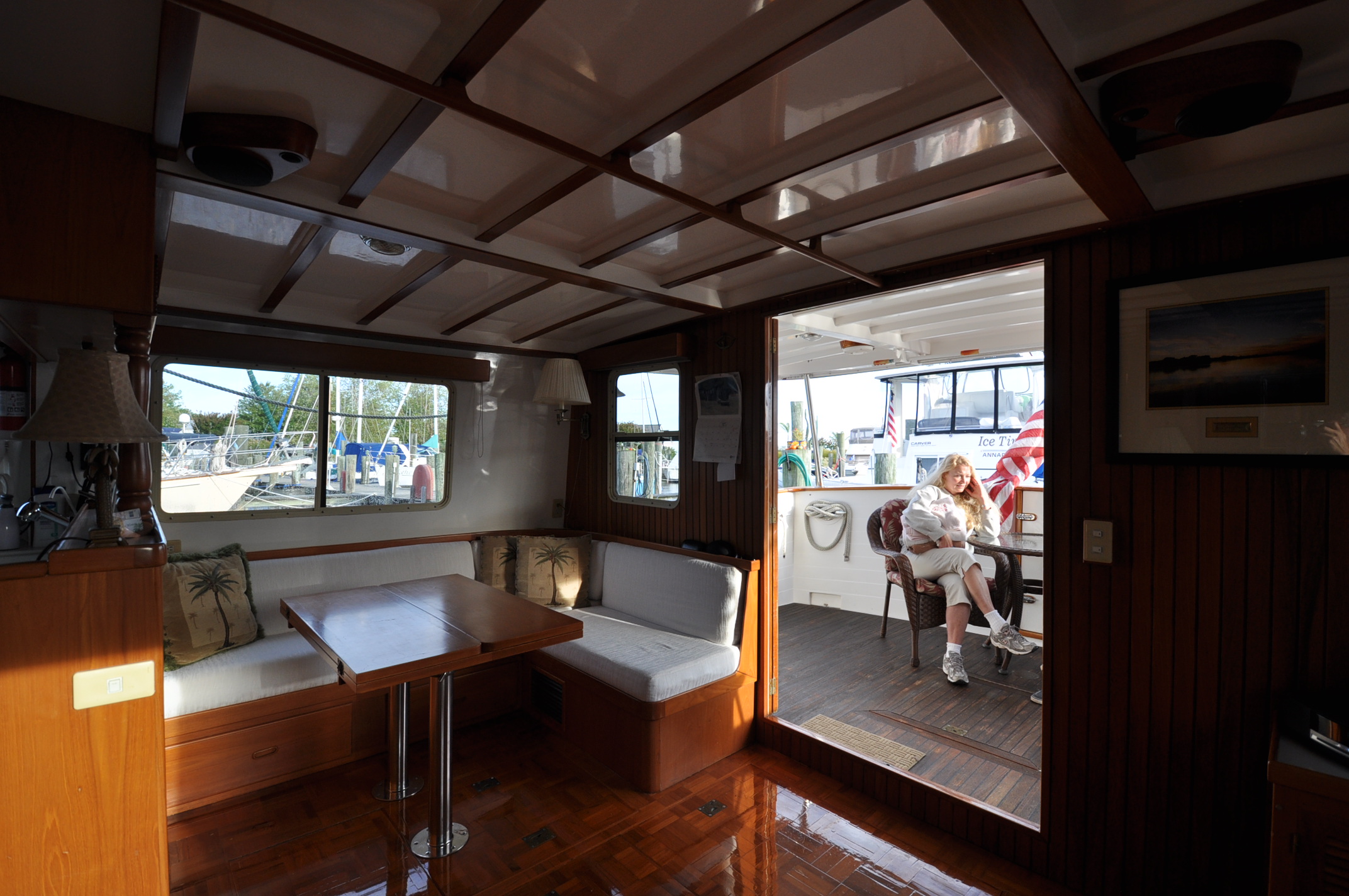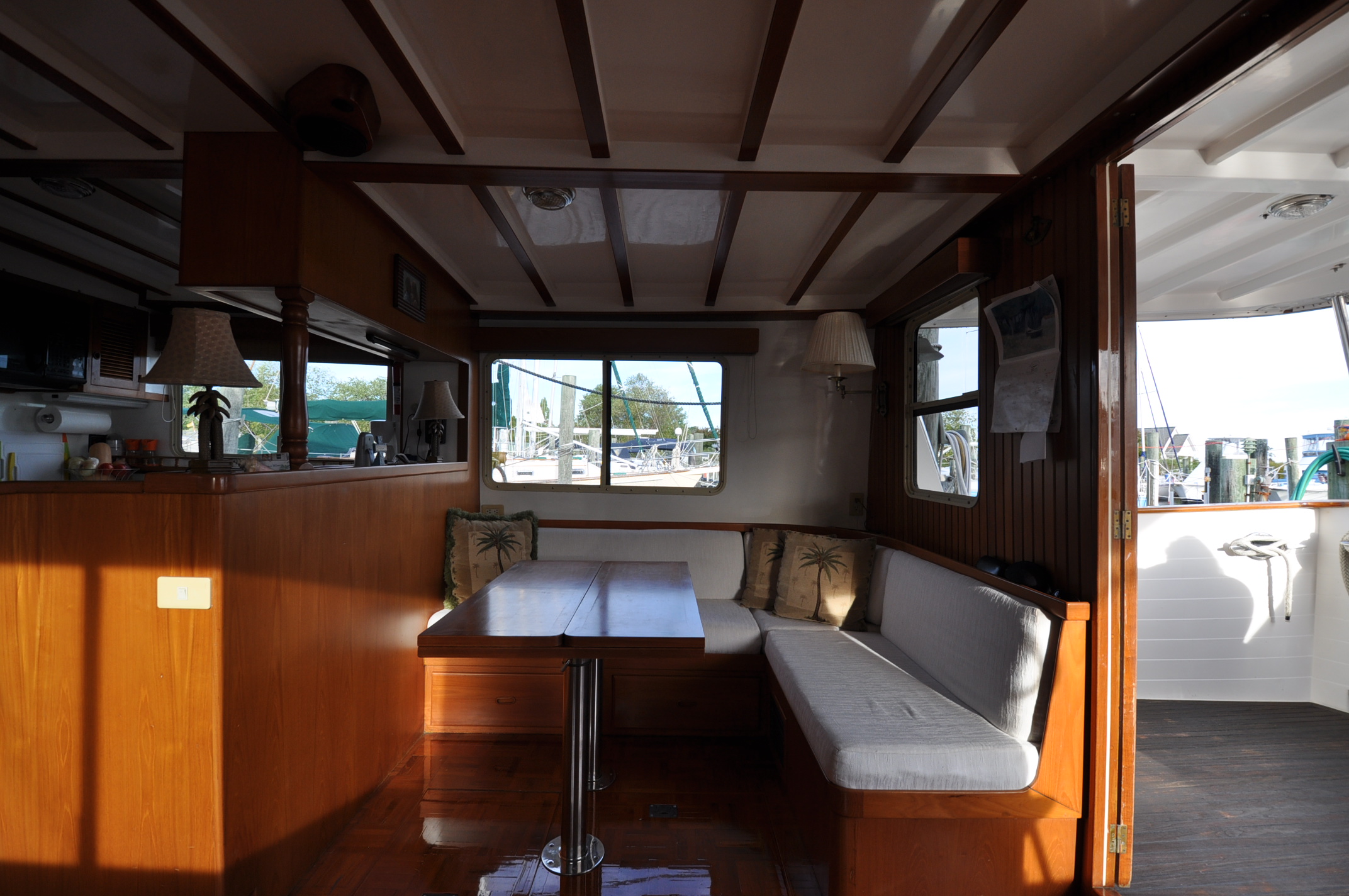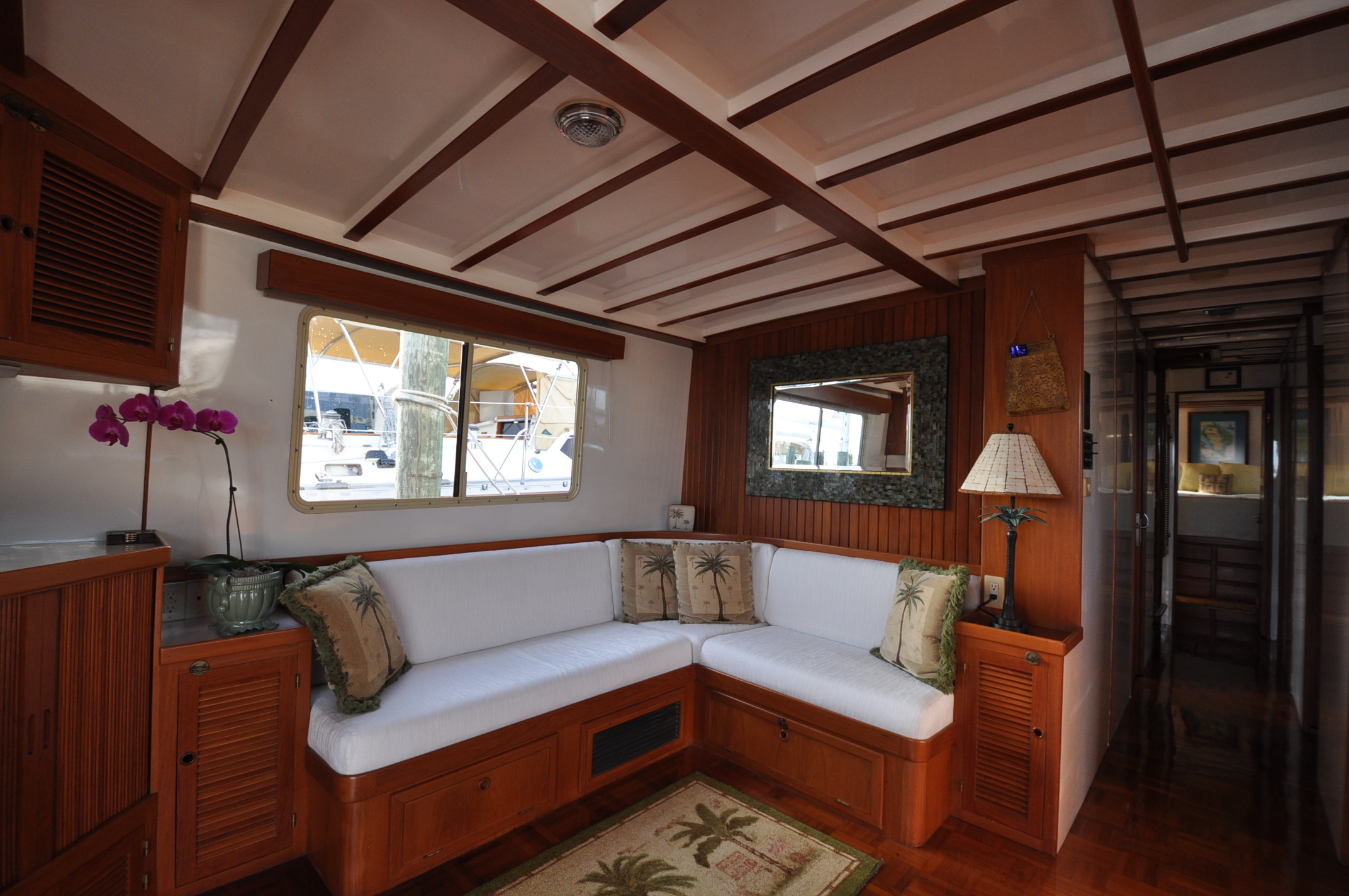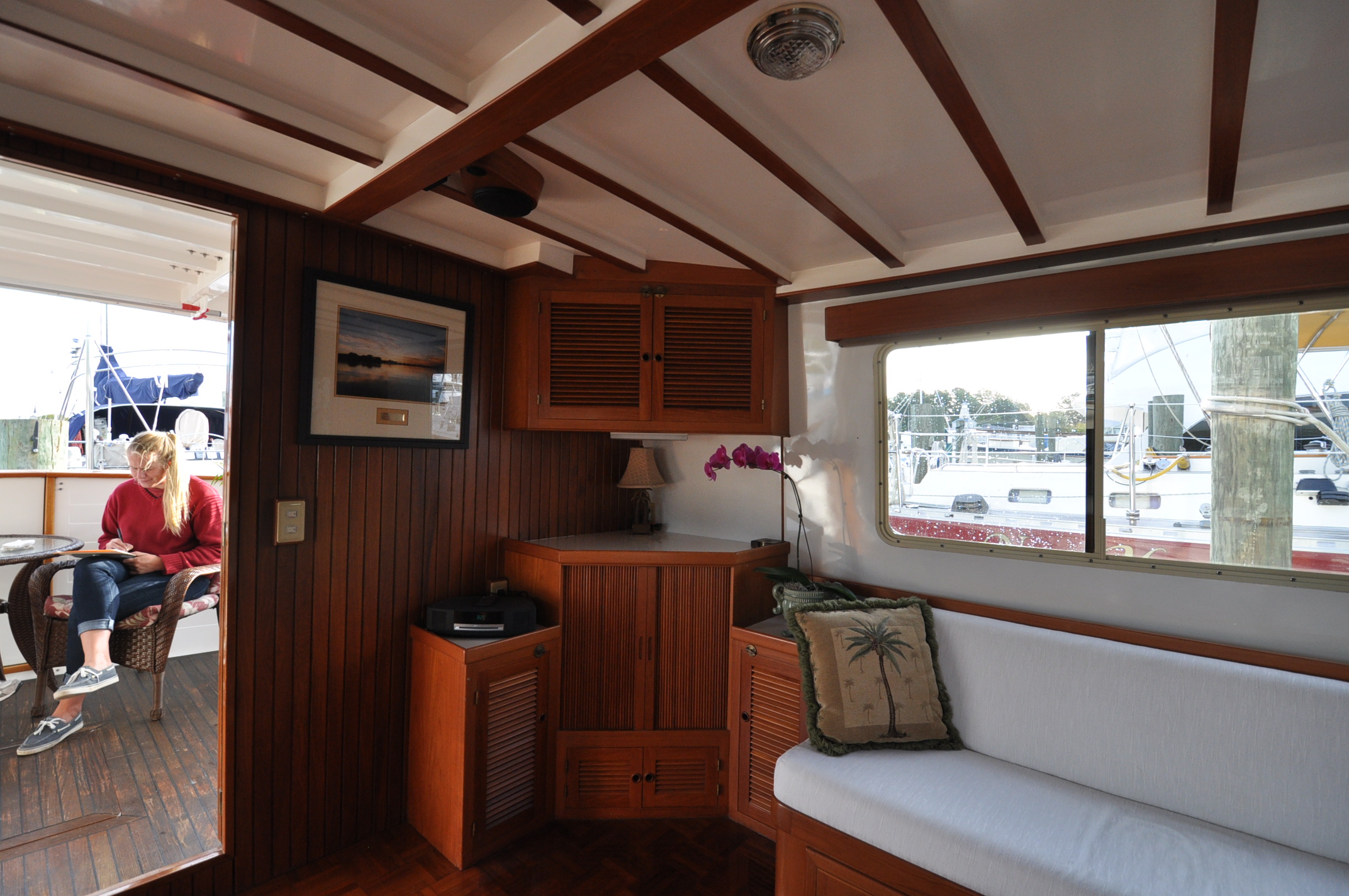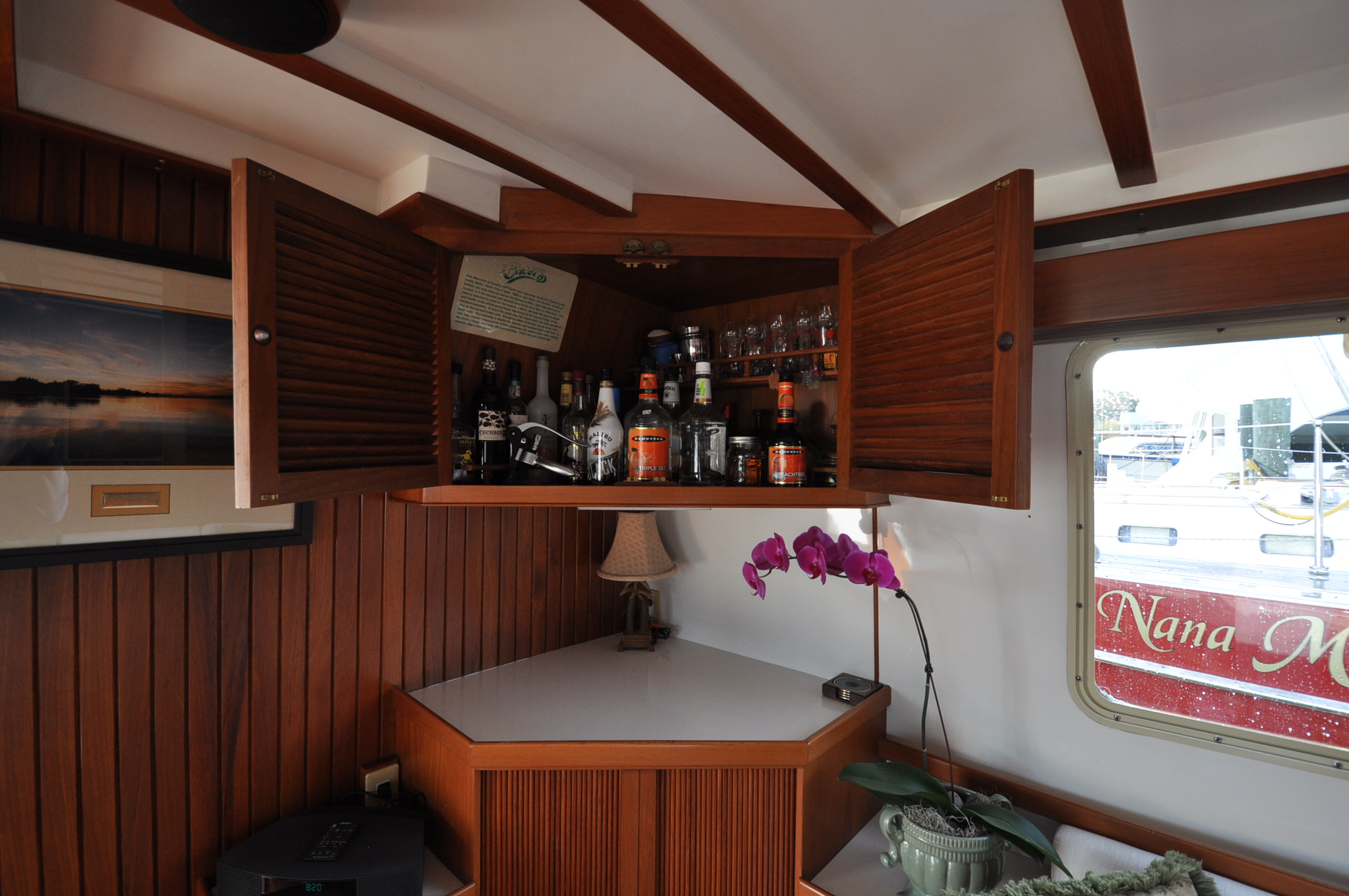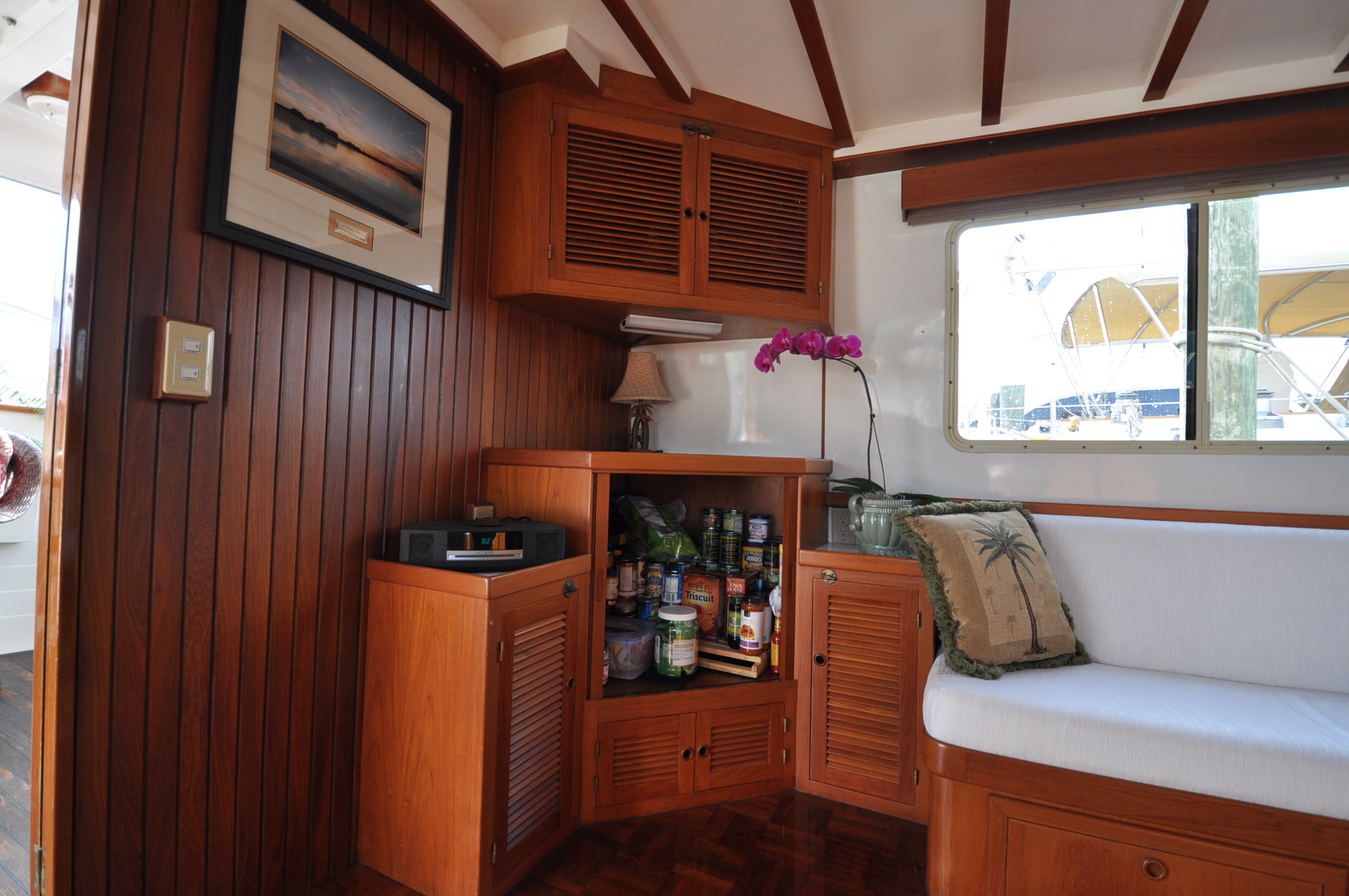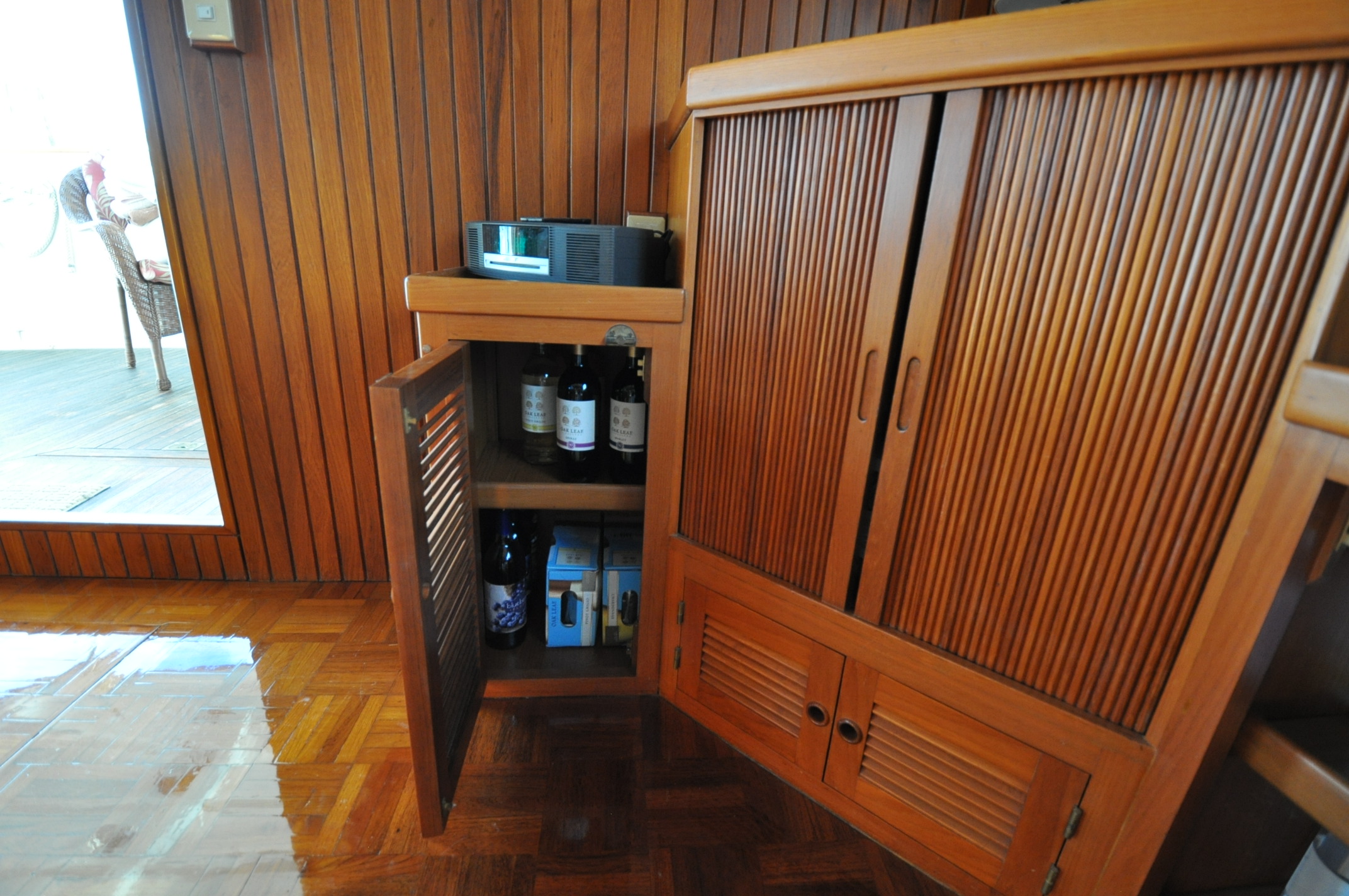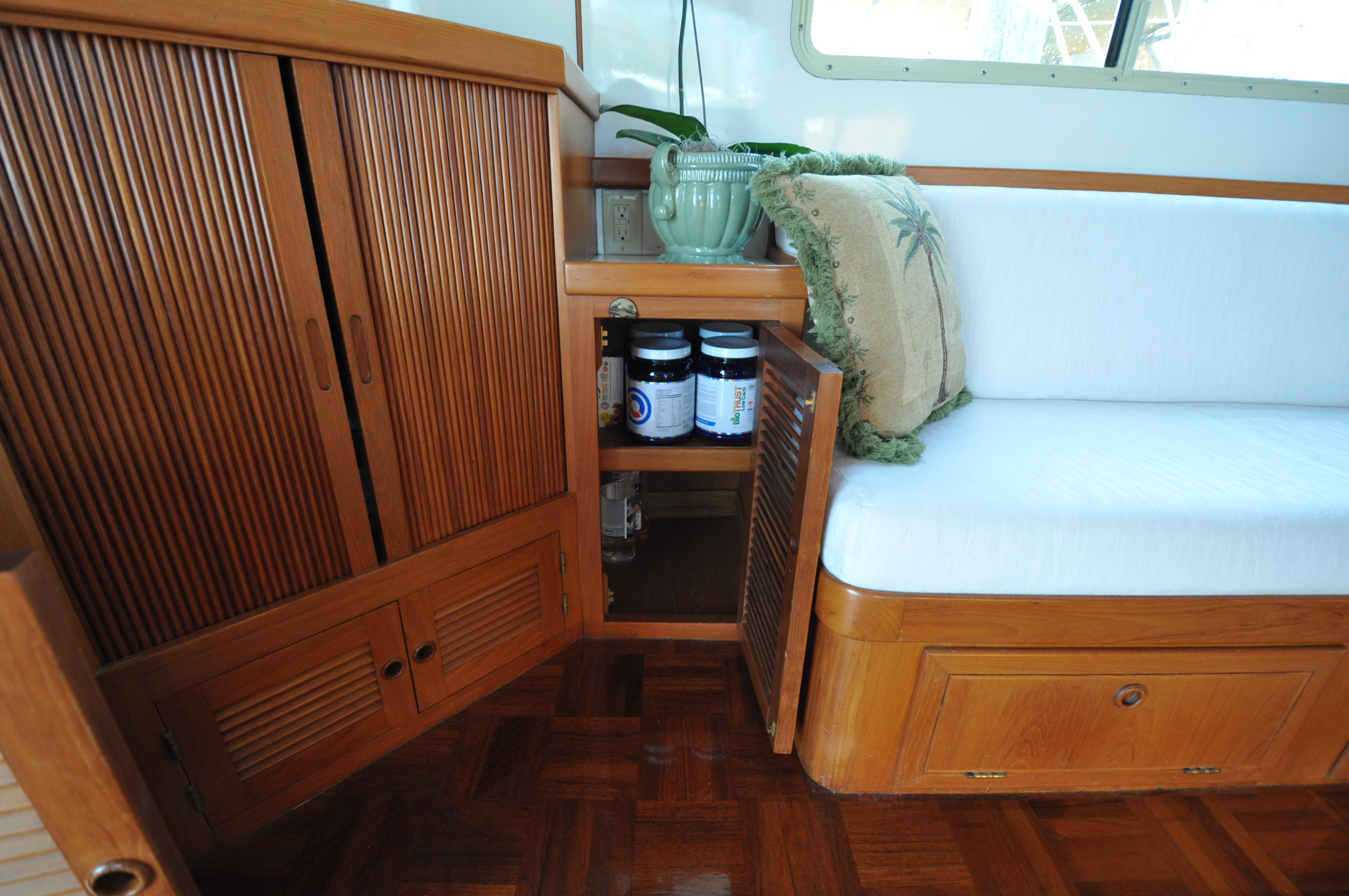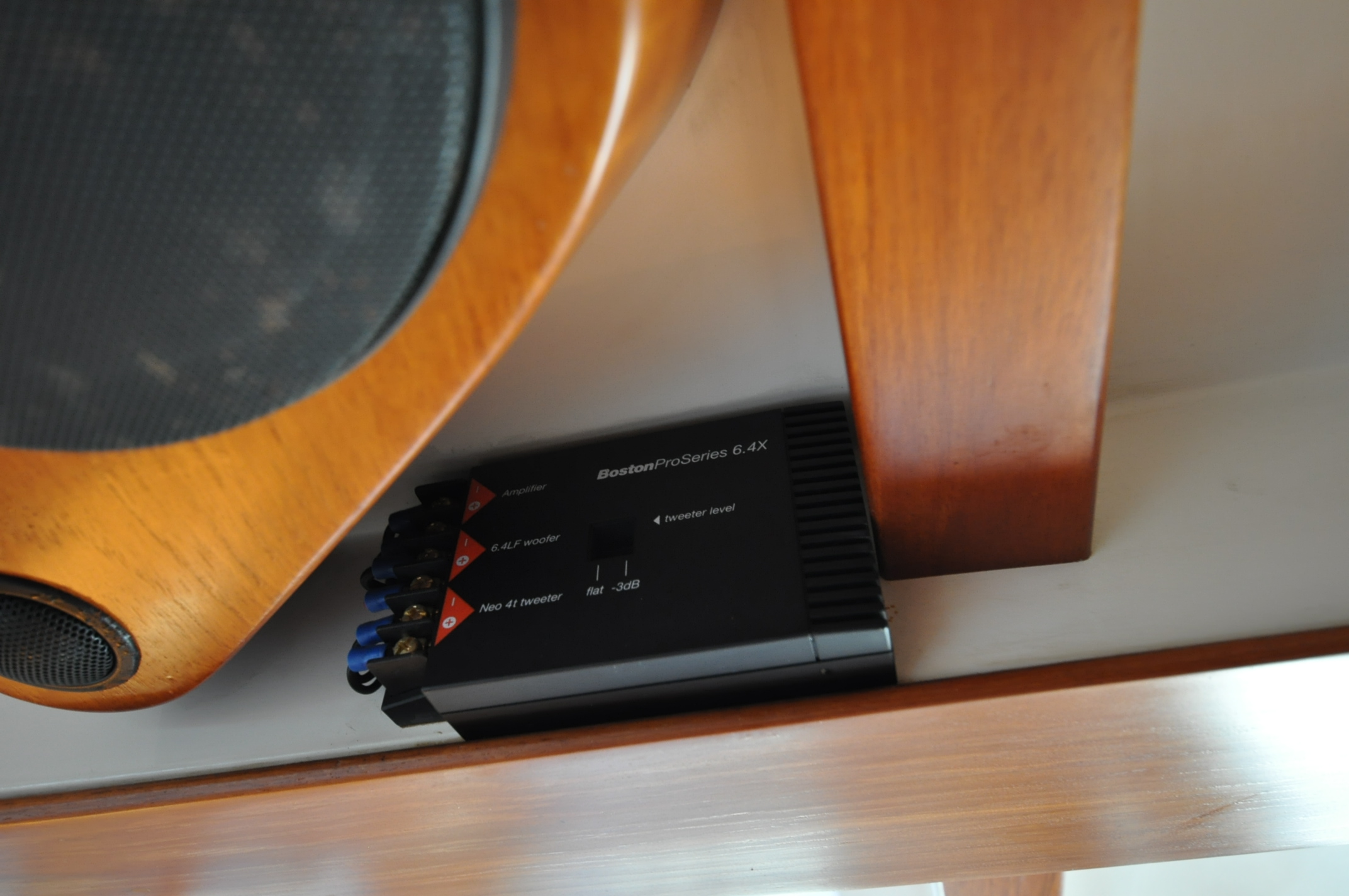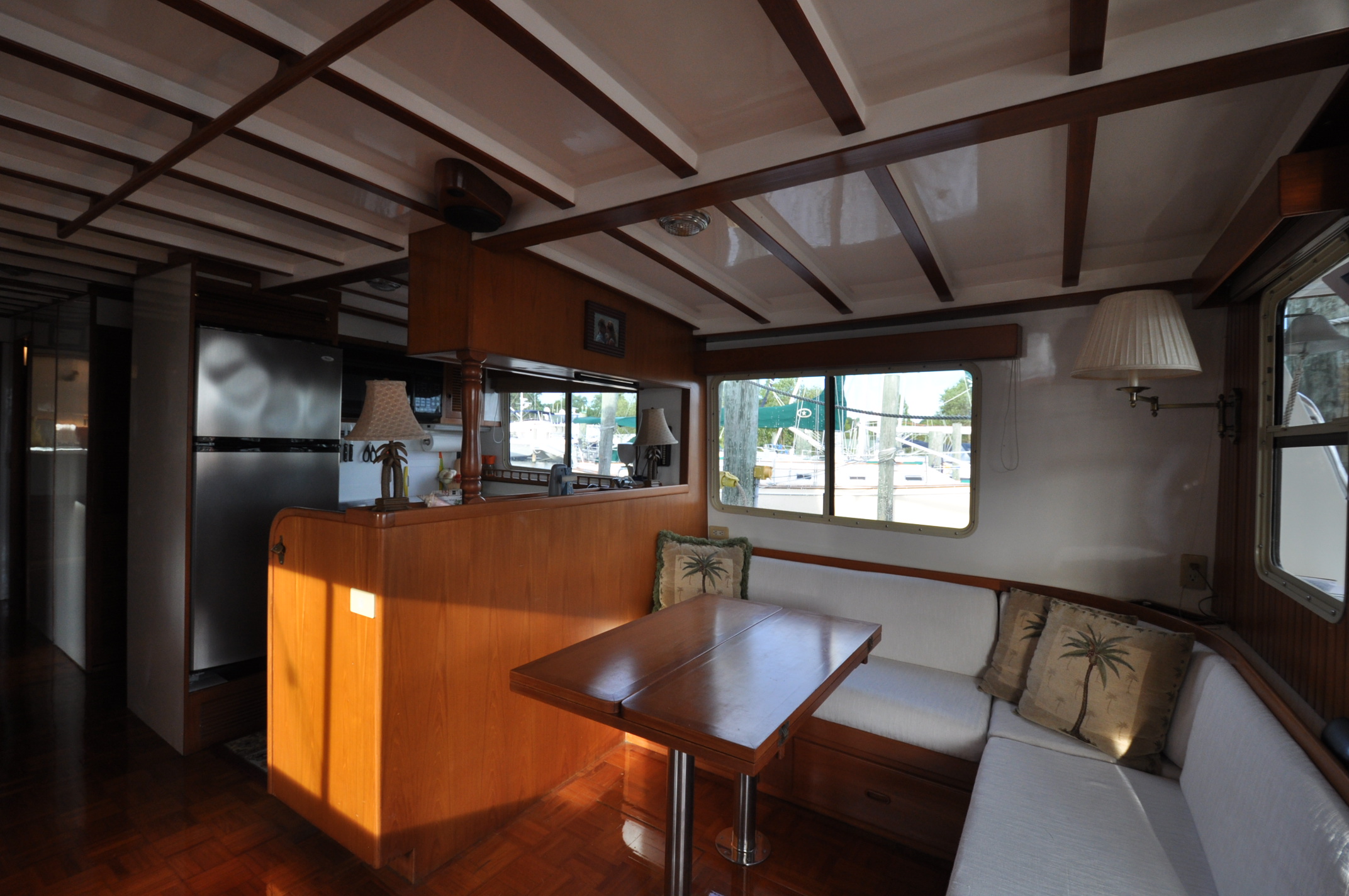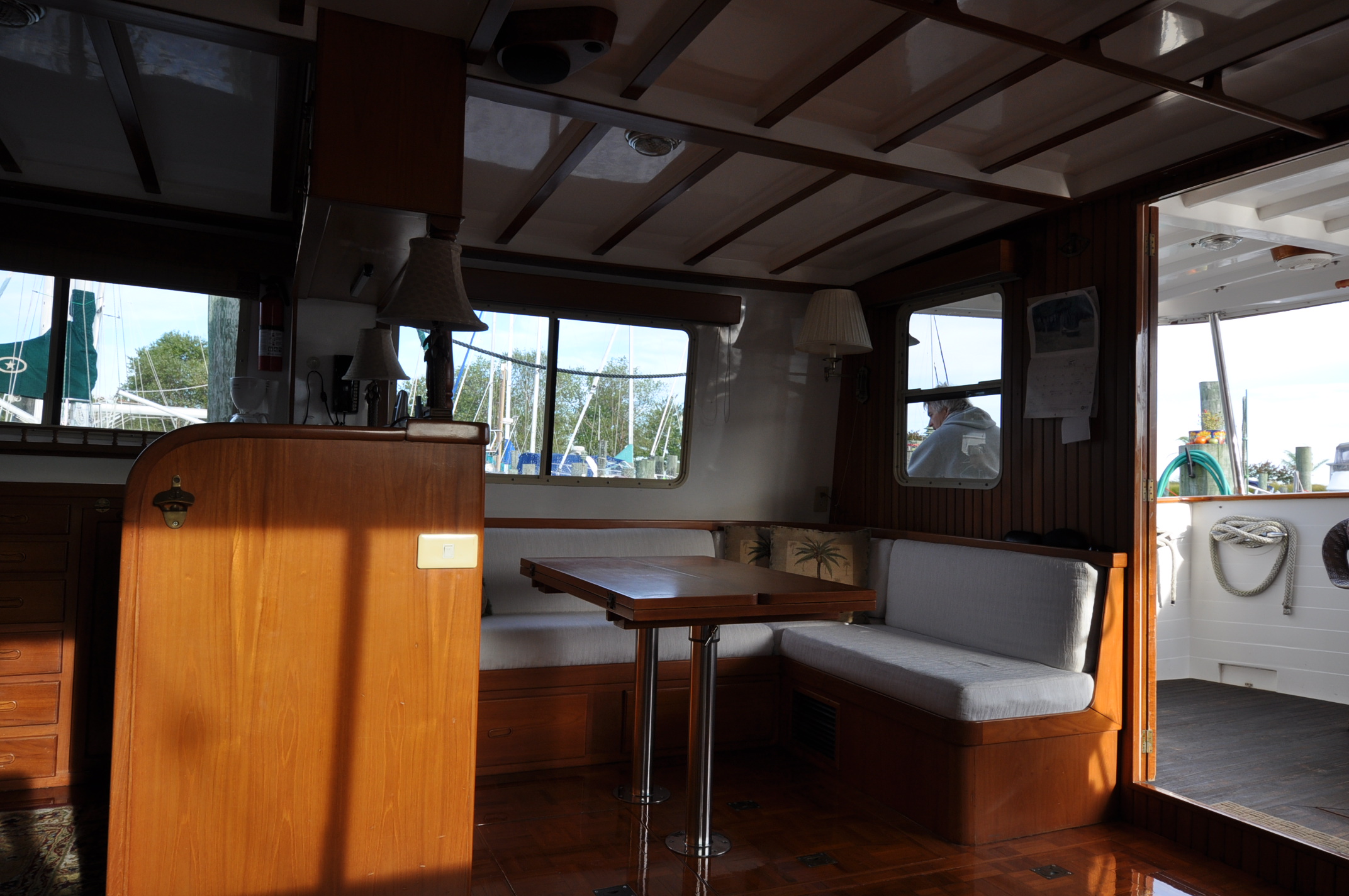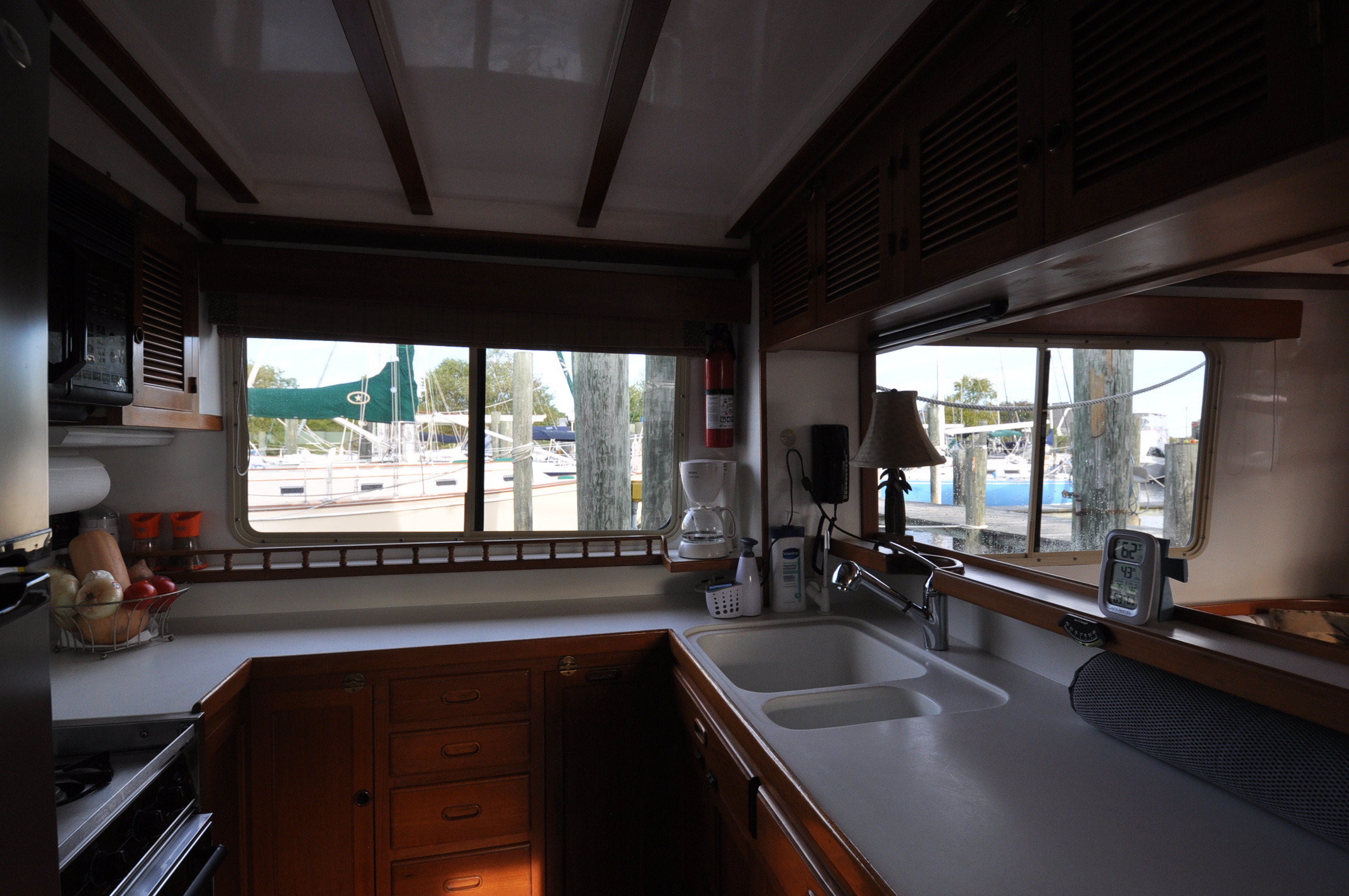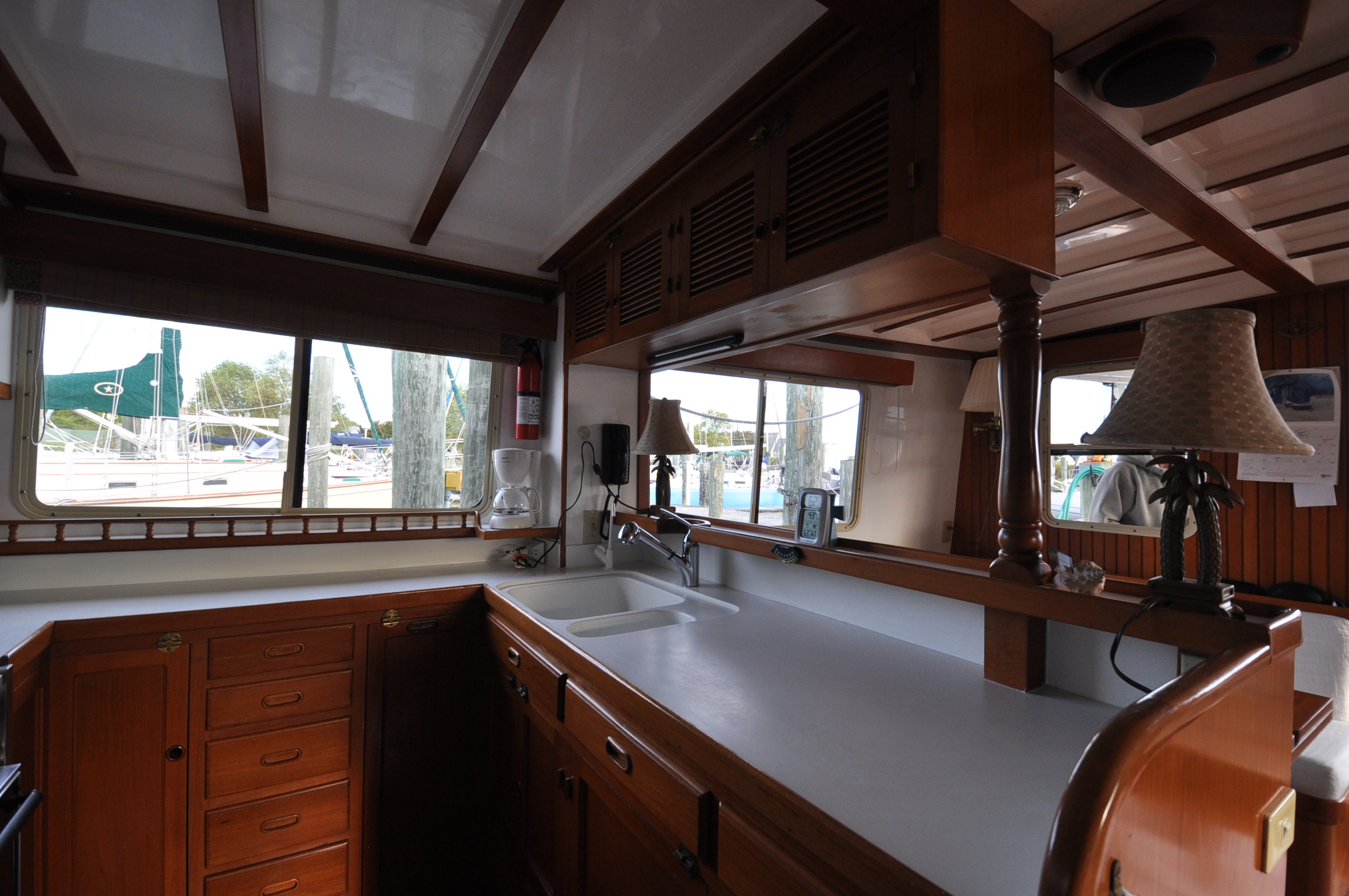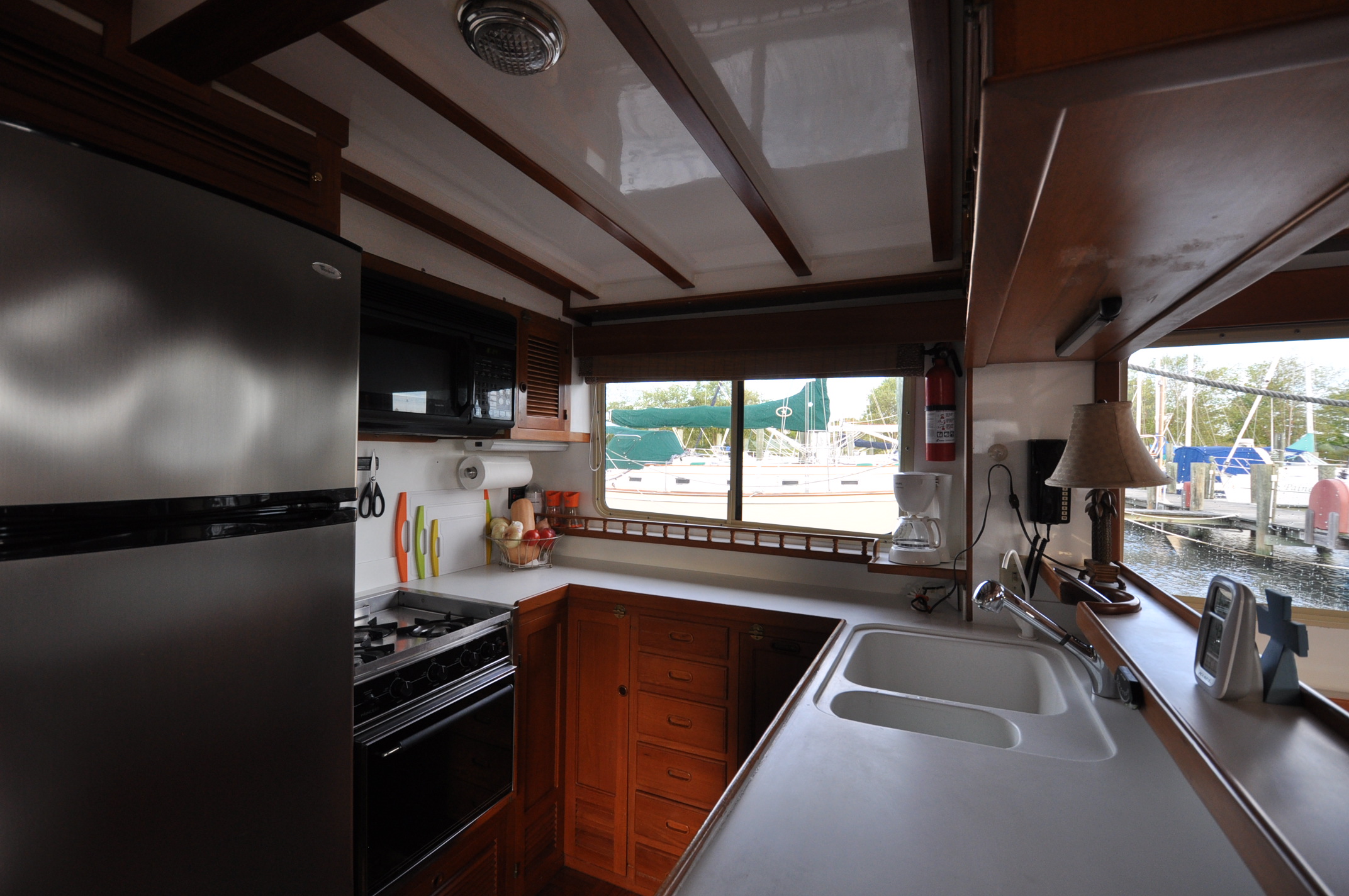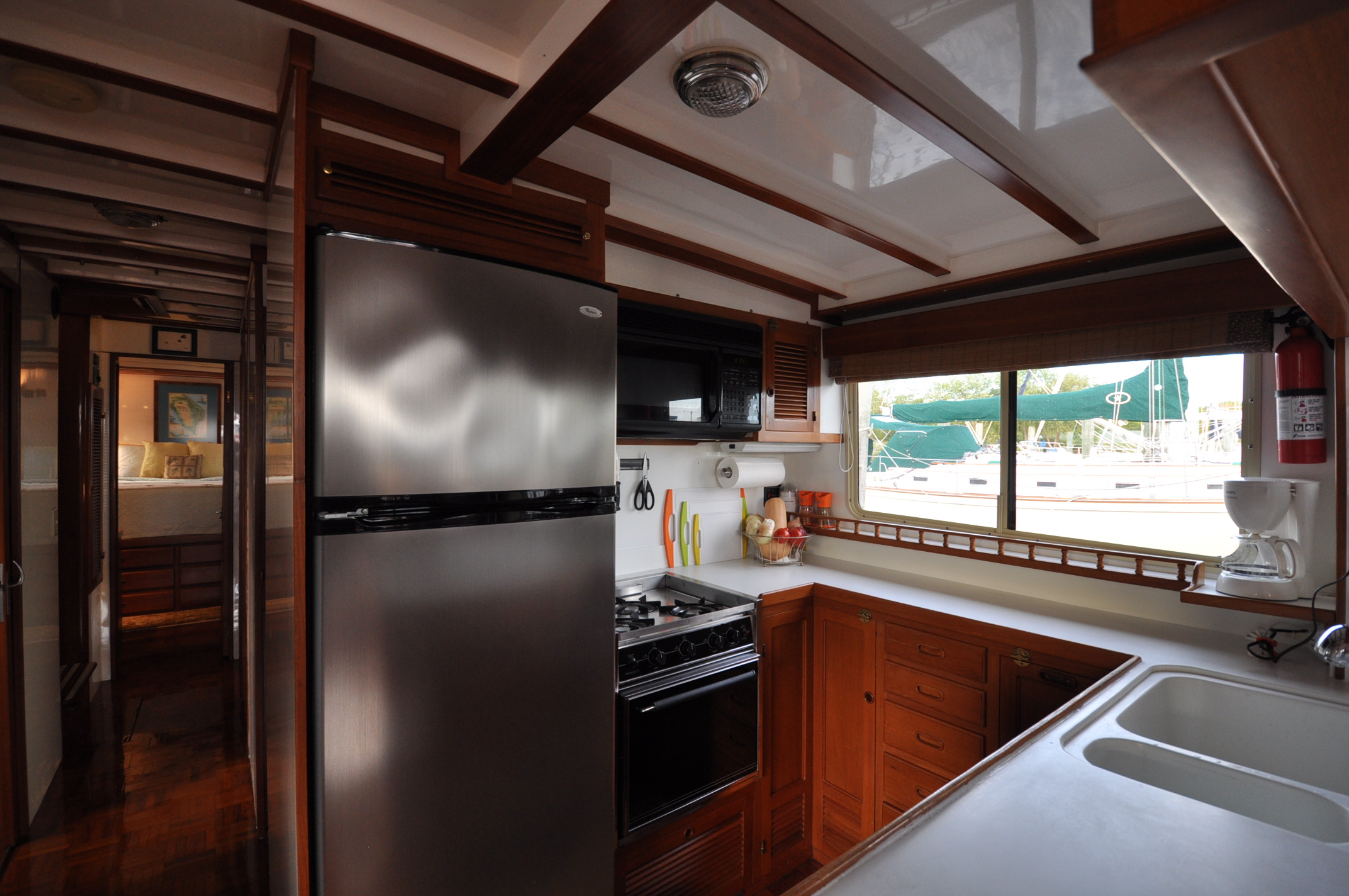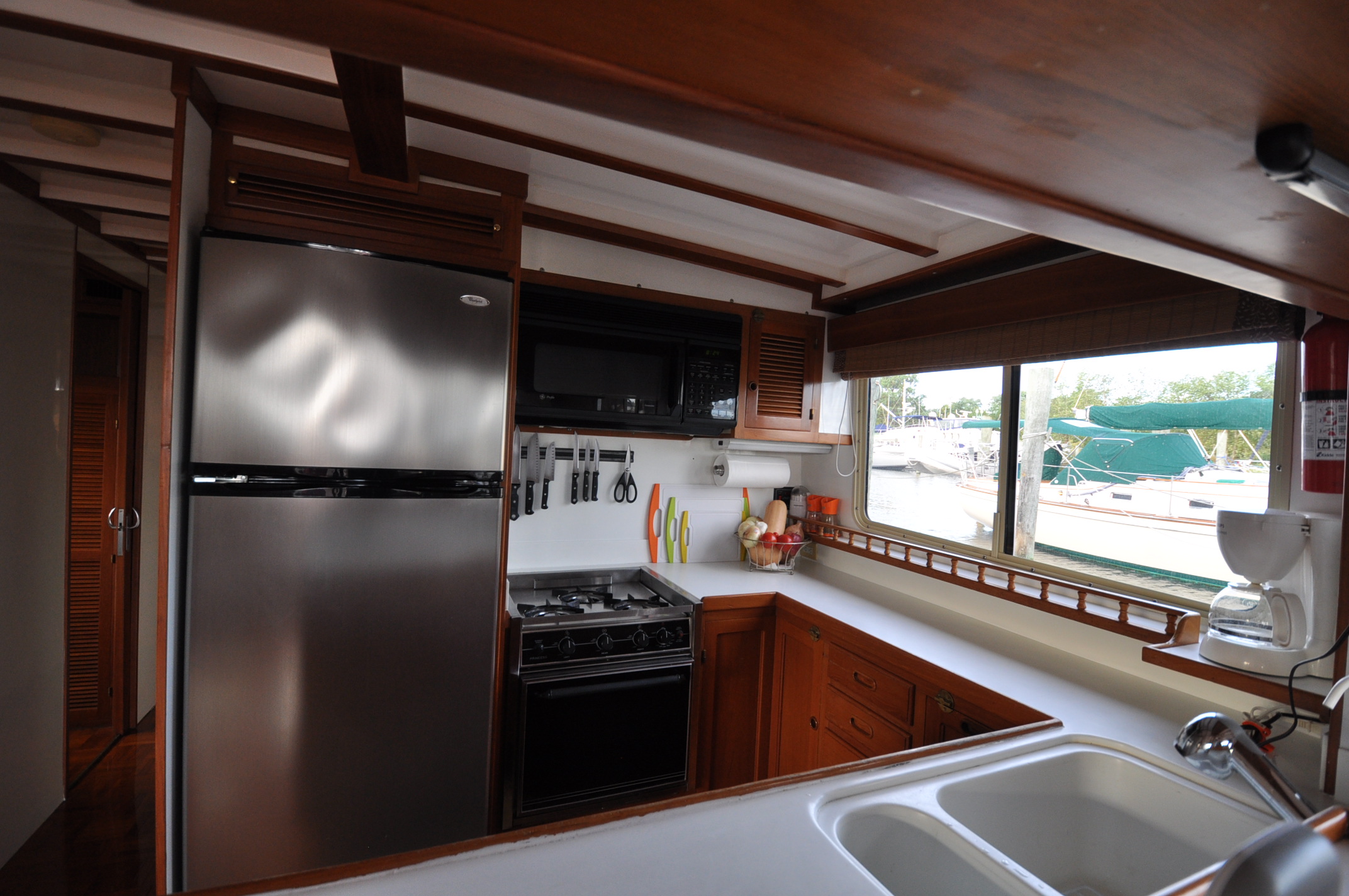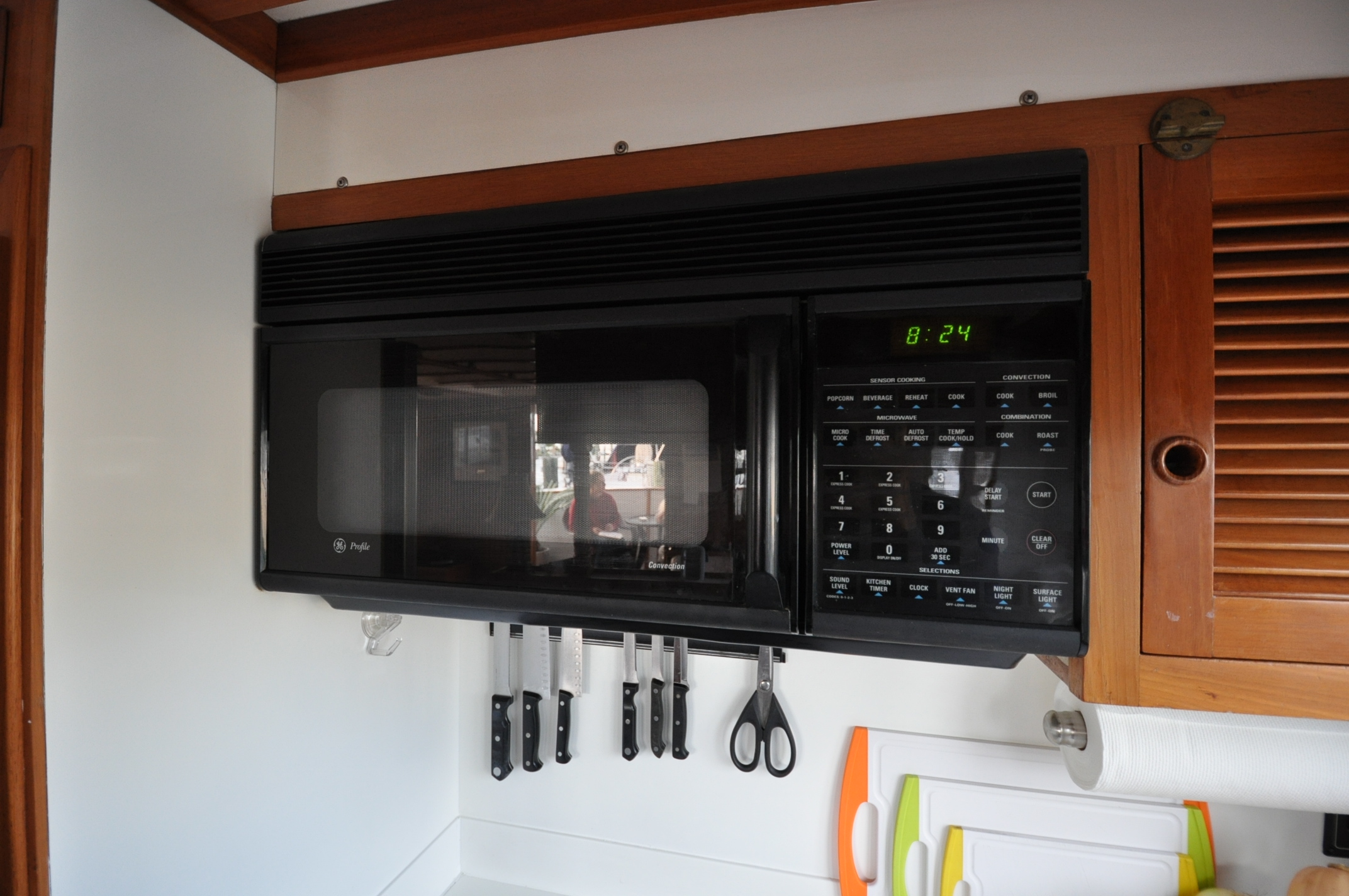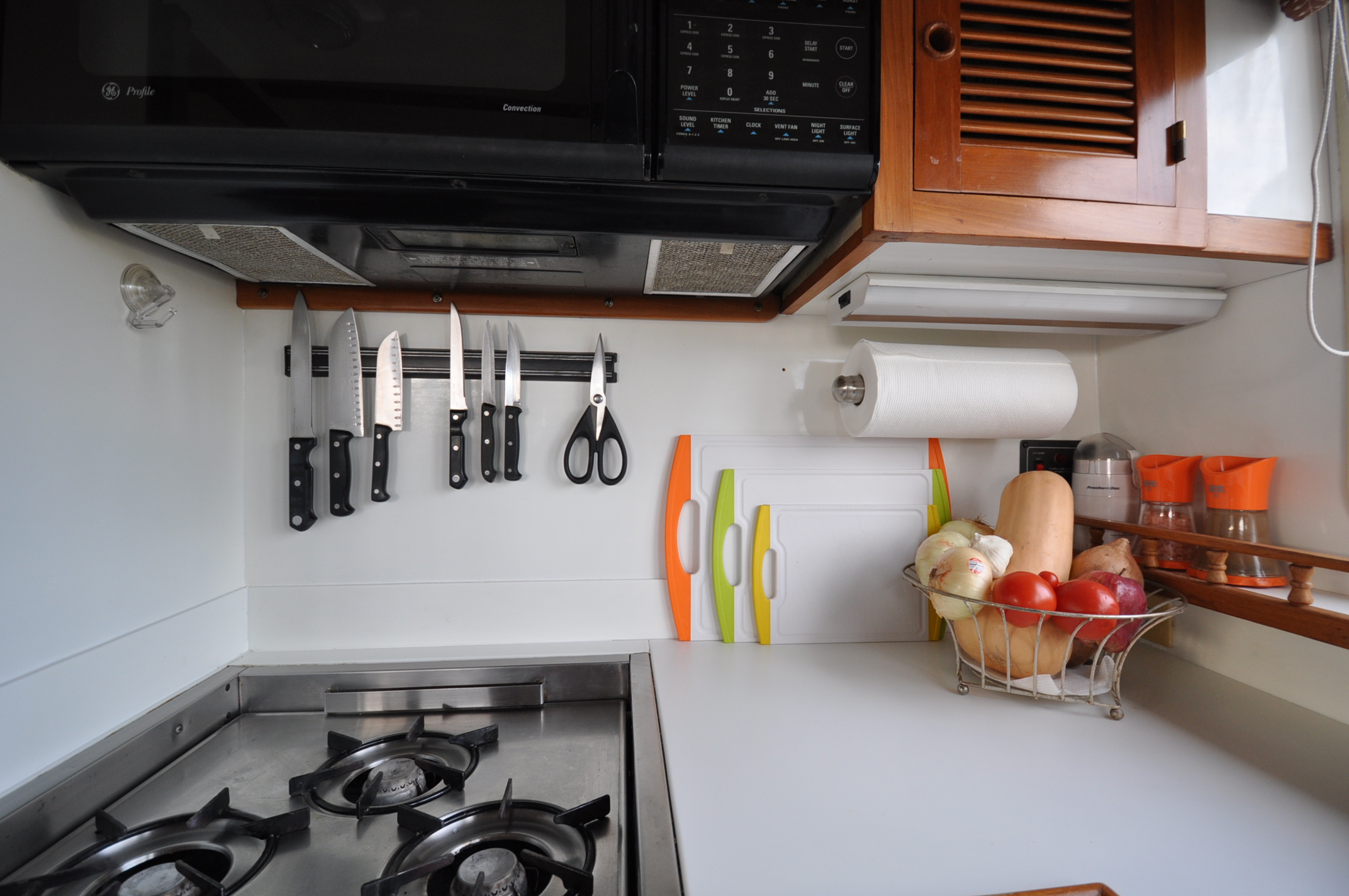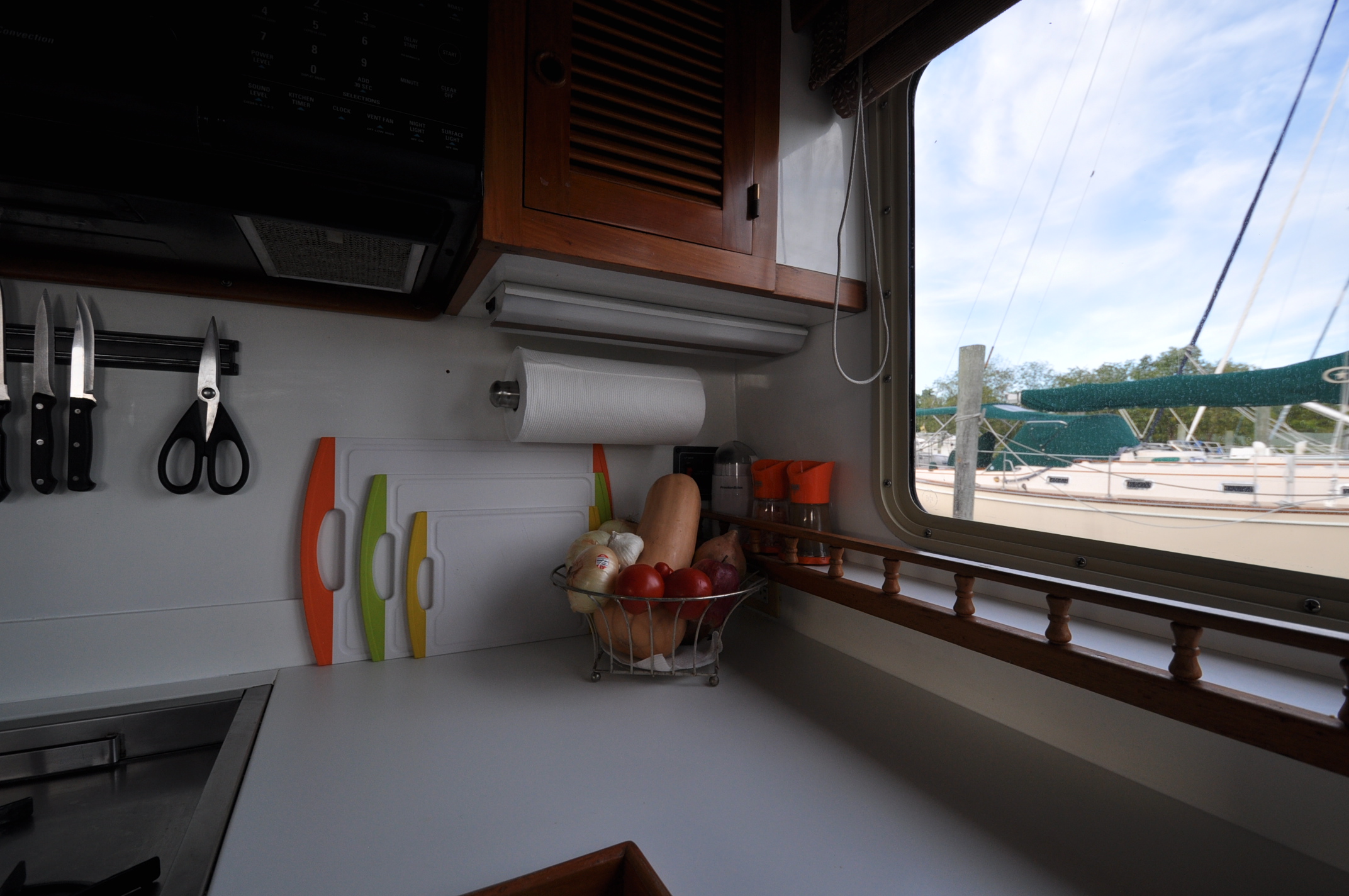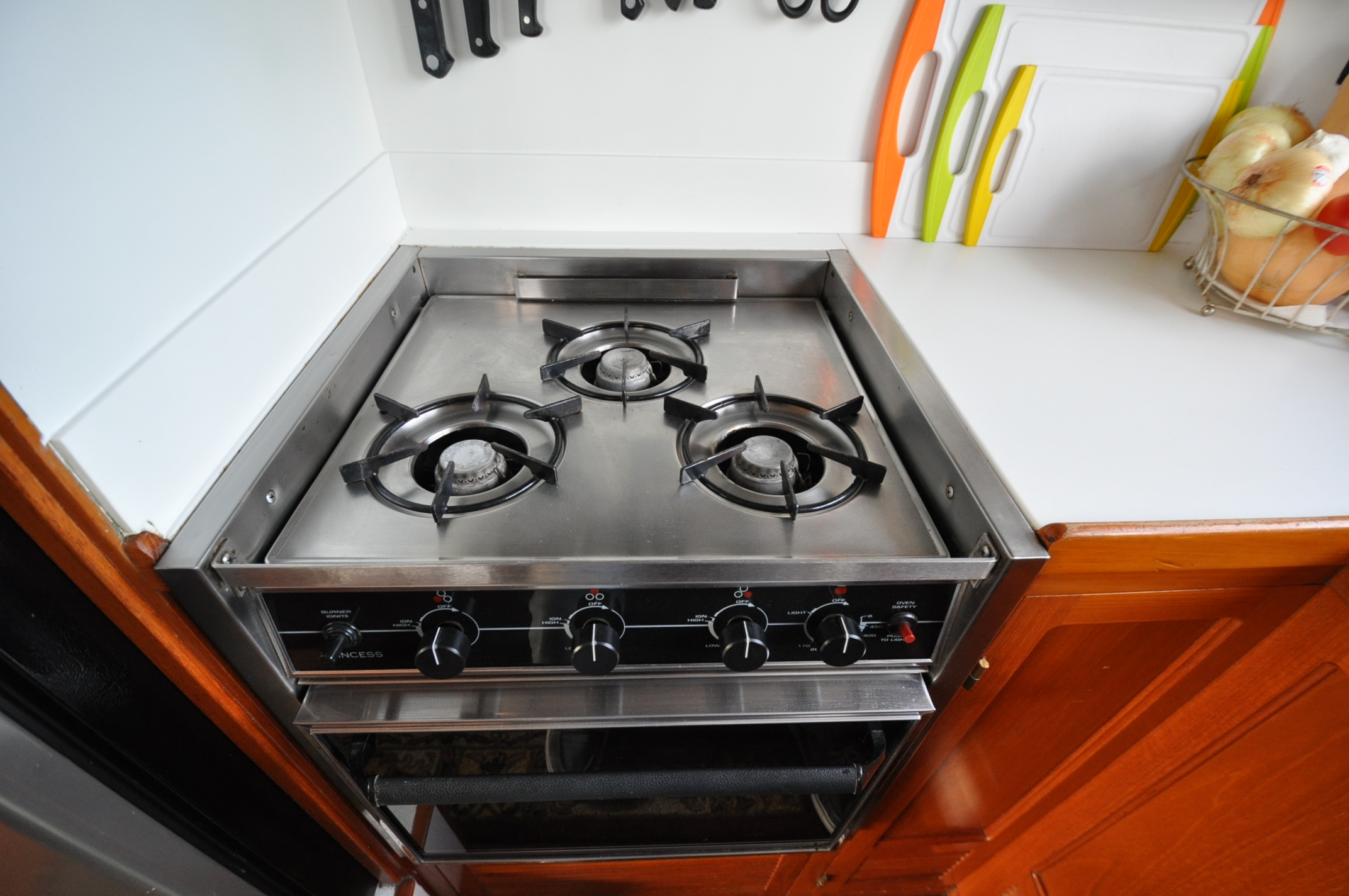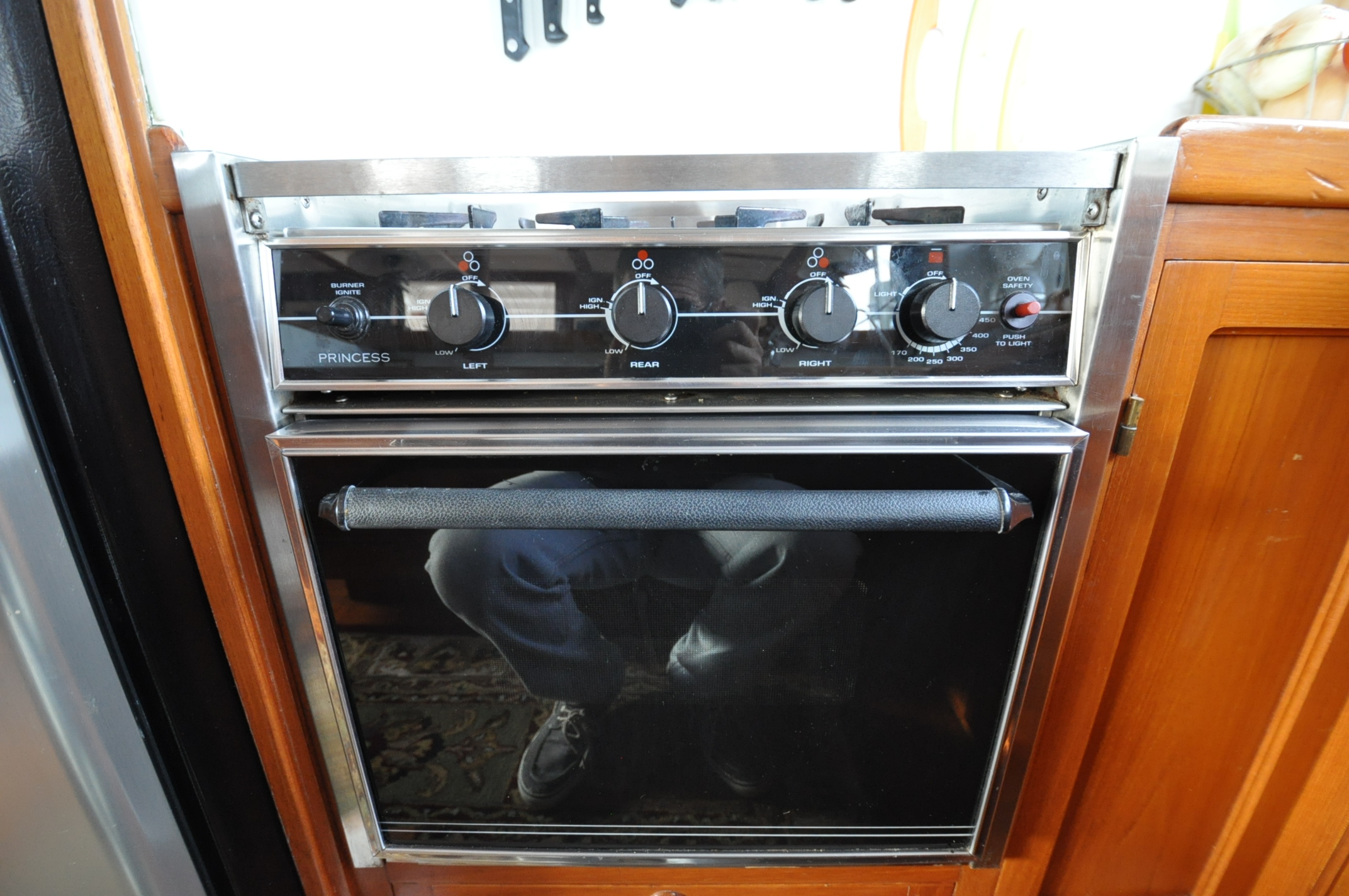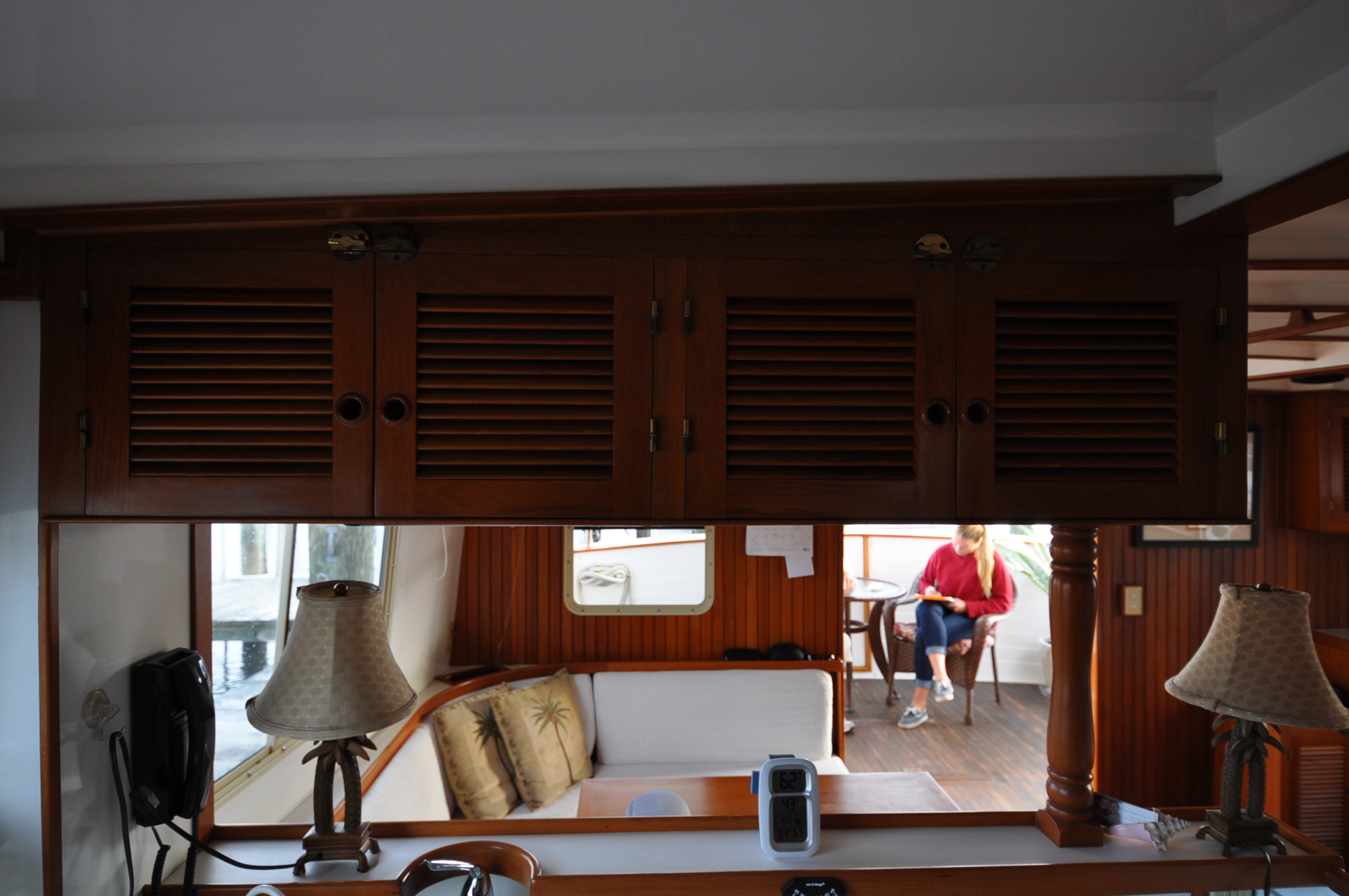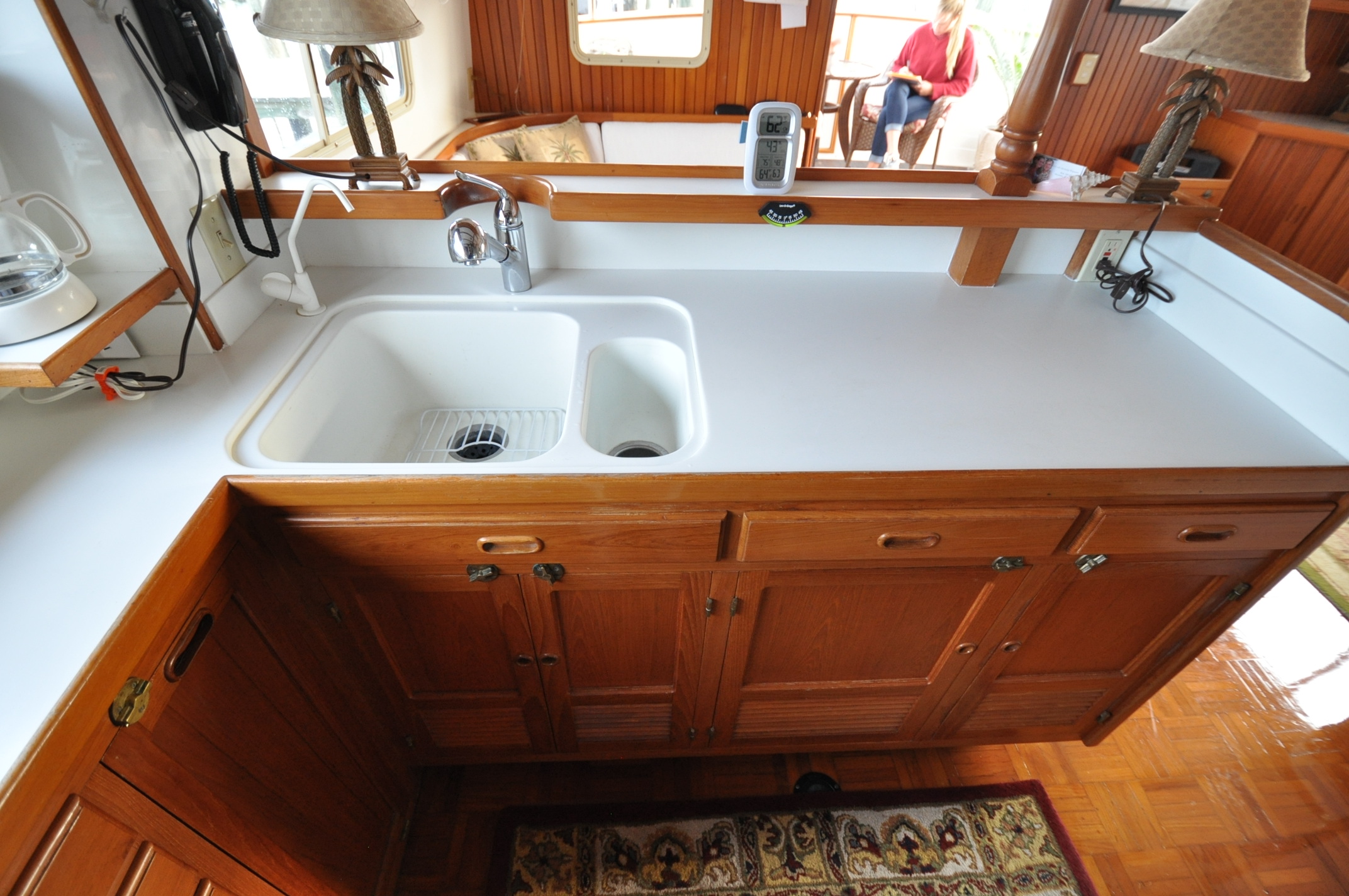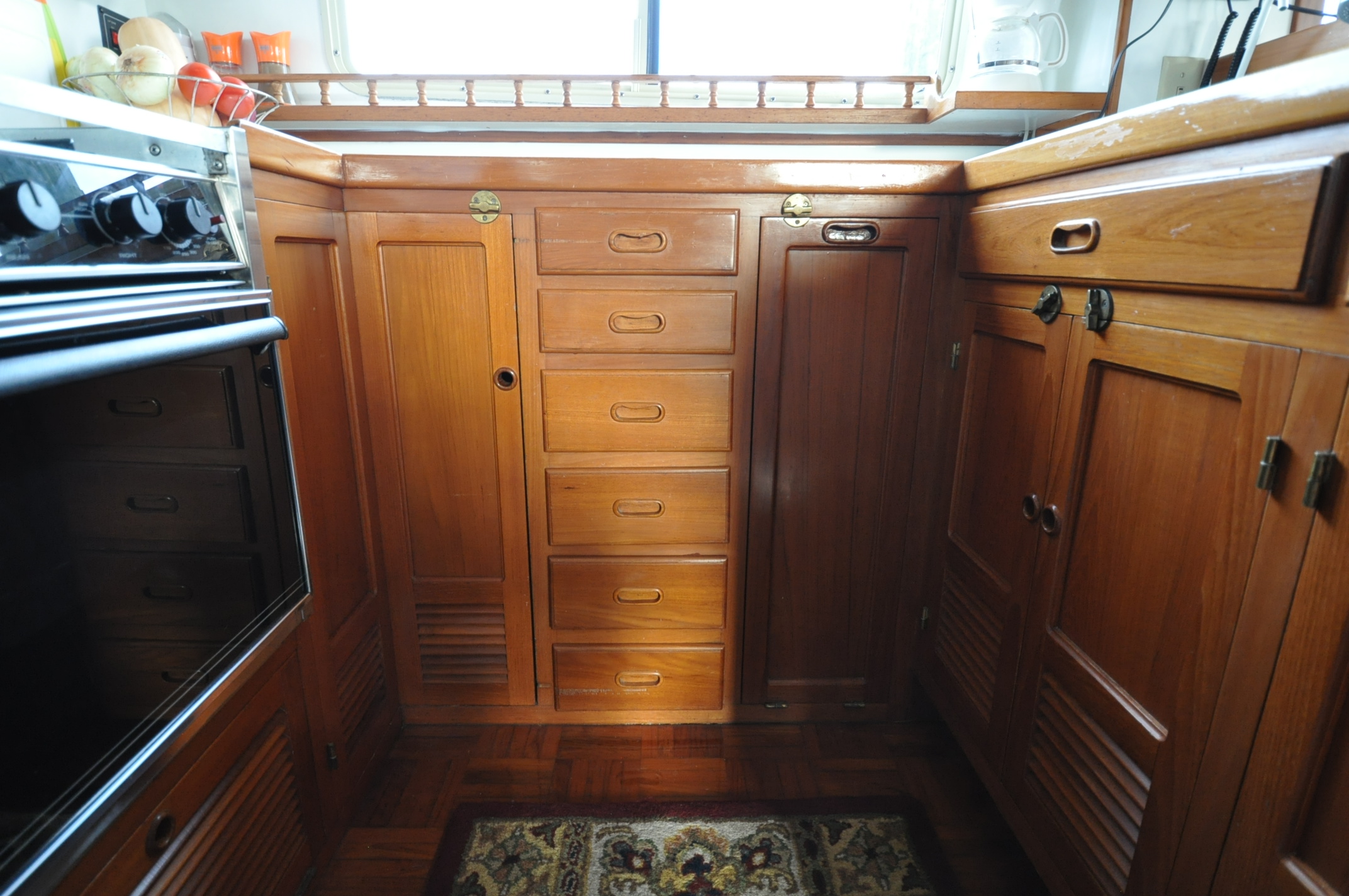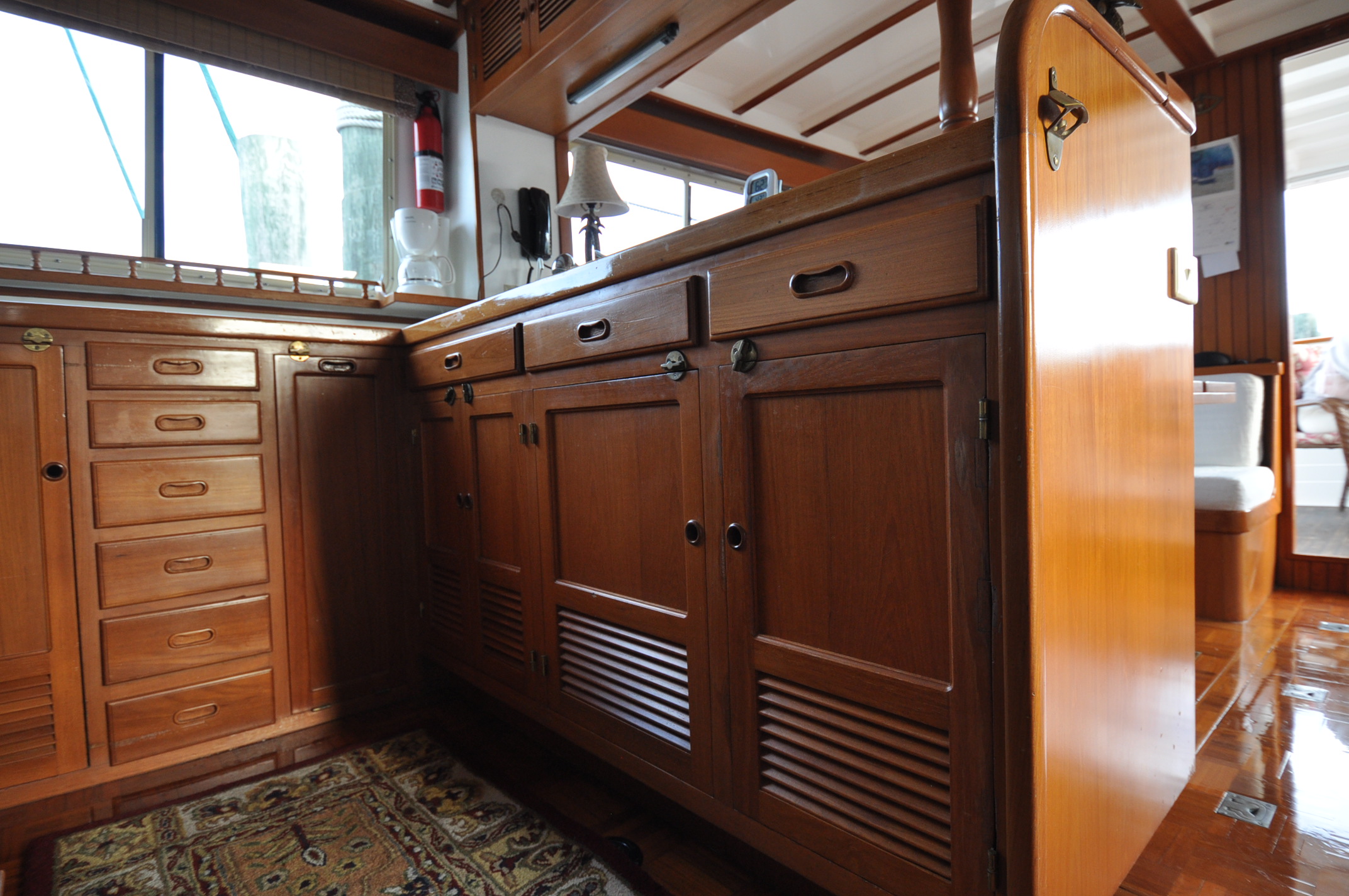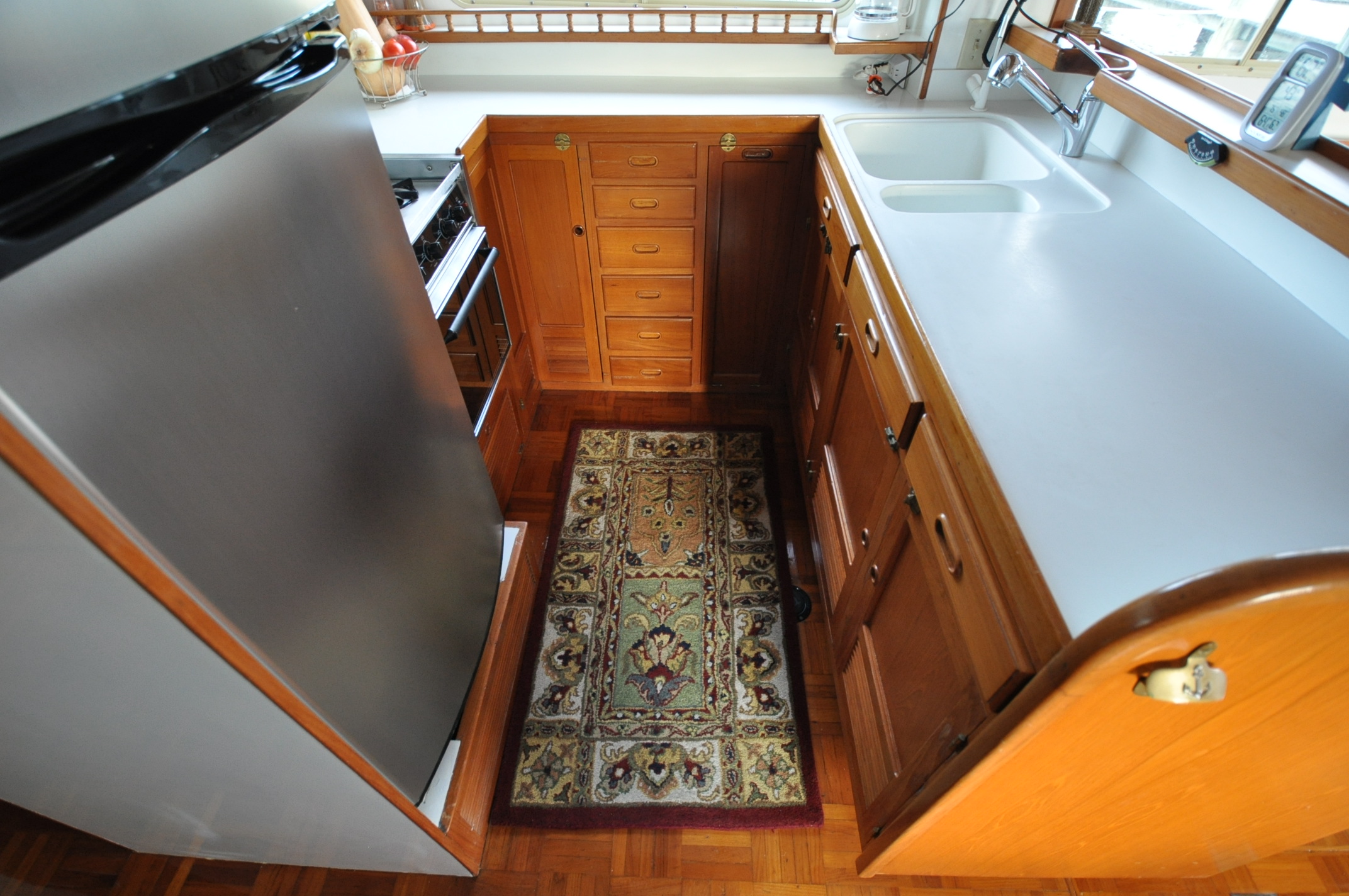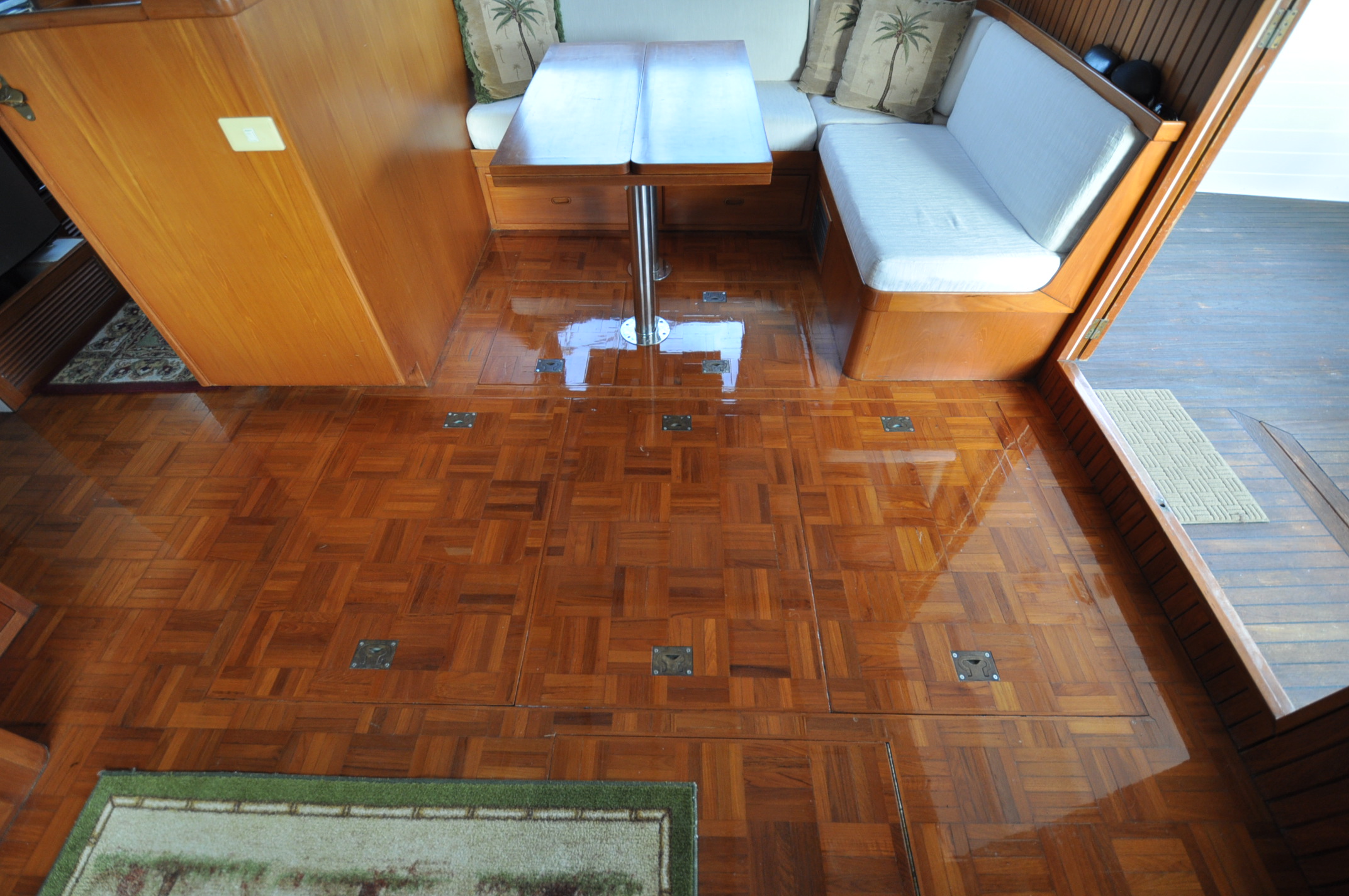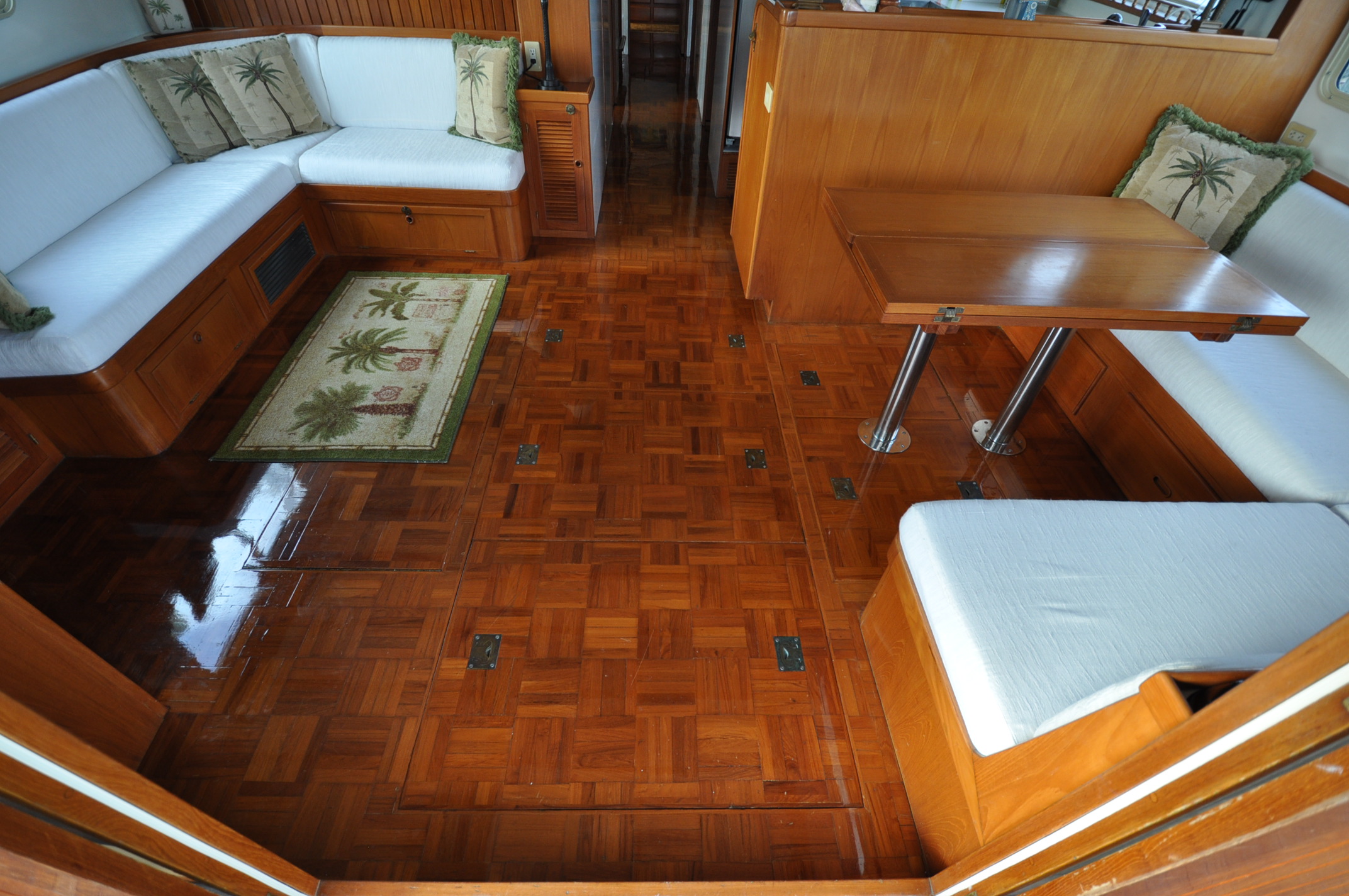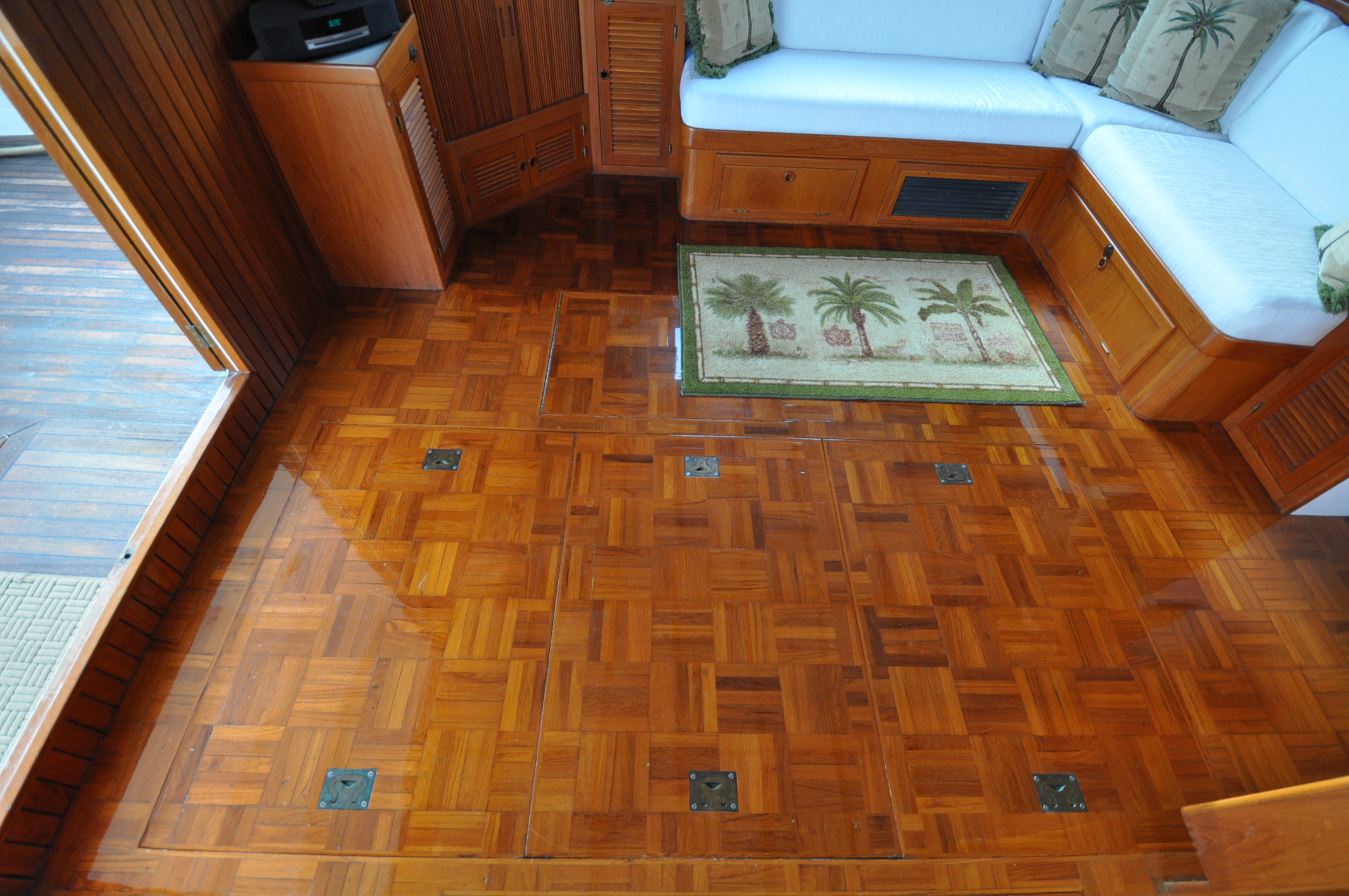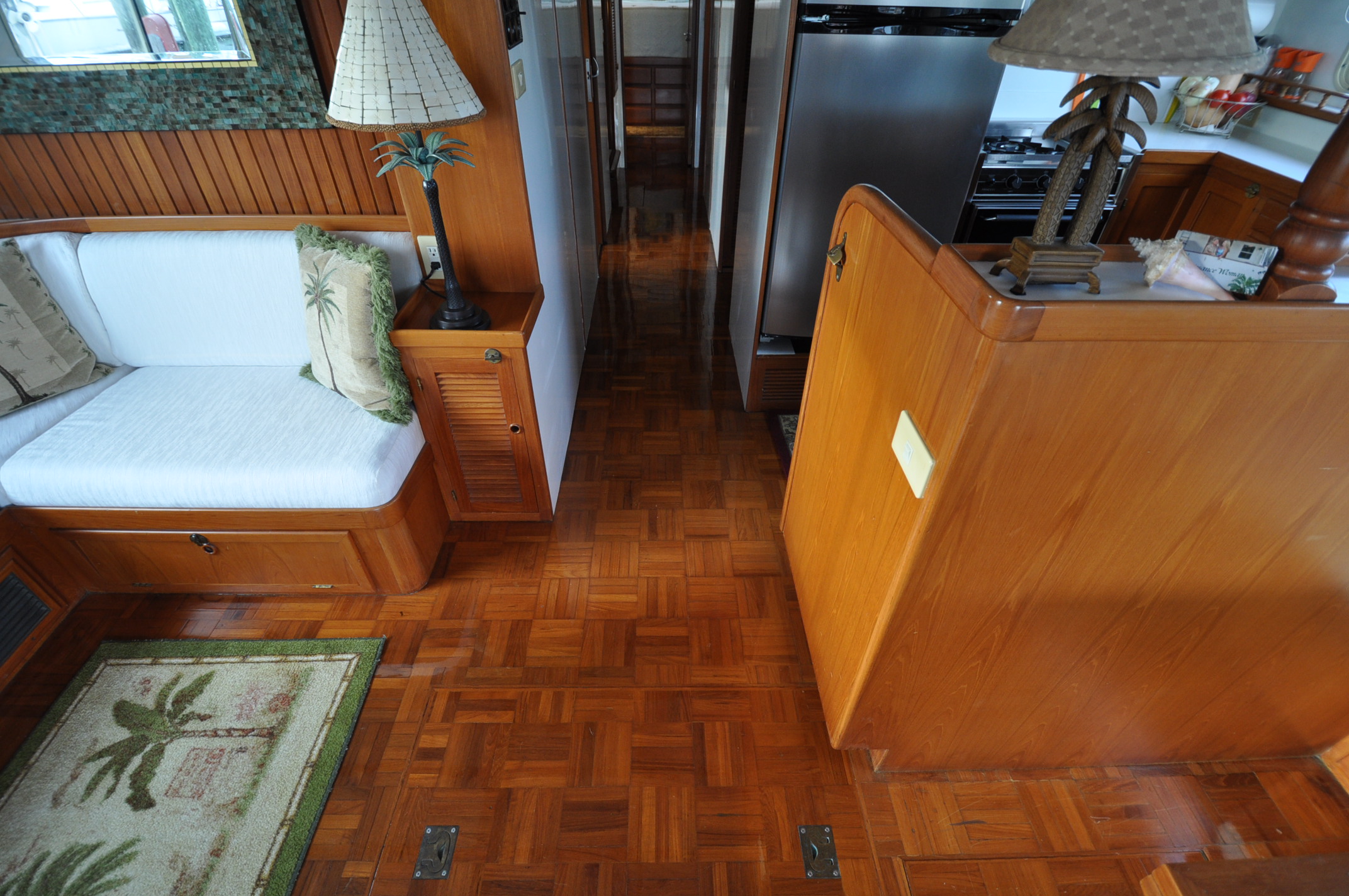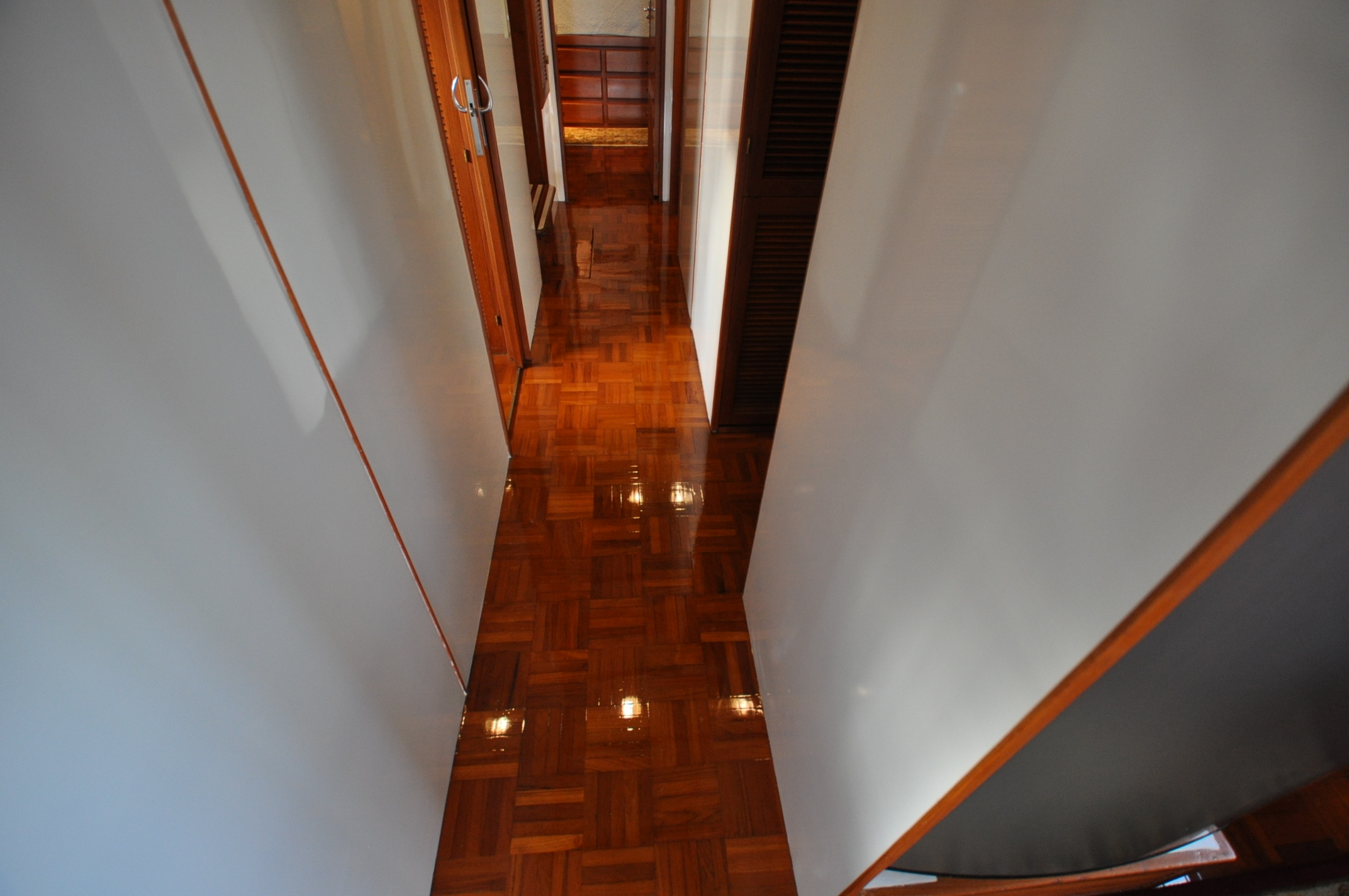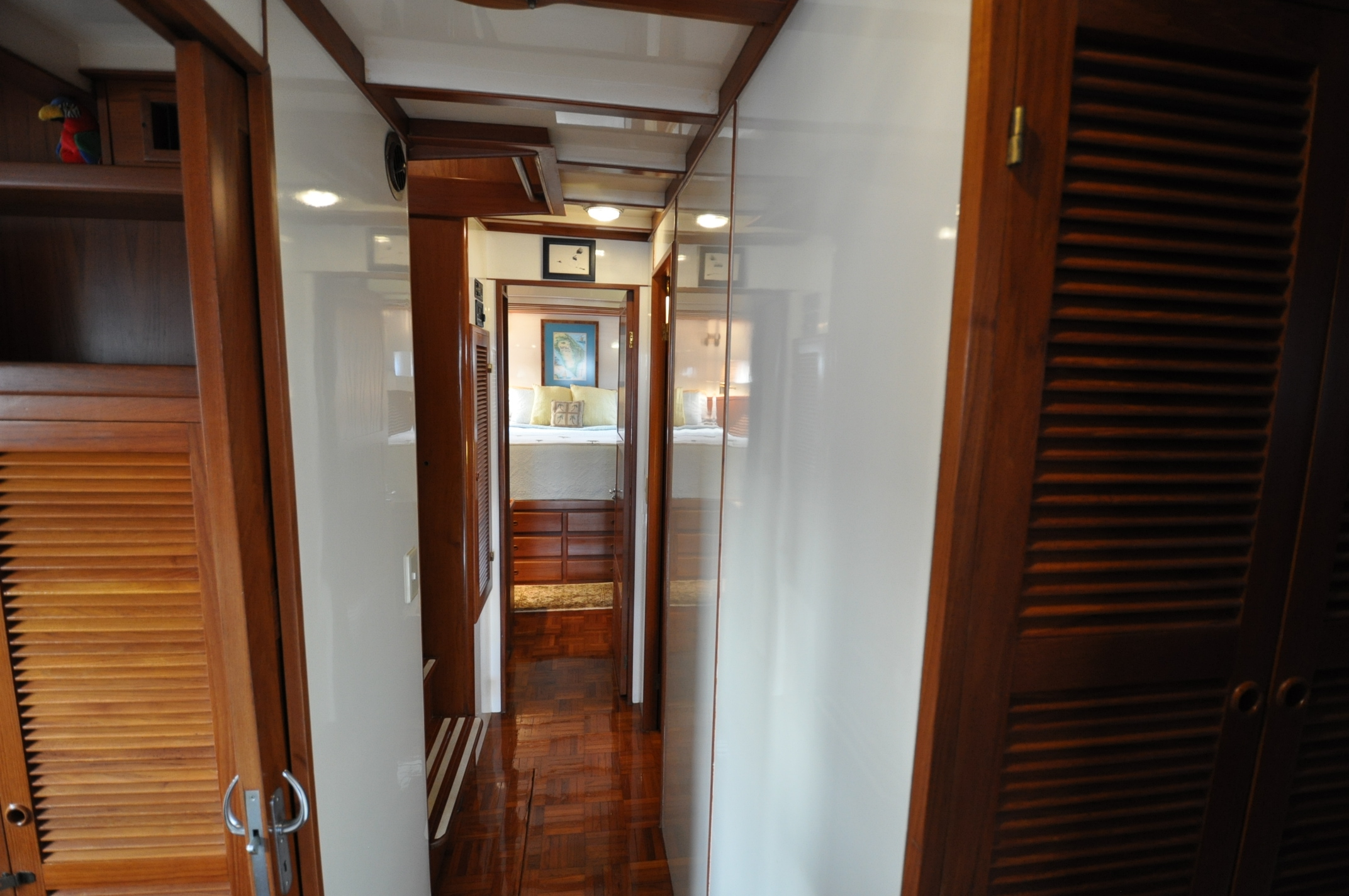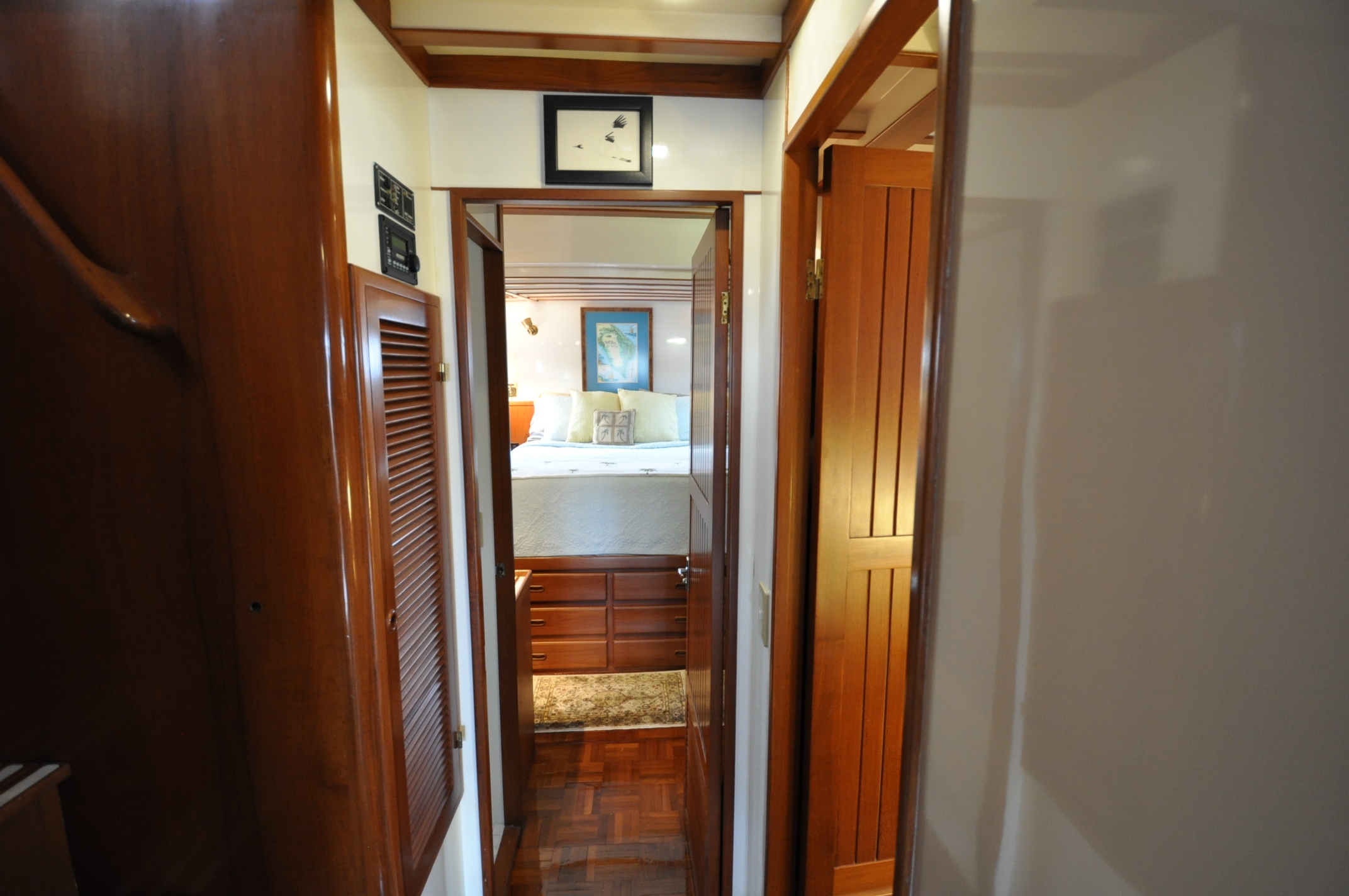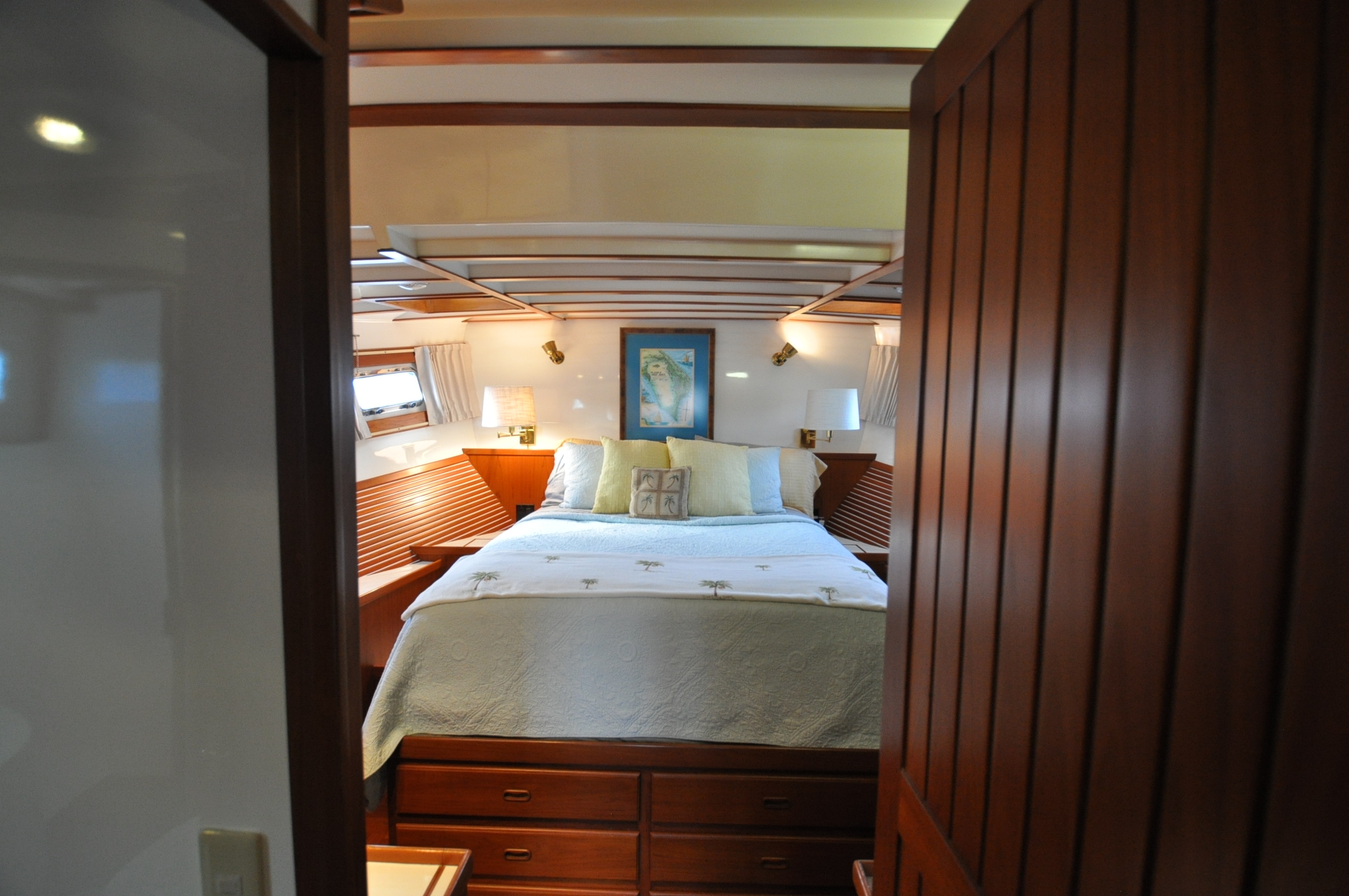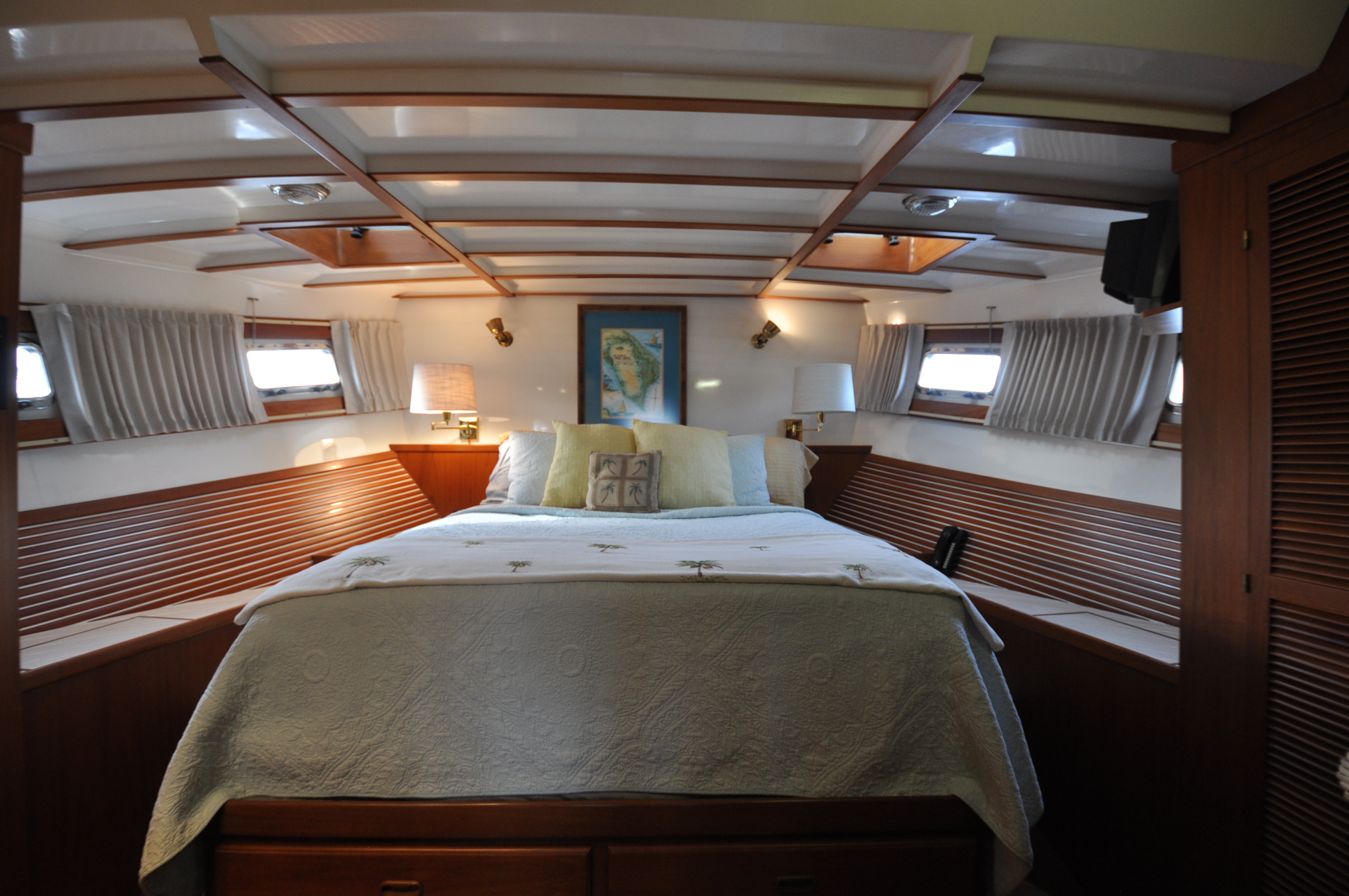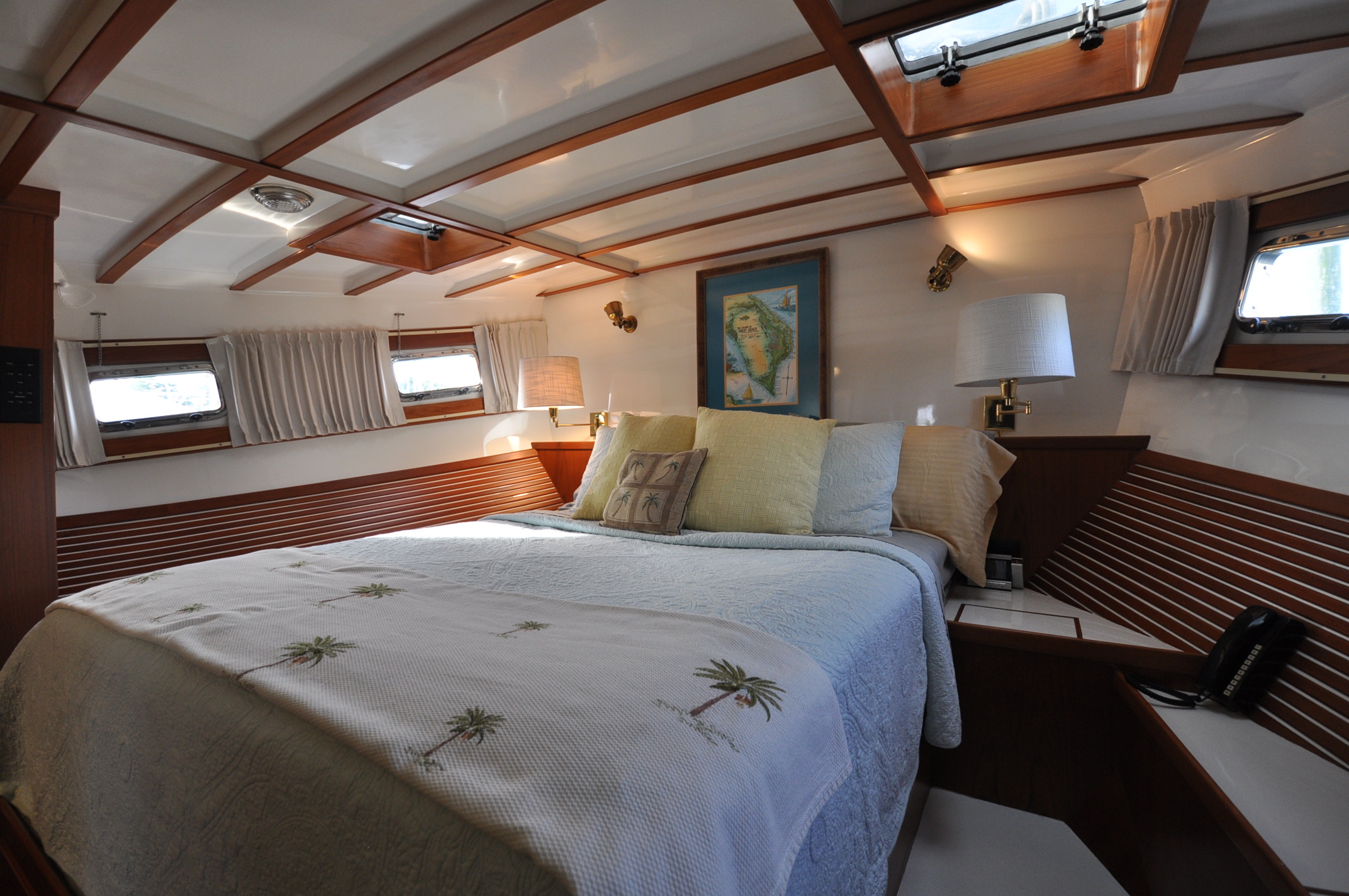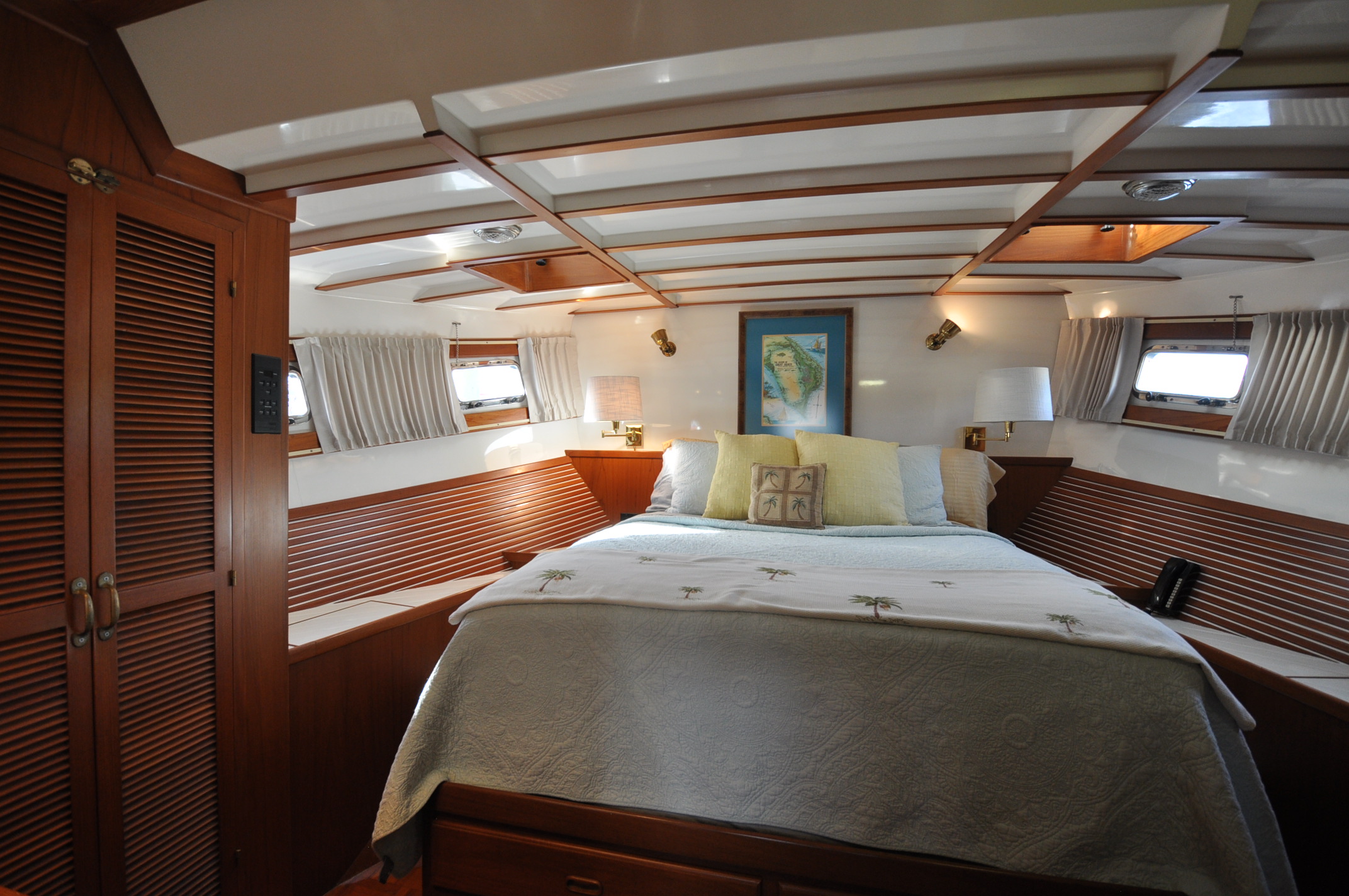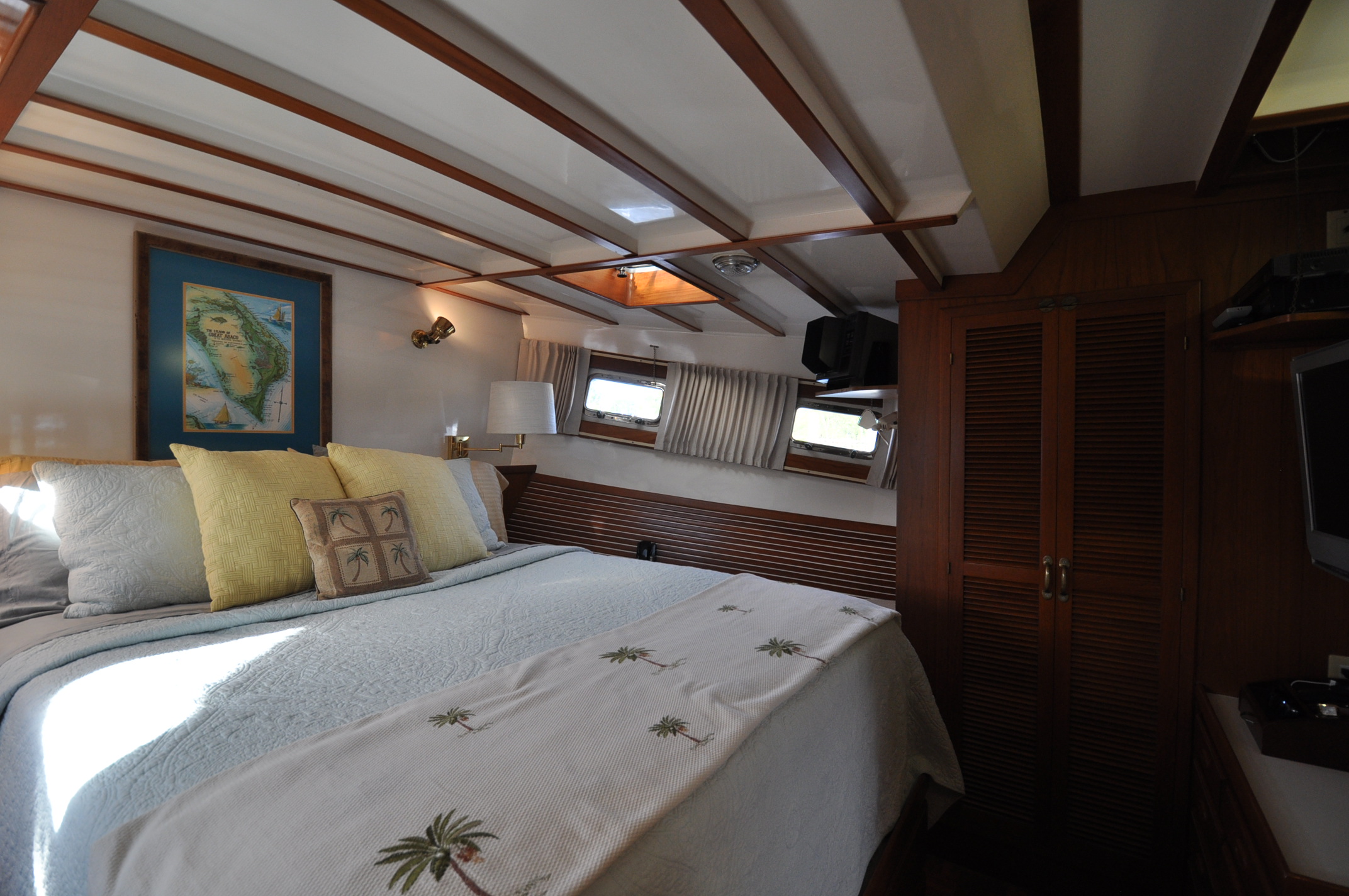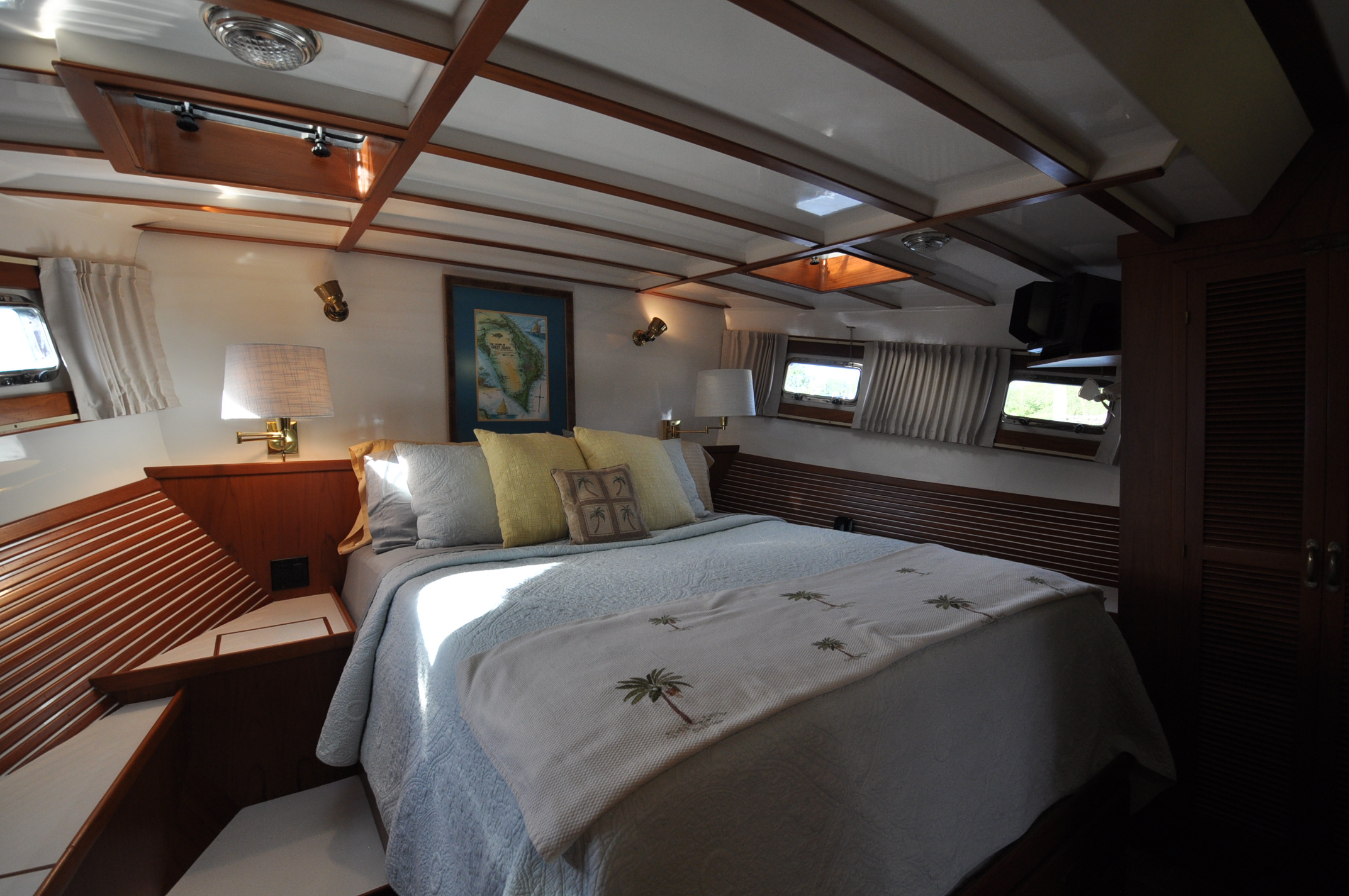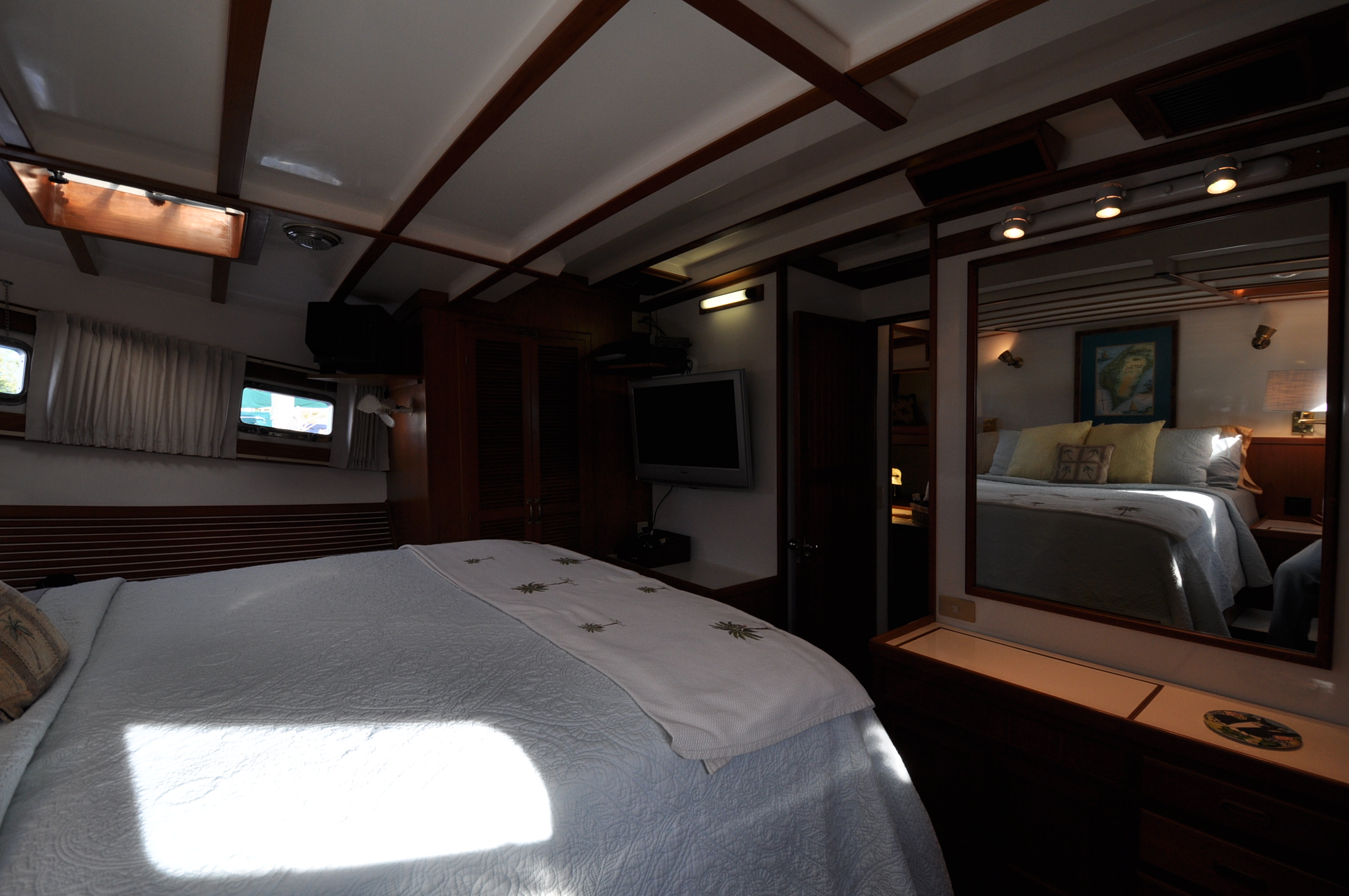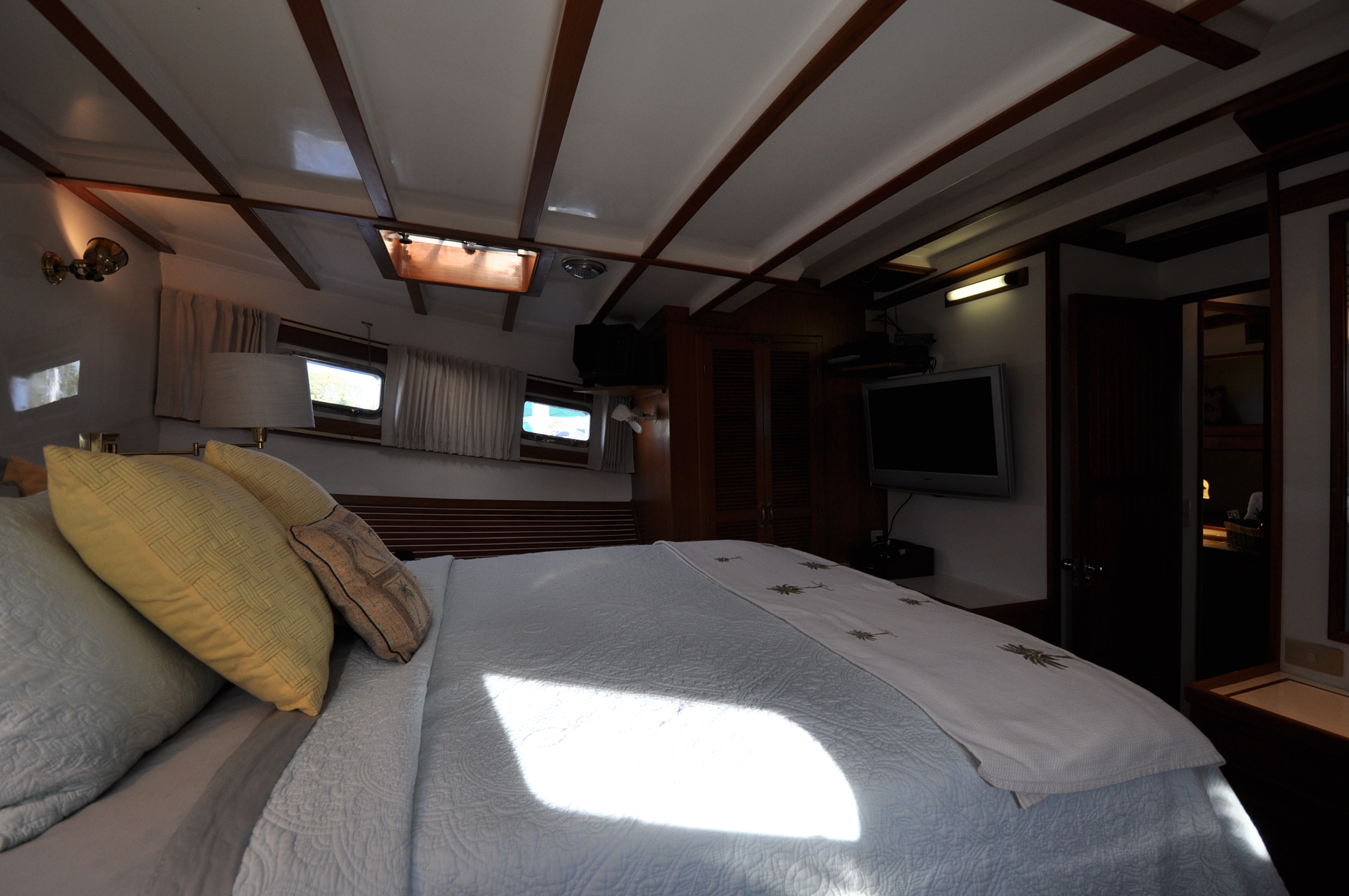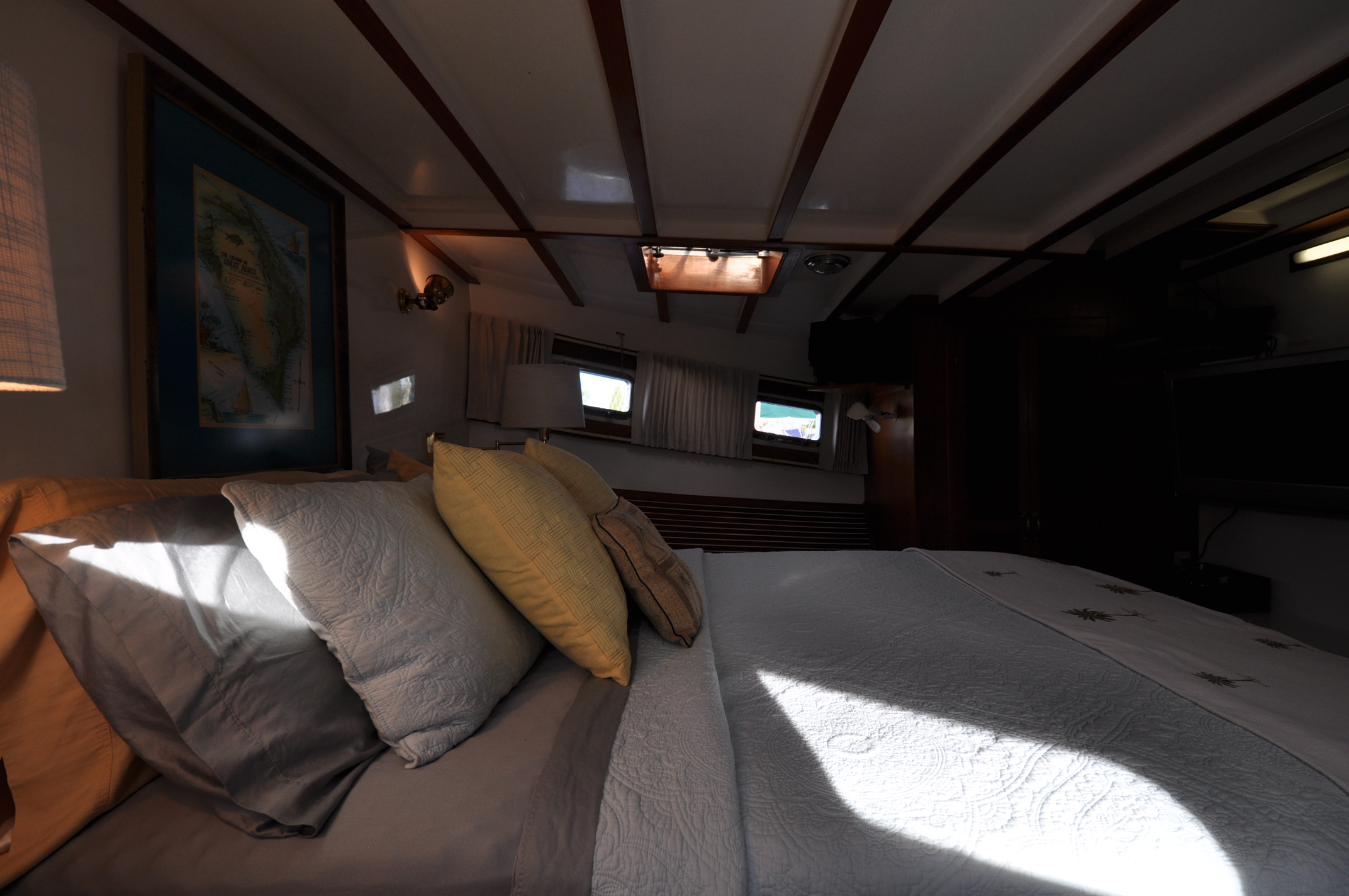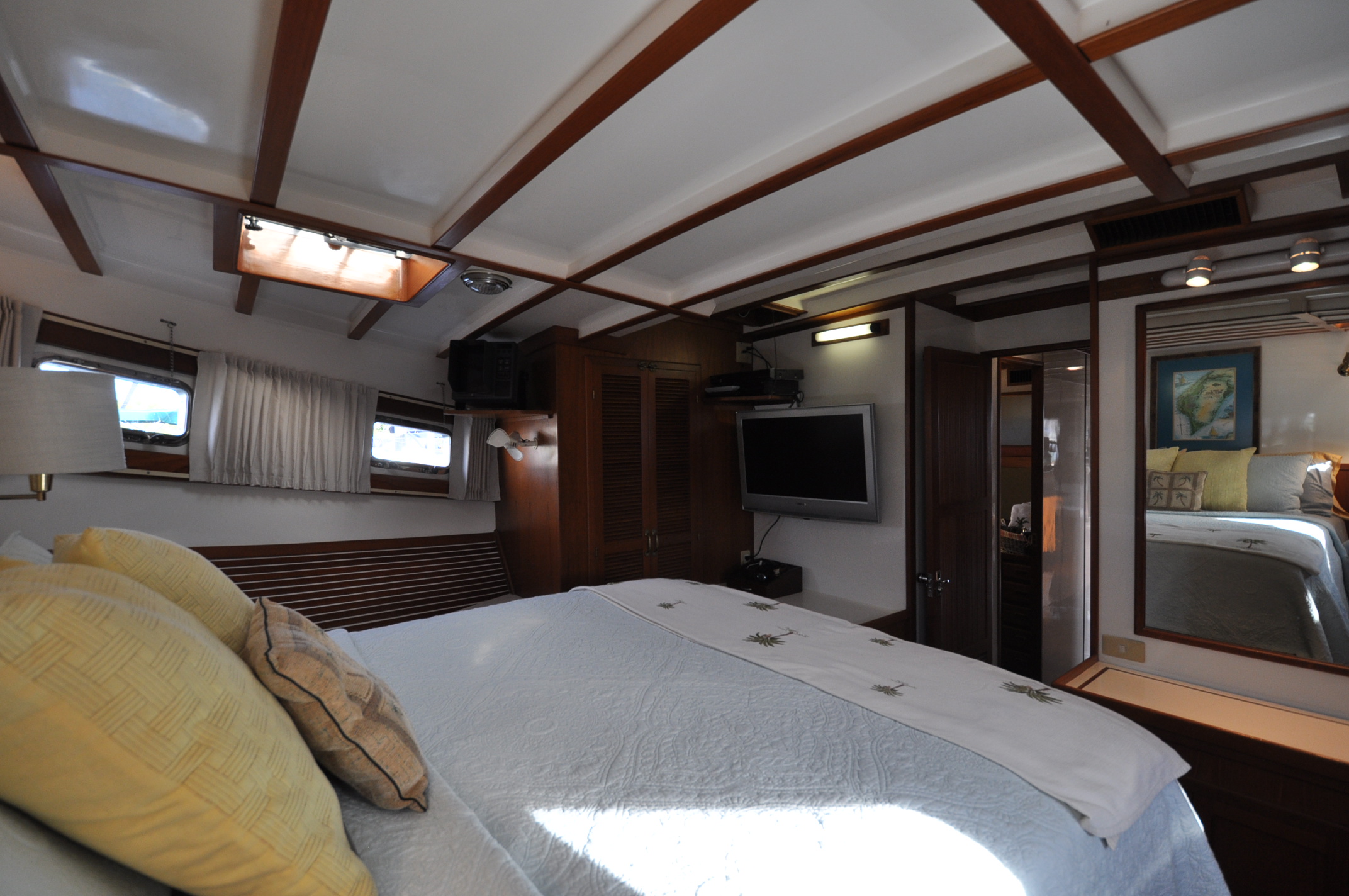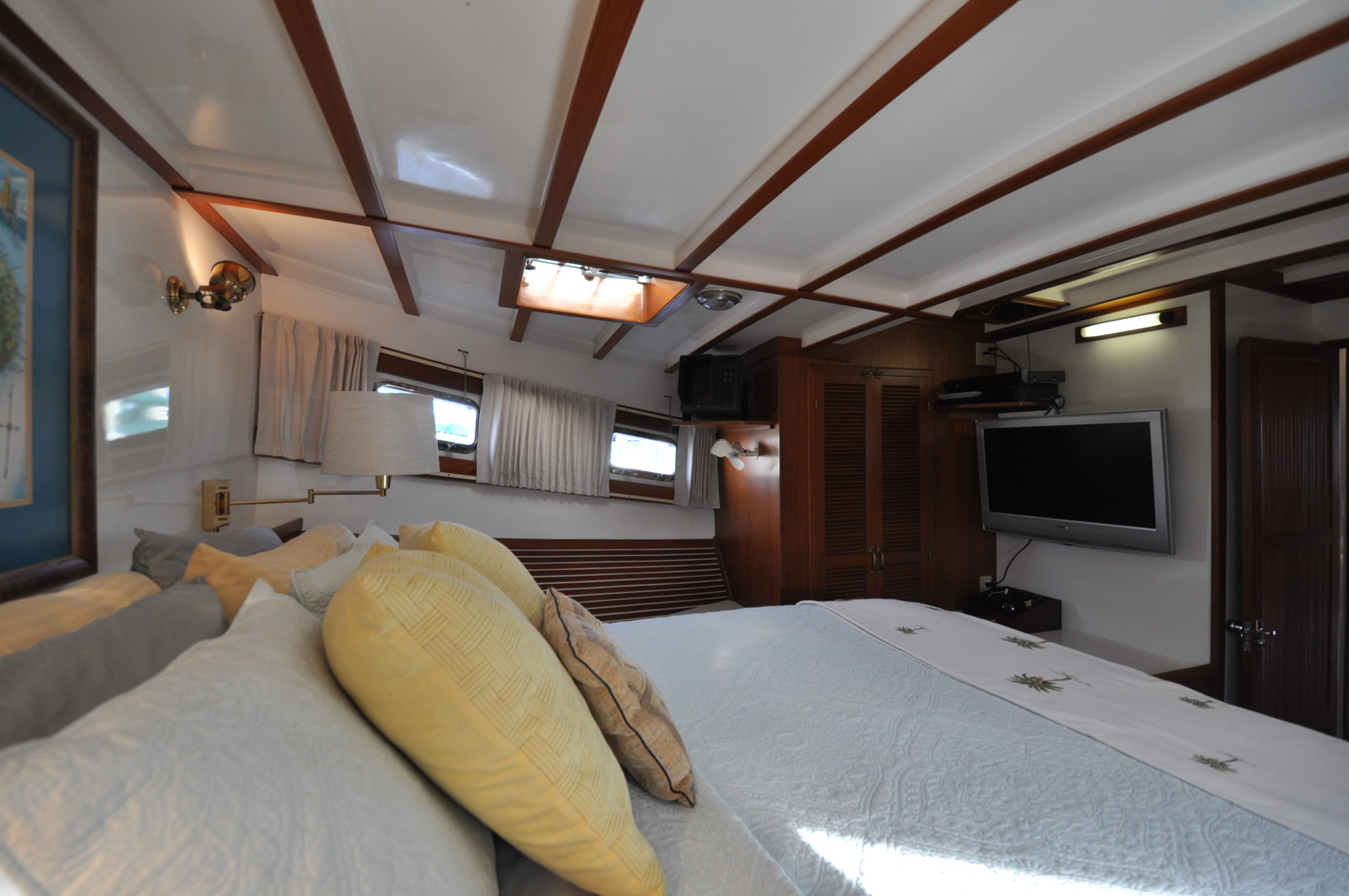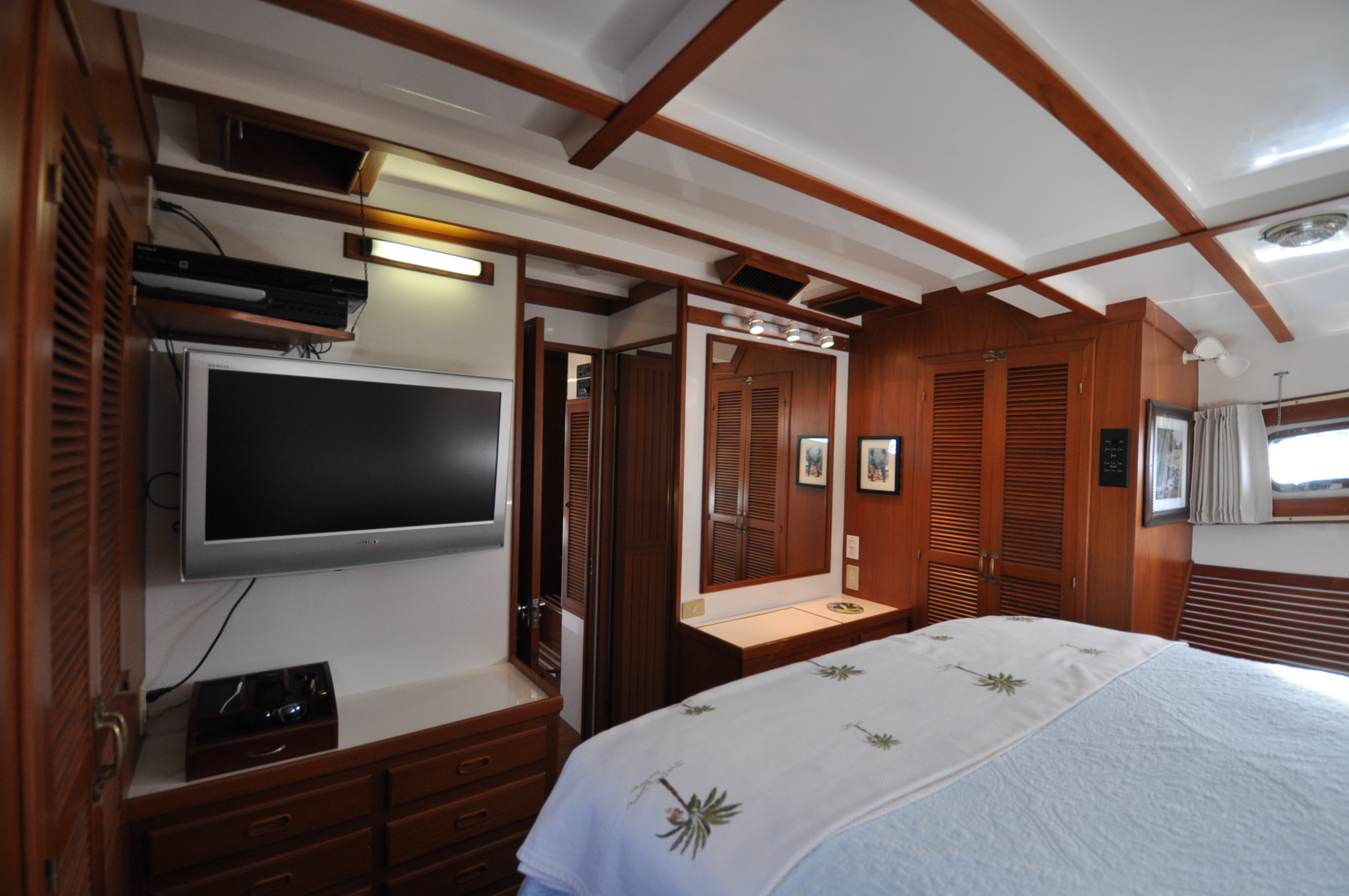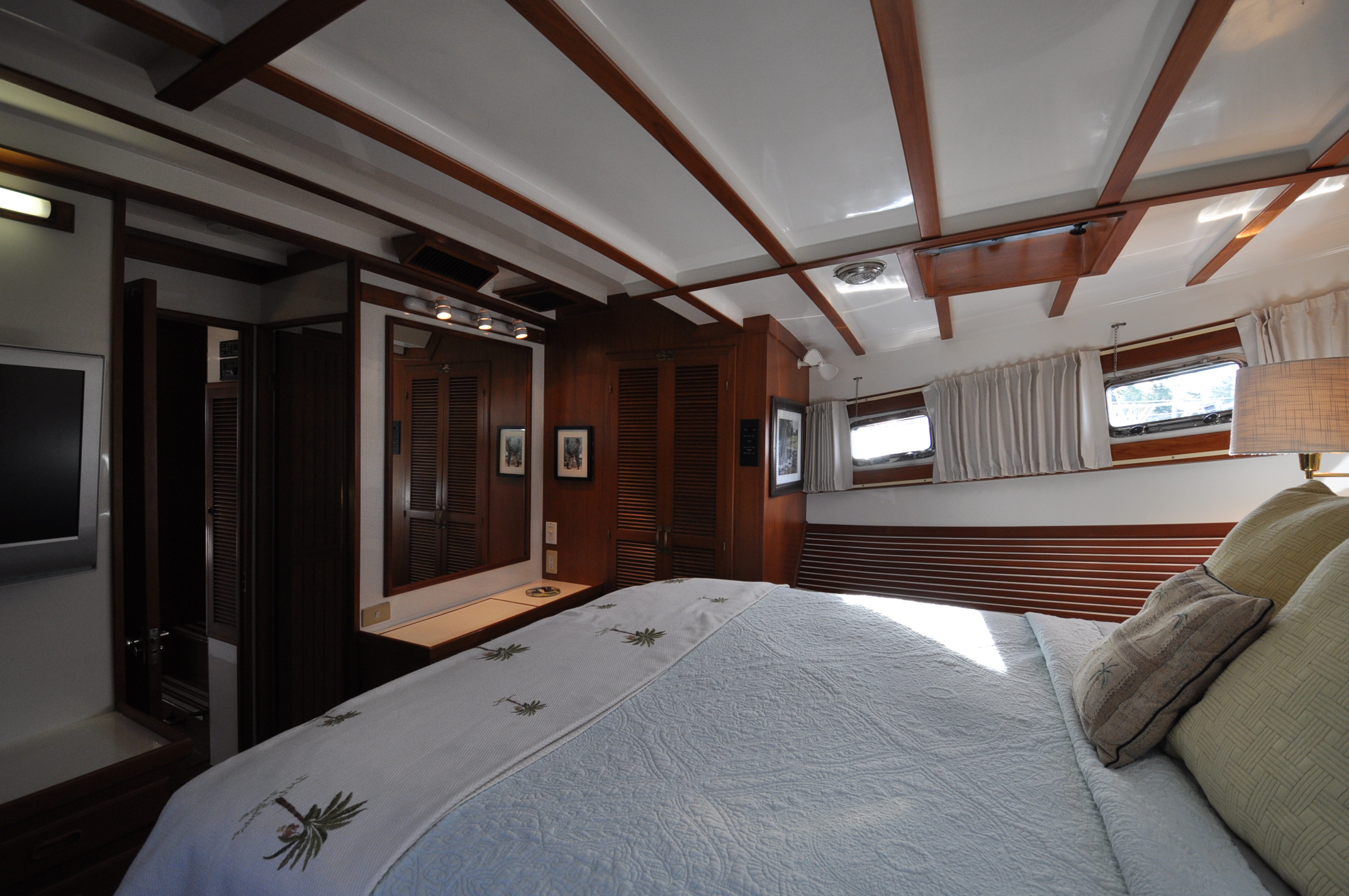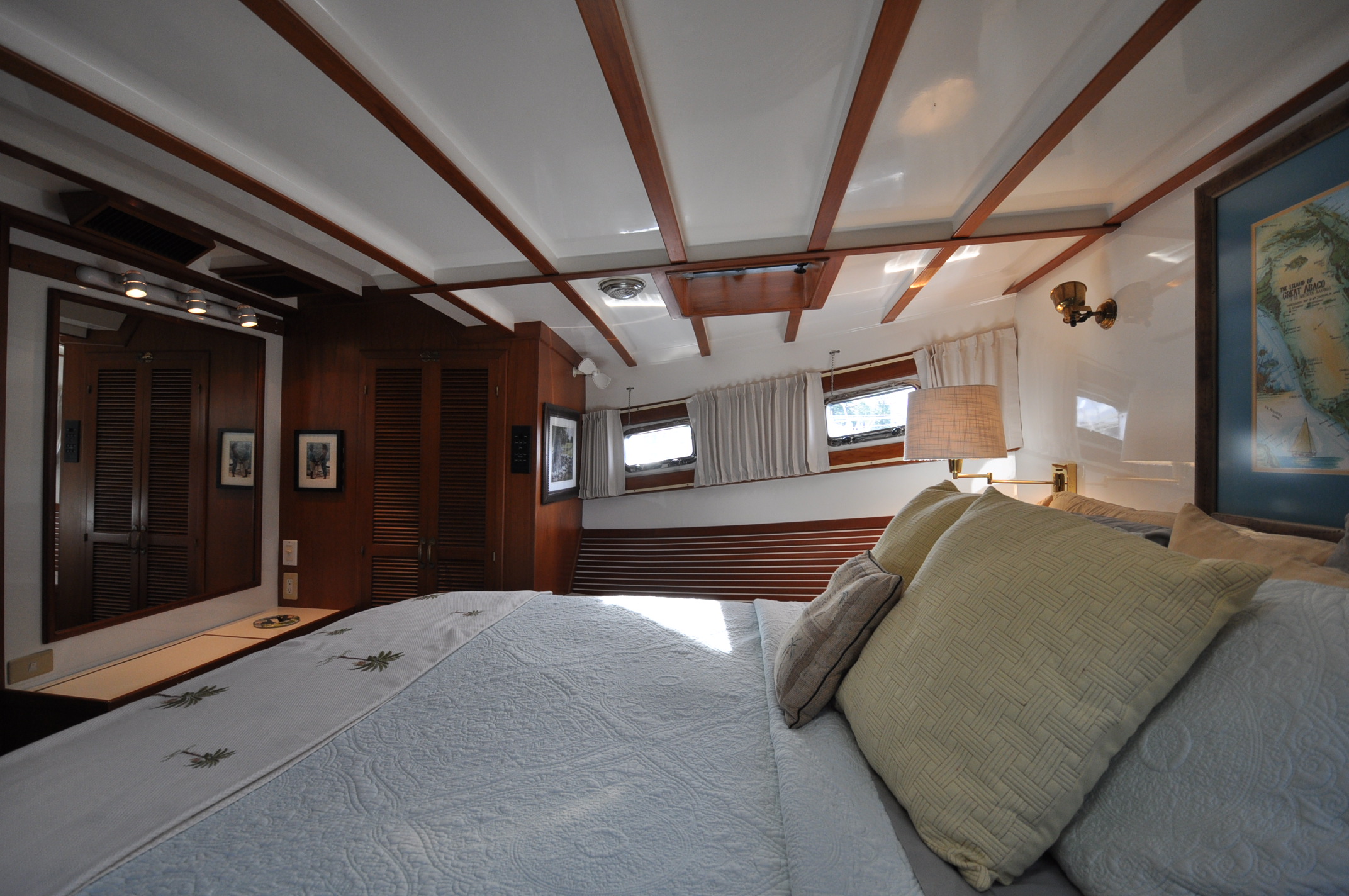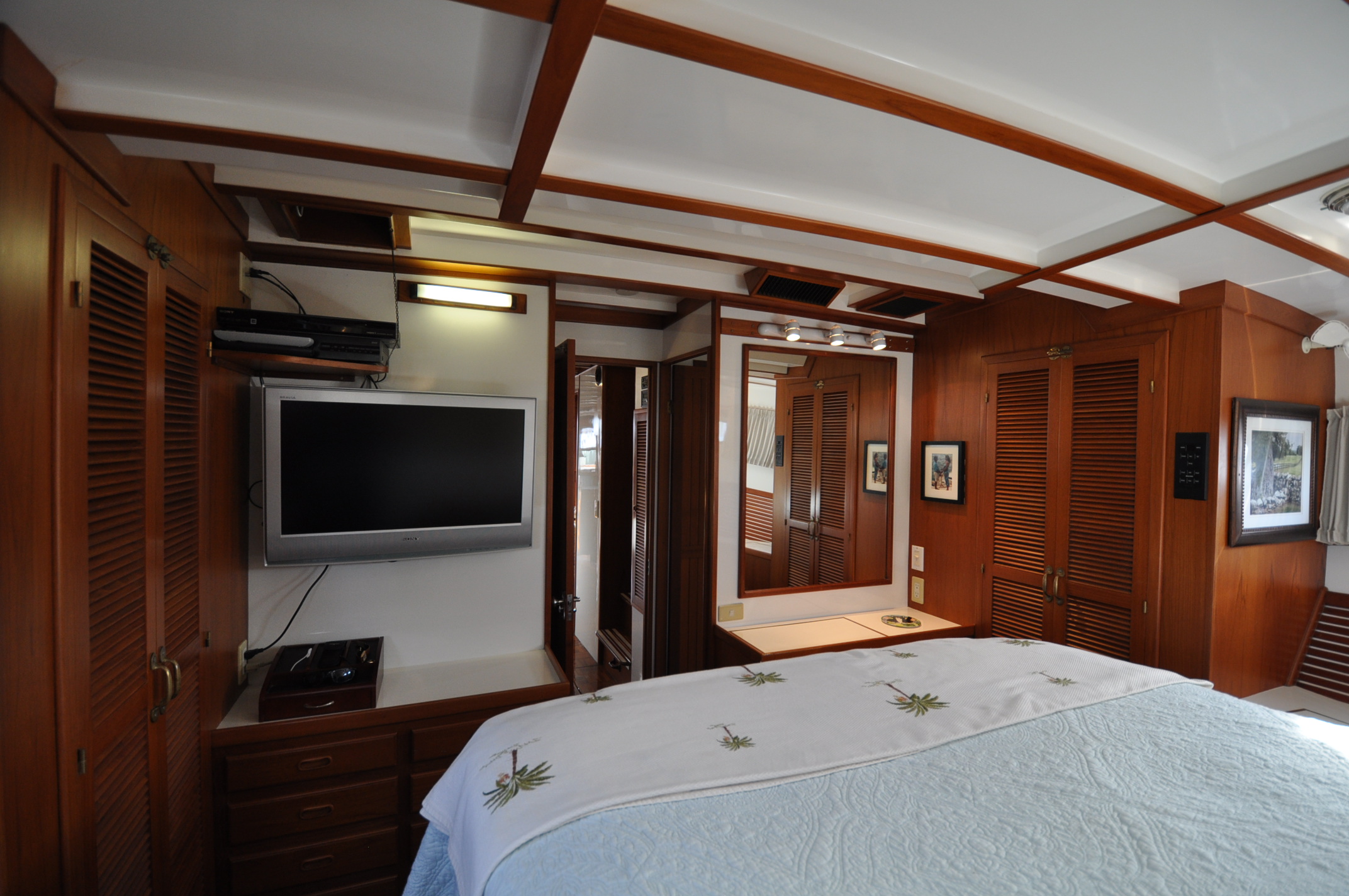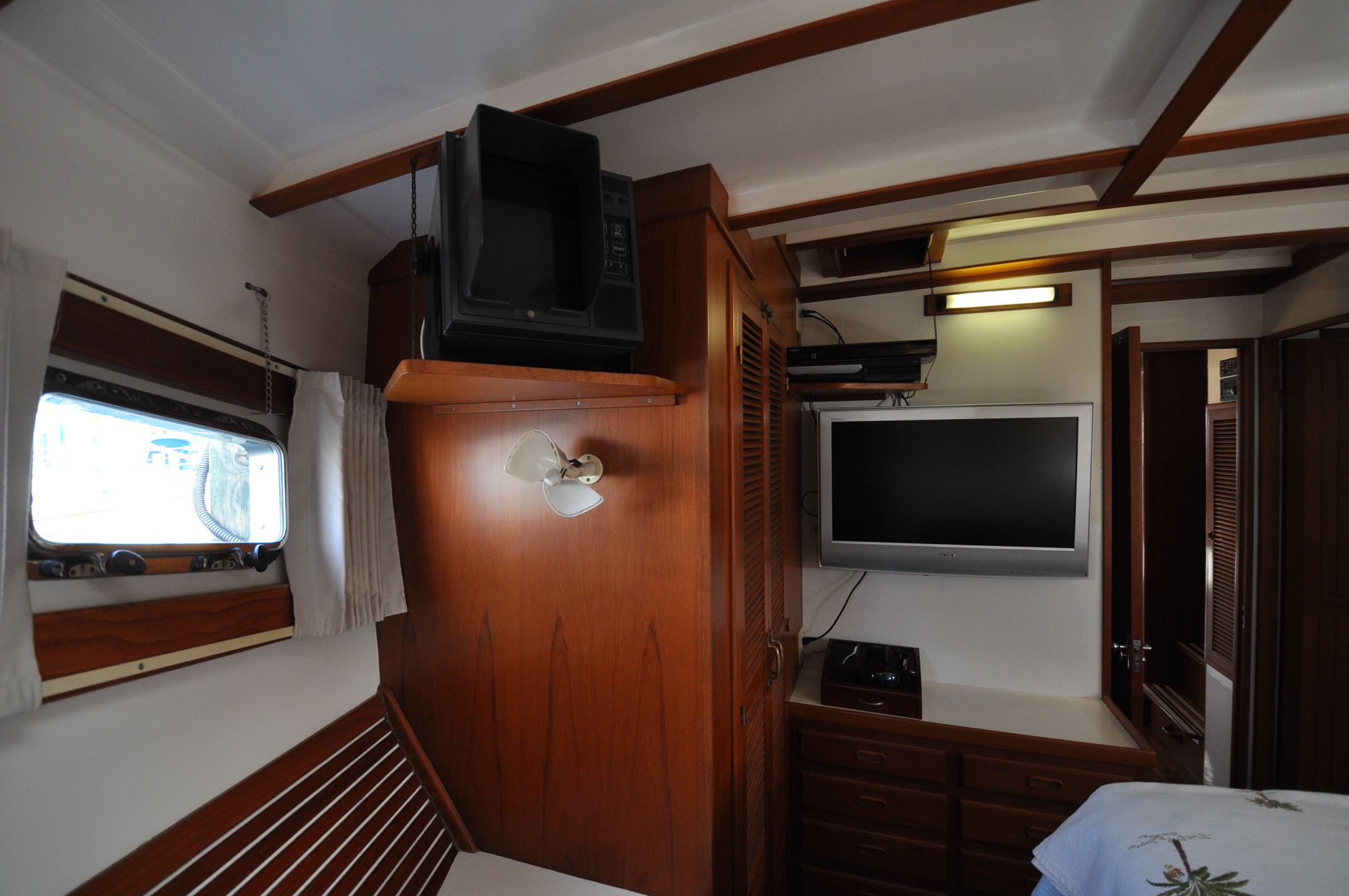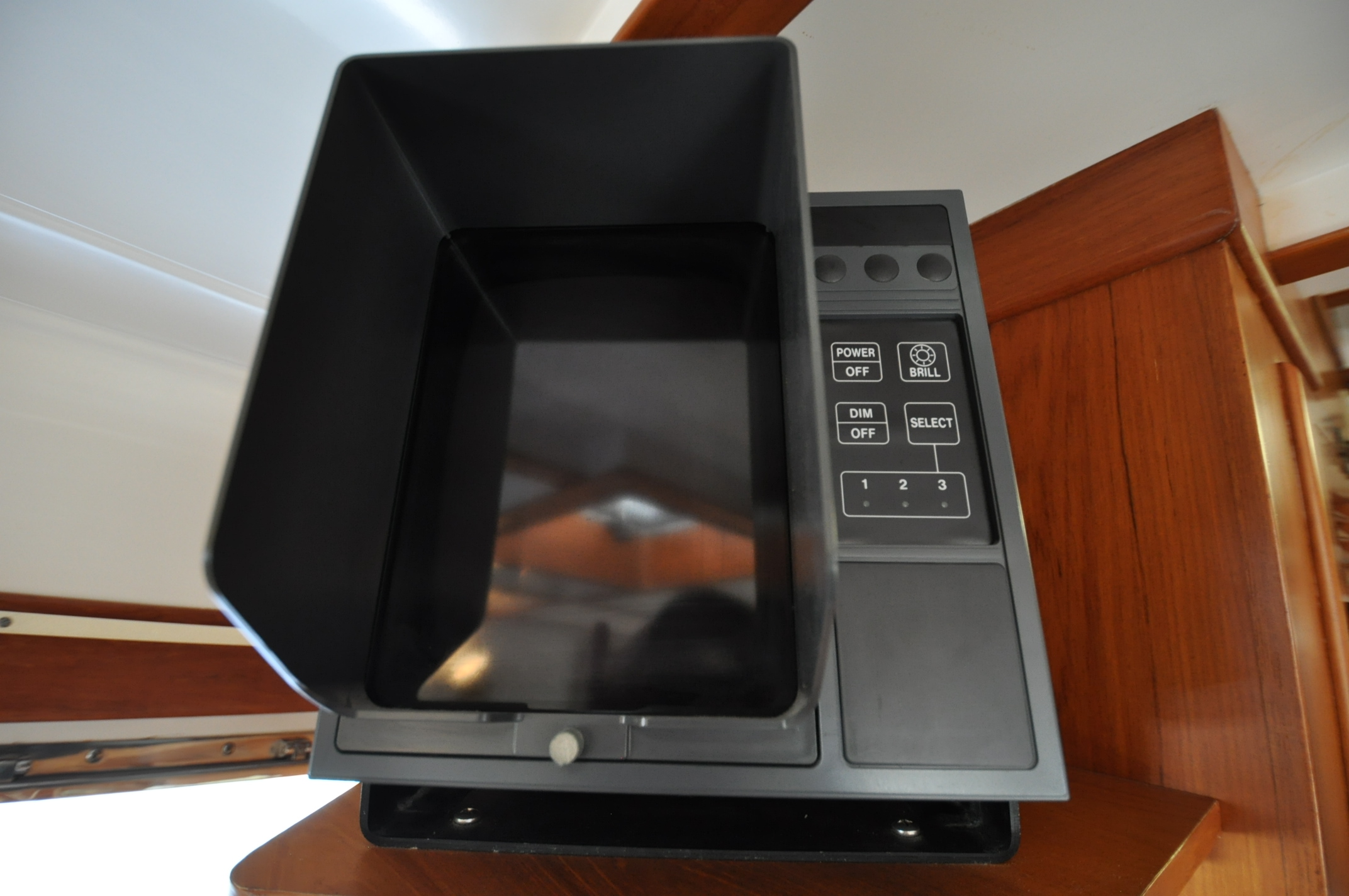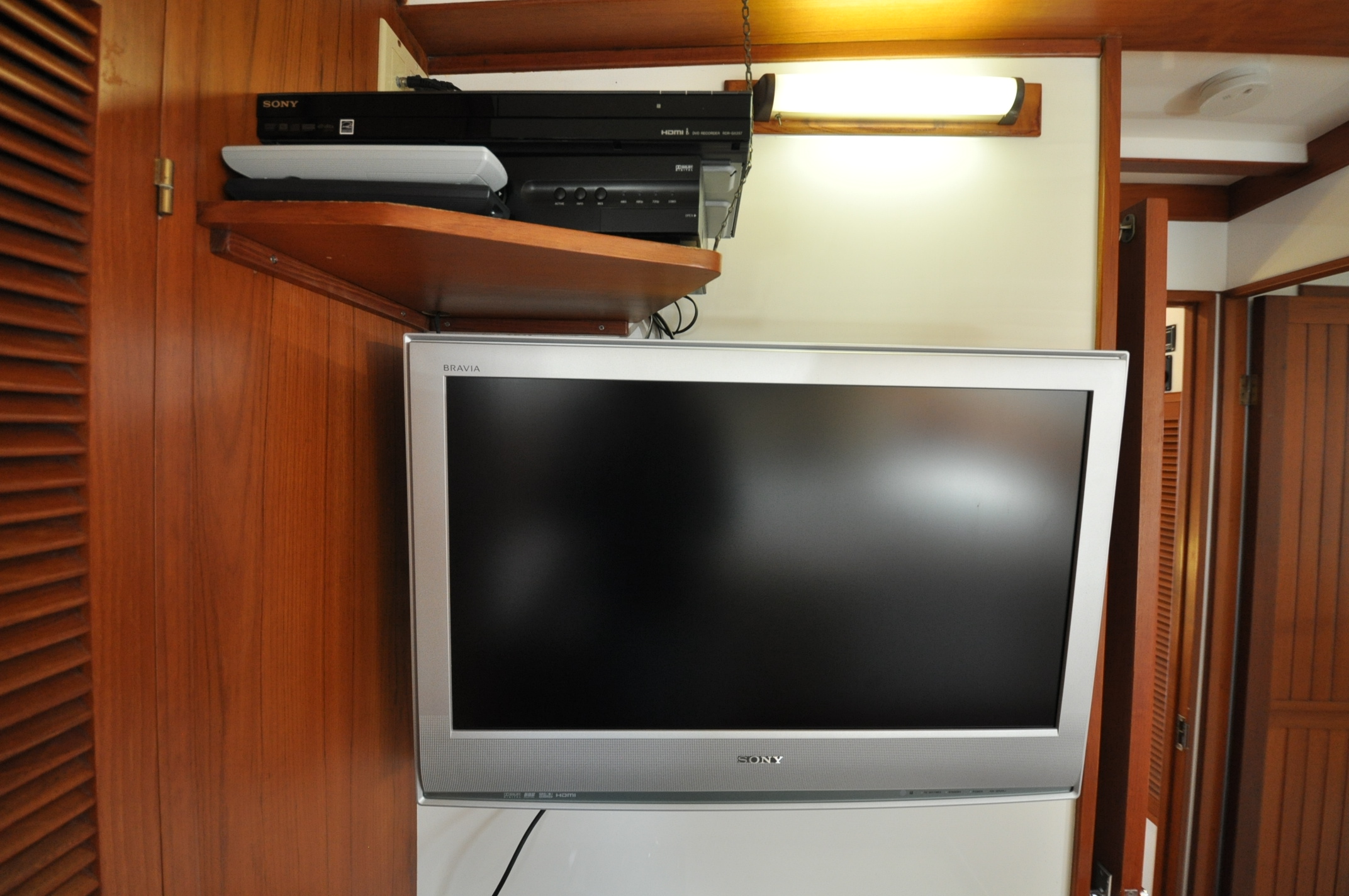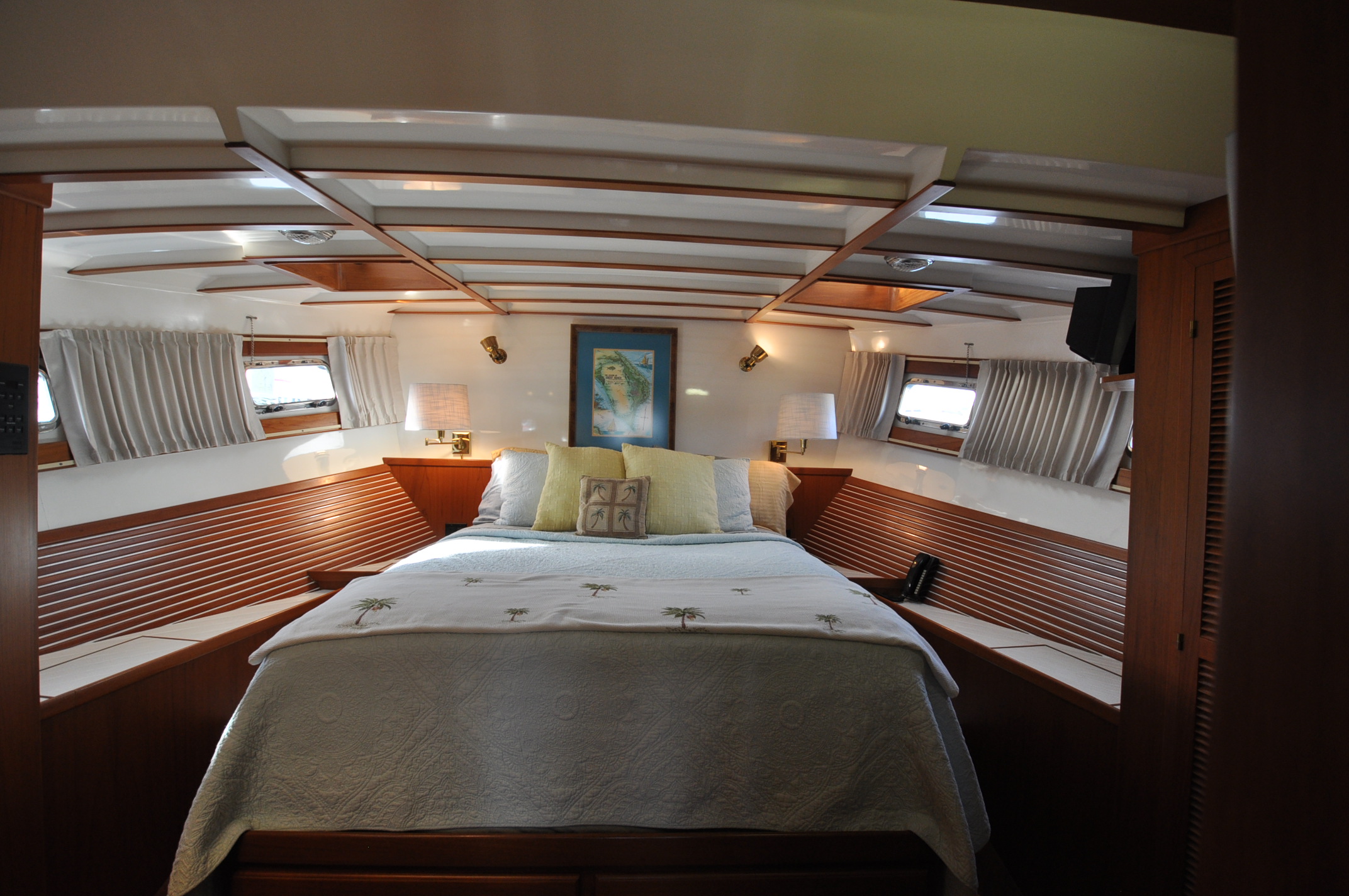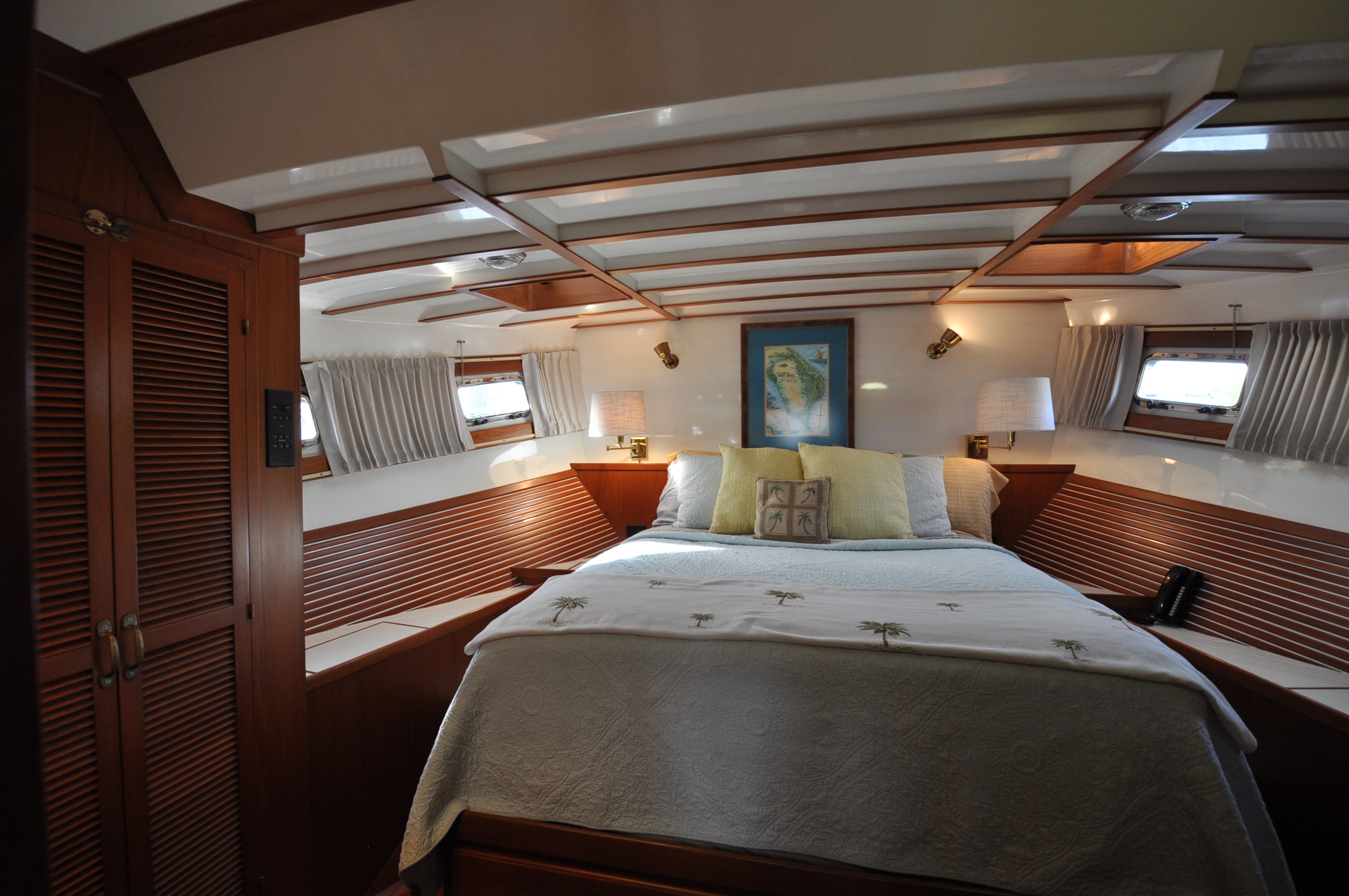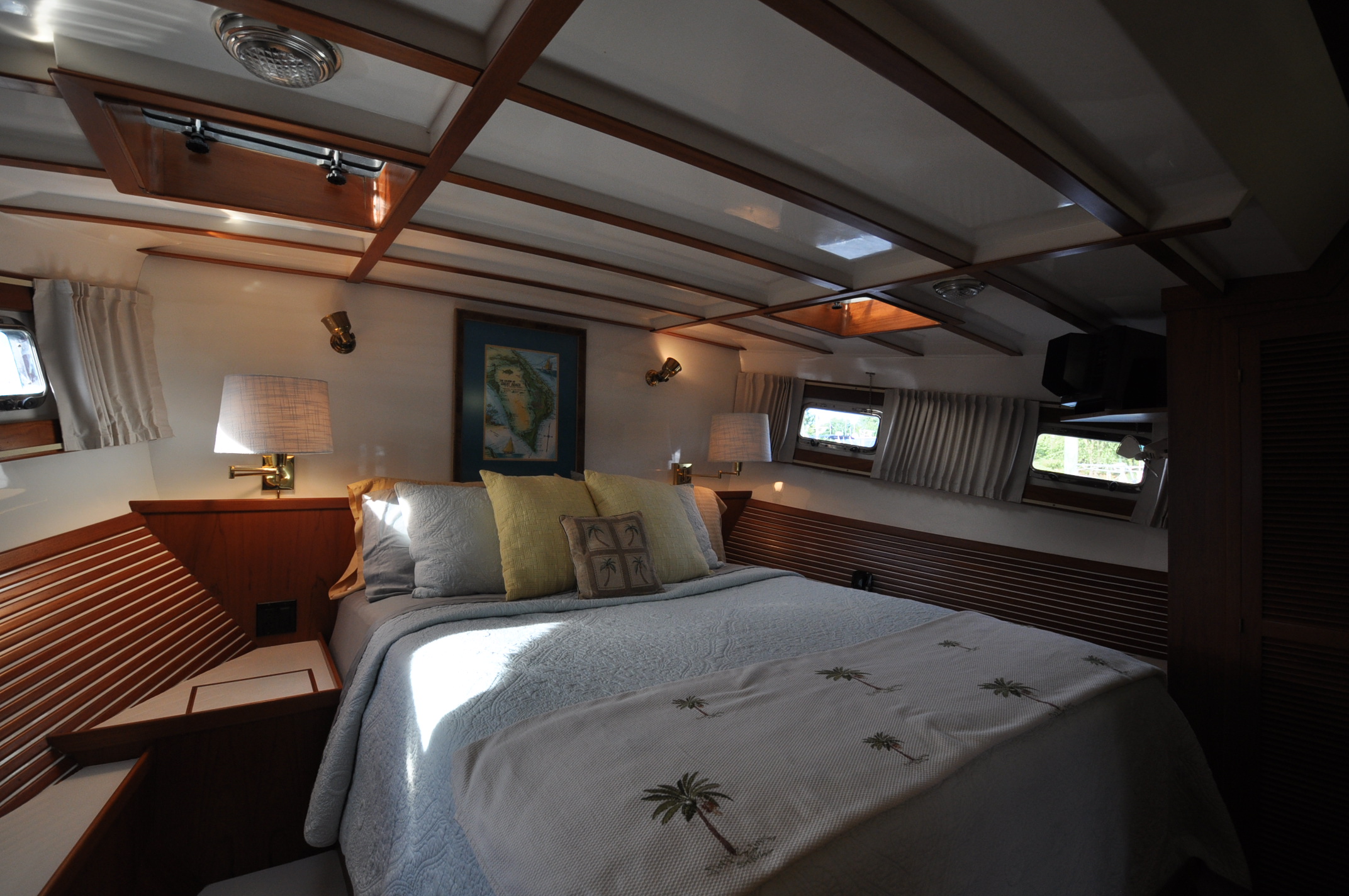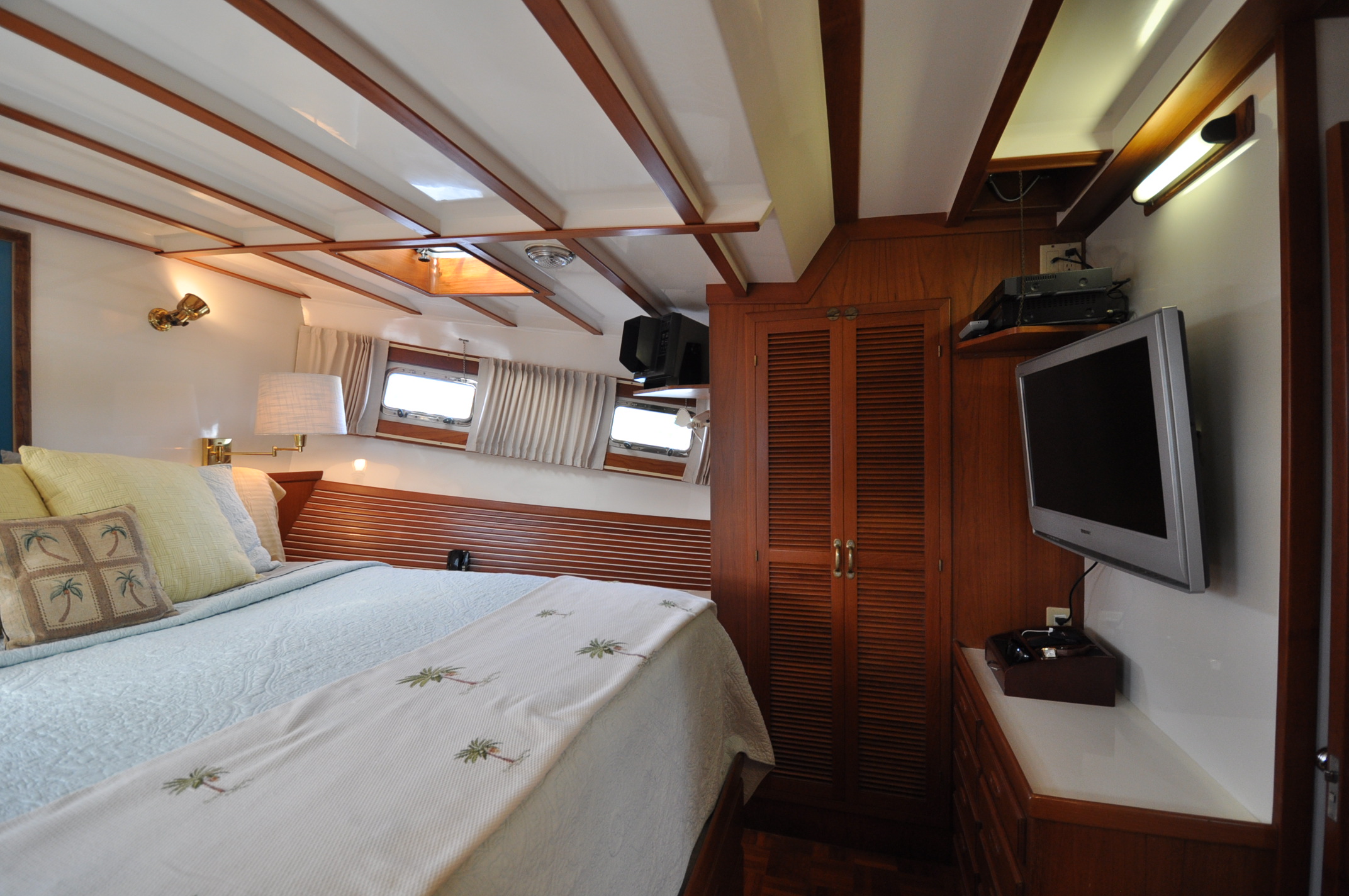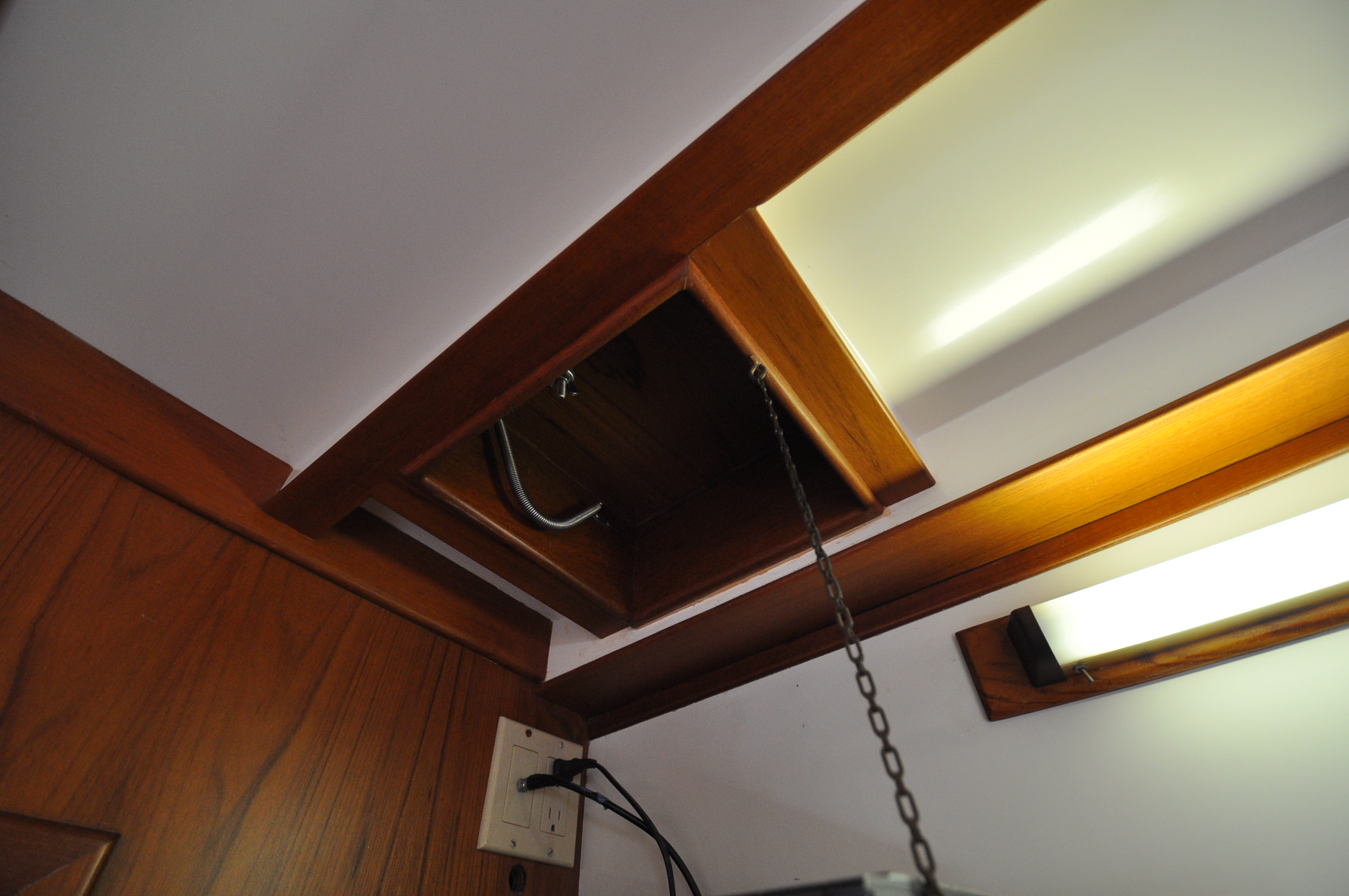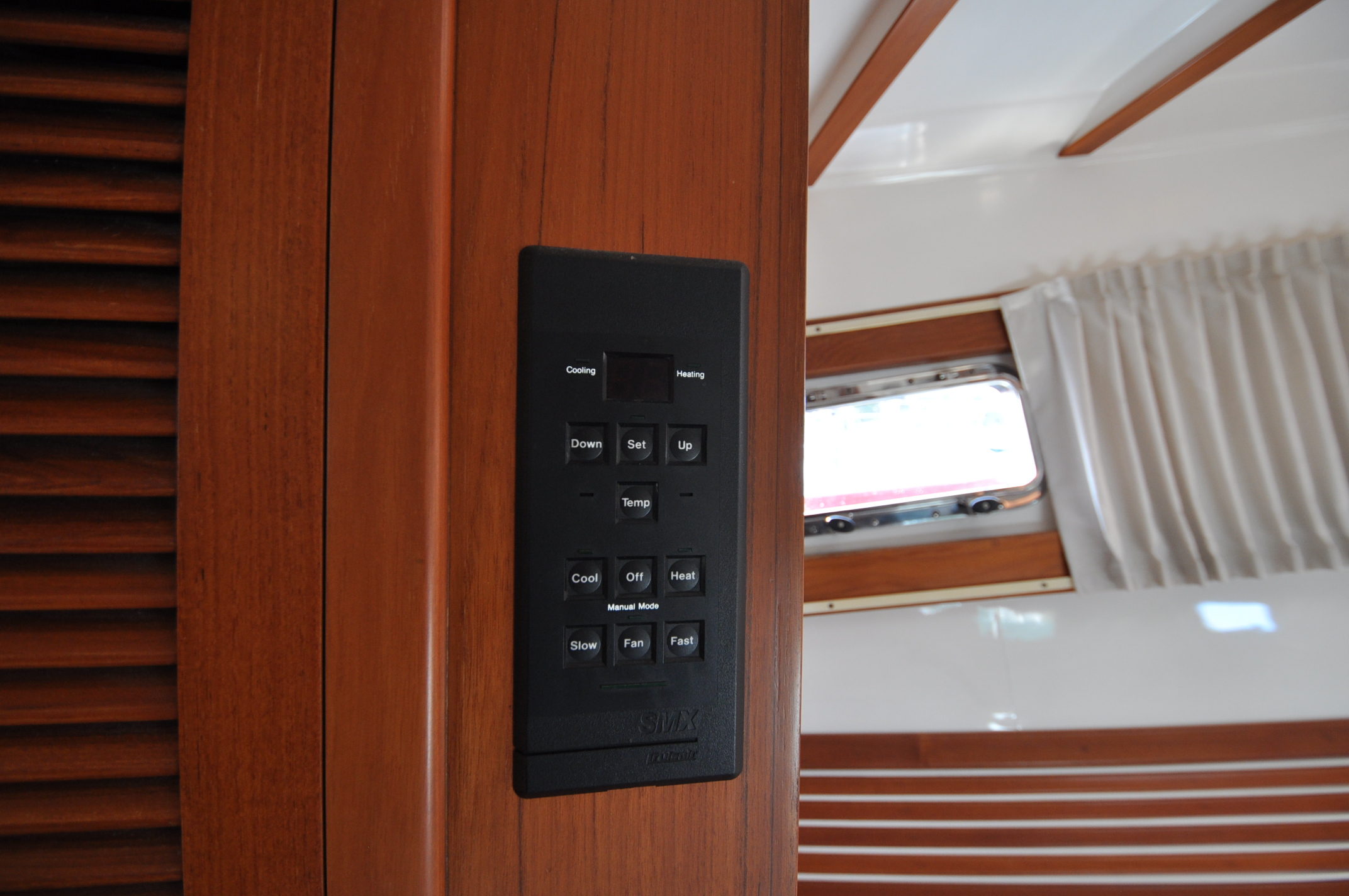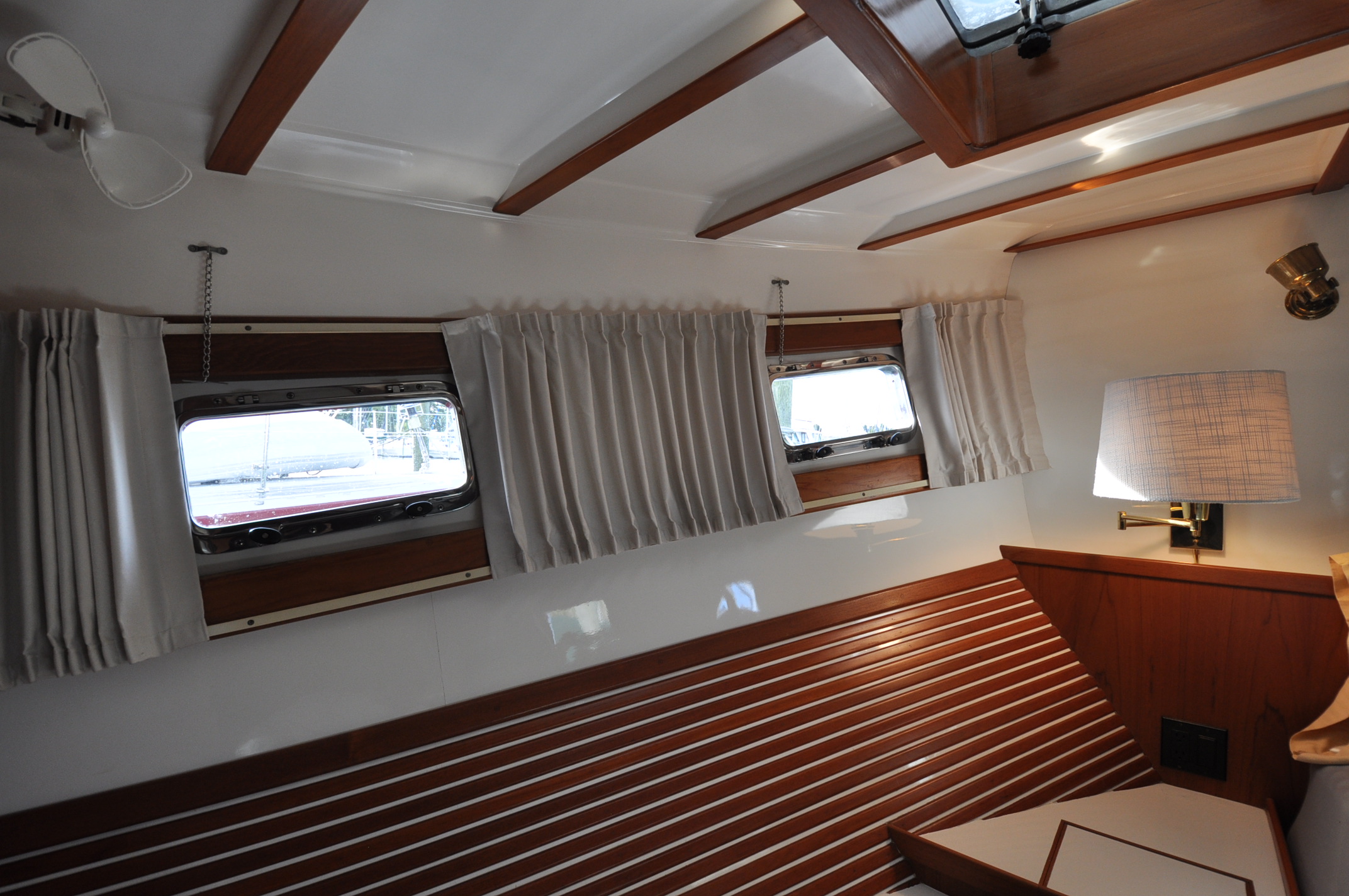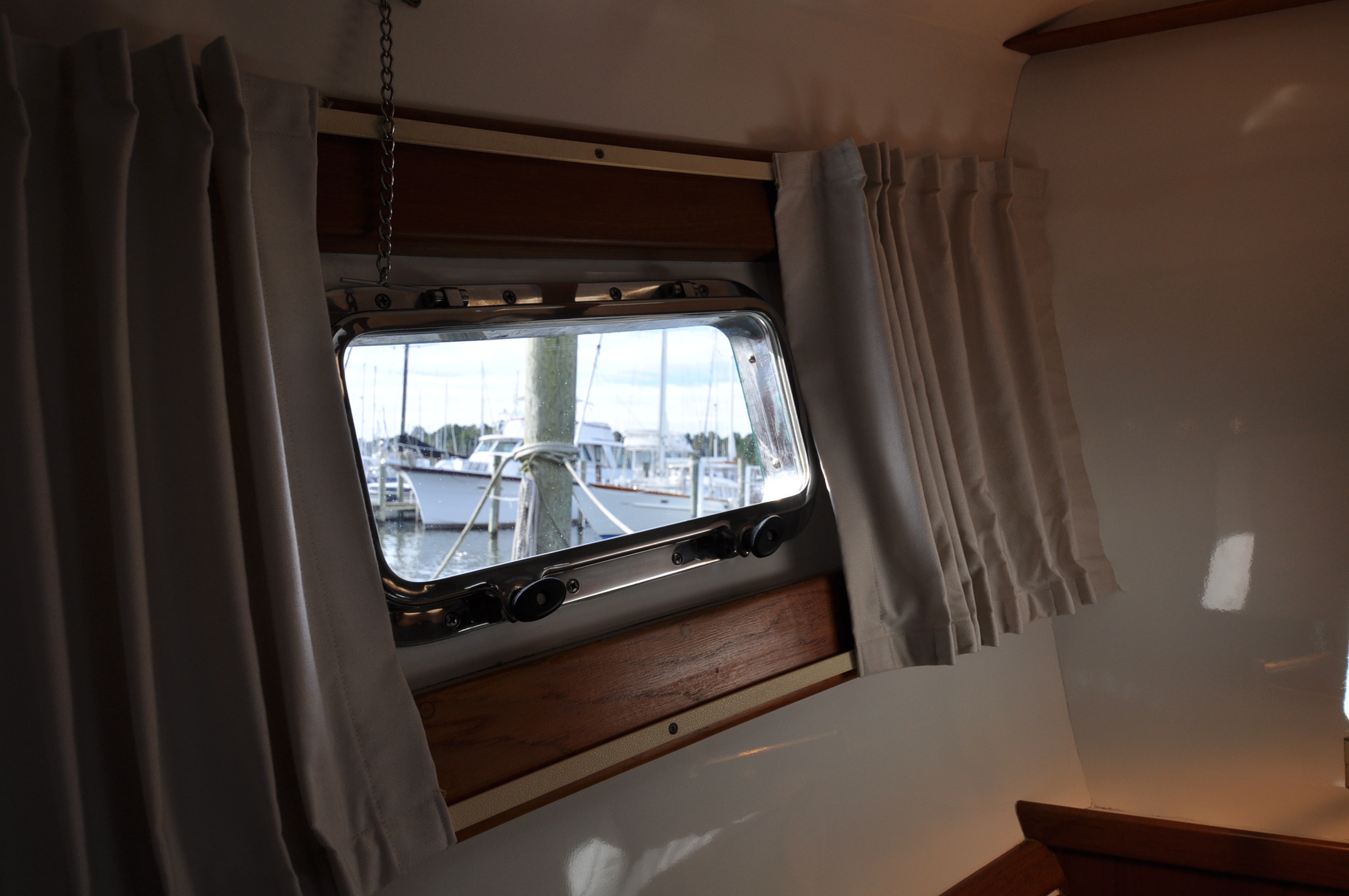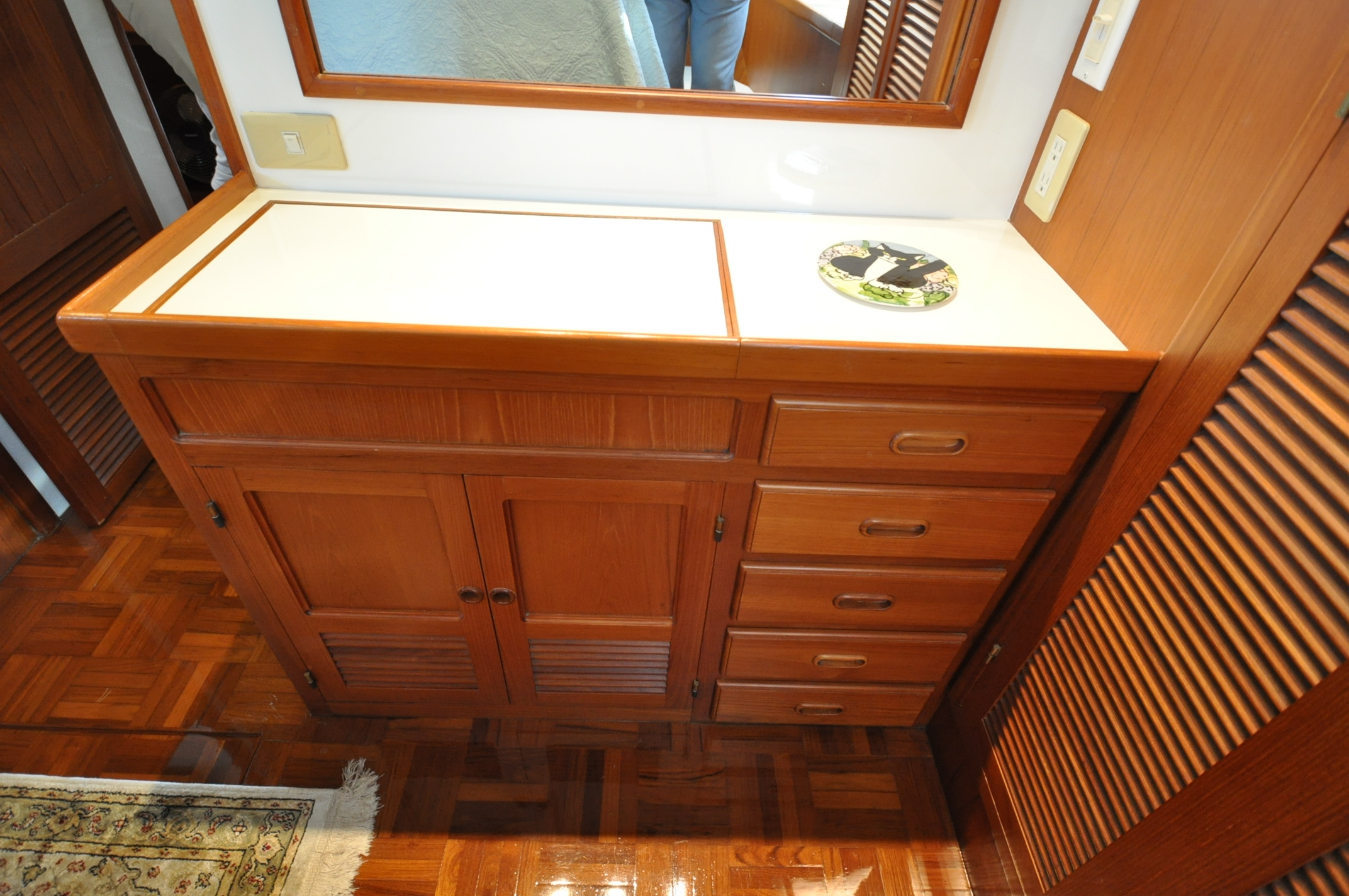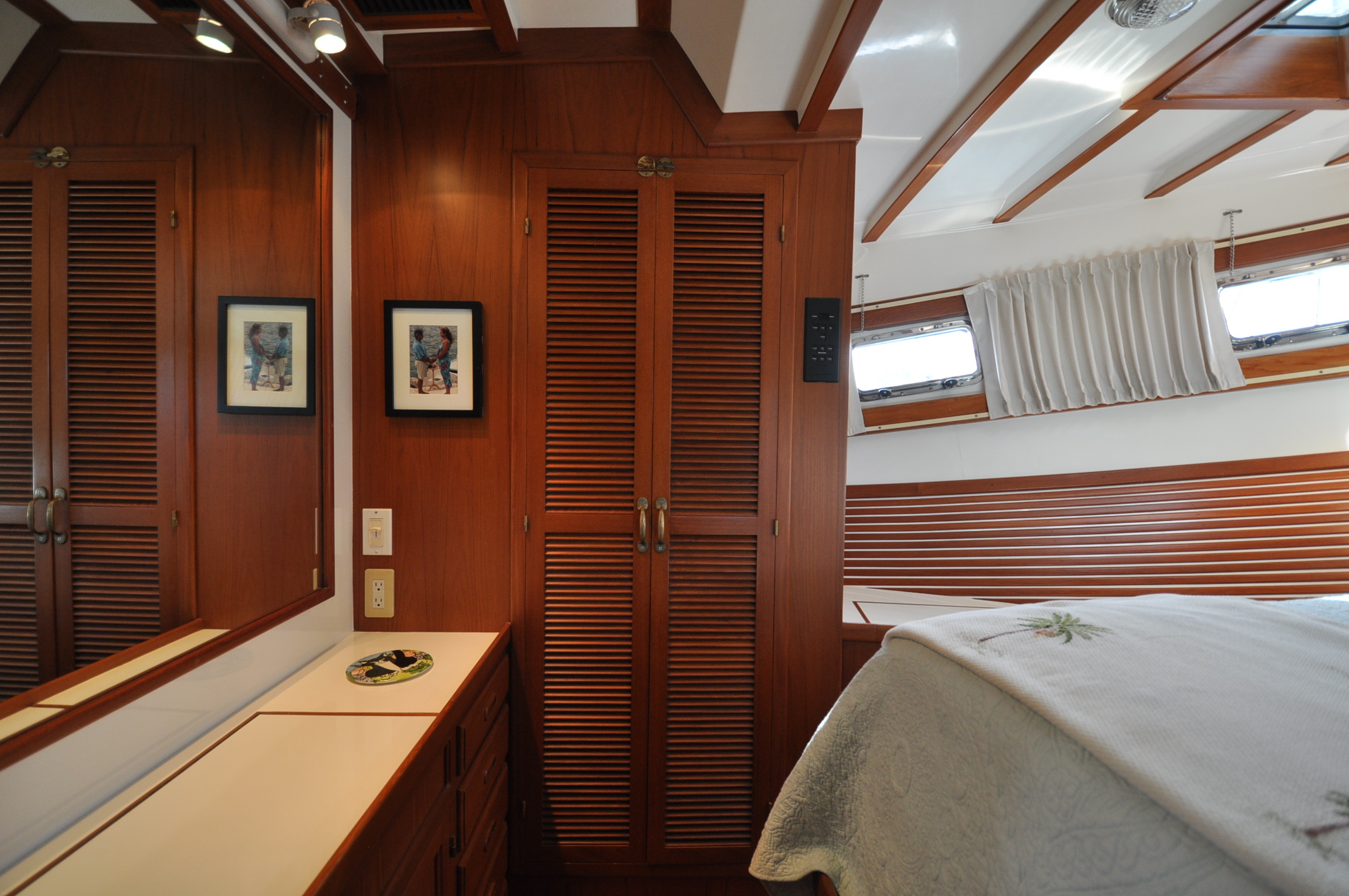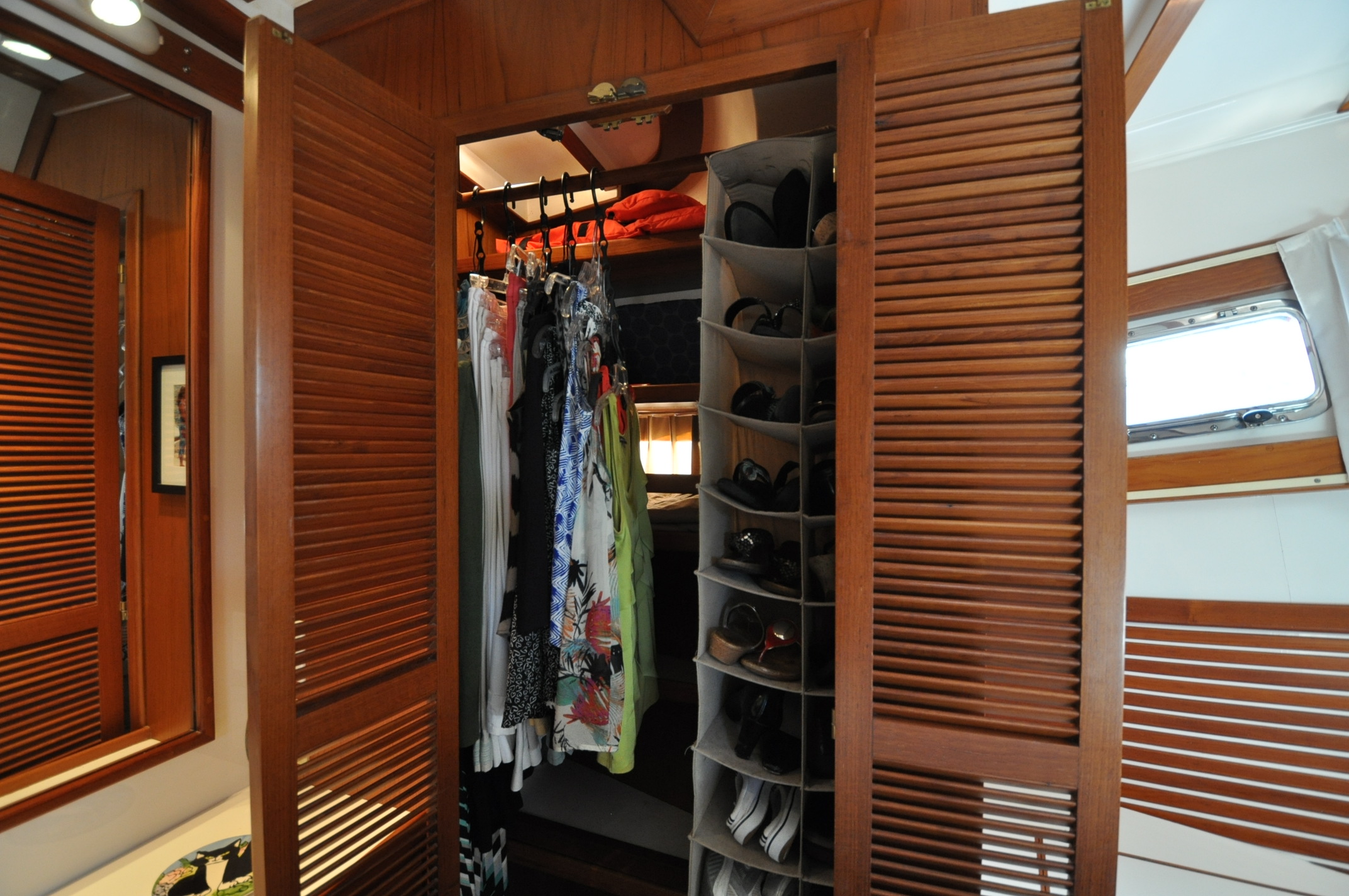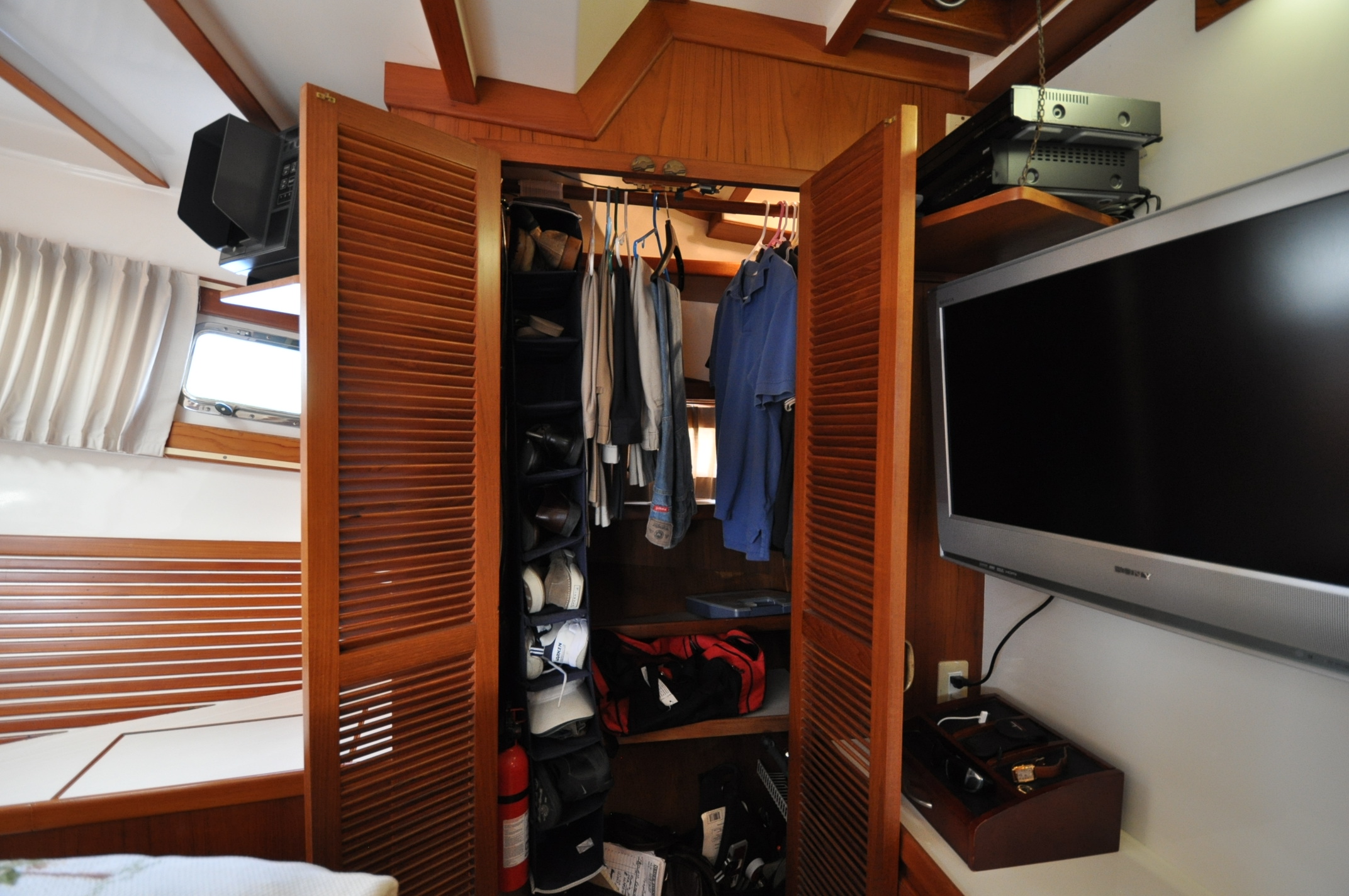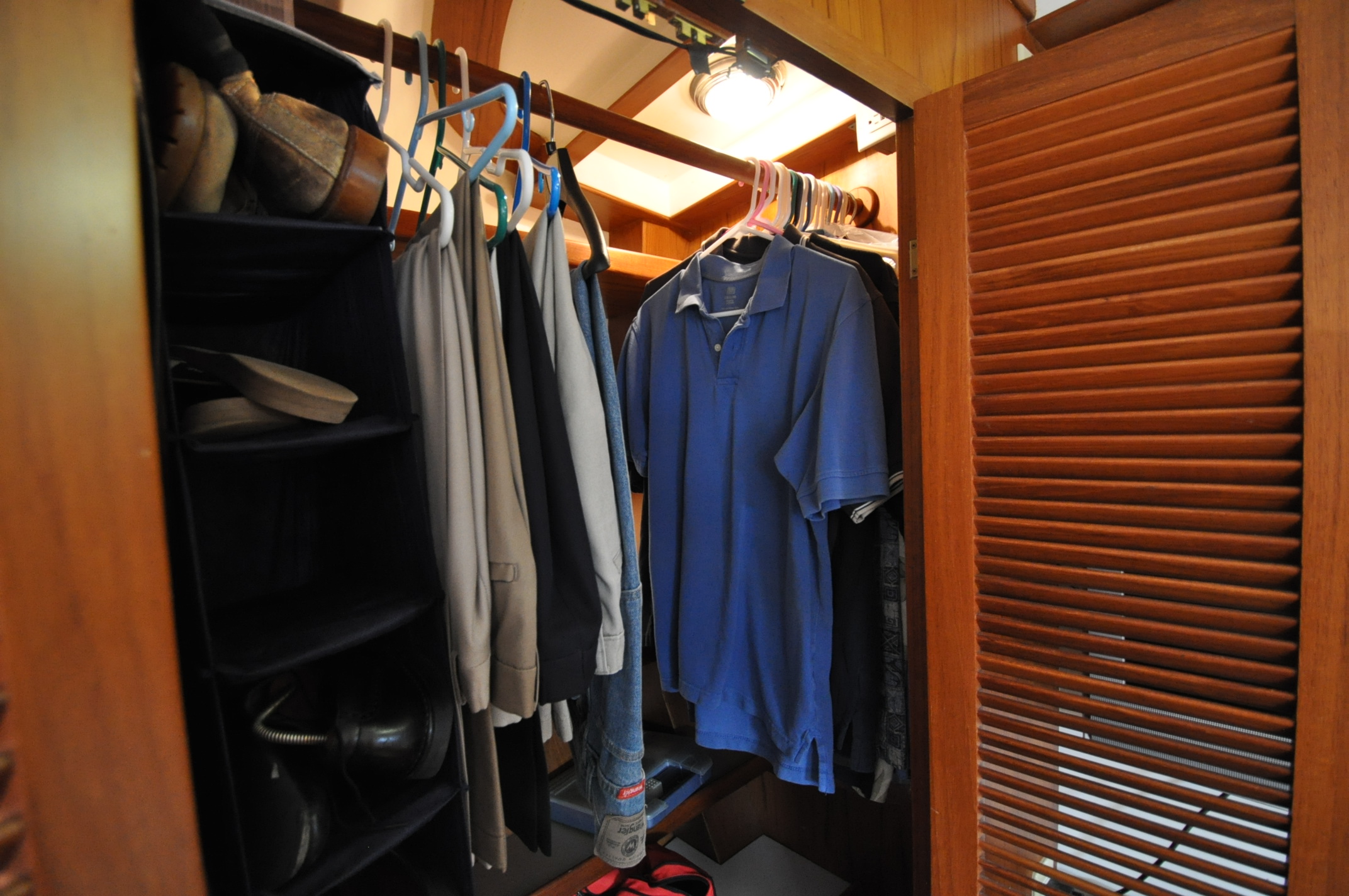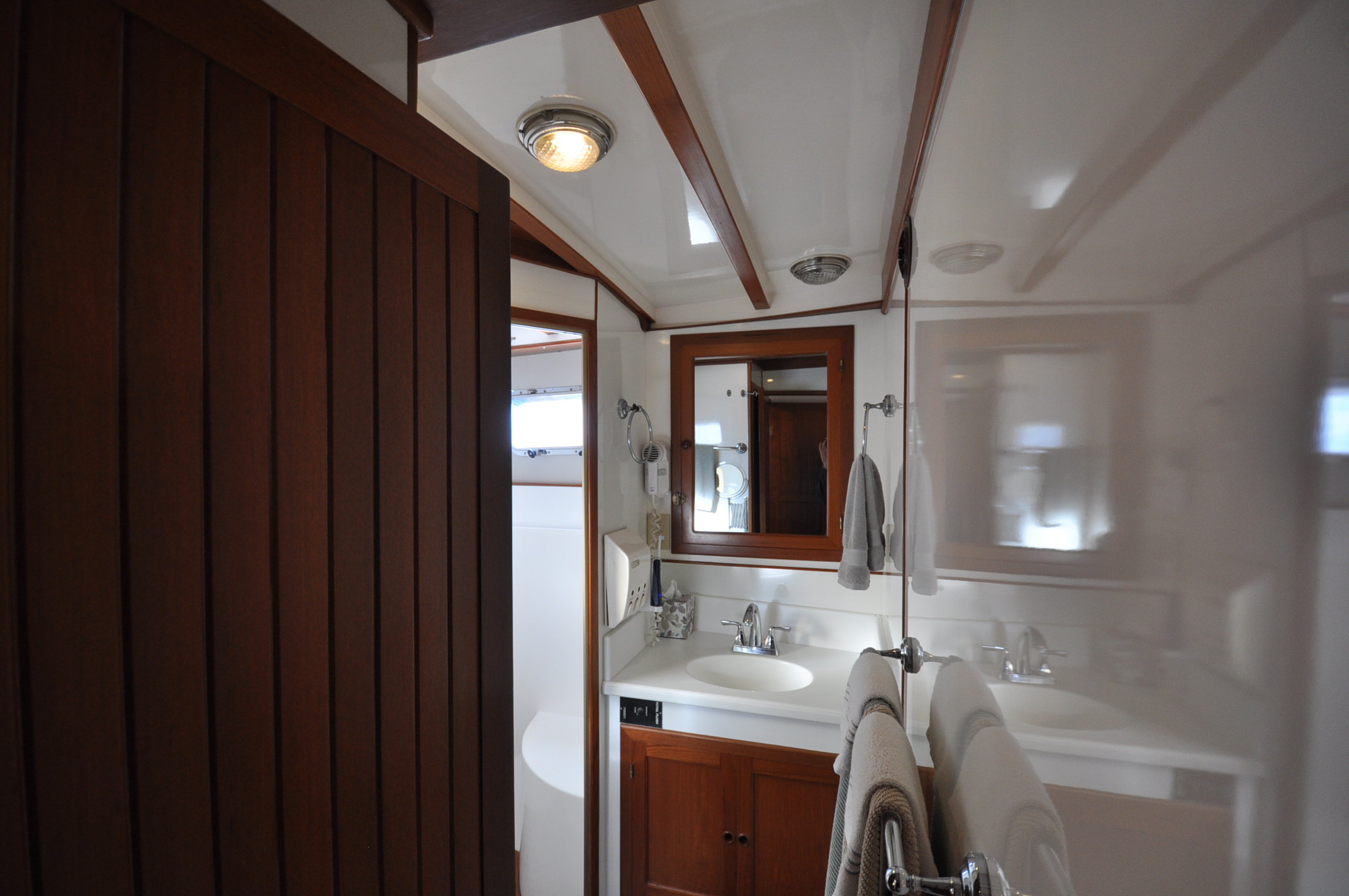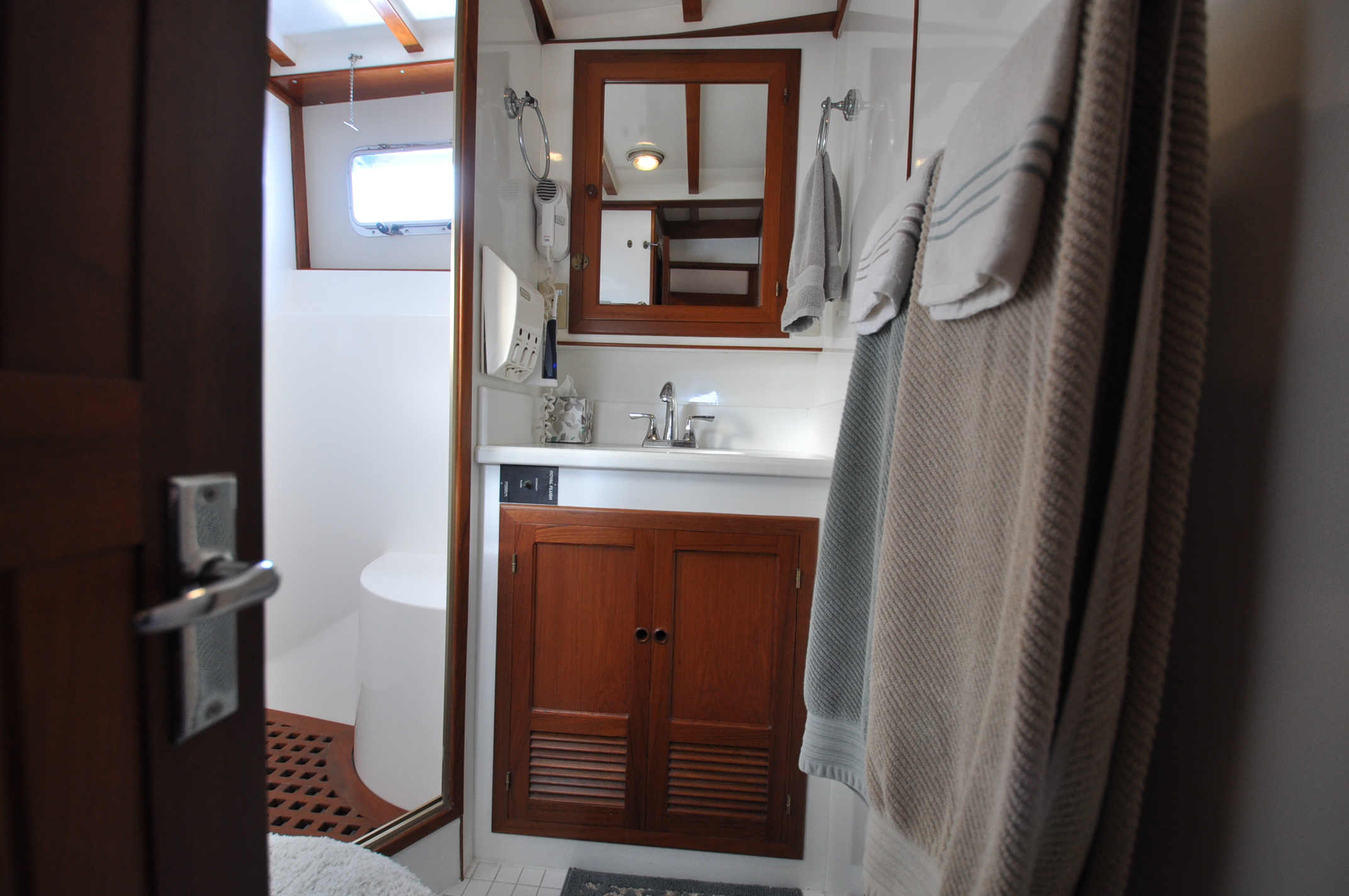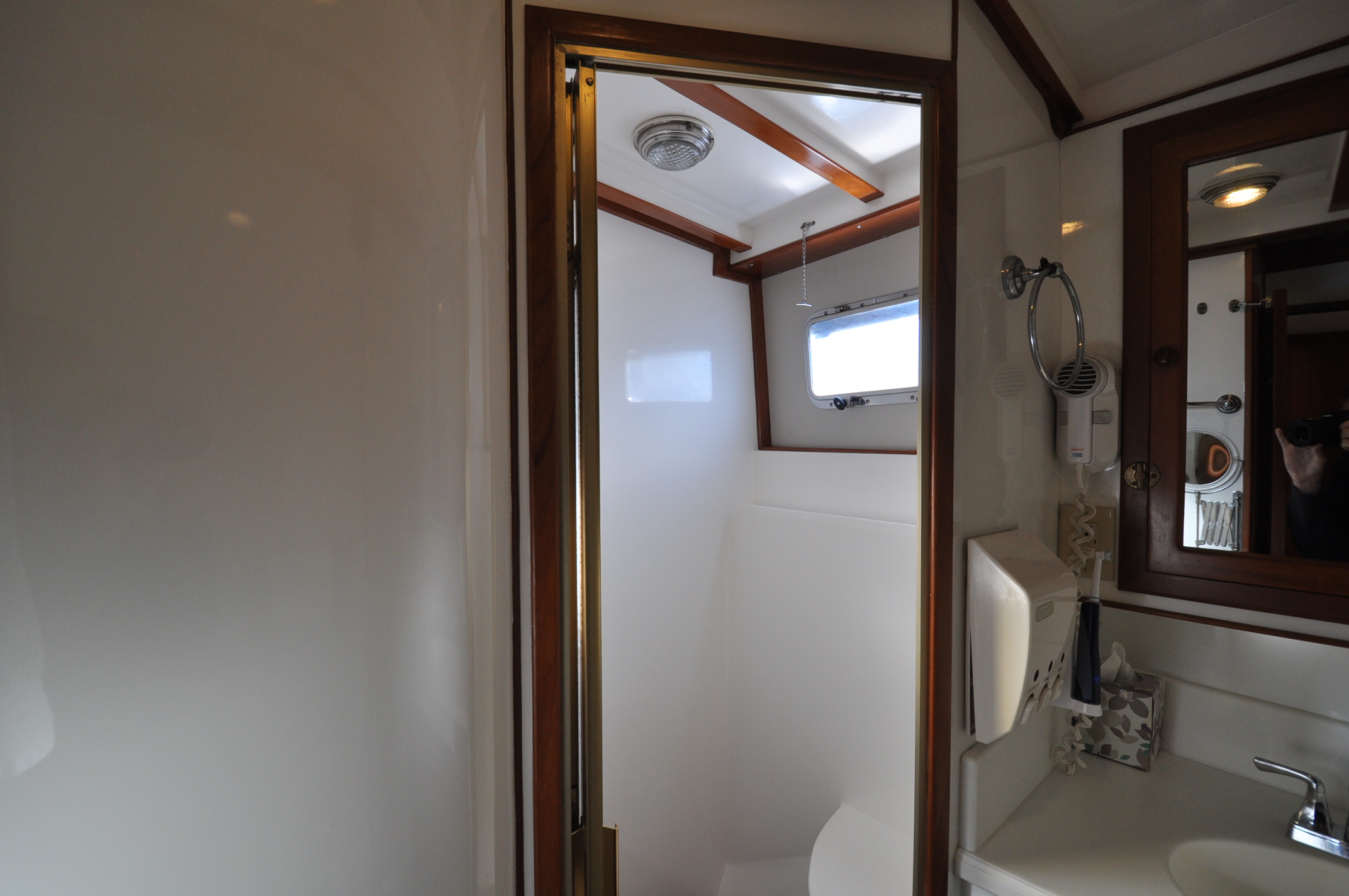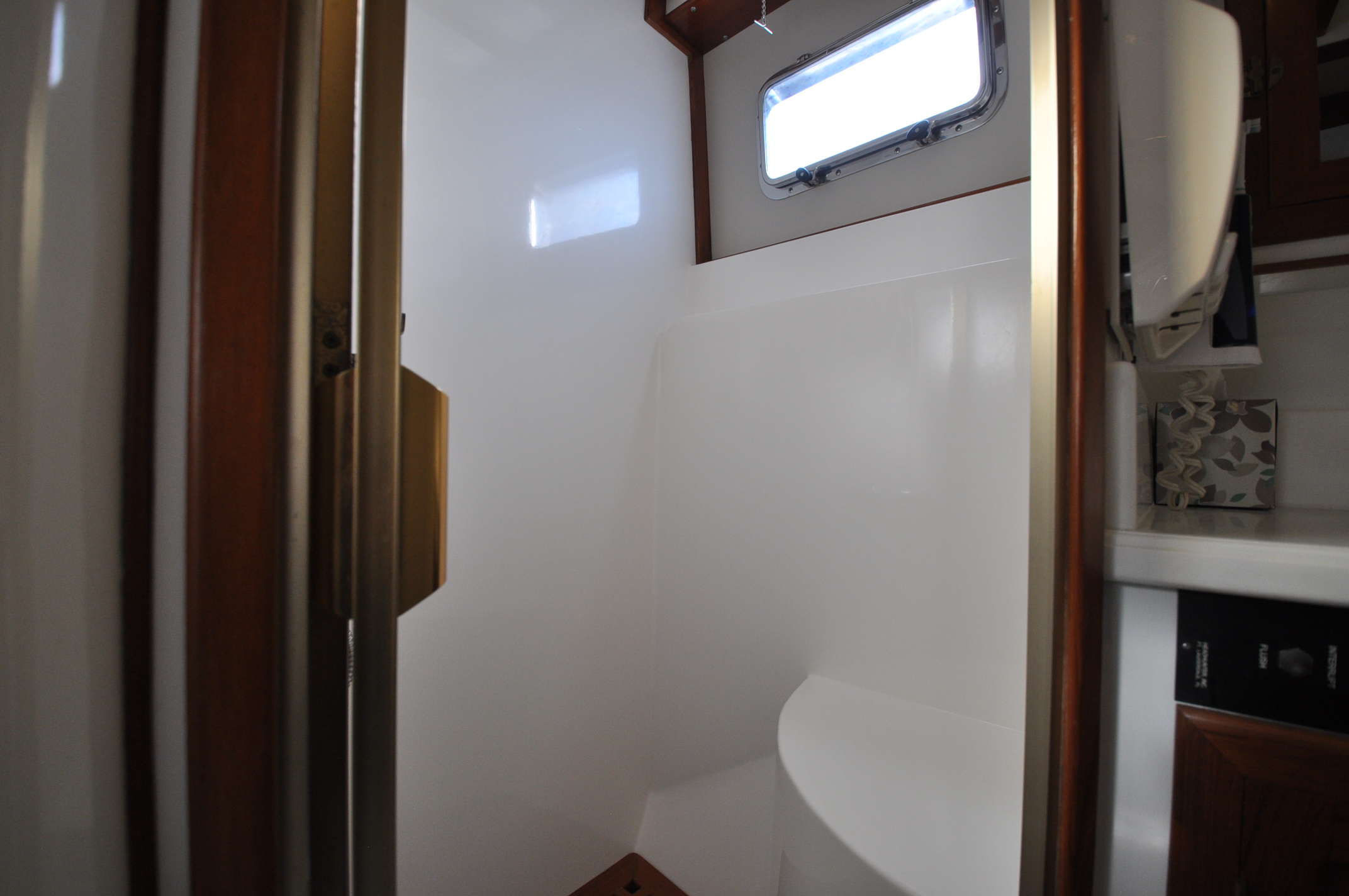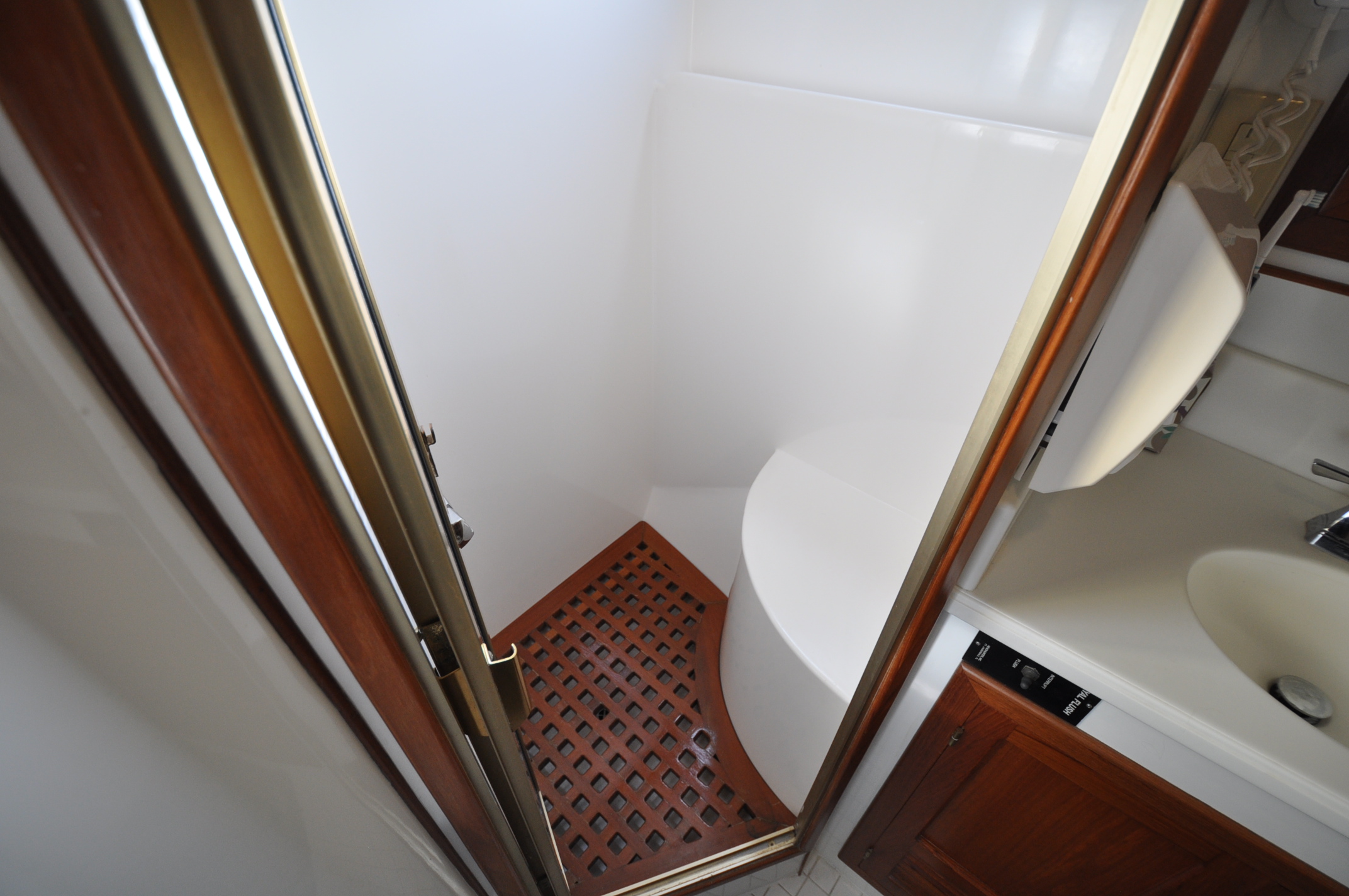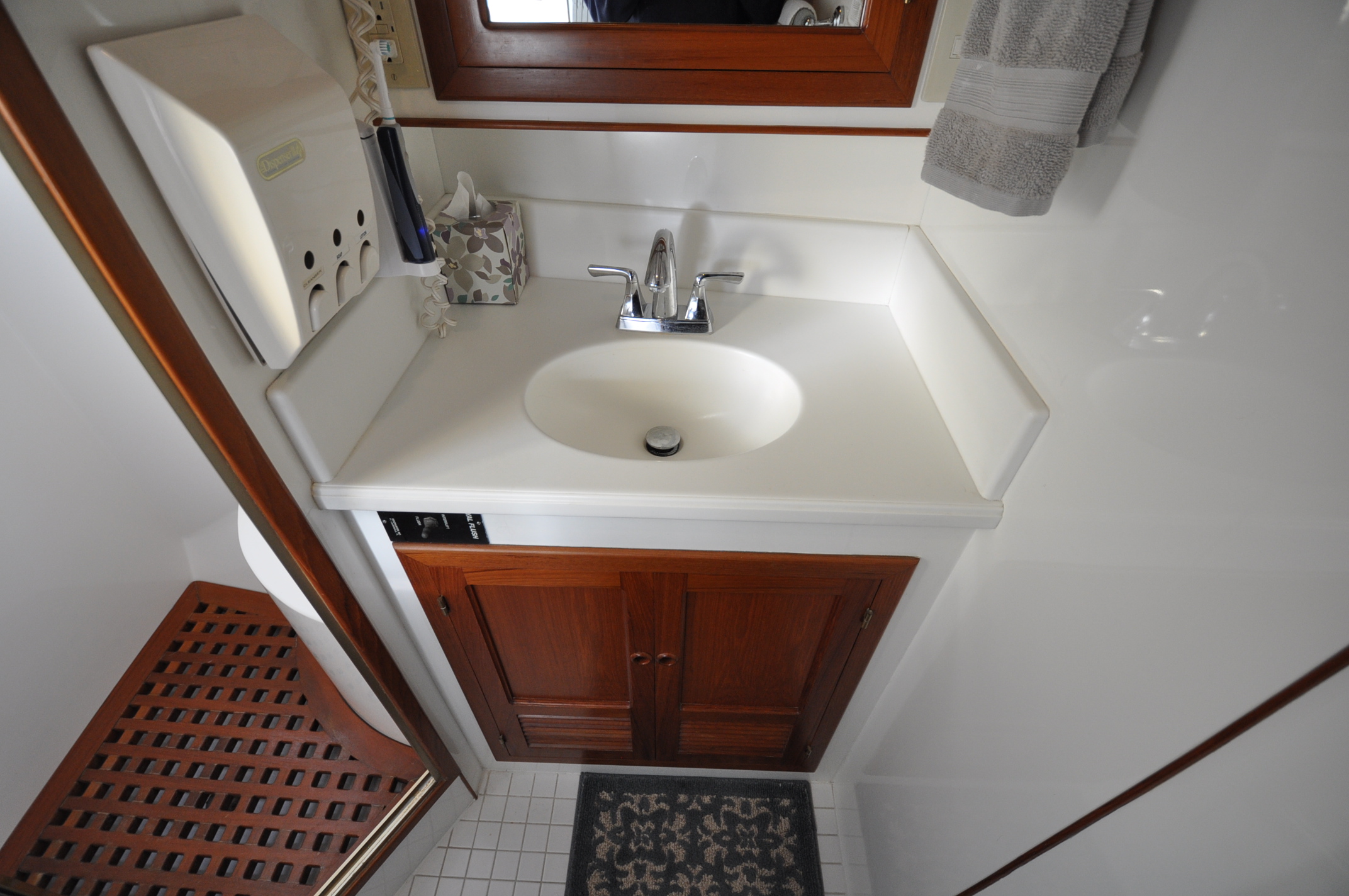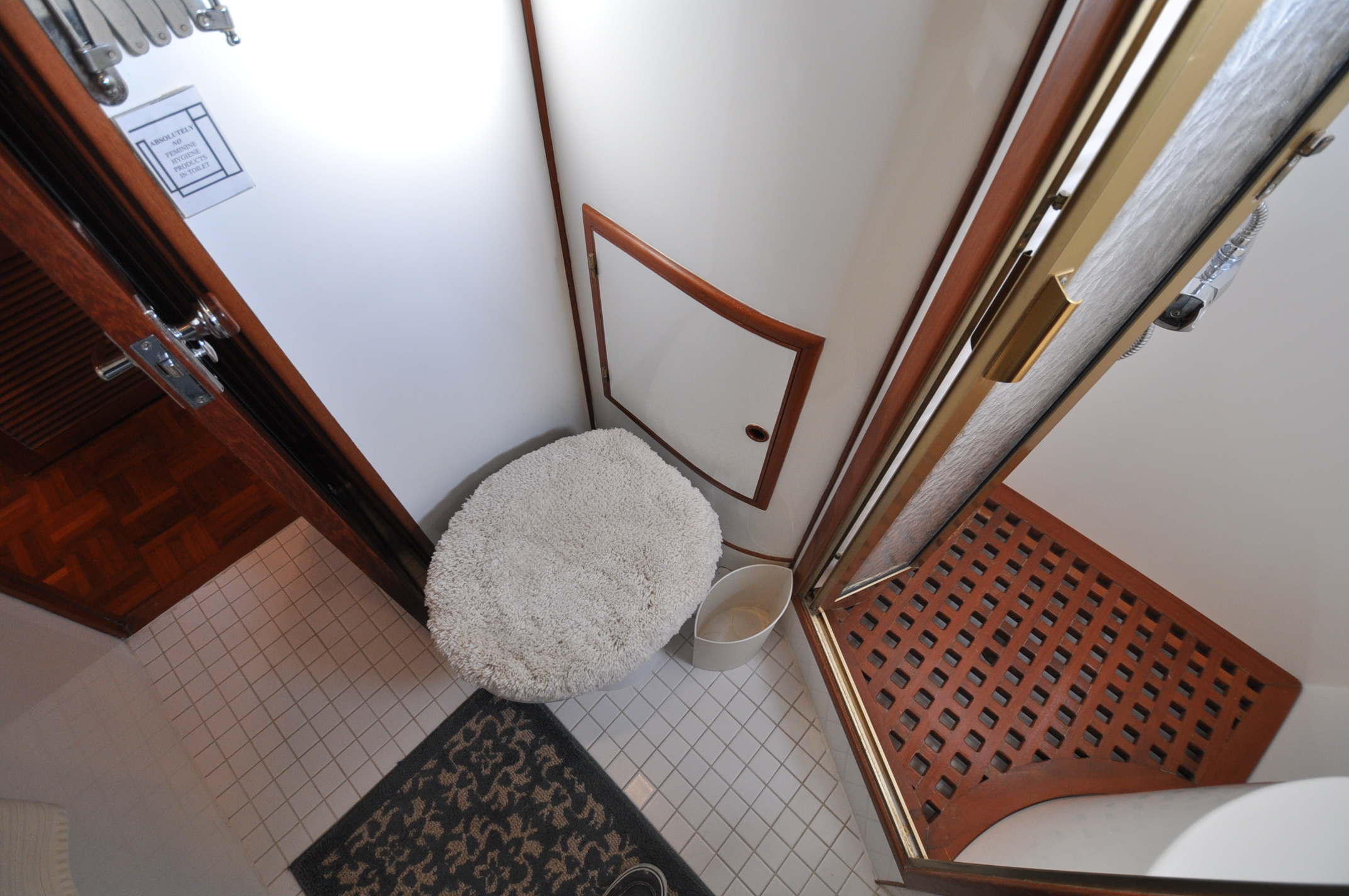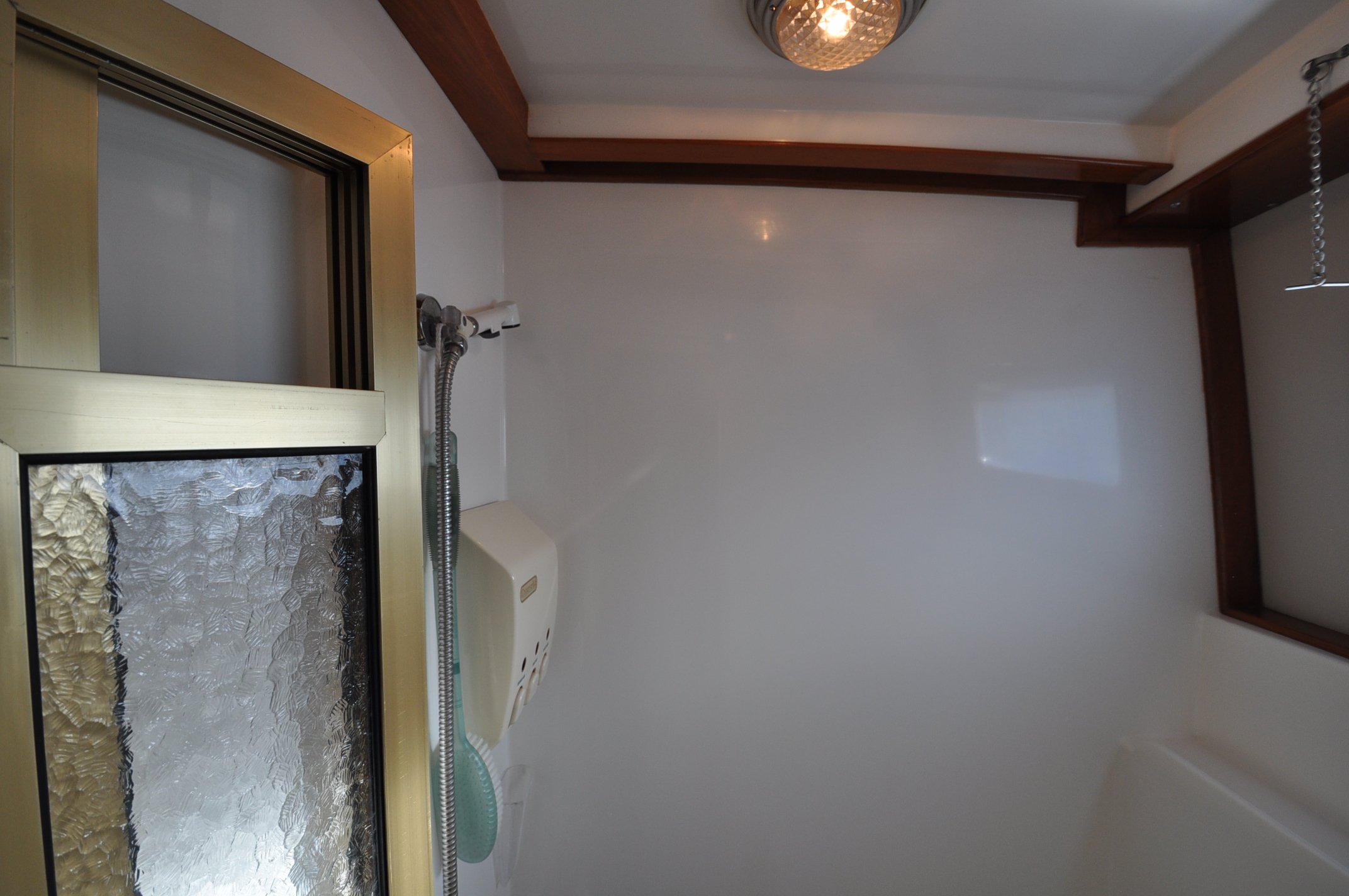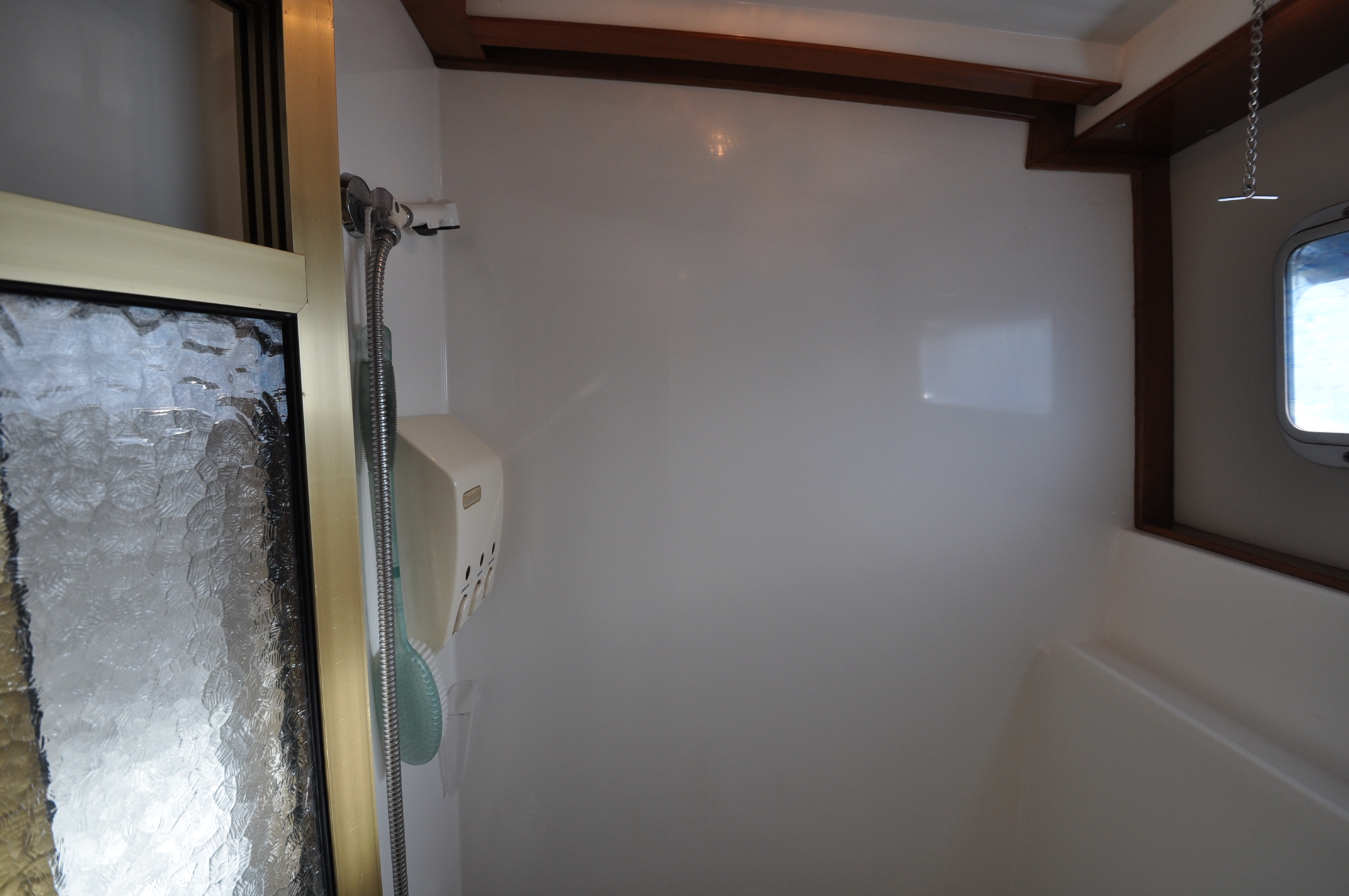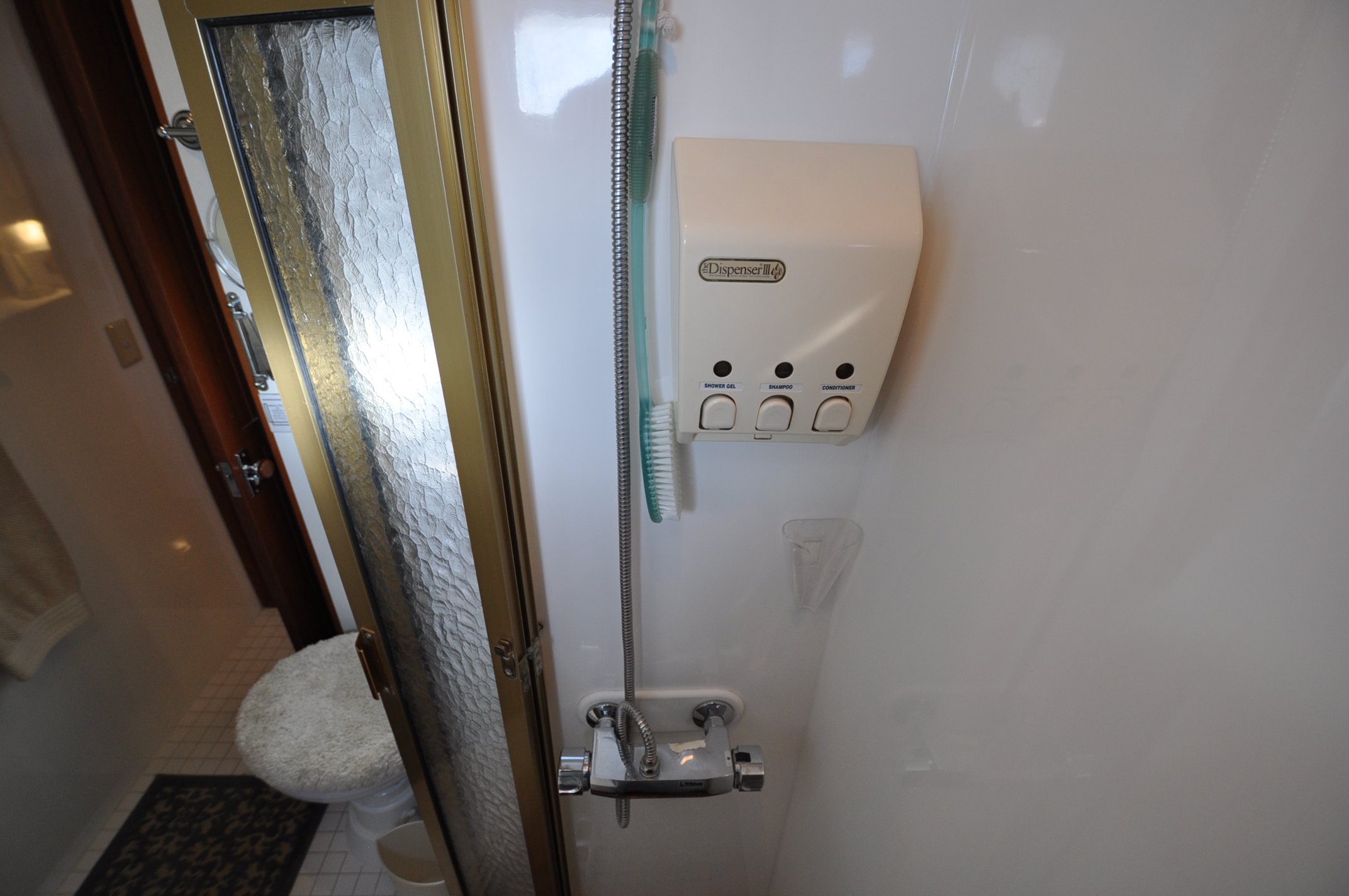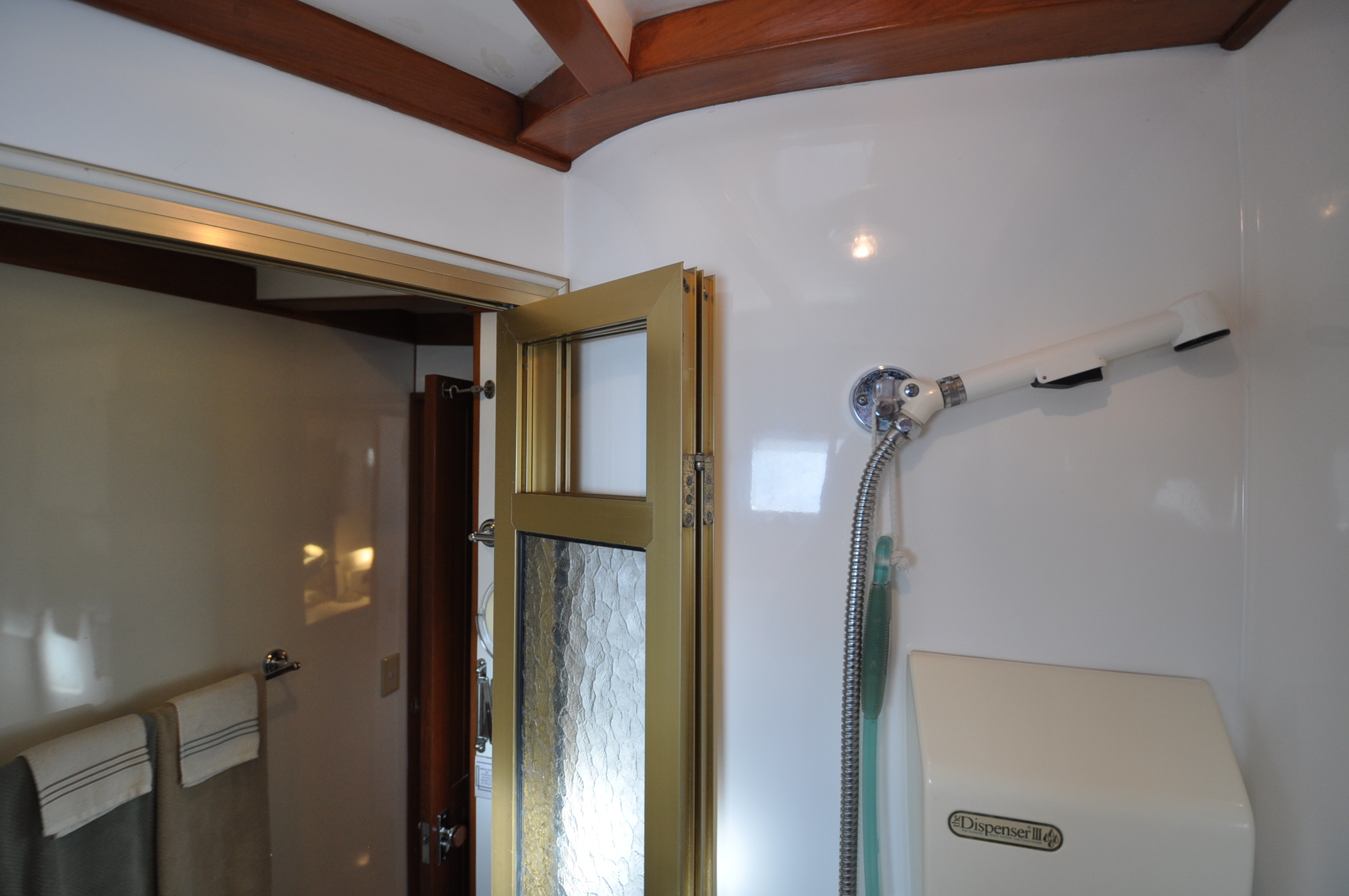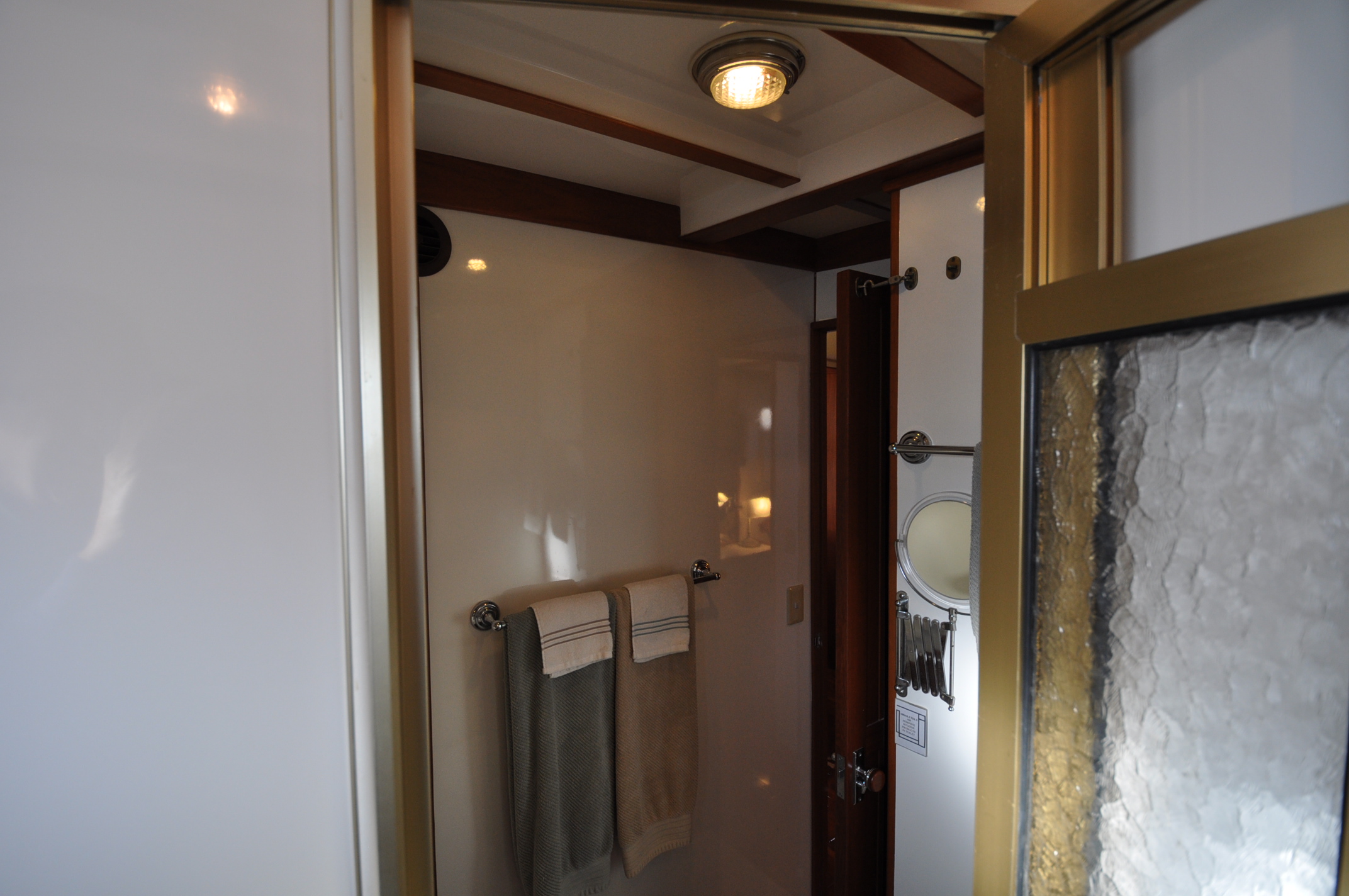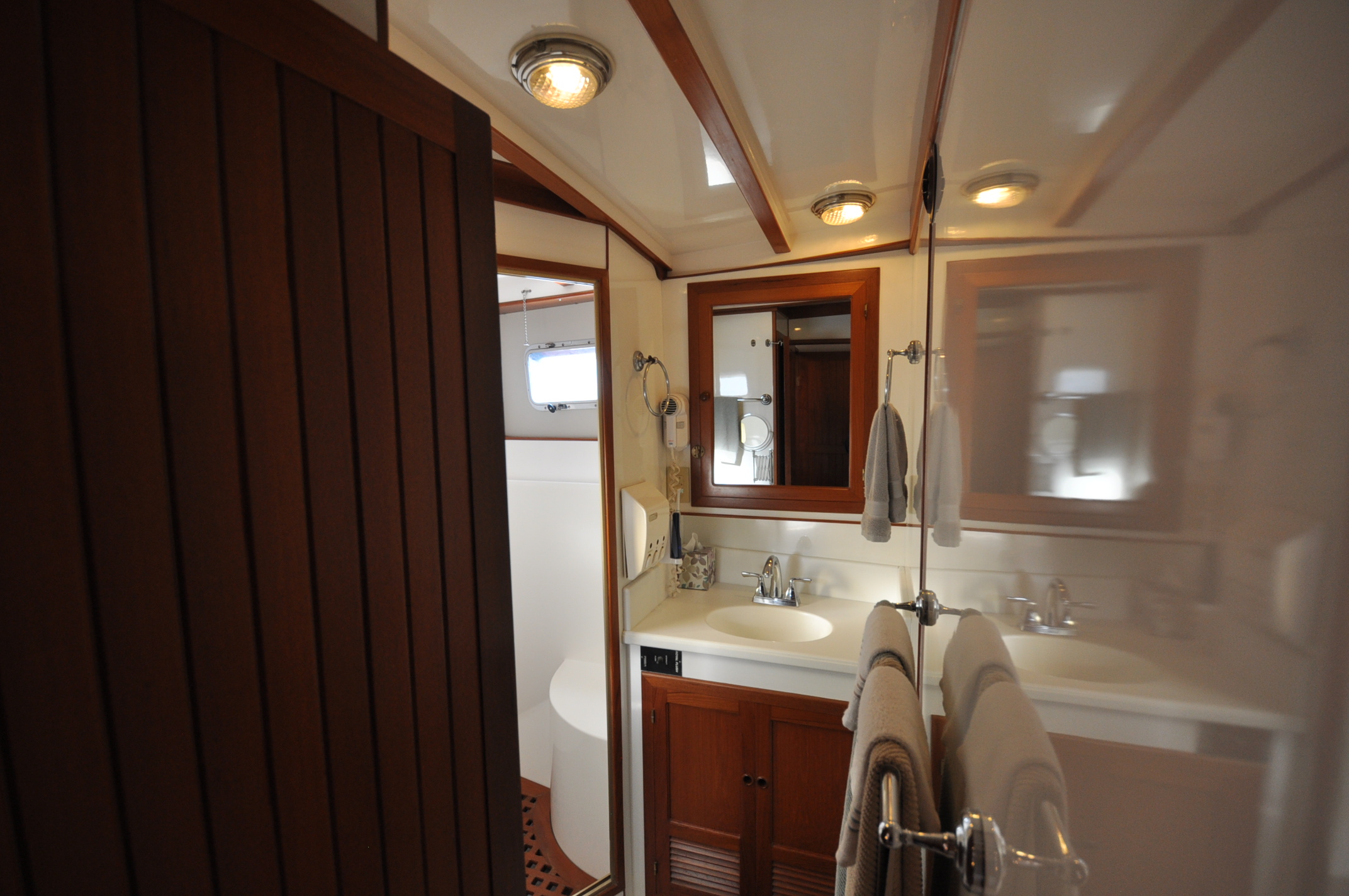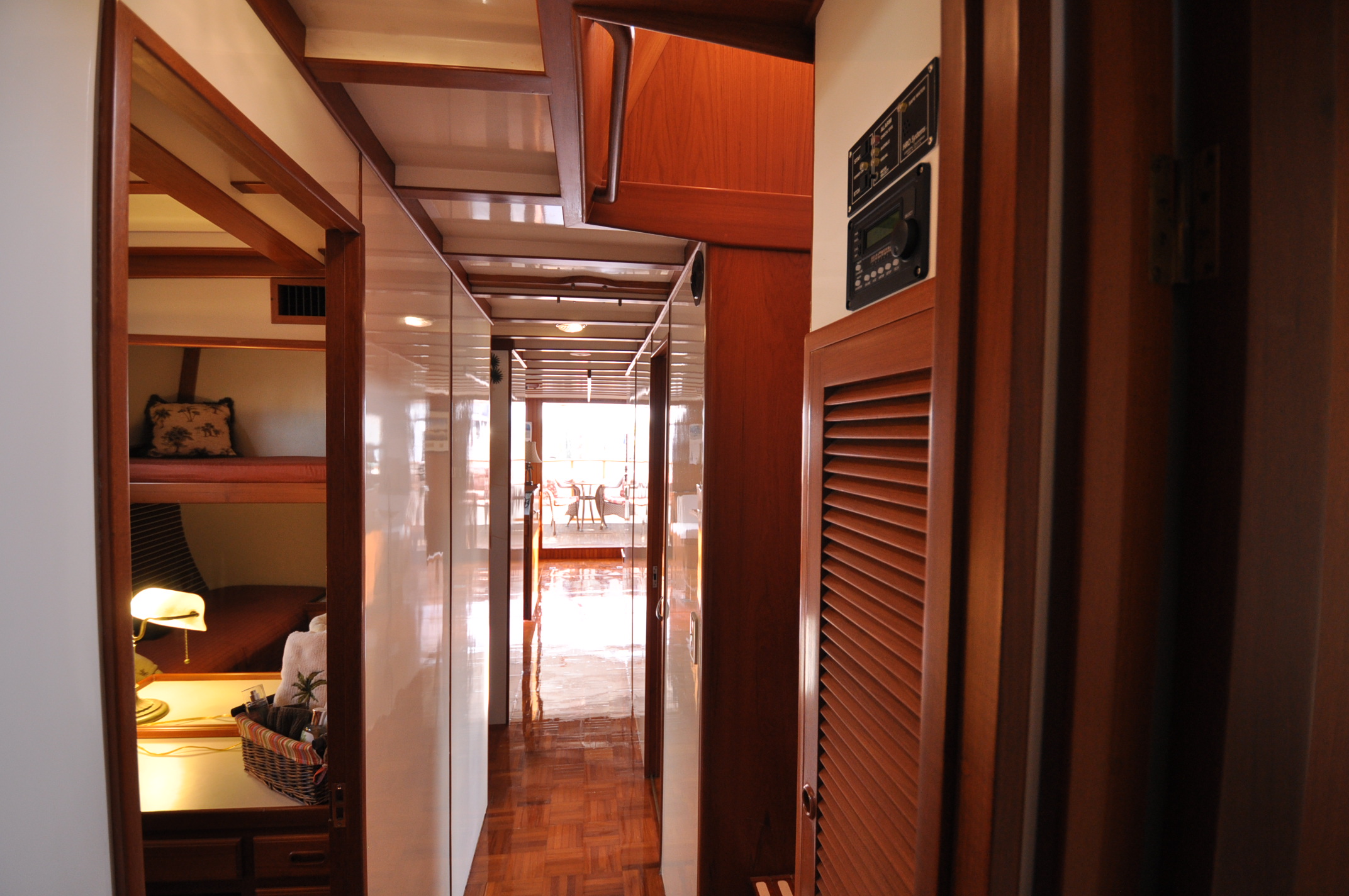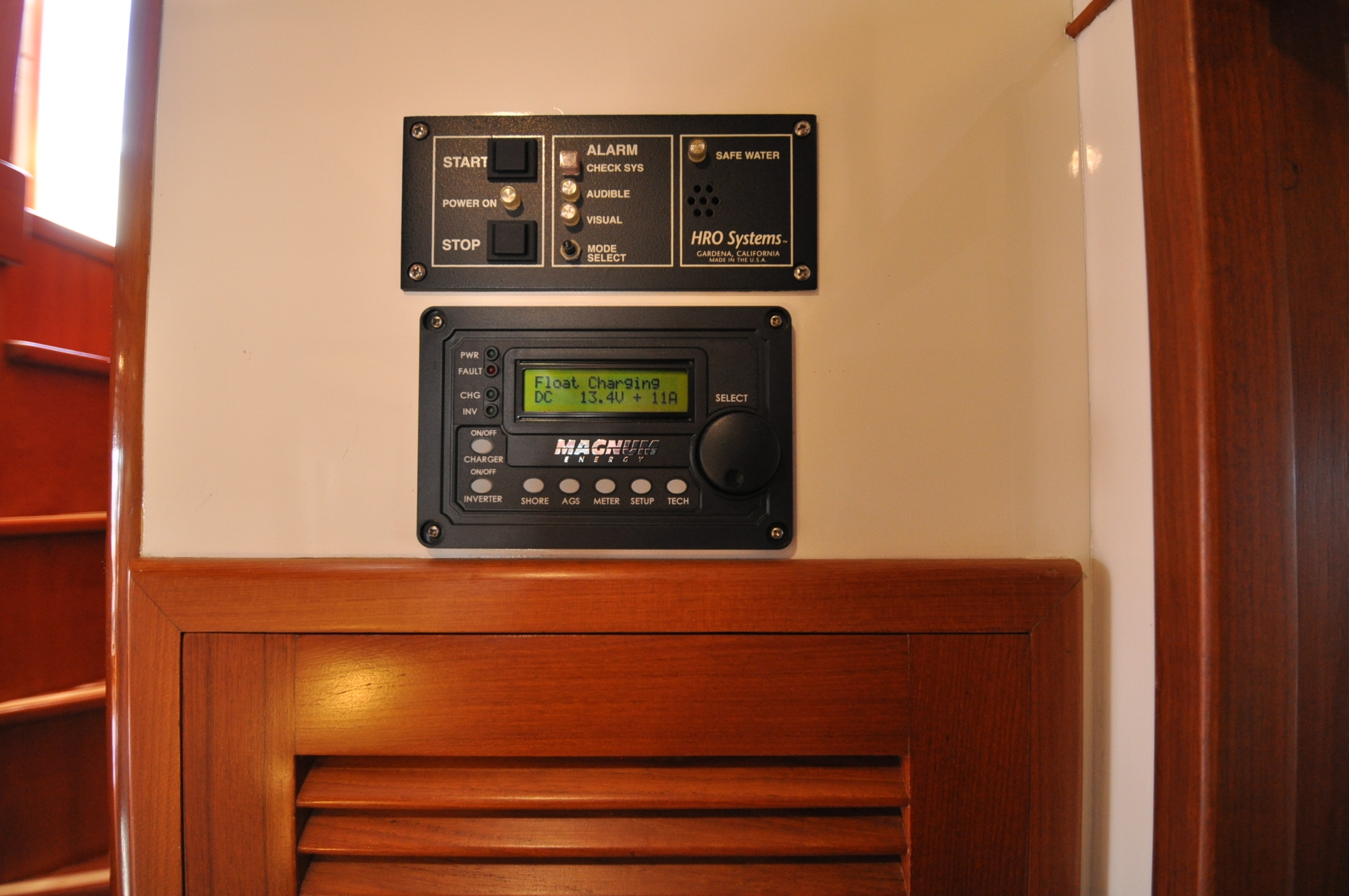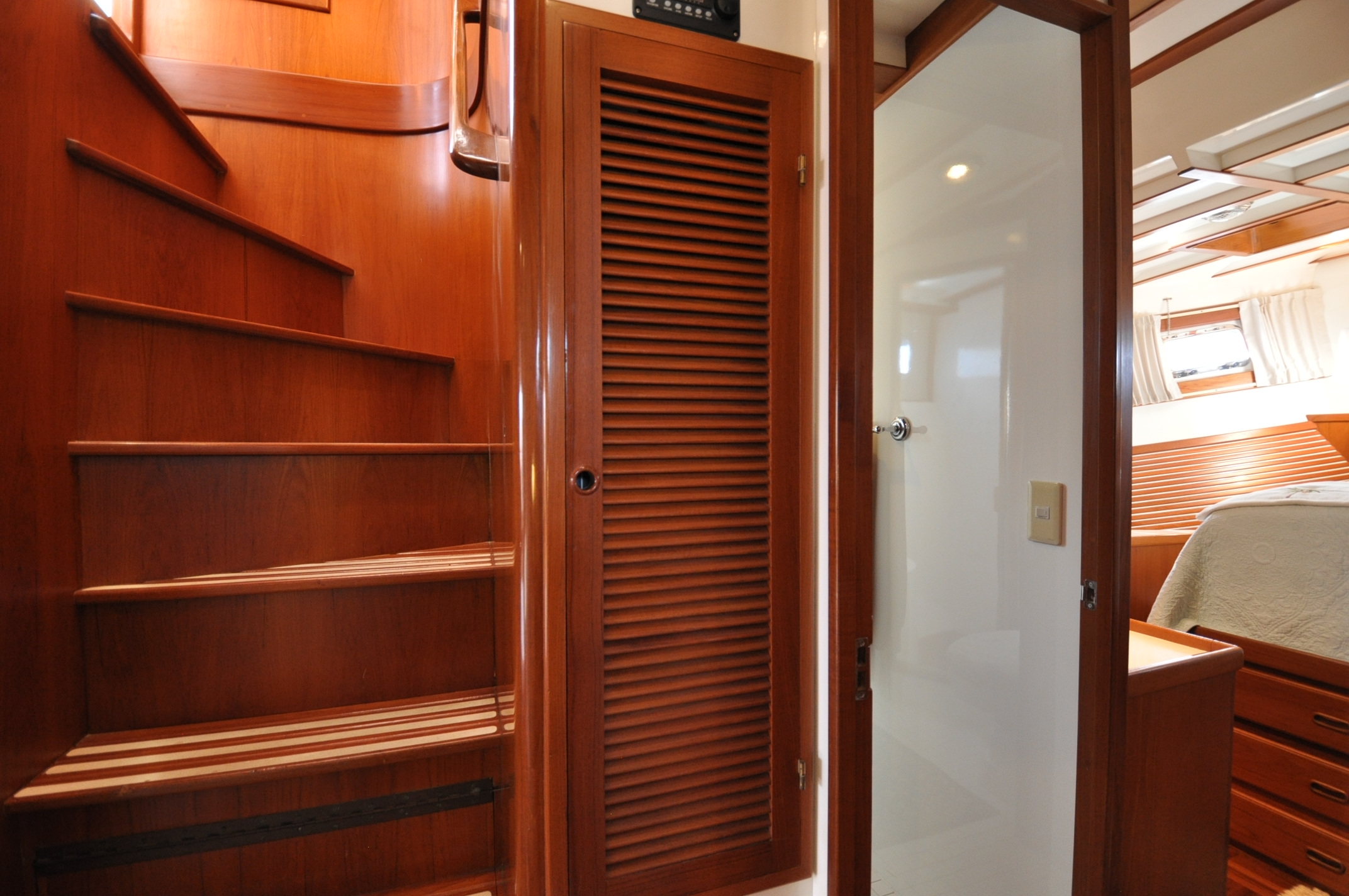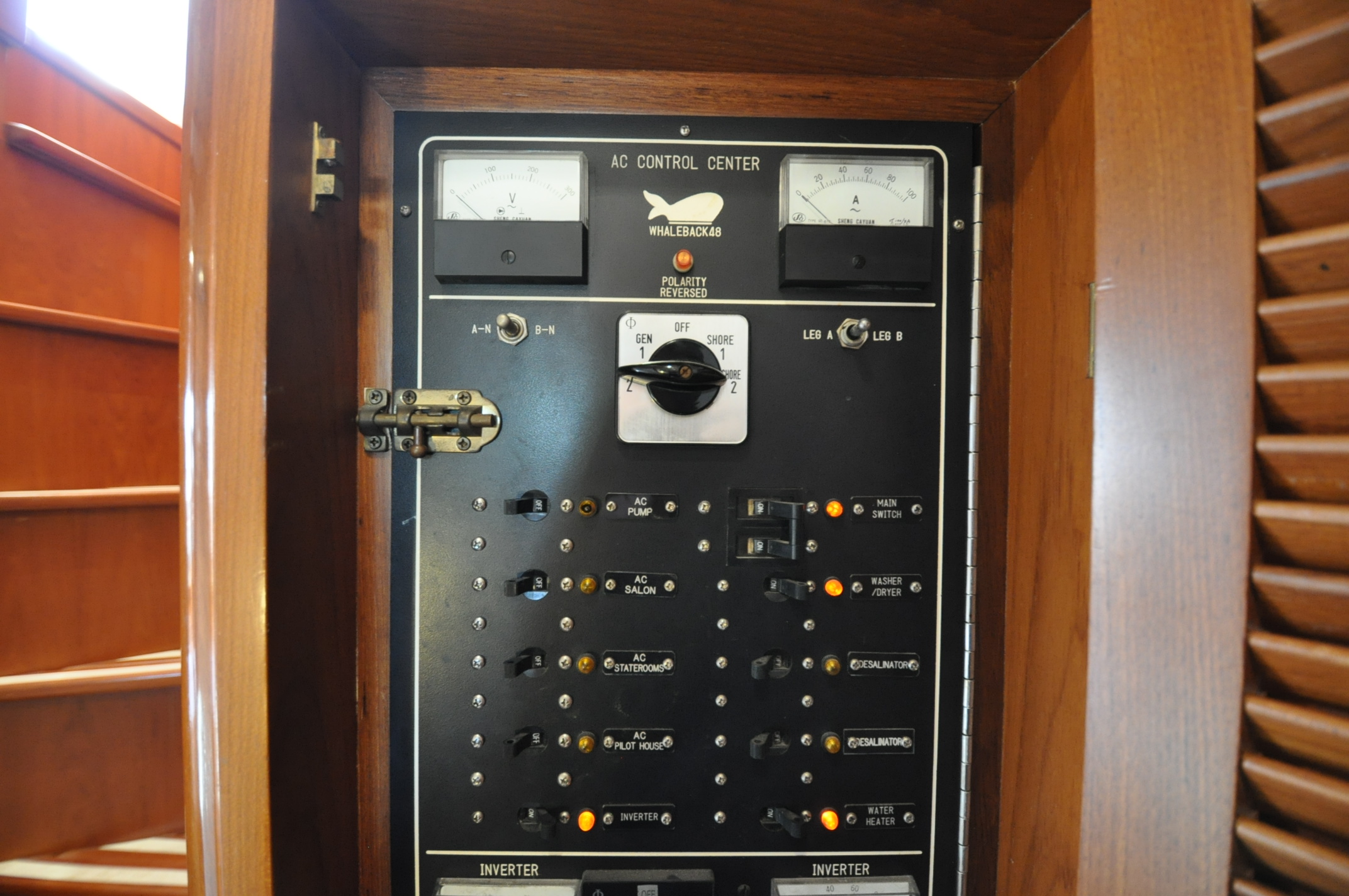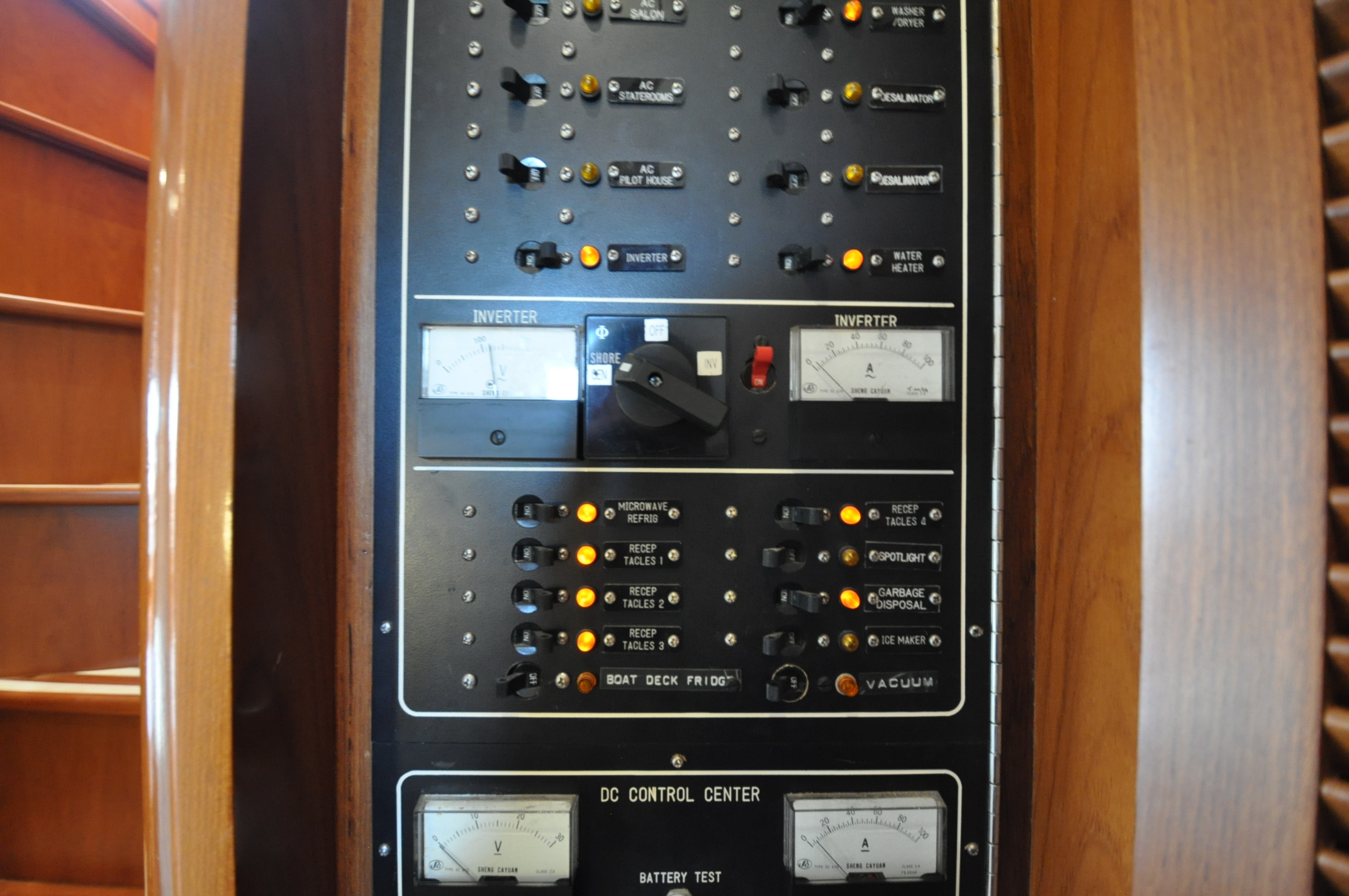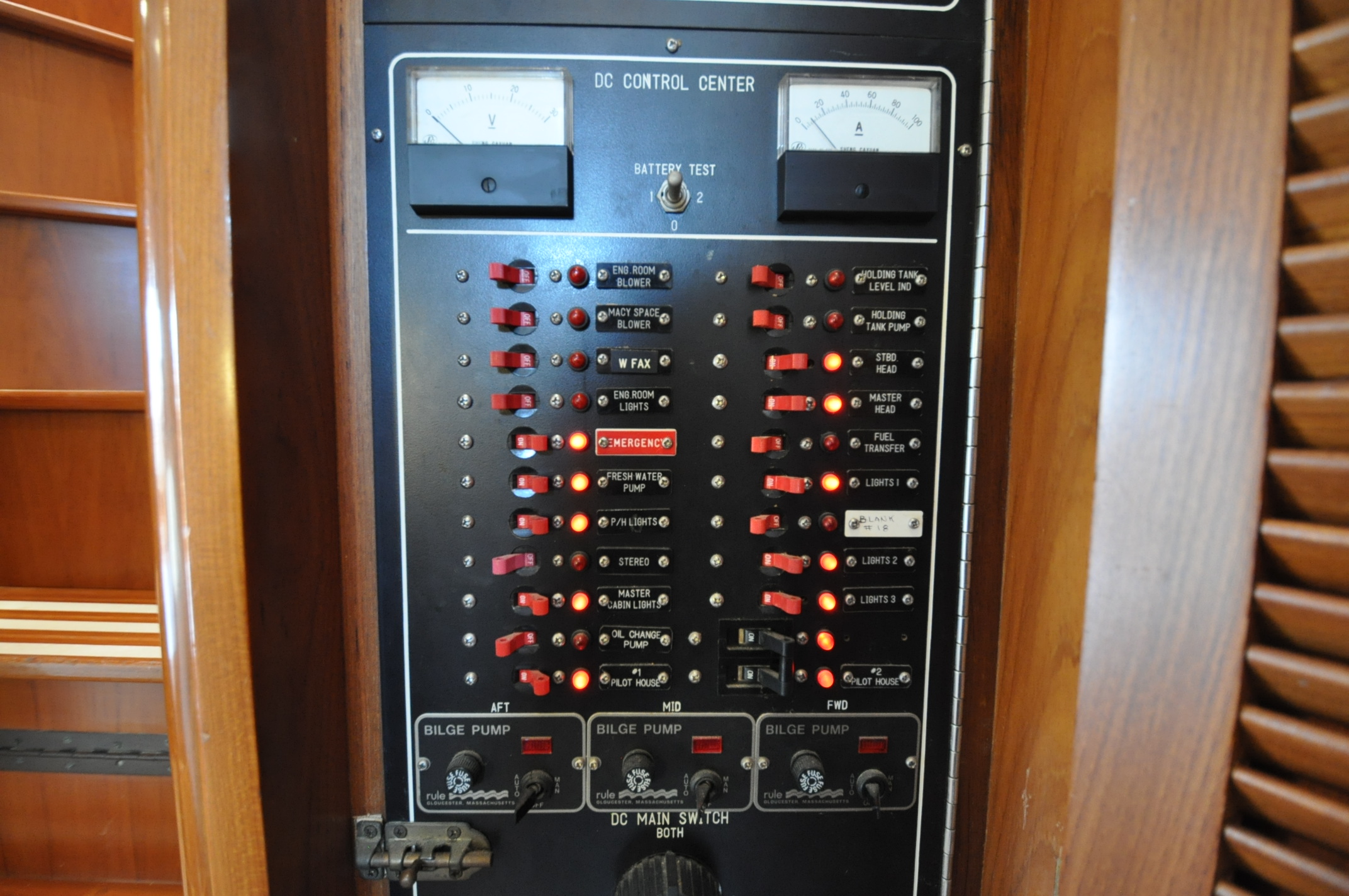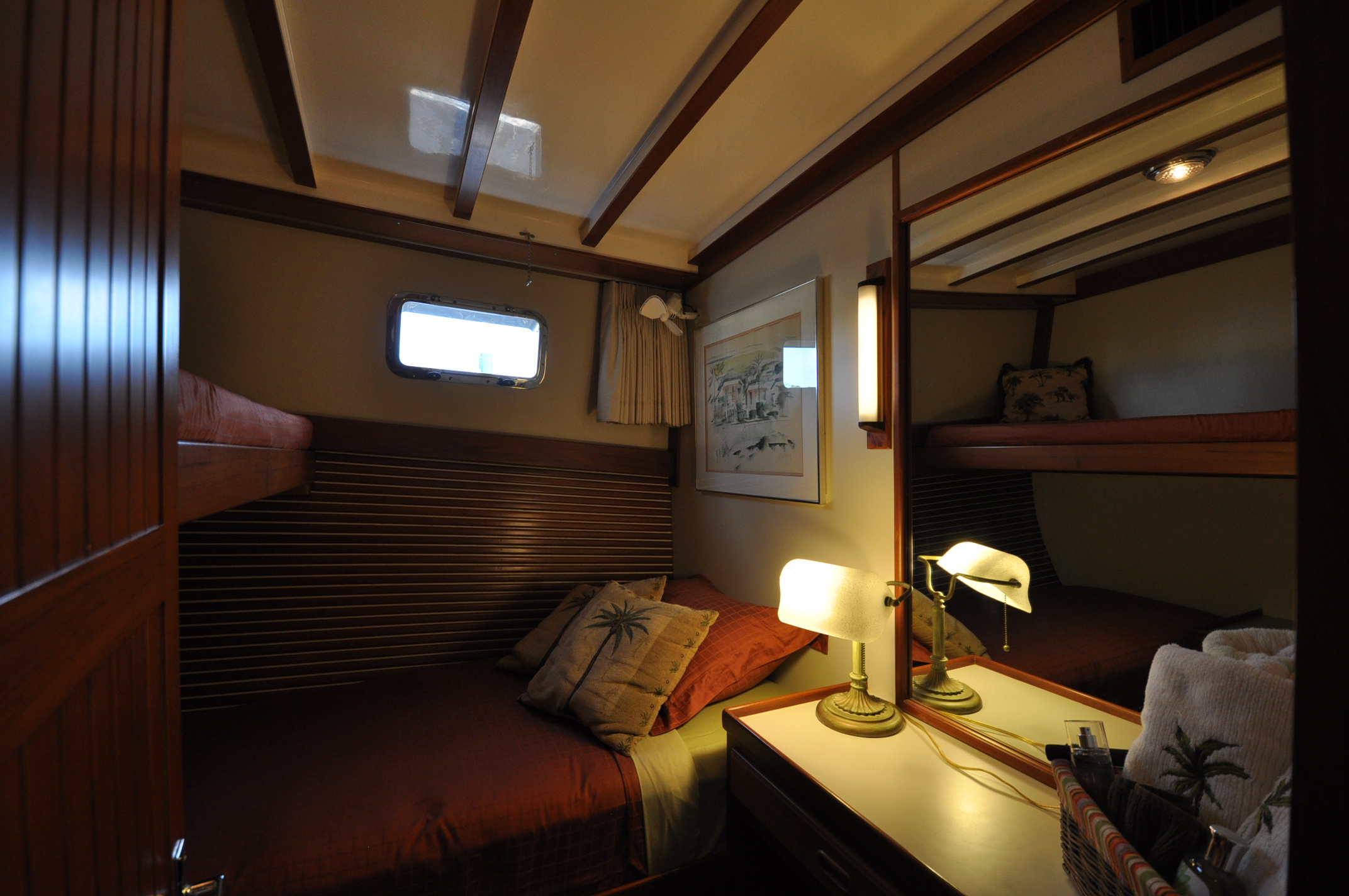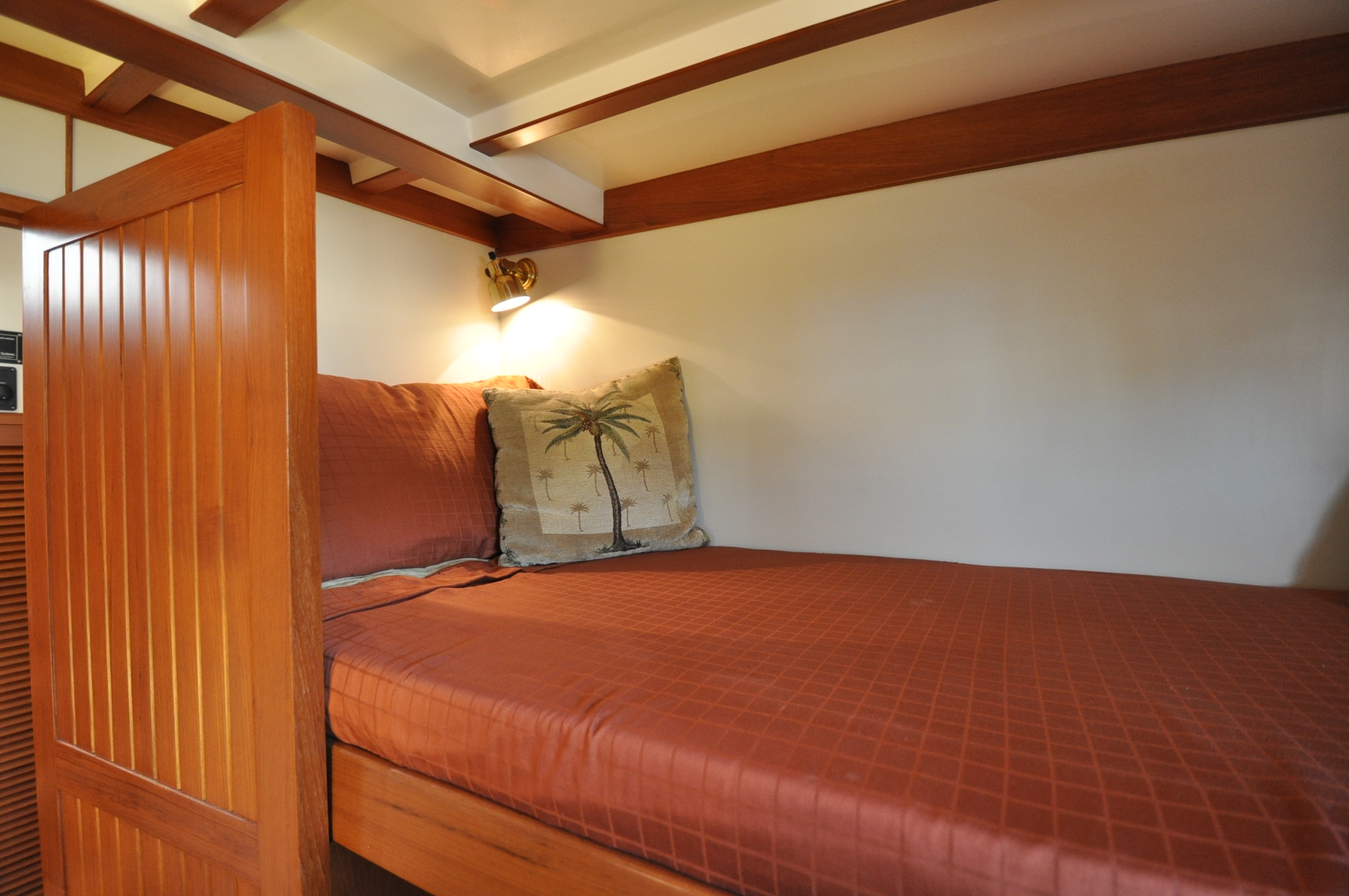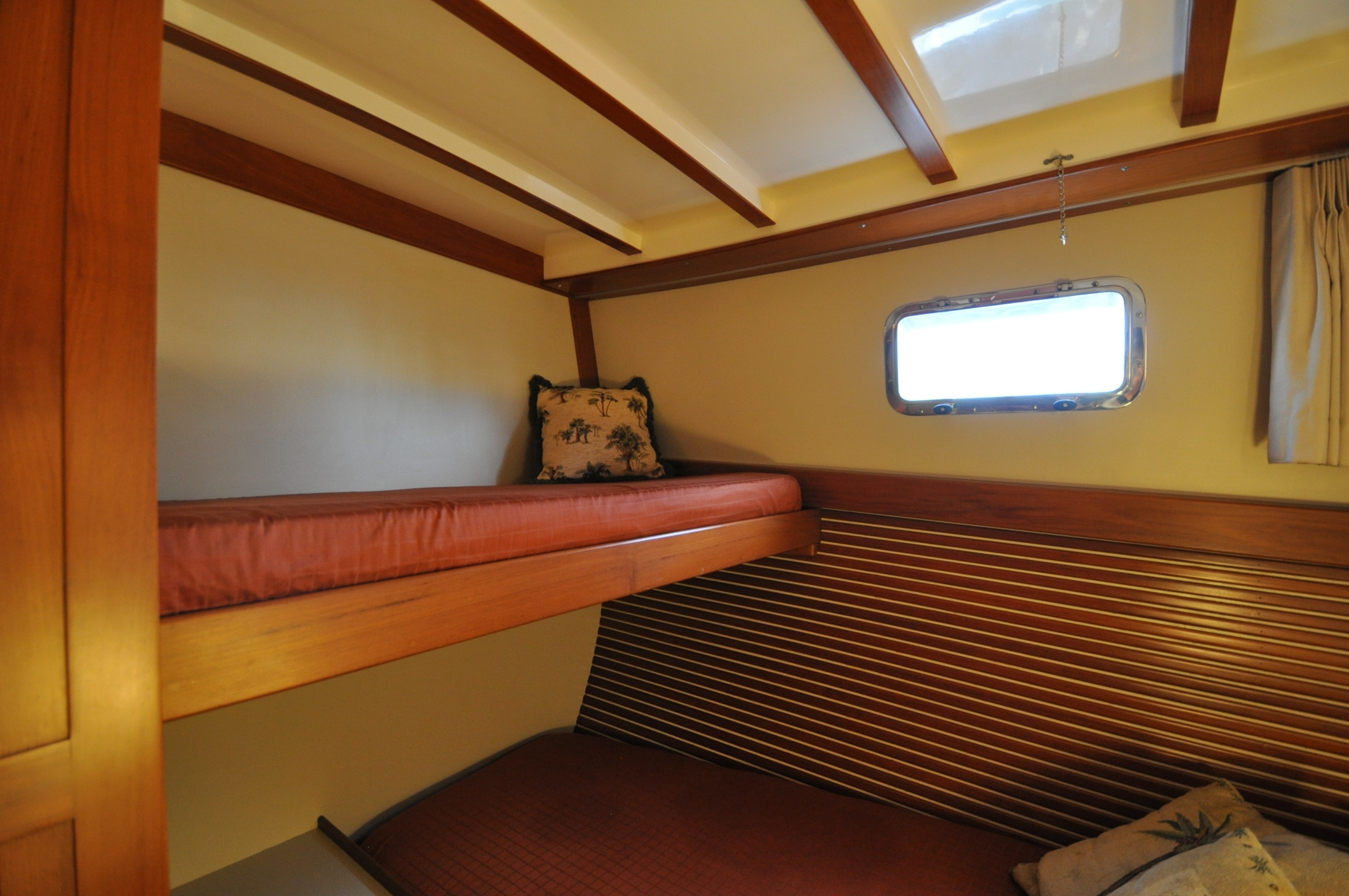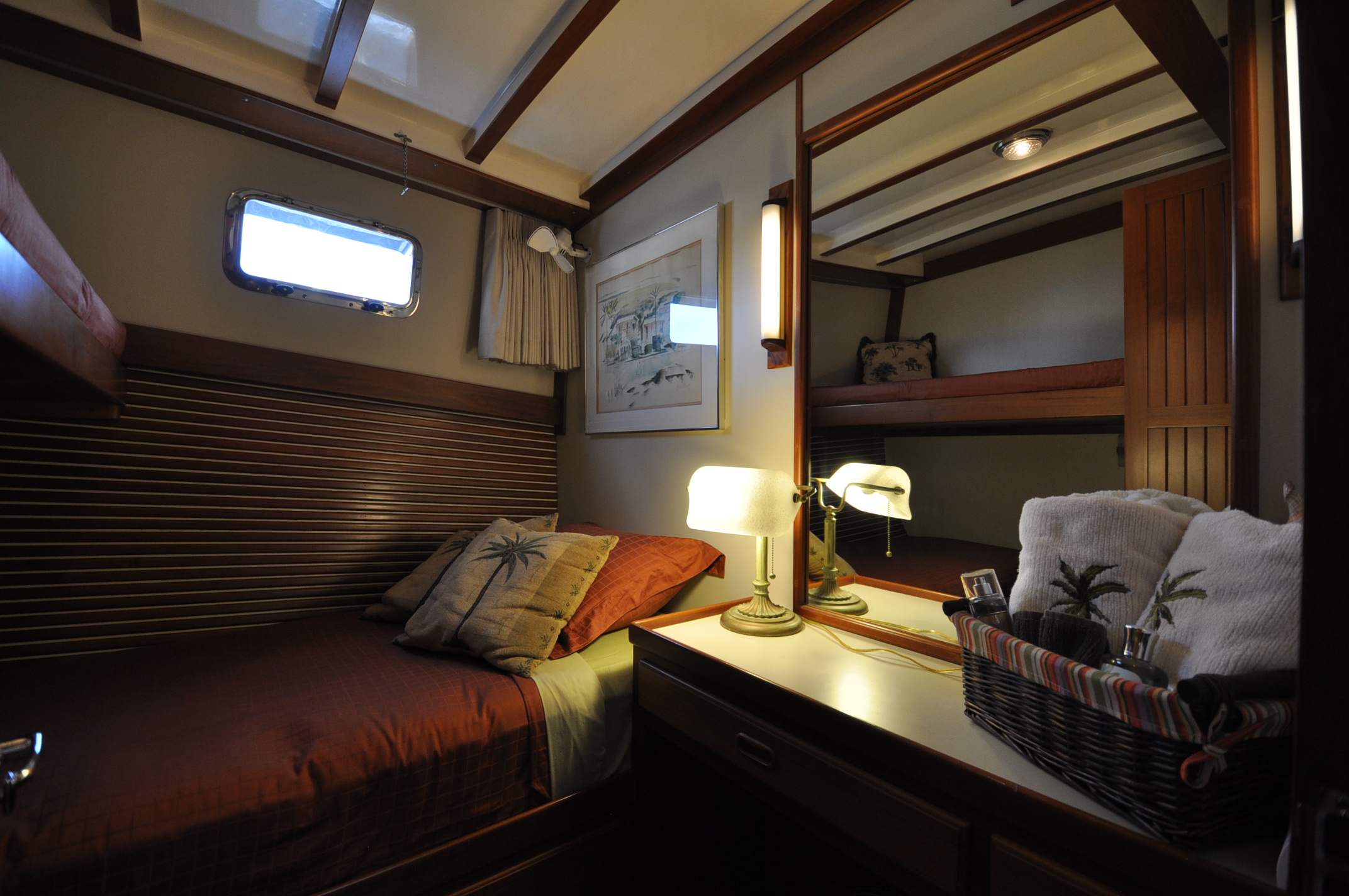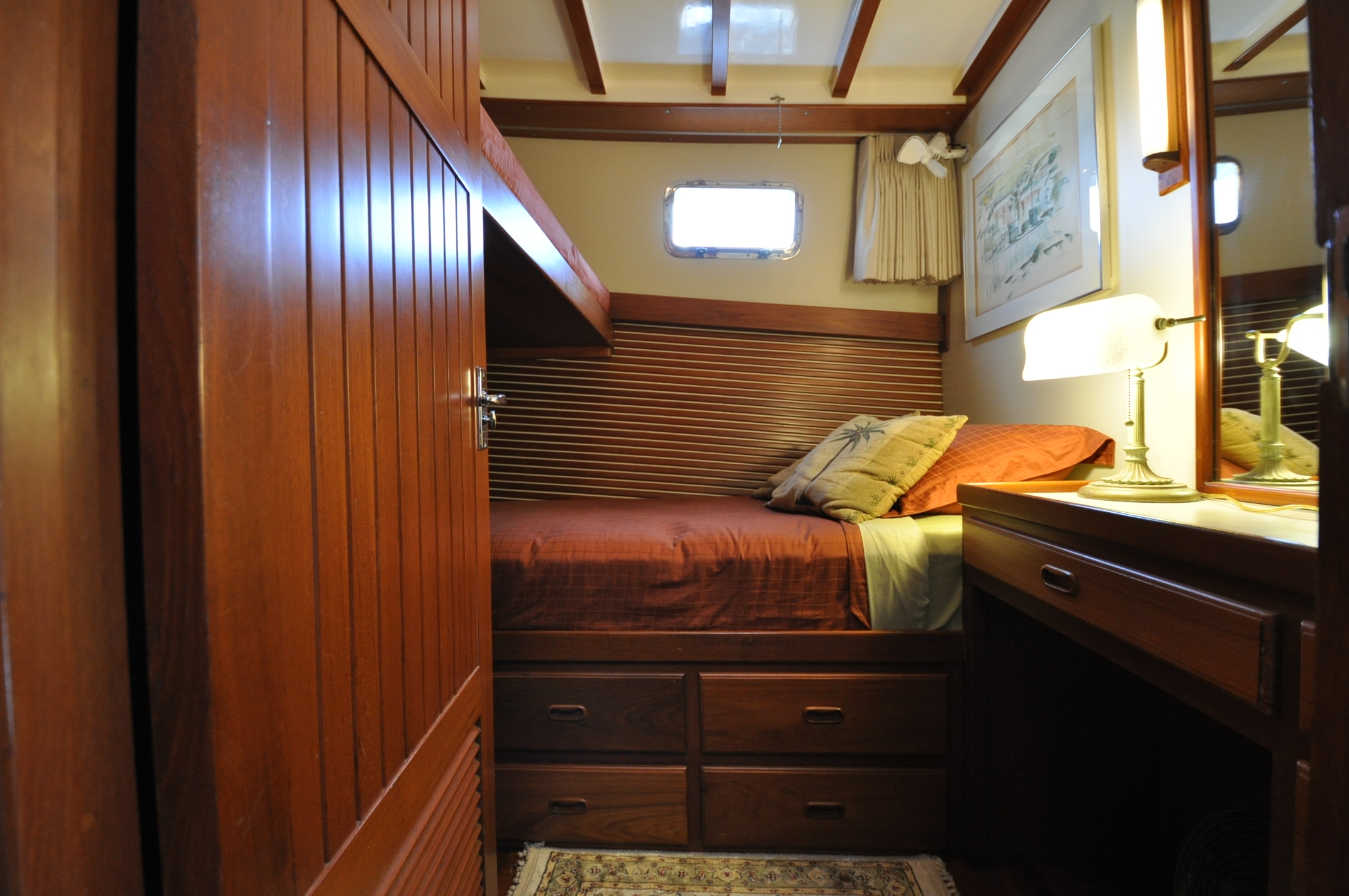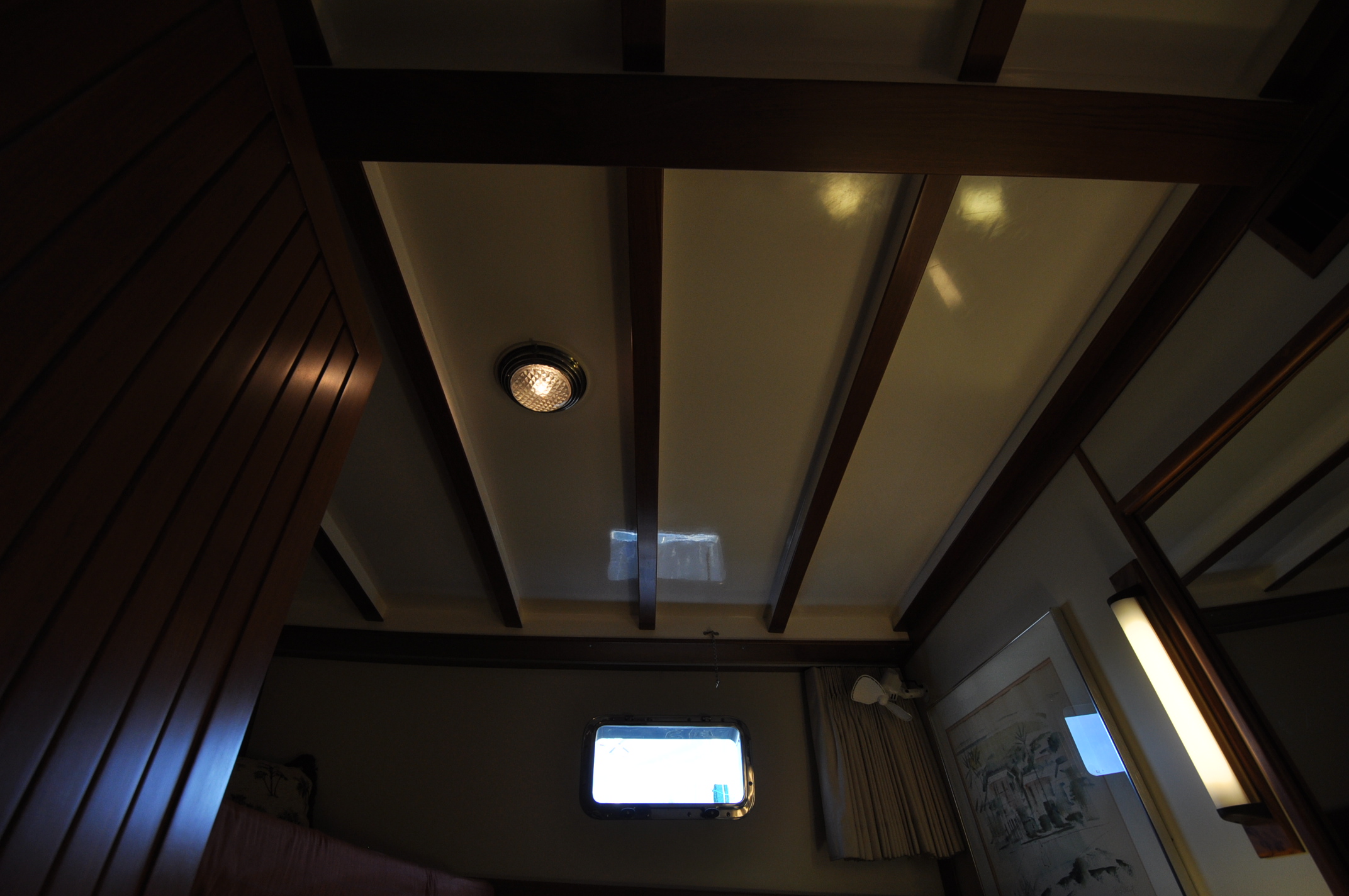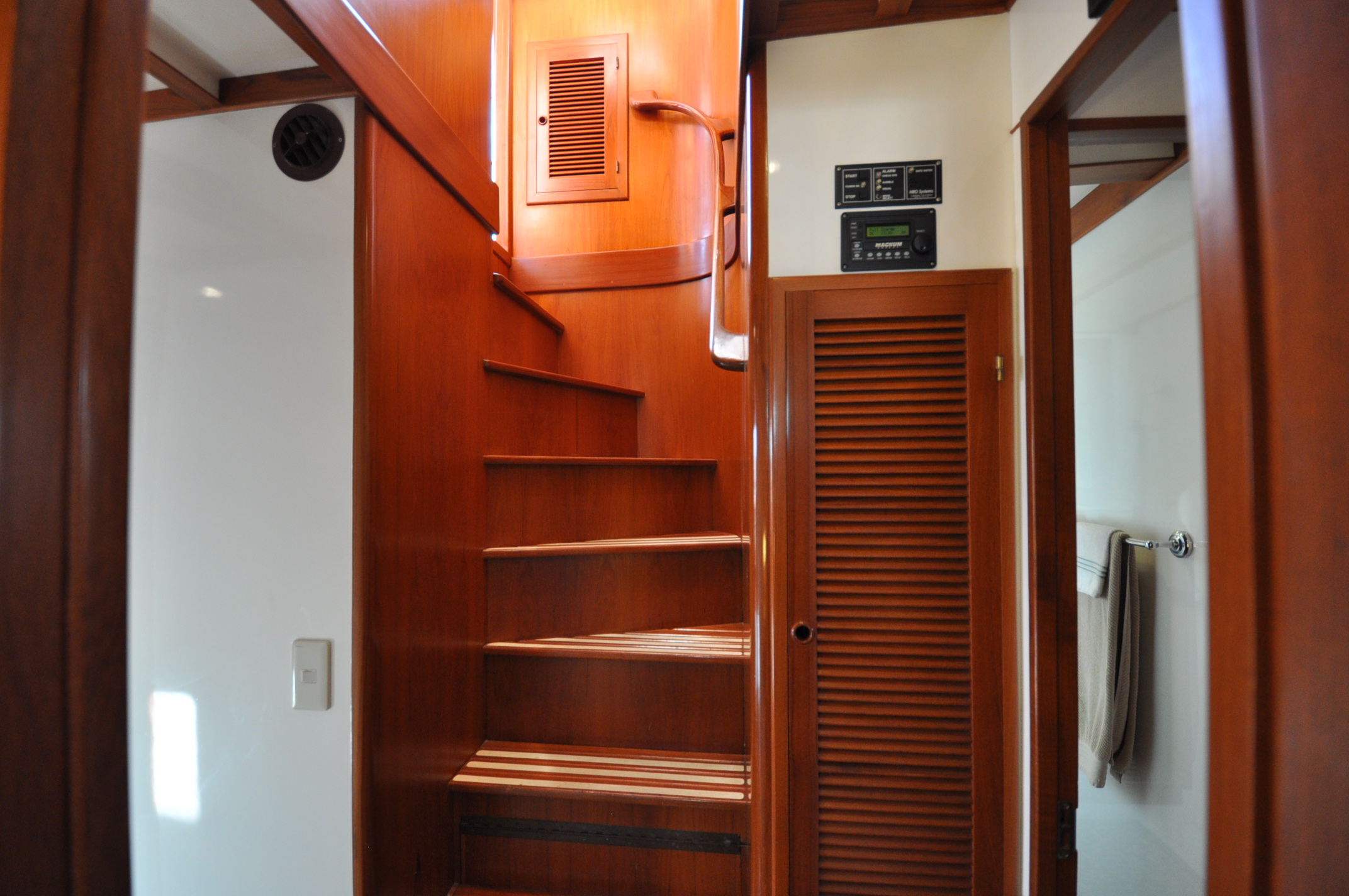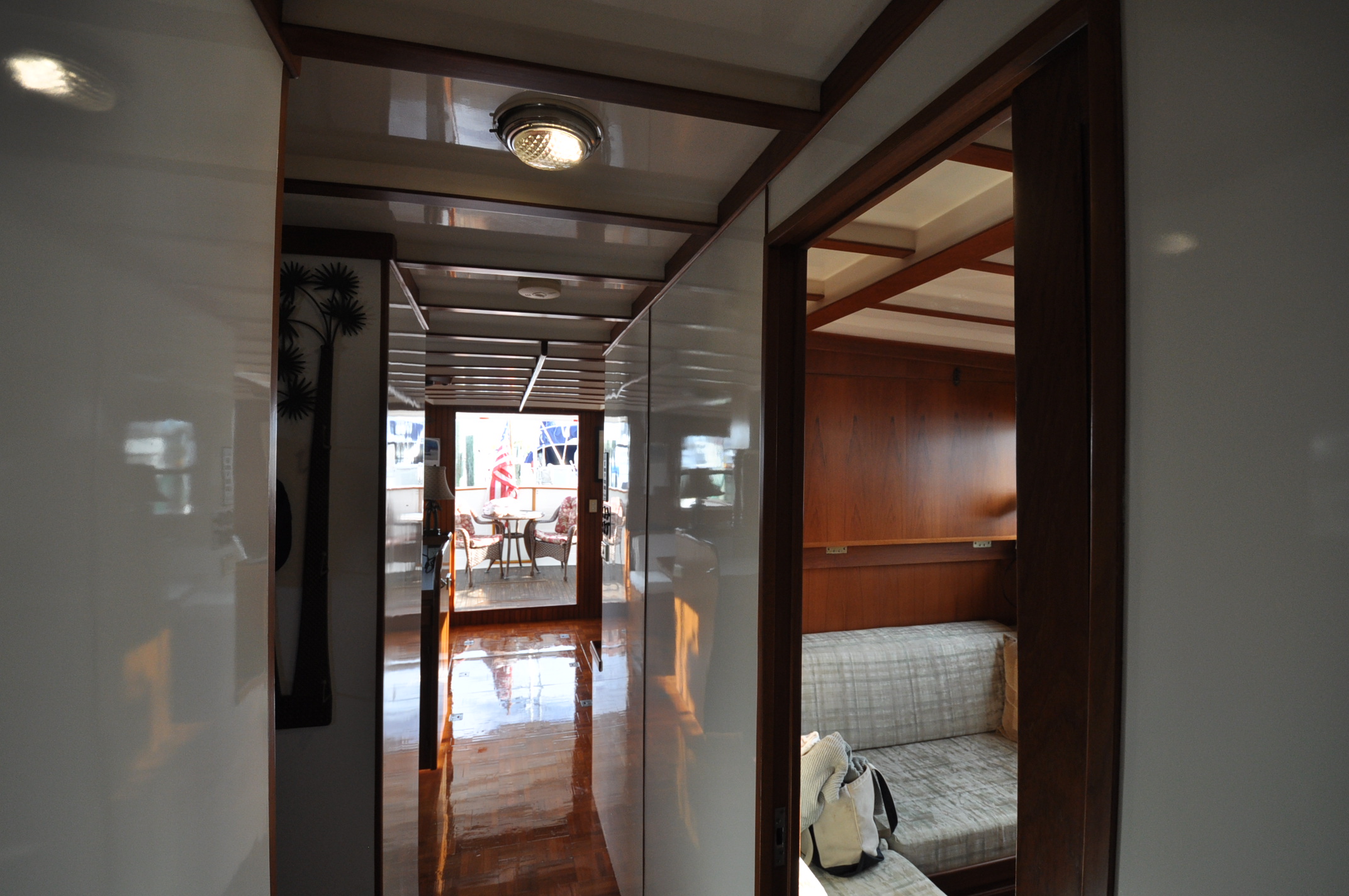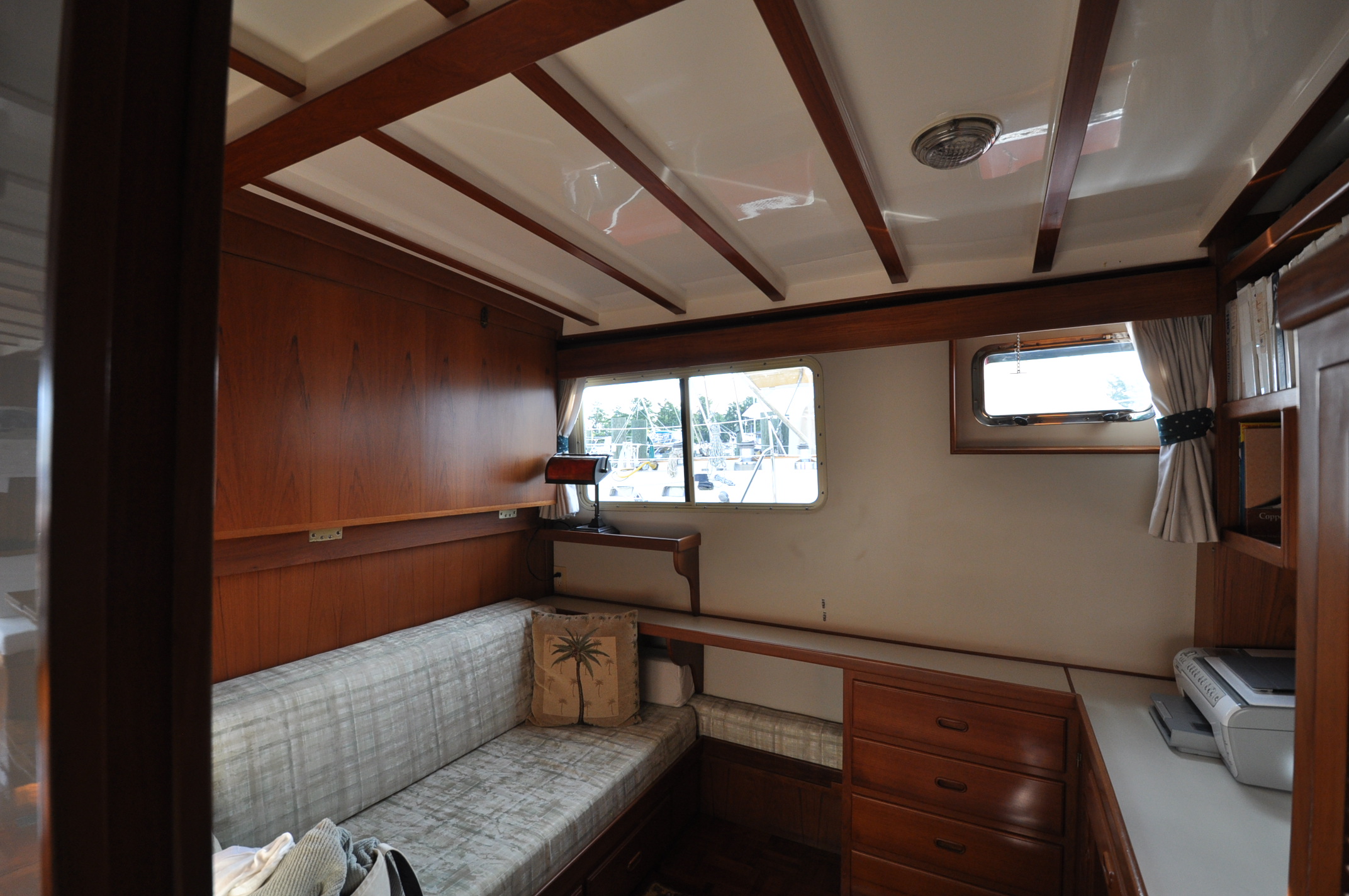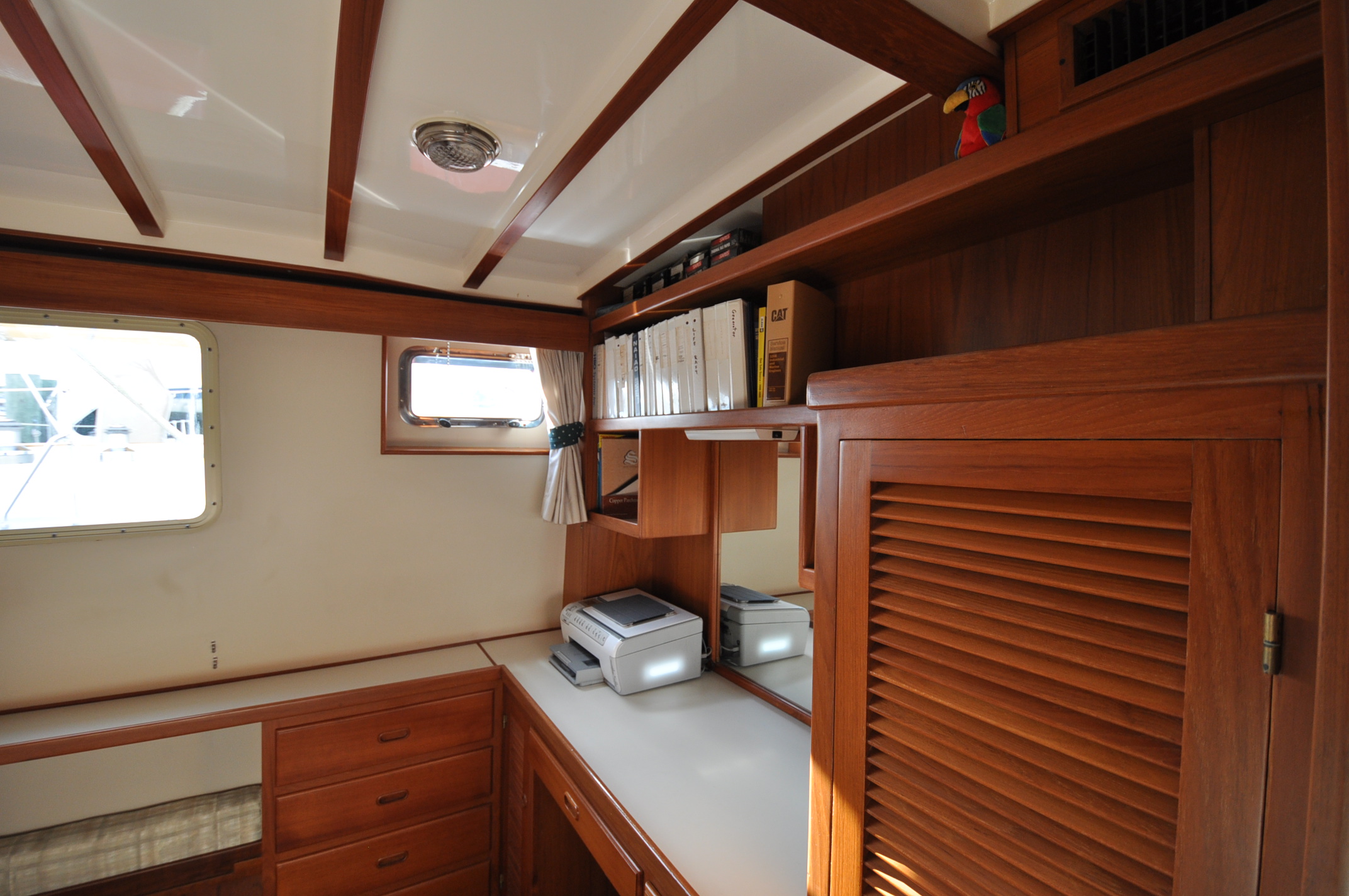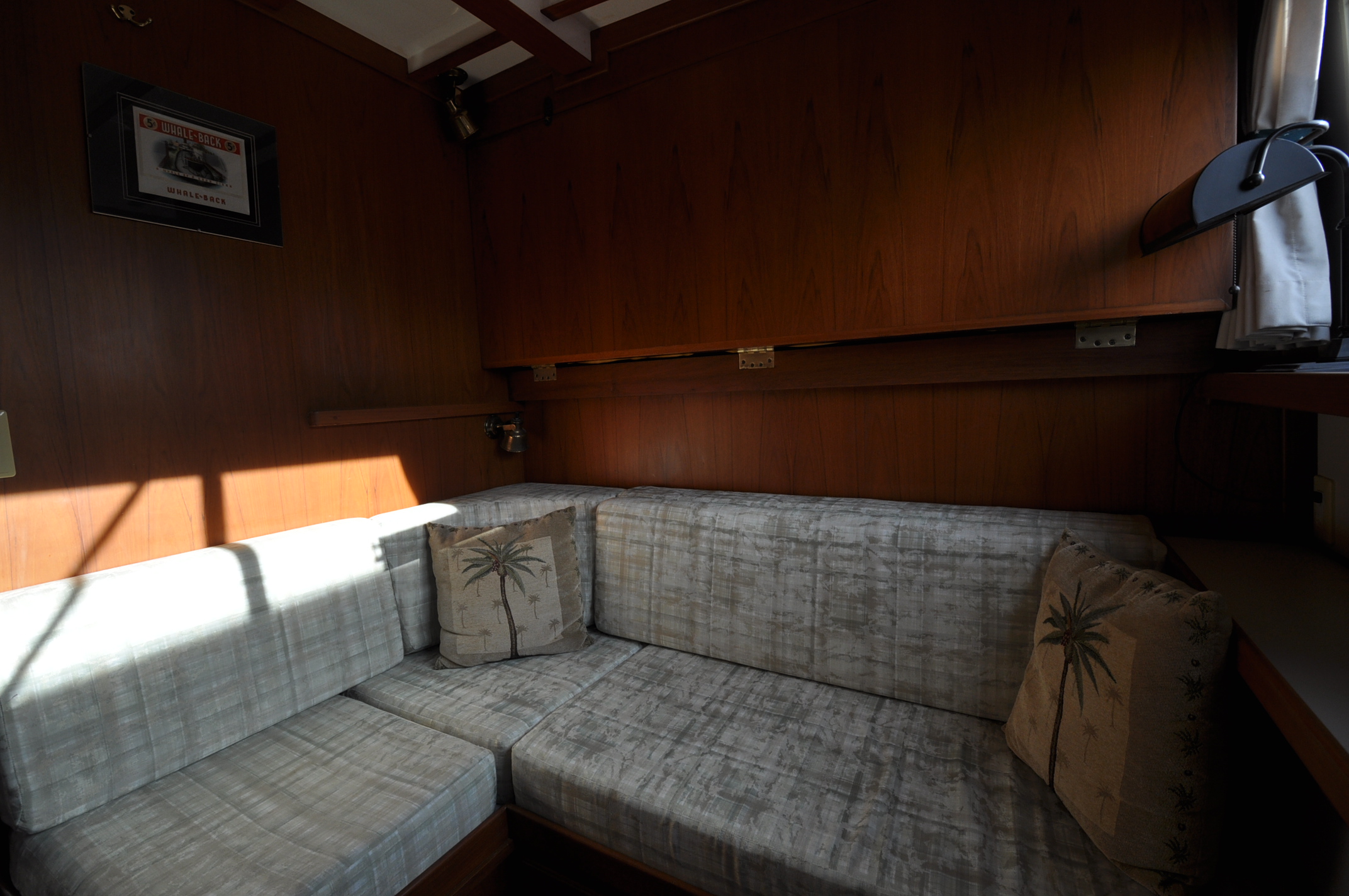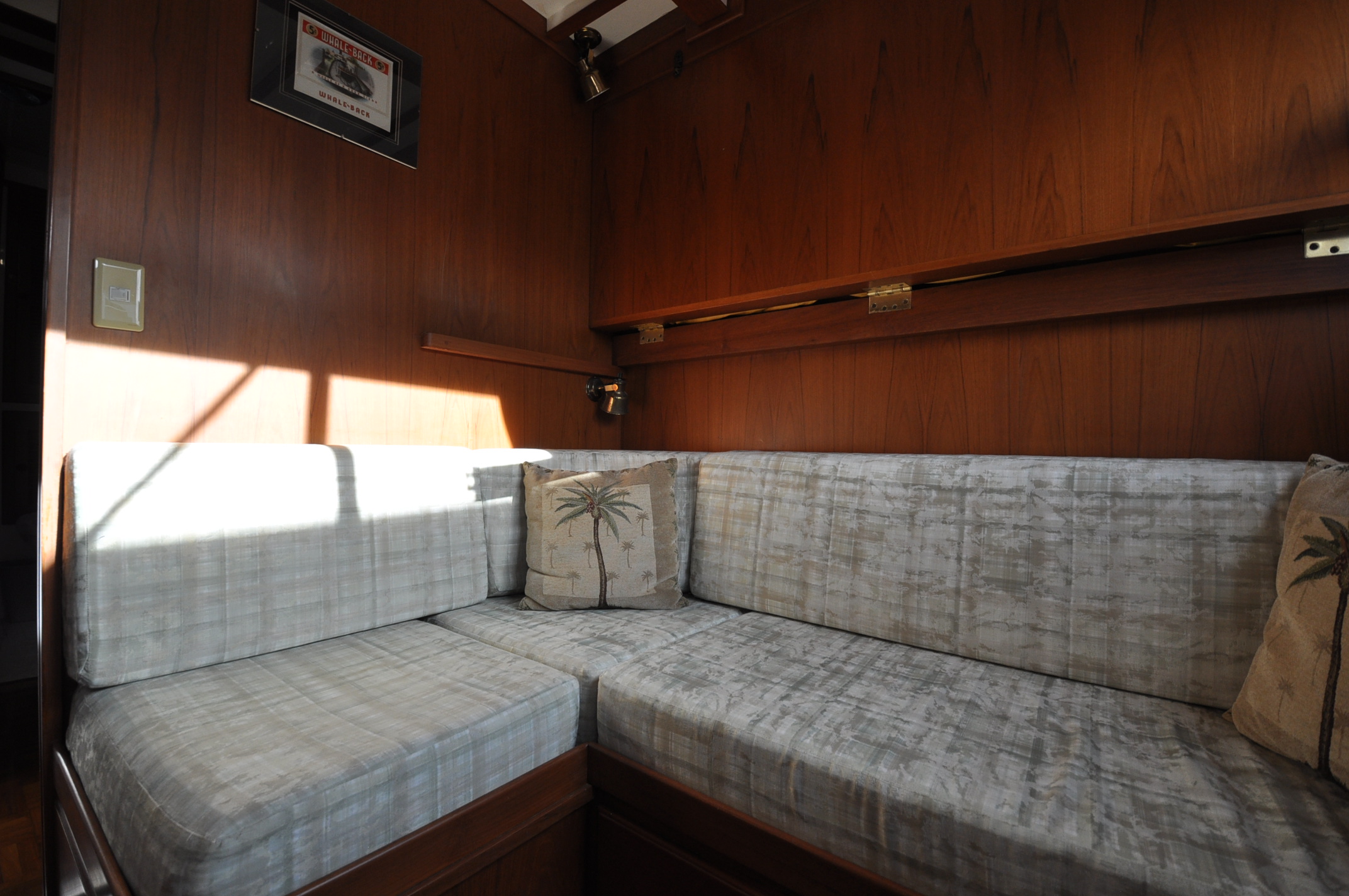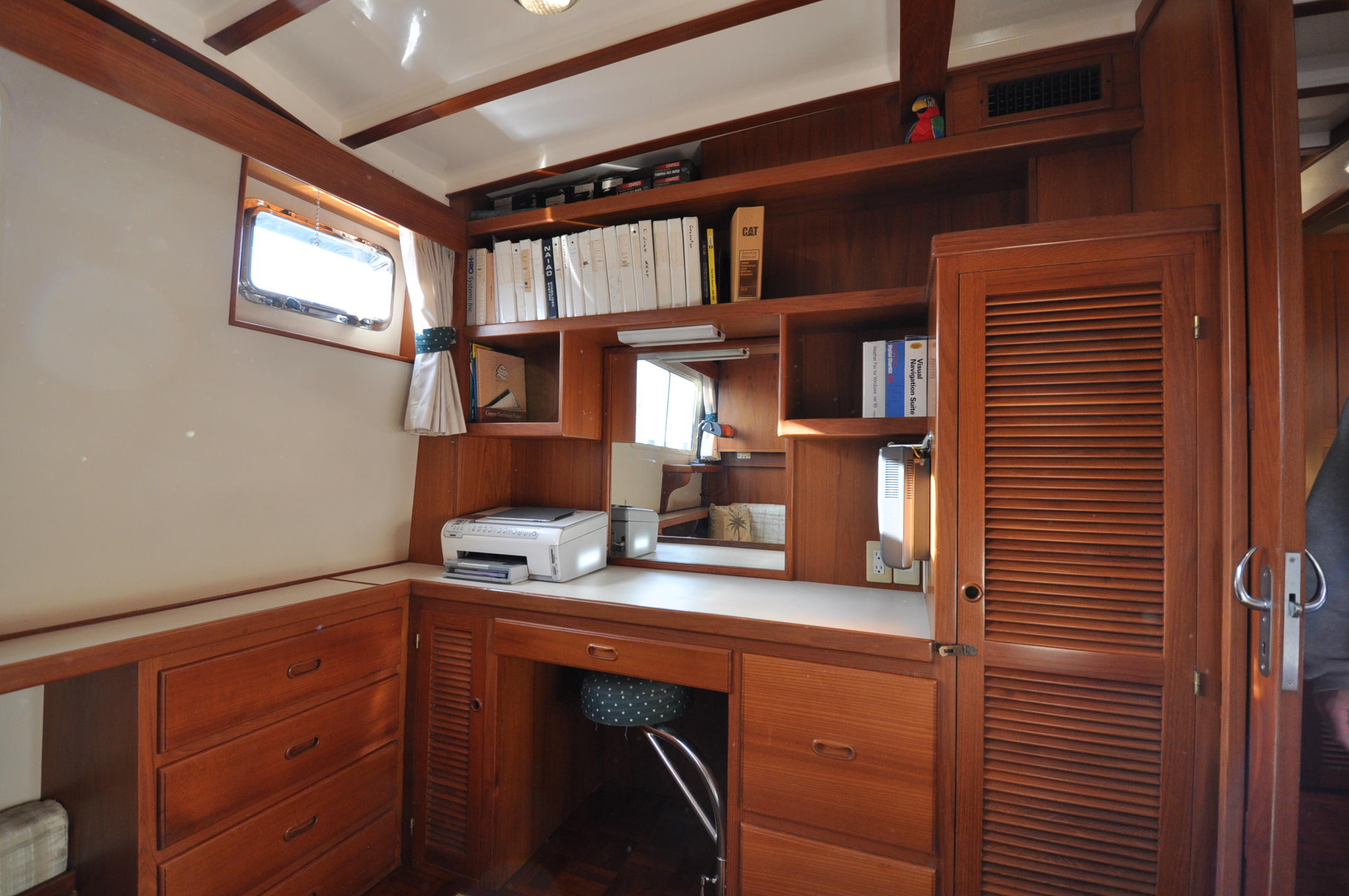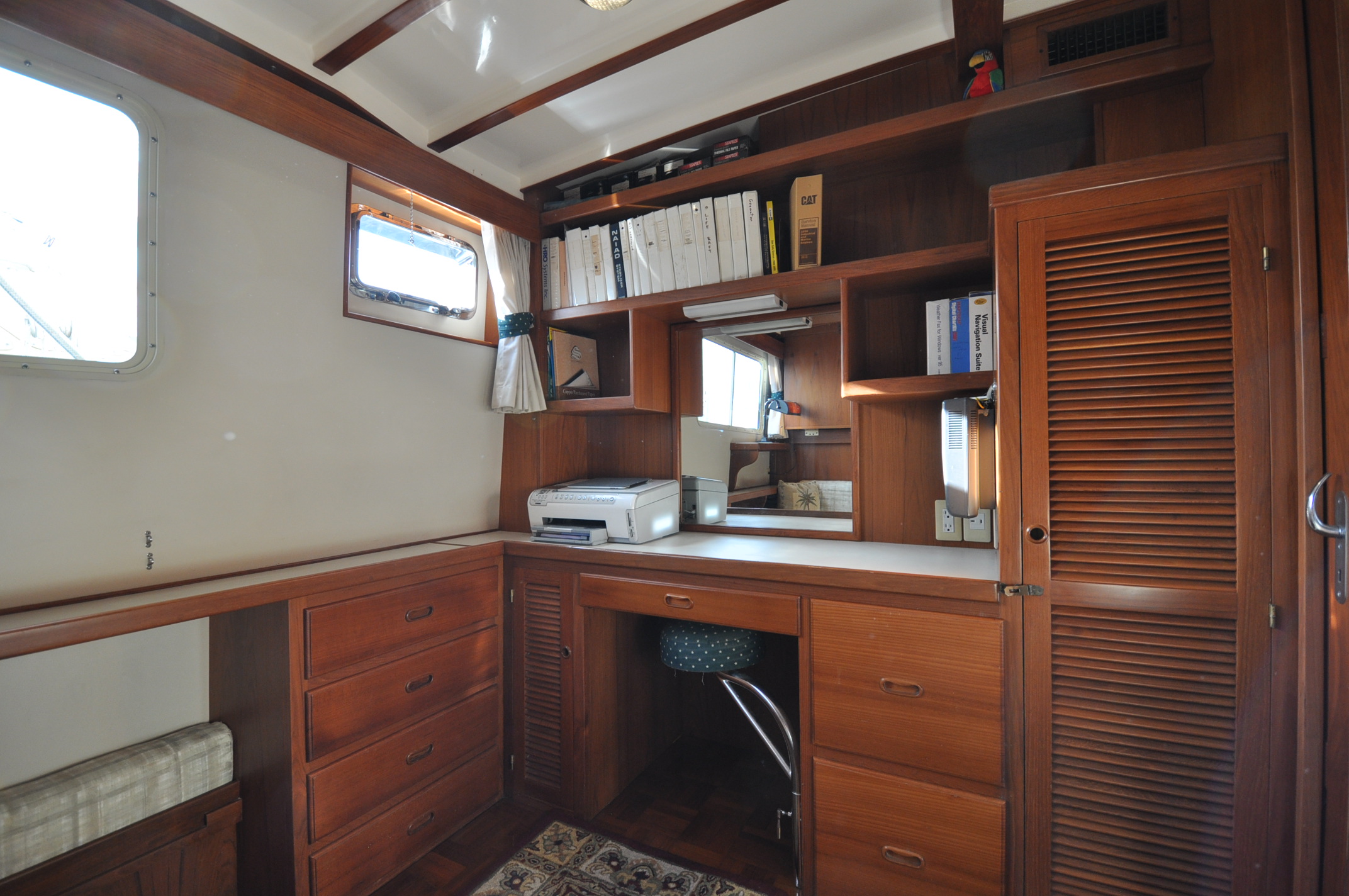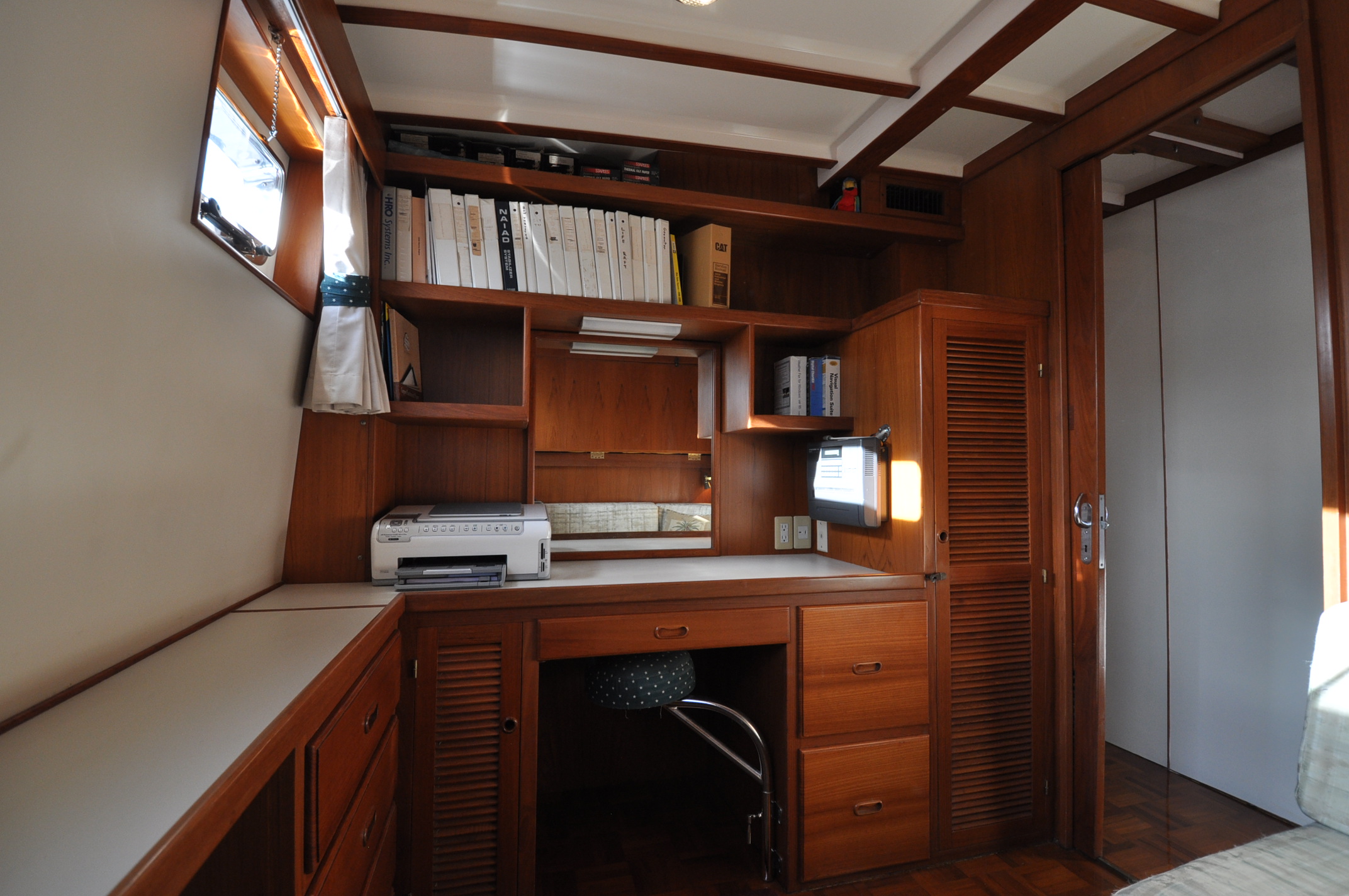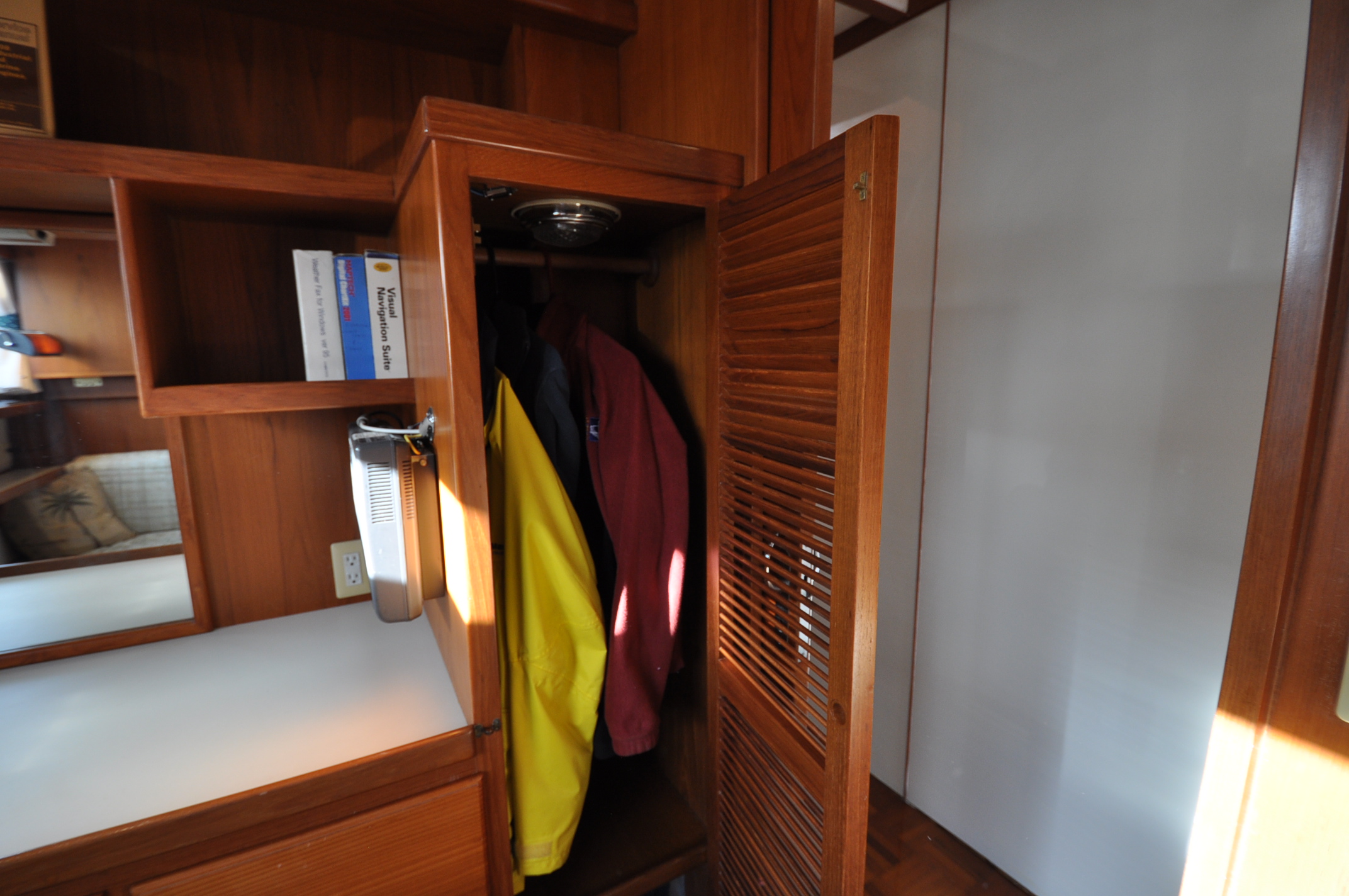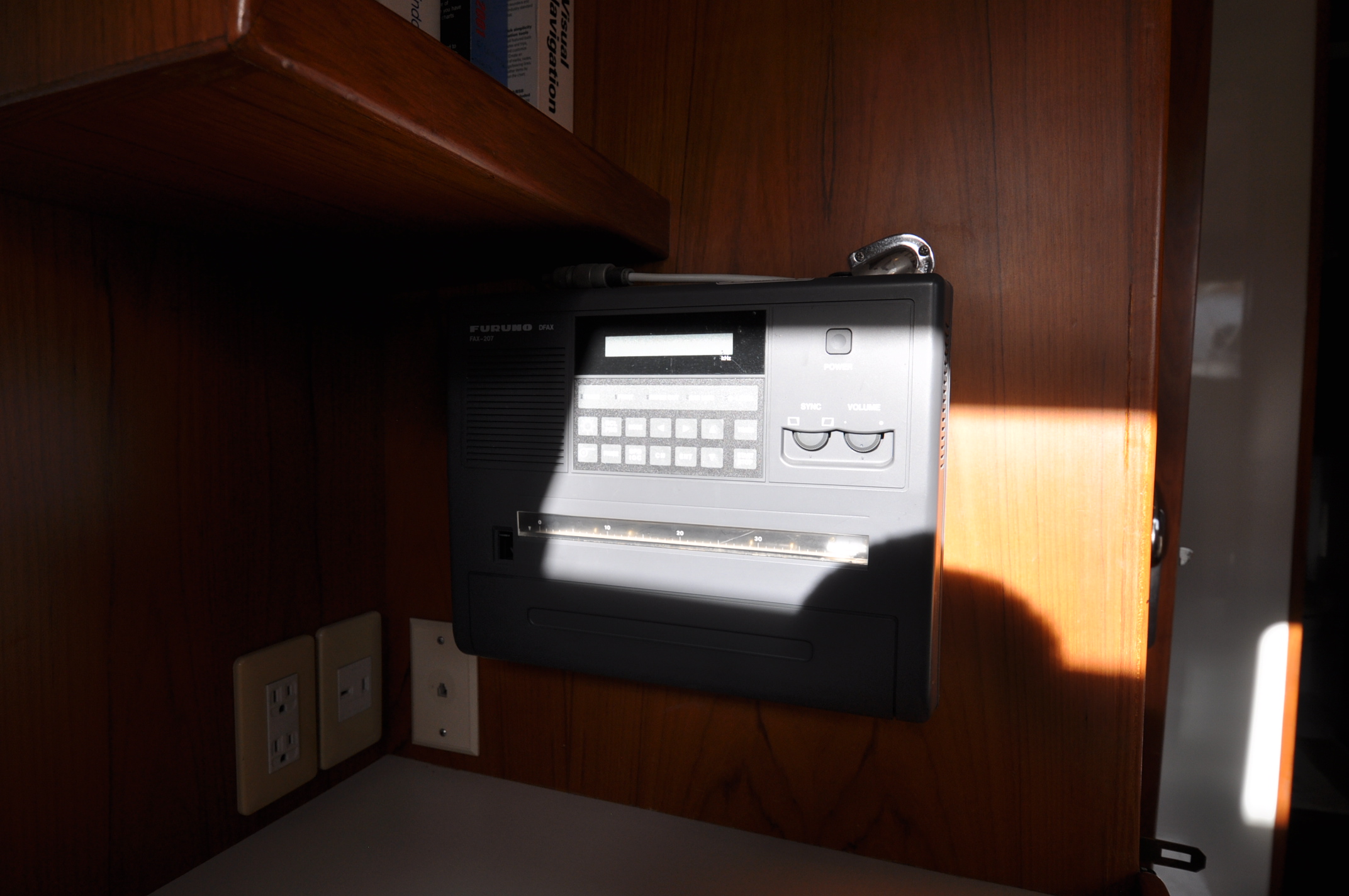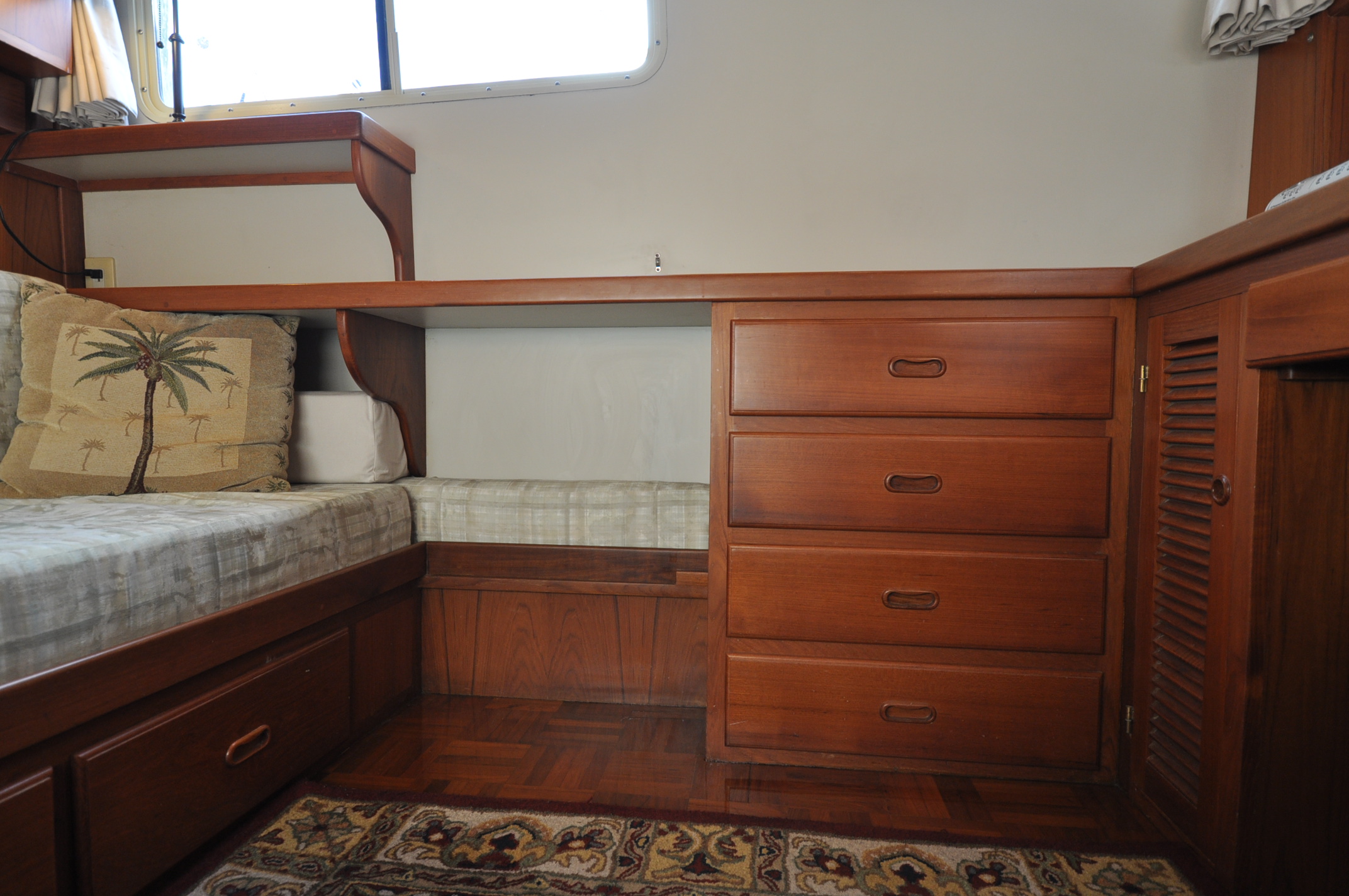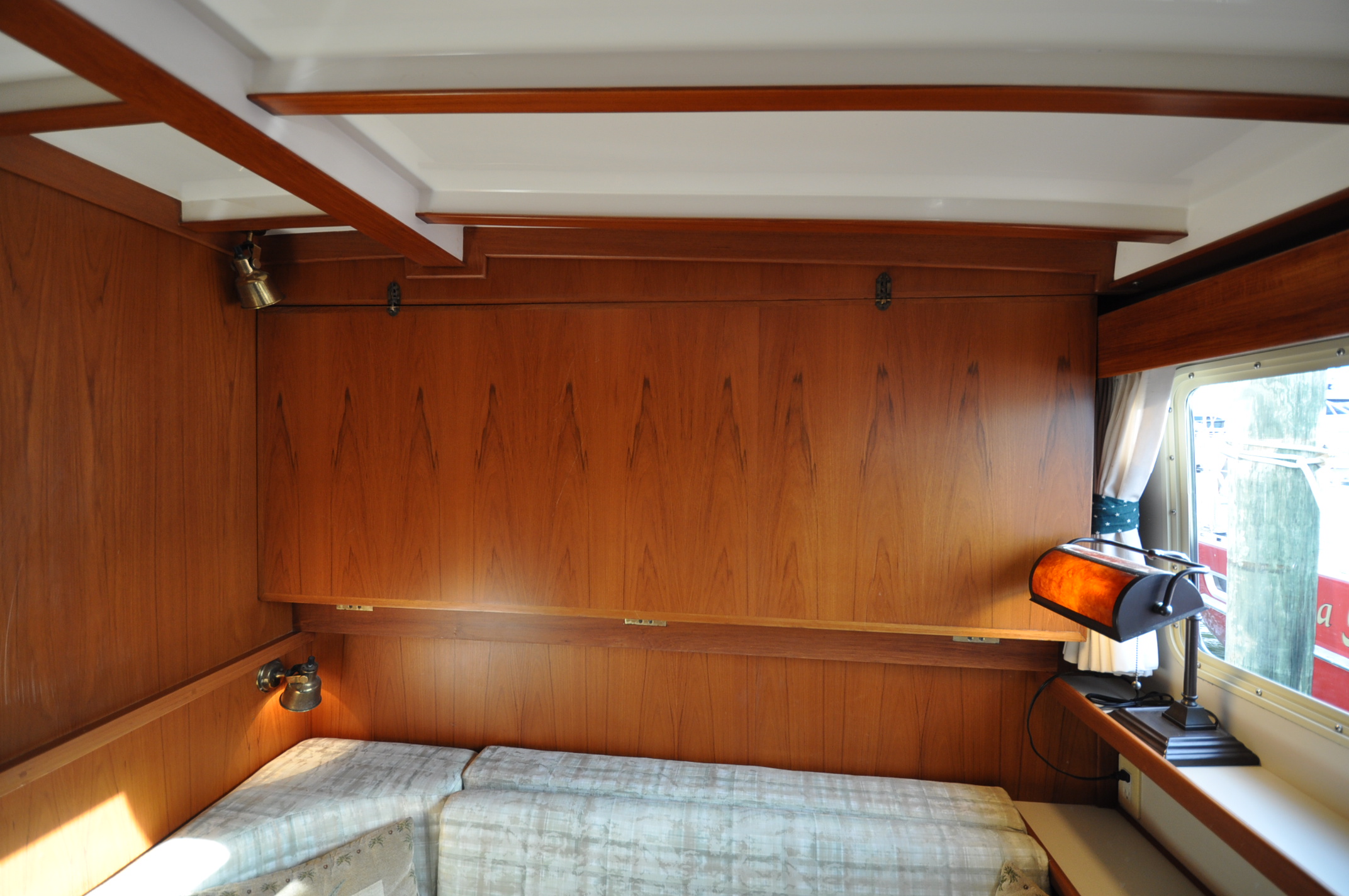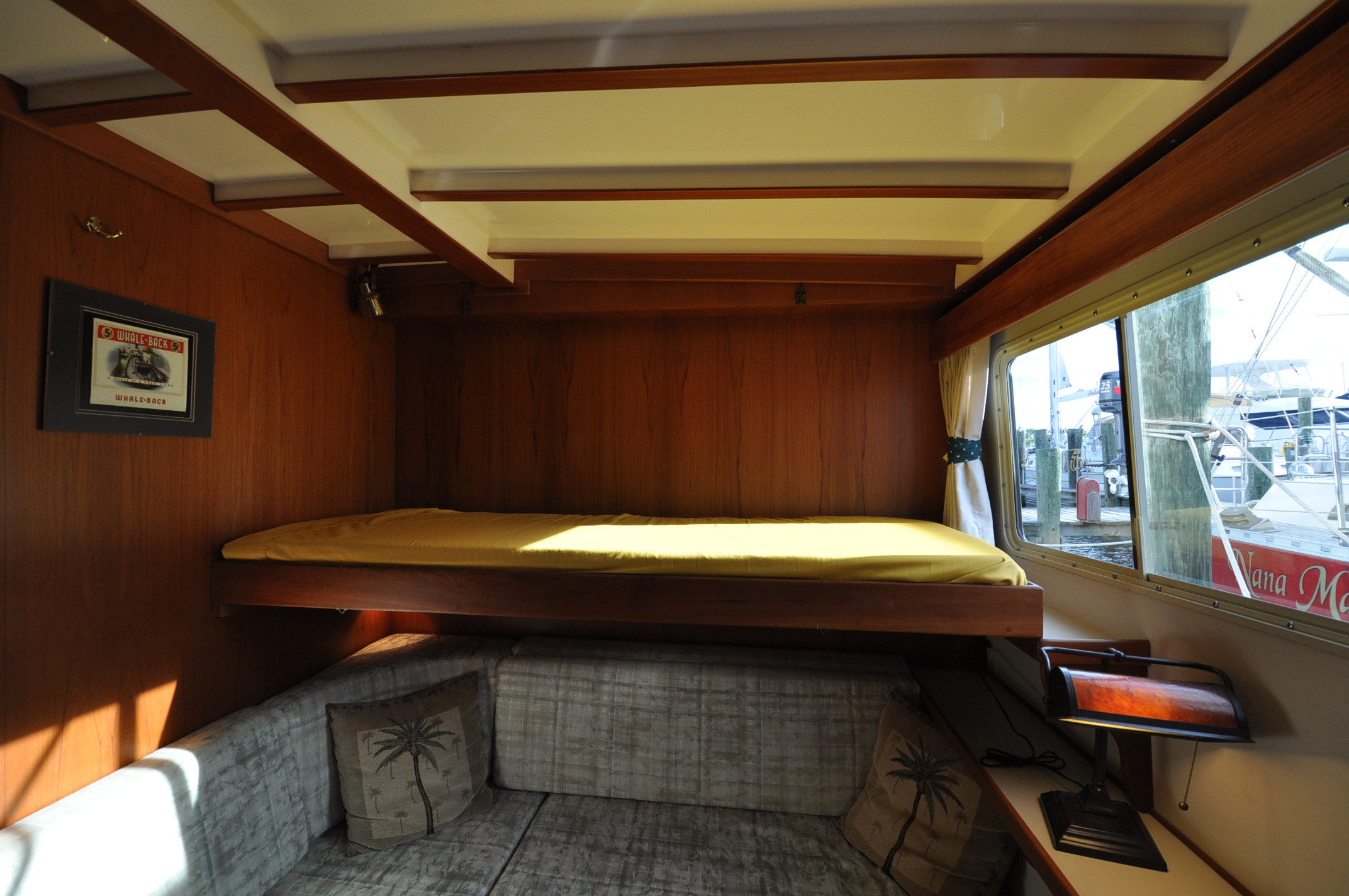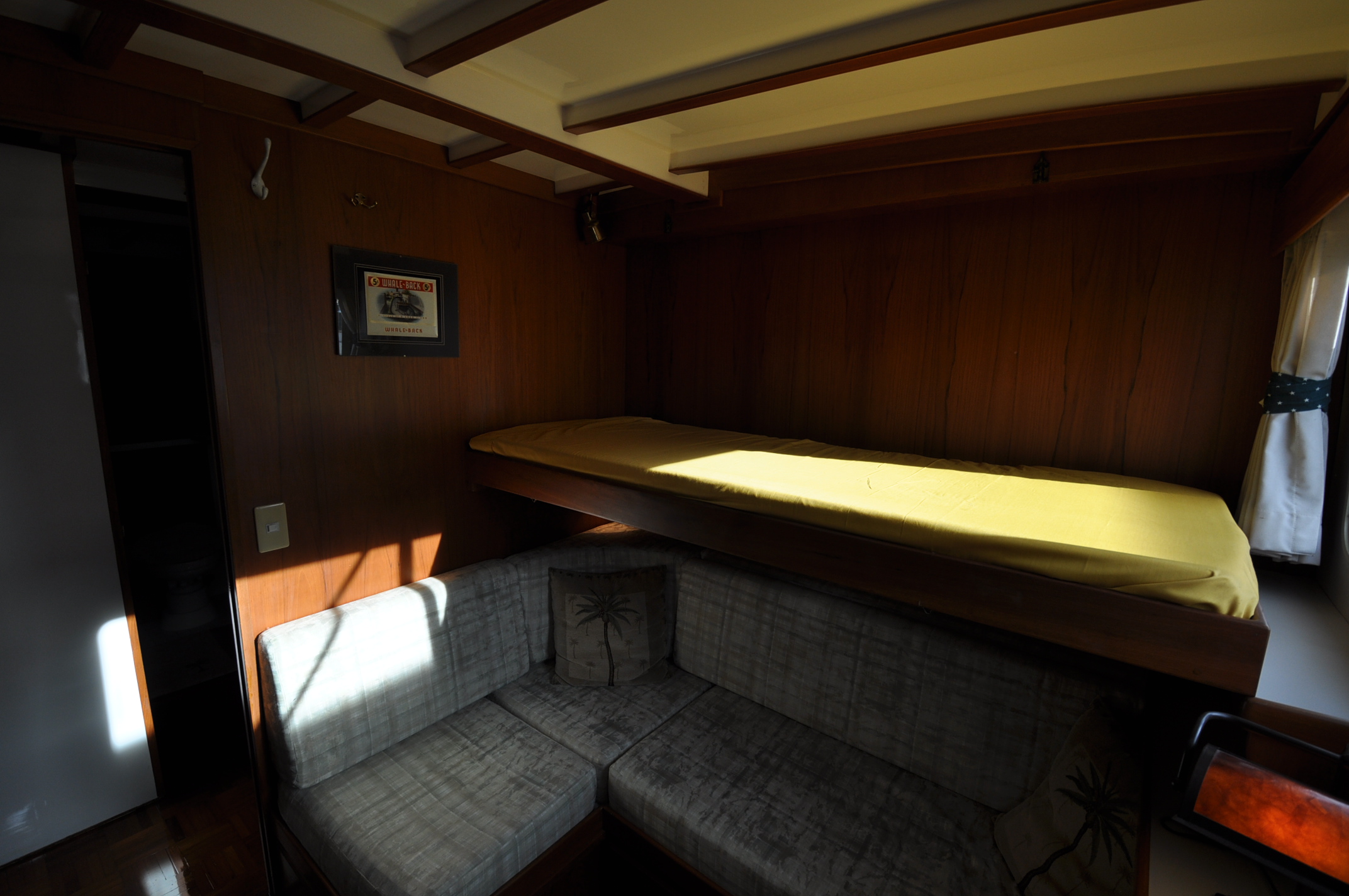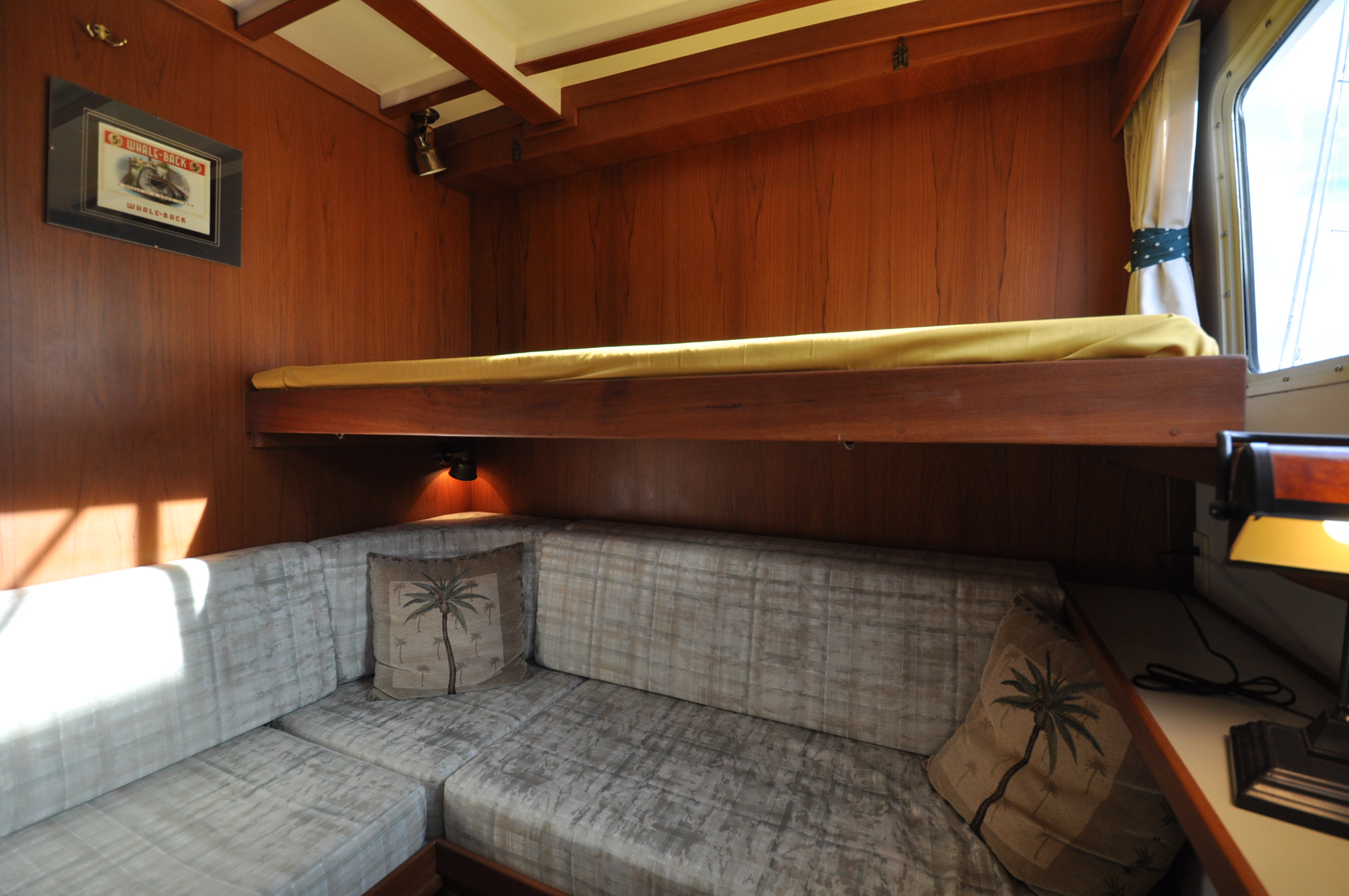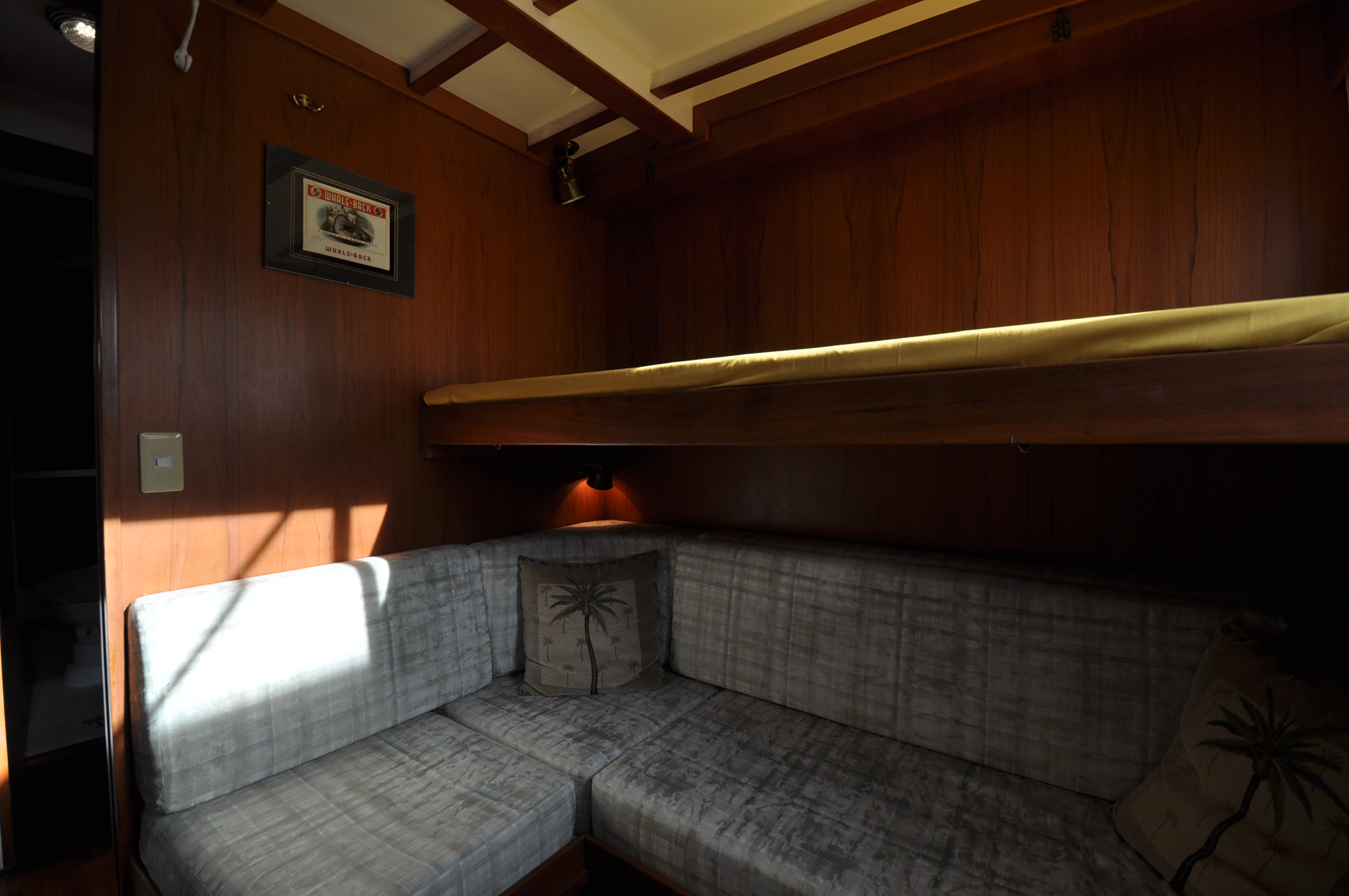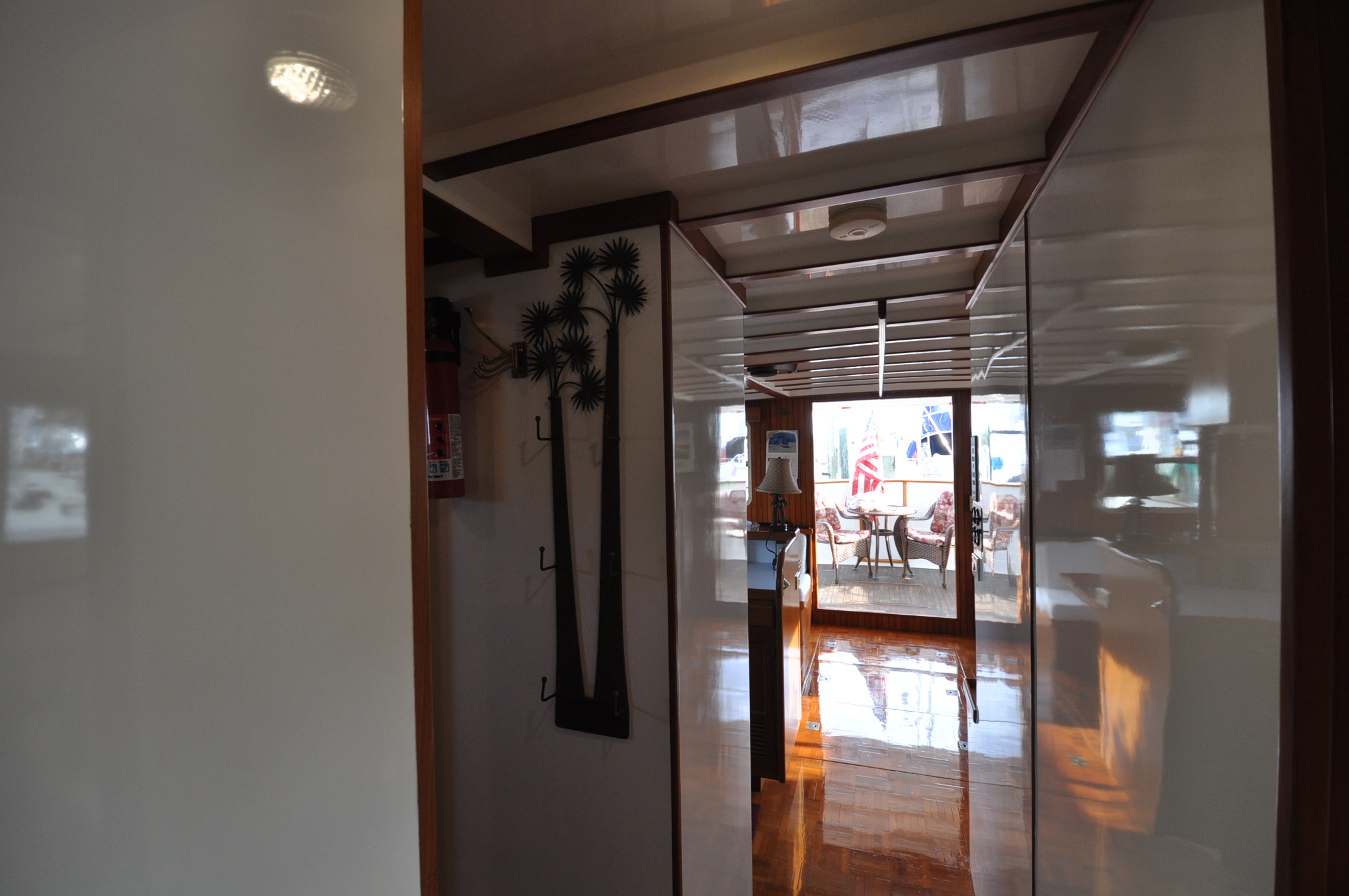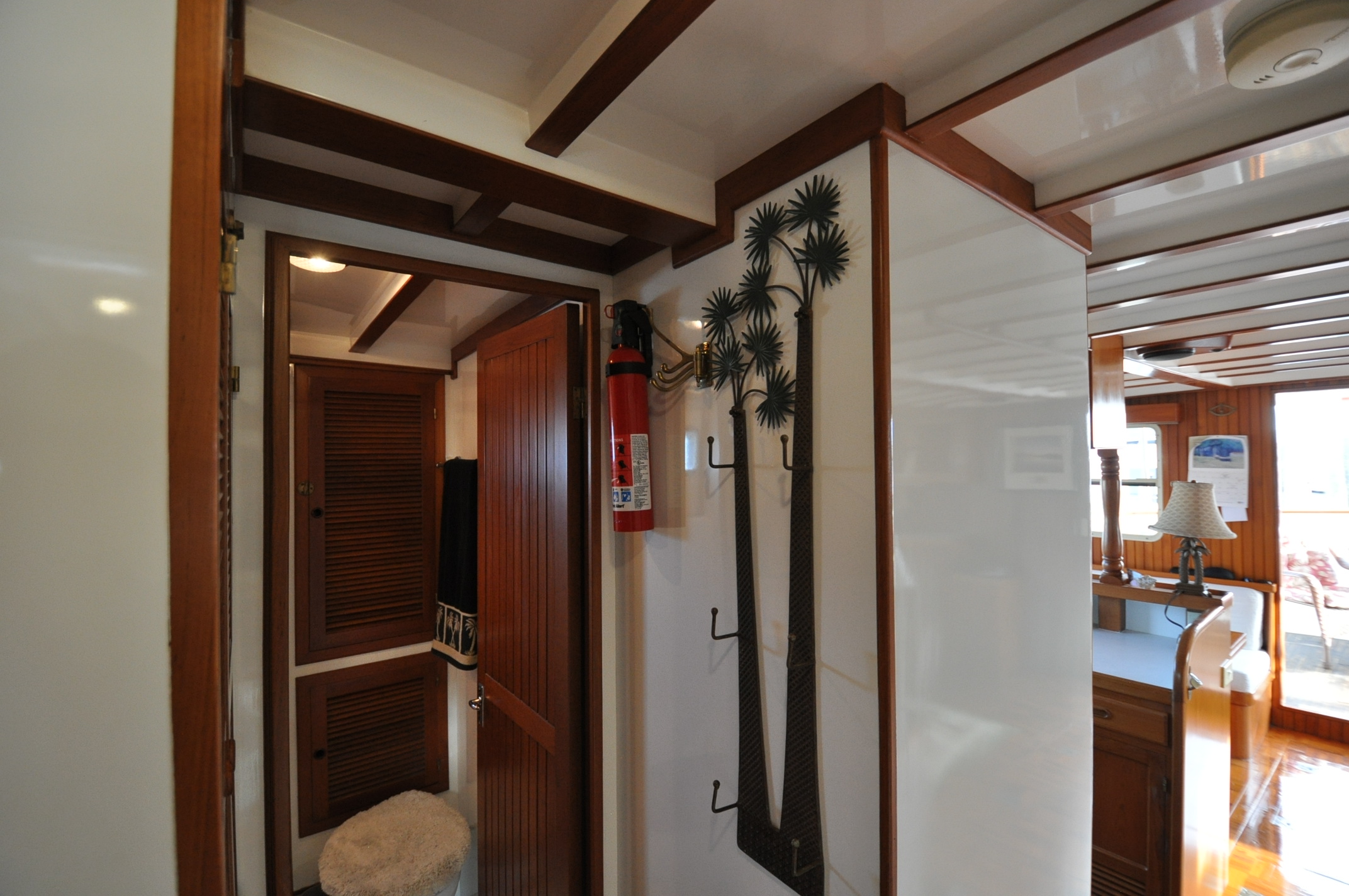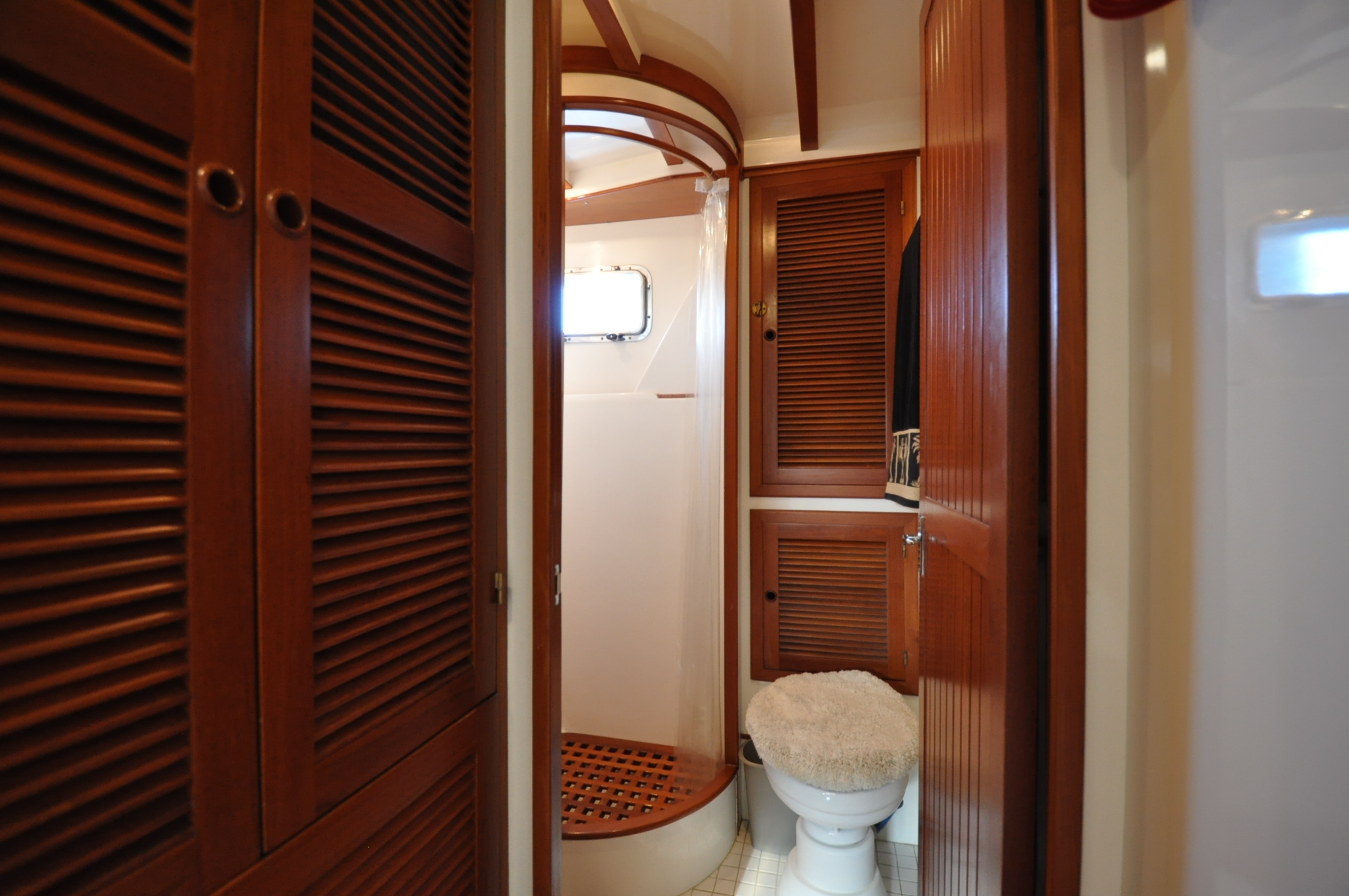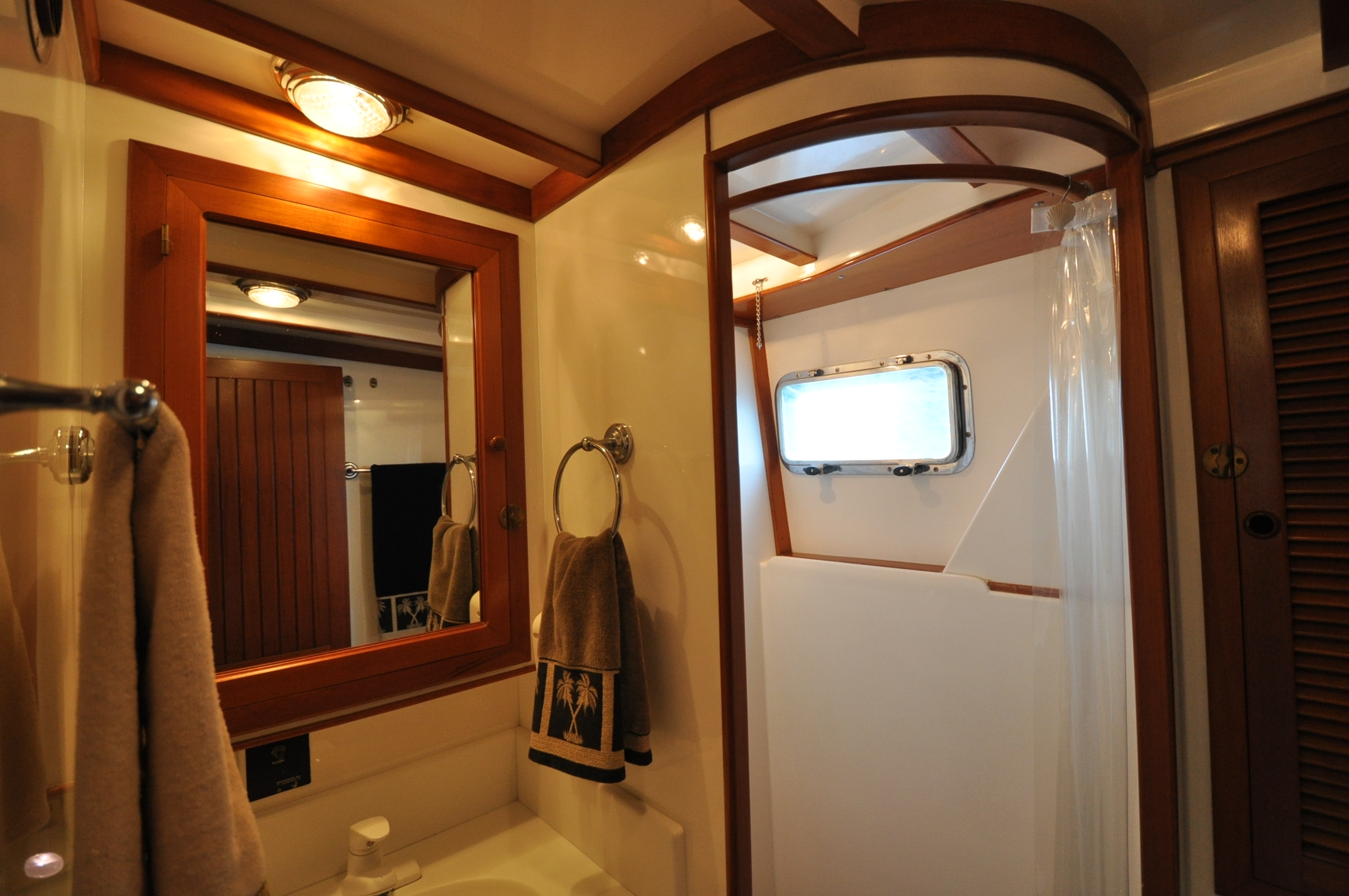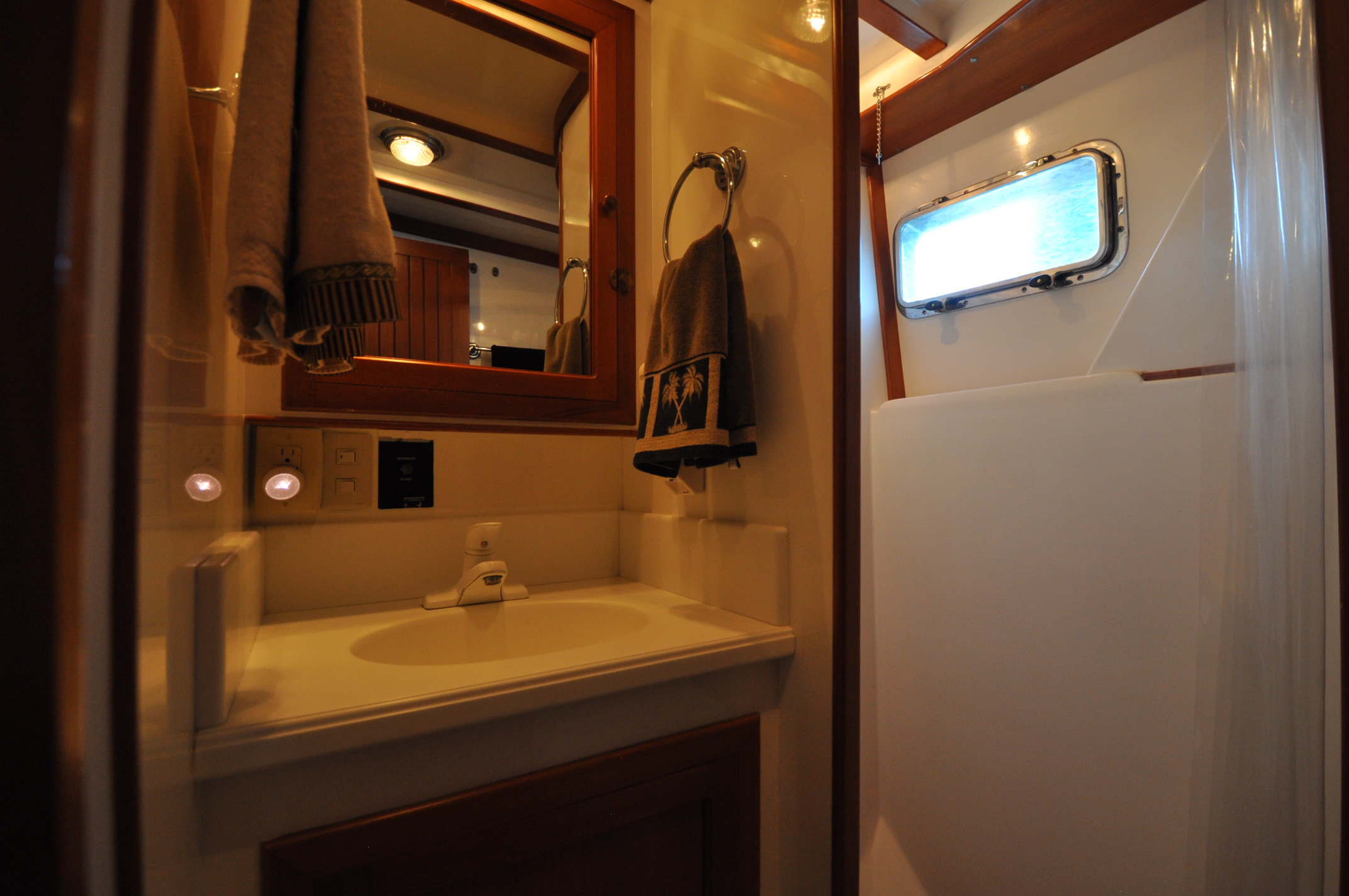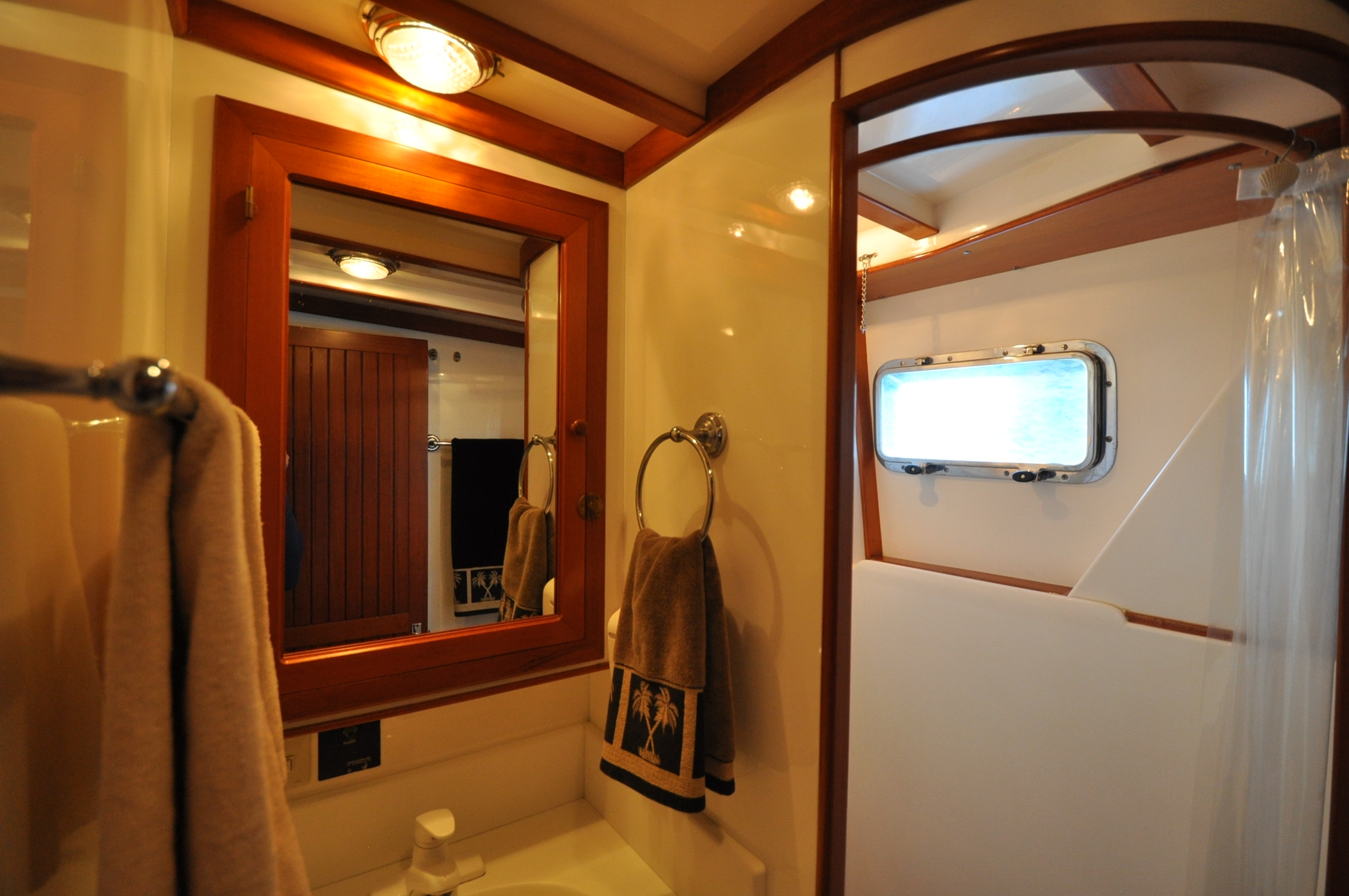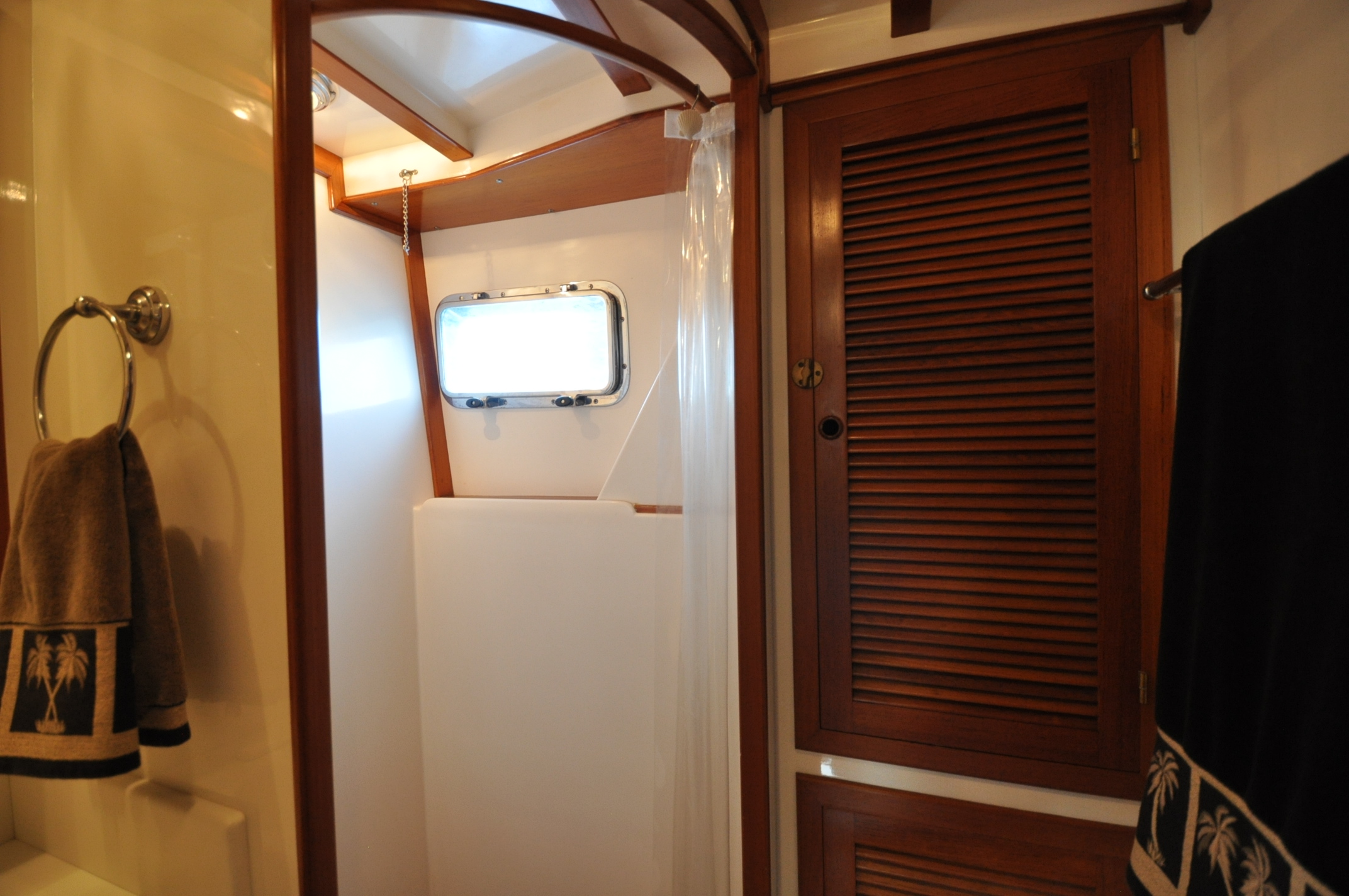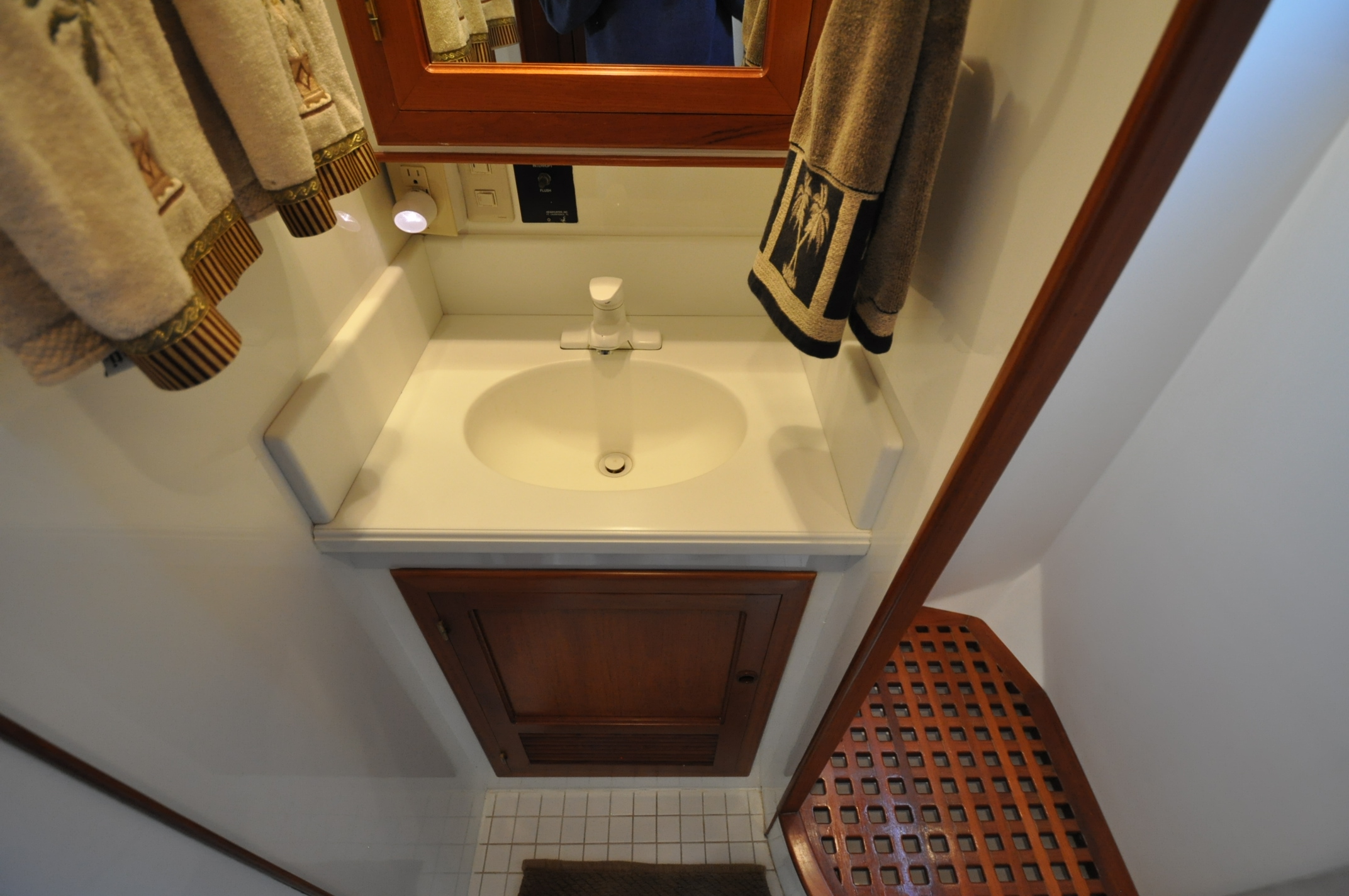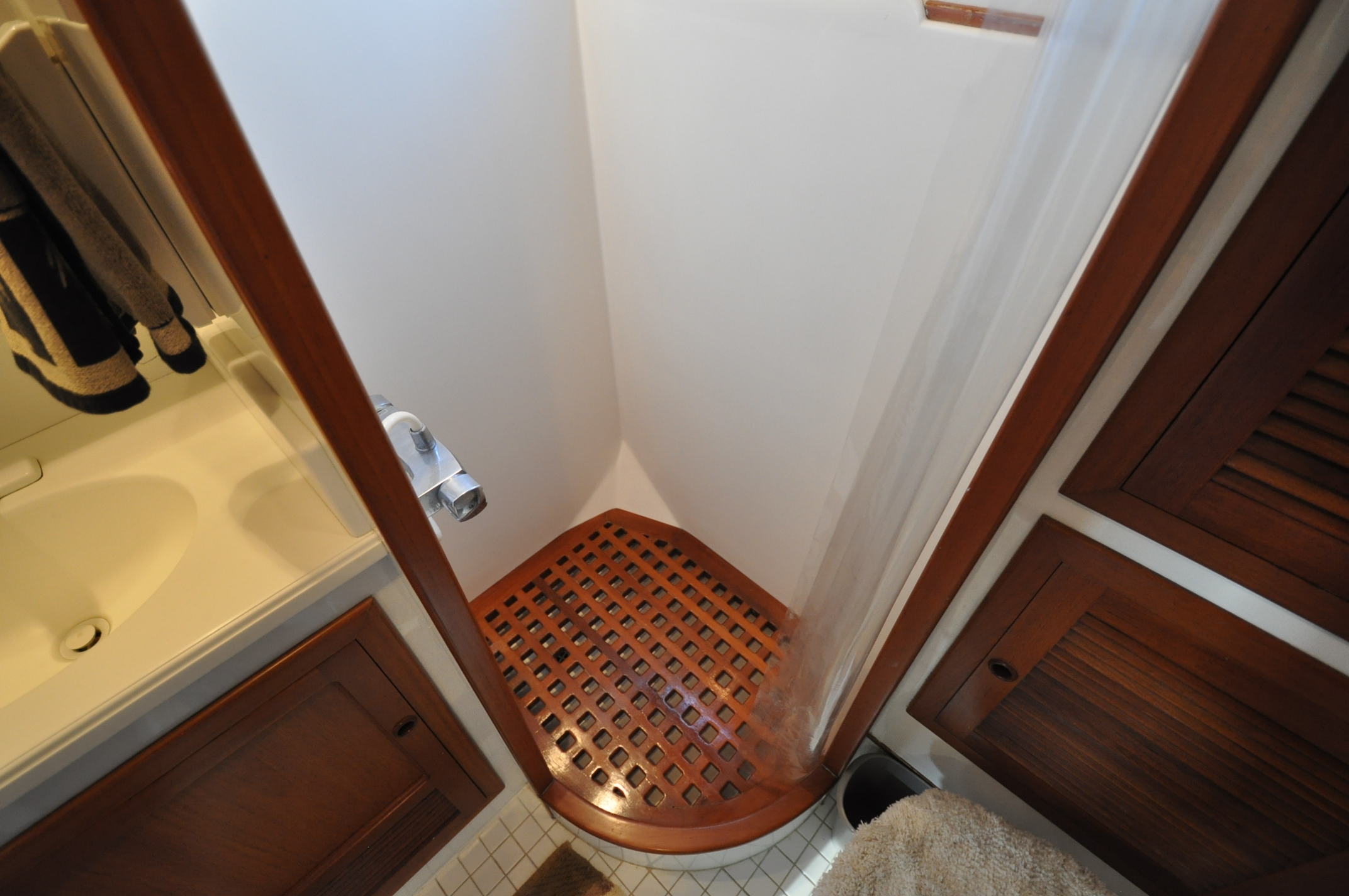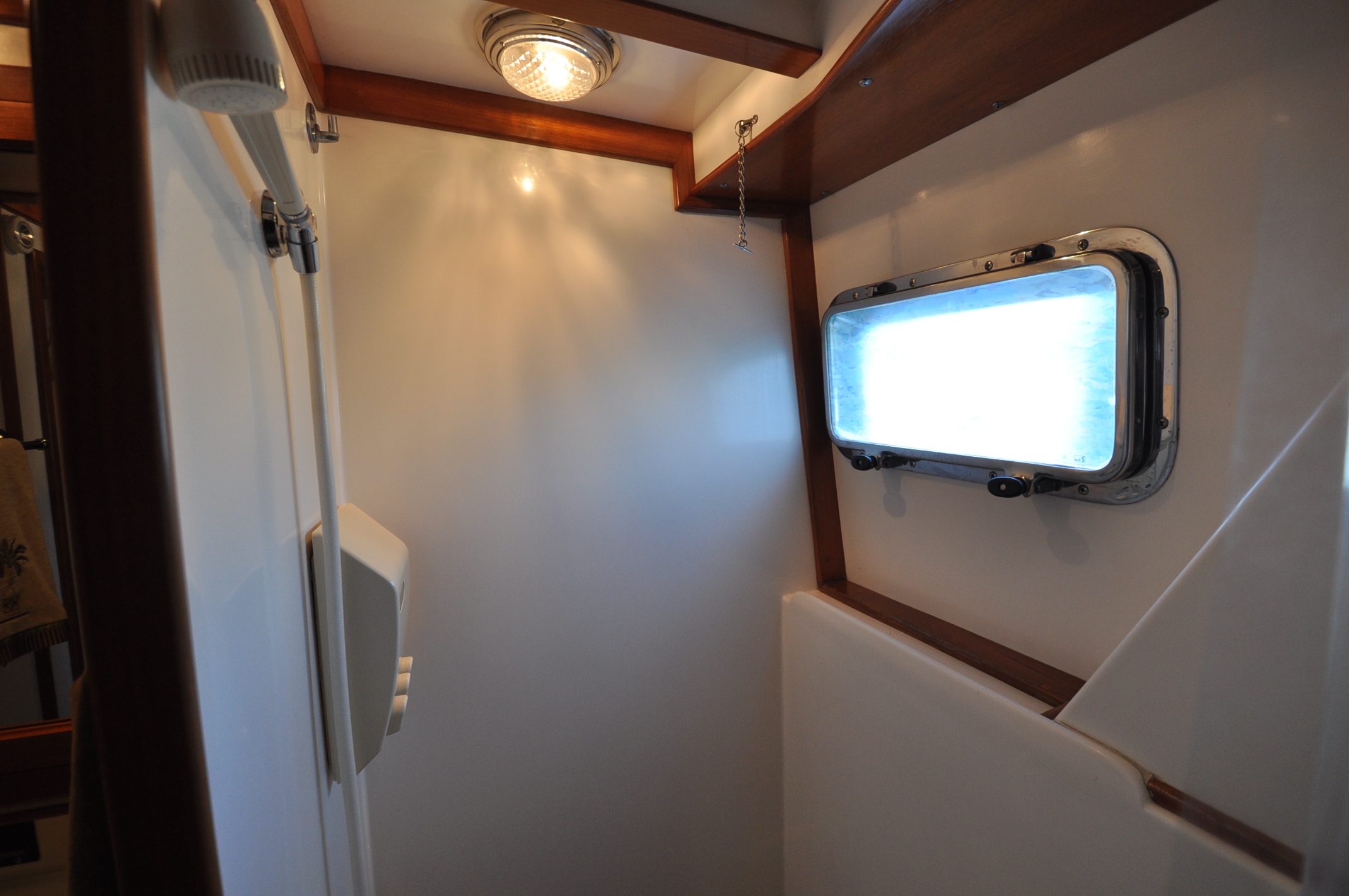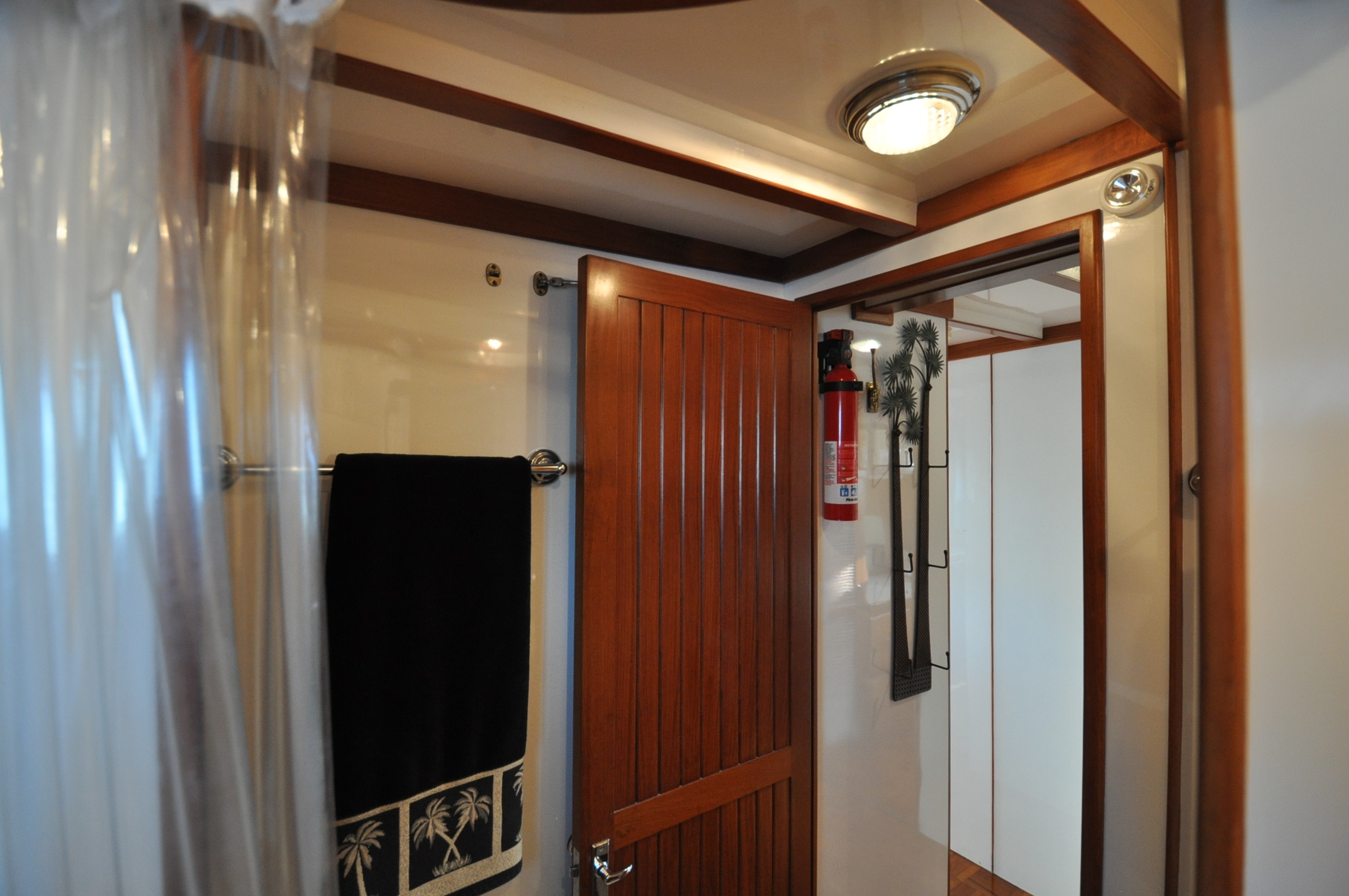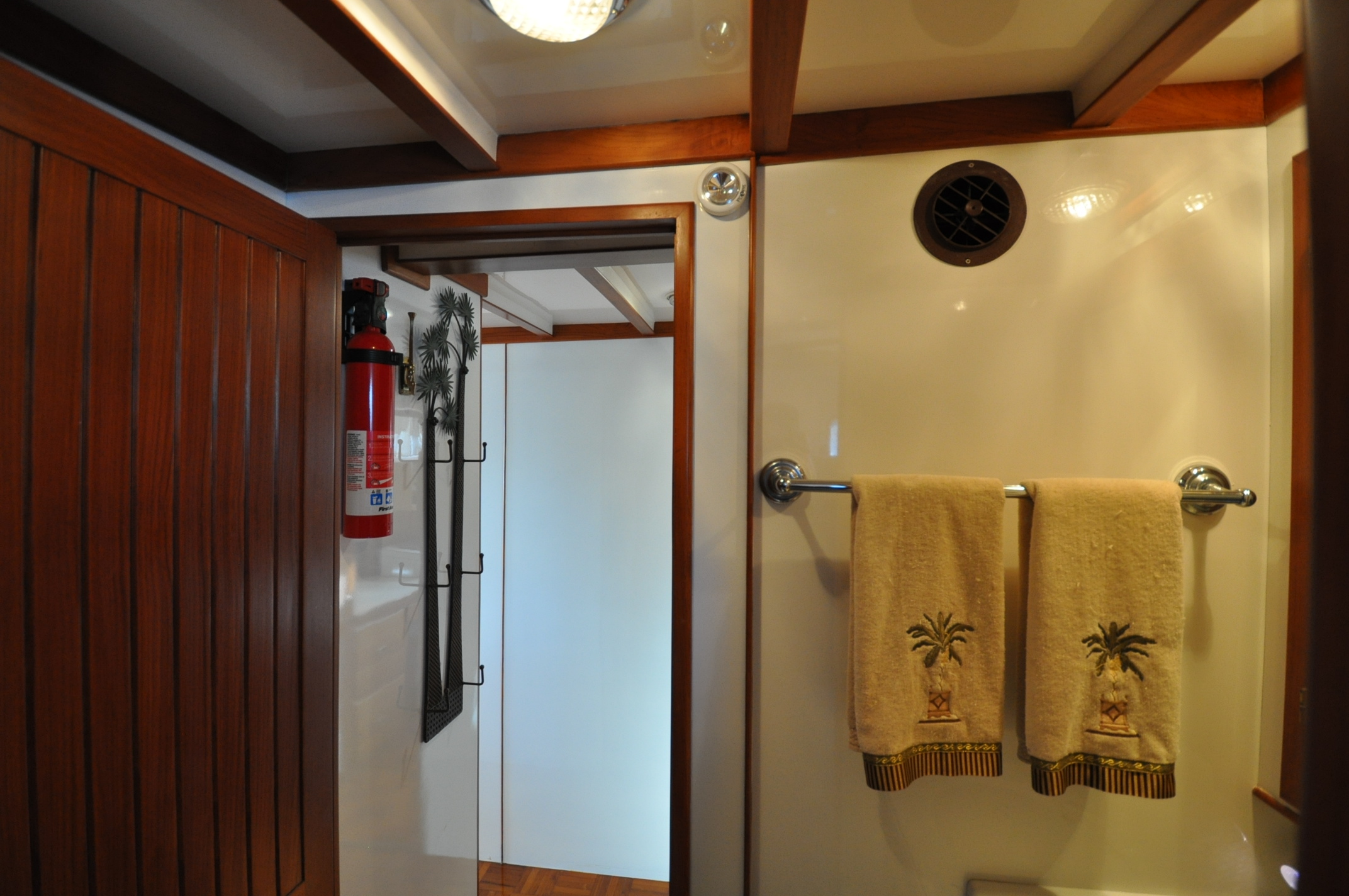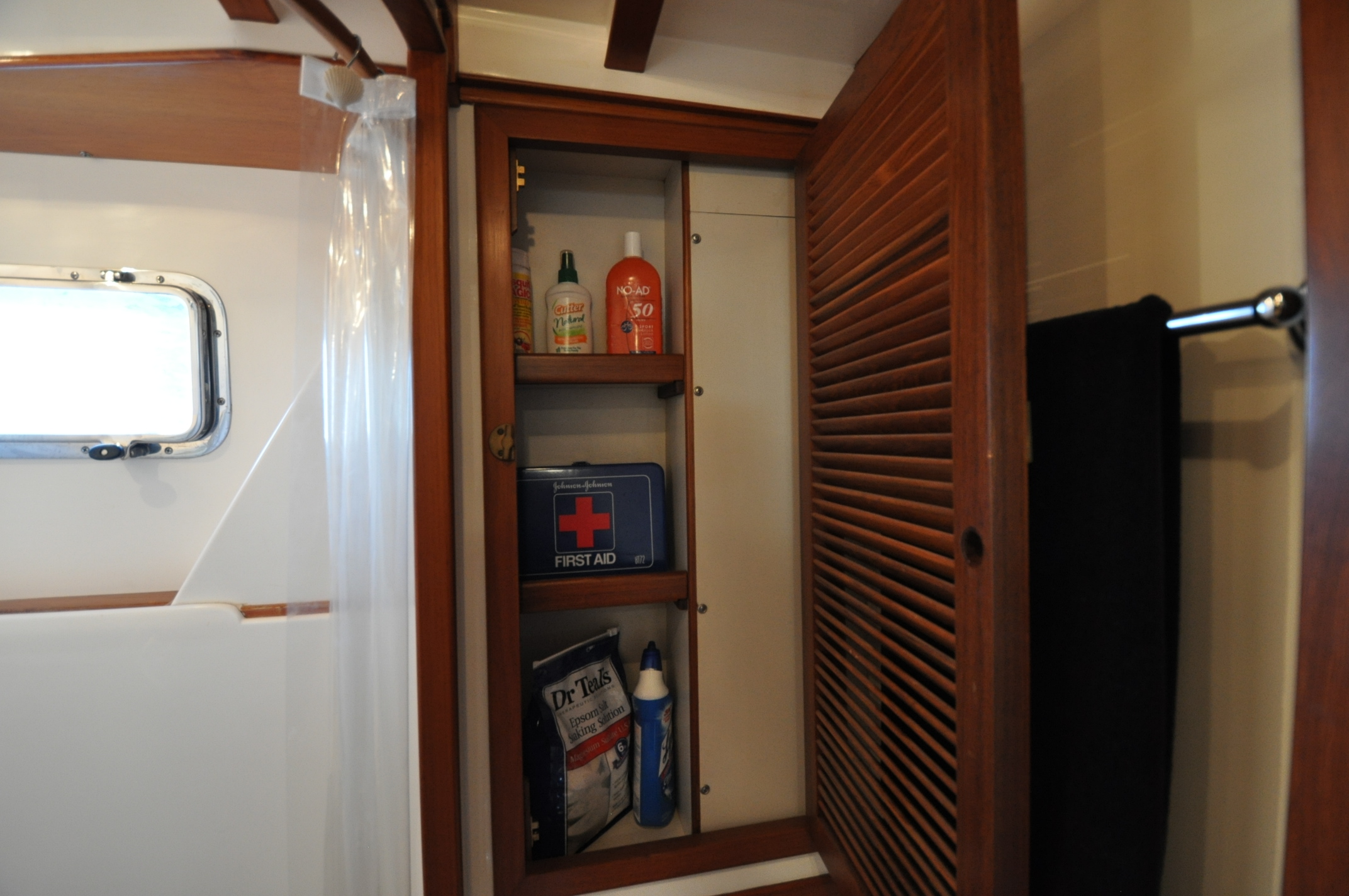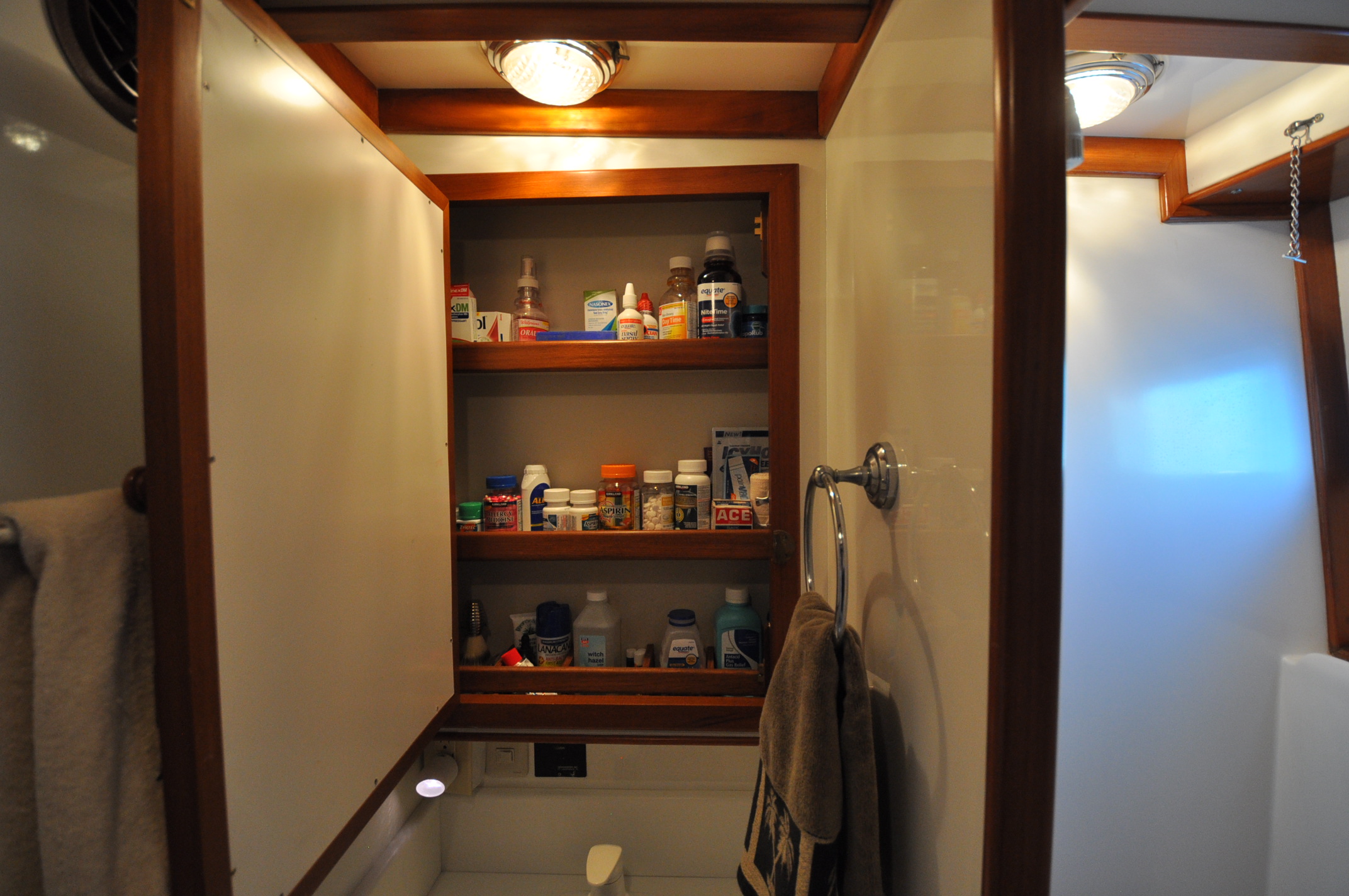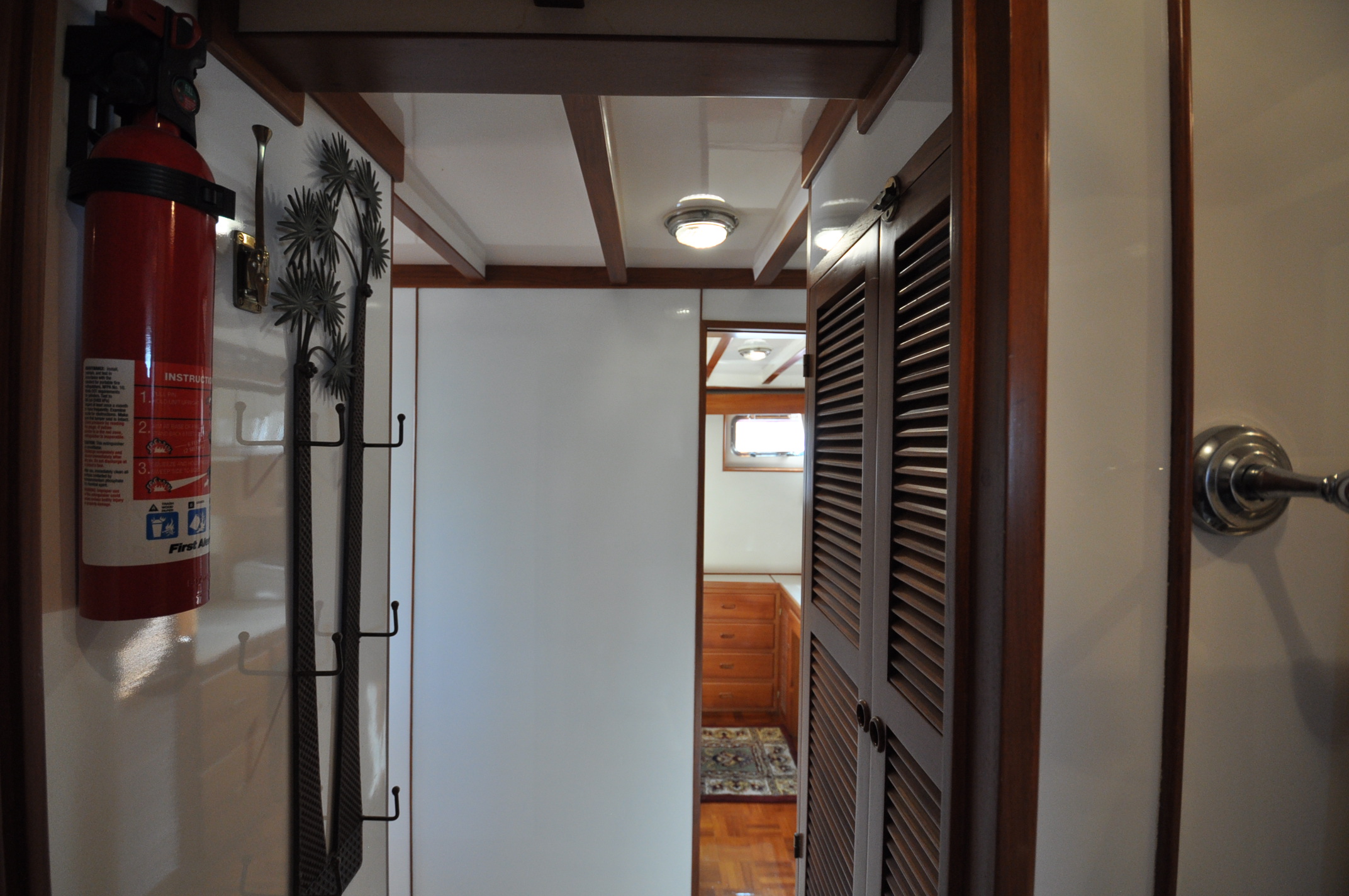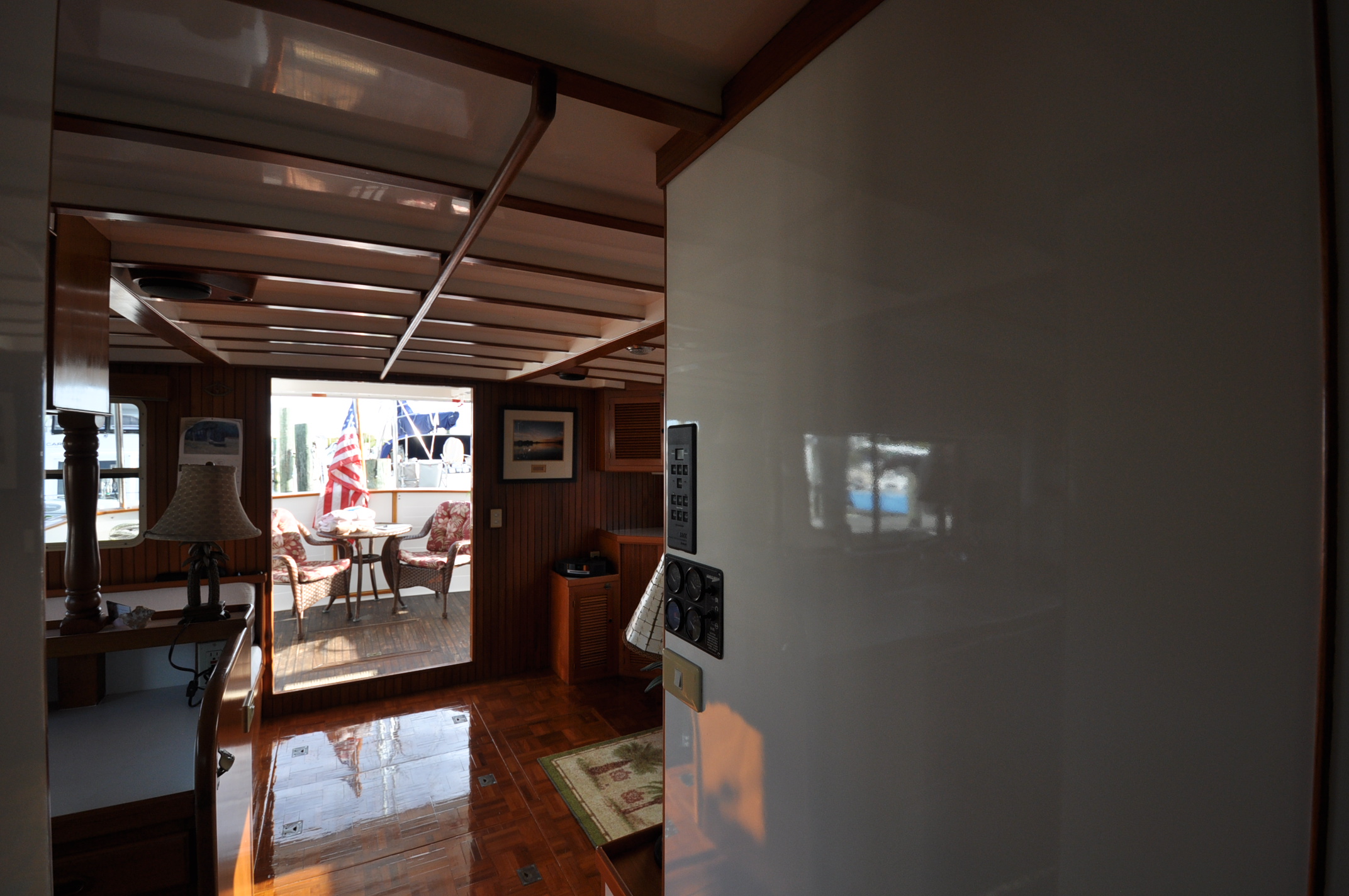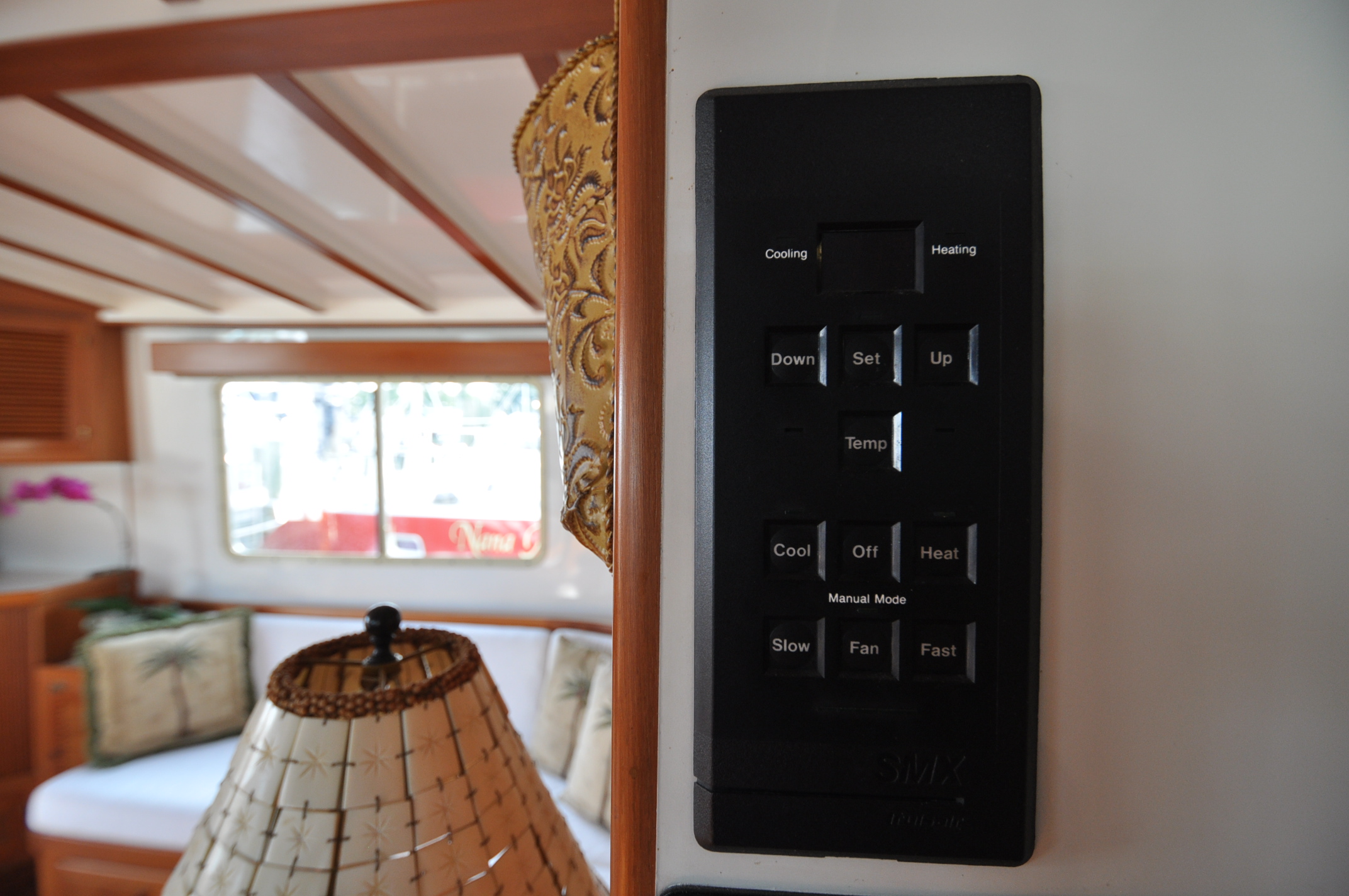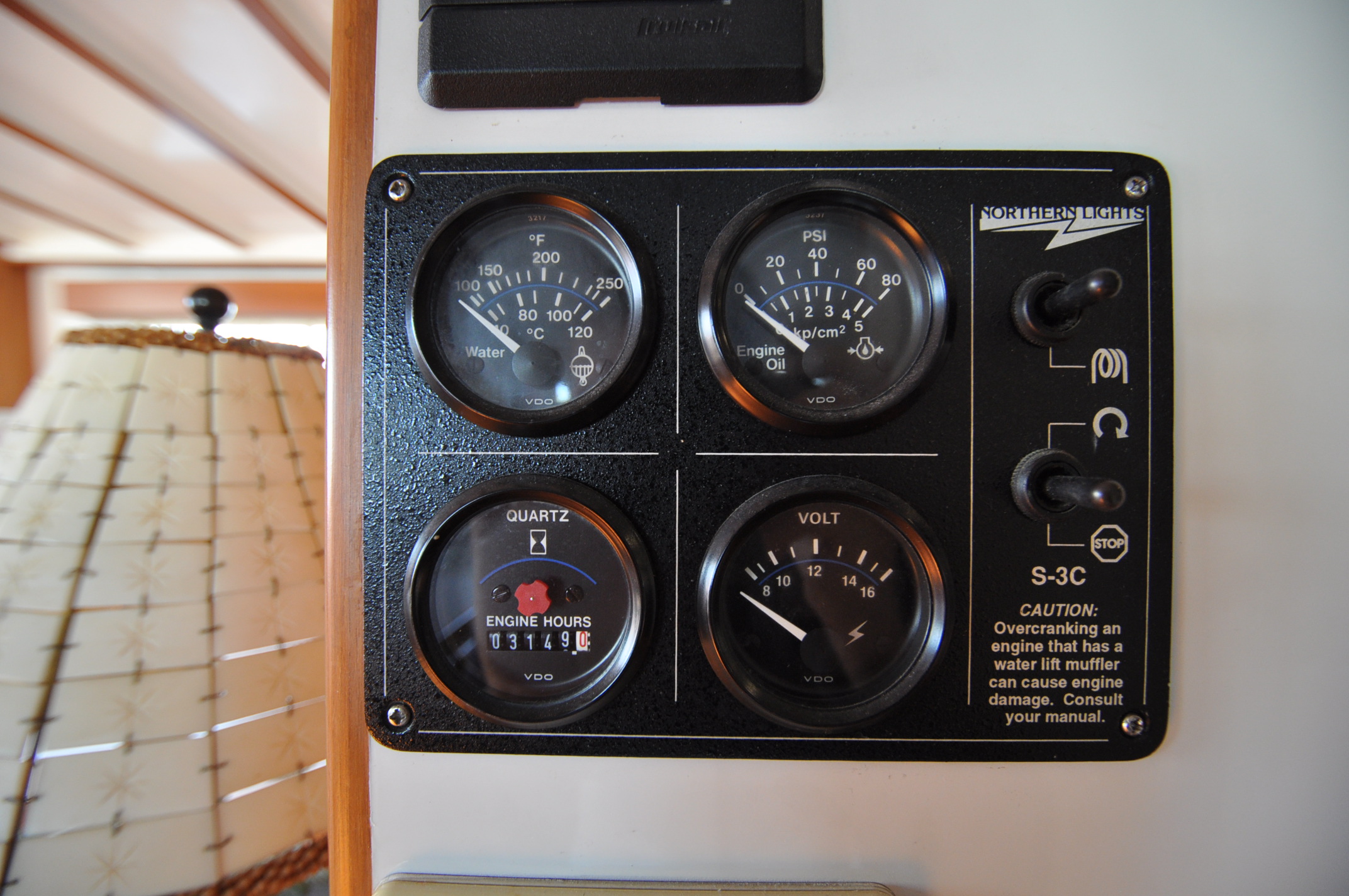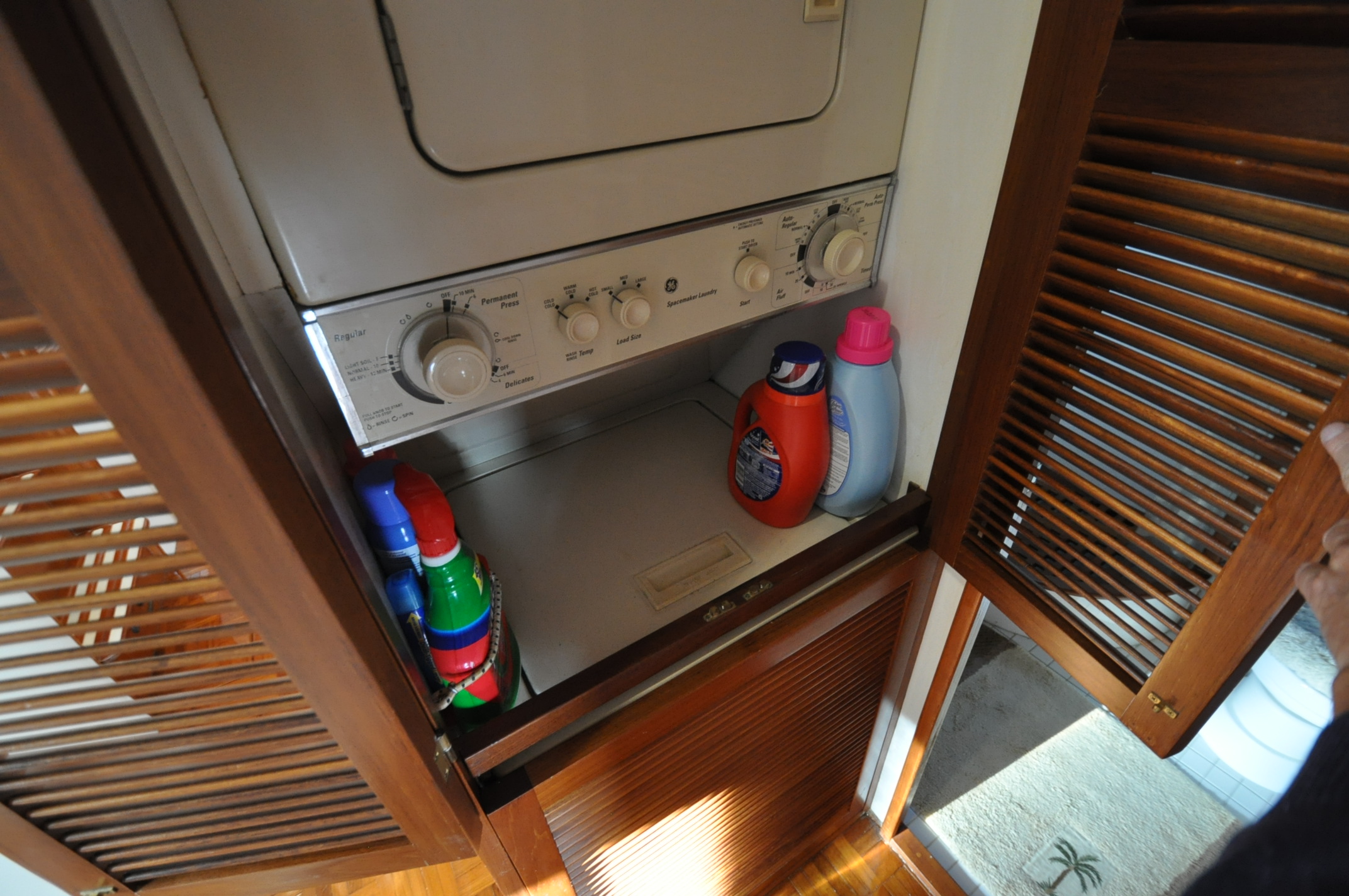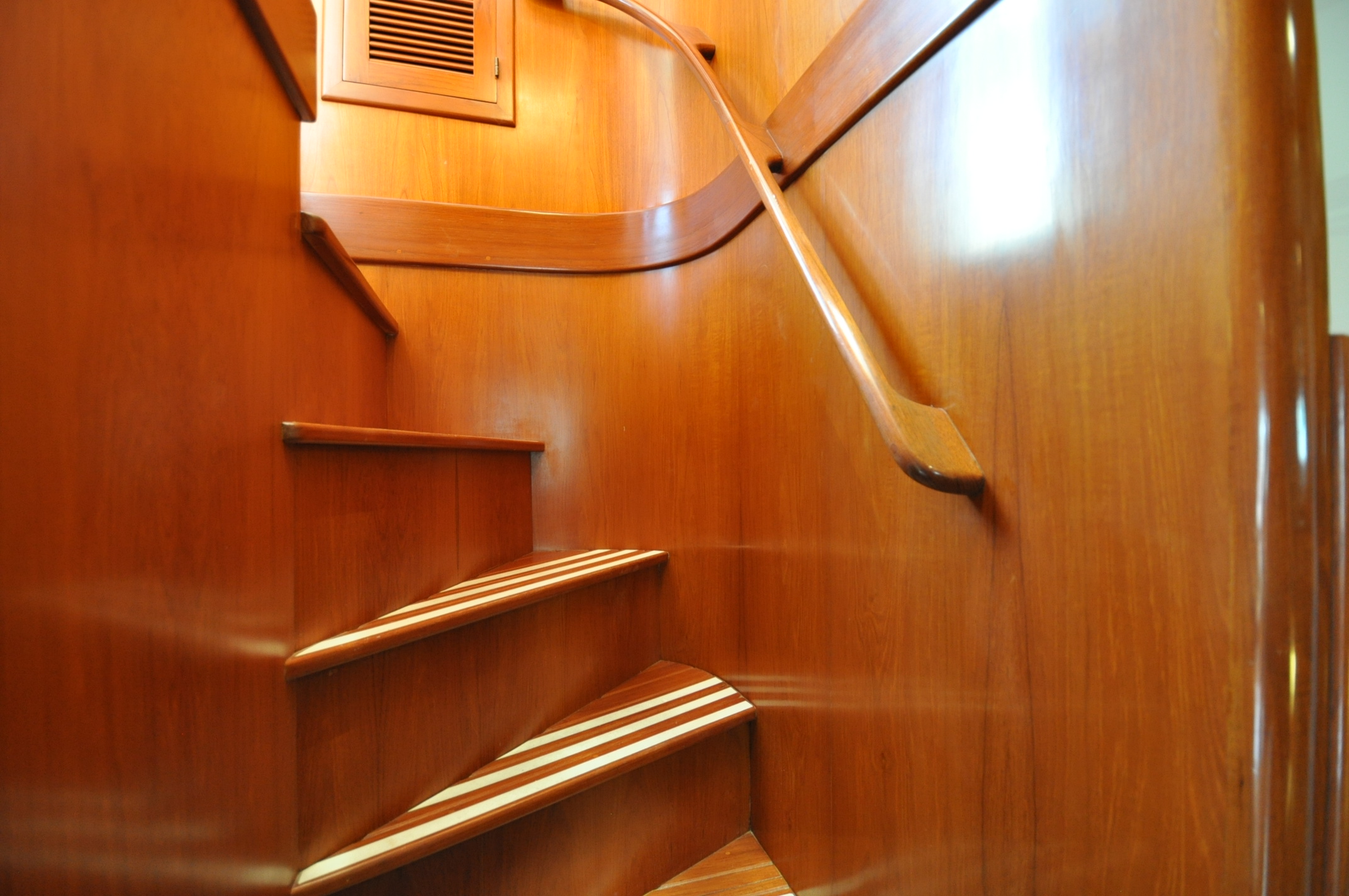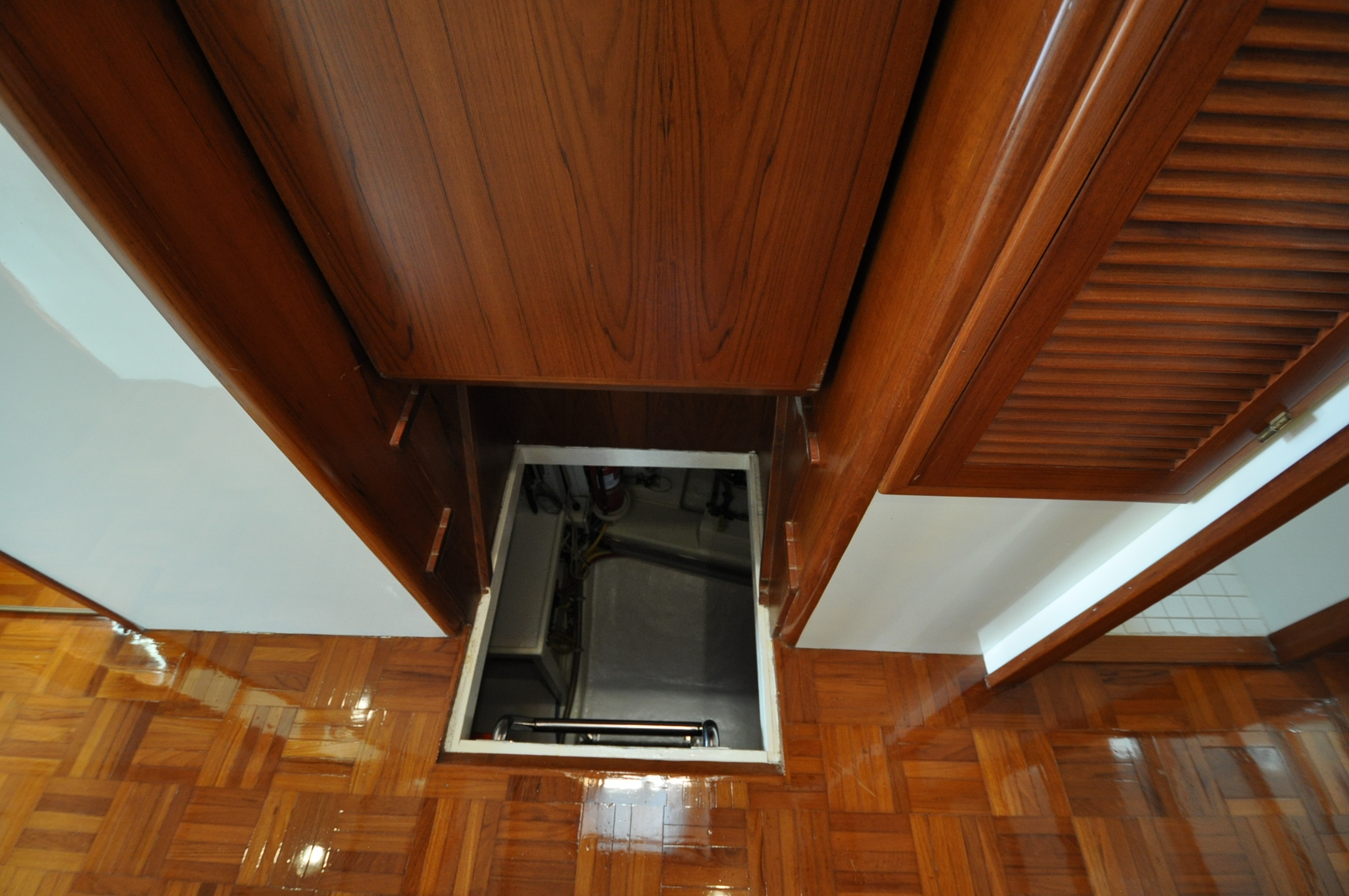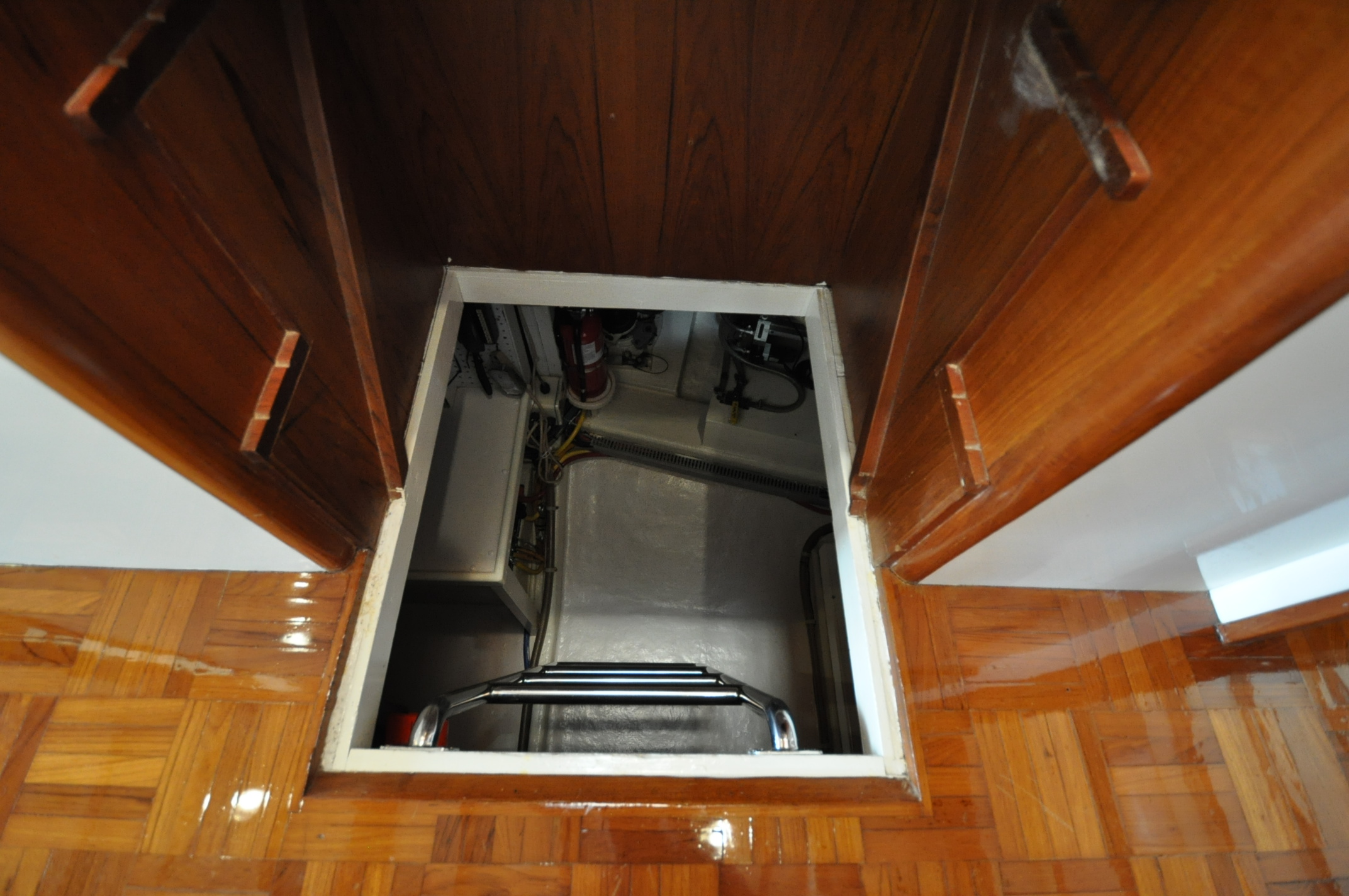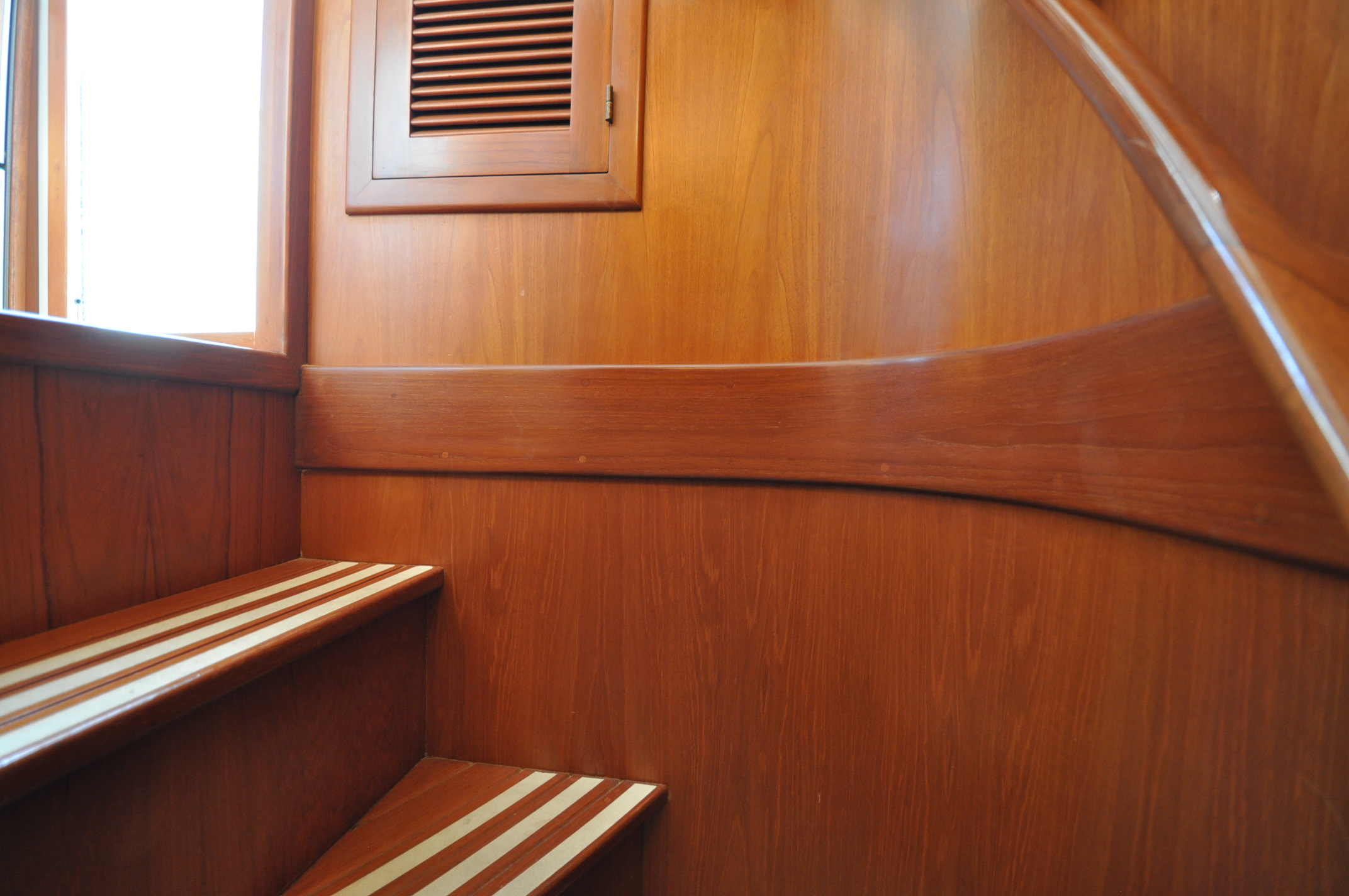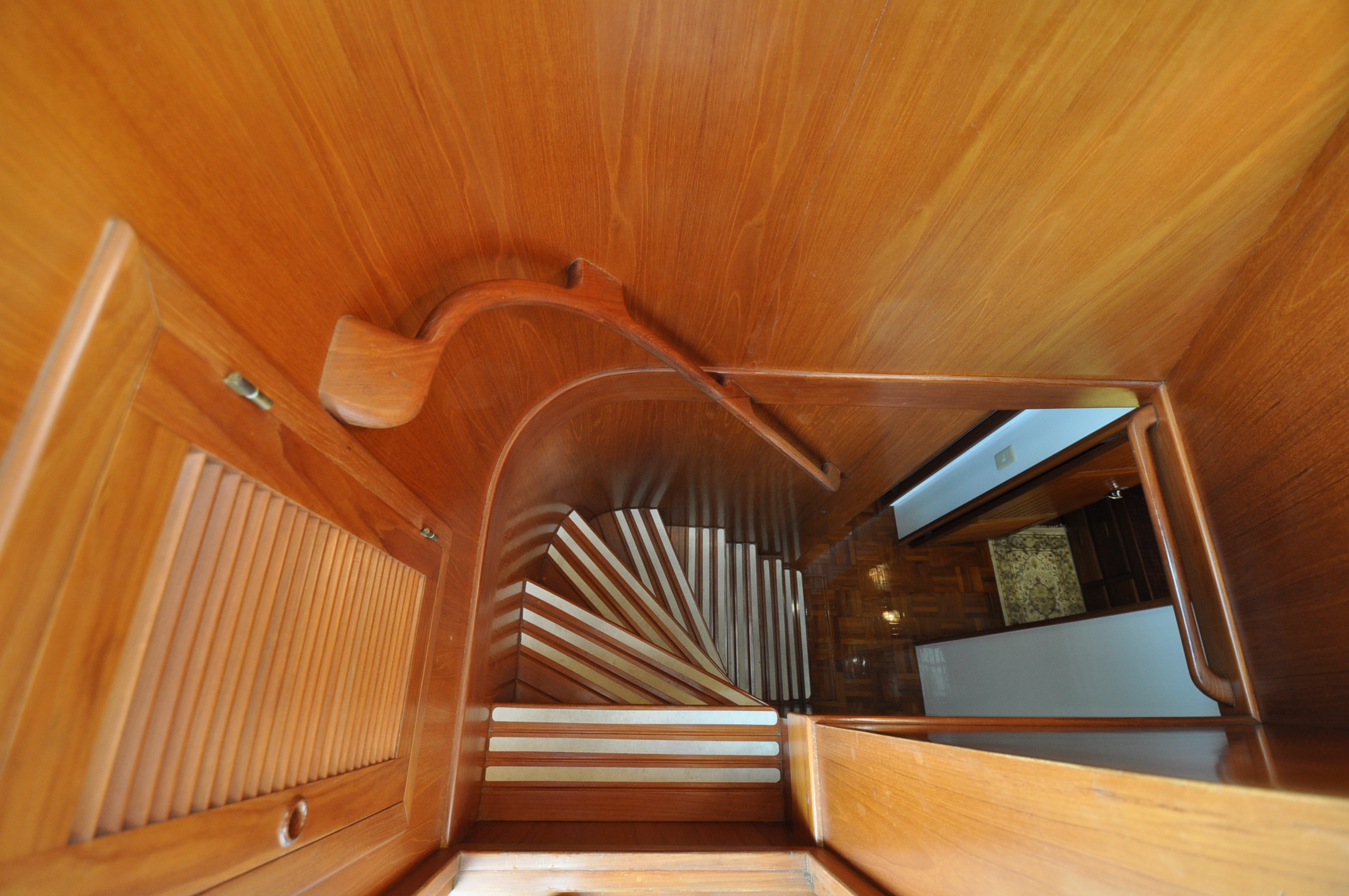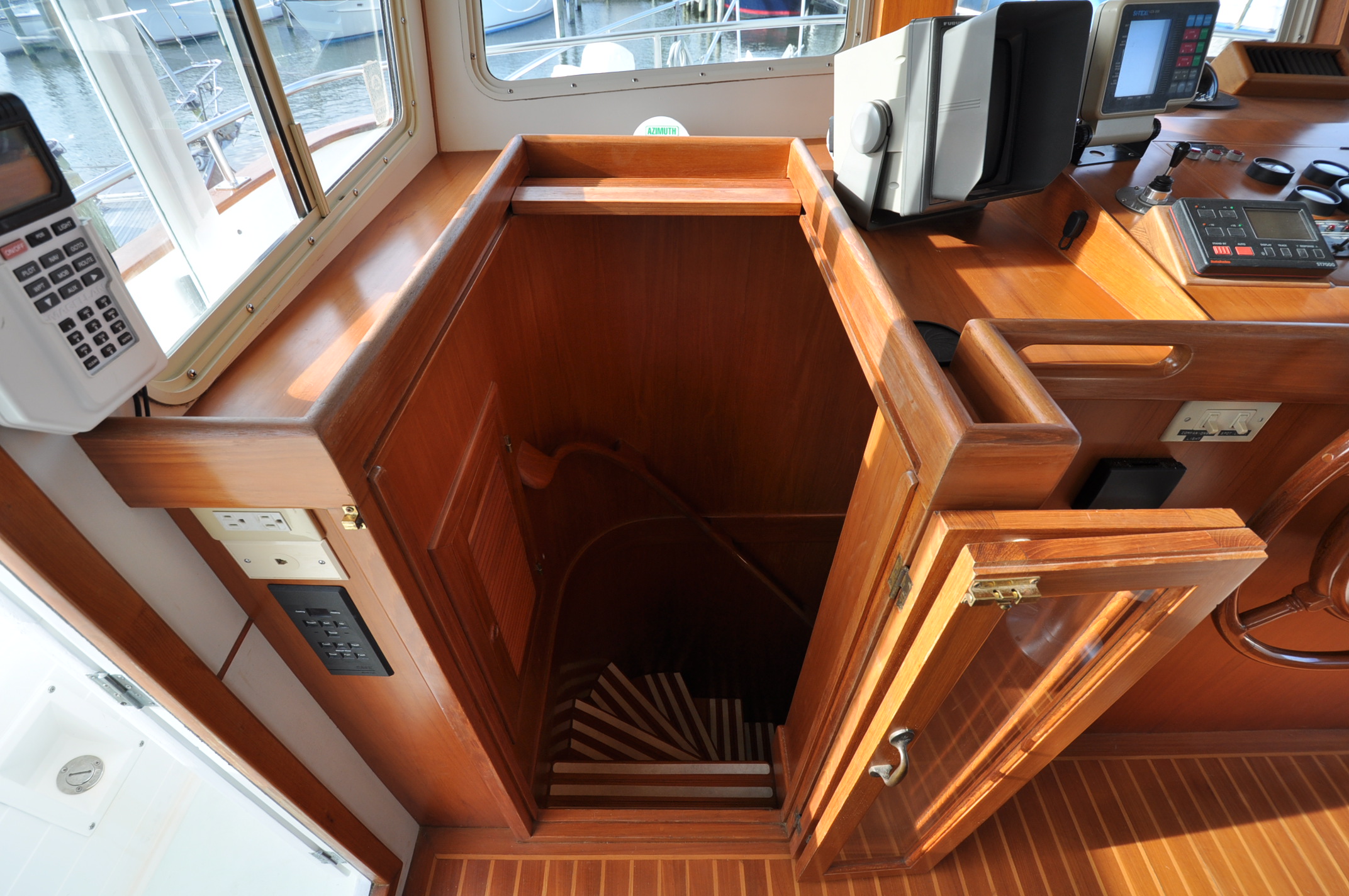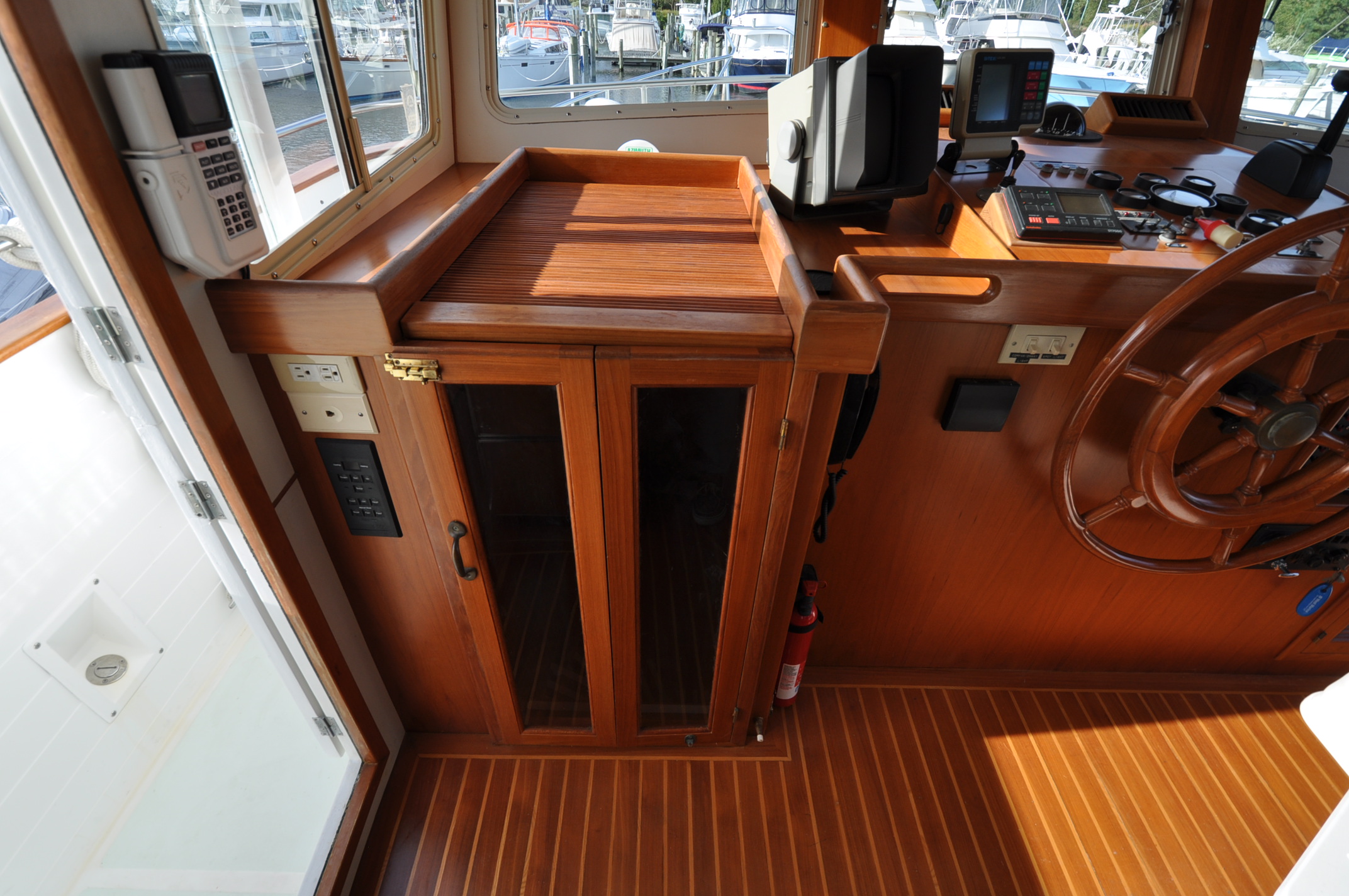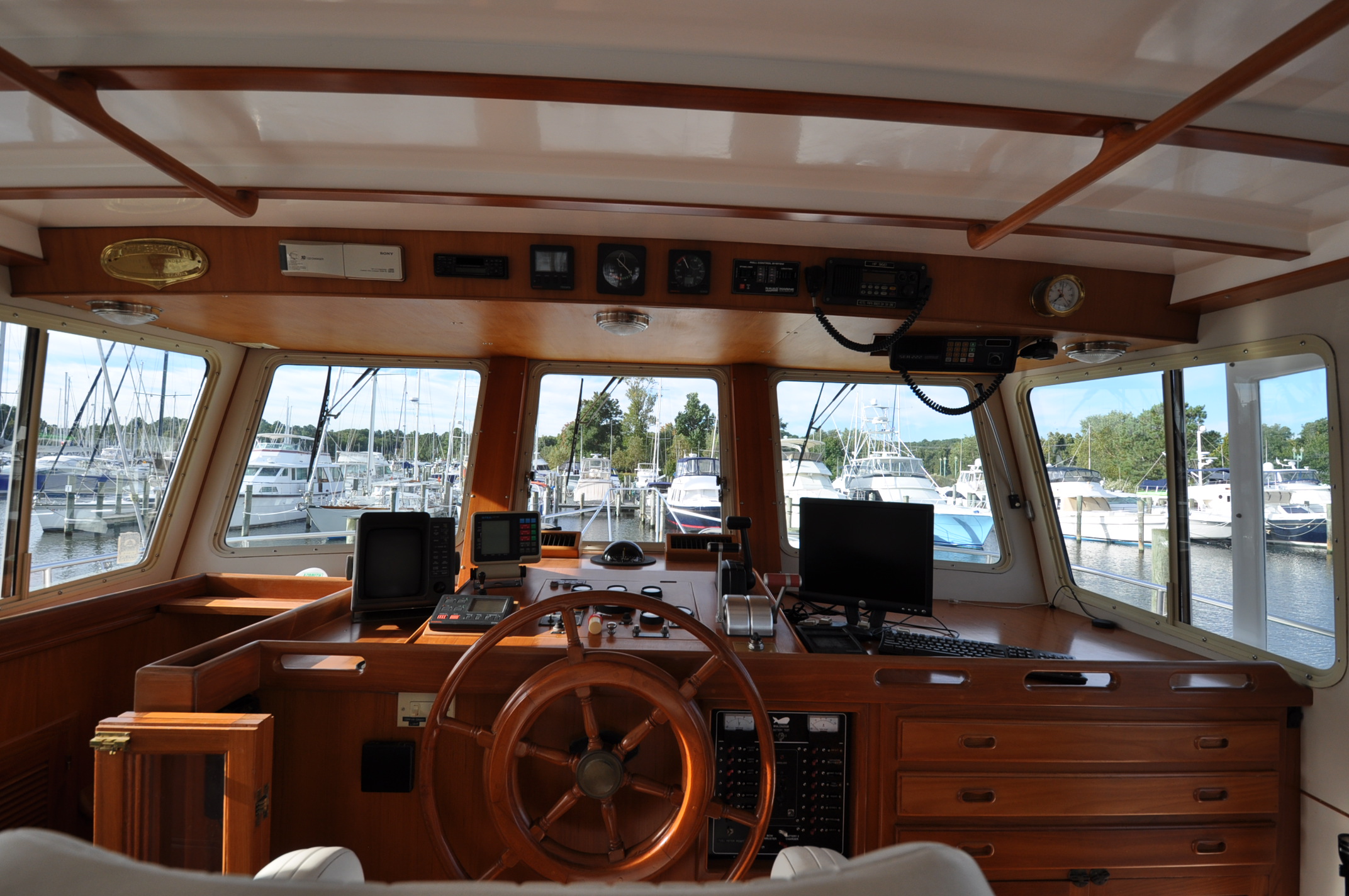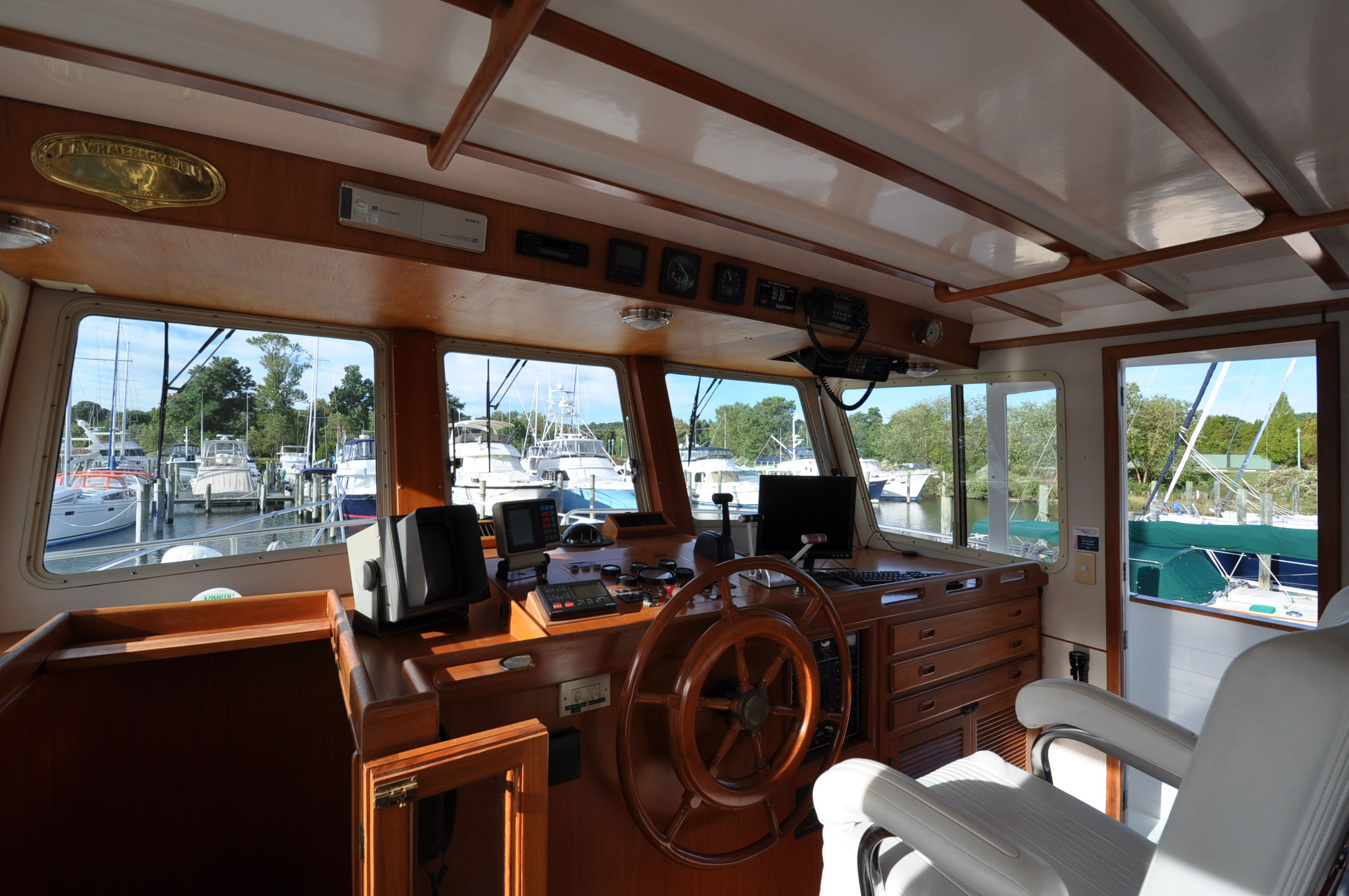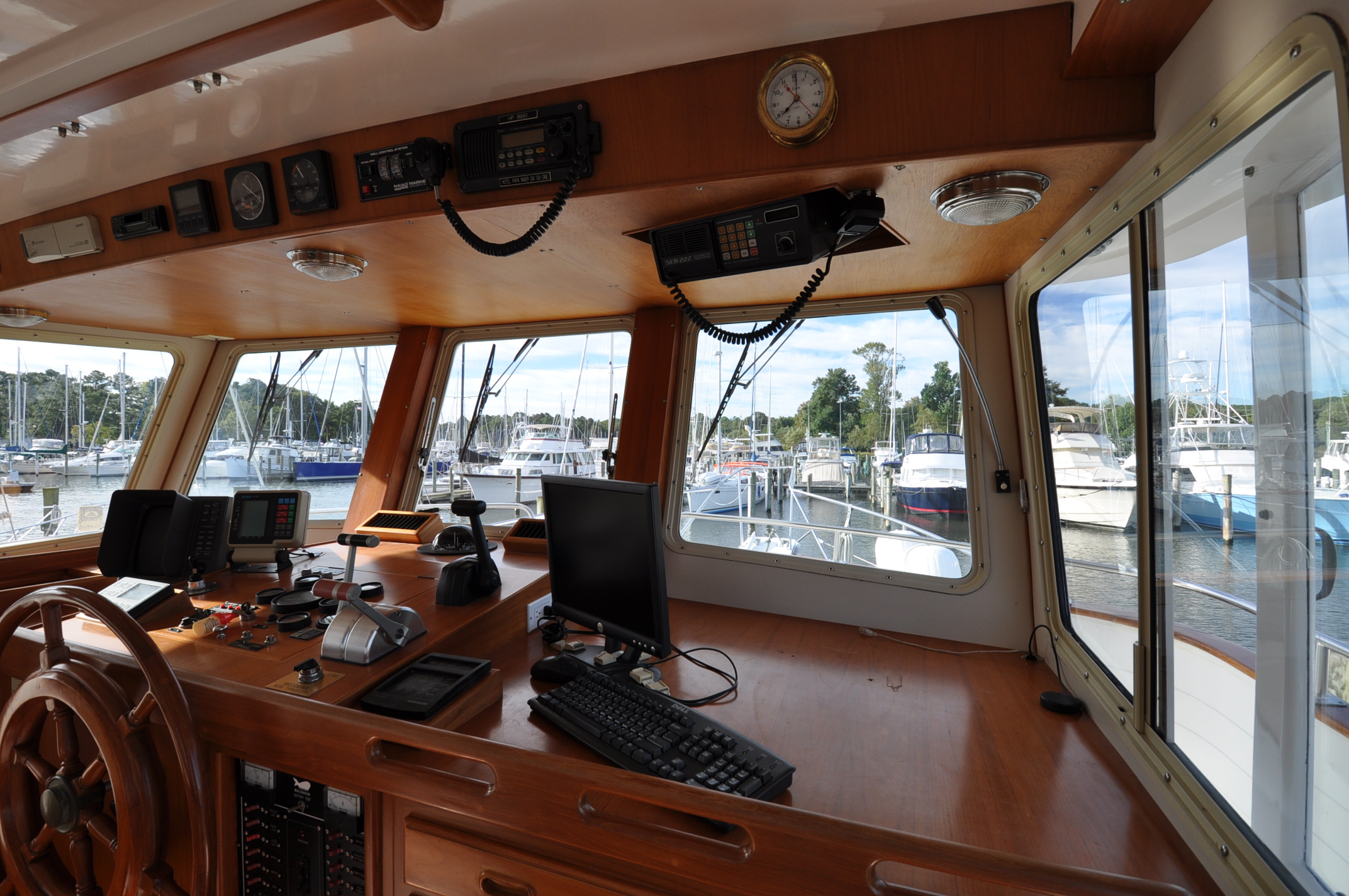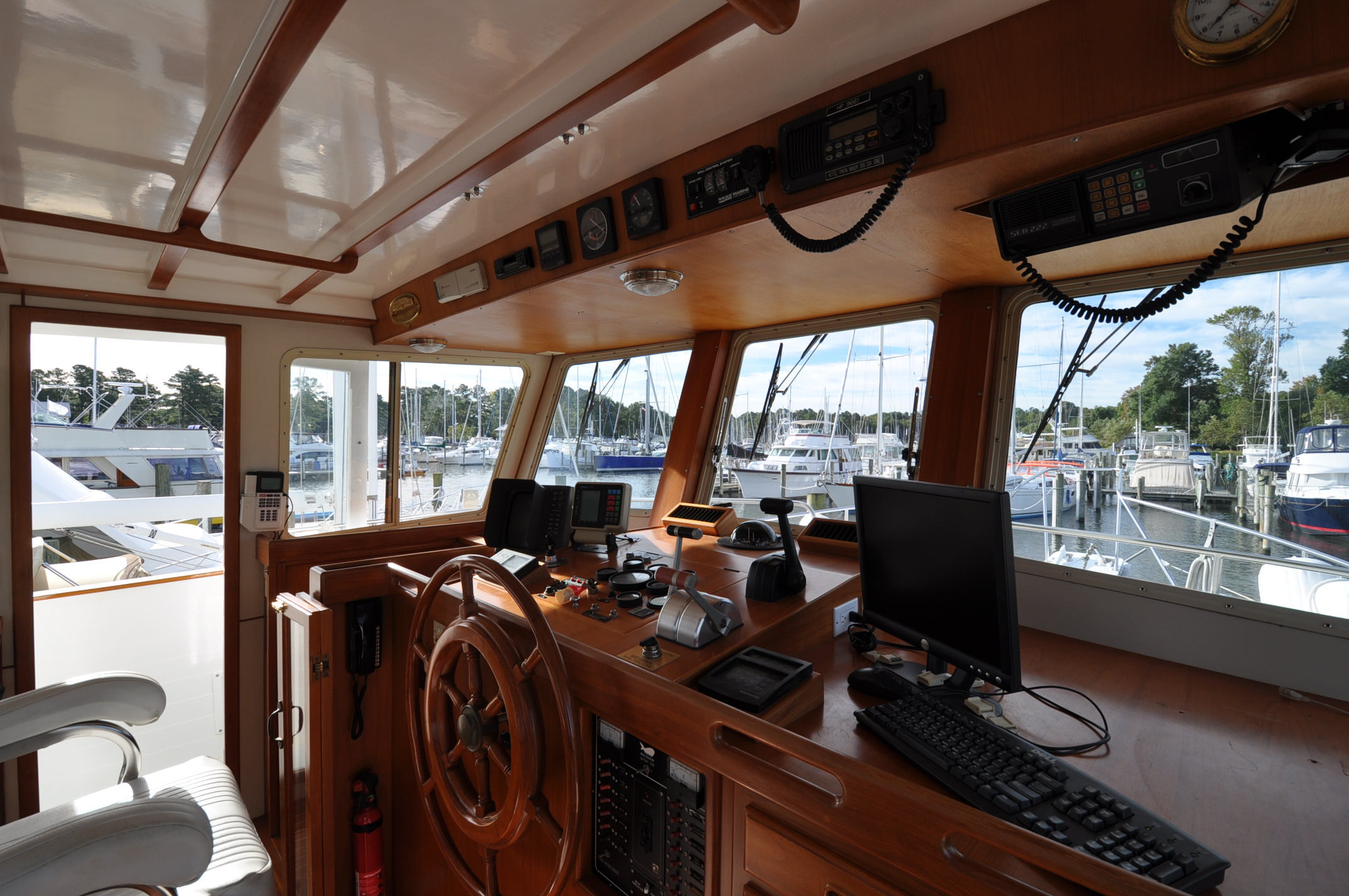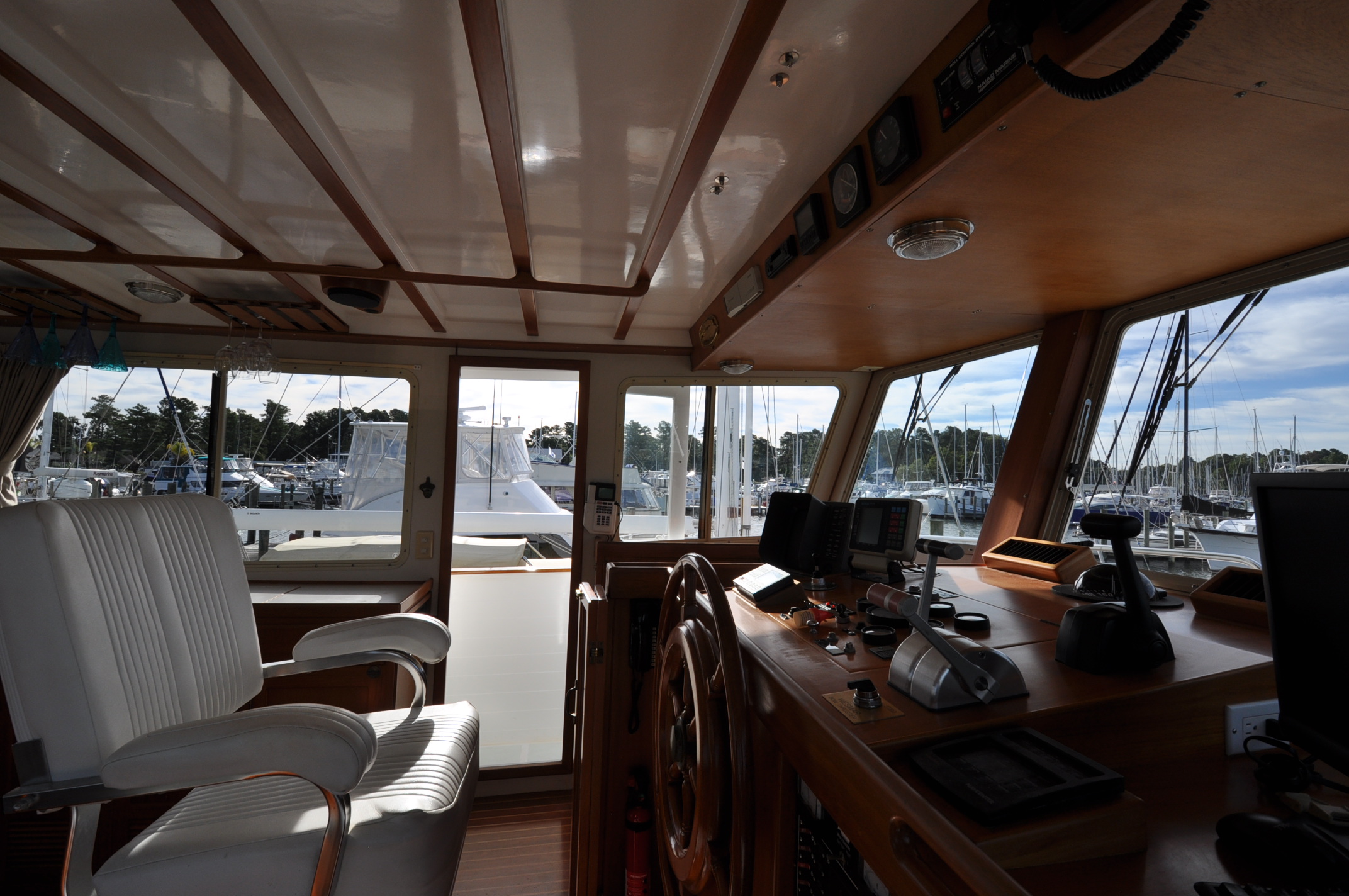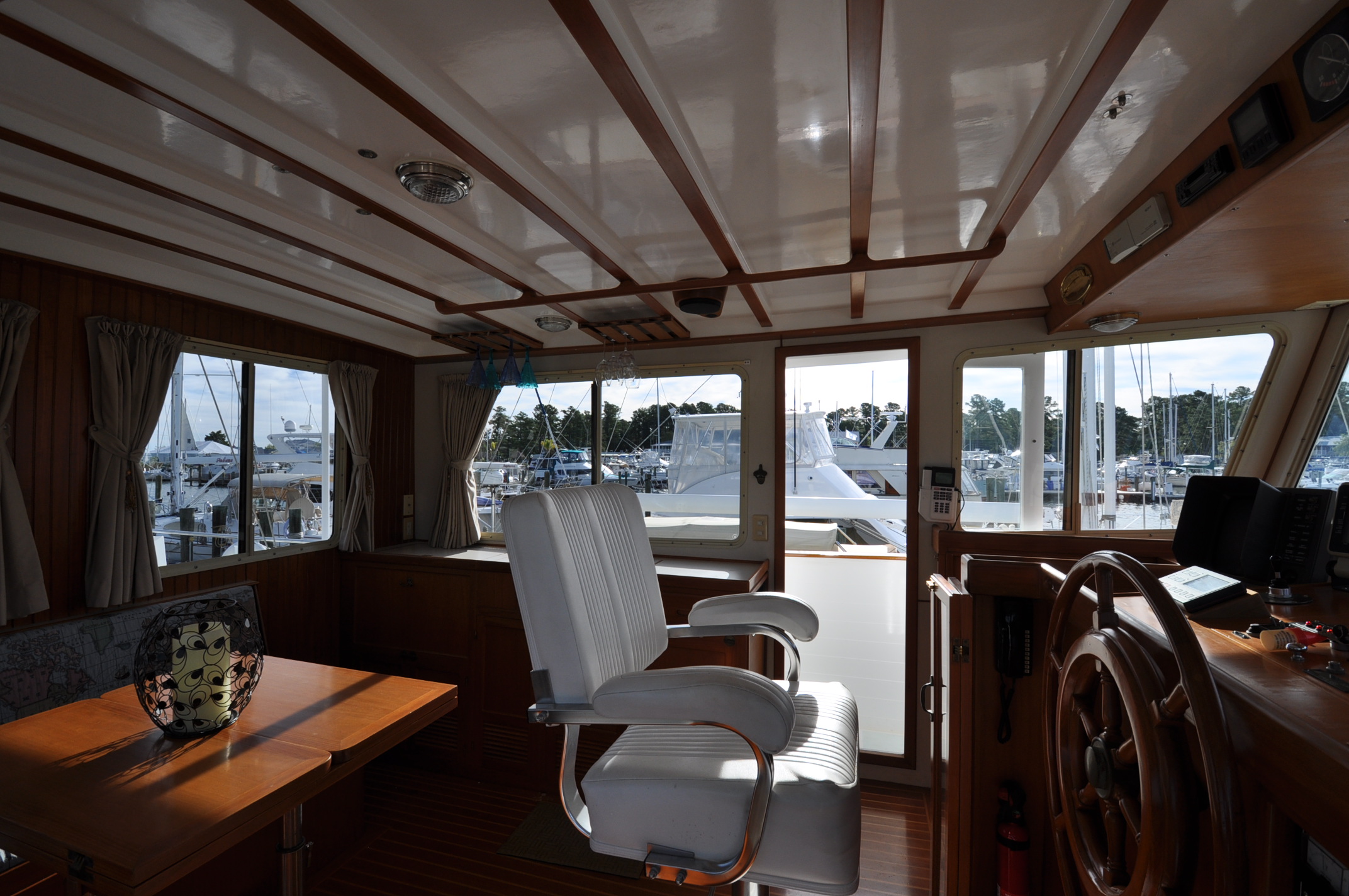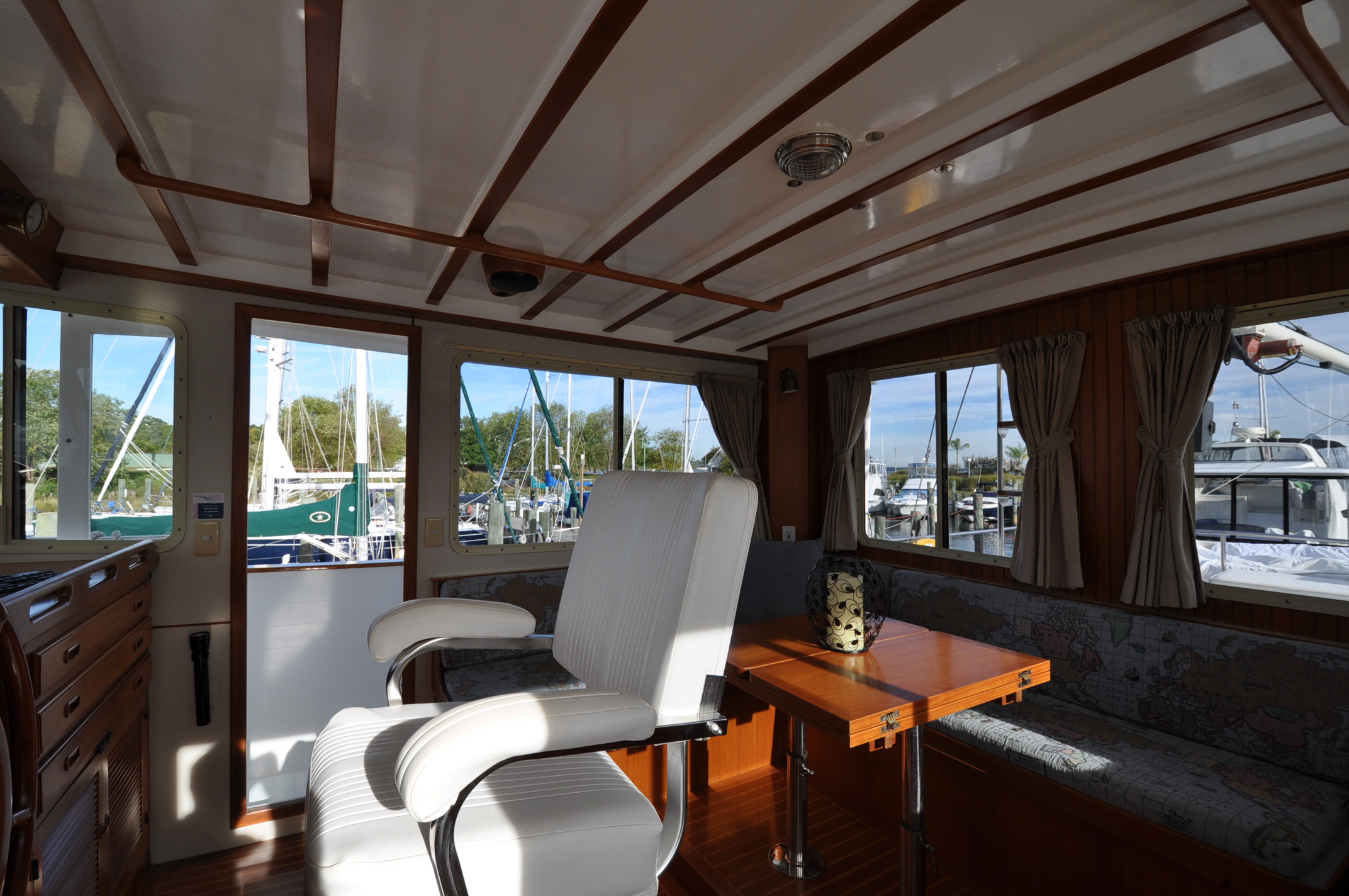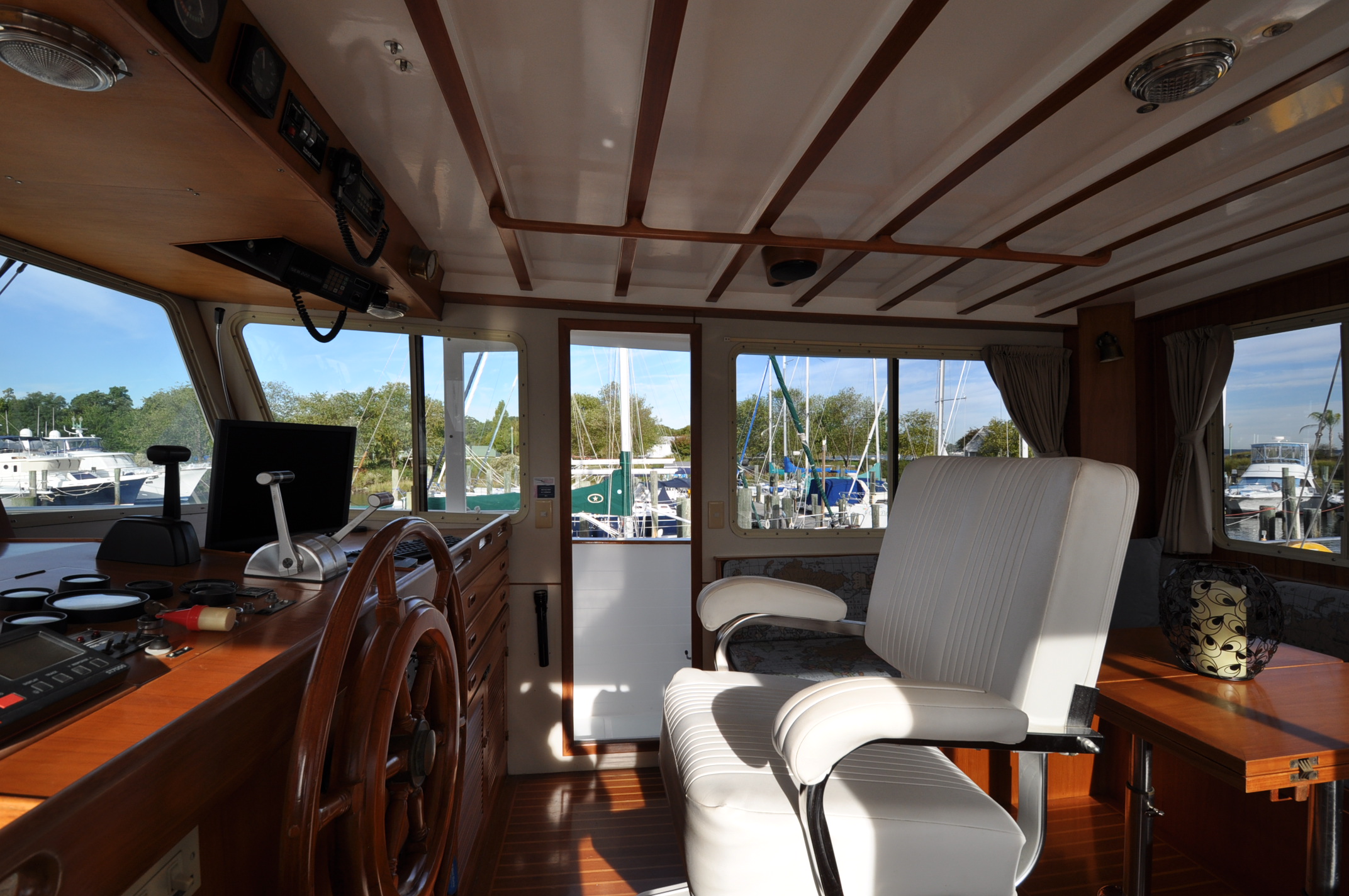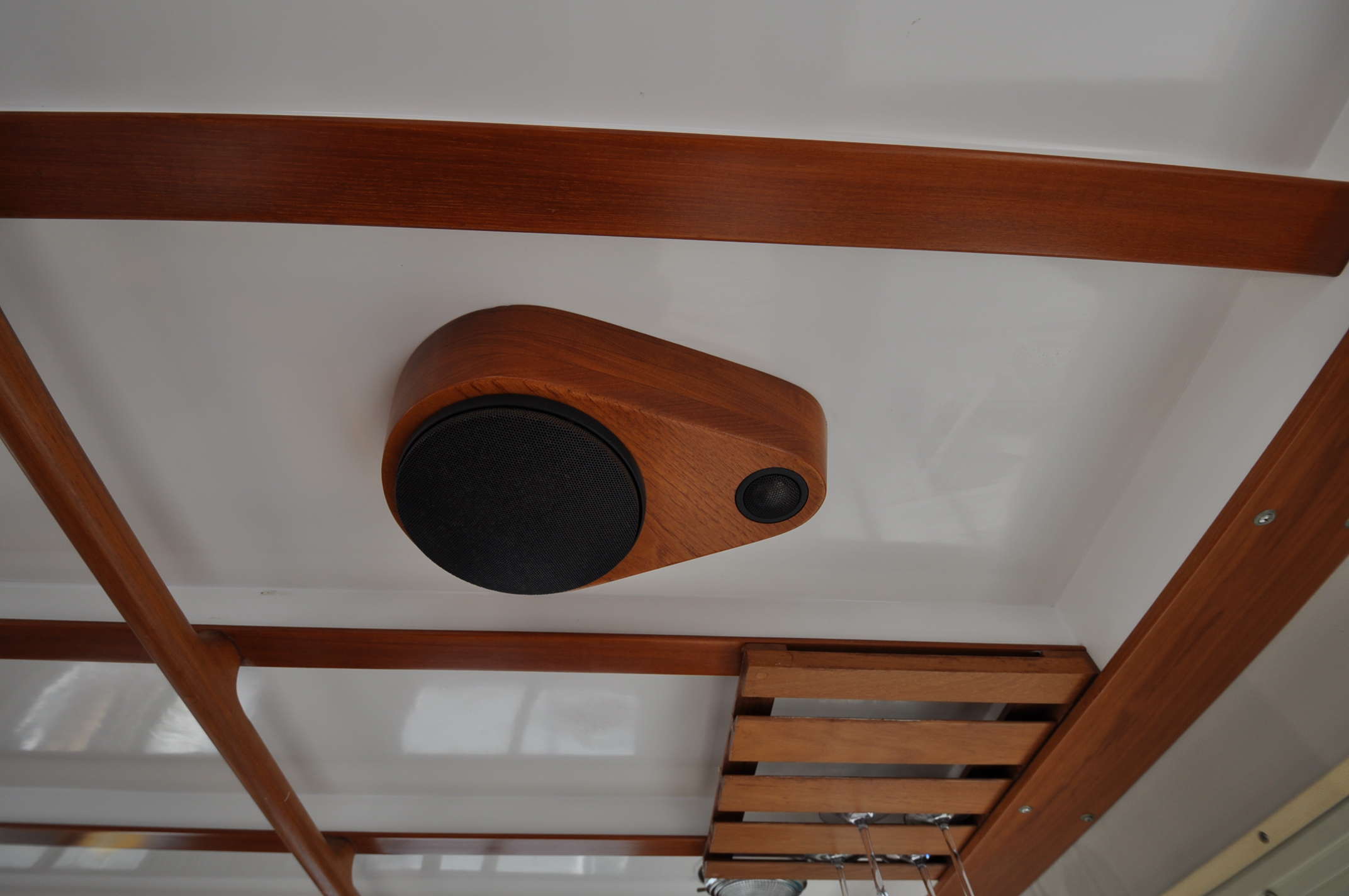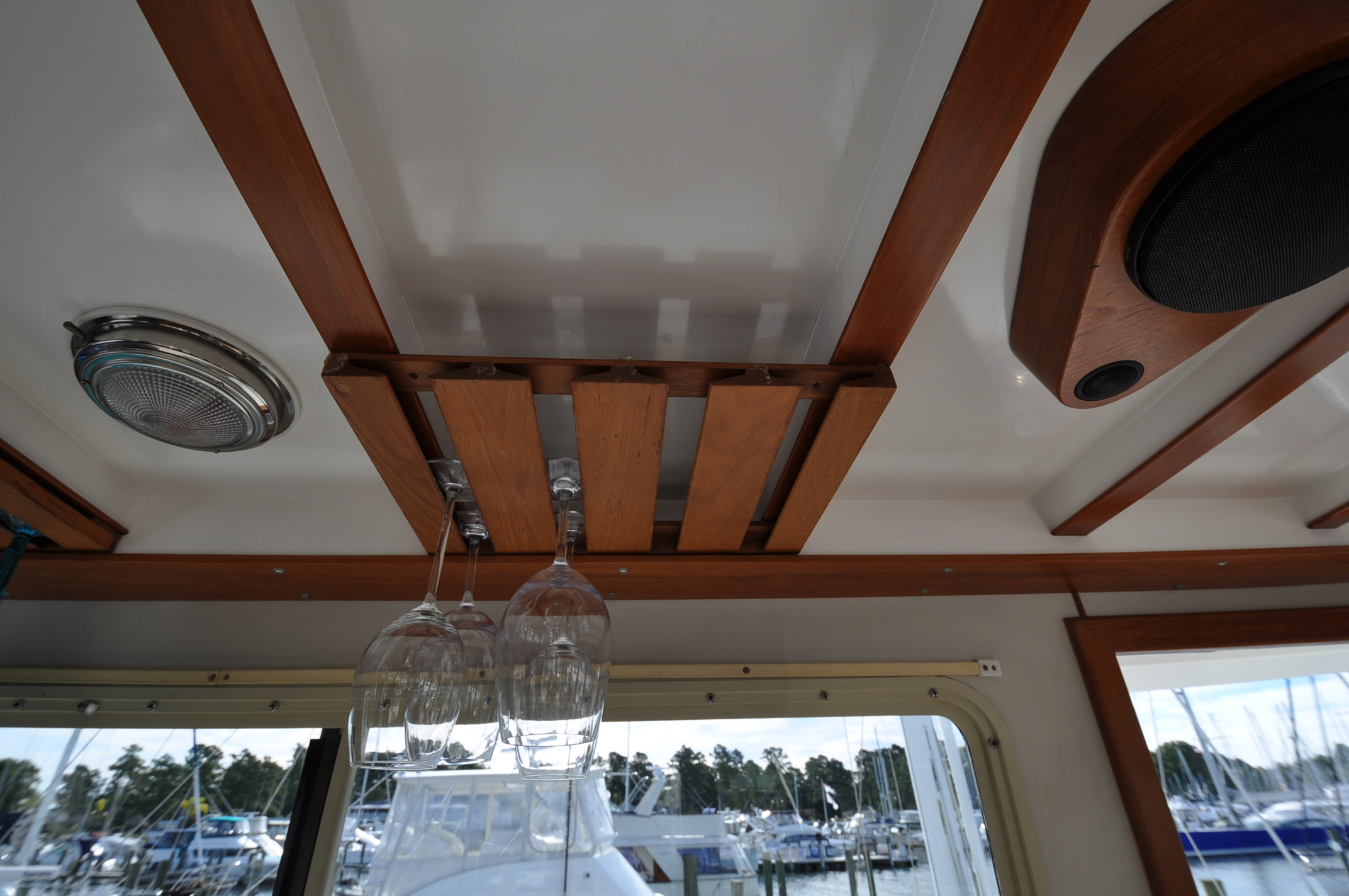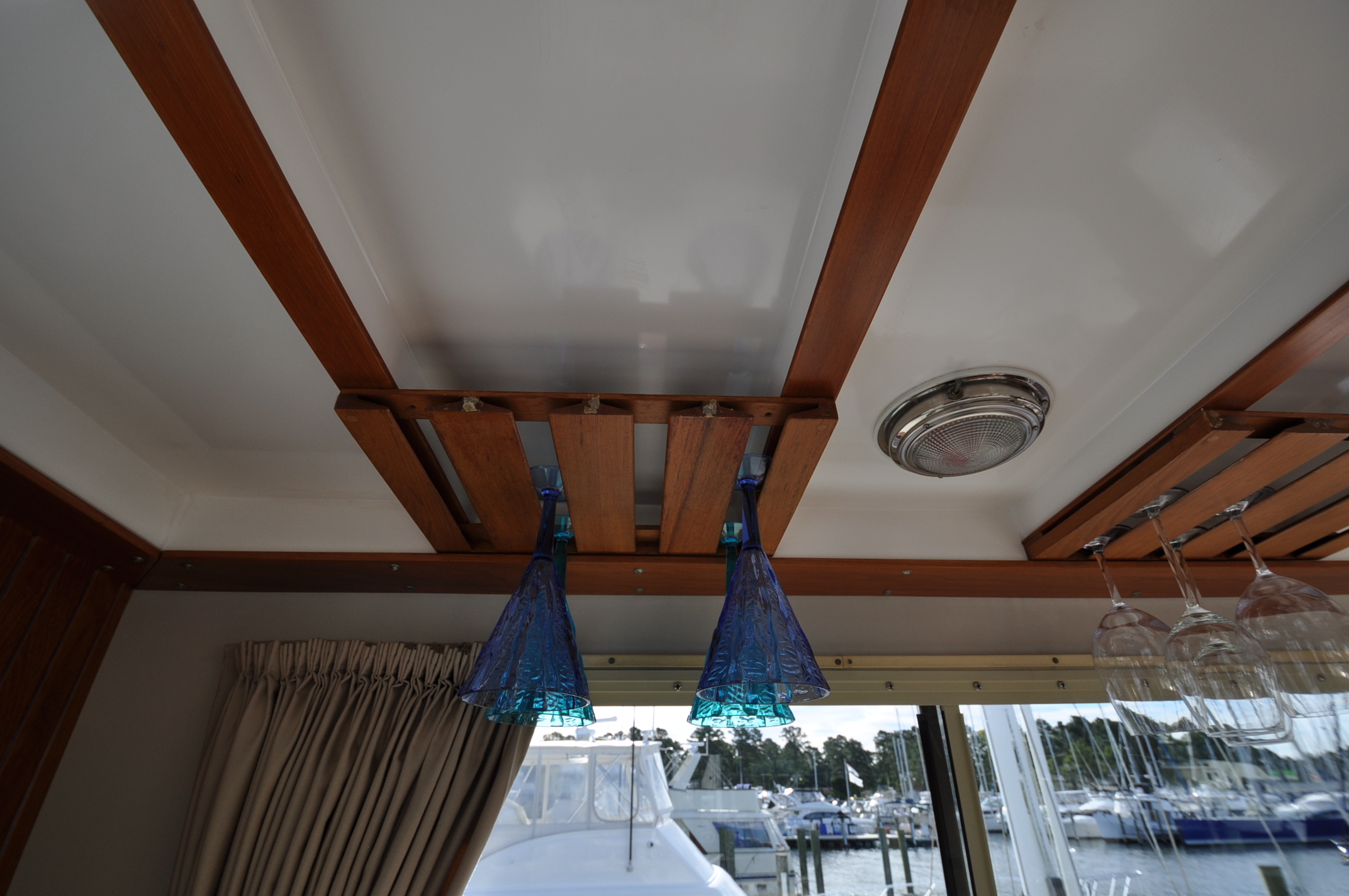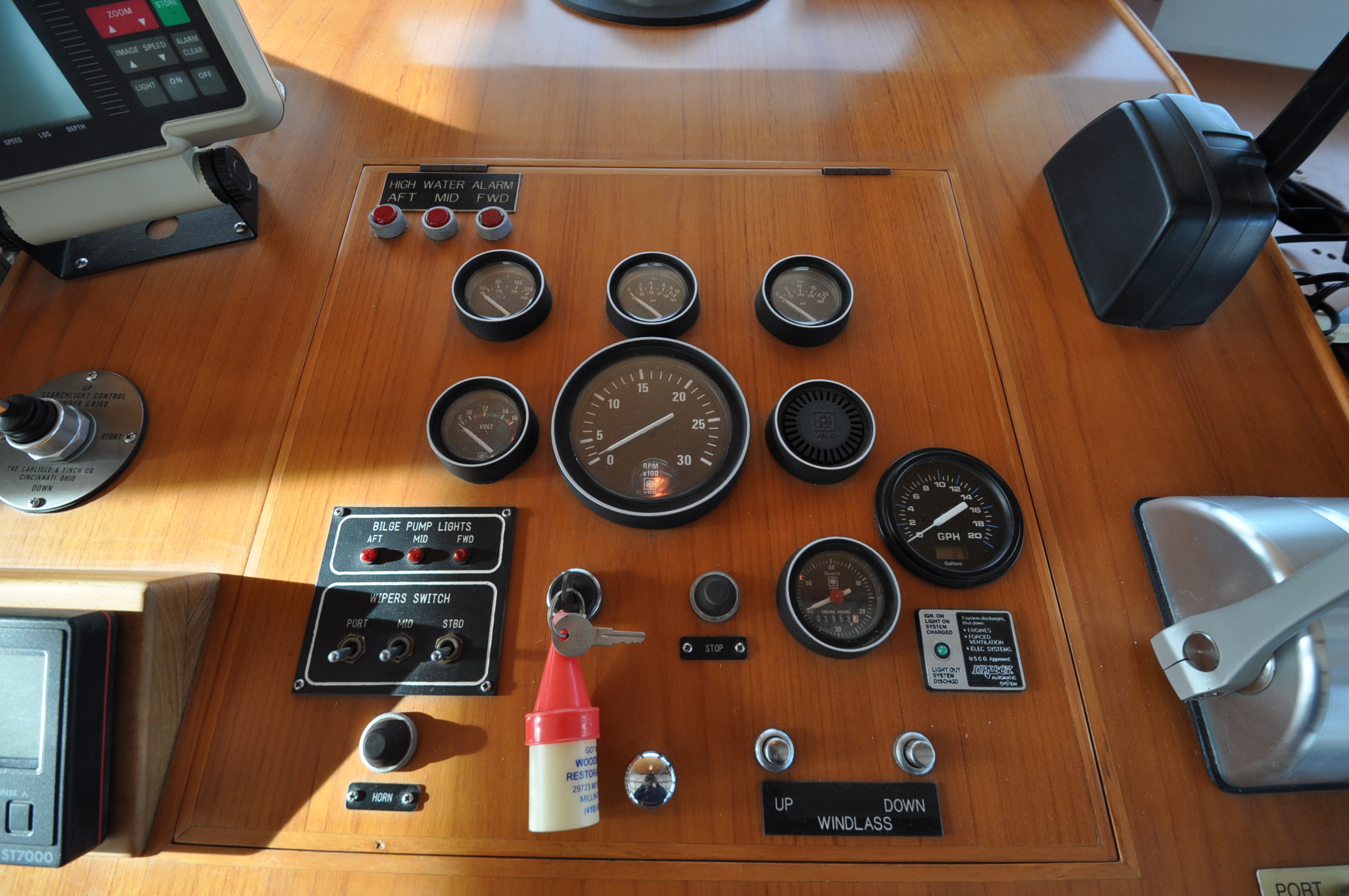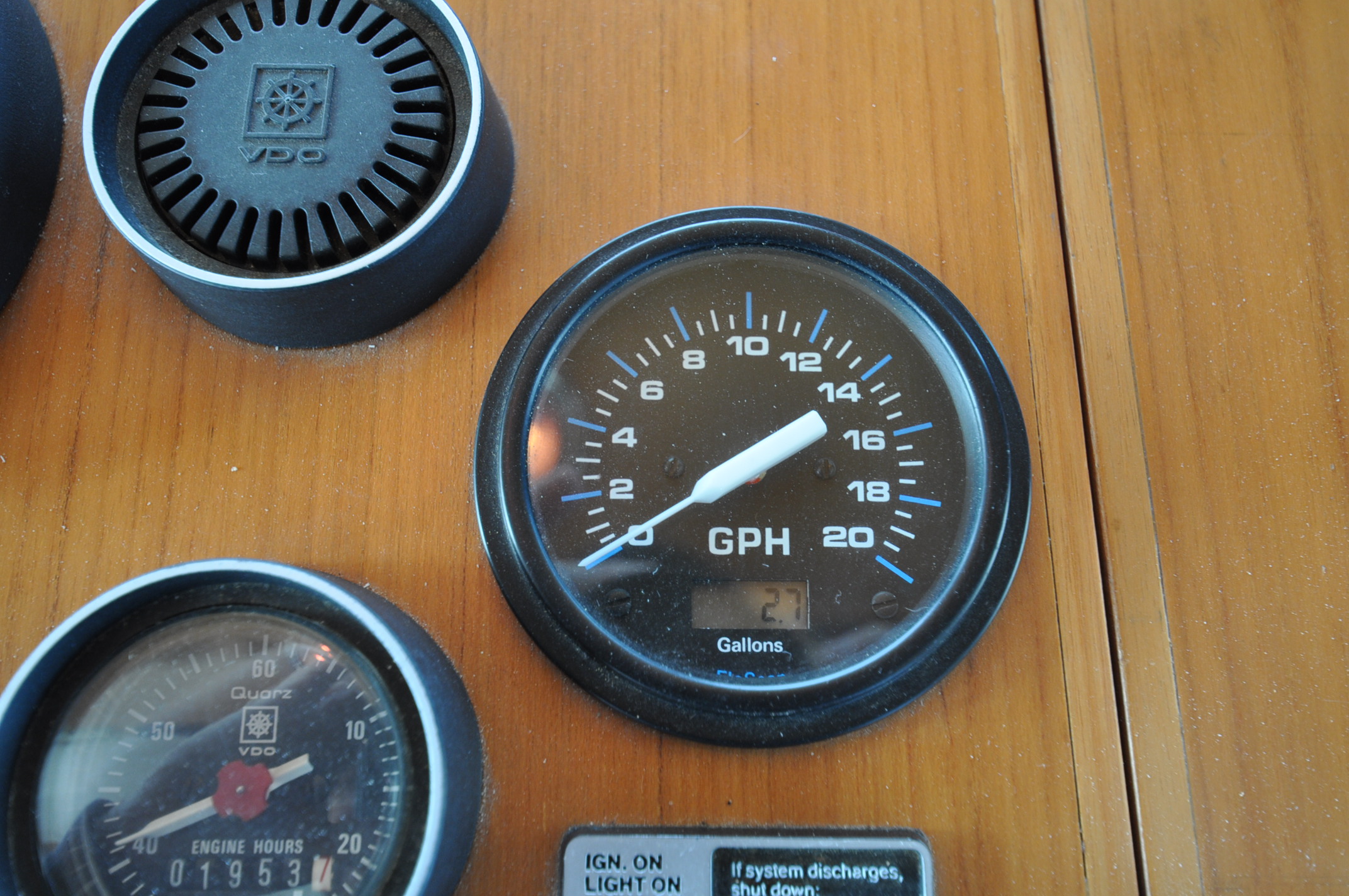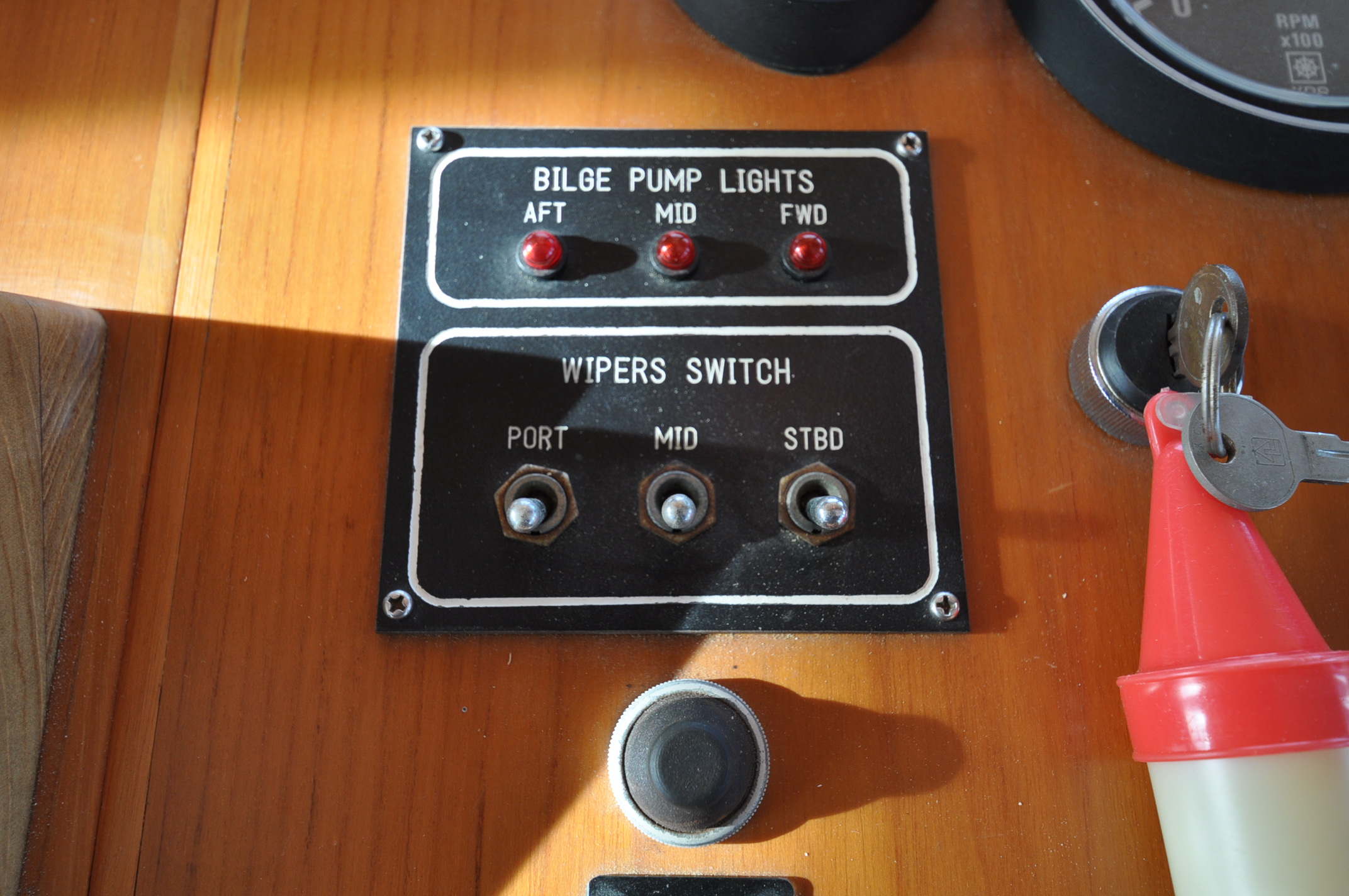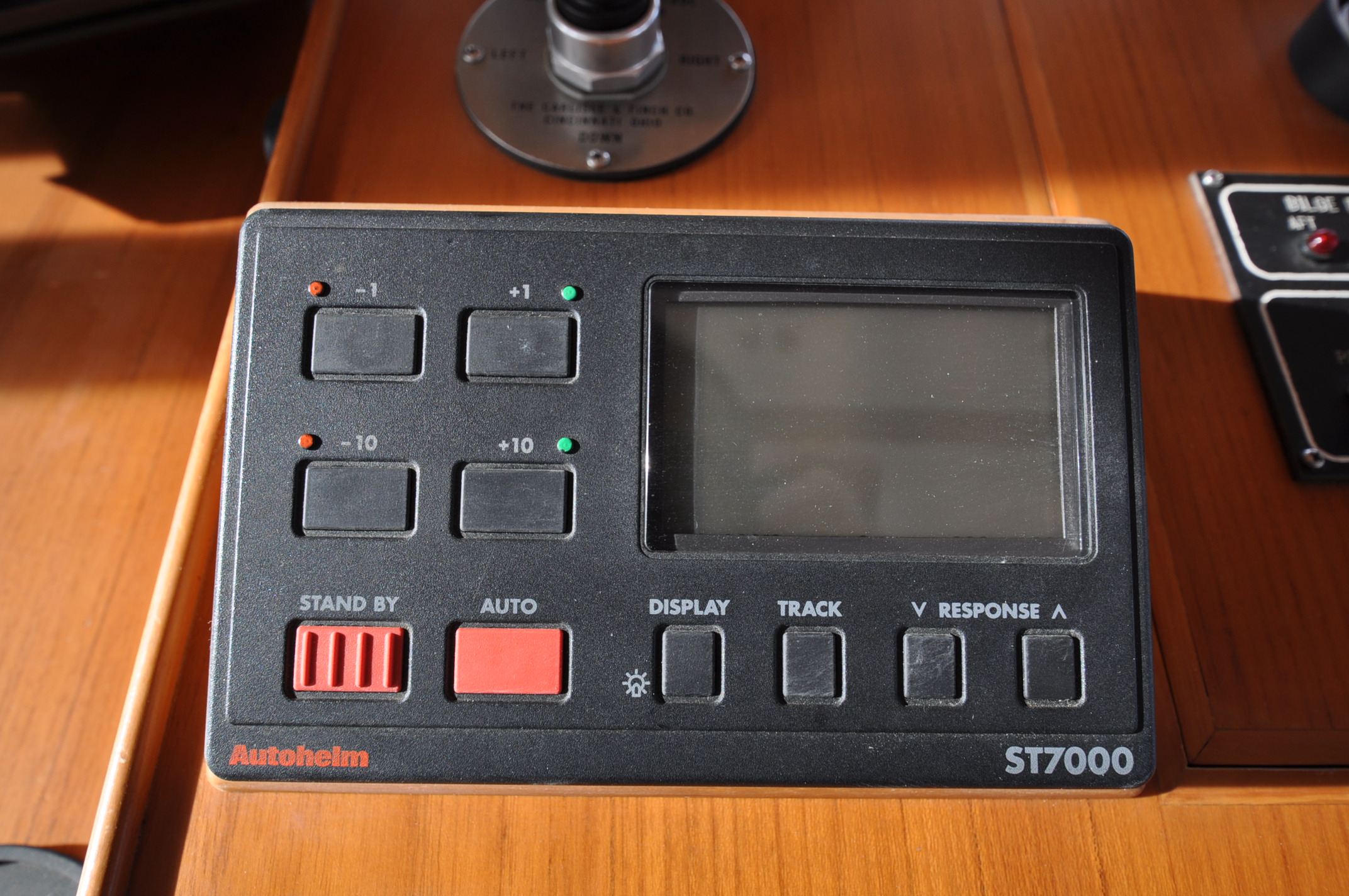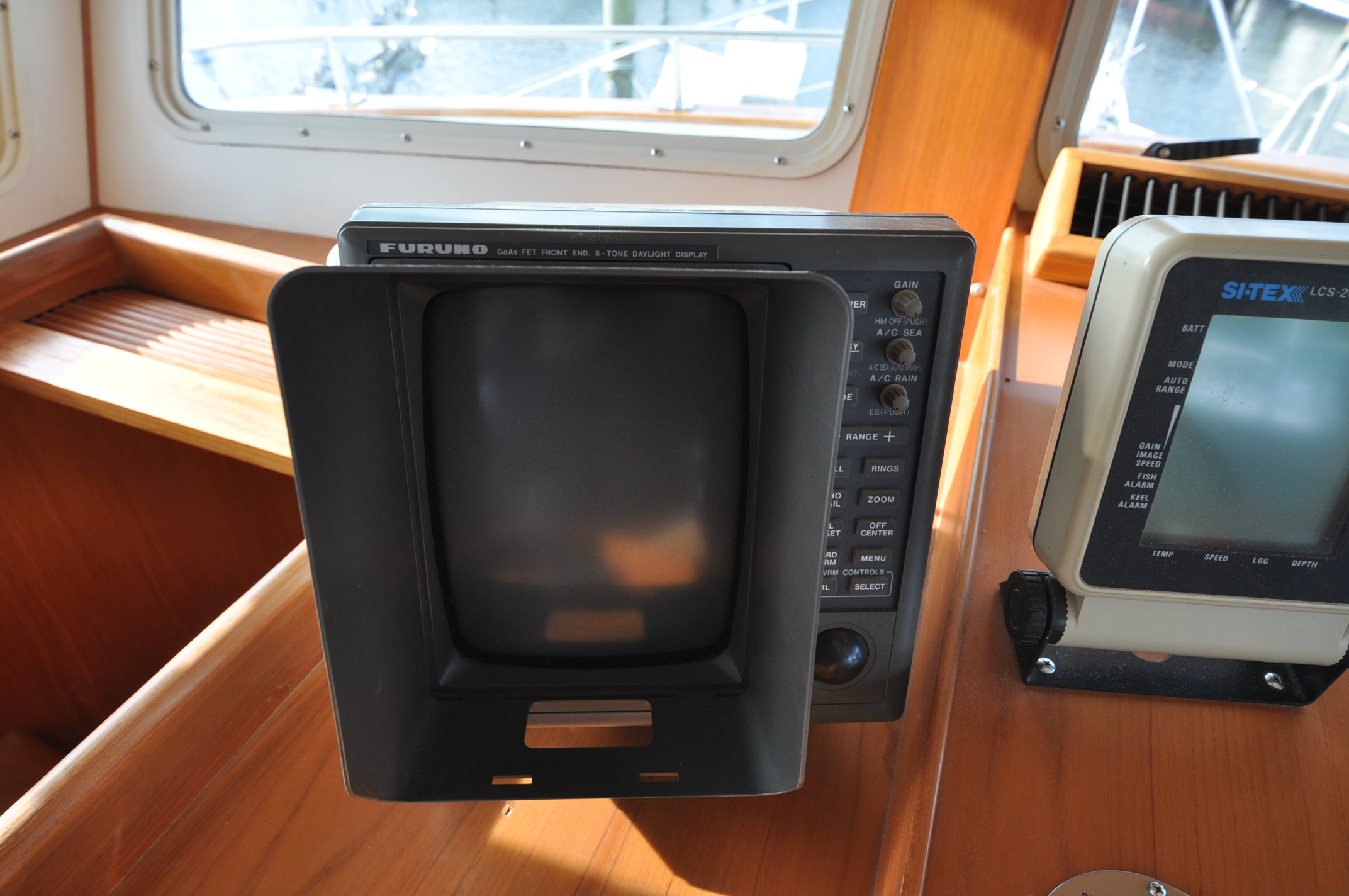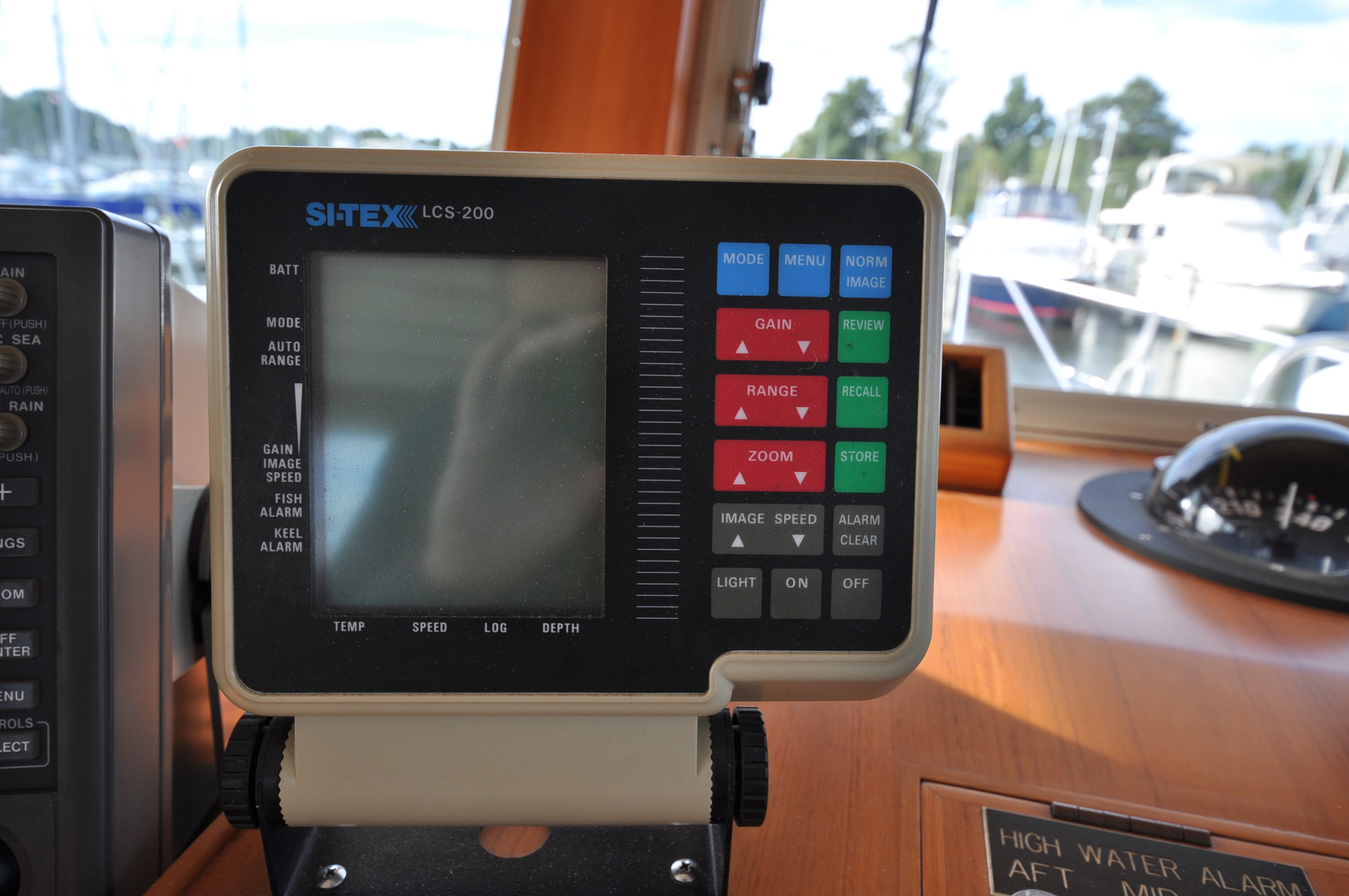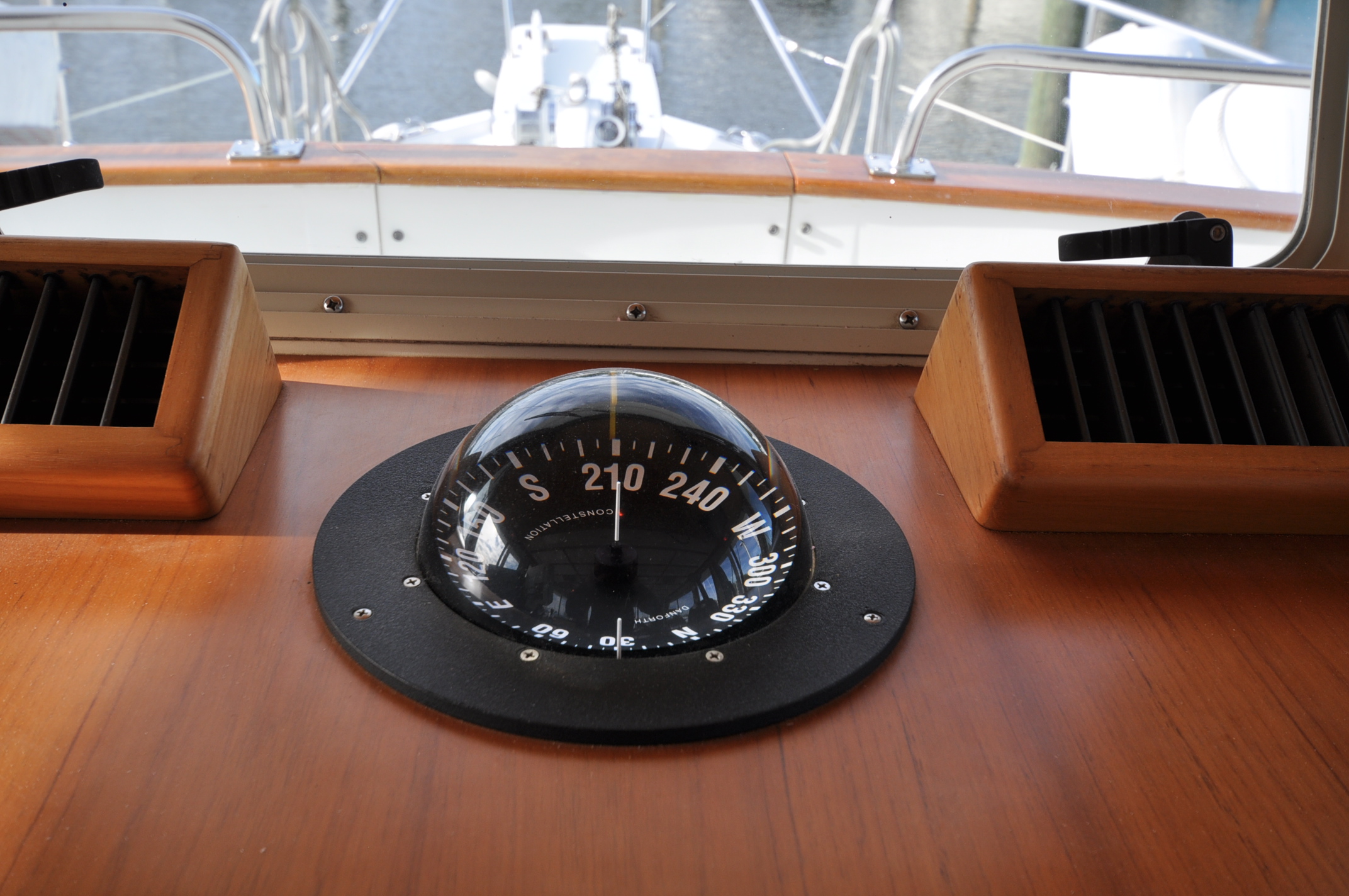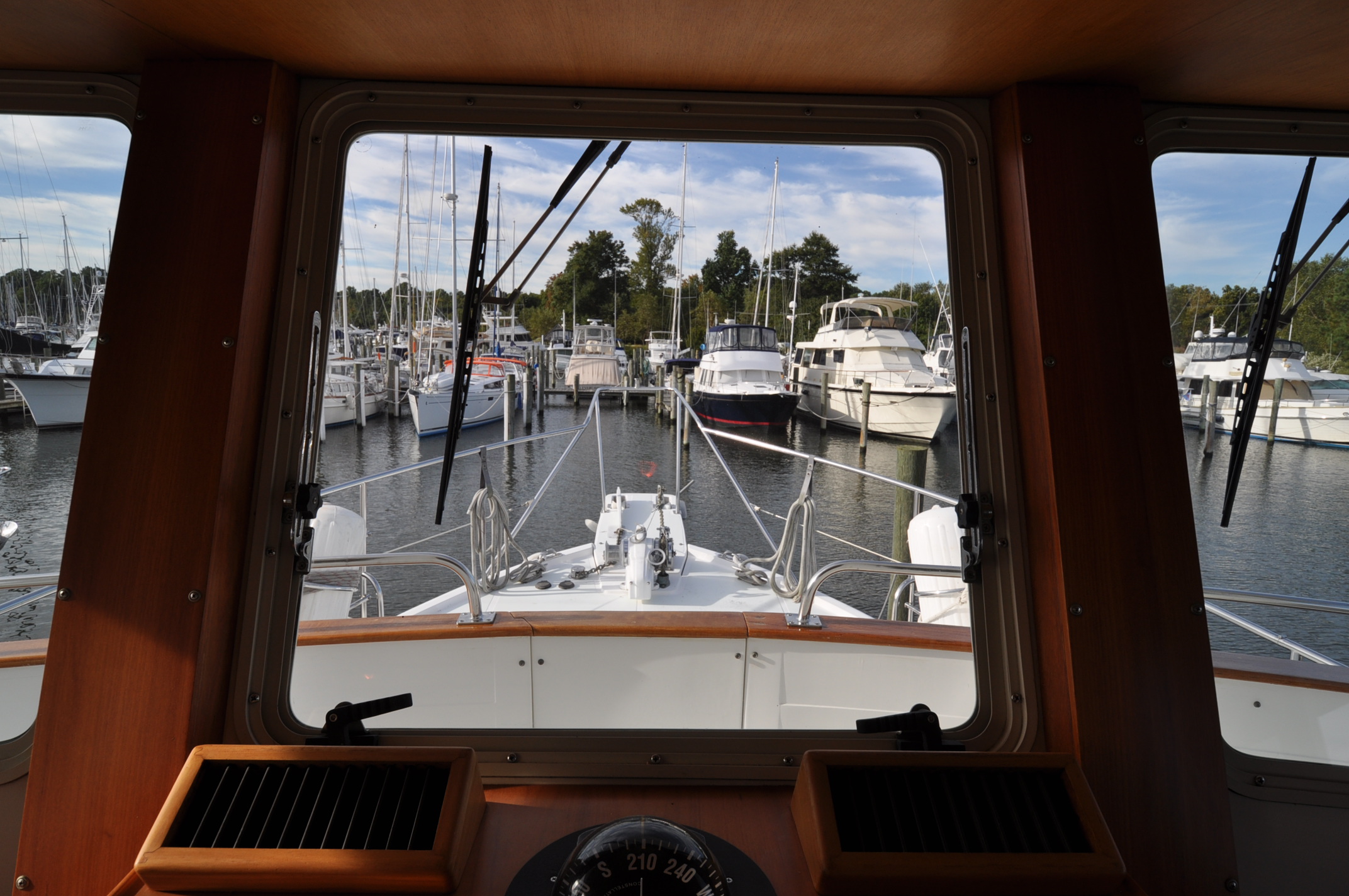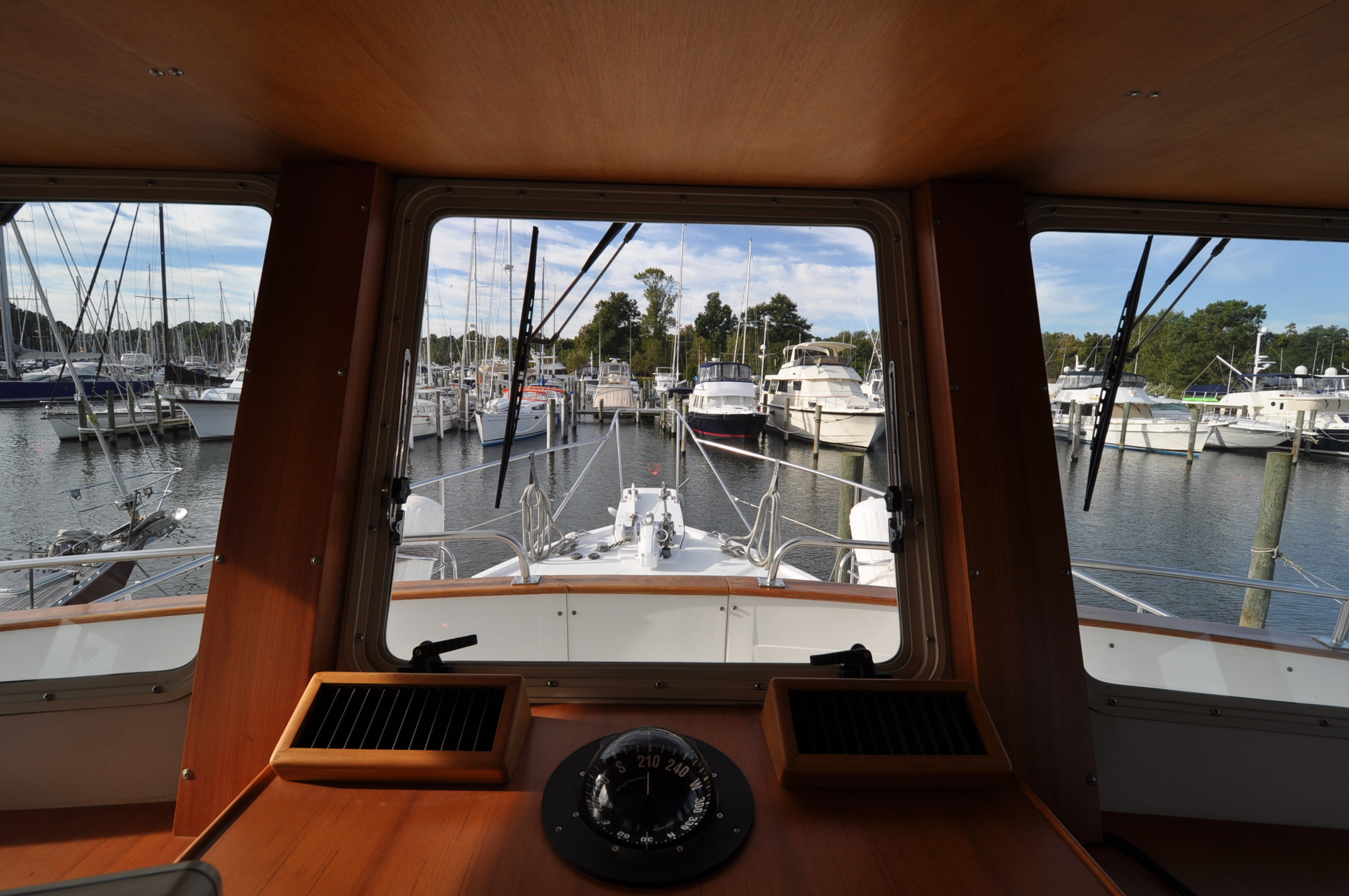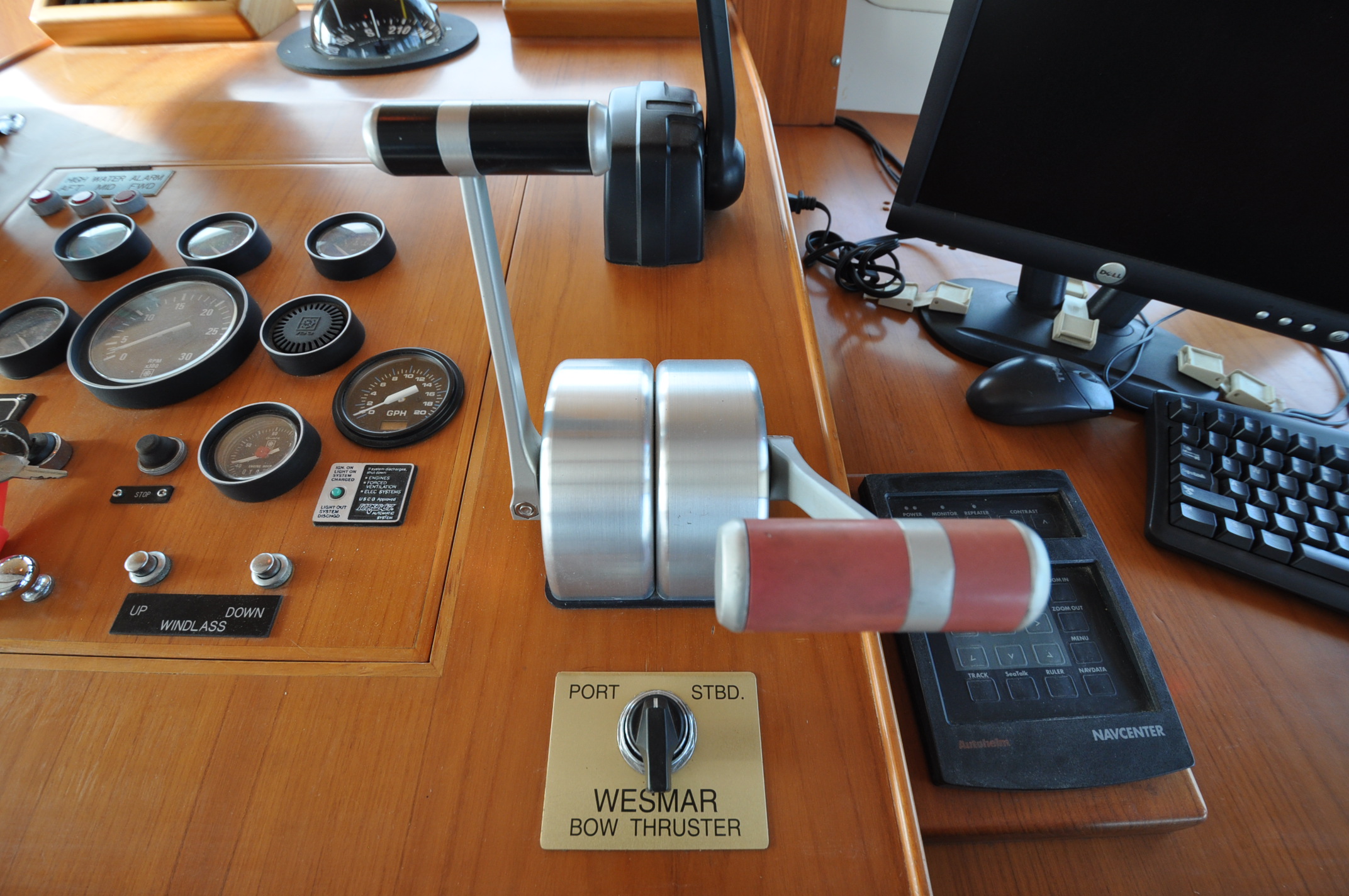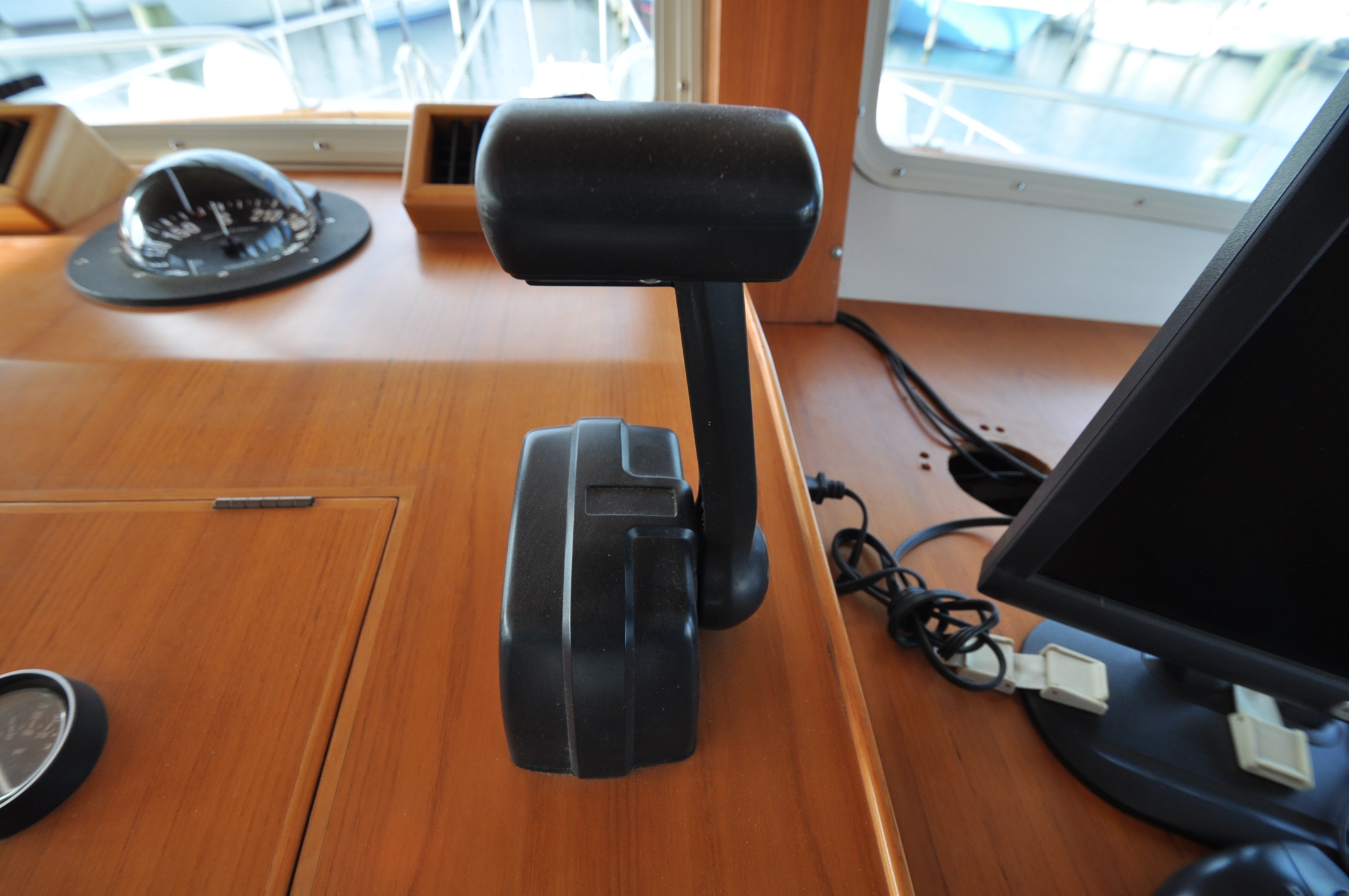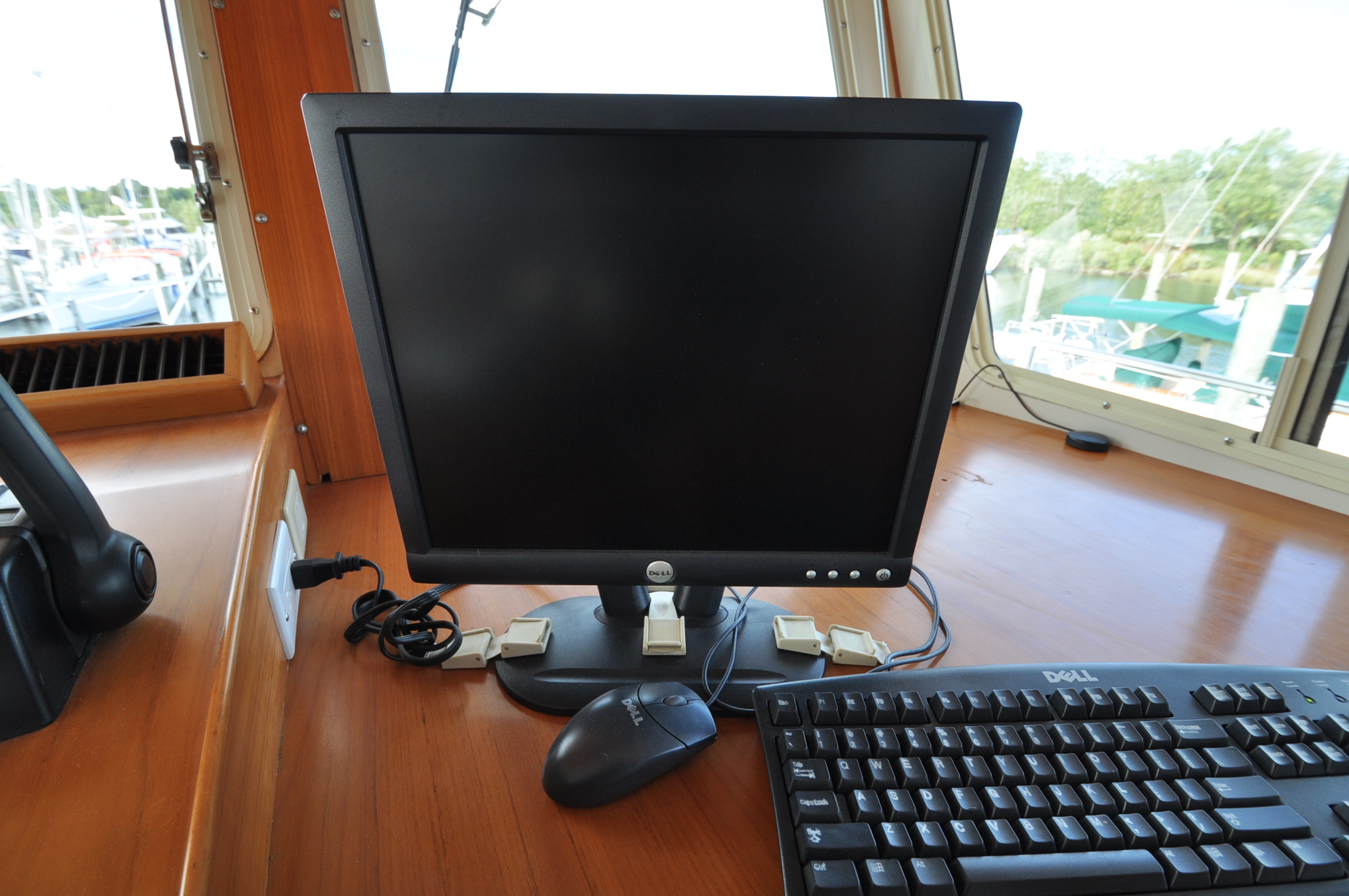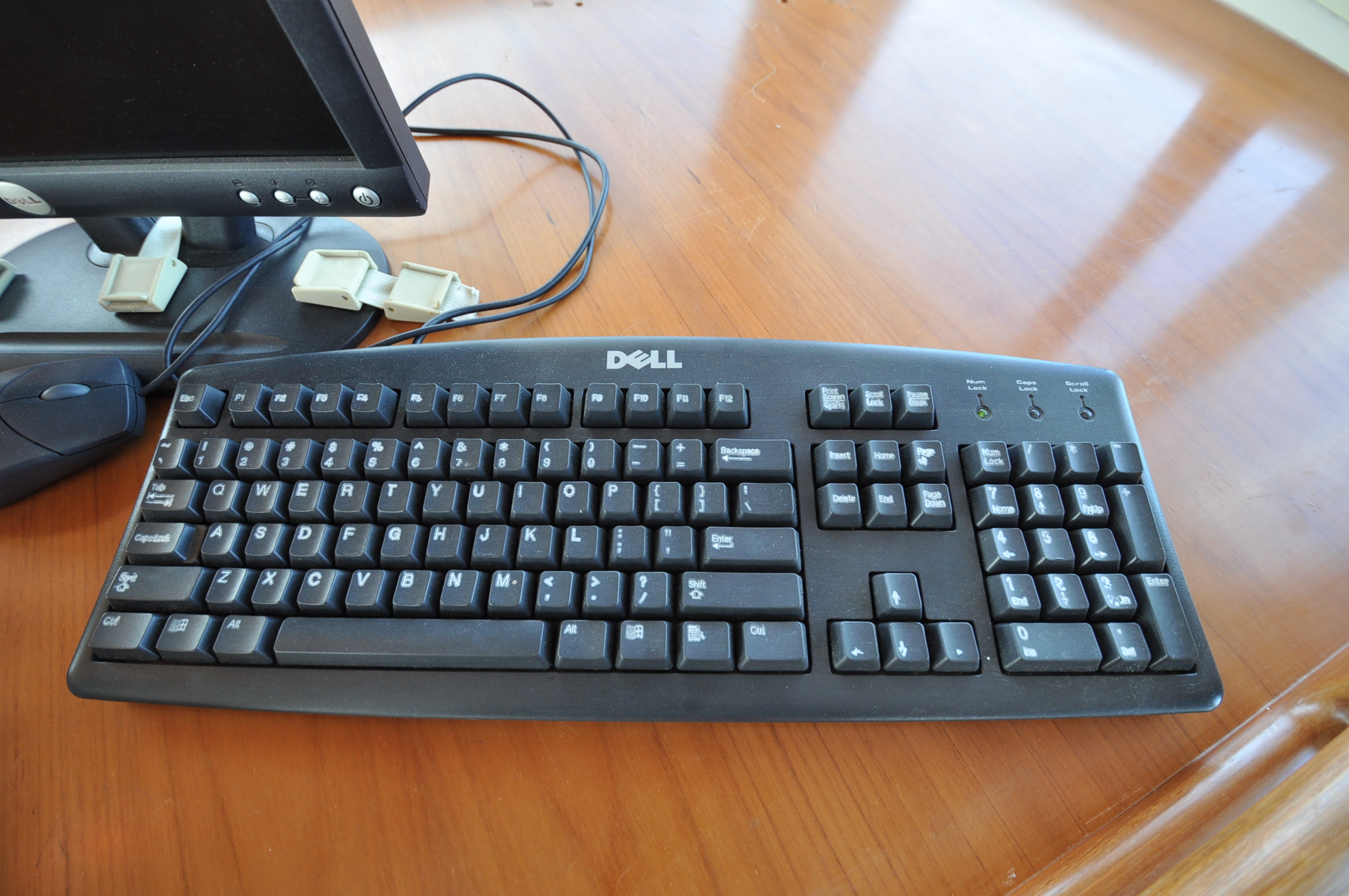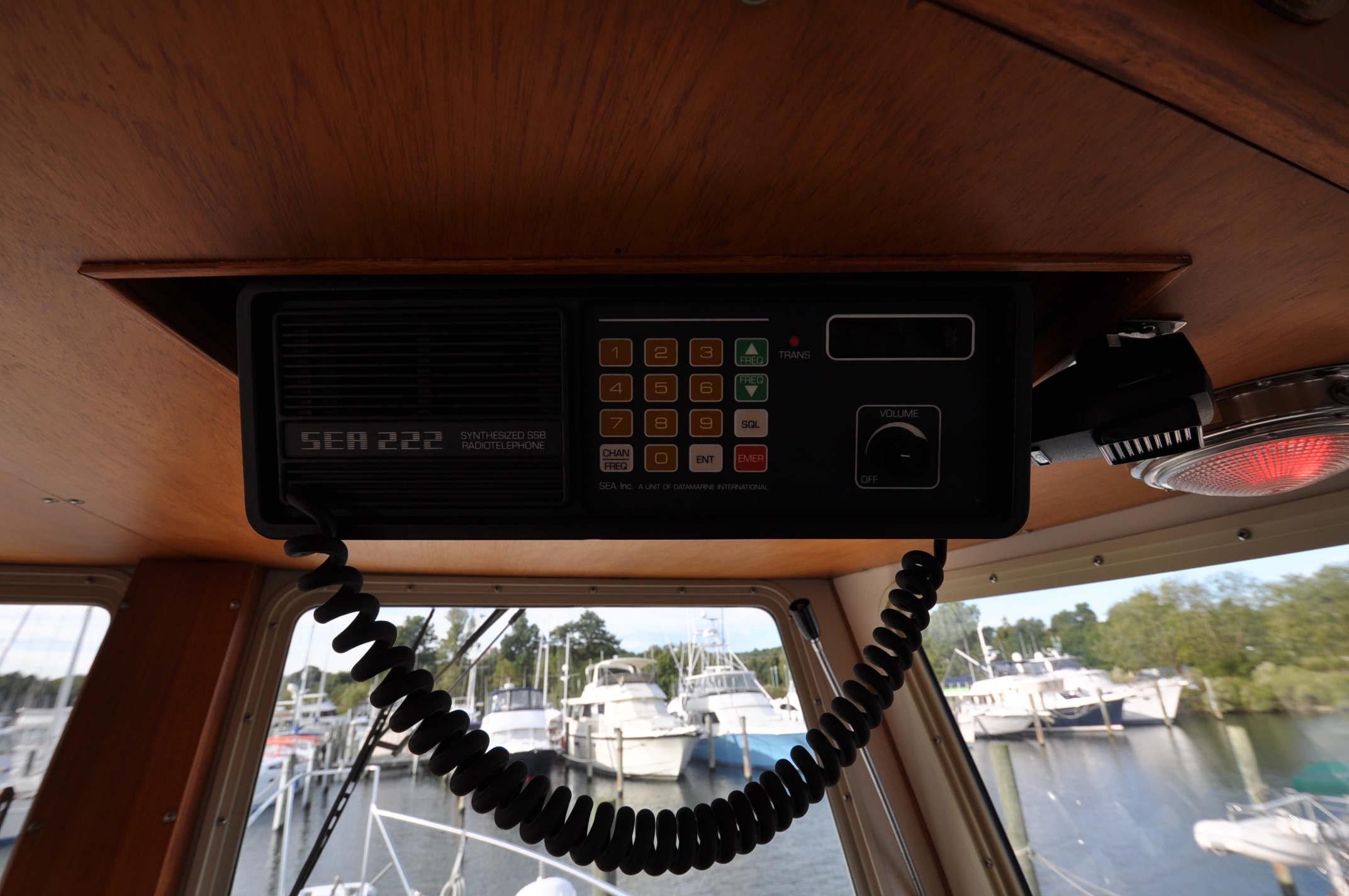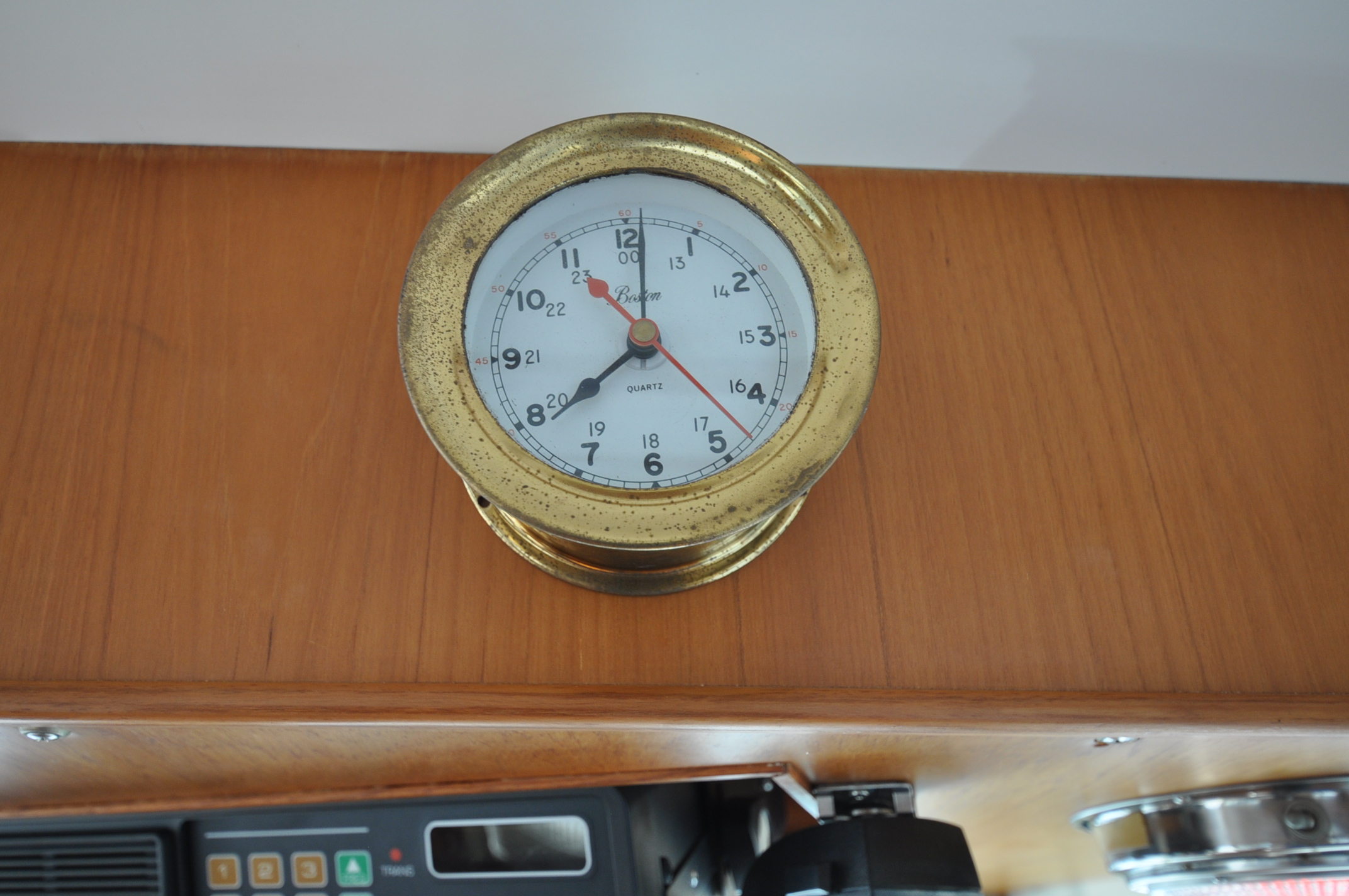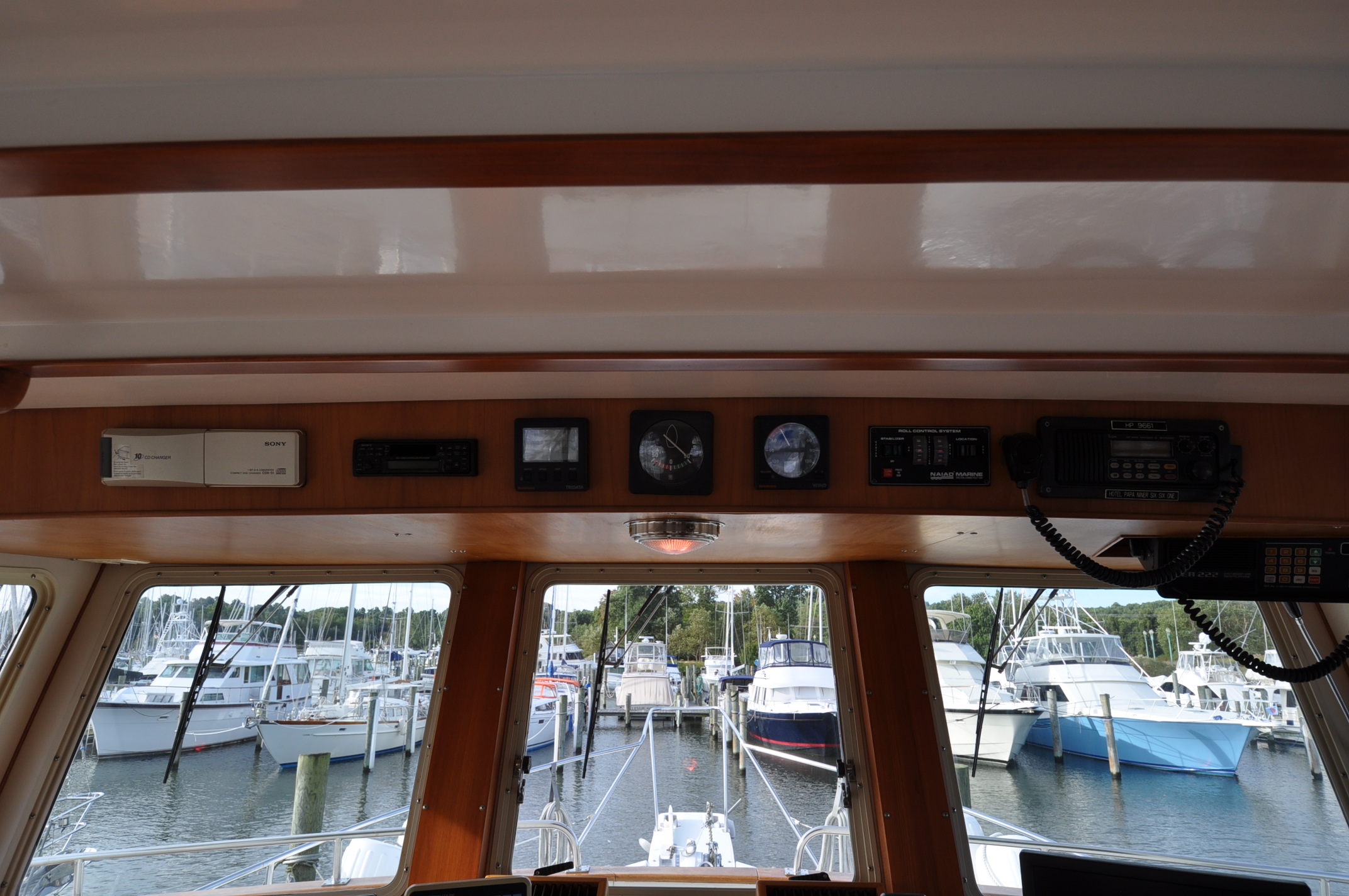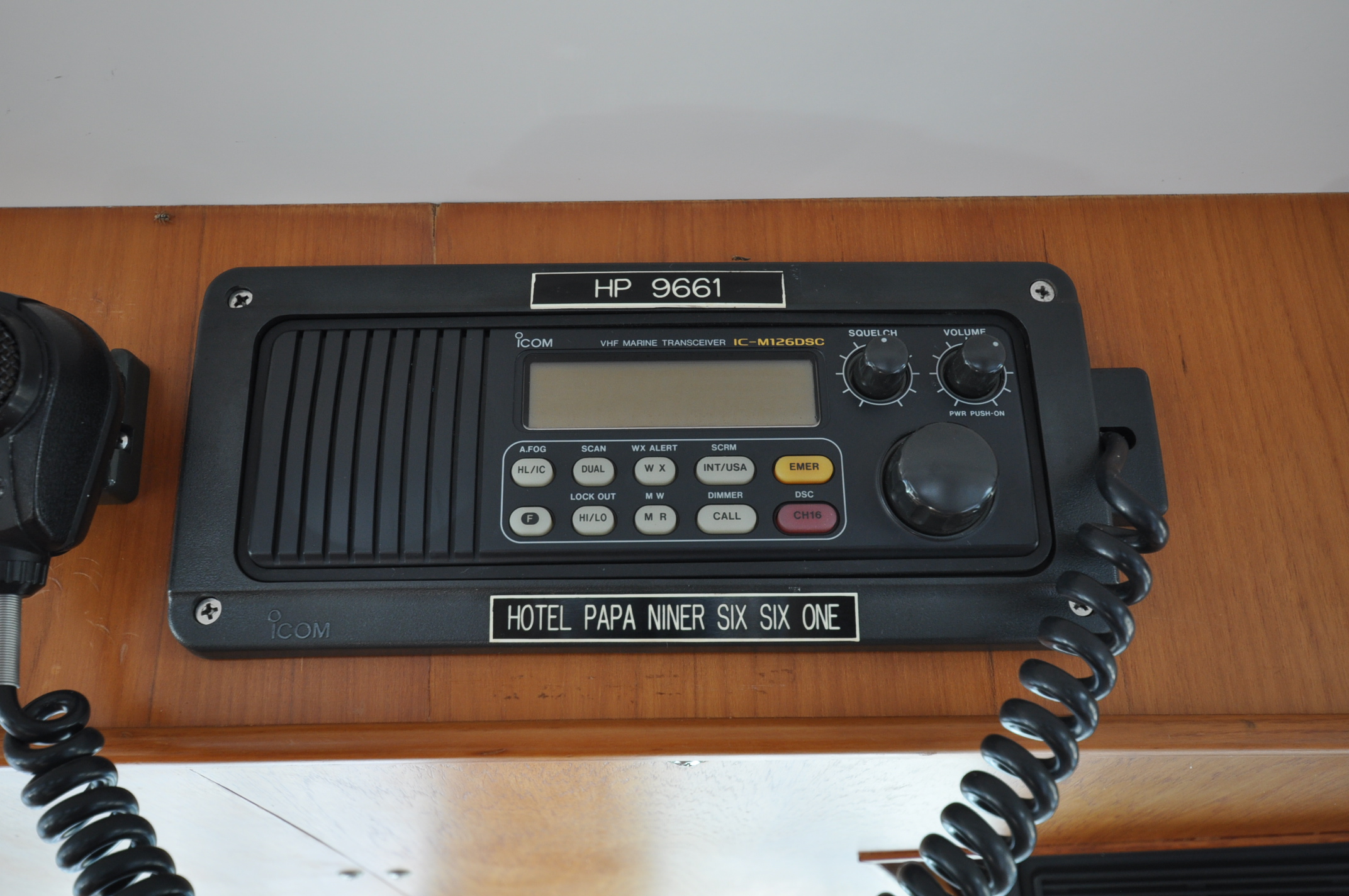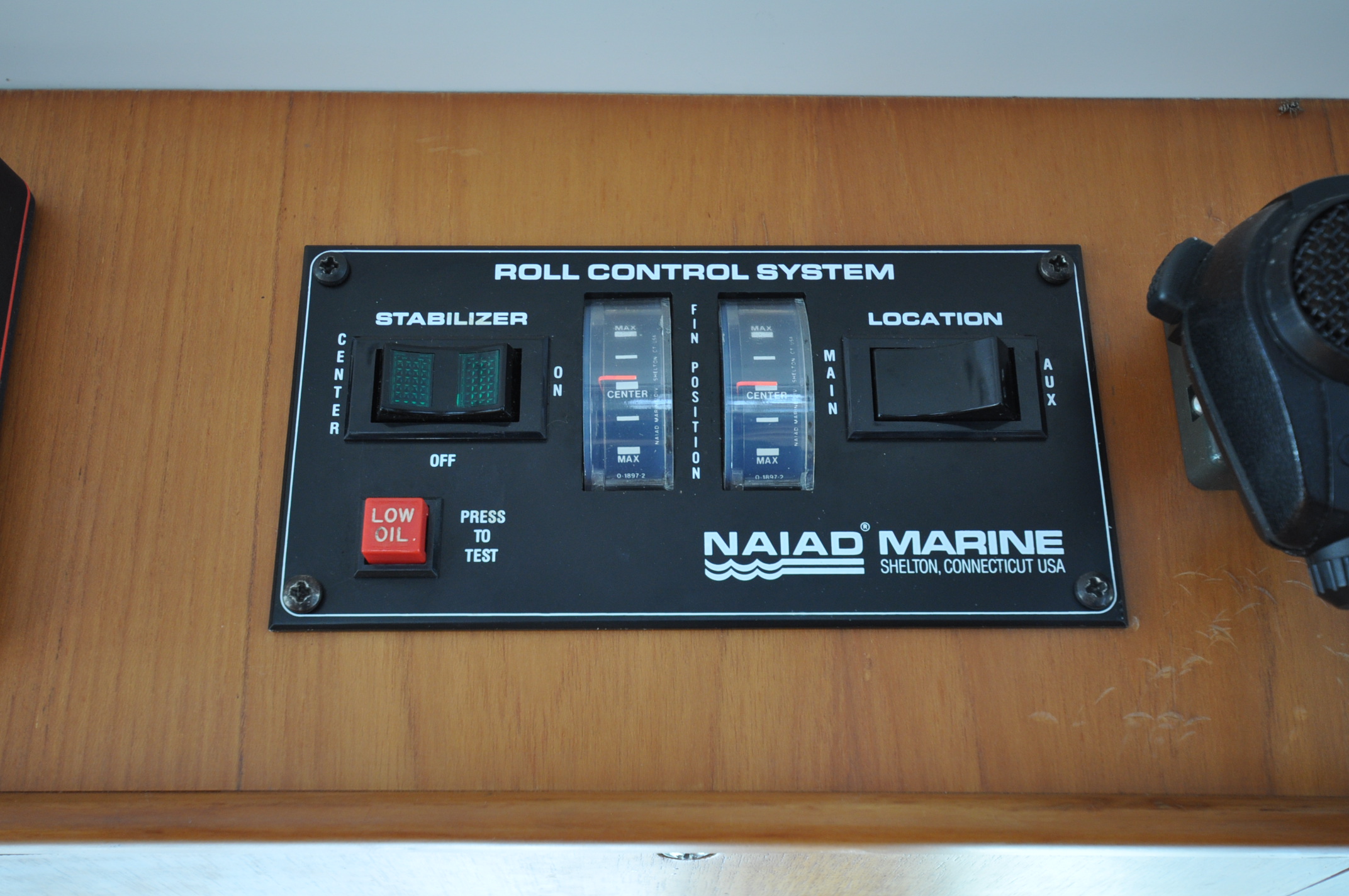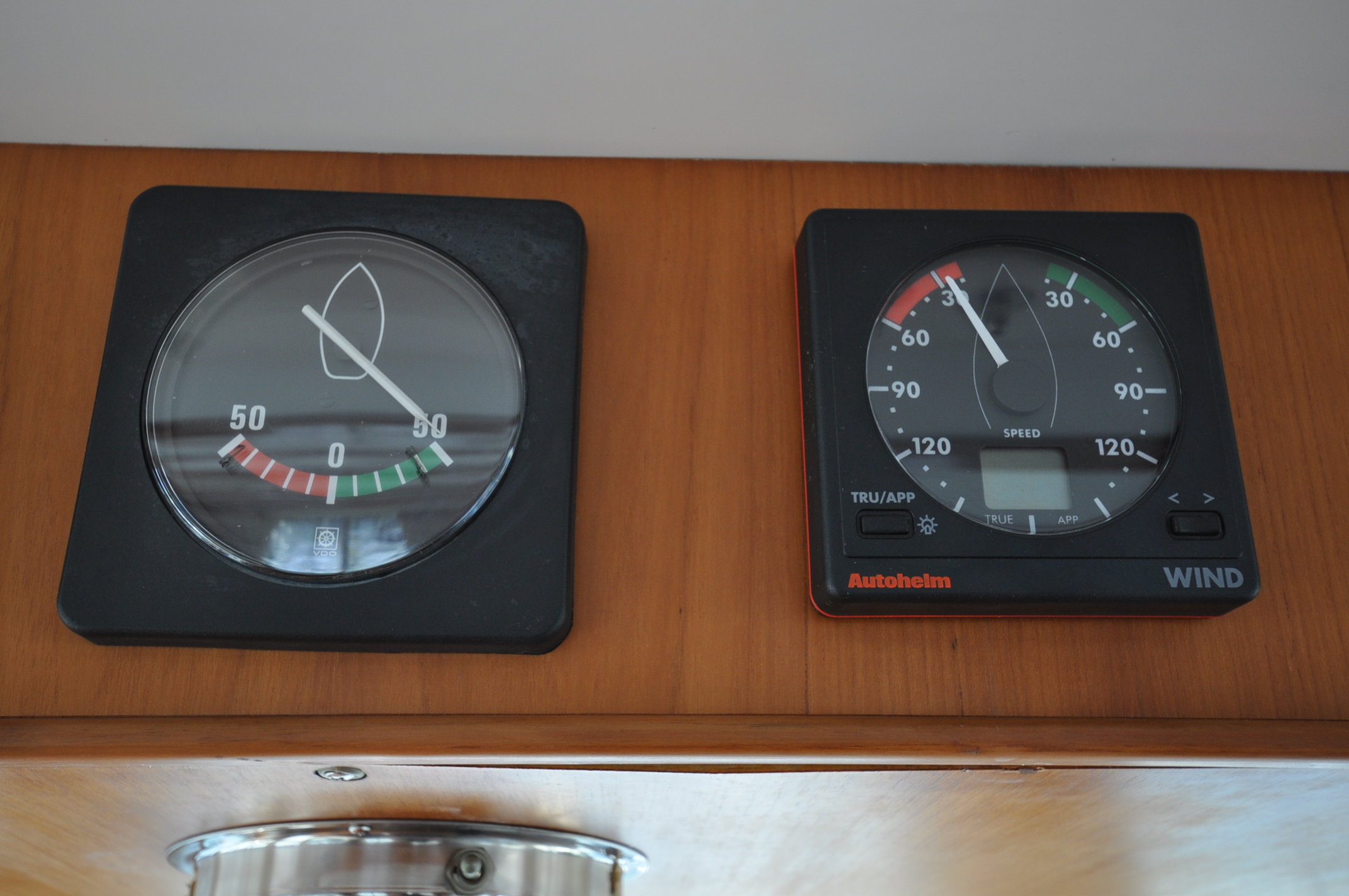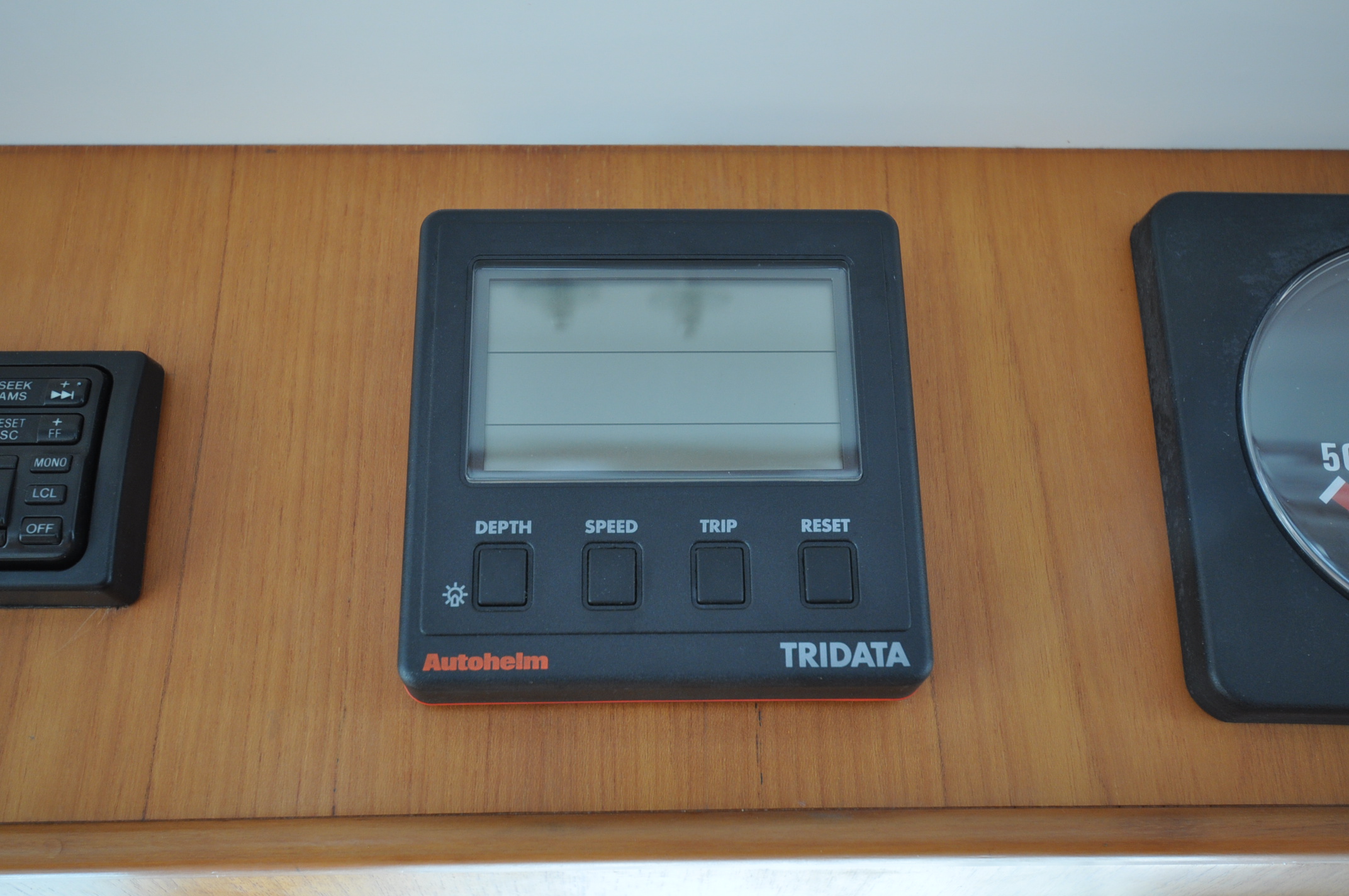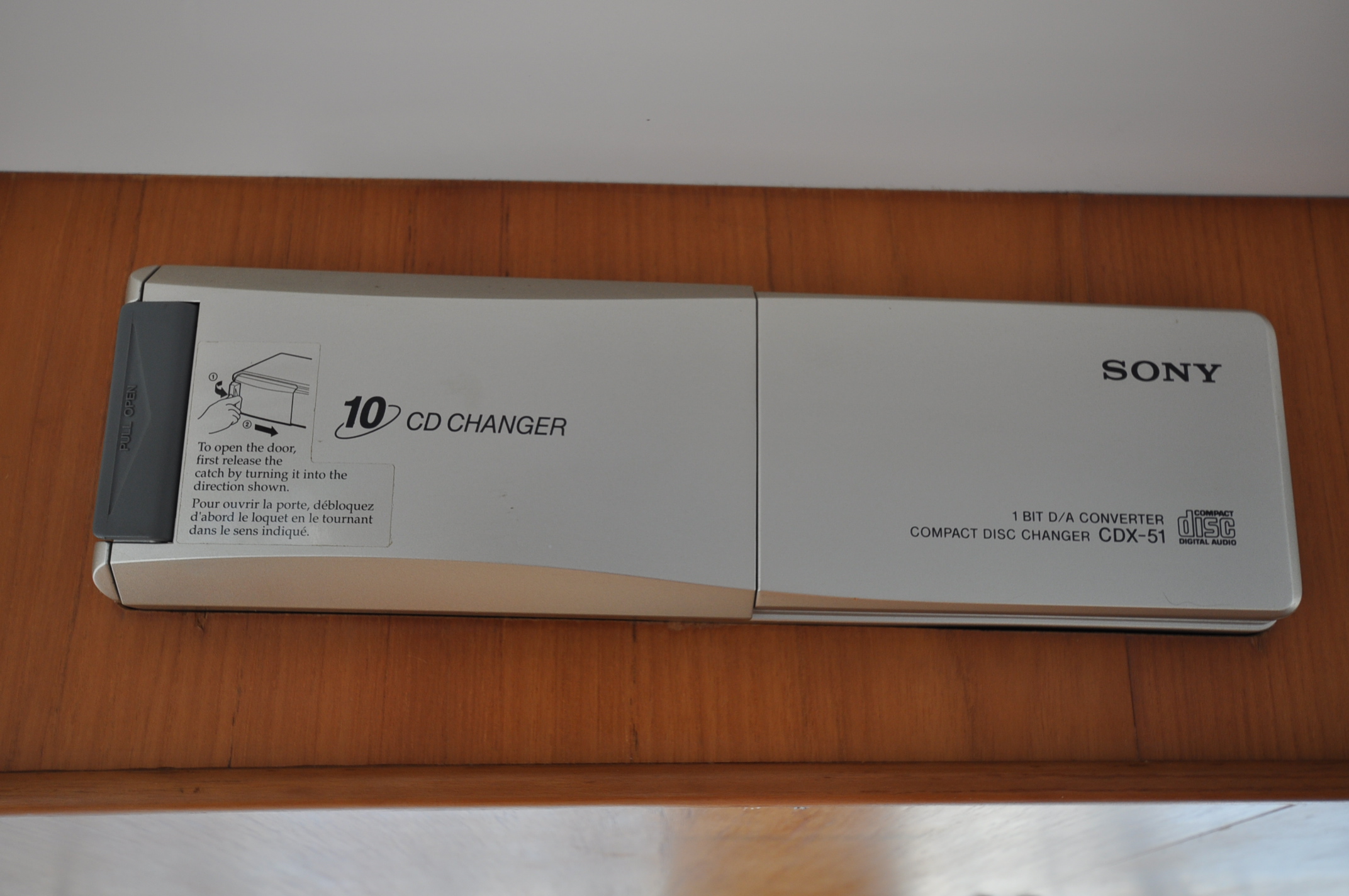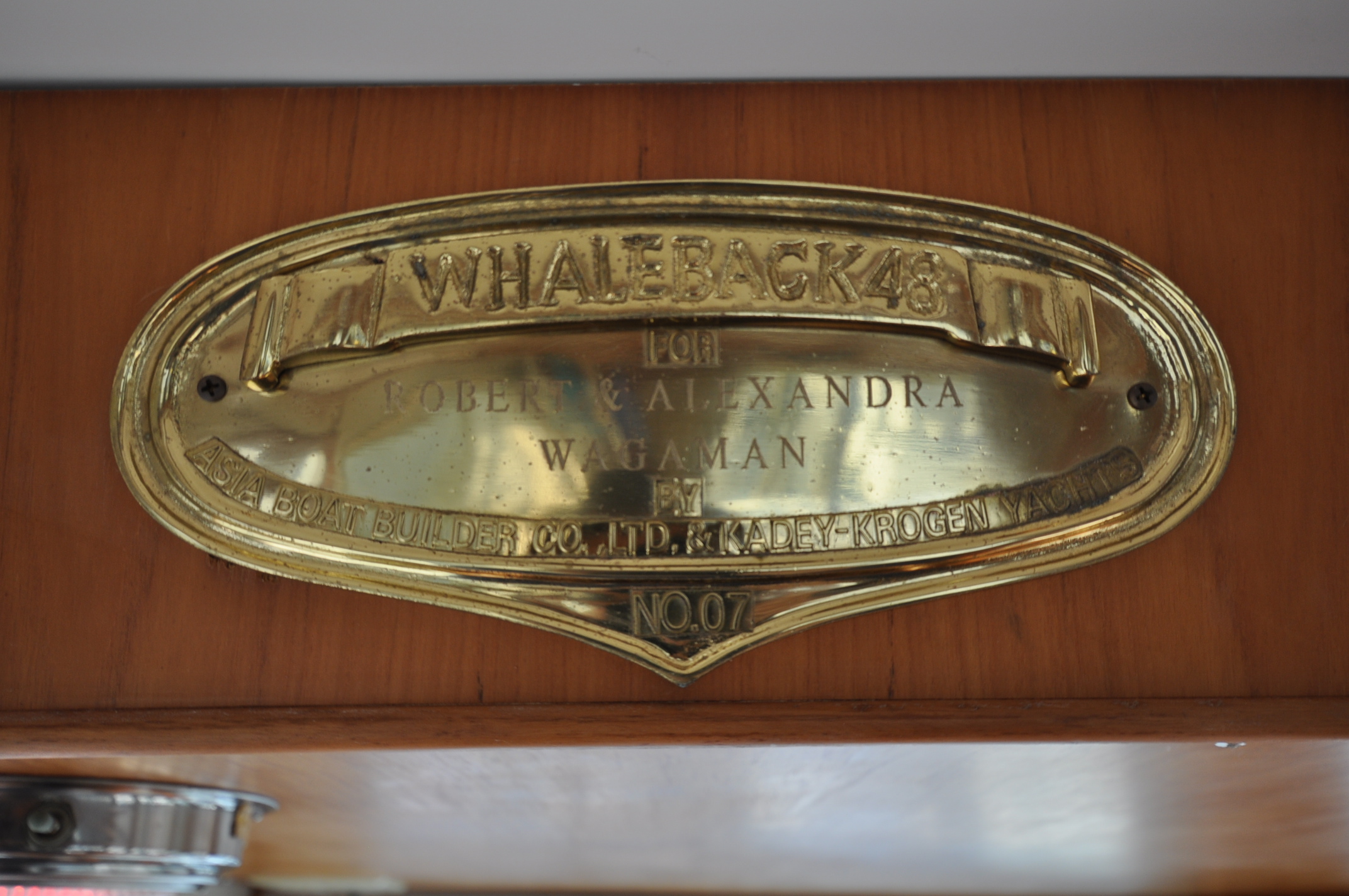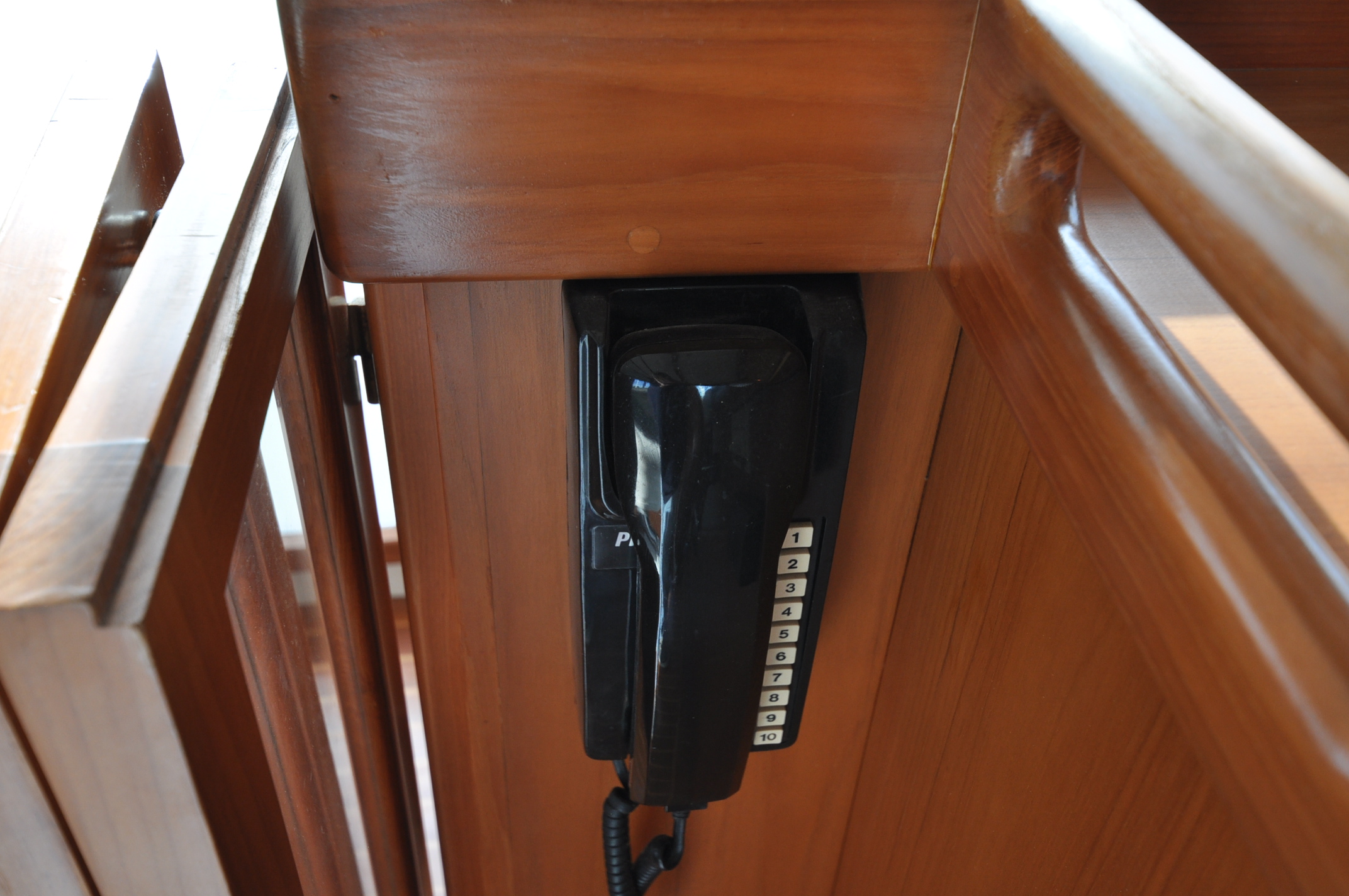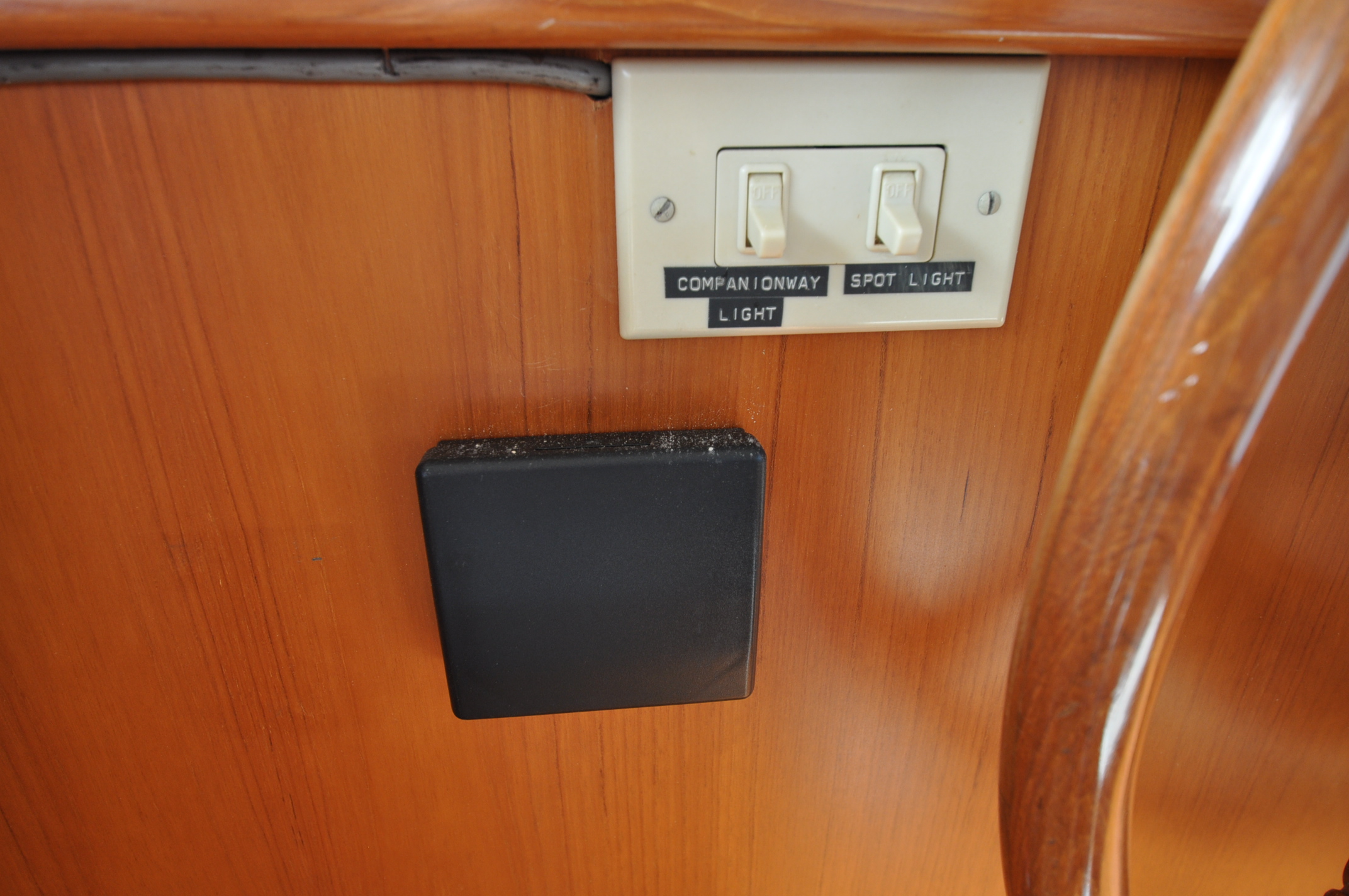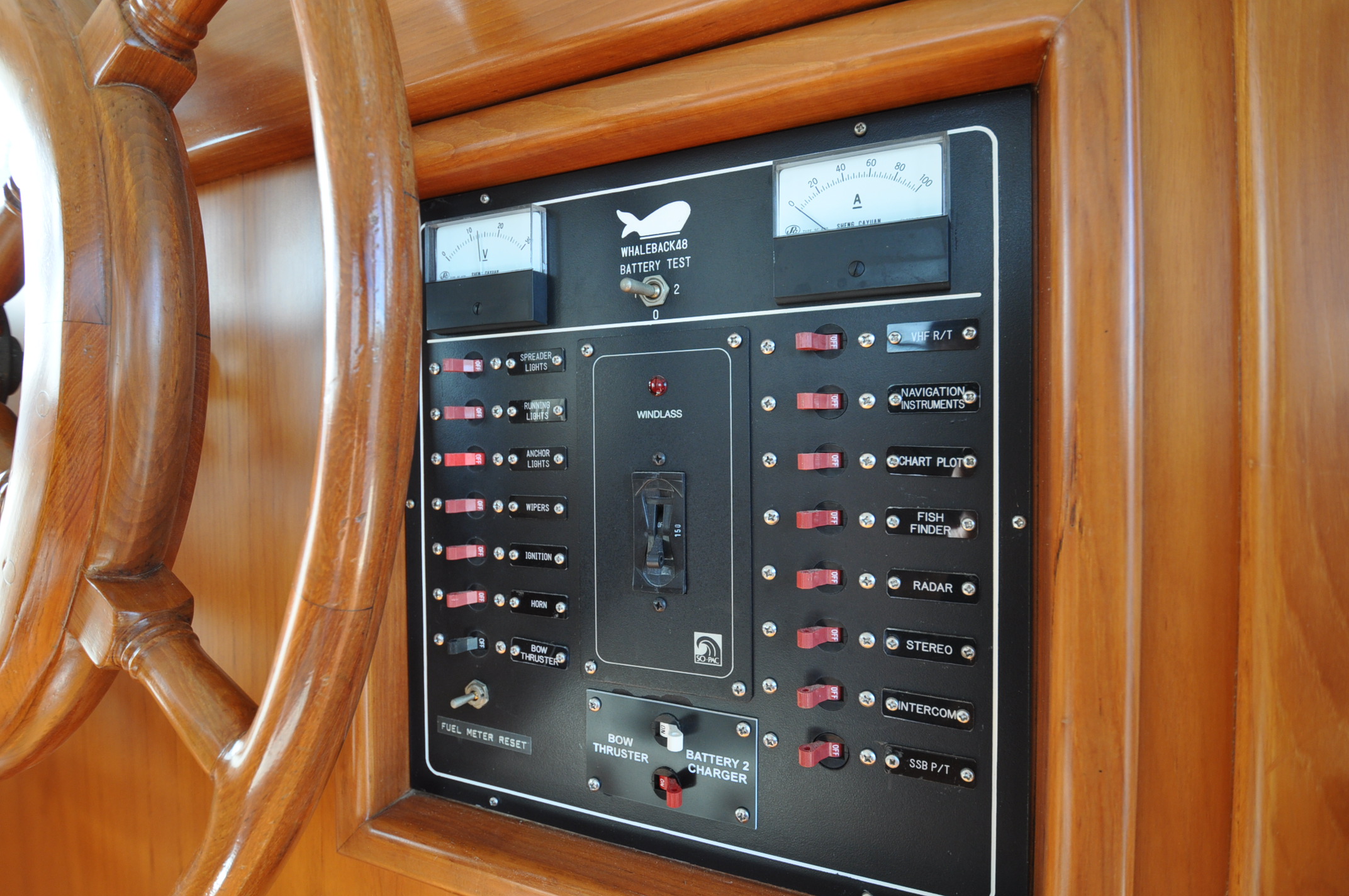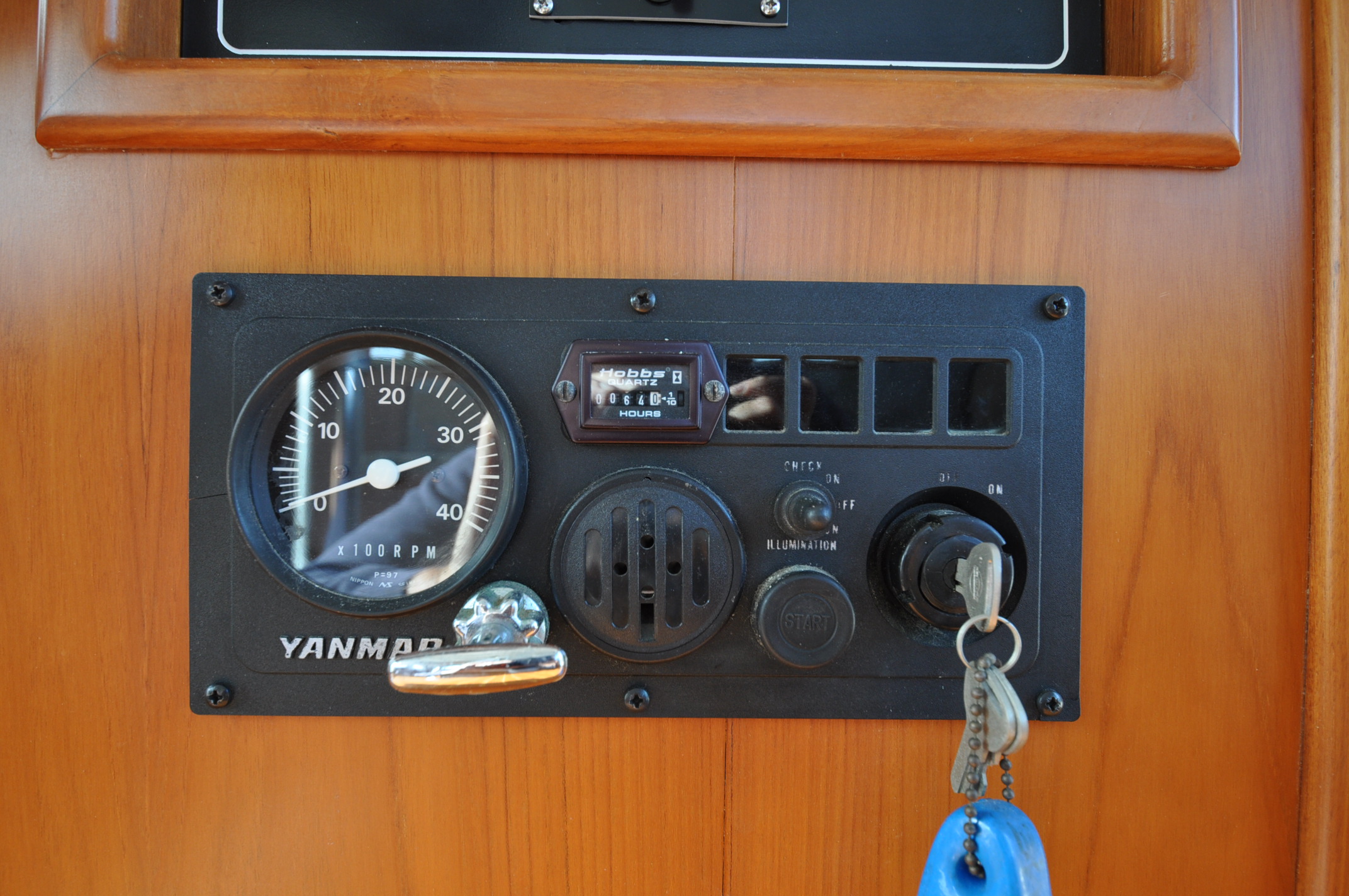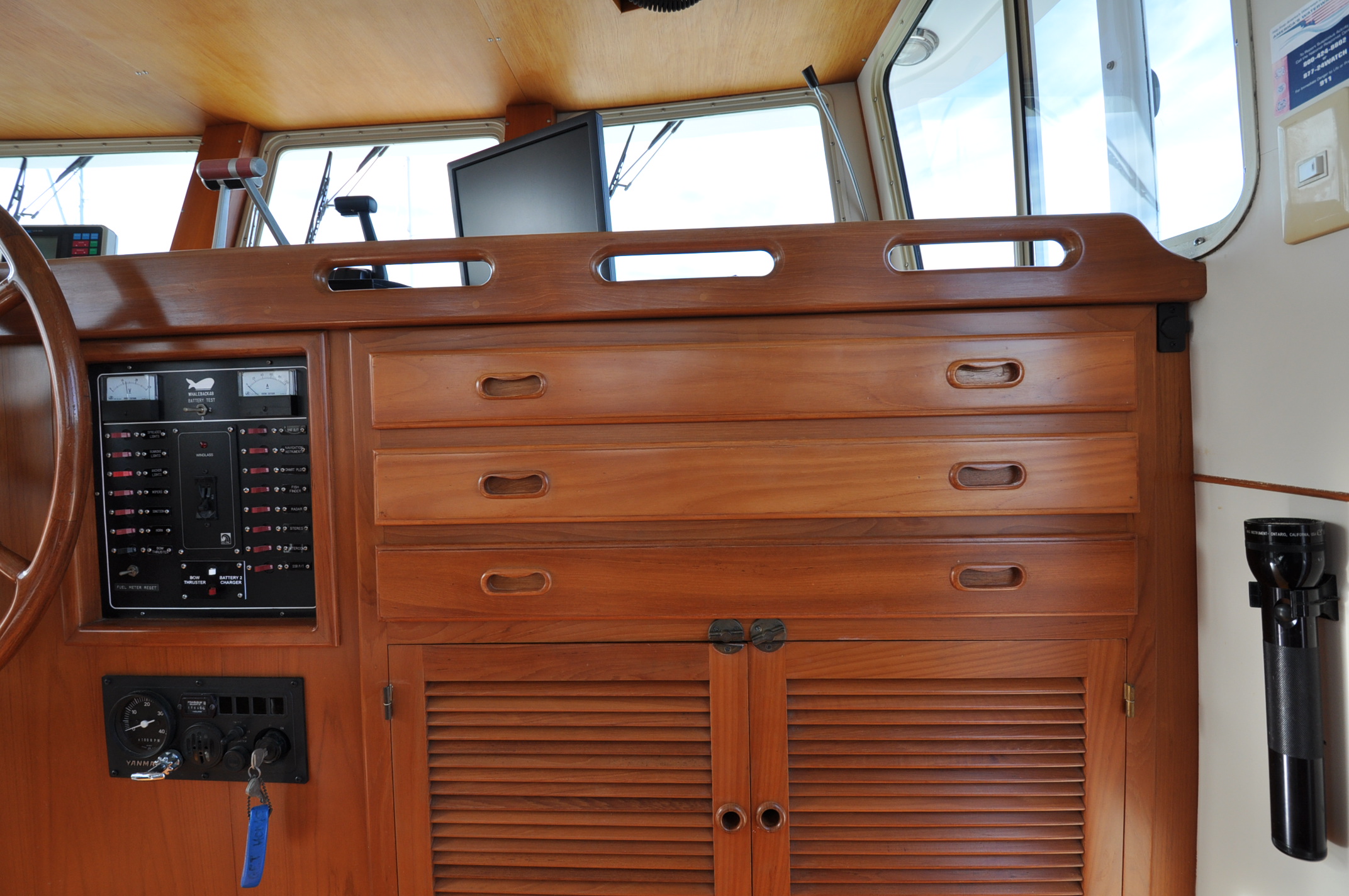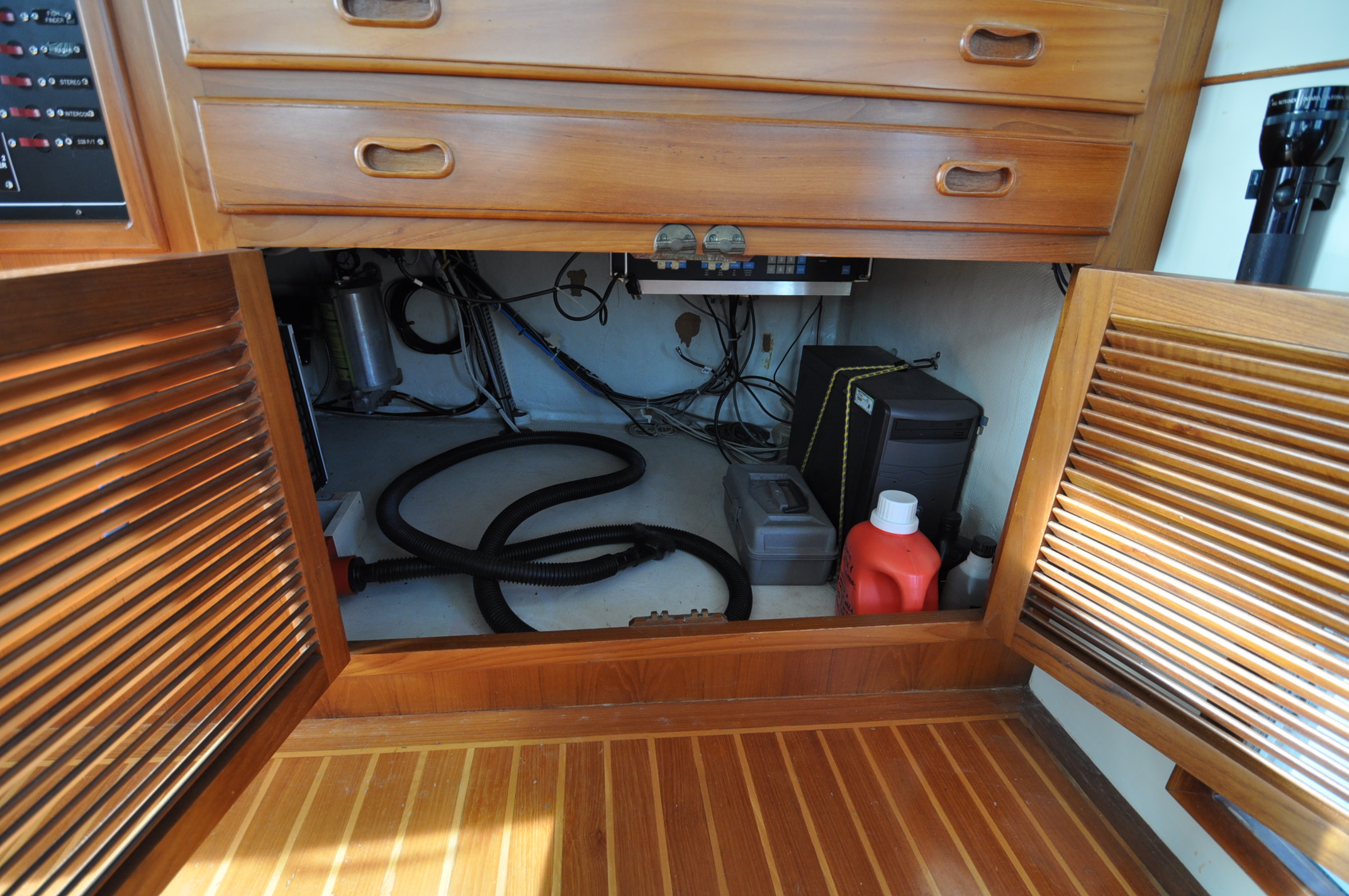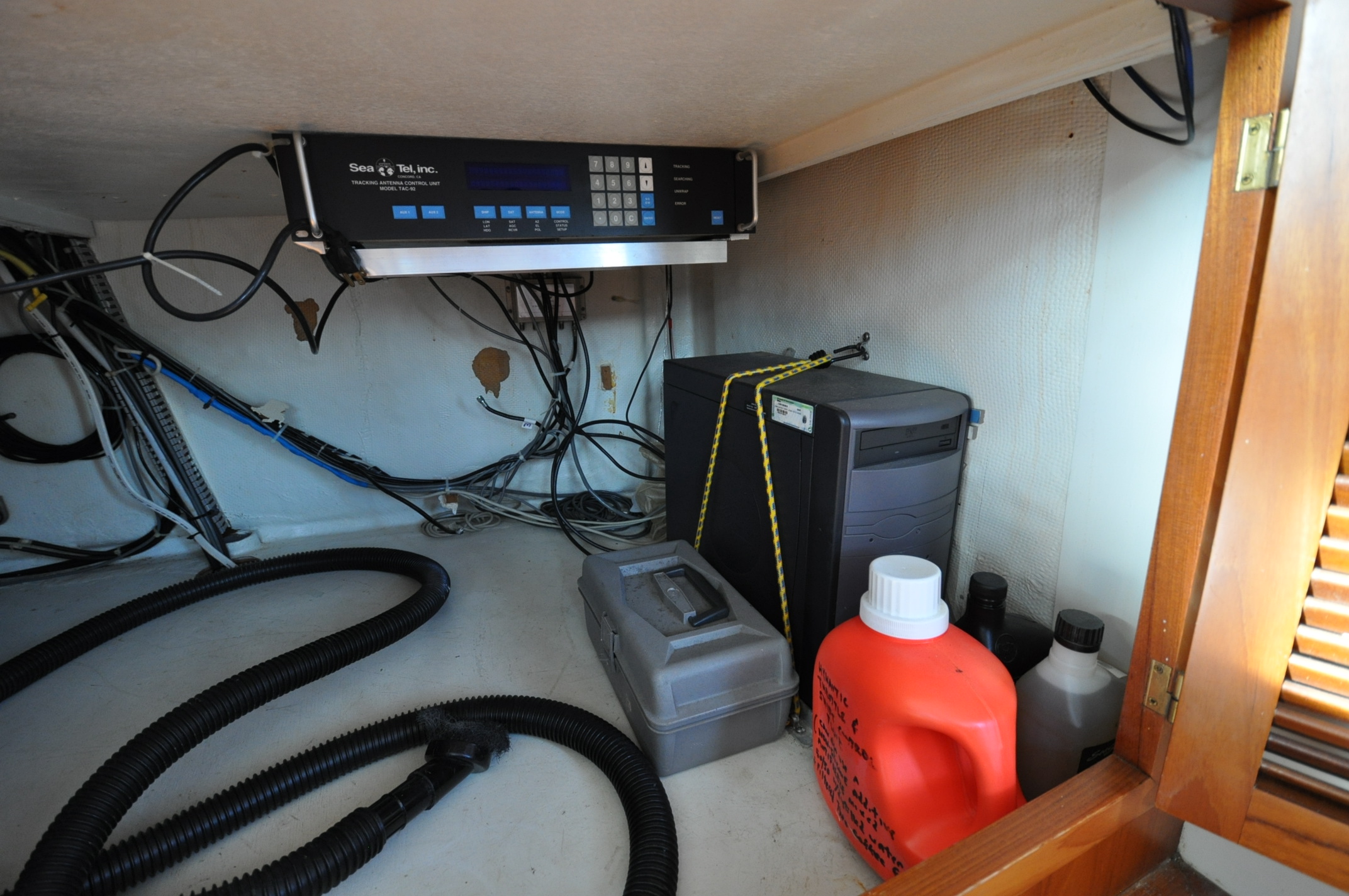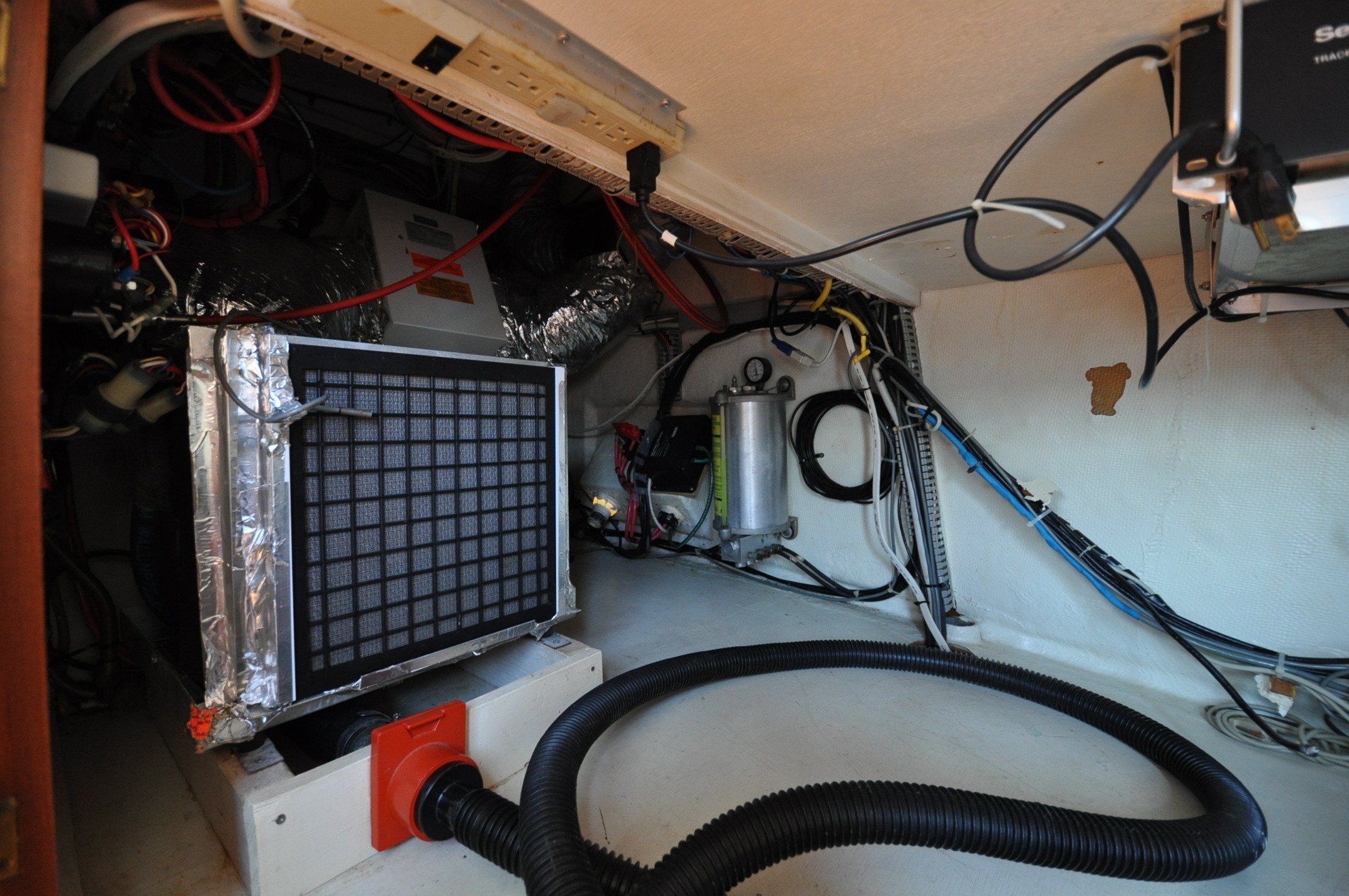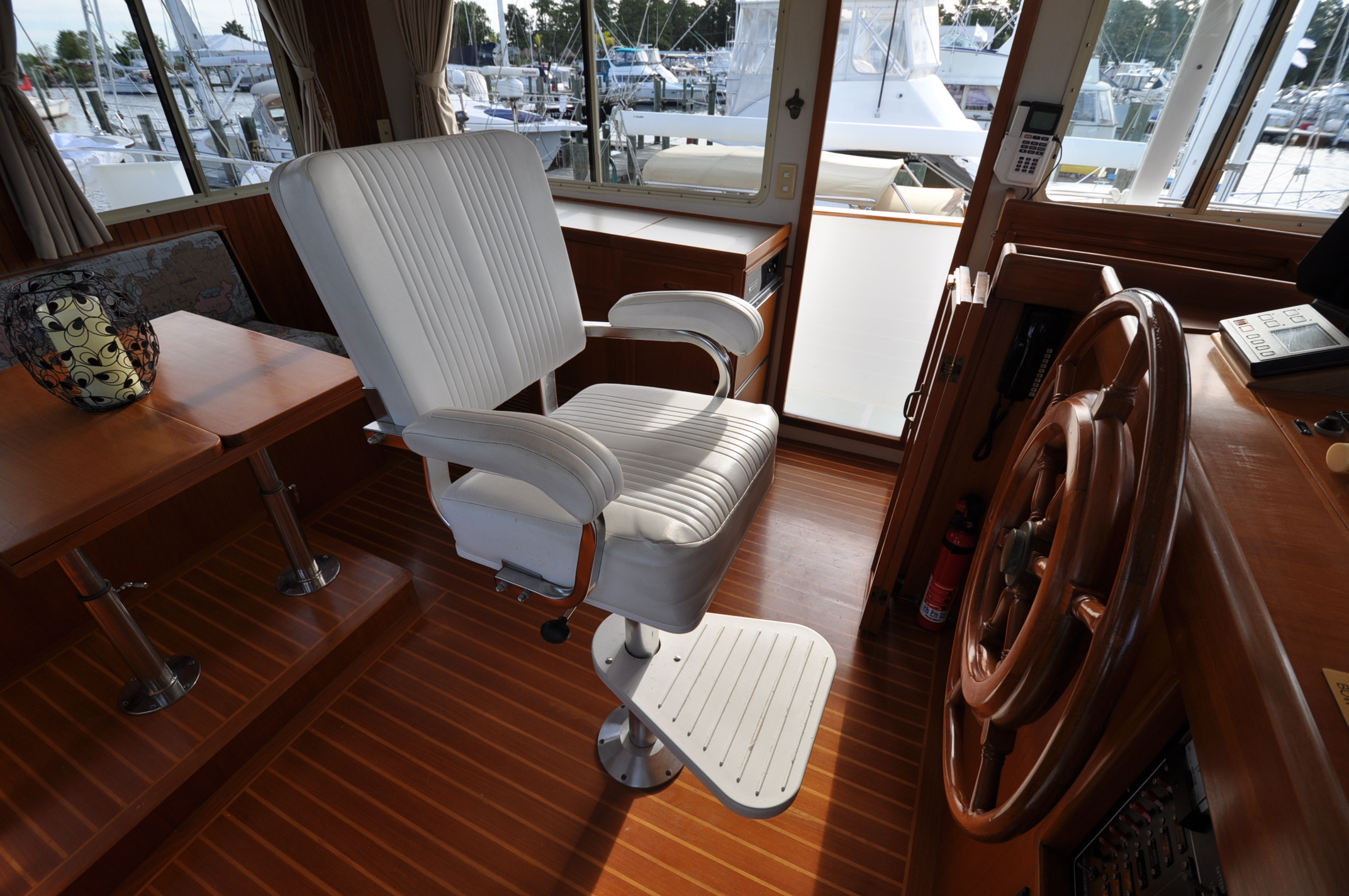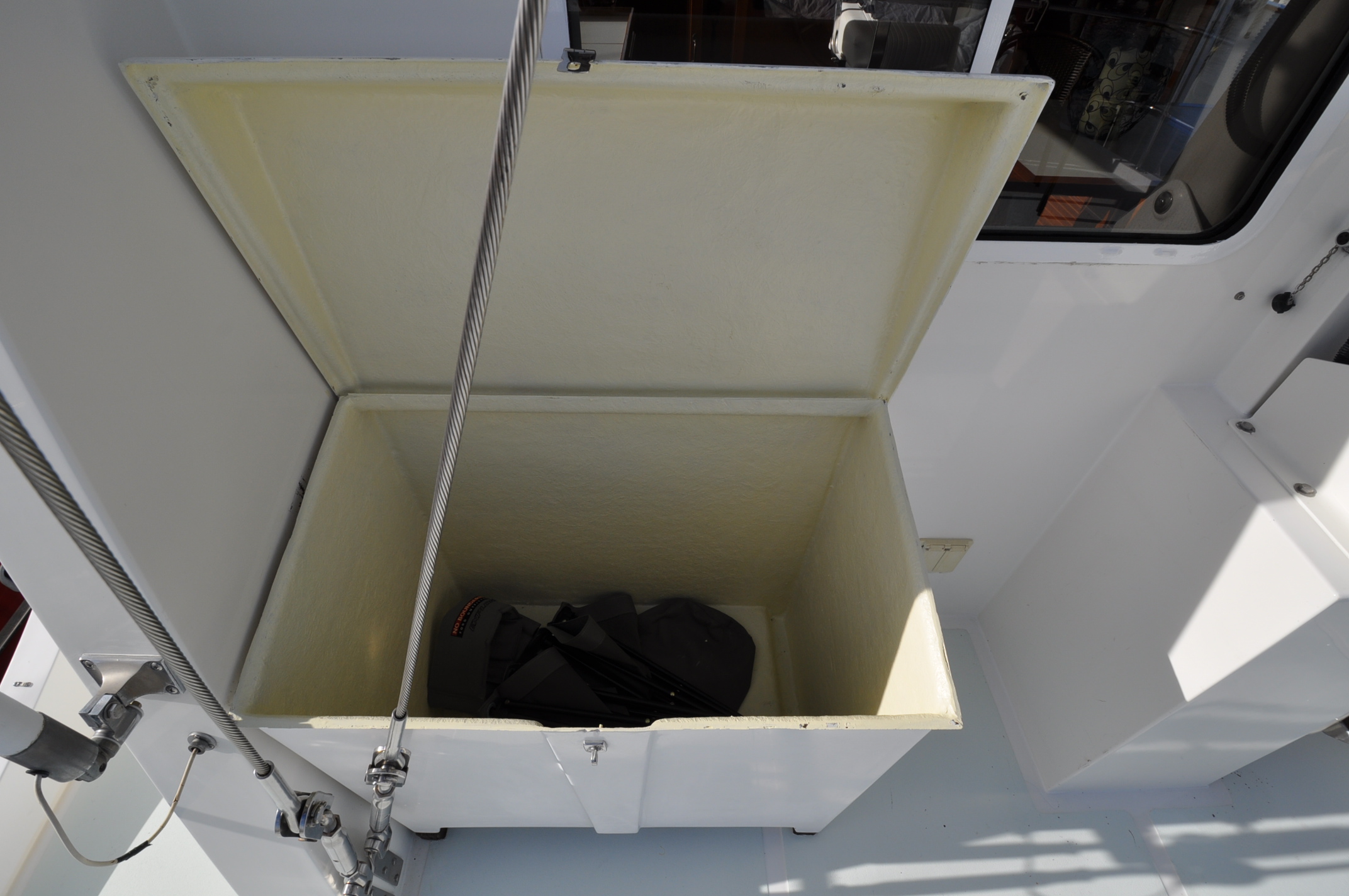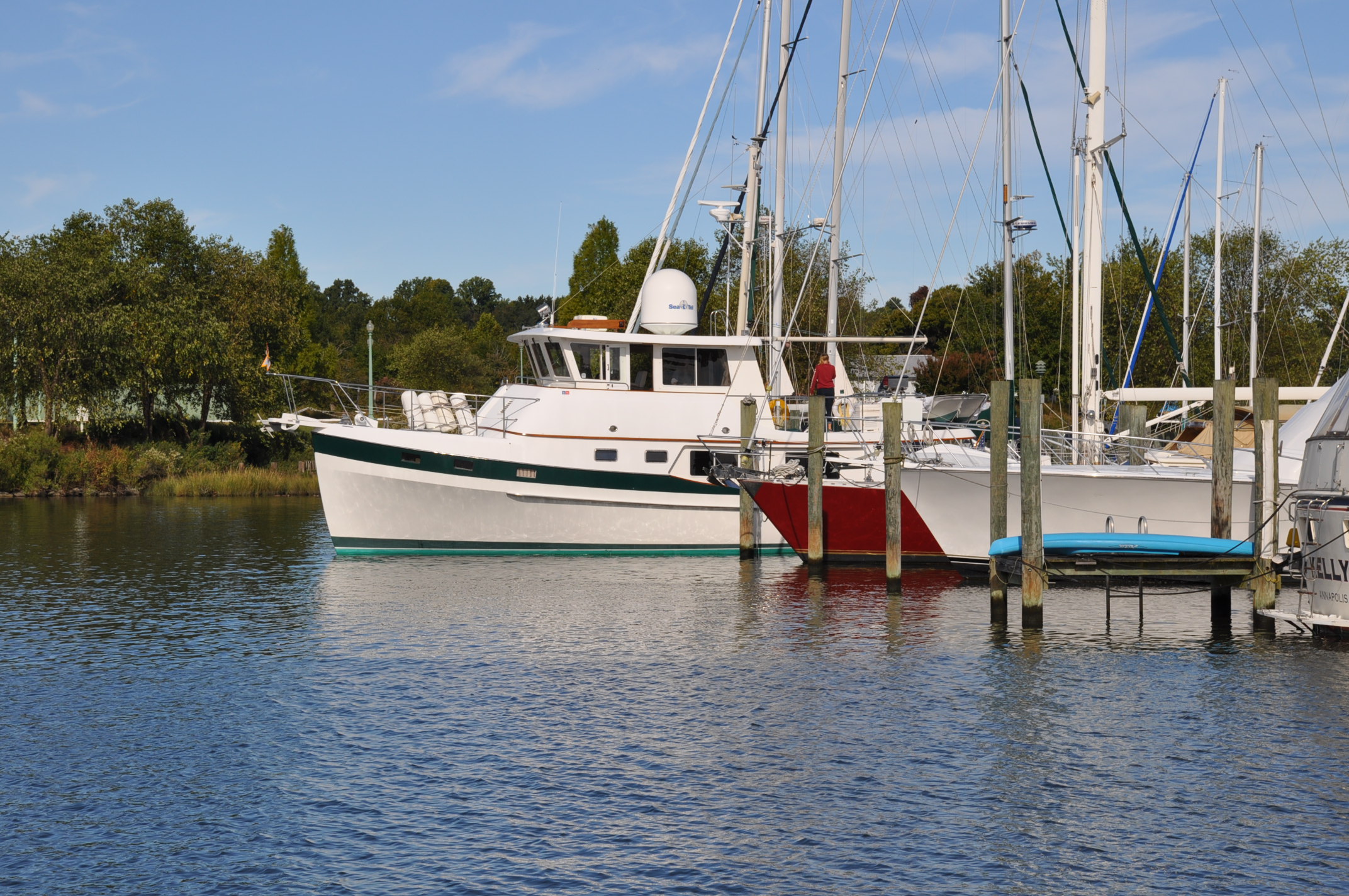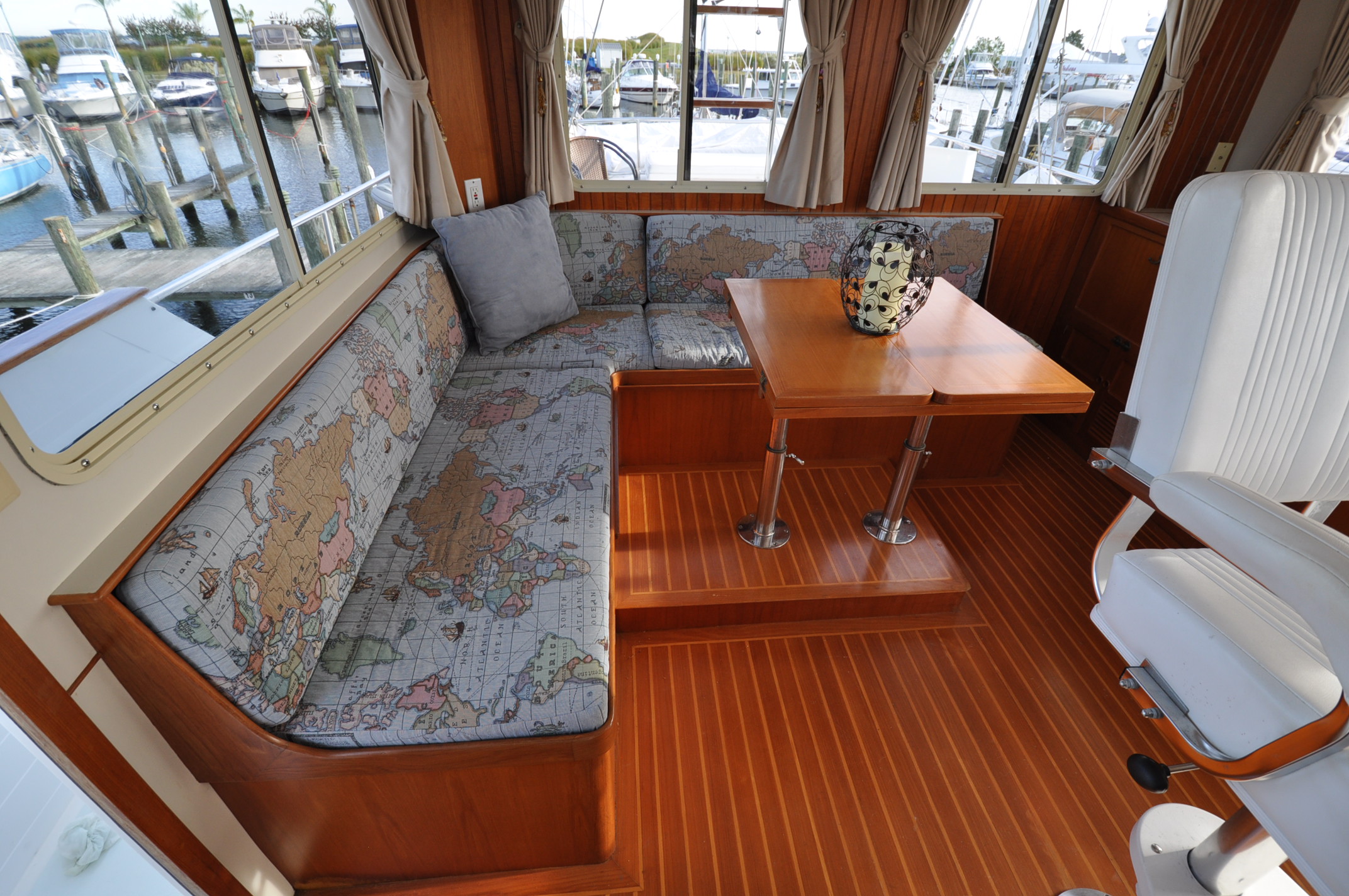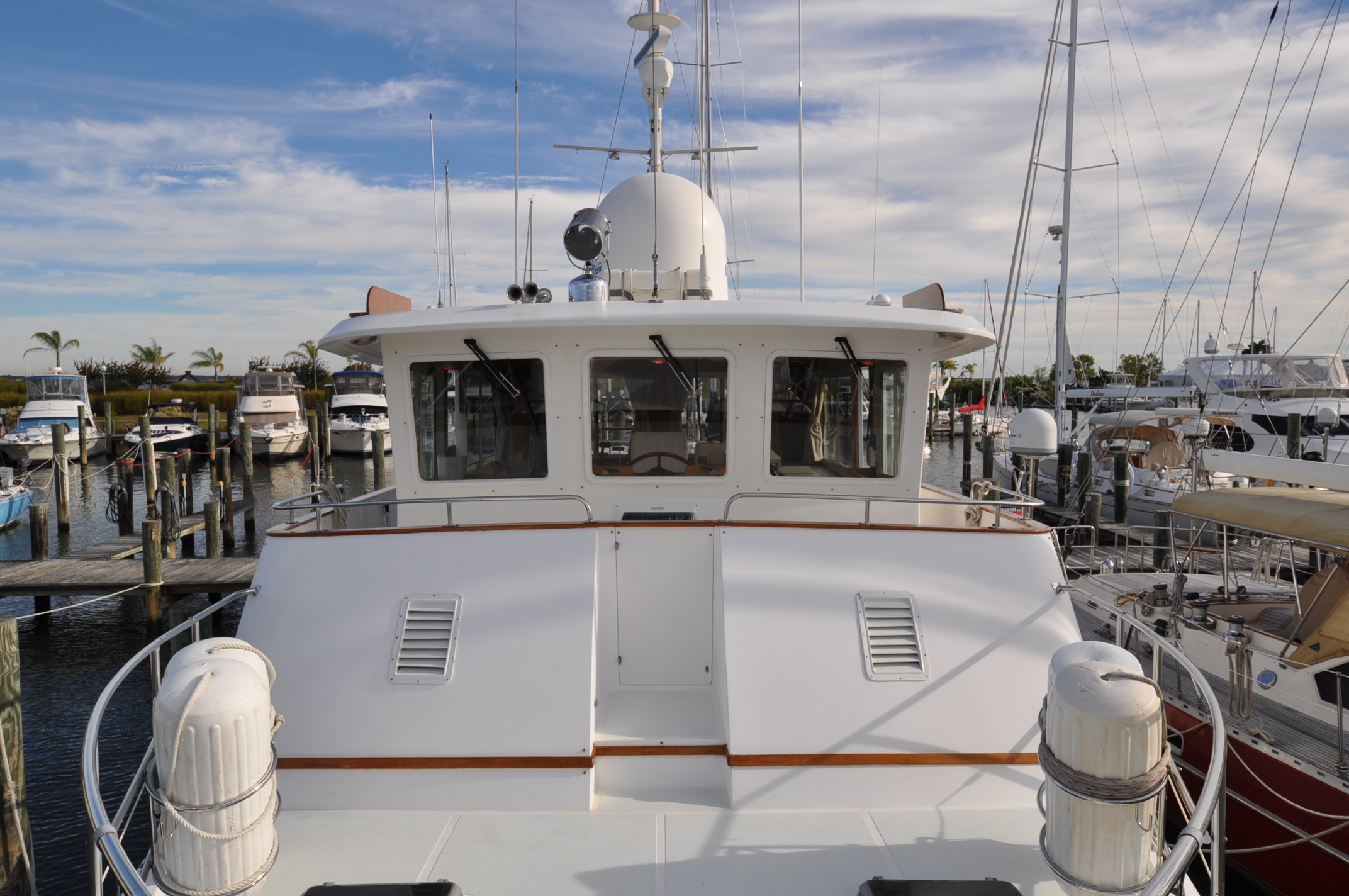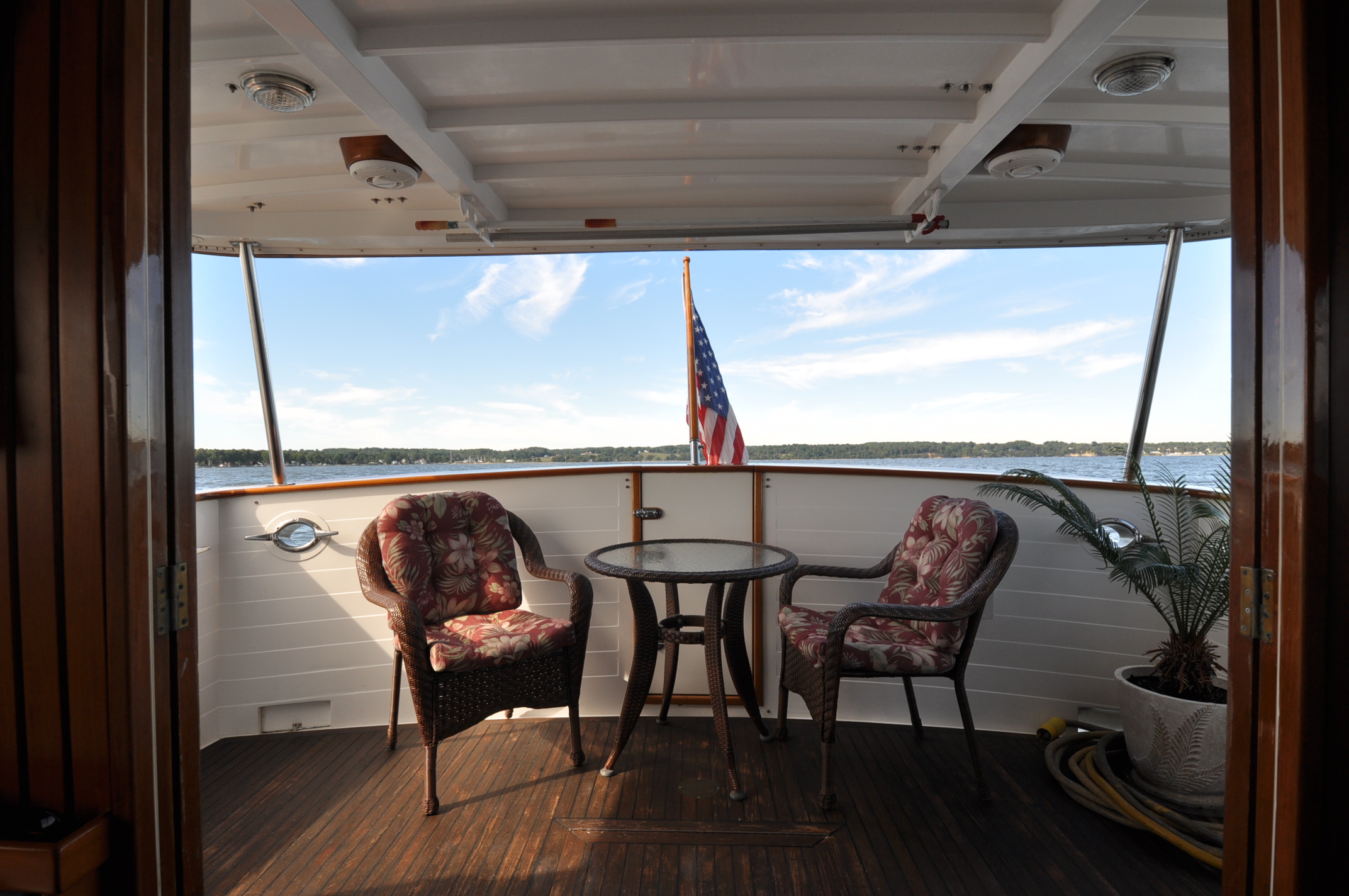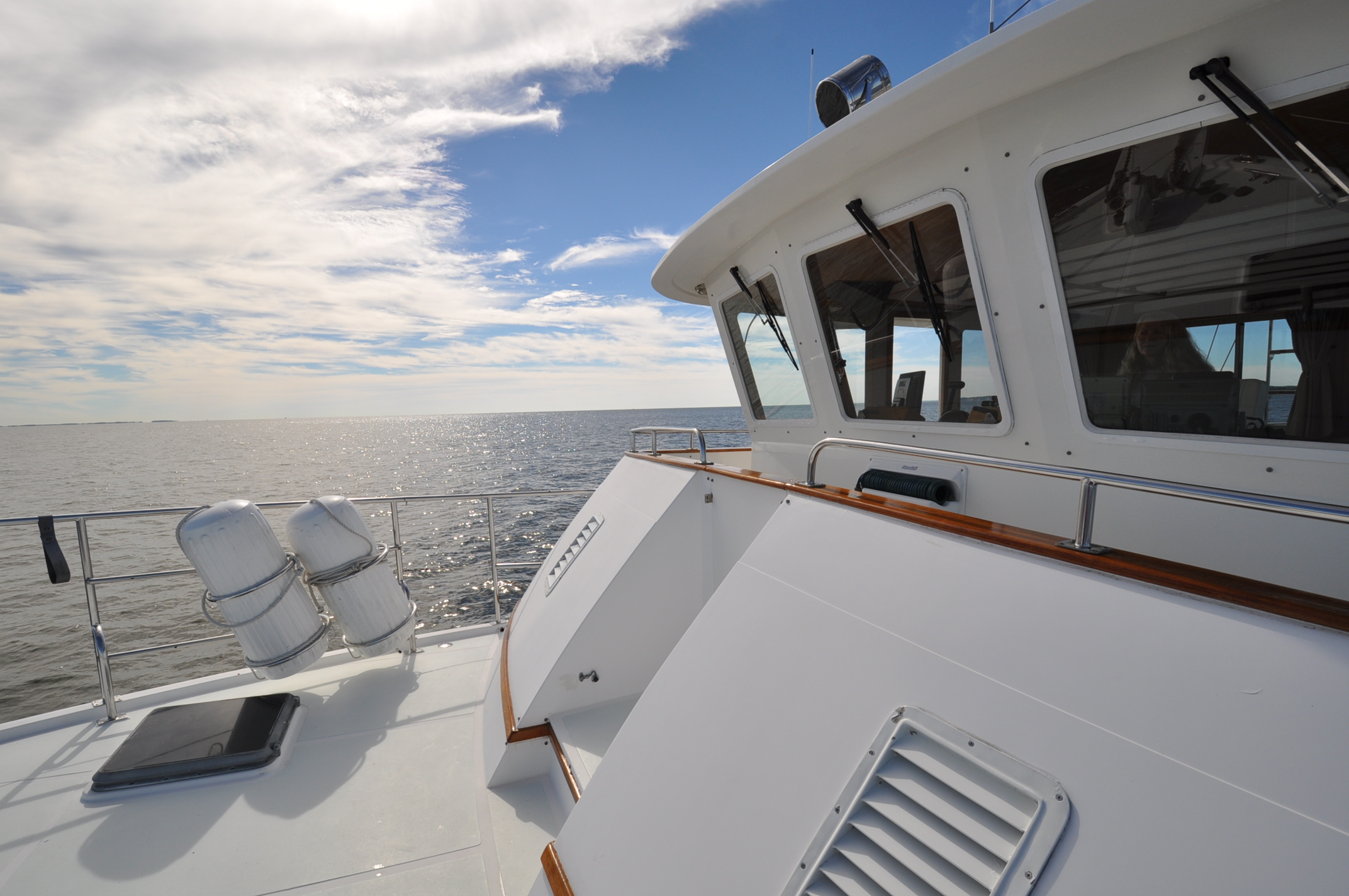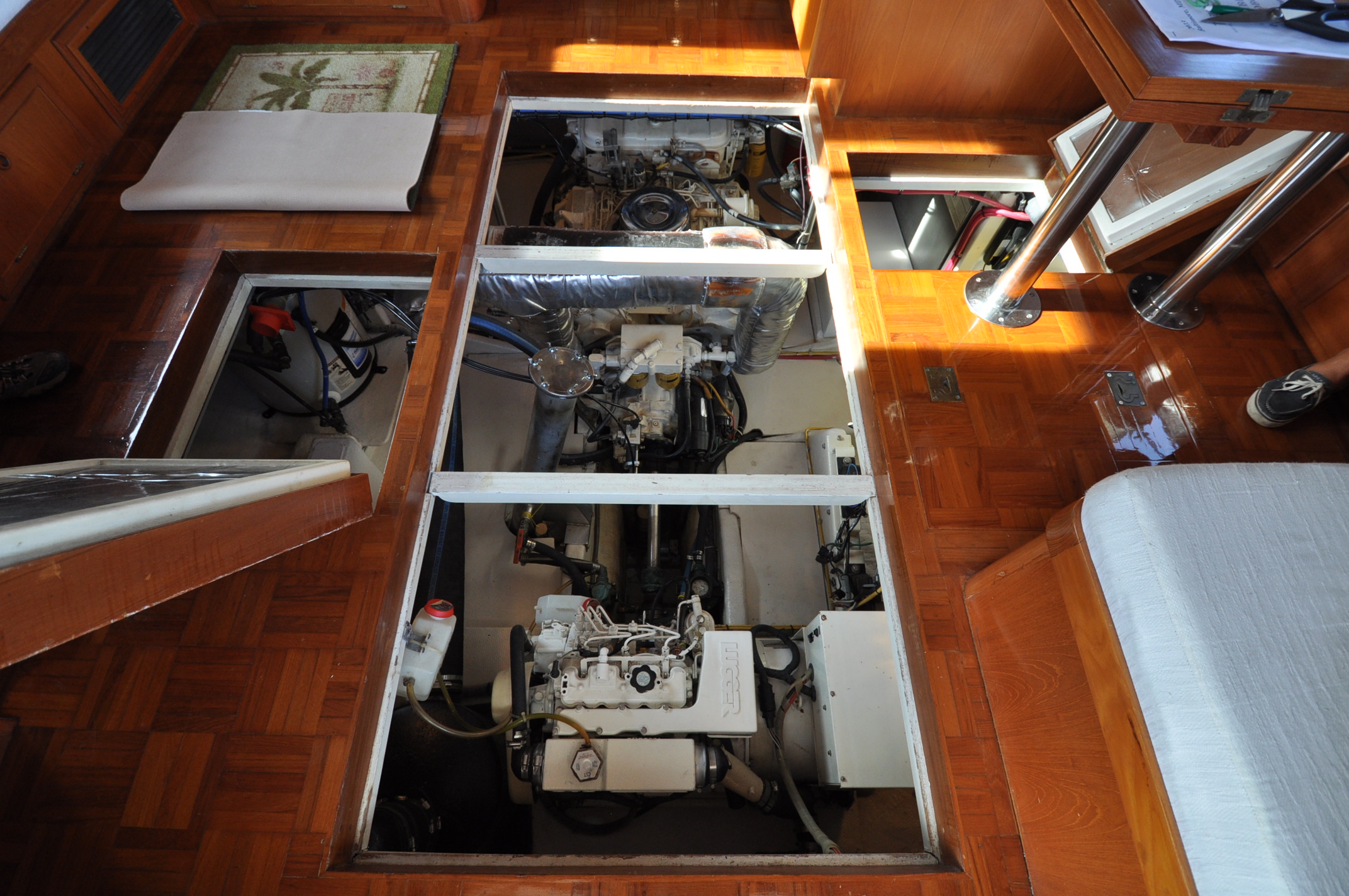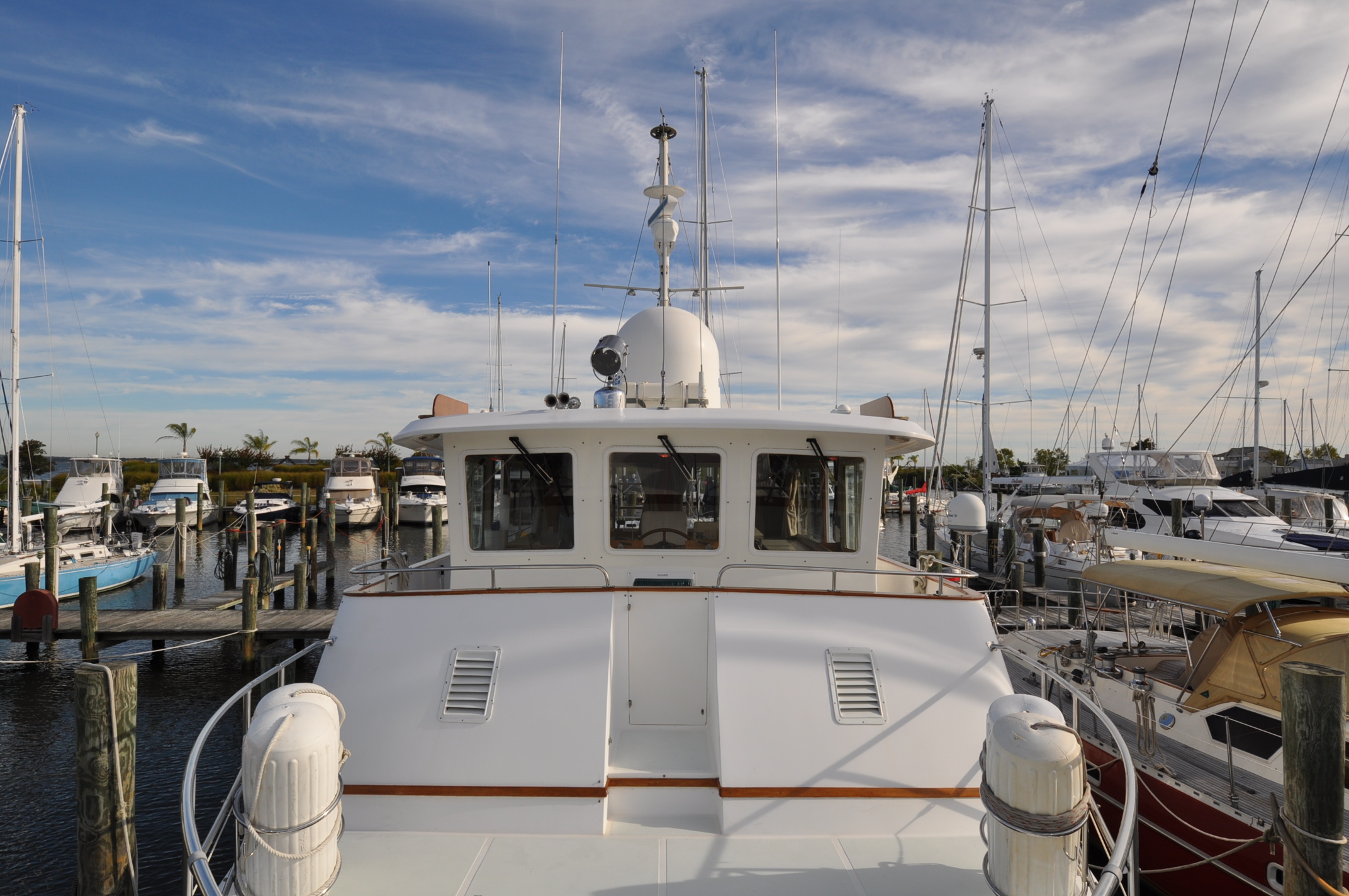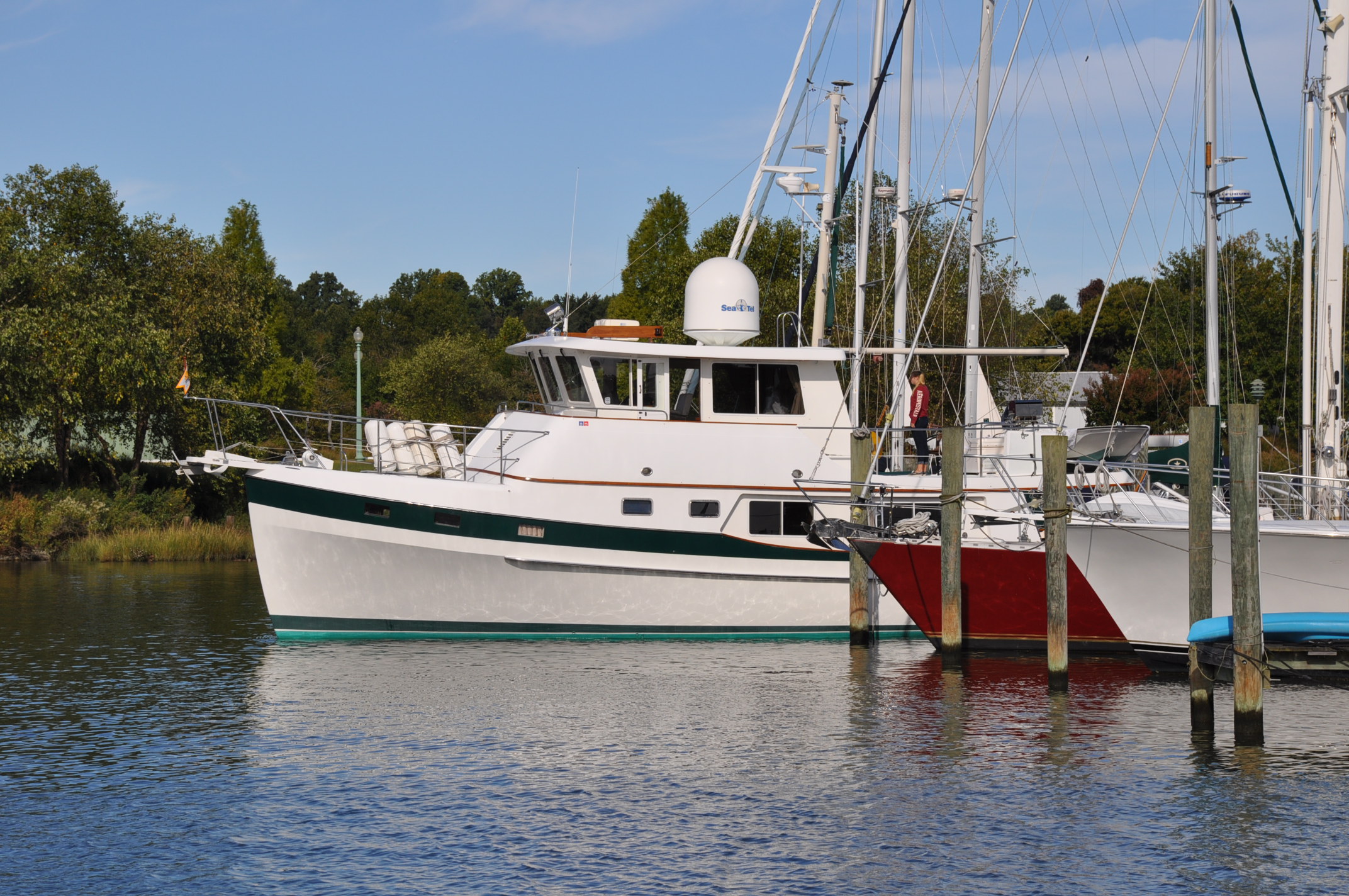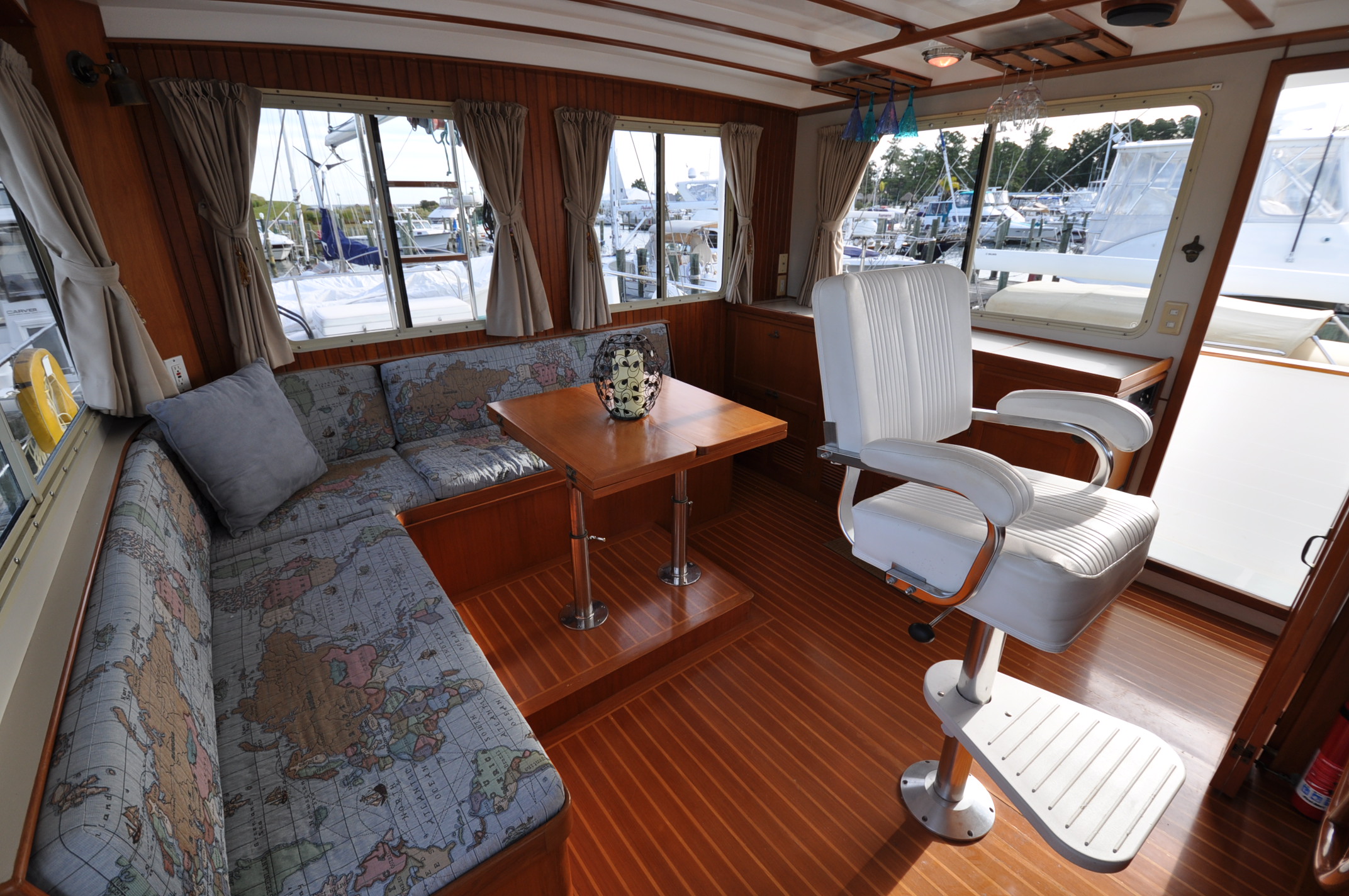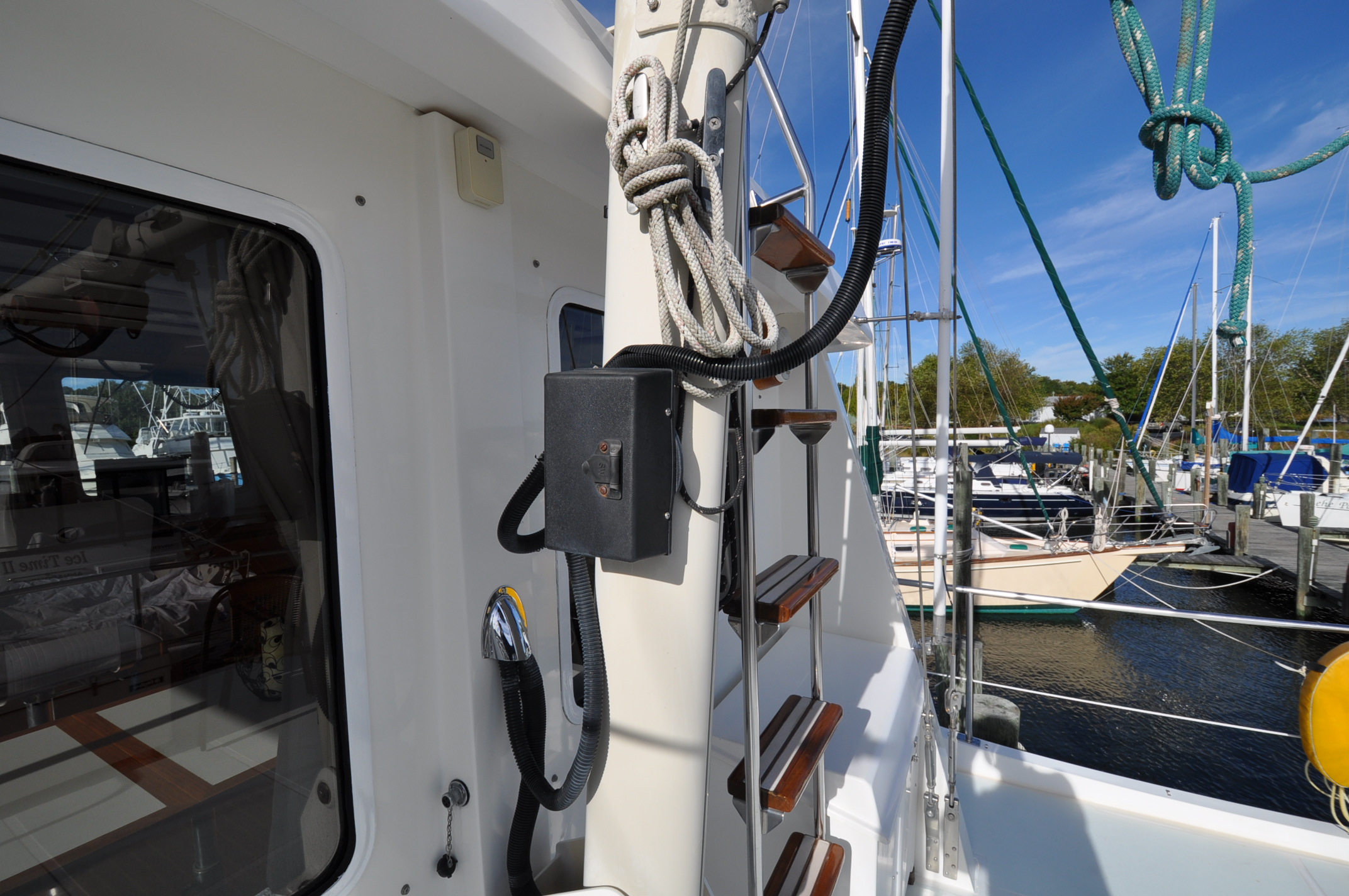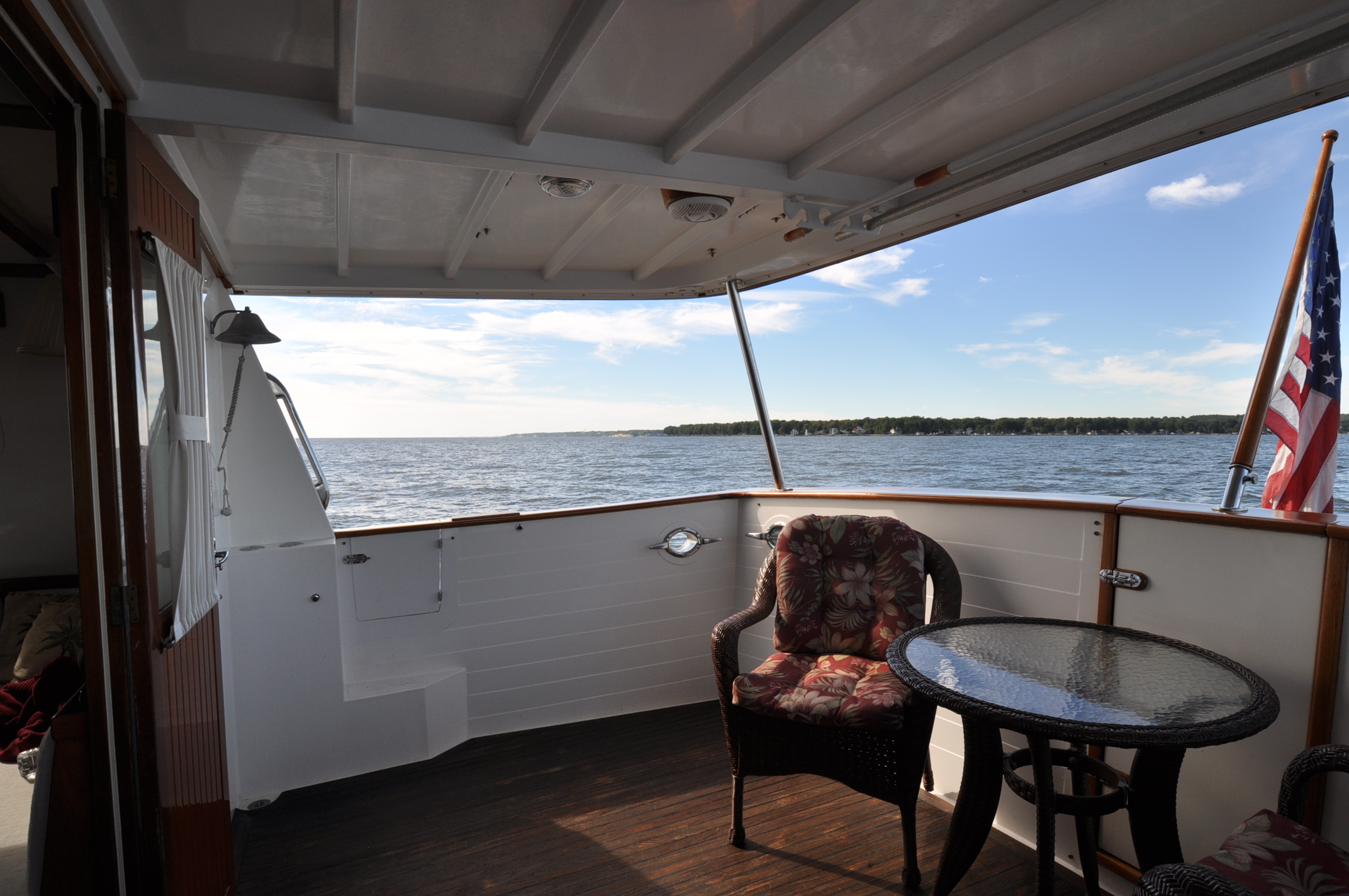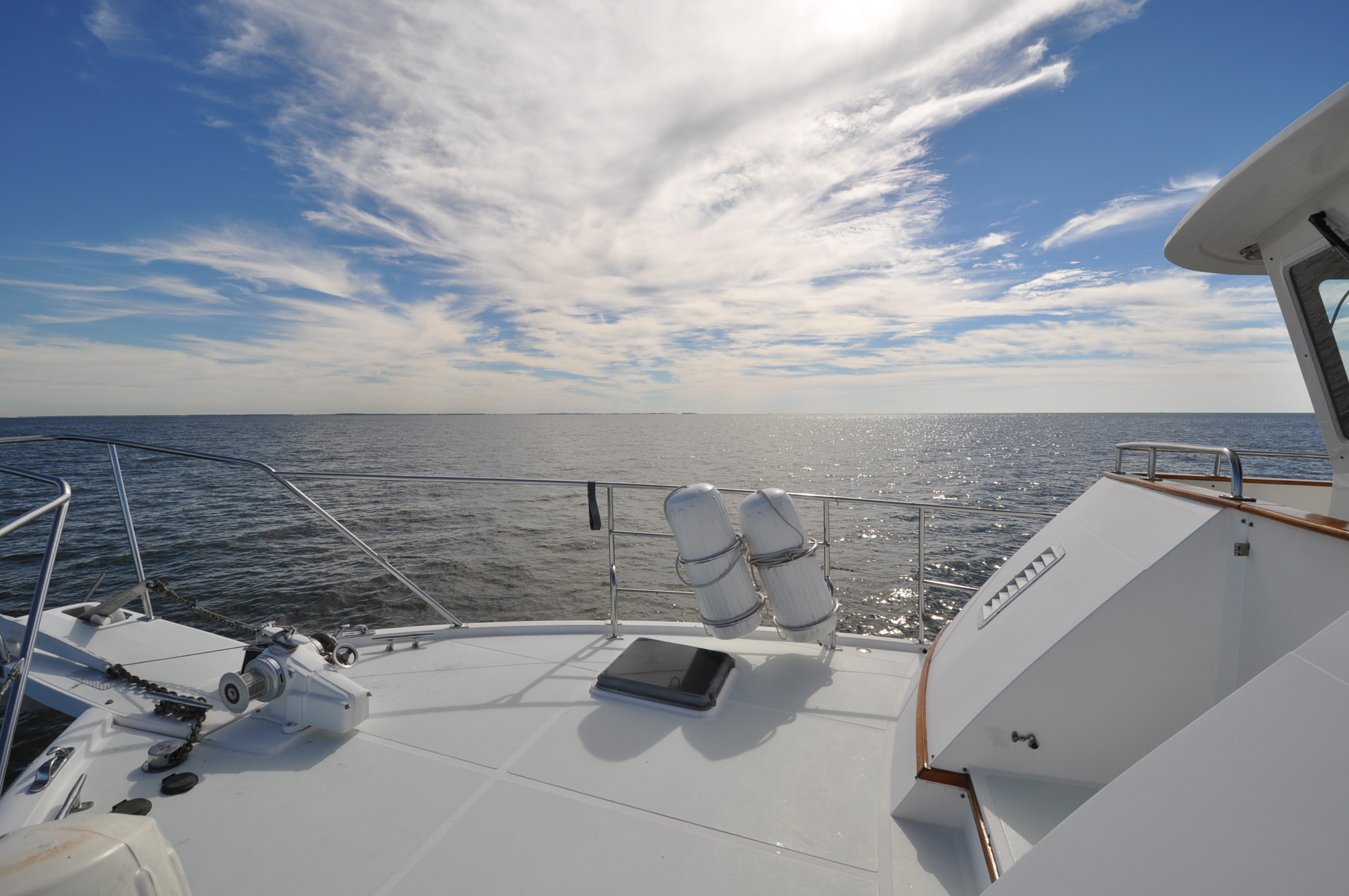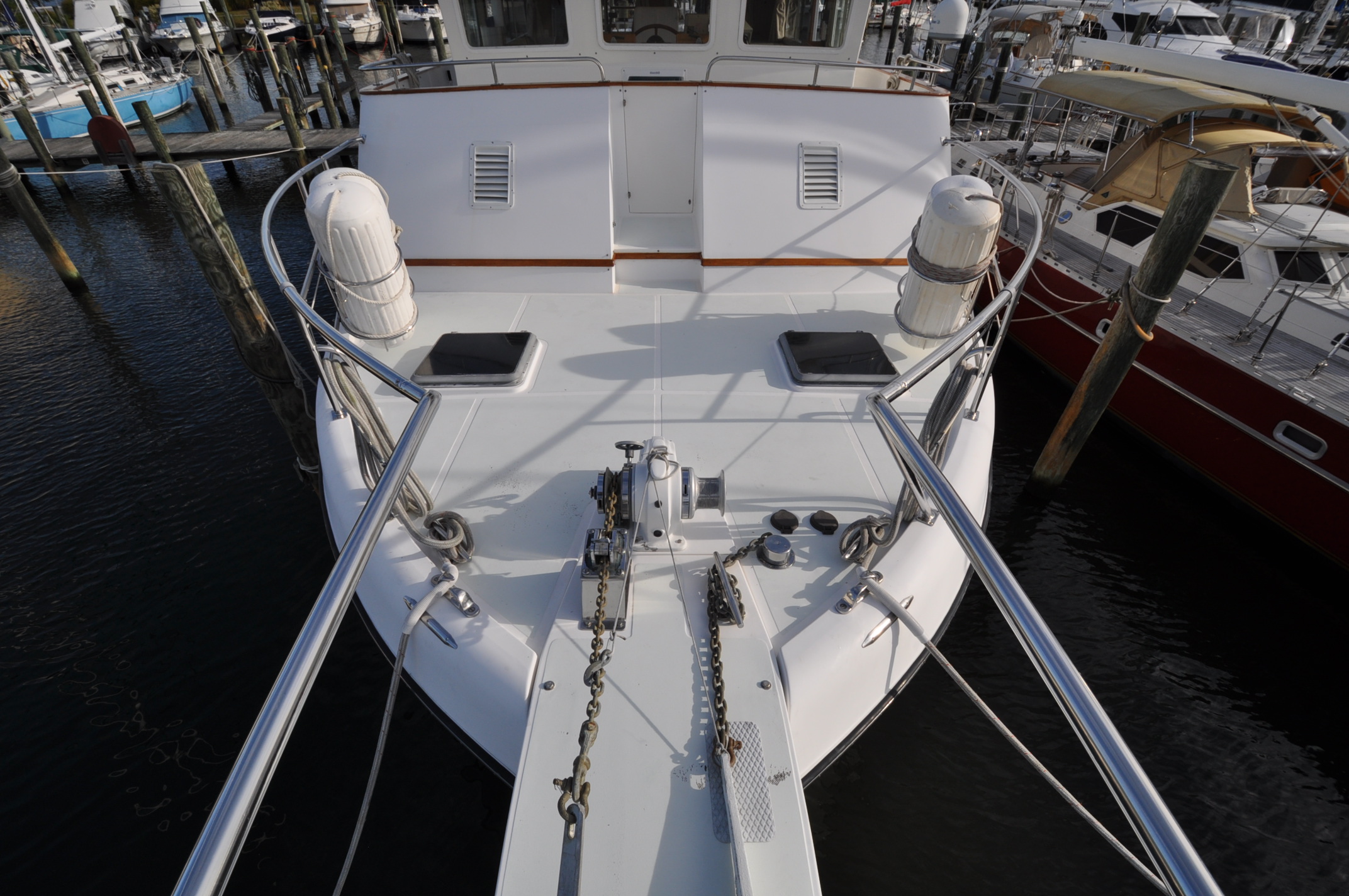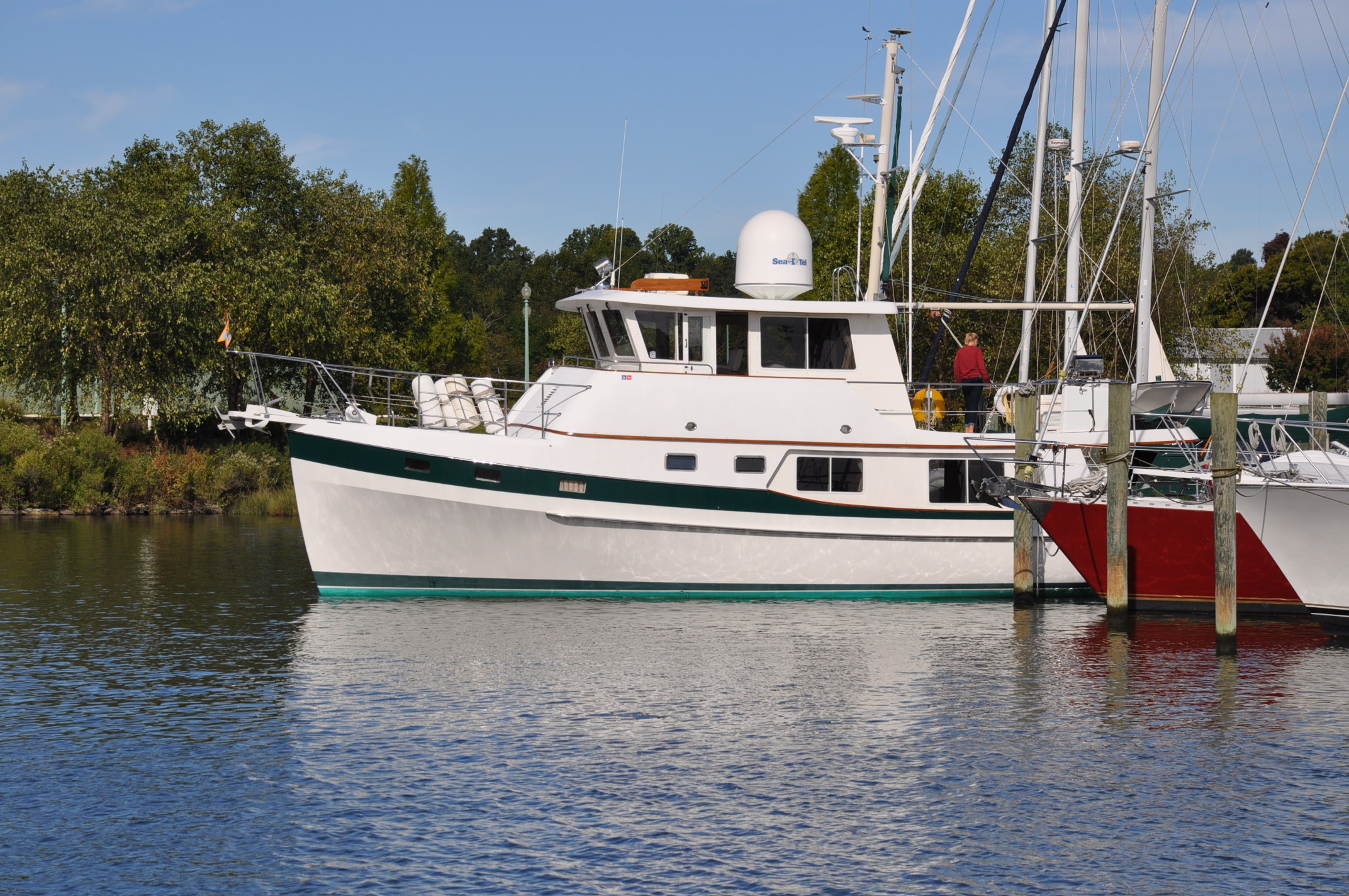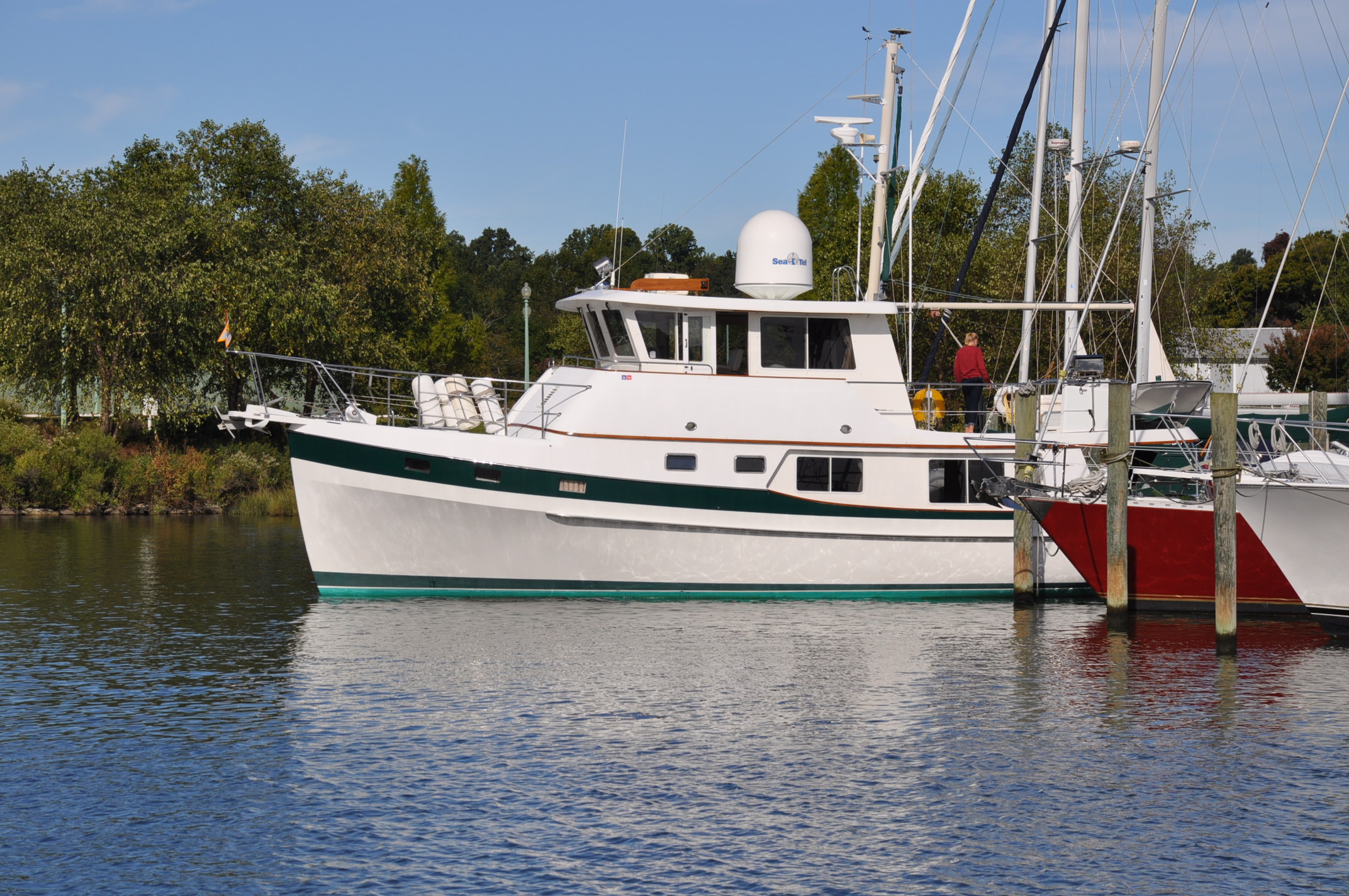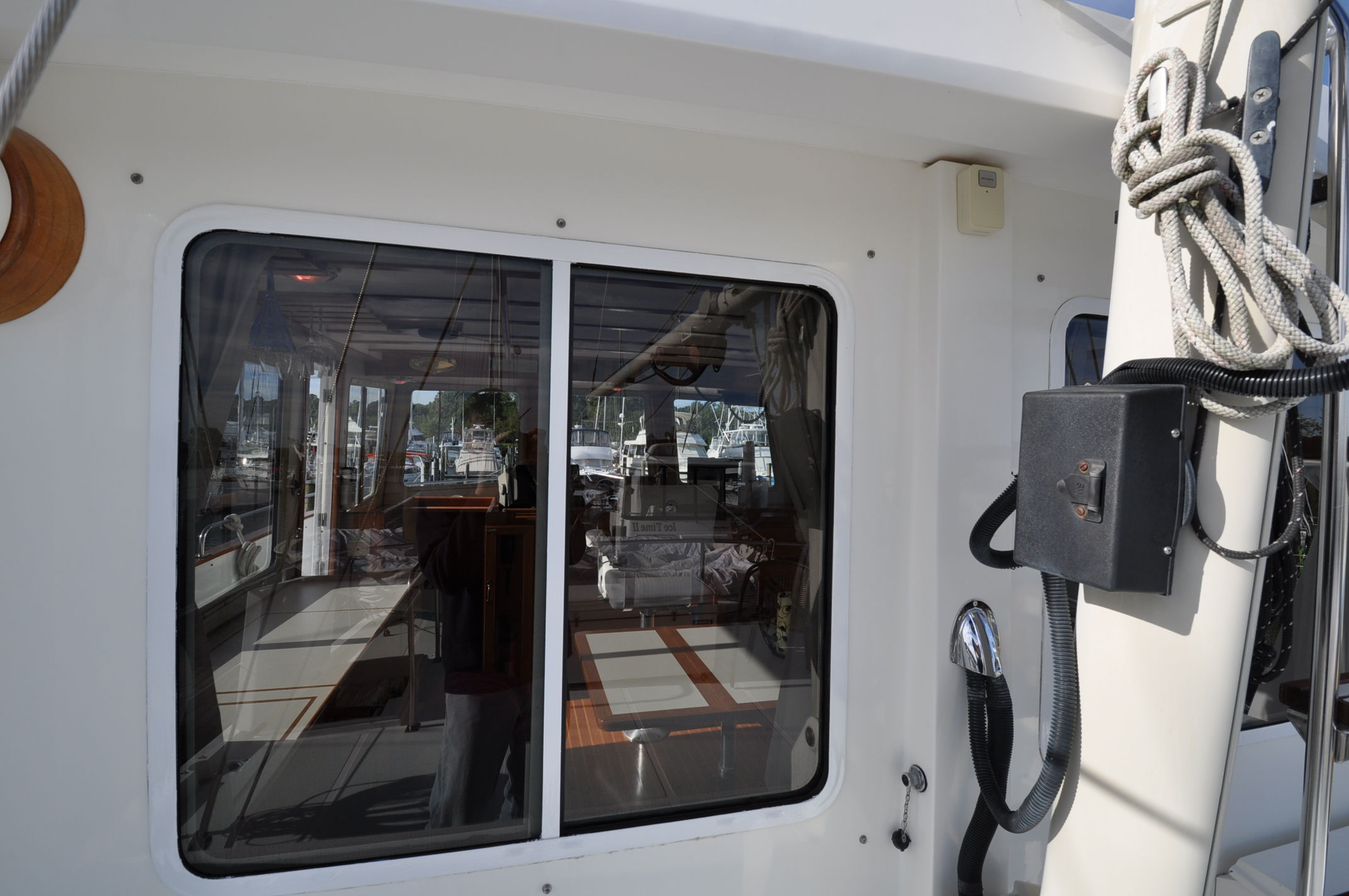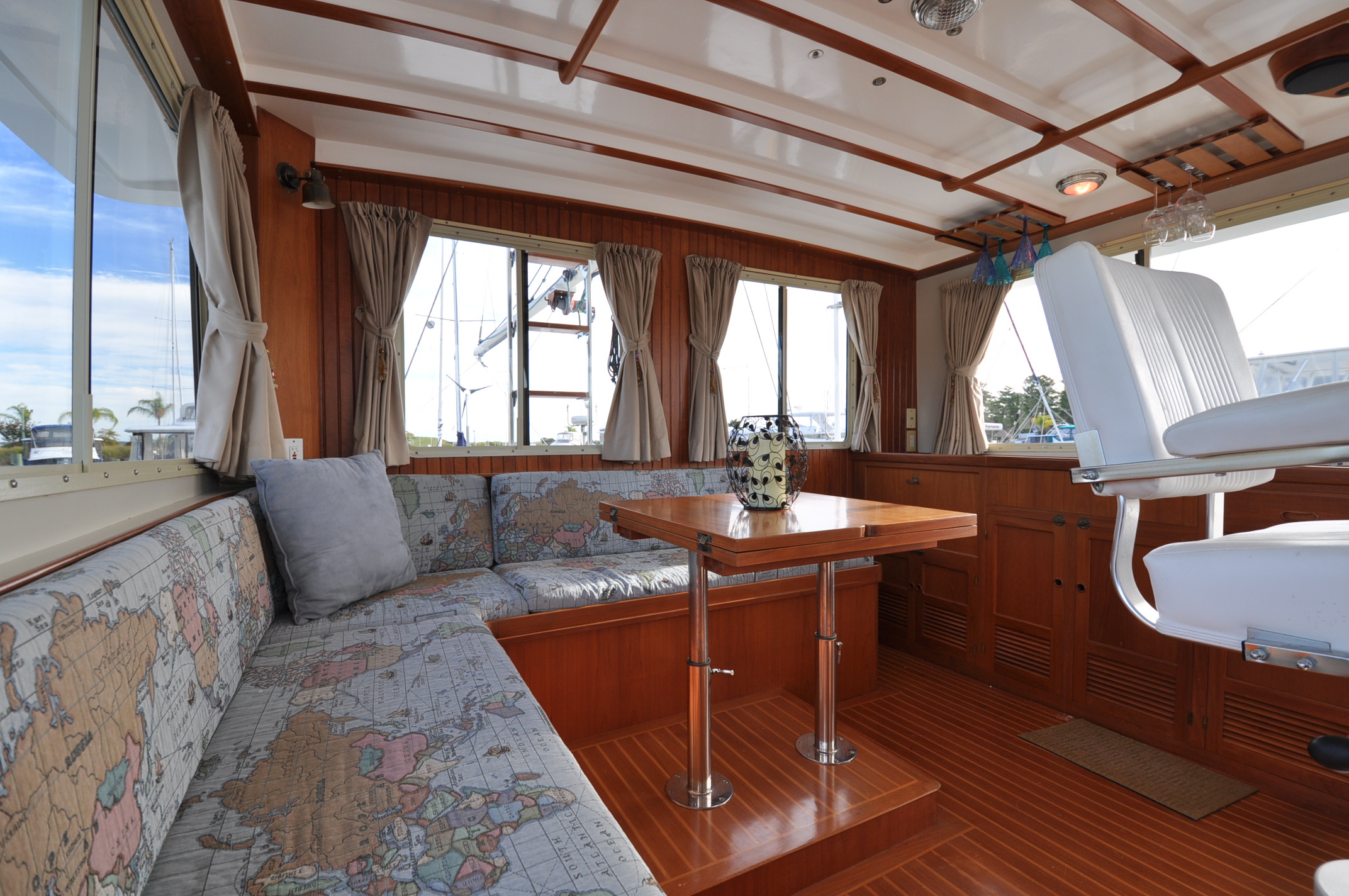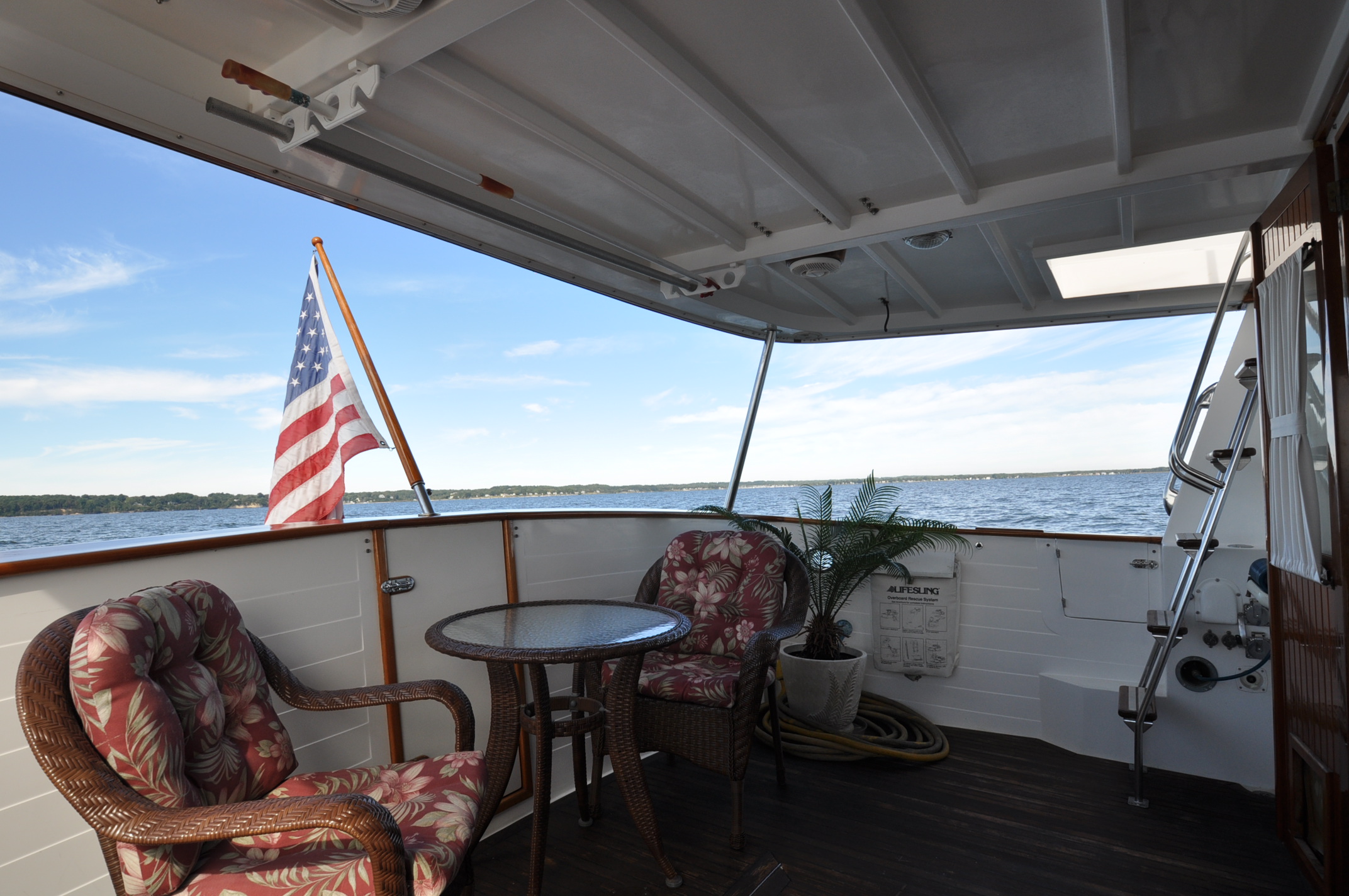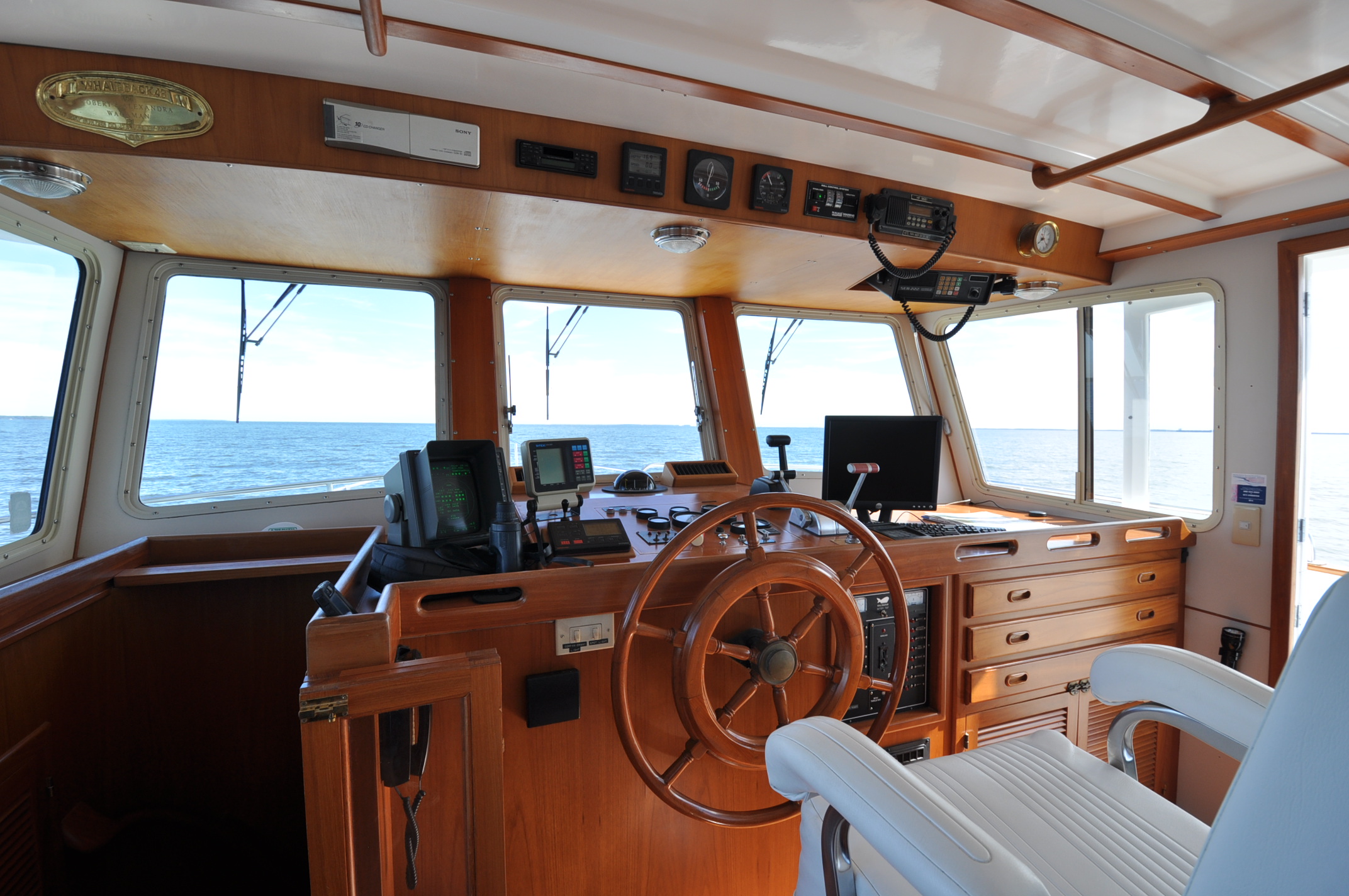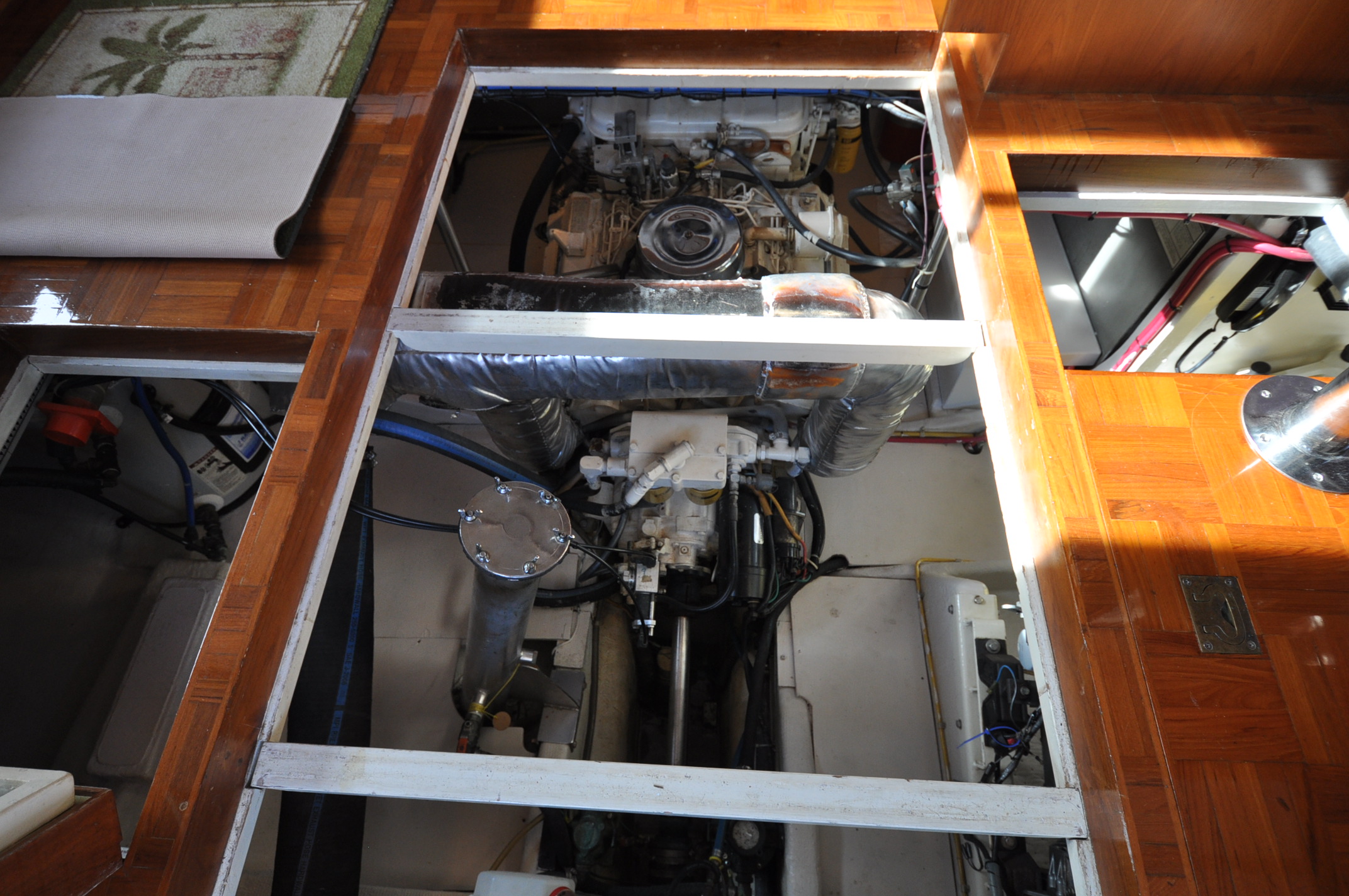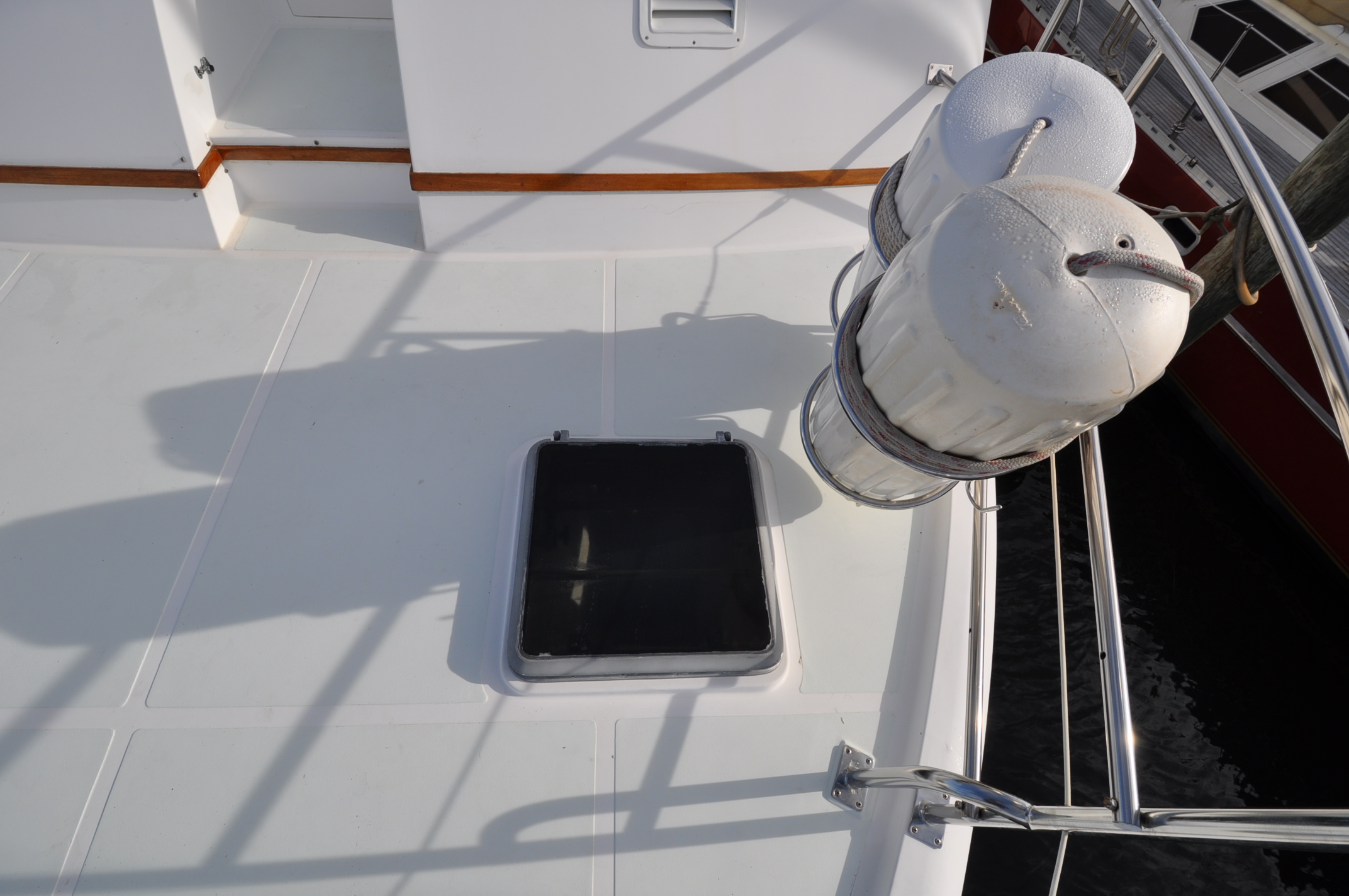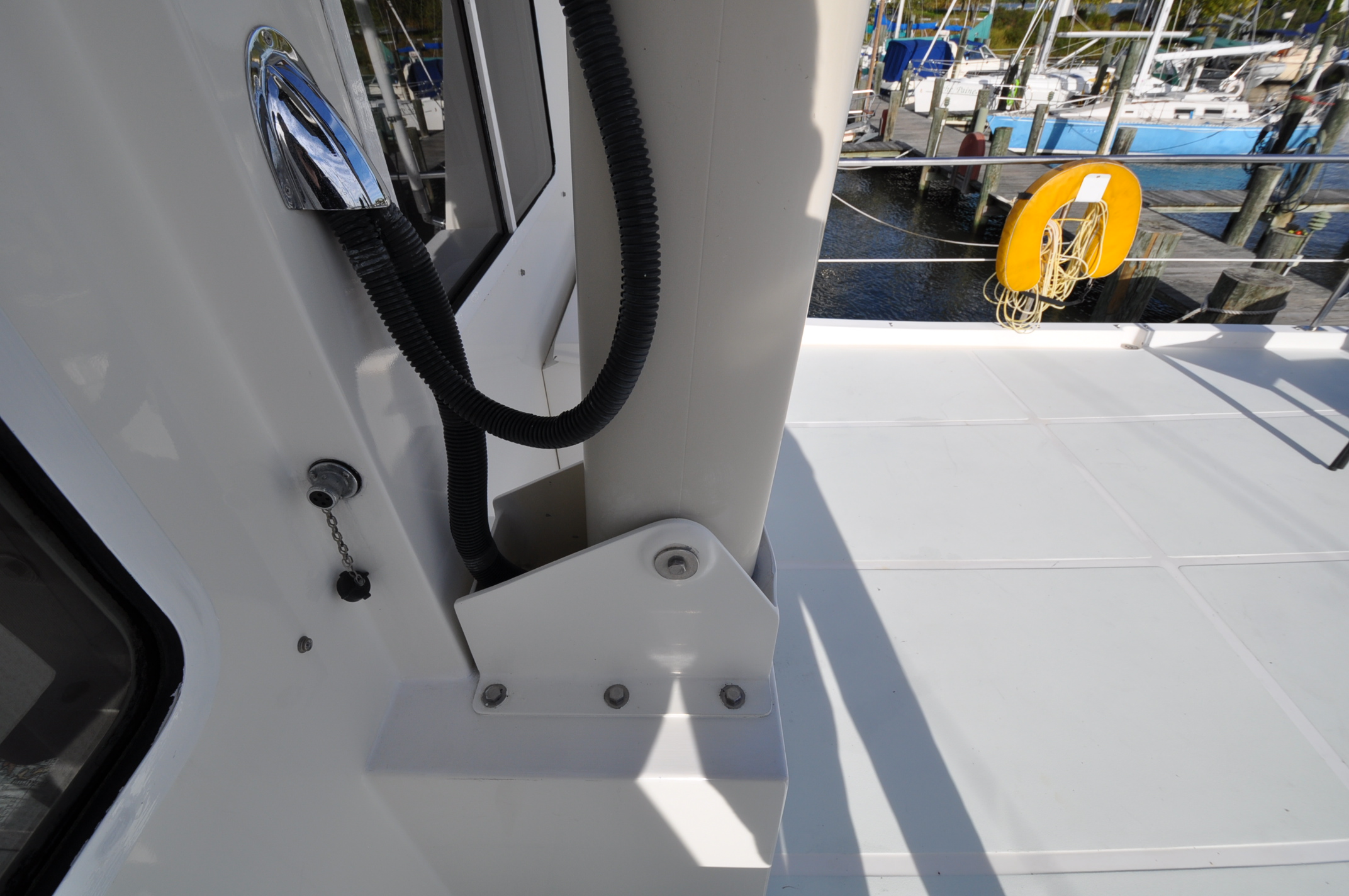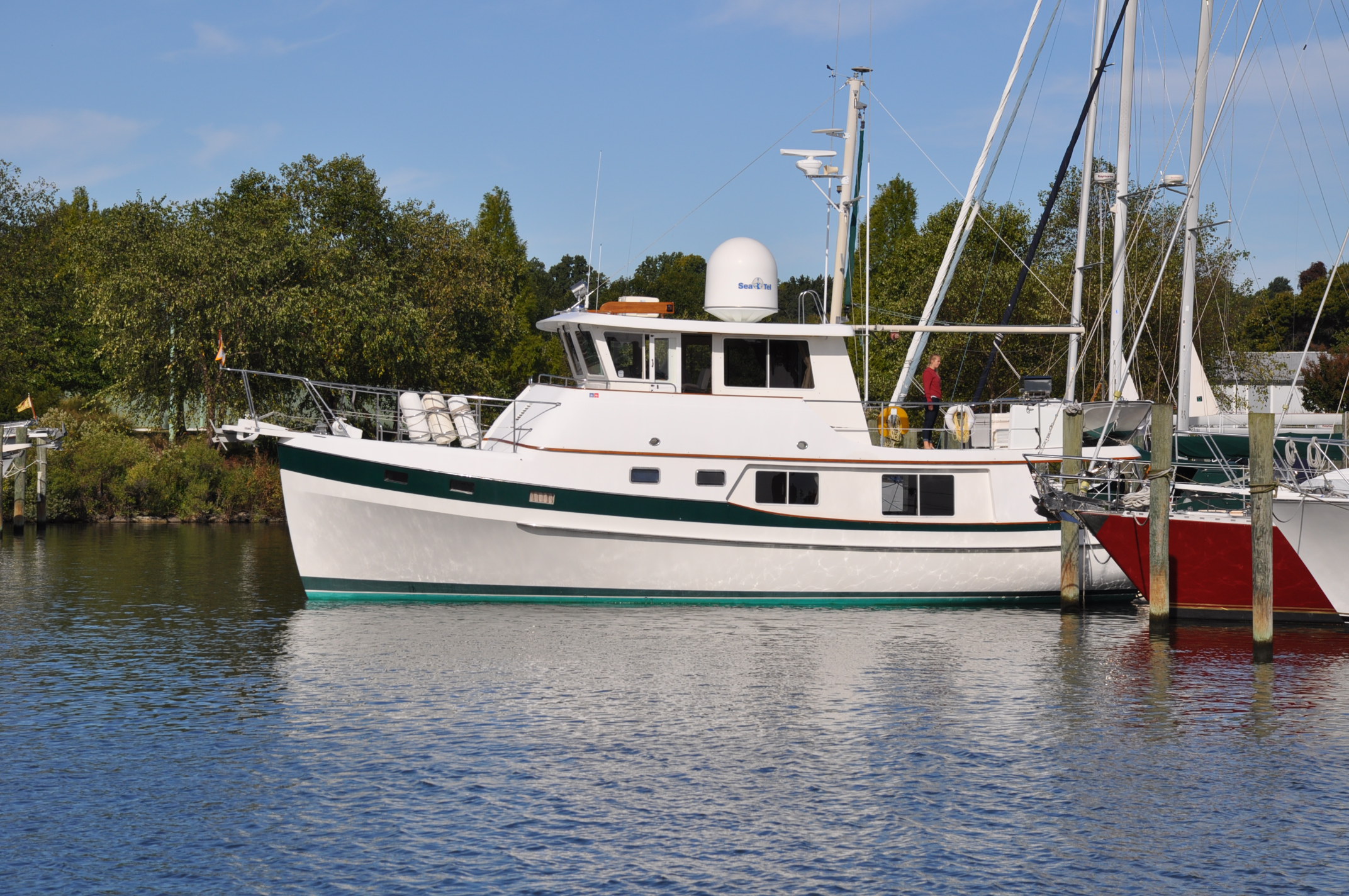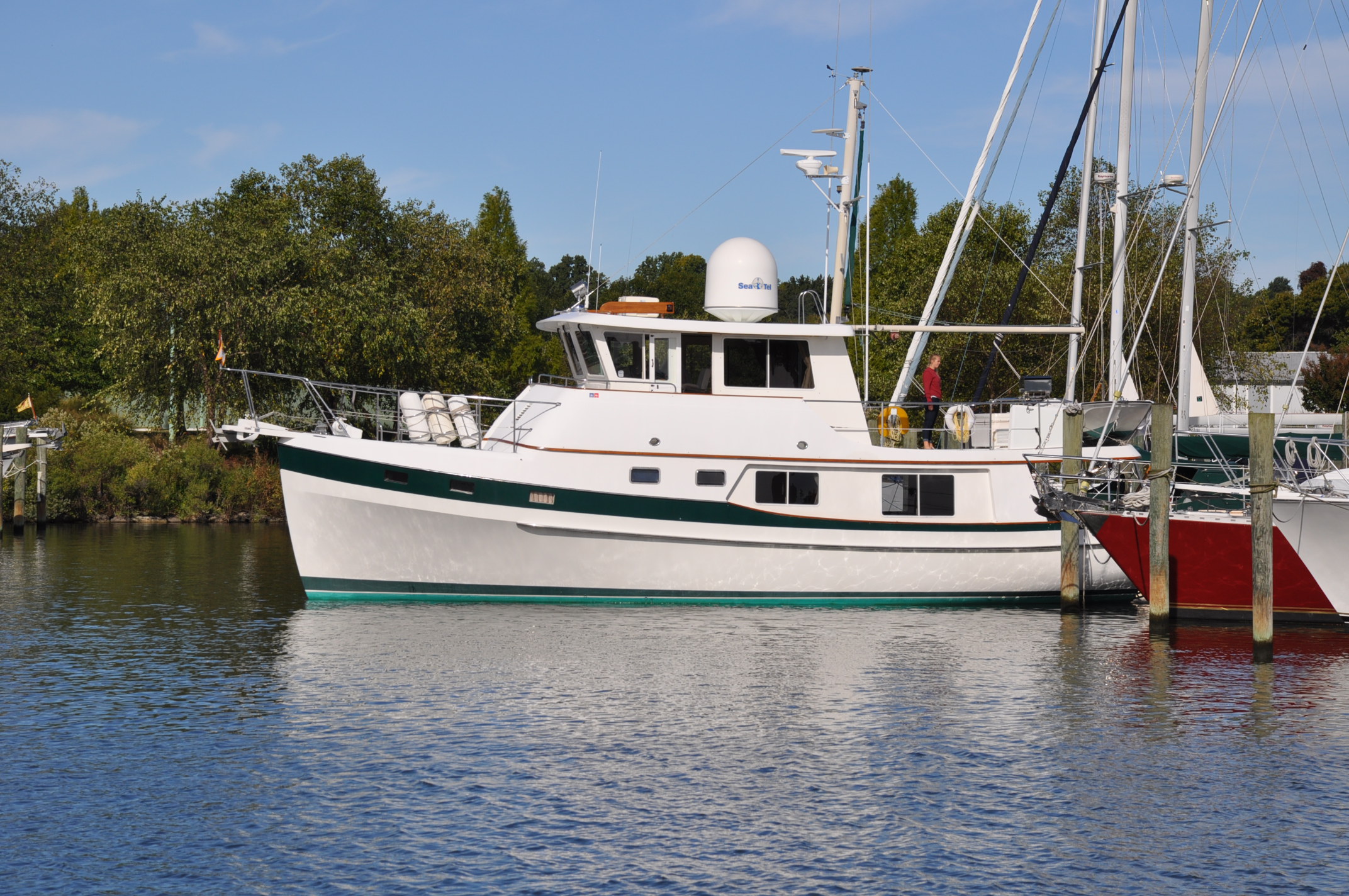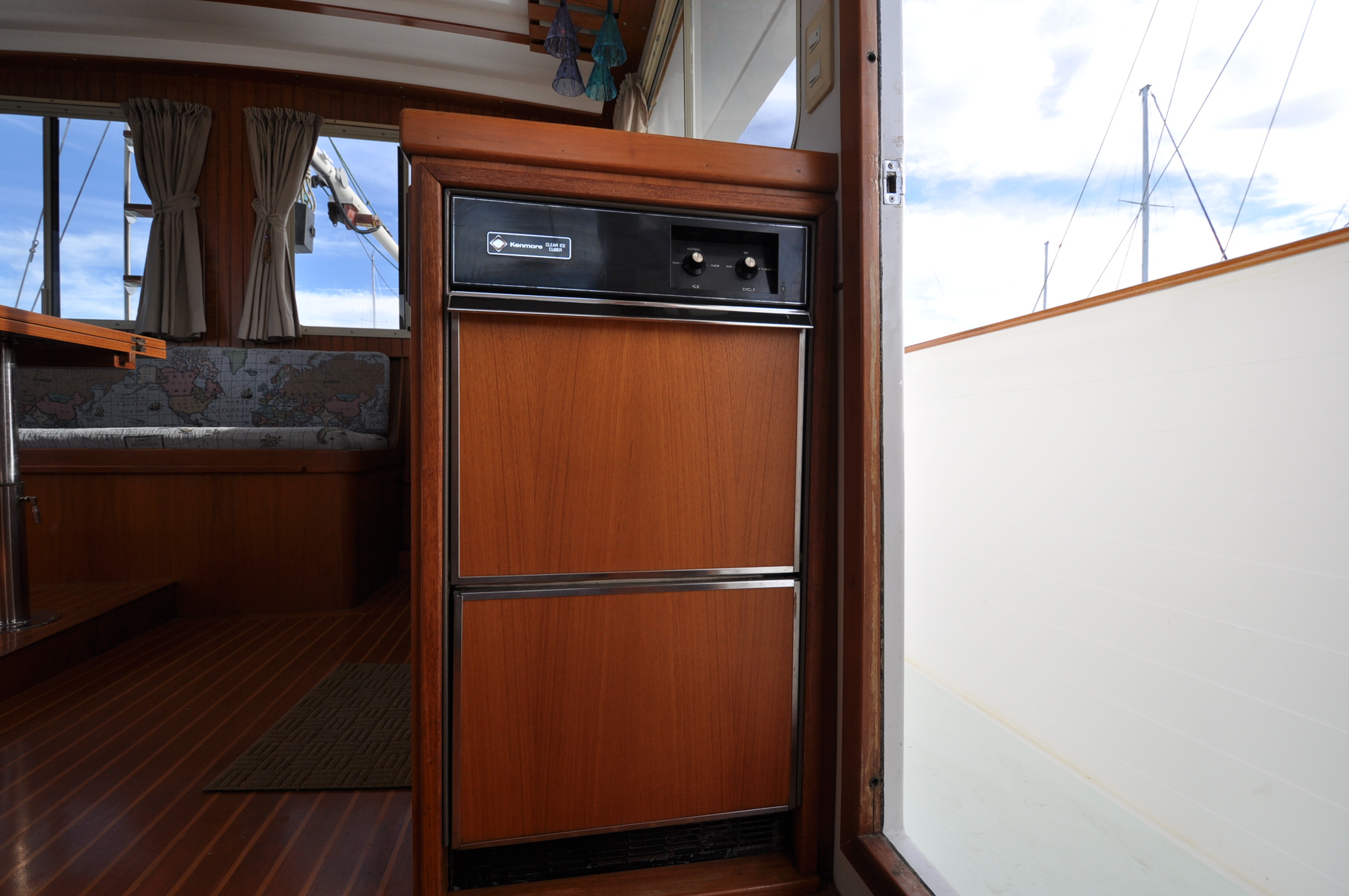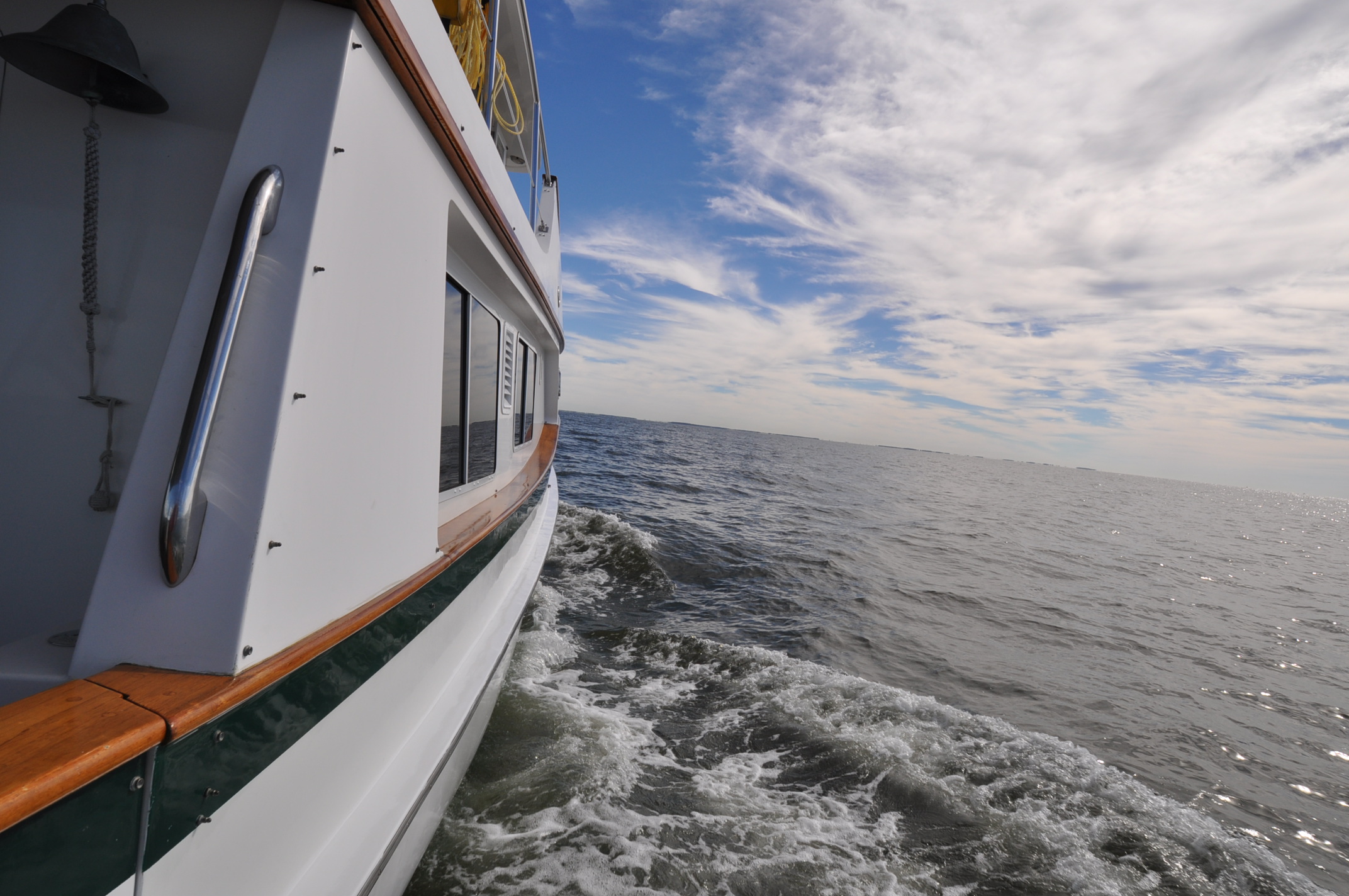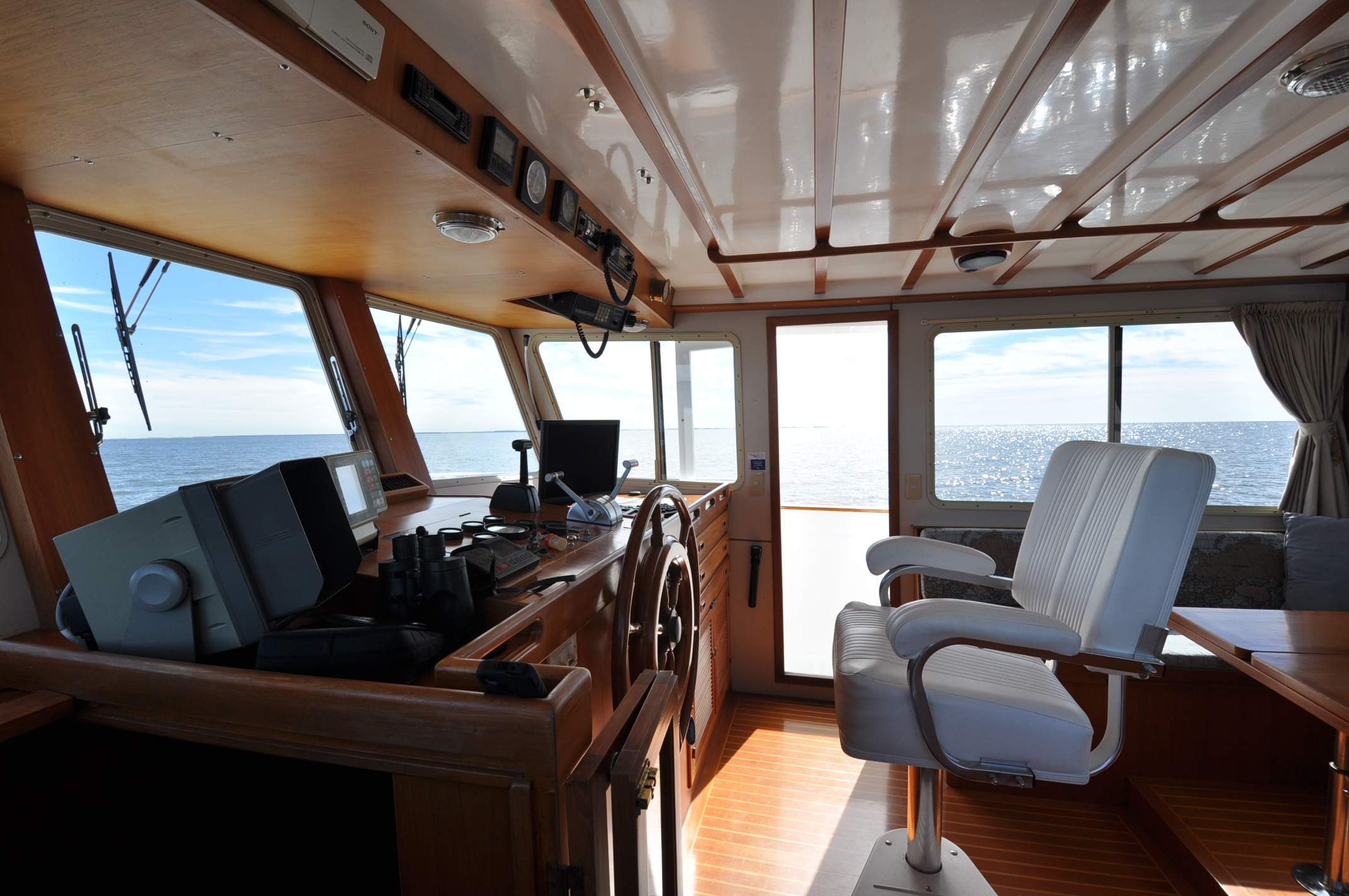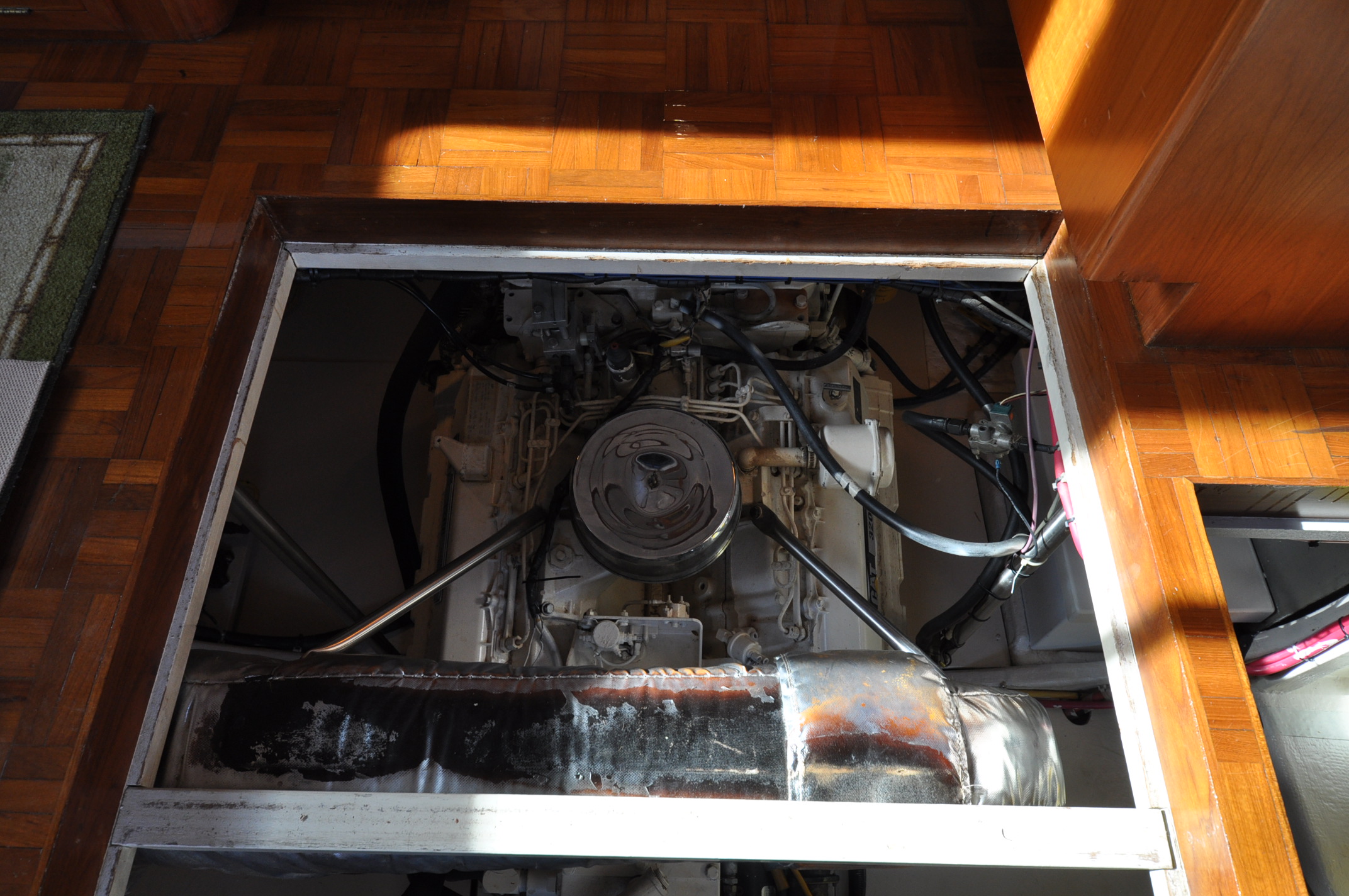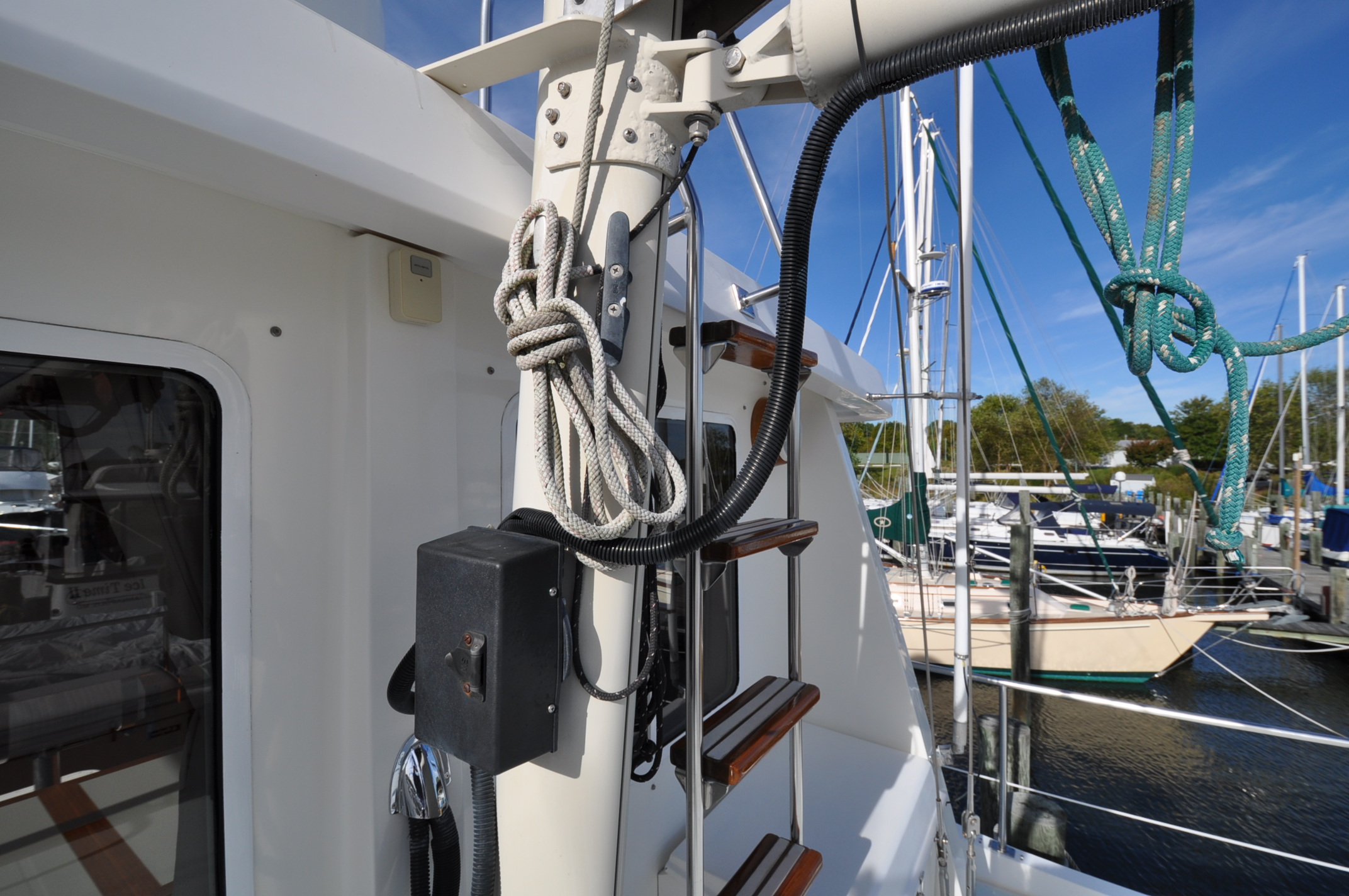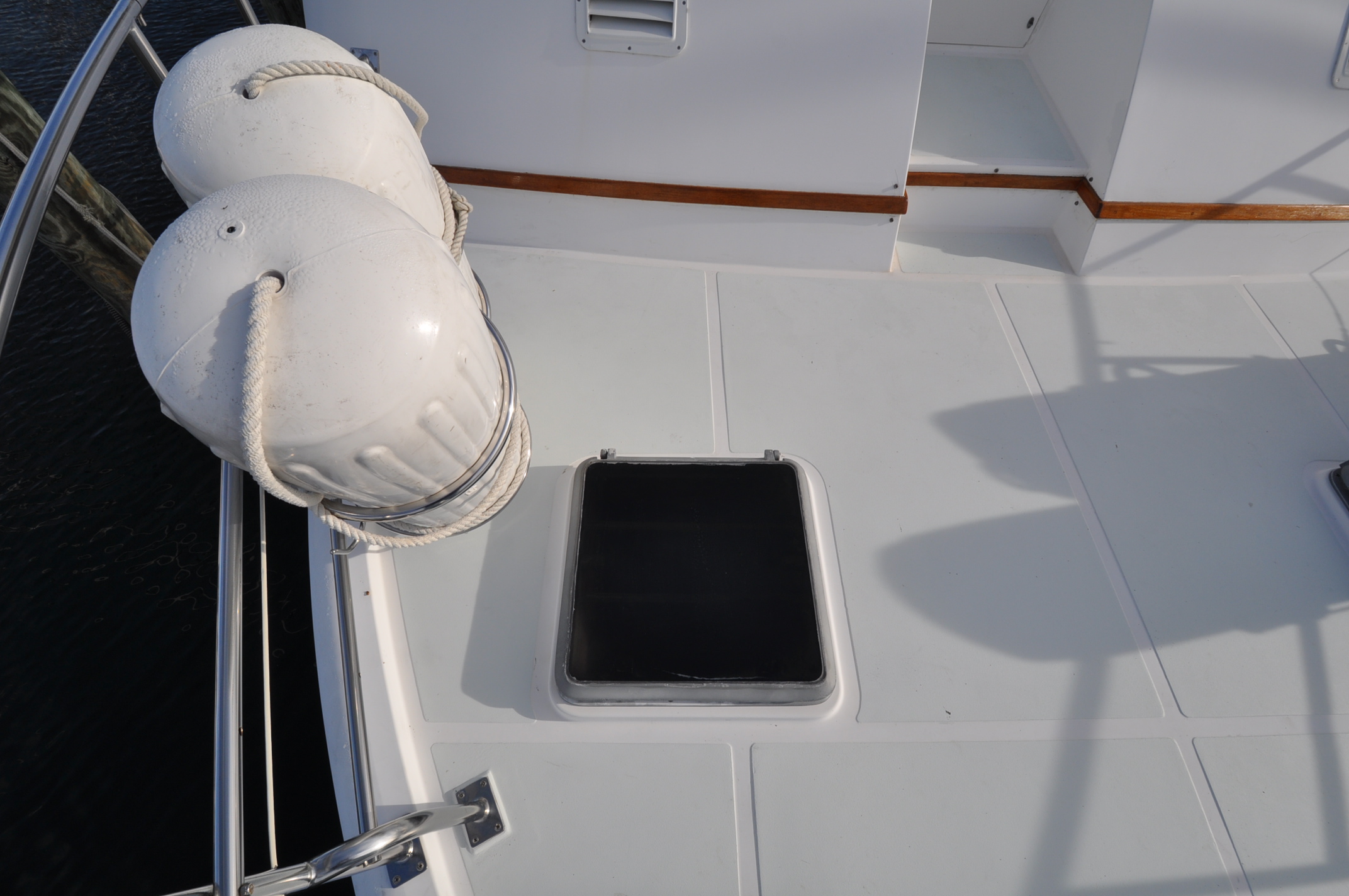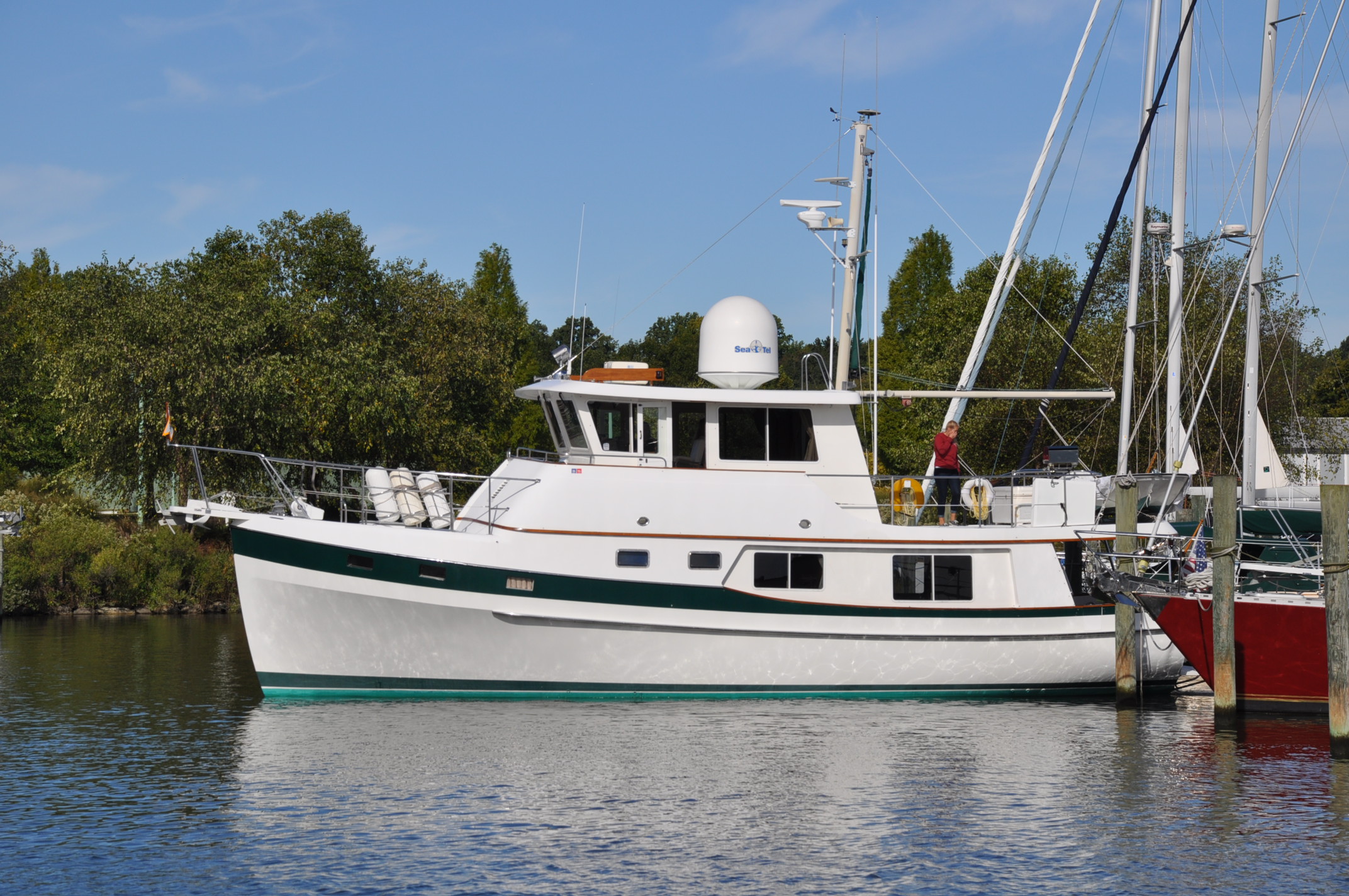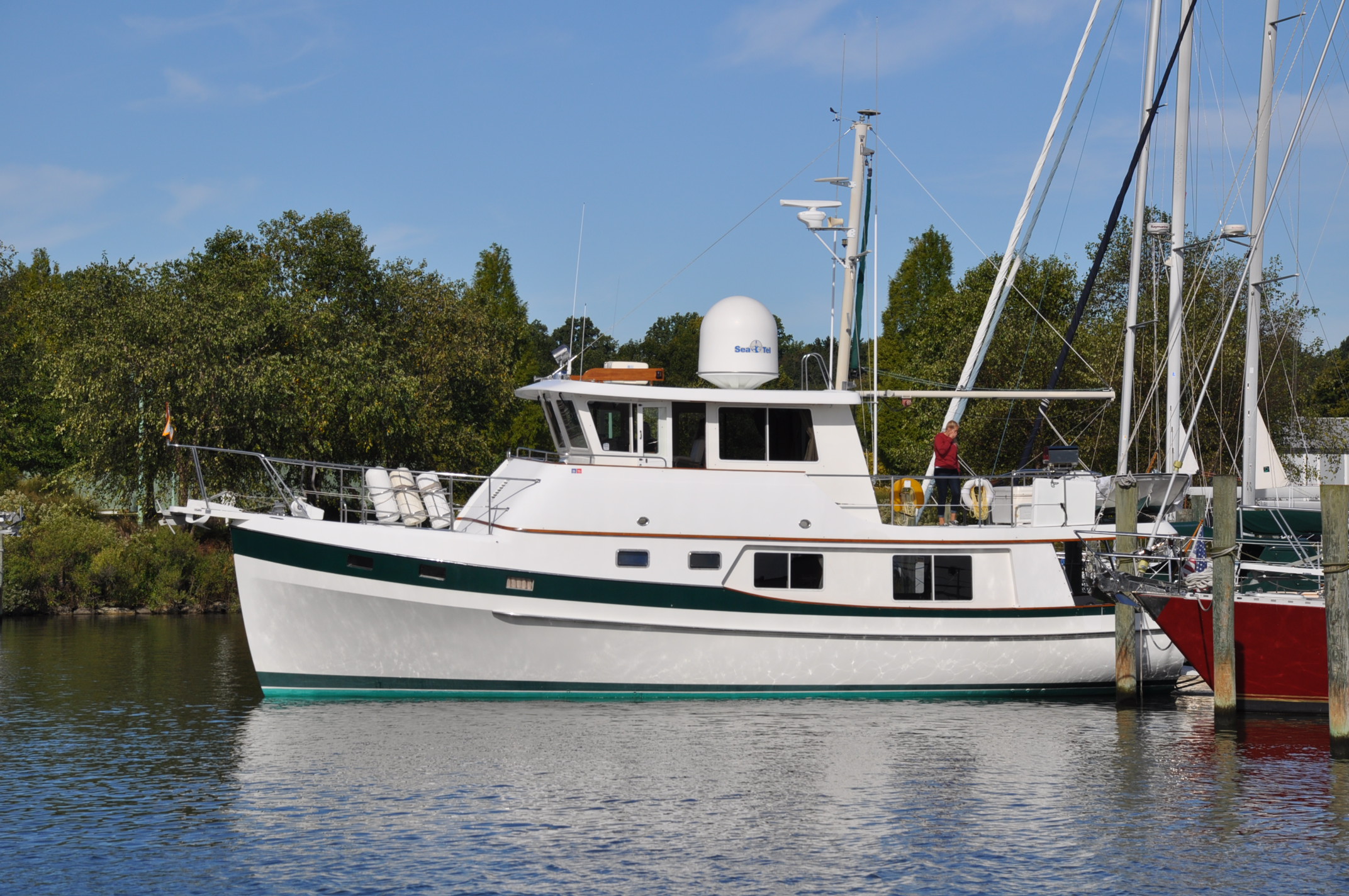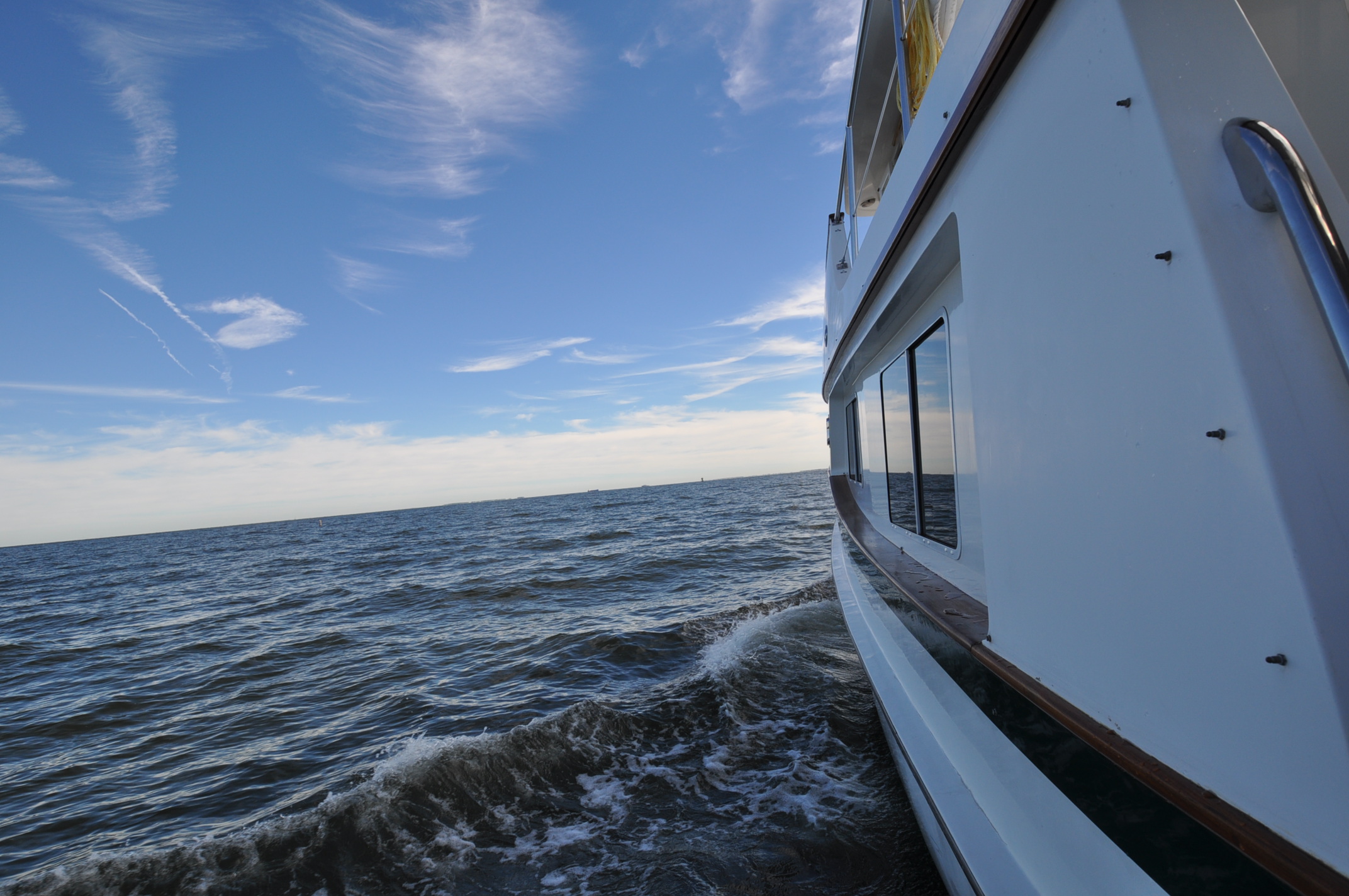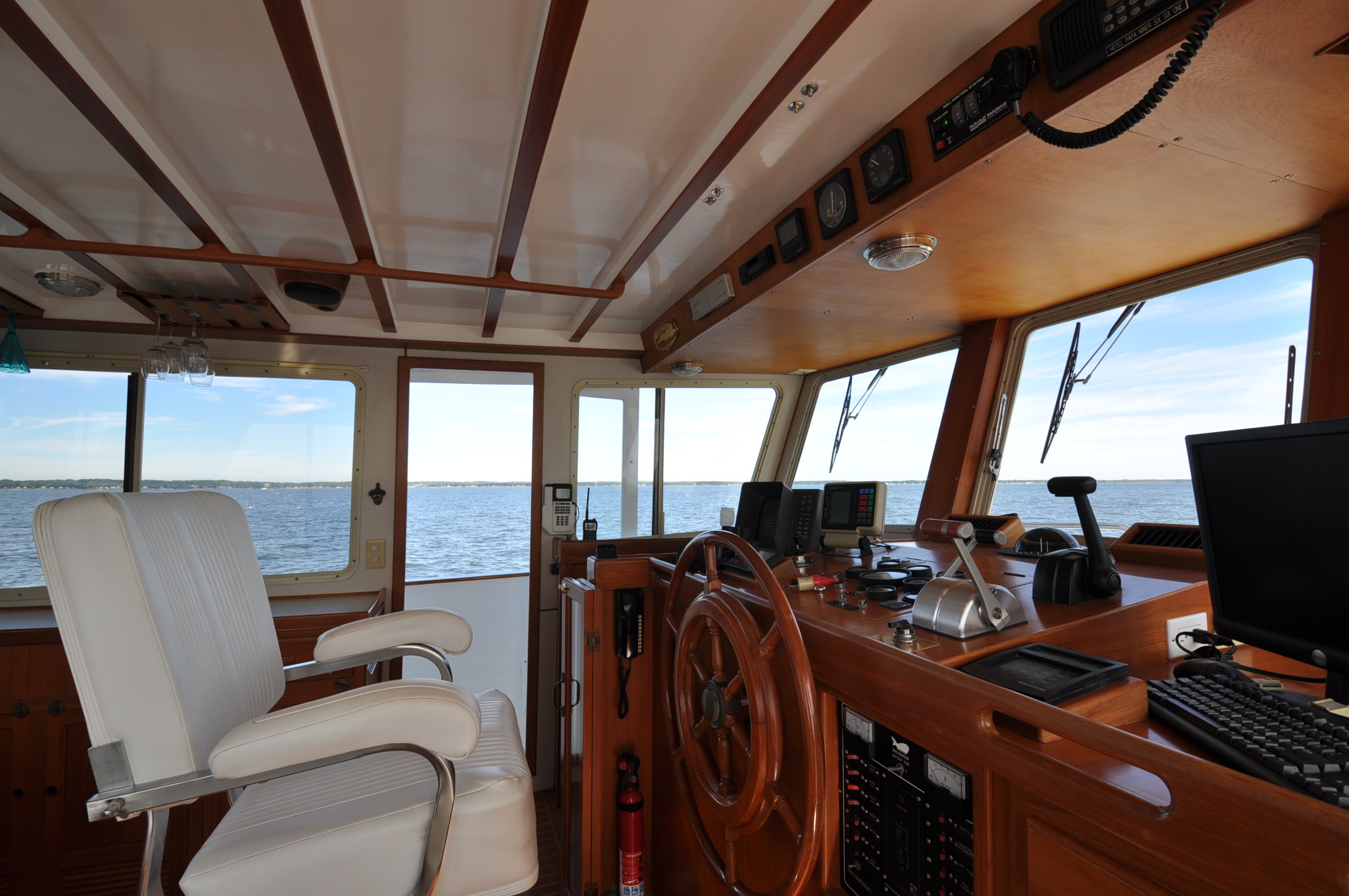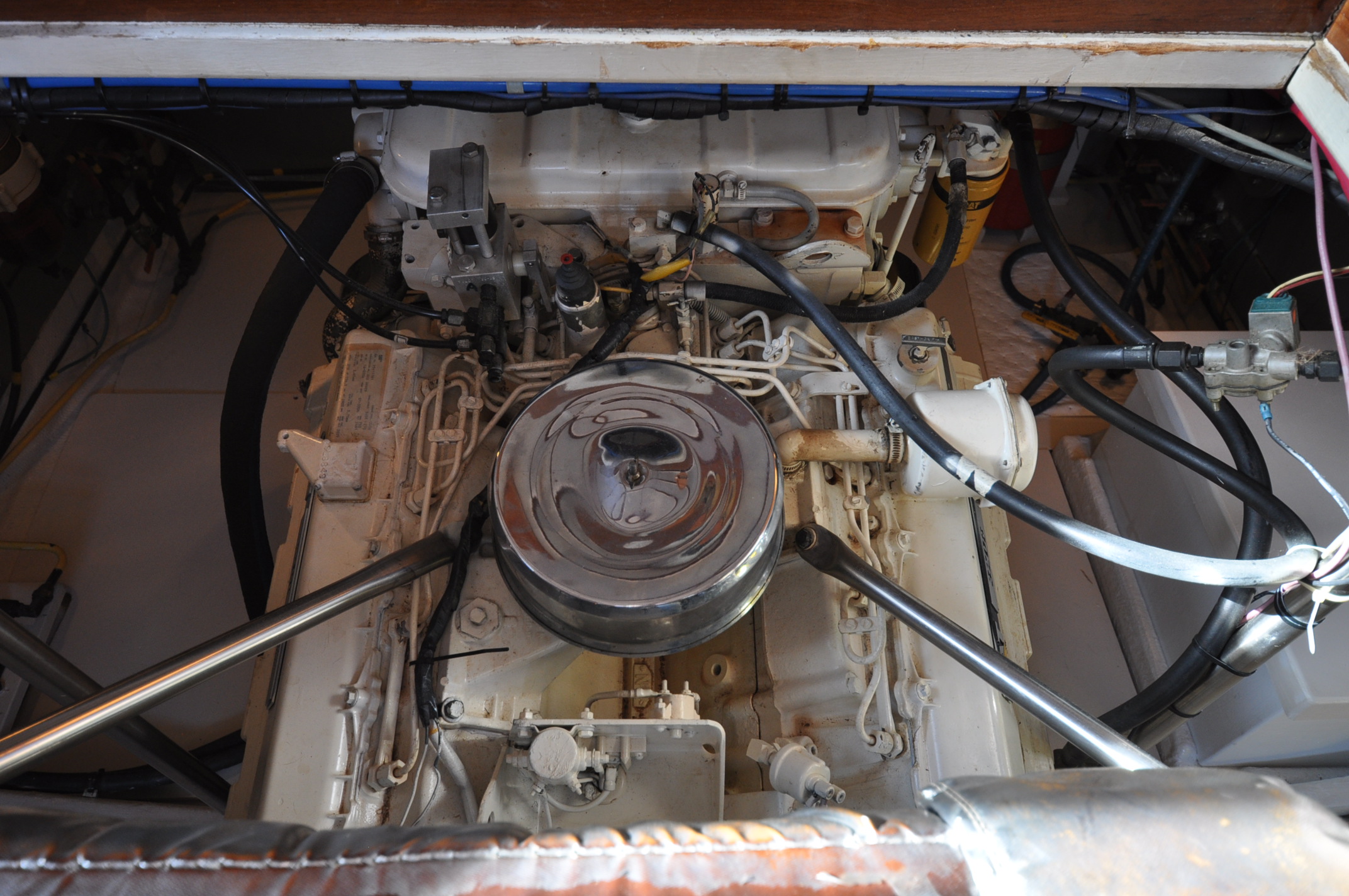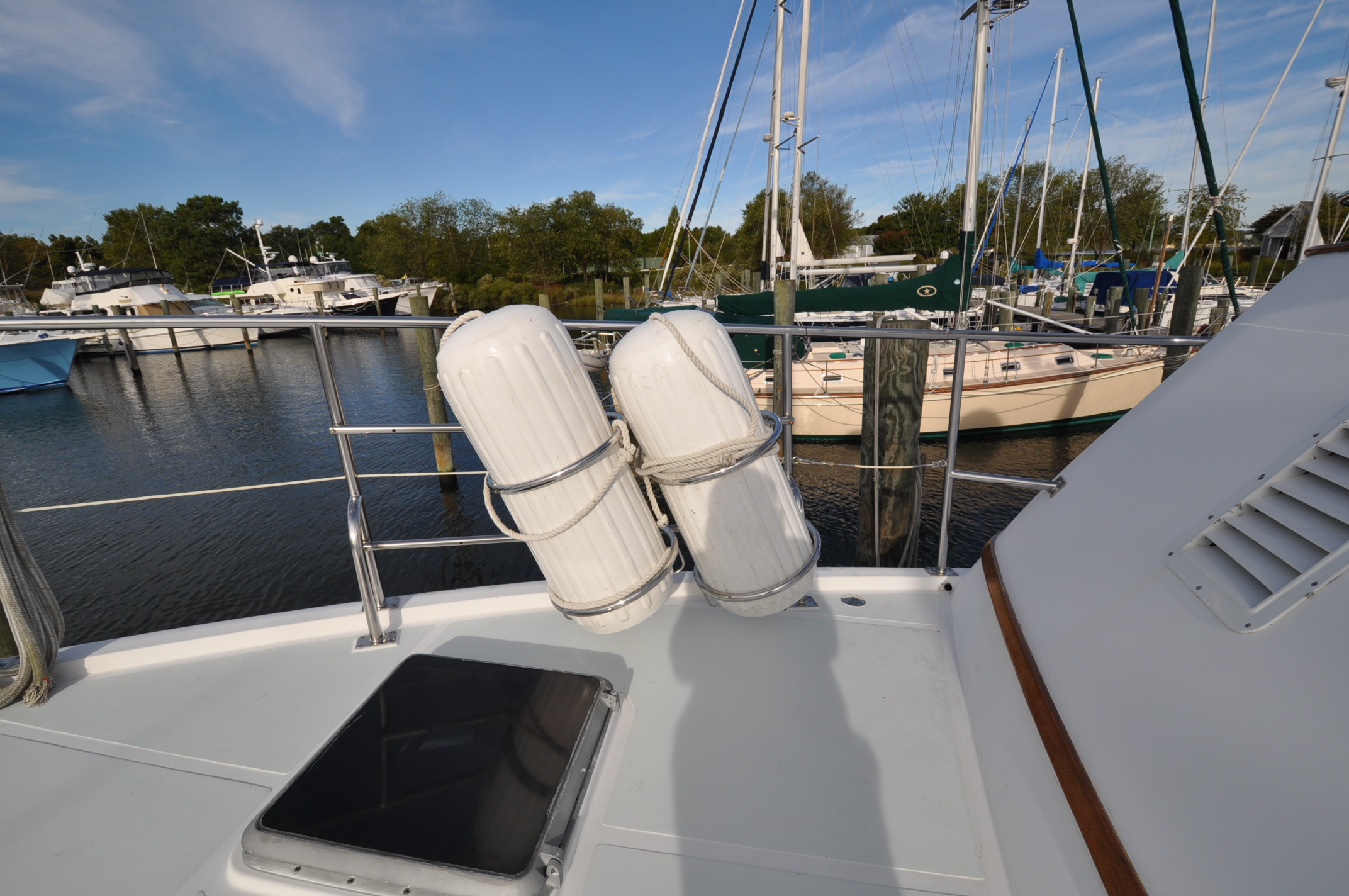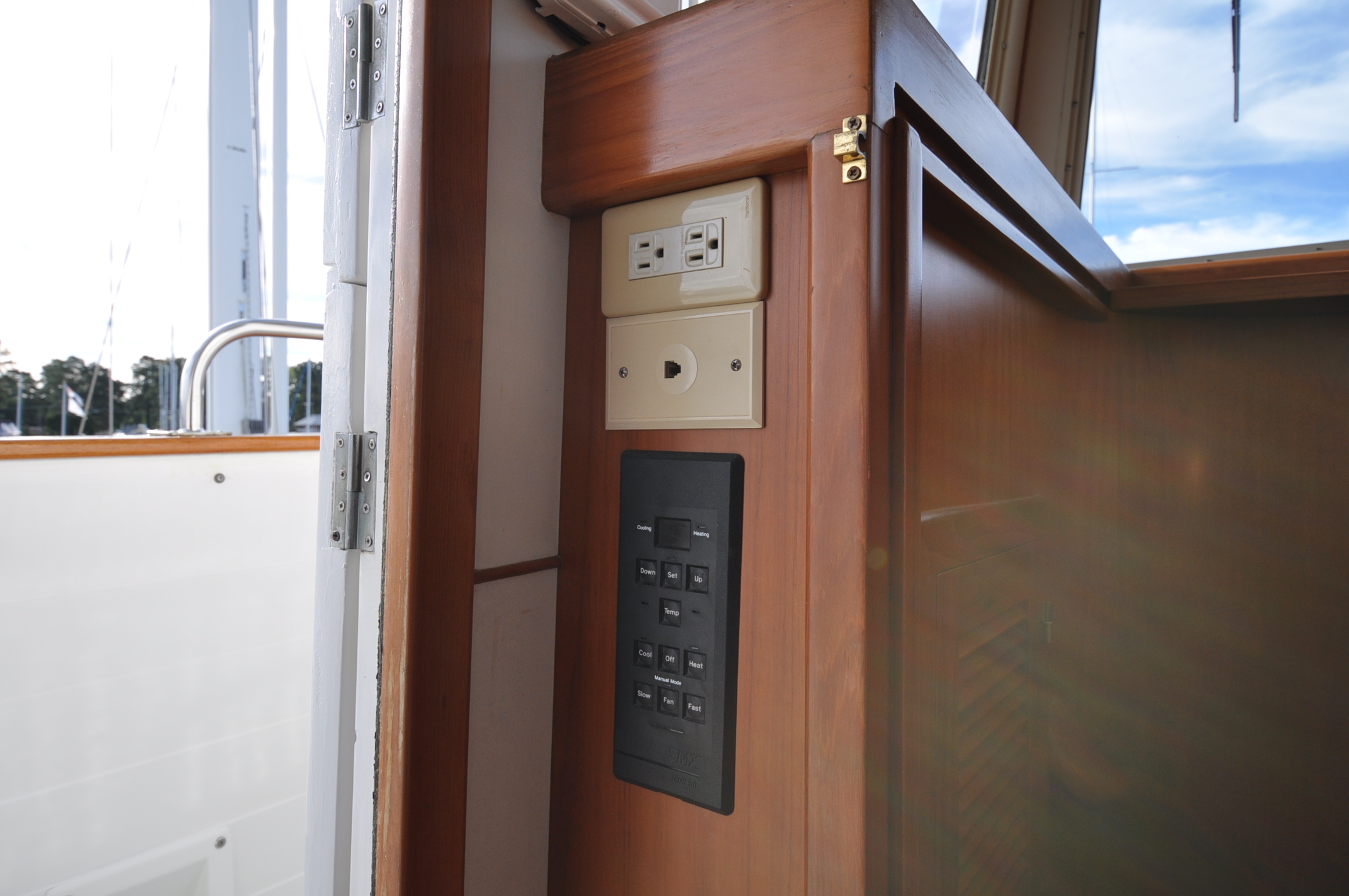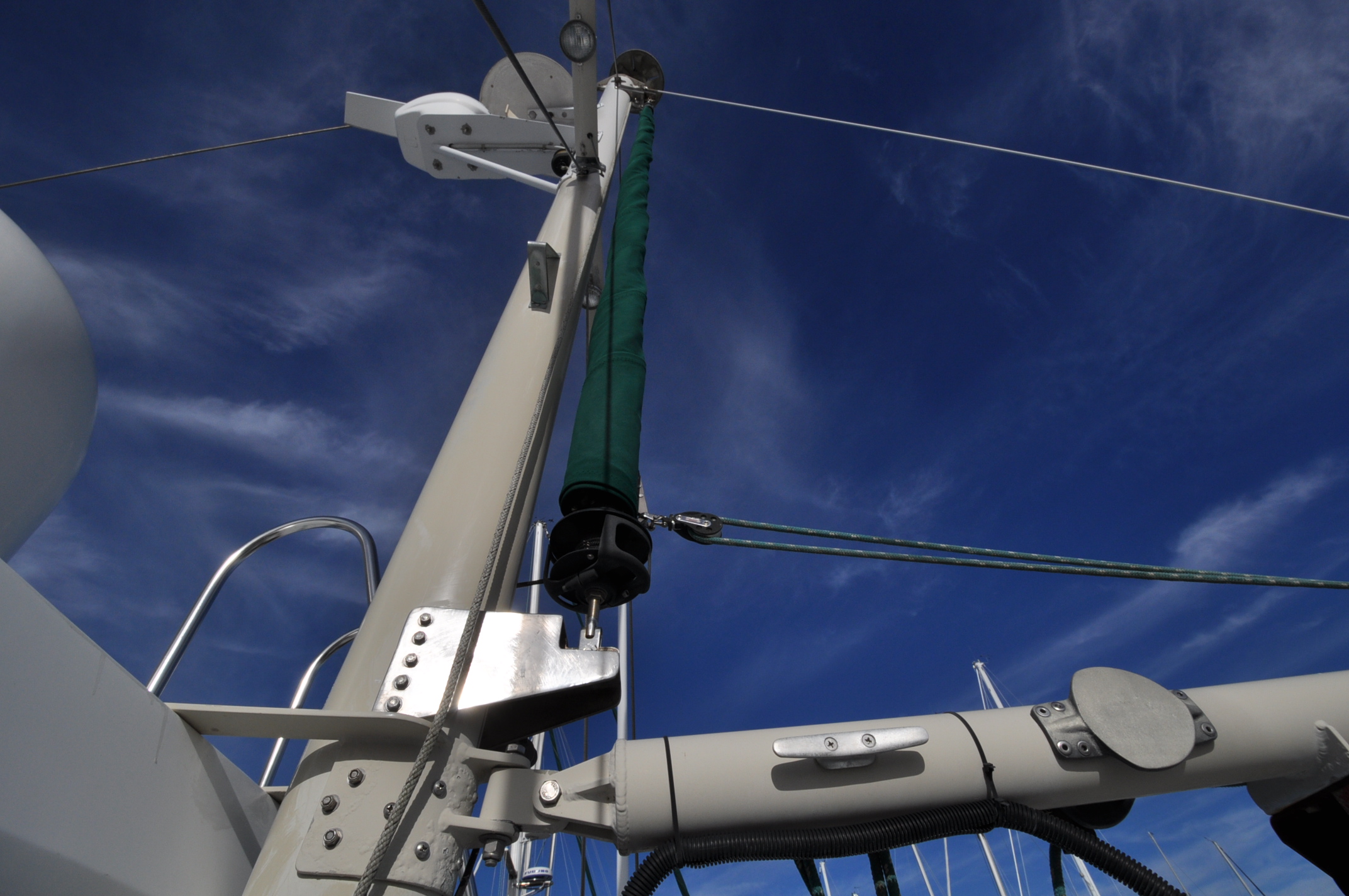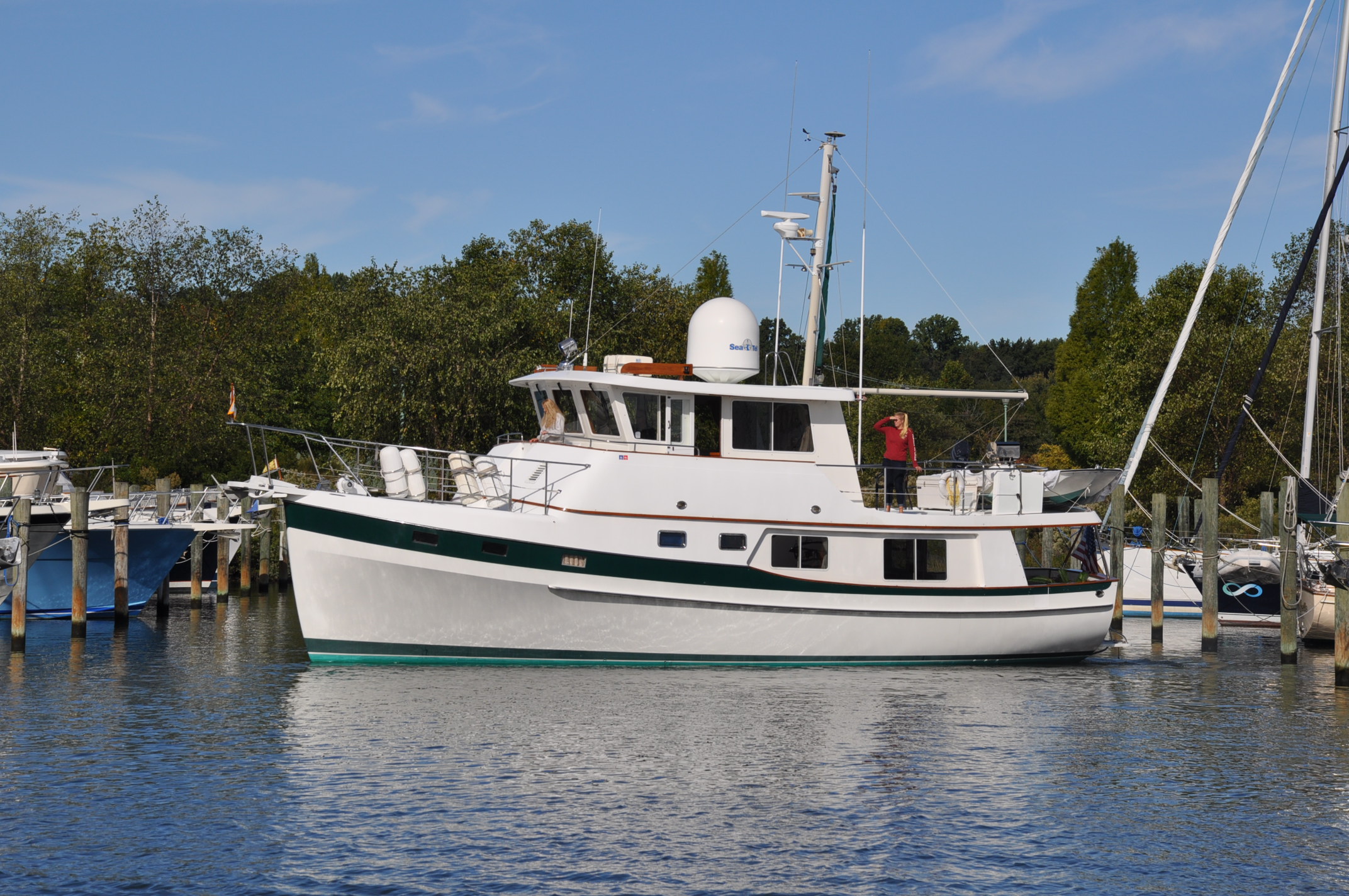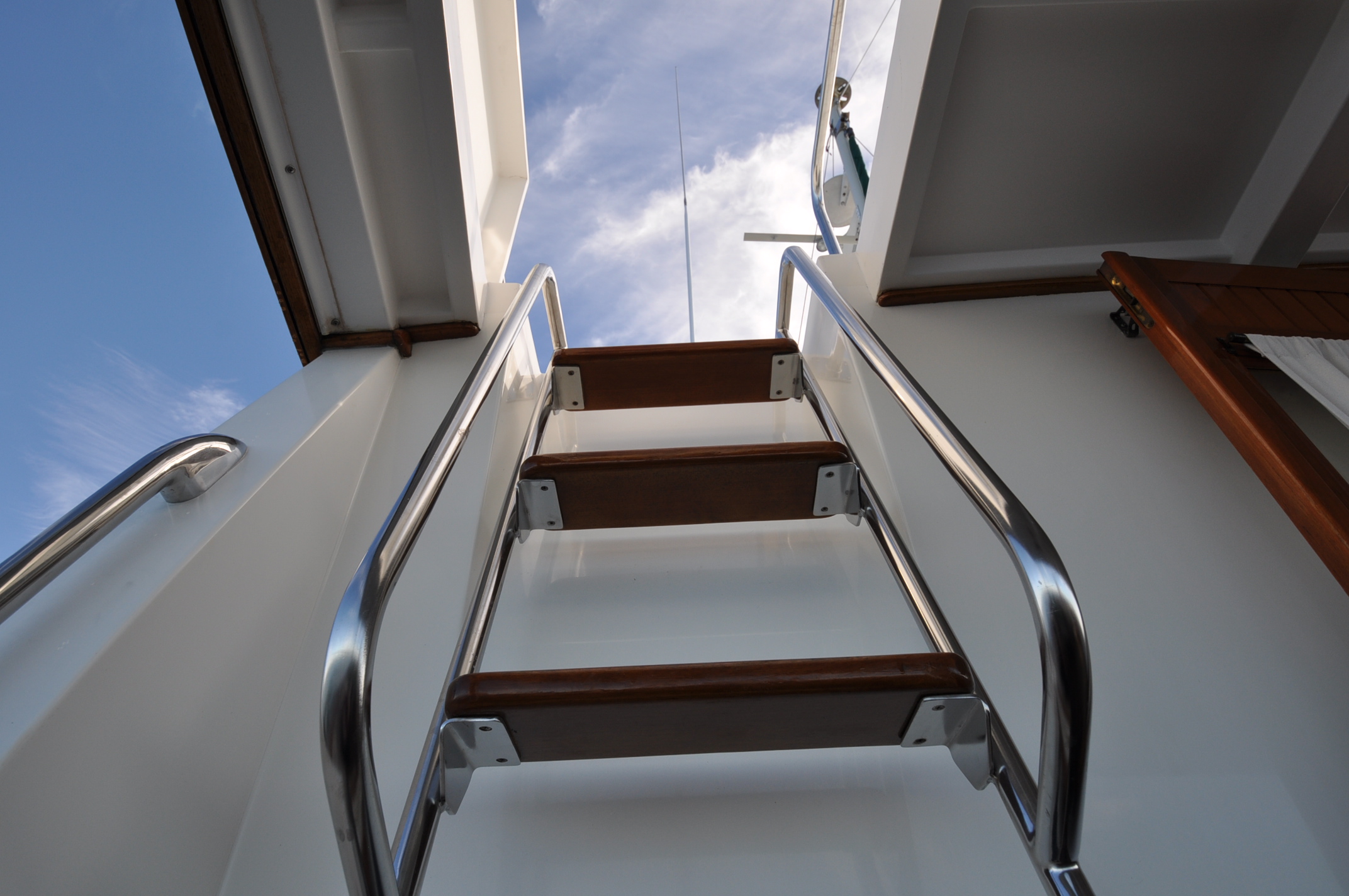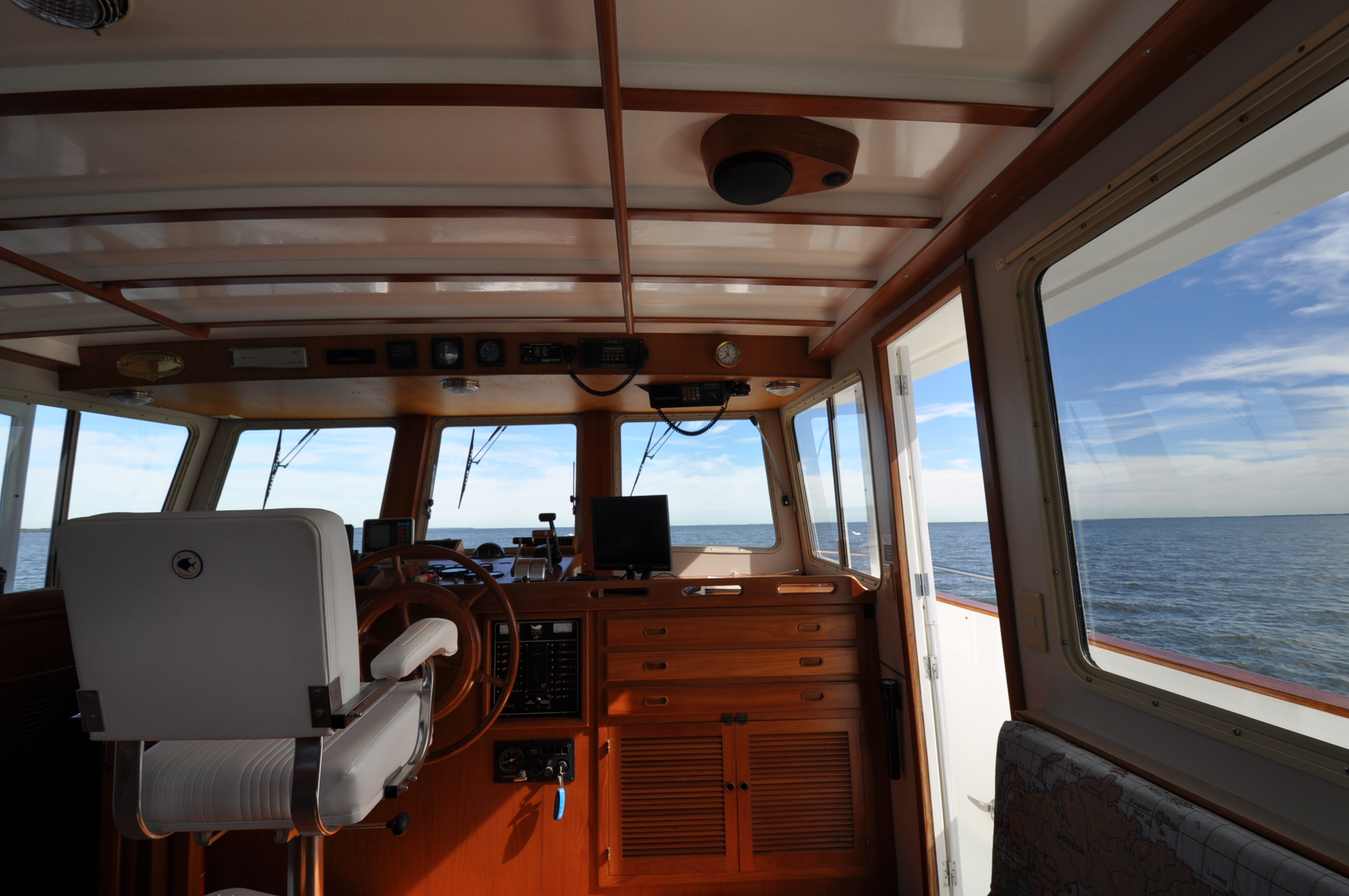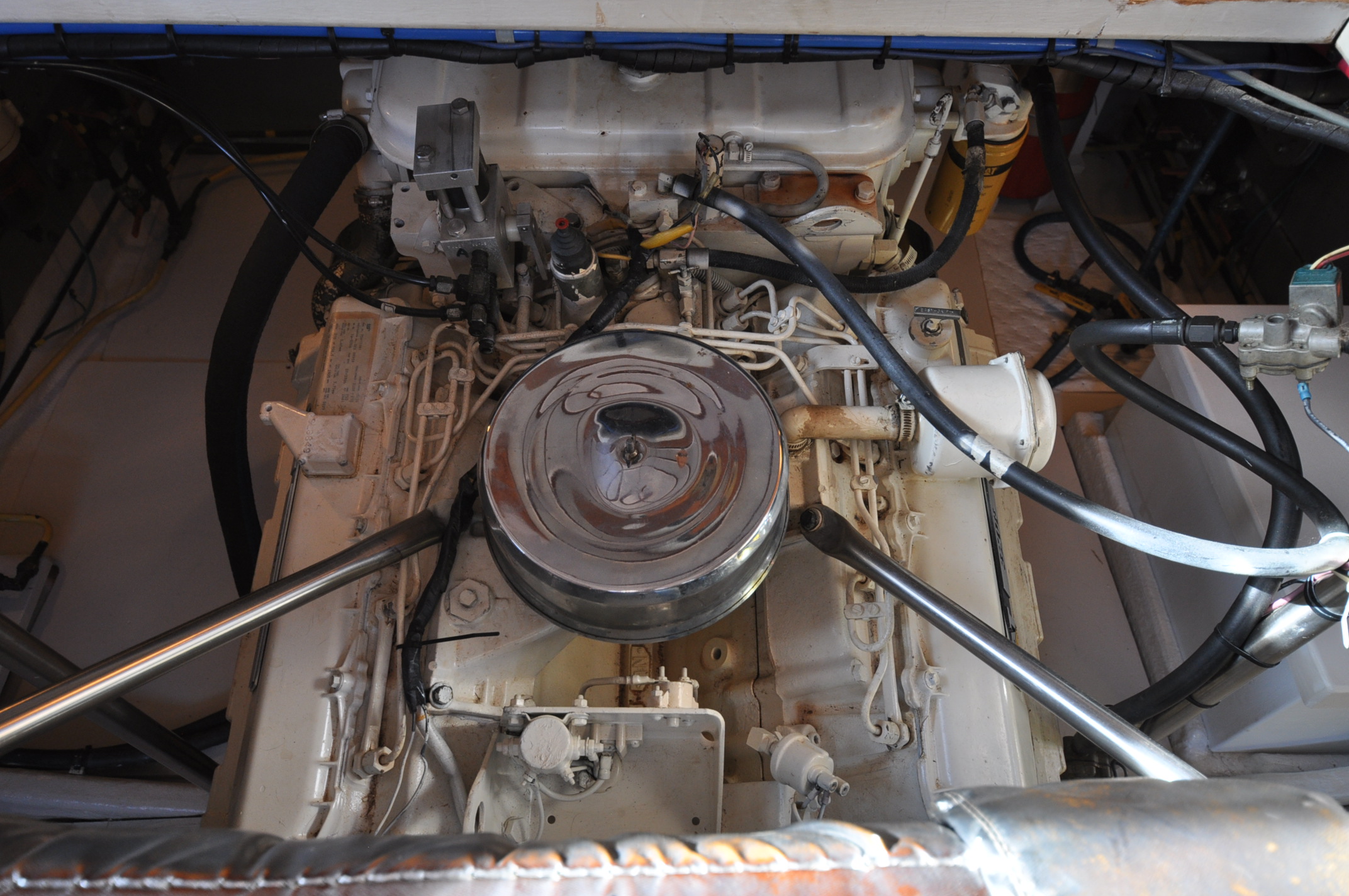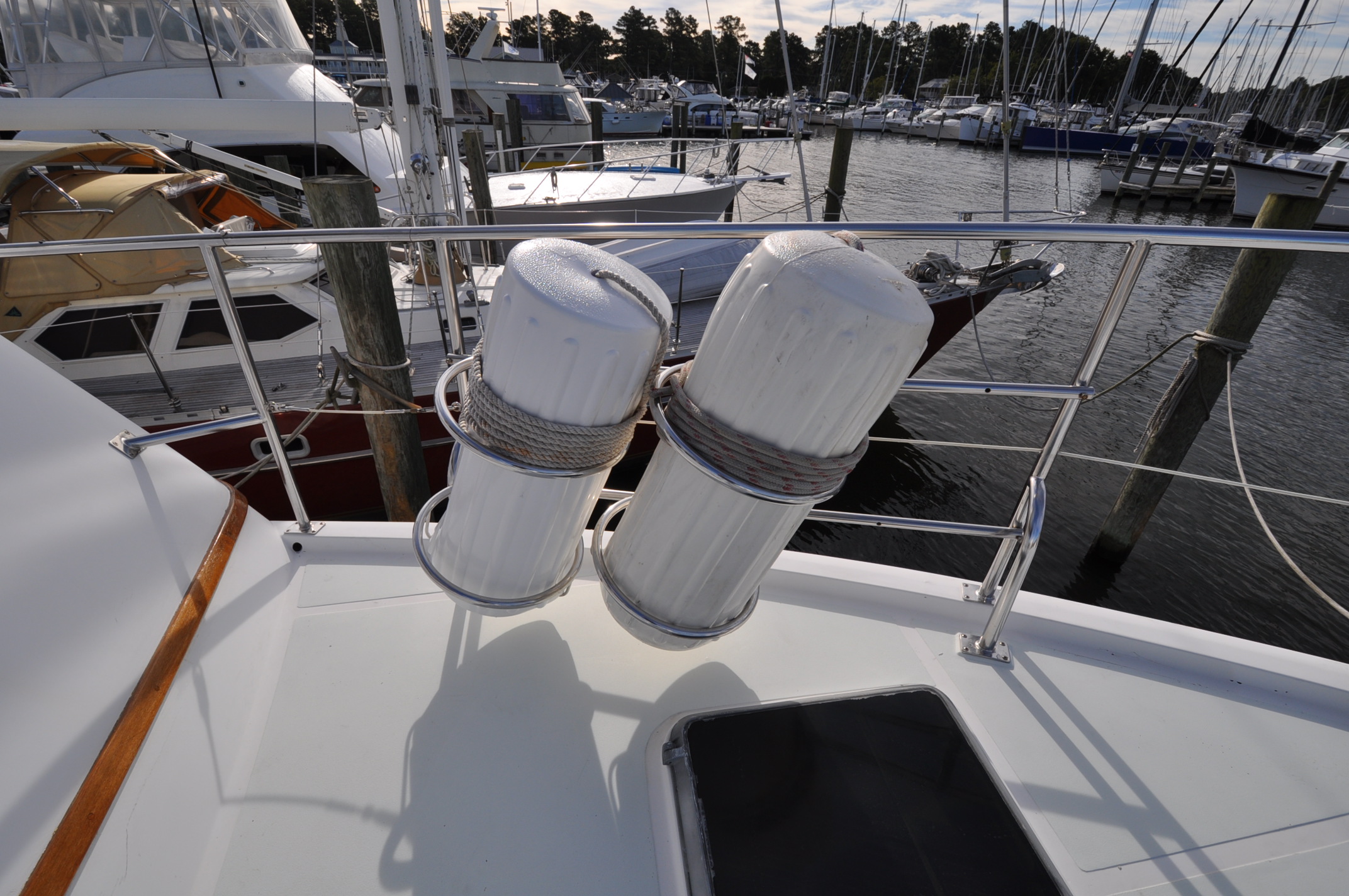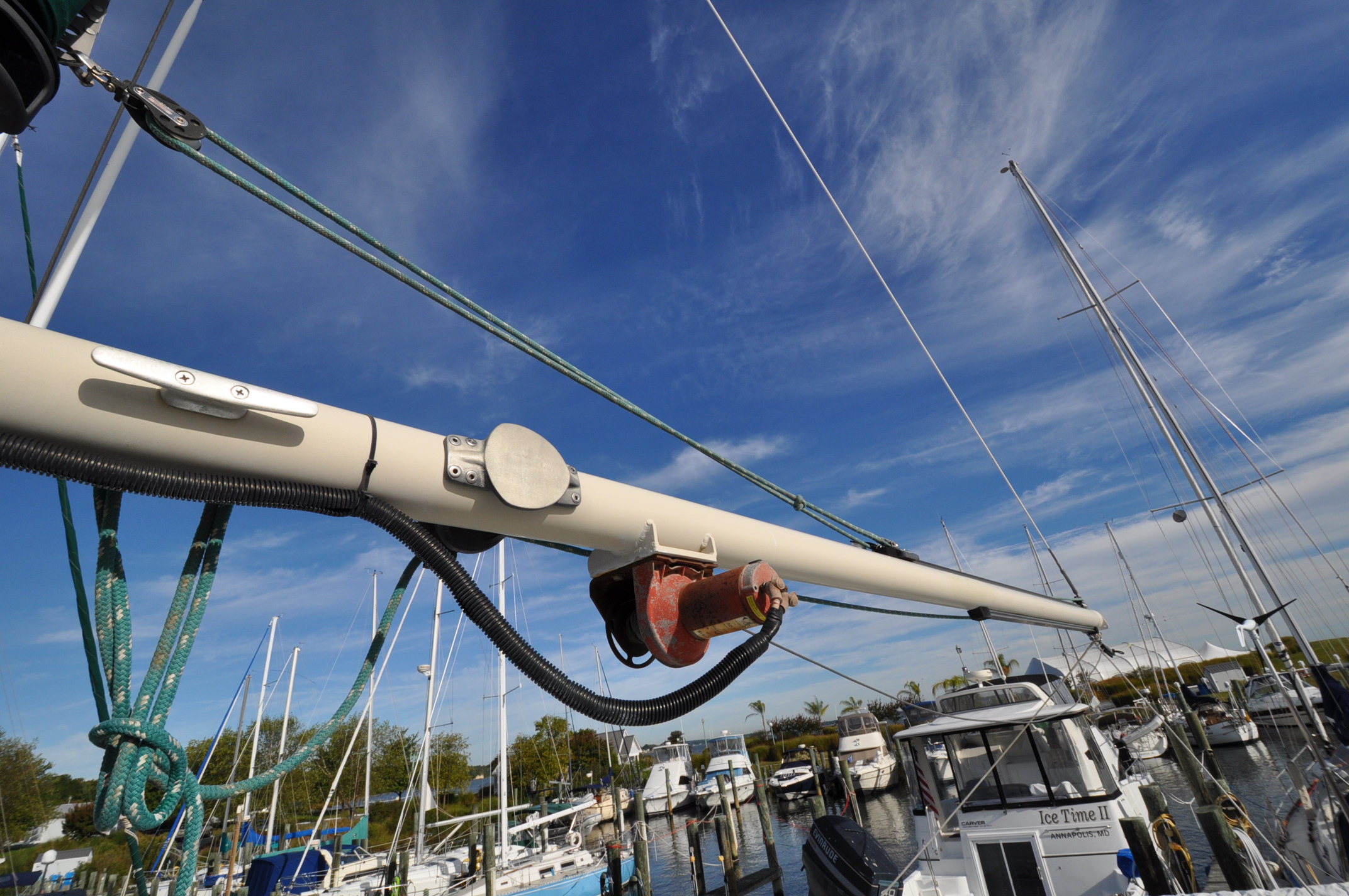 **Check out the high resolution video at the bottom of this listing**
Asking Price: $479,400
INTRODUCTION
RENAISSANCE WOMAN is an extraordinary yacht in every respect. Since early in 2007, she has been the live-aboard home of her current owners here on the middle Chesapeake Bay. Busy people that they are, she has made only a few trips around the middle bay and one voyage up to Washington DC. In other words, lightly used! Having said that, her systems are in top working order and she's completely ready to head off on her next adventure.
We just spent four solid days on this yacht at the 2013 Trawler Fest in Baltimore. It was an incredible time! Here are the TOP TEN things to LOVE about this Kadey-Krogen 48 Whaleback that help her stand out from all the rest:
Incredible amount of living space – among the largest finished living spaces available in a yacht below 50'. This yacht sleeps 11 people if needed.
One-level living! Main salon, galley, three staterooms and two heads ALL on ONE LEVEL! No steps until you head upstairs to the huge pilothouse. Can you find another yacht that boasts this? NO, you can't.
Spacious main salon uses ALL of the boat's 17'-4" beam.
Well-connected spaces – salon/galley/cockpit all flow seamlessly together for lounging and entertaining. The three staterooms and two heads are The raised pilothouse and huge aft upper deck further enhance your boating pleasure both underway and at the dock.
HUGE pilothouse! You usually have to go up to 60' or larger yachts to get this much pilothouse. It's crazy! 360 degree views make for easy docking too!
The engine room and below deck spaces are a dream – EVERY square inch of this yacht is thoughtfully and carefully configured.
Efficient performance – 7-8 knots at an easy low rpm cruise using only 2.5-3 GPH doesn't come close to stressing this awesome 2006 CAT 3208 210HP naturally aspirated engine with only 400 hours. With her Yanmar 'get-me-home' wing engine and 12kW genset, with over 1000 gallons of fuel, she's completely comfortable and safe thousands of miles from any shore.
Timeless rugged design for blue water makes this one of the best values and heartiest yachts for round the world and/or great loop cruising.
The TOY ROOM! The center equipment room on this boat is to die for – 12' long by 17' wide, it houses nearly every system on the yacht in a clean, well lit, and spacious play room that, once you enter, you won't want to leave. Find fuel filters, AC systems, water maker, stabilizers, batteries, inverter, nearly all ship's pumps, work bench, vice, tool, spares, and hardware storage. It's truly a delight!
Condition of this boat – phenomenal! To come across a 1995 yacht with a new (2006) main engine, the equipment she has, in this condition, at this price, is an incredible and unbeatable treat.
Some ownership history. She has had 3 owners. Her original owner cruised the east coast, through the Bahamas, and to the northern end of South America. Her original engine had 1596 hours before replacement by her second owner in 2006, just before her current owners bought her. That original owner was a HUGE NFL football fan, hence the mega-dish on the roof for the SAT system. You can search that galaxy with that antenna AND watch football! Her second owner cruised the east coast a bit and brought her up to the Chesapeake to sell at the 2006 Trawler Fest in Solomons Island, MD. Her current owners have stuck to the middle Chesapeake and lived aboard since 2007.
Please take some time and enjoy our presentation of this yacht. She's quite a vessel and we hope we've presented her thoroughly here.
Why did we take 566 high resolution,1MB pics of this boat?
Is that ridiculous? NO! Here's the deal from our perspective. It's out job to present this awesome yacht the best way we possibly can. We know that many of you will travel great distances to see her. BEFORE you spend money on flights, hotels, and rental cars, which is a sizable investment alone, we want to make sure you'll know EXACTLY what to expect when you get here. It's our job as yacht brokers to present this yacht as accurately and thoroughly as possible on behalf of her owners. If there's something you can't find in the pics that you want to see (we highly doubt you'll find anything but give it your best shot), ask us and we'll get it on film for you!
We've squeezed about 100 pics onto the YW site here, but frankly, their pic processing doesn't allow us to deliver our imagery in the best possible resolution nor can we provide every shot we've taken. To see this boat in ALL her glory, visit our website to get the full breadth of pics and video we have to share with you:
WWW.DAVETOWNLEYYACHTS.COM
If you have ANY questions about ANYTHING, CALL US! We've tried very hard to become so intimate with this yacht and her systems that we can talk to you about her as if she were our own boat. Test us!
Check out this Krogen VIDEO about hull design beneath the waterline. AWESOME!
http://www.kadeykrogen.com/design/hull-comparison
Located in Rose Haven, Maryland on the middle Chesapeake Bay, showing appointments can be easily arranged.Contact DAVE TOWNLEY at 410.271.5225 (mobile) or 888.352.1797 (toll free), or DAVE4504@AOL.COM for information and a tour!
Here's a fantastic VIDEO we just took to show off this gorgeous yacht underway on a beautiful sunny day!
http://www.youtube.com/watch?v=-F5A3r2F2dQ&feature=em-upload_owner
A special note to other brokers. We LOVE working with you! If you and your clients are a great distance away, we'd be happy to help you out with a courtesy showing for your client. Give us a shout and let's figure it out.
Additional Specs, Equipment and Information:
Boat Name
Renaissance Woman
Dimensions
LOA: 48 ft 5 in
Beam: 17 ft 4 in
LWL: 45 ft 5 in
Length on Deck: 48 ft 0 in
Maximum Draft: 5 ft 0 in
Displacement: 70200 lbs Full Load
Bridge Clearance: 30 ft 0 in
Headroom: 6 ft 5 in
Dry Weight: 56500 lbs
Engines
Engine 1:
Engine Brand: CAT
Year Built: 2006
Engine Model: 3208
Engine Type: Inboard
Engine/Fuel Type: Diesel
Engine Hours: 398
Drive Type: Direct Drive
Engine(s) Total Power: 210 HP
Engine 2:
Engine Brand: Yanmar (wing engine)
Year Built: 1995
Engine Model: 3GM30
Engine Type: Inboard
Engine/Fuel Type: Diesel
Location: Starboard
Engine Hours: 64
Propeller: Folding propeller
Drive Type: Direct Drive
Engine(s) Total Power: 27 HP
Tanks
Fresh Water Tanks: 2 Aluminum (542 Gallons)
Fuel Tanks: 3 Stainless steel (1020 Gallons)
Holding Tanks: 1 Fiberglass (100 Gallons)
Accommodations
Number of single berths: 5
Number of double berths: 3
Number of cabins: 3
Number of heads: 2
Electronics
TV set
GPS
Autopilot
Navigation center
VHF
Radio
Log-speedometer
DVD player
Repeater(s)
Plotter
Wind speed and direction
Compass
Depthsounder
Computer
Radar
Inside Equipment
Sea water pump
Fresh water maker
Oven
Electric bilge pump
Manual bilge pump
Heating
Battery charger
Bow thruster
Air conditioning
Marine head
Deep freezer
Refrigerator
Washing machine
Microwave oven
Hot water
Electric head
Electrical Equipment
Generator
Shore power inlet
Inverter
Electrical Circuit: 24V
Outside Equipment/Extras
Radar reflector
Cockpit shower
Teak cockpit
Swimming ladder
Outboard engine brackets
Tender
Electric windlass

INTRODUCTION

The Kadey Krogen brand was founded in 1977 by naval architects and marine engineers James S. Krogen and Arthur Kadey who based their sea-worthy designs on those of historic North Sea fishing and whaling trawlers. Krogen has manufactured trawlers ranging between 36' and 64.' Krogen has been associated with harty sea-faring yachts meant for long-distance blue-water cruising.
In 1992, Kadey Krogen designed the 48' Whaleback. Known as the "Manitee on steroids," this Krogen offered what the 36' Manitee offered, just MORE. The first 48' Whaleback hit the water with a solid design and costruction meant for long voyages off-shore. It follows Jim Krogen's and Arthur Kadey's "no nonsense" design based on the idea that form should follow function.
This three-cabin blue-water cruiser is designed in true Krogen fashion with the patented "Pure Full Displacement" hull design, created in the 1970's by Jim Krogen for an ideal displacement-to-length ratio. It also features Krogen's signature wine-glass shaped transom, traditional interioir woodwork, and all around sea-hardiness. Below the water line, the Whaleback is constructed with hand-laid PPG combo mat fiberglass. It also features marine-grade plywood bulkheads with mahogany stringers and frames adding to the boat's sturdy construction.

WHY FOR SALE?

As with so many boaters, plans change. The owners bought the boat in 2007 and moved aboard. They have now bought a new condo down in Florida and are looking to down-size to a smaller boat.

EXTERIOR VESSEL TOUR

Classic Krogen lines, wine-glass transom, beamy top deck, covered sitting area on the stern and easy movement around the decks, sturdy structure, solid ports/windows, high freeeboard and high sheer help RENNAISANCE WOMAN live up to the Krogen name. You'll see that this is obviously a passagemaking yacht before you even step aboard.
Boarding is through gates on either side right near the front of the cockpit. The cockpit is almost 8' long with plenty of room for lots of crew or lounging topsides. All lines come aft for sail handling, furling, hoisting, trimming. An electric halyard winch allows you to do everything, from hoisting the main, to hoisting the dinghy/outboard, to furling headsails in a big wind, to pulling guests from the water! If you haven't had one on your previous yachts, you'll intstantly fall in love with it and what it does to make your life aboard simpler.
Broad side decks take you forward to the mast and foredeck. More winches on the mast facilitate hoisting the jib and staysail onto the furlers. Lines are smartly run around the boat out of the way for easy passage around the boat in rough seas.
Every hatch and port opens to bring light and air into the boat. All are top quality aluminum hatches and chromed bronze ports for serious off shore work.

INTERIOR VESSEL TOUR

When it comes to accommodations, Kadey-Krogen is famous for space and storage, making this a very livable yacht. For living aboard and cruising in your home, it doesn't get better! RENNAISANCE WOMAN features three staterooms, two heads, and a spacious main salon and galley in addition to a roomy pilot house. There is plenty of room for a couple to have guests or family aboard for extended periods of time in absolute comfort. The overall ambiance is one of space, light, and ventilation. Headroom of 6'5'' gives the vessel a wonderful roomy, light feeling.
Stepping aboard from the aft covered deck, you pass through double doors into the spacious main salon with L shaped seating to the port and the dining area to the starboard. The main salon features large opening windows for good ventilation. There is teak storage space to the port for an entertainment system along with extra cabinetry as well as ample storage below all of the seating in both the sitting area and under the L shaped dining settee. Past the dining area on the starboard is a spacious galley with a large fridge and freezer, corian counter tops, and a three burner stove. The galley features large amounts of storage as well as an above-stove microwave. The large amount of counter space makes the galley very functional.
Heading forward, there is a guest head with walk in shower, teak storage and mirror vanity. Threre is also a closet for the washer/dryer. Beyond the head and laundry are two guest staterooms, one port and one starboard. The starboard guest stateroom offers over/under berths with a hanging locker, mirrored vanity, and ample storage. The port stateroom features a large L-shaped settee with a teak table that converts to a double pullman berth, as well as a hanging locker and a desk with a pull-out seat. All guest stateroom berths are high quality mattresses.
Beyond the guest staterooms are the entrance to the master stateroom as well as a port stairway leading up to the pilot house. The master stateroom features a centerline queen with an en-suite head and seperate shower. It also has two large hanging lockers, ample drawer and locker storage, opening hatches for airy ventilation. There is also a radar repeater at a vanity.
Heading up the port stairs to the large pilot house, there is 360° visibility for the captain. There is a large L-shaped settee with a teak adjustable table that converts to a double berth. There is also a wet bar on the port side with an ice maker. Dutch doors to the port and starboard provide easy access to the deck.
Three stateroom layout with plenty of privacy
Two heads
Headroom 6'5"
Forward owners stateroom with centerline queen
Starboard guest stateroom with over-under berths
Port stateroom with convertable pullman (also serves as great in-home office)
Guest head with seperate shower
Washer/Dryer closet
Beautiful and spacious main salon
Dining for eight, if you want
Open large galley with ample storage
Storage beyond your imagination
True pilot house with convertable table space that becomes double berth
Interior teak woodwork in excellent condition
Cabin teak parquette sole just refinished
Solid teak companionway doors
Stainless steel opening ports
Opening windows/hatches for great ventilation
Air Conditioning system - three units with reverse cycle heat -- 16K/16K/24K BTU
Carbon monoxide detector (hard wired)
Entertainment system CD/stereo with pilot house and exterior speakers
Sea Tel satellite television
Flatscreen TV

MECHANICAL & ELECTRICAL SYSTEMS

MECHANICAL:
Caterpillar 3208NA 210hp diesel (398 hours)
Yanmar 3GM30F 27hp diesel wing engine (64 hours)
Northern Lights 12 kw generator (3,149 hours)
Naiad stabilizers
Wesmar 12hp / 24 volt bow thruster
Stainless steel sea chest (main engine, generator, wing engine)
Oil change system
Spur line cutters on main and wing engine shafts
Extra lead lined insulation in engine room
Floscan
Fireboy automatic Halon system
Whole ship vacuum system mounted in forward bilge and plumbed through entire yacht
ELECTRICAL:
Northern Lights 12 kw generator - (3196 hours)
3 Starting batteries (main, generator and wing engine)
12 6-volt deep cycle house batteries (1200 amp hours)
Bonding system
160 amp alternator on main engine with regulator
Magnum ME2512 2500W inverter/charger (new 2013)
Shore power inlets fore and aft with seperate galvanic isolators

ELECTRONICS/NAVIGATION

Nicely equipped with everything you need to enjoy off-shore cruising.
Furuno Model 1831 24-mile radar with repeater
Autohelm ST 7000 autopilot with remote
Sitex LCS 200 recording depthfinder
ICOM M126DCS VHF with loud hailer
SEA 222 SSB
Dell PC with 19" flat screen monitor with Nobletec navigation software
Extensive maptec electronic charts
Magellan GPS
406 EPIRB
Furuno weather fax
Autohelm ST60 tri-data
Magnetic and fluxgate compasses
Autohelm wind speed and apparent wind
intercom

GALLEY/PLUMBING

Beautiful galley makes cooking and dining a wonderful experience. All the amenities, lots of counter space, open and airy, loads of storage. A wonderful "kitchen". With more water than you know what to do with, it is easy to enjoy the kitchen and the showers!
Whirlpool refrigerator/freezer
Princess 3 burner propane stove with oven
White corian counter tops and sink
Garbage disposal
Water filter
Ice maker in pilot house
Seperate freezer on boat deck (can also be used as a refrigerator freezer)
HrO 600 gallon/day water maker (296 hours)
PLUMBING:
Huge water capacity (540 gal)
Deck fill
PROPANE:
Propane locker for two tanks, solenoid, vented (runs stove)

UPGRADES/RENOVATIONS

These owners have done an impeccable job of maintaining this yacht during their 7 years of ownership. The proof shows plainly in all the out of the way bilges and equipment spaces you'll encounter as you make your way around this boat.
New CAT 3208 engine (2006)
New starter for Yanmar Wing engine (2013)
New Magnum 2500W inverter/smart charger and digital control panel-- associated wiring updated to current code (2013)
New electric fresh water flush heads and hoses (2012)
New gray & black water plumbing hoses for sinks, heads, holding tanks (2012)
New (3) AC compressors (by Shiver Me Timbers -- best shop on the bay) (2011)
New rebuild on raw water AC pump (2011)
New garbage disposal at galley (2013)
New head and galley faucets (2013)
New Boston Acoustics and Pioneer speaker systems in Salon and Cockpit (2012)
New CAT 8D starting battery (2012)
New updates/service to Naiad stabilizers (2011)

DAVE'S RATING

When I travel with clients FAR out of town for yachts, I don't like surprises when I get there. It's embarrassing for me and can make for an expensive trip. With that in mind, I'd like to share my rating of various systems on the boat so you'll be as informed as possible before you come for a visit. My rating system is on a 1-10 scale with 10 being 'perfect' (in MY opinion). Please view this list as a GUIDE only. Everyone's idea of good and bad can vary quite a bit. My goal in doing this is to help you reach a comfort level with the boat before you invest time and energy to come and see it. I'll summarize by saying that this appears to be an excellent yacht worthy of serious consideration.
Beyond telling you what's great about a yacht, don't you also want to know what it needs next? Every yacht, no matter how turn-key, needs something. Every owner has next year's list of 'to-do's, right? I'll also include in this section what I think the boat could use to take her from nearly perfect to perfect and ready to go.
Overall Rating: 9.0/10
Incredibly well maintained and thoughtfully updated, the hull both above and below the waterline is pristine. The decks are in superb shape and the teak looks fantastic. The overall layout of the boat, both above and below decks, is really well configured for long range cruising as well as living aboard. You won't find a more spacious yacht in this size range.
Exterior: 9.0/10
Even though only 30 of these fine yachts were built between 1992 and 2005, everyone recognizes the Krogen 48 Whaleback underway. Her spacious interior spaces, huge rear cockpit, elevated party deck and dinghy storage and gigantic pilothouse really help Renaissance Woman stand out in a crowded field of ocean going trawlers. Very few yachts boast a pilothouse large enough to use for day to day living whether under way or lounging at anchor or at the dock. The Whaleback has everything you need. She uses every bit of her 17'-4" beam in so many helpful ways. Movement around the exterior of the boat is so easy underway AND in rough seas. You feel totally safe forward protected by her Portuguese bridge leading to the swooping bow. Her stainless hand rails are tall and easily traversed. The cockpit gives you easy egress out the sides onto finger piers or through a center door in the stern for boarding from floating piers.
The upper deck can be reached from the rear cockpit or from the center stairwell inside the boat. Her current owners do much of their lounging, grilling, and entertaining on her large elevated aft upper deck.
The rear cockpit enjoys a double 5' wide double door access to the dual station main salon and galley, beautifully connecting the lounging/entertaining spaces.
Huge exterior spaces on the main level, upper deck and foredeck
Easy access throughout the boat for docking, line handling, anchoring and in rough seas
Fantastic 360 degree visibility from the helm
Fresh bottom paint in the fall of 2013
She needs two things outside yet (just haven't gotten to them yet) – strip the teak oil finish off the aft cockpit sole returning her to a natural finish AND a good compound/was on the white topsides.
Interior: 10/10
Having cruised extensively myself, I'm looking for several 'zones' of success in a blue water cruising yacht. The spaces where I'll hang out the most are the most critical. Often, this design mantra means that some spaces will be great and some will be sacrificed. The crazy thing about this boat is that there aren't any places on this yacht that are sacrificed. NOT ONE.
Salon, with 17'-4" beam is palatial with two entertaining zones for separate lounging and dining and freshly finished high gloss flooring
Galley has lots of counter space, tons of deep storage, a large fridge/freezer, and tons of natural light for gourmet cooking
The THREE private staterooms are awesome and spacious
The home office has more desk space than my office at home
The pilot house is incredible with 360 degree views, tons of light and ventilation, a great view over the bow, and more space than most pilot houses on yacht 60-70' in length
Engine Room: 9.5/10 (visual inspection only)
Love this engine room! It's really a ROOM! The CAT 3208 (new in 2006) is easily accessed as is the Northern Lights genset and Yanmar 'get me home' wing engine. These motors are in beautiful shape. Regularly serviced with low hours (CAT – 398 hours, Northern Lights – 3196 hours, Yanmar – 57 hours), these engines are so easily accessed. When I went below to service photograph the spaces, I could move around all sides with ease.
An actual engine ROOM
Easy access to all sides of the CAT, the Yanmar, and necessary parts of the Northern Lights genset as well as the three fuel tanks (1020 gallons total)
Little to no corrosion on the engines, mounts, and accessory equipment
Systems are beautifully laid out throughout the space with clearly identified wire and plumbing runs.
I'd like to see a fuel polishing system. It would be easy and inexpensive to add.
Galley/Head Systems: 9.5/10
I'm a chef and this is chef's galley for sure. Great counter space. High-quality appliances. The chef on this yacht is a gourmet kitchen designer and the organization and layout here really shows. Storage compartments and spaces are thoughtfully laid out for maximum efficiency. I like that the galley is out of the way of passage through the yacht. The chef does not impede traffic flow through the boat. There's room for two in the galley if necessary as well for companion cooking. Heads are more like bathrooms with lots of space, stand-alone showers, good storage, and high quality toilets.
Tons of counter space
High-end appliances
Huge recent fridge and freezer
Spacious heads with new fresh water macerating toilets
Electronics Systems: 8.0/10
The electronics on this boat were top-of-the-line when installed and still do everything you need to toss the lines on the dock and head out on your next adventure. She's got a great Furuno radar, Nobeltec computer driven navigation on a big 19" screen, top of the line VHF, SSB, autopilot and other gear to get you anywhere you'd like to go. That said, you could update a few systems to enhance your and cover nearly all the bases.
If this were my boat, I'd update the following systems. Primarily, I'd install a newer model radar/chart plotter. To do that, I probably wouldn't drop a ton of money into discrete systems however with big expensive displays around the boat. The design trend in electronics these days is to install central 'brains' and then toss that information to displays all over the boat. So that means a new radar array, a new brain, one chart plotter and then perhaps three screens onboard – one at the helm, one in the main salon, and one in the master stateroom. You might even install a couple of screens at the helm so you can look at radar on one screen and chart plotting on another. Why this route? It's SO much less expensive and sends data all over the boat! When the person off watch is in the master cabin reading a book, it's so easy to look up and check navigation and radar to back up what the person on watch is doing up in the pilothouse. A great computer 20" display screen is $200. A smaller charting display from the major manufacturer is $3500. You do the math. Lots more information lots more places for LOTS less money. The major manufacturers, like Raymarine, Furuno, and Garmin, all offer these kinds of setups. Check it out!
A note about chart plotting. Computer driven navigation is the way to go! This yacht has a Dell computer with Nobeltec navigation software. That puts a 19" screen right in your face at the helm. With a mouse and keyboard at your fingertips, plotting, planning and voyaging are SO easy. No more holding the cursor down on a discrete plotter and waiting an eternity to have the map roll up the coast for you to plan your next waypoint. If you've never navigated this way, you'll love it.
Full suite of top quality electronics has this boat ready to roll.
High-end Raymarine ST7000 autopilot with wired remote control gives you some freedom to leave the helm and control the boat
Radar repeater in the master stateroom lends a second pair of eyes to the action on the bridge while off watch
Incredible 'toy room' in the center bilge gives easy and unfettered access to every ship's system for easy service

Disclaimer
The Company offers the details of this vessel in good faith but cannot guarantee or warrant the accuracy of this information nor warrant the condition of the vessel. A buyer should instruct his agents, or his surveyors, to investigate such details as the buyer desires validated. This vessel is offered subject to prior sale, price change, or withdrawal without notice.